Last updated on September 23rd, 2023
For crab lovers but on budget, consider trying the lunch menu from Kani Honke Sapporo during workday. The money-saving tips to enjoy the delicious crab dishes in Hokkaido!
Hokkaido is famous for fresh seafood and crabs are one of the must-eat foods in Hokkaido. The top three crab varieties in Hokkaido are snow crab, king crab, and hairy crab. There are many restaurants specialized in crab dishes in Hokkaido. A trip to Hokkaido is incomplete without satisfying your cravings for delicious crabs especially at specialty restaurants. That's the heaven for you to taste the freshness crab in Hokkaido.
Check out how we eat and enjoy the delicious crab dishes in Kani Honke on budget!
Kani Honke (かに本家)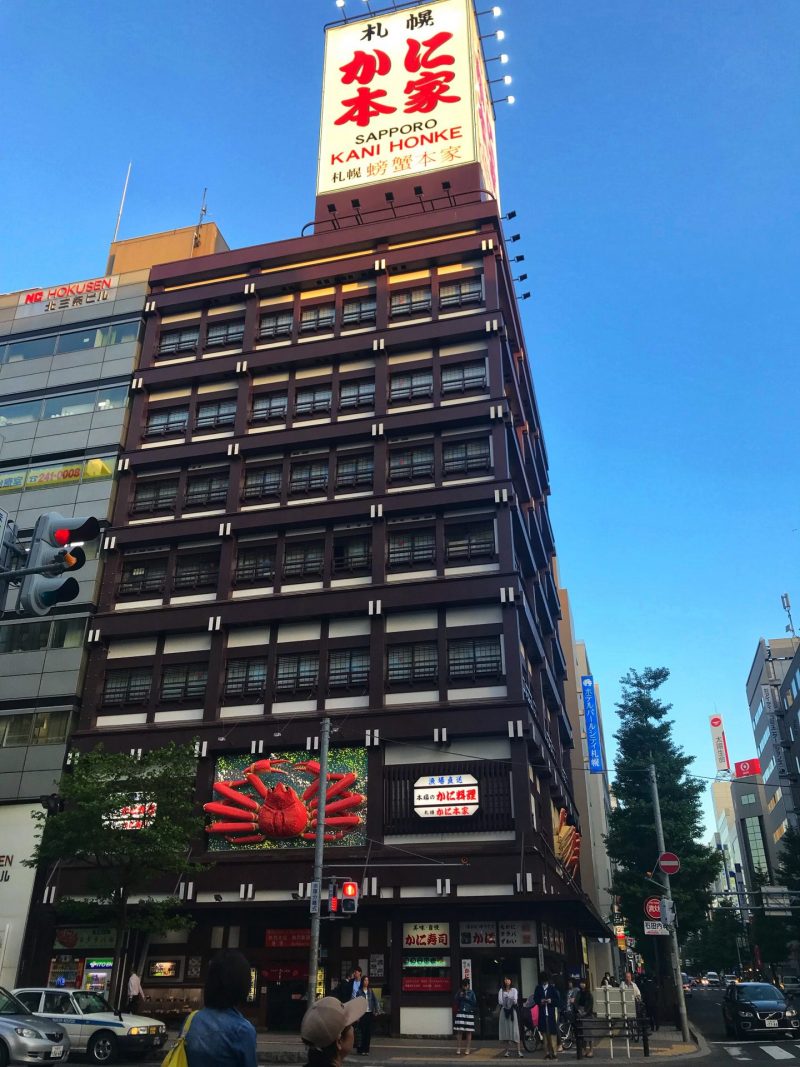 Sapporo Kani Honke (かに本家) is the number#1 and best crab restaurant in Japan. Origin from Sapporo, it is now the most popular crab restaurant chain all over Japan. Rated as best crab restaurant and serving the King crabs, snow crabs, and other crab dishes. So don't miss the chance to eat and taste on it when you are visiting Hokkaido.
How To Eat Crab on Budget in Kani Honke?
Kani Honke is famous for serving the crab dishes follows kaiseki ryōri. So-called the Japanese fine dining with multi-course cuisine. It can serve from as simple of 5 courses and can up to 10 course of crab dishes.
A full course meal in Kani Honke is not cheap. However, we were so craving to try on this best crab restaurant in Sapporo. We found a budget way to enjoy the wonderful crab dishes in Kani Honke: Lunch Menu.
However, the lunch menu cannot be said to be a budget menu. All the crab are freshly caught with freshness guarantee. Added, it is carefully cooked to make sure you enjoy the freshness of the crab.
Dinning in Kani Honke Sapporo
We visited the Kani Honke Sapporo after finish our wonderful Sapporo itinerary in late afternoon. It is the best place where you can enjoy the best authentic crab dishes variously.
Once we entered the restaurant, don't be shock when you saw a pond with a great number of live g crabs. The whole building was decorated in Japanese wooden style. It make you feel like walking into the Japanese garden instead of a modern building.
We were greeted by friendly staff and escorted to our dining floor. As there were only two of us, we choose to seat at the counter table instead of the tatami room. A friendly server came in and explained to us about the dining menu. The menu contained a variety of crab dishes with photos and descriptions in both Japanese and English.
Nemuro Lunch Set Menu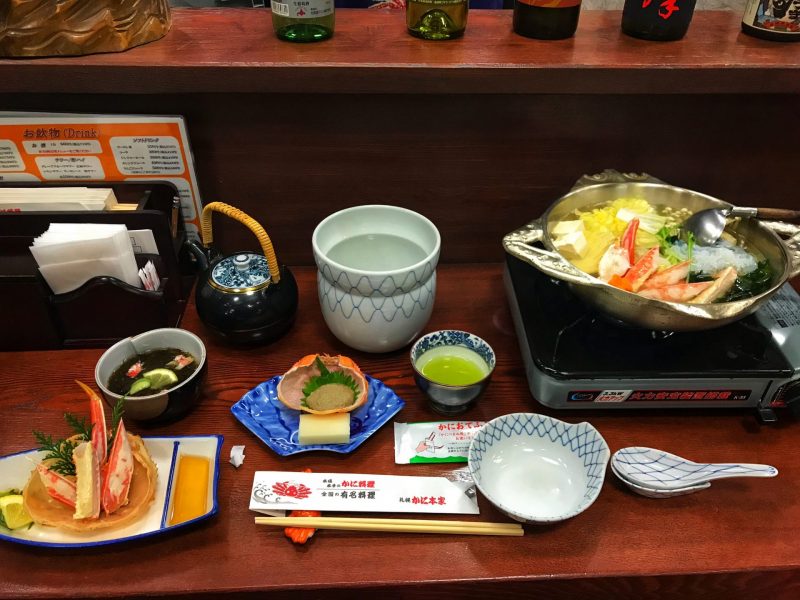 Looking on the crab dishes and price listed, I ordered the Nemuro lunch set menu which consists of 5 dishes.
See part of my delicious crab dishes in Kani Honke Sapporo. Yummy!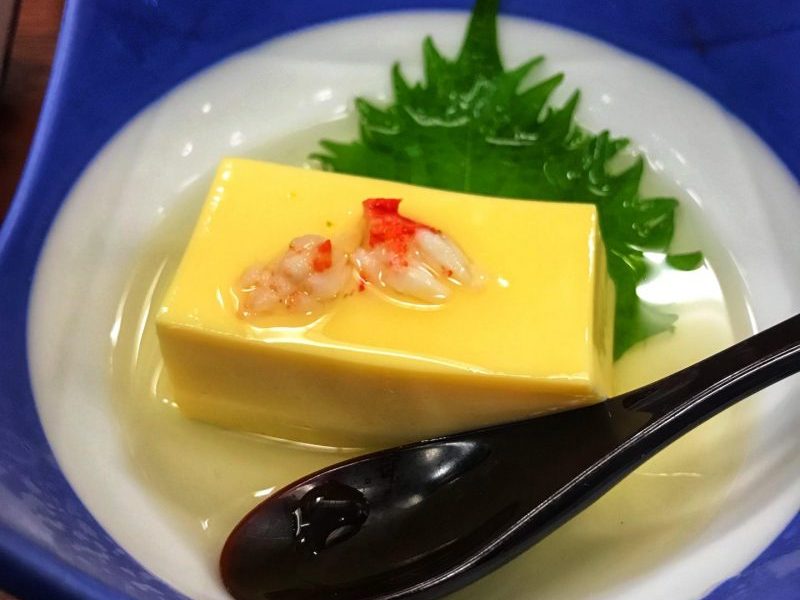 Crab Tofu in steamed tofu with egg custard.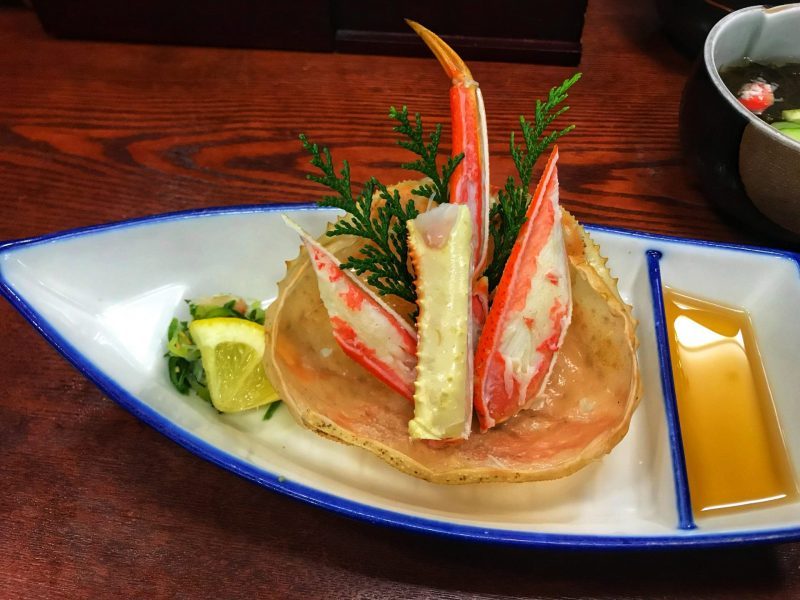 Love the boiled snow crab with vinegar. It was so delicious.
Snow Crab Kanisuki: Hotpot Style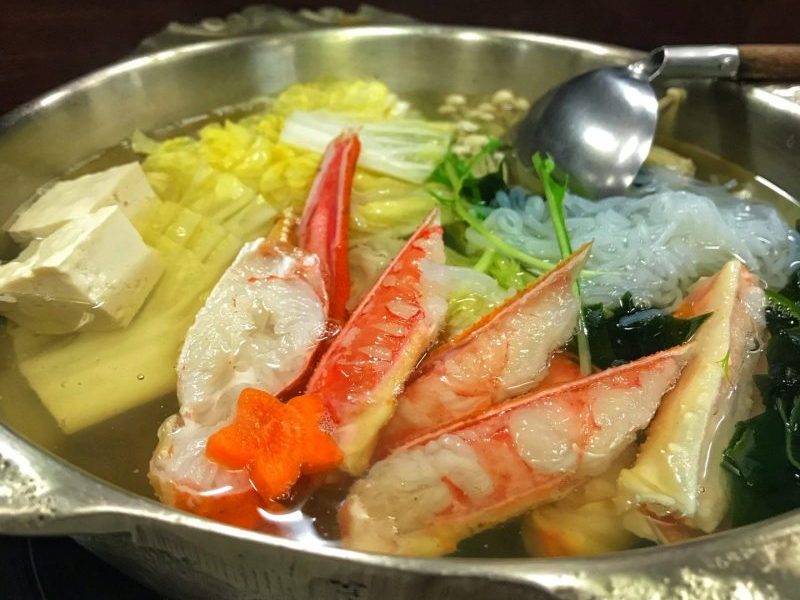 I enjoyed the snow crab in kanisuki style. The hot pot was served with crab meat and vegetables as well in clear soup. You can control the timing of the cooking. However, eat the crab before it over-cooked.
Rice Porridge With Crab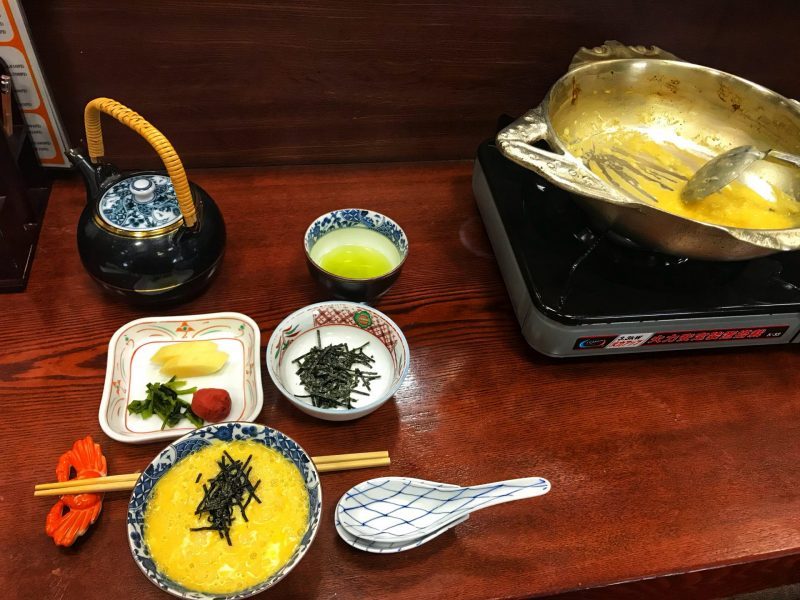 The last one was the rice porridge with crab. It was careful cooked by using with rice and the remaining soup from the hot pot. It absorb all kind of fantastic flavor. Extremely delicious! My favorite dish of the course meal.
Sapporo Must Eat: Kani Honke
All in all, there are few restaurants served the crab dishes in Sapporo. Kani Honke Sapporo not doubt is one of the best restaurants and must eat when visiting Hokkaido. Our dining in Kani Honke Sapporo is satisfied and happy with what we paid. The crab course meal may not cheap but worthy of a visit.
Reservation is highly recommended as the restaurant is always full. Alternatively, consider booking your meal at Kani Honke Sapporo from Klook with your preferred dining time upon booking. Hassle-free to redeem and save your waiting time.
Hokkaido Must Eat Food Guide
Last but not least, still looking for other food recommendations for your wonderful Hokkaido trip? Check out our Hokkaido foodie hunt below: