Last updated on December 11th, 2023
Planning a trip to Kobe and looking for inspiration on what are the best things to do in Kobe? To help you make the most of your time, follow this 1-day Kobe itinerary to immerse yourself in what this city has to offer. Here's the detailed Kobe Travel Guide blog!
Kobe (神戸, Kōbe) is an international port city on Osaka Bay. It has been an important place for trade since Japan reopened the port in 1868 after isolation for over 200 years. Because of its history, the city has a unique atmosphere with Western and Asia cultures.
Kobe is a good city to explore with many interesting to do and see. The city is filled with a variety of shopping, dining, and sightseeing attractions. It is also well-known for its signature marbled Kobe beef. Plus, the location is ideal, not too far from Osaka and Kyoto, and with easy access to public transport. All this makes Kobe a popular day trip destination when visiting the Kansai region.
If you're visiting Kobe for the first time, then I hope this Kobe travel guide helps you to plan on the Kobe itinerary for 1 day or 2-days. We will share all the best things to do, how to get there, how to get around, what to eat, hotel recommendations, and other useful Kobe travels information and tips.
Getting To Kobe
Kobe is well-connected with major cities in Japan. It is easy to plan for a day trip to Kobe from Osaka, Kyoto, and other cities in Kansai. It takes only 30 minutes to get there from Osaka by train. Besides, frequent Shinkansen travels between Tokyo and Kobe by the JR Tokaido/Sanyo Shinkansen under three hours of journey.
Take note that Kobe's busiest railway station is not Kobe Station but Sannomiya Station in the downtown area at the city center. We recommended starting your Kobe itinerary at this central station.
Getting to Kobe:
Tokyo to Kobe: Shinkansen (about 3 hours)
Osaka to Kobe: Shinkansen (15 minutes, ¥2,860), JR train (20 minutes, ¥410), Hanshin Train (32 minutes, ¥410), Hankyu Train (25 minutes, ¥320).
Kyoto to Kobe: Shinkansen (30 minutes, ¥2,860), JR train (50 minutes, ¥1,110), Hankyu Train (60 minutes, ¥630).
Continue read for more detail and transport pass: How To Get To Kobe: Access + Transport Pass
Pro Tips: If you have the Japan Rail Pass, the journey to Kobe by Shinkansen and JR Train is completely covered.
Getting Around in Kobe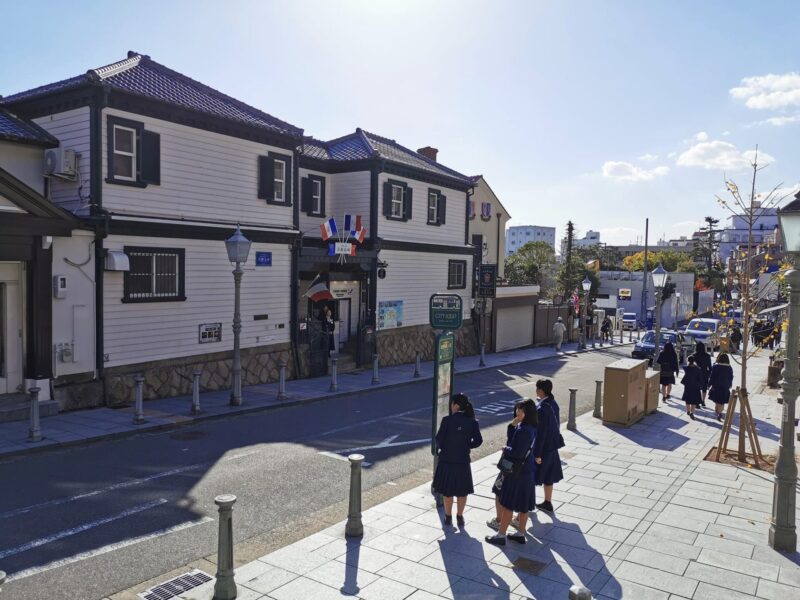 When you are in the city centre, getting around in Kobe is pretty easy. Most of the attractions in Kobe are clustered in the central part of town and walkable. Travelers can cover many of the attractions on foot. Alternatively, buses, trains, and taxis will allow you to cover more attractions quickly and easily.
Kobe also offers various transport passes for getting around in the city:
Kobe Meguri 1-Day Coupon at ¥950 – Unlimited rides on the subways, non-JR trains such as the Hanshin or Hankyu lines, and certain buses around Kobe.
City Loop Day Pass at ¥680 – Tourist-oriented loop bus with hop-on and hop-off which runs on a loop around the city's major tourist attractions, including Kitano-cho, Meriken Park, Chinatown, and Harbourland. A single ride costs ¥260.
Where To Stay
Most of the attractions in Kobe can be visited within one day. So it is not necessary to stay in Kobe. However, if you want to have a more relaxing visit, do hiking around Mount Rokko, or visit Arima onsen town, staying one night in Kobe is also highly encourage.
The downtown area is a great place to stay in Kobe if you are visiting the city area. It's conveniently located with plenty of hotels, shops, restaurants, bars, and convenience stores. Here is our recommendation for where to stay in Kobe downtown area:
Luxury: Hotel Okura Kobe is a popular Japanese hotel with modern amenities. It is located on the waterfront with a view of the harbor or Rokko mountain at Harbour district. Everything is exceptional.
High-Range: Daiwa Roynet Hotel Kobe Sannomiya Chuo Dori is conveniently located for exploring the city with many shops and restaurants nearby. Spacious room and spotless.
Mid-Range: Brenza Hotel has everything for a comfortable stay in Sannomiya area. The location is superb and perfect for walking around the city to explore. Good value for money.
While Arima Onsen is another popular pick when choosing where to stay in Kobe. It is a lovely area and your stay is feature with natural hot spring bath at a traditional Japanese ryokan.
For more accommodation option, continue read on: Where To Stay in Kobe.
Things To Do in Kobe Itinerary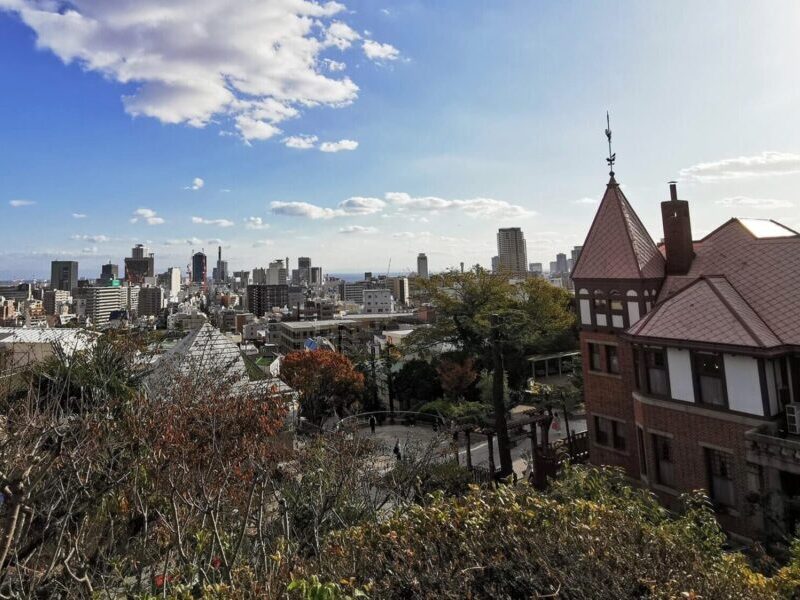 If you only have 1 day in Kobe and you want to make the most of your visit, I recommend the following Kobe itinerary with all the best things to do in 1-Day:
Start the Kobe itinerary at Sannomiya-Motomachi Area.
Strolling around Kitanocho District.
Visit the Kobe Kitano Ijinkan.
Taste the Kobe beef.
Leisure walk in Kobe Motomachi Shopping Street.
Nankinmachi (Kobe Chinatown).
Kobe Port Tower.
Night view on Kobe Harborland.
More times? You may consider to visit the Arima Onsen or Himeji Castle.
Tour Recommended: To fully enjoy the must-visit spots in Kobe and don't miss out on interesting things along the way, we recommend you to take this private tour when you visiting here.
Sannomiya-Motomachi Area
First of all, start your Kobe itinerary at Sannomiya-Motomachi area. It is an is an ideal starting point for sightseeing around Kobe after you getting from other cities.
From Sannomiya Station, follow the north side will lead you towards the Kitano area with mountains view. While the south side will show you the beauty of the sea and shopping street in Kobe. We recommended proceed to Kitano-cho for the Kobe trip.
Kitanocho District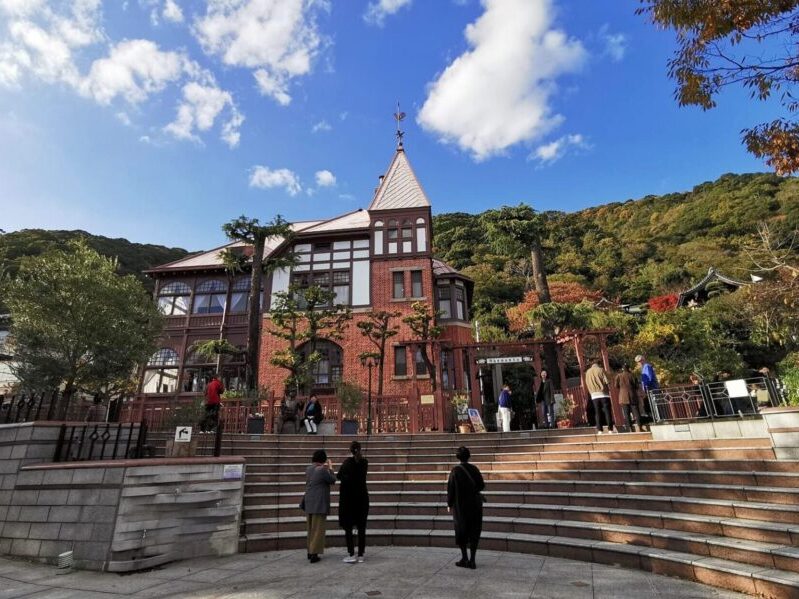 Next, proceed with your Kobe itinerary by strolling around the Kitano-Cho district at the foot of the Rokko mountain range.
Known as the mountainside of Kobe, Kitano-Cho (北野町, Kitanochō) is the former residential area for foreign merchants and diplomats during the late 19th century. Many Western-style houses called Ijinkan are built on the slope along the hilly street. Most of them are well-preserved and several of these former residences are open to the public as museums with entry charges to get in.
Among all, the Weathercock House, Uroko House, and Uroko Museum are the most popular options. The Kitano Tenman shrine is also located at the area.
The Kobe Kitano Ijinkan offers a nice walk with a good mix of different country's architecture. The atmosphere is filled with a nostalgic atmosphere and serenity. Enjoy the historical architecture or plan to visit one of the former houses.
Kobe Kitano Ijinkan (神戸北野異人館)
Address: Yamamotodori, Chuo Ward, Kobe.
Getting there: Located north of the Sannomiya-Motomachi Station. 10 to 15-minutes of walking distance.
Website: https://www.kobeijinkan.com/en/
Starbucks at Kobe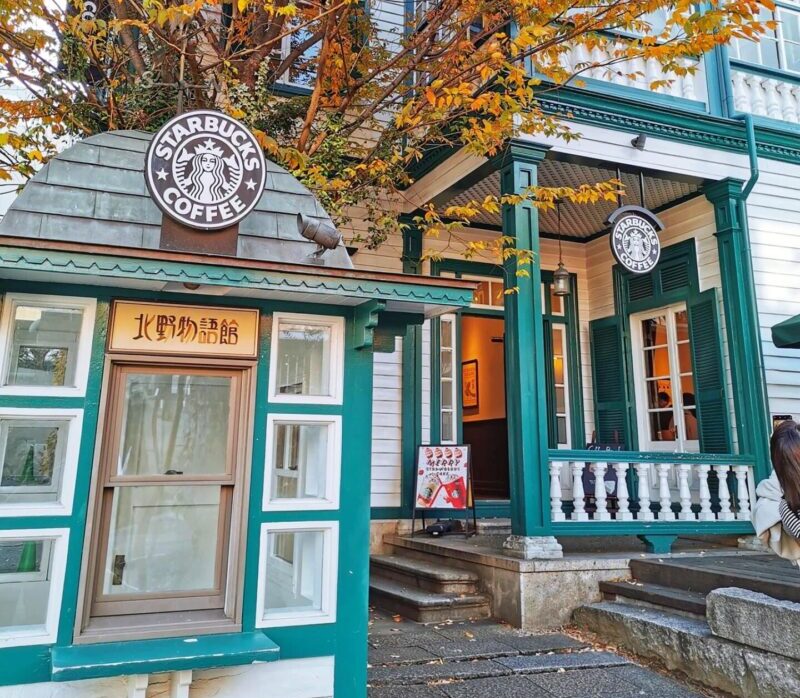 If you don't feel like paying the entrance fees for any of these places, the Kitano area has many cafes, restaurants, high-end fashion stores, and boutiques to enjoy the colonial atmosphere.
Drop by the Starbucks in Kitano-Cho and grab a cup of coffee. The Starbucks Cafe is housed in a converted former heritage house. Worth a drop-in.
Taste the Kobe Beef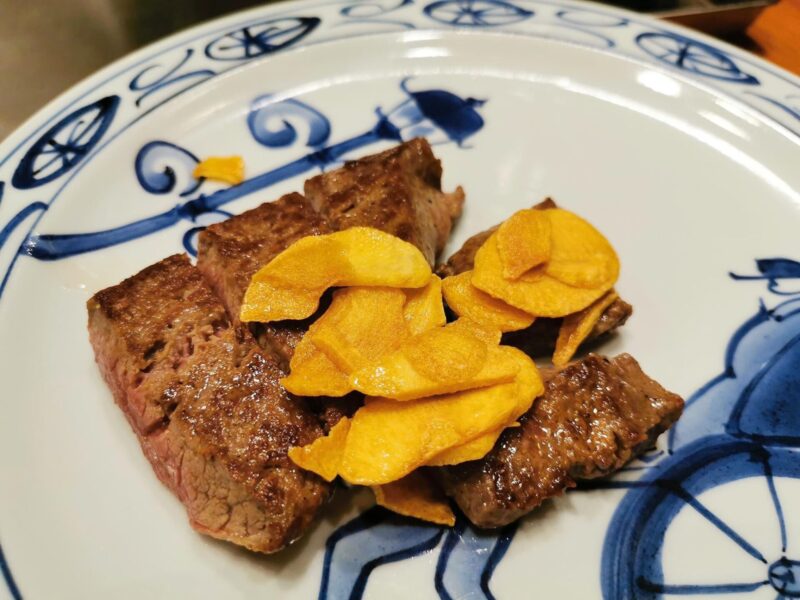 One of the must-do's when visiting Kobe is to taste the world-famous best wagyu beef – Kobe beef. The exceptionally tender, well-marbled beef is a type of Wagyu beef from the Tajima strain of Japanese Black cattle. The cattle must be born, fed, reared, and processed in the Hyogo prefecture of Japan.
Try the Kobe beef as a simple steak, teppanyaki-style, sukiyaki, shabu-shabu, or as part of a Korean-style barbecue.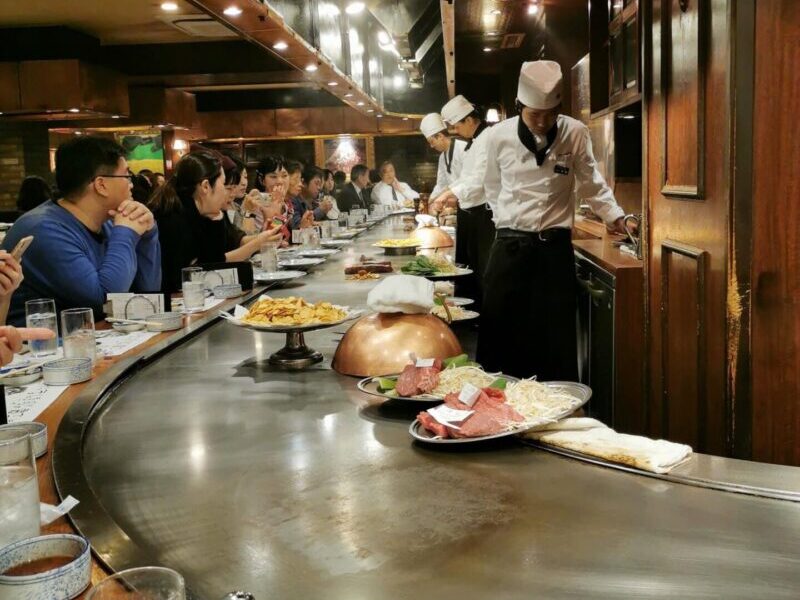 In Kobe, there are many restaurants in the city that serve delicious Kobe beef.
Steakland is a popular teppanyaki restaurant where you can select various types of Kobe beef at a decent price. A slight upgrade to taste the Kobe beef is the Kobe Steak Restaurant Mouriya Honten. It is a well-established teppanyaki steakhouse that's been in business for over 130 years.
Alternatively, Wakkoqu is also a great teppanyaki restaurant for trying Kobe beef.
Steakland Kobe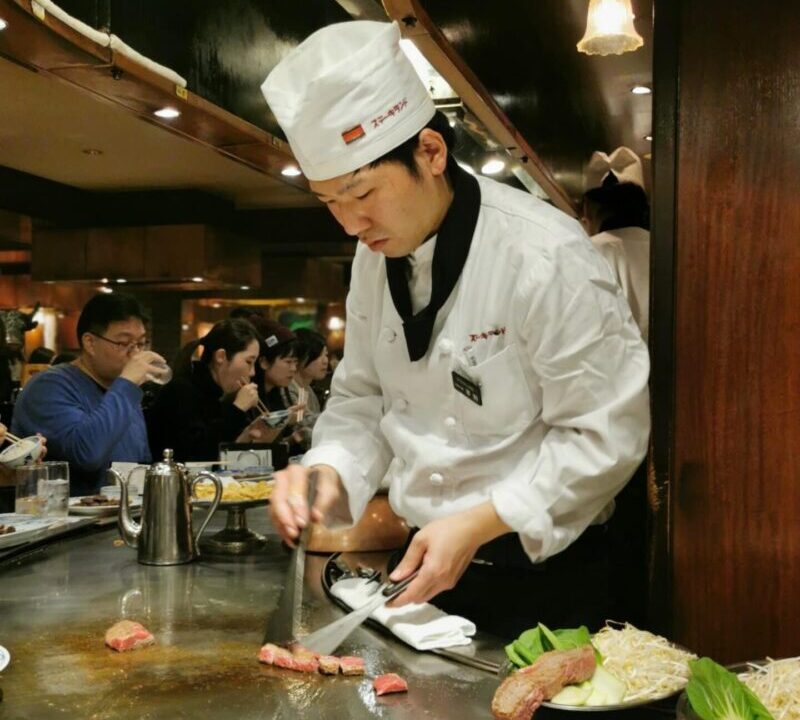 We decided to try out the Kobe beef at Steakland Kobe. You will be seated around a large U-shaped teppanyaki table in the restaurant. The chef will prepare and cook the steaks on the teppanyaki grill right in front of you.
Steakland Kobe offers a wide range of Wagyu options for selection. A set meal comes includes with bean sprouts, miso soup, a salad, garlic chips, and rice.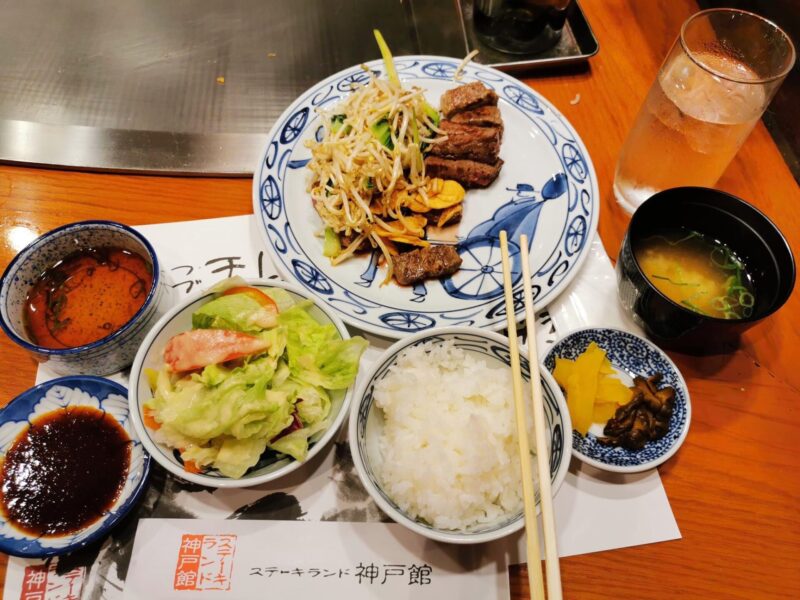 The beef was melt-in-your-mouth, juicy, and flavourful. It was absolutely succulent beyond my imagination. The garlic chips were amazing too. A unique Japanese Kobe beef experience and we enjoy the meal.
Pro Tips: It is cheaper to have a lunch set rather than a dinner set.
Nankinmachi (Kobe Chinatown)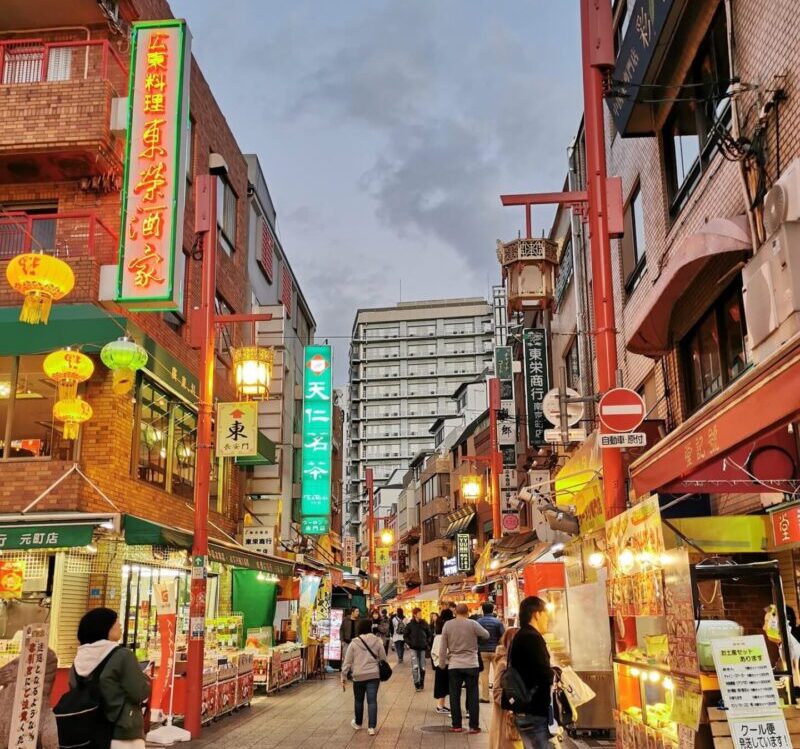 Kobe Chinatown (also known as Nankinmachi, 南京町) is the central focus of Kansai's Chinese community. It is a popular place for shopping and dining among locals and tourists. The area was developed by Chinese merchants in the late 1860s when Japan is opened for trade.
Similar to other Chinatowns, Nankinmachi has many Chinese restaurants and street food stalls to choose from. One of the best food places when visiting Kobe. Popular items such as steamed buns (manju), ramen, gyoza, and all kinds of tasty Chinese food at affordable prices.
Nankinmachi / Kobe Chinatown (南京町)
Address: 1 Chome-3-18 Sakaemachidori, Chuo Ward, Kobe.
Getting there: 5-minute walk from the east exit of Motomachi Station.
Leisure Walk in Kobe Motomachi Shopping Street
Adjacent to the Nankinmachi is the Motomachi Shopping street. It is a shopping street with long covered pedestrian roads that are full of shops, restaurants, cafes, and boutiques.
Just like the Japanese shopping street, you can find almost everything along the street. Spend some time leisurely exploring and shopping. There are many pharmacies and gift shops where tourists can buy souvenirs back home.
Kobe Harborland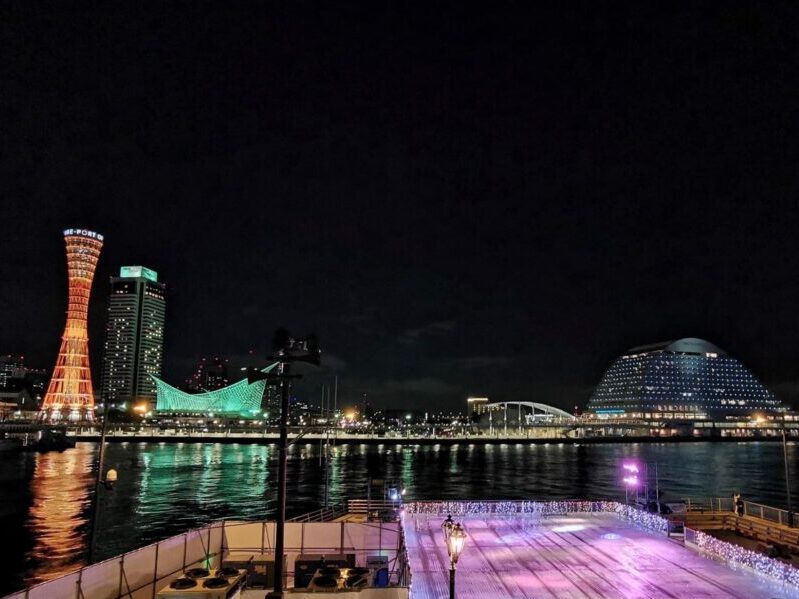 Lastly, head to Kobe Harborland, a vibrant shopping and entertainment district in the city. It is one of Kobe's major tourist attractions and Kobe Port Tower is part of the skyline.
The harbor and the surrounding architecture are very interesting. The night view at this location is beautiful, especially when the whole area is illuminated. Stroll along the waterfront with a view of the gorgeous port tower in the background.
There are lots of places to sit and enjoy a coffee and the views or places to grab a bite while out walking around. A lovely place to hang out, especially at night.
Kobe Harborland
Address: 1 Chome Higashikawasakicho, Chuo Ward, Kobe.
Getting there: A 20 minute walk from Sannomiya Station.
Kobe Port Tower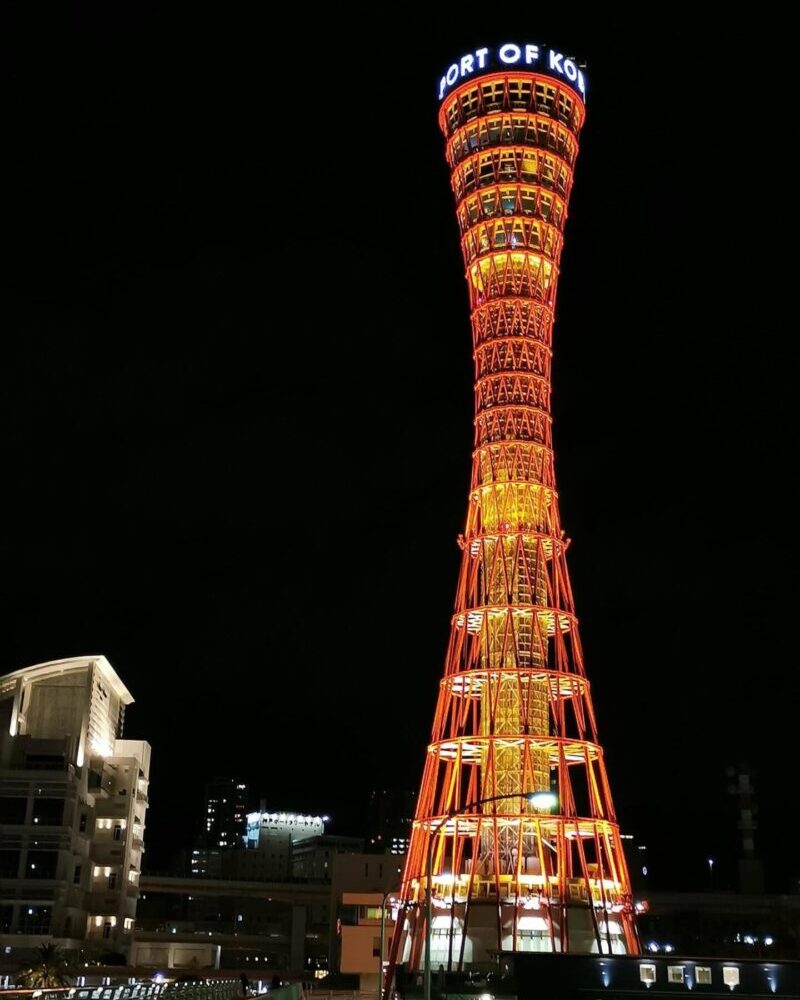 Standing 108m (354 ft) tall, Kobe Port Tower is a landmark and famous port icon of Kobe. The shape of the Kobe Port Tower resembles the shape of a tsuzumi, a traditional Japanese percussion with a pipe-shaped outer frame. It has over 7,000 LED lights mounted and it is best viewed at night when all the LED lights are lit up.
Travelers also can get up and enjoy the 360-degree city view from the observatory. The tower overlooks the beautiful city of Kobe from 5 observation floors and 3 specialty floors. A ticket to Kobe Port Tower costs ¥700 or it can be visited with a combination ticket with Kobe Maritime Museum for ¥1,300.
Although we didn't get up, the tower was still very impressive from a distance, standing out bright red with its unique shape.
More Times in Kobe?
One day or half day is good enough to see the city's attraction followed above Kobe itinerary. But if you're having more time and planning to visit the natural sights, here is our recommendation:
Arima Onsen (有馬温泉) – Surrounded by gorgeous mountains, Arima Onsen is an ancient hot spring resort town founded over 1000 years ago. It's one of the three oldest hot springs in Japan and is well-known for its centuries-old bathhouses and natural hot spring. Many traditional ryokans are offering a unique Japanese'stay here. There are also private ryokan that offers bath access with minor charges during the day even if you are a non-staying guest. The Kin no Yu with its "Kinsen" golden hot spring is the most popular place to soak in its iron-rich brown spring waters. A popular day trip or weekend gateway even for locals.
Getting there: About half an hour bus from Kobe.
Himeji Castle (姫路城, Himejijō) is another popular attraction that is best coupled together with a Kobe itinerary. Along with Matsumoto Castle and Kumamoto Castle, Himeji Castle is considered one of Japan's three premier castles. It is known as White Heron Castle (Shirasagijo) due to its elegant, white appearance. A world heritage site.
Getting there: JR train from Kobe to Himeji takes only 37 minutes at ¥990.
How Many Days for Kobe?
With proper planning, you can see most of Kobe's highlights in one day on a day trip to Kobe. But it is also no harm in staying longer in Kobe and immersing yourself in what this city has to offer!
Most travelers will couple up the day trip with Himeji and Kobe as an excursion from Osaka or Kyoto. You may consider staying one night at a ryokan in Arima Onsen to enjoy the hot spring. Arima Onsen is only about 30 minutes bus ride from Kobe downtown.
Final Tips for Kobe Trip
Last but not least, here are some handy Kobe travel tips for your trip:
Is Kobe worth visiting?
Definitely worth it. Kobe is a great place when visiting the Kansai region. The city is filled with a variety of shopping, dining, and sightseeing attractions. The Kobe beef is a must-try when visiting Kobe!
Is day trip to Kobe doable?
You can easily visit Kobe on a day trip from Osaka or Kyoto. The journey is only around an hour or less and it's totally worth the journey.
What to do in Kobe within one day?
If you're only planning to be in Kobe for a day trip, plan your Kobe itinerary on the attractions in the city center which include Kitano Ijinkan, Motomachi, Nankinmachi (Kobe Chinatown), and Kobe Harborland. You can also taste the world-famous Kobe beef during your trip to Kobe!
Overview: A Trip to Kobe
All in all, we hope your enjoy this Kobe itinerary. The city is impressive and totally different vibe from nearby Osaka or Kyoto. For me, Kobe is one of the best place to go and relax your time with a short visit. You can spend 3 to 4 hours walking around and enjoy the unique atmosphere in the city.
Lastly, traveling to Kobe and other interesting places in the Kansai region? If you are interested, please read about our visit to Kyoto, Osaka, Nara, Uji, and Kobe.
Related Kobe travel Stories:
Kyoto and Osaka Travel Stories: 
Best Day trip from Kyoto or Osaka:
How to travel to Osaka, Kyoto & Nara: