Last updated on September 23rd, 2023
Read on how to plan on your half-day trip to Shinhotaka ropeway. The best way to admire the magnificent Japanese Alps landscape with a gondola ride.
Takayama is a perfect base to plan on your travel itinerary for sightseeing attraction nearby. There are few renowned attractions to visit such as UNESCO Heritage Site Shirakawa-go or go for a day hike to Japan Alps in Kamikochi.
One of the popular activities when visiting Takayama region is ascending into mountain peaks via the Shinhotaka Ropeway (新穂高ロープウェイ). This two-storied gondola ride on Shinhotaka Ropeway is the best way to admire the magnificent Japanese Alps landscape.
How To Get To Shinhotaka Ropeway
Getting to Shinhotaka ropeway by public bus is very convenient. It takes about 100 minutes of bus ride from Takayama to Shinhotaka ropeway. While the Nohi bus is the company running for this route. The bus departed from Takayama Bus Terminal to Shinhotaka Ropeway Station with one bus per hour.
The bus fare is outrageously expensive. Luckily, there is a discounted bus ticket (Okuhida 2-Days or 3 Days round trip set ticket) provide unlimited bus ride between Takayama, Hirayu Onsen, Kamikochi with Shinhotaka ropeway included.
If you are planning for self-driving, consider renting your rental car from RentalCars.com. It provides a wide range of car rental with cheapest price and high reputation from customers.
Travel Tips: One-way bus ticket cost about 2,200 yen and 2,900 yen for a round trip for ropeway. Do your smart calculation to purchase the Okuhida set ticket! So it will greatly save on money even you using the combo ticket for one day. We fully utilized the combo ticket by spending our visit to Kamikochi and spend one night stay in onsen ryokan.
Related article:
Our Ride on Shinhotaka Ropeway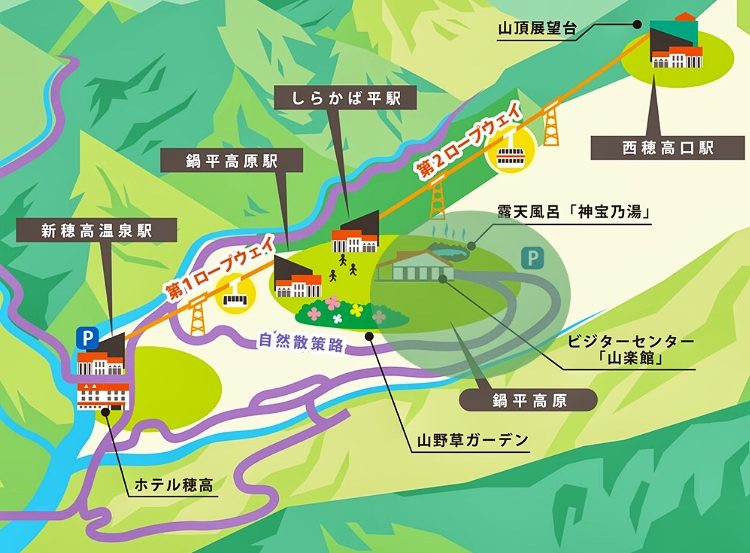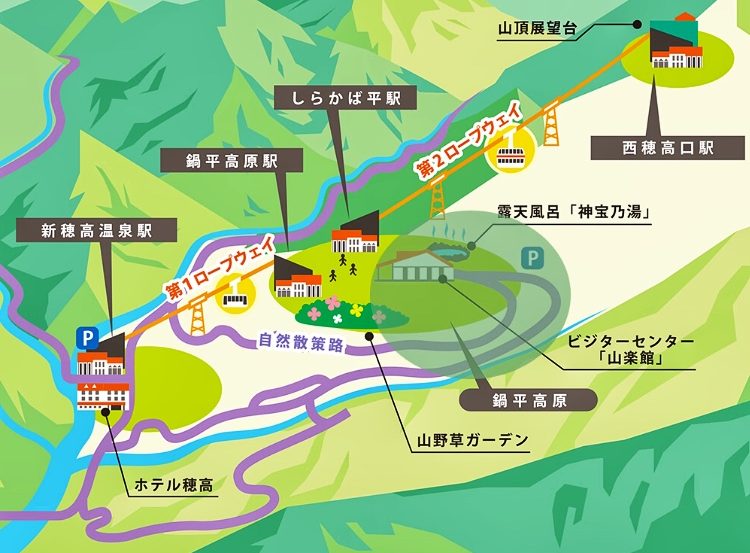 Round journey ride on Shinhotaka Ropeway will require about half-day trip which climbs over 1000 meters up the side of the Hotake Mountain Range. Depend on your itinerary, it takes about four to five hours including the transport time. It is highly recommended to coupled up the ride and book an overnight ryokan stay in Hirayu onsen nearby to experience the hot spring bath.
After an amazing one night stay in Suimeikan Karukaya Sanso, we proceed our Chubu travel itinerary to Shinhotaka ropeway. However, we were unfortunately as it was raining cats and dogs. There was no opportunity to see the gorgeous mountain range. We even though about skipping it. But we had the combo ticket and paid for it. So we decided to proceed for the Shinhotaka ropeway ride.
The ropeway station was just 5 minutes from Suimeikan Karukaya Ryokan. And we get a free ride from friendly staff. Thanks again to Suimeikan.
From Shinhotaka Ropeway Station To Nabedairakogen station
We drop off at the entrance of Shinhotaka Ropeway station building (新穂高温泉駅). It is the two-story building where you can get some souvenirs and snack at the first floor. We proceed to the second floor and redeem our ropeway ticket. It was a very simple and easy process. There were not many people for our day and we got our ticket for less than 5 minutes.
The entire ropeway consists of 2 sections of cable car ride. The first is the usual single deck cabin gondola for the short 200-meter climb. It will goes from base to the halfway of the mountain at Nabedairakogen station.
The ride took about 4 minutes.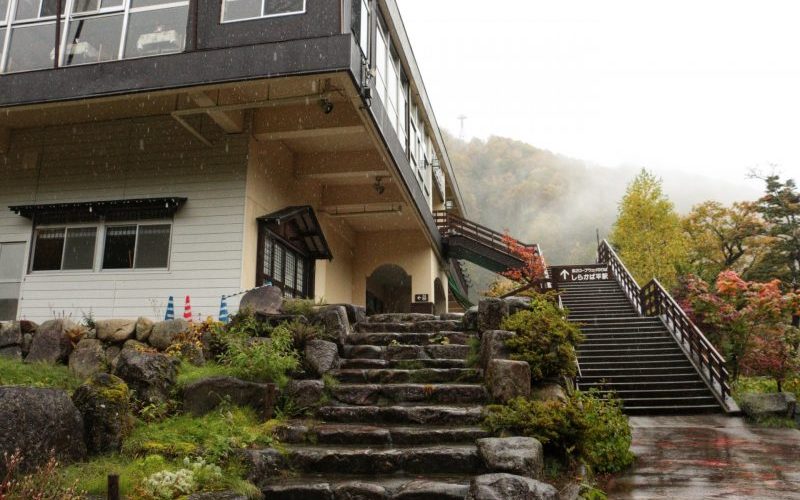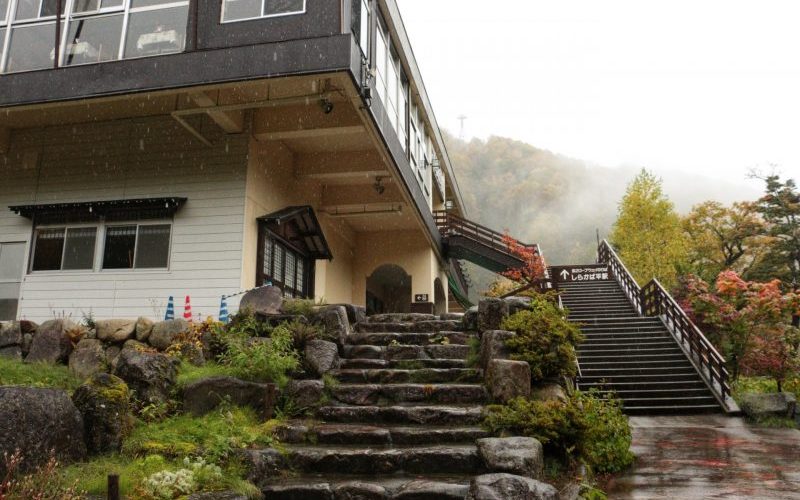 From there, you need to transfer for second ride to the summit. Take a short walk from Nabedairakogen station (鍋平高原駅) to Shirakabadaira station (しらかば平駅). Alternatively, you can also spend time wandering around before proceed to the summit. There is a cafeteria if you would like to take some rest here. The first floor allows you to walk out onto the open to enjoy the scenery.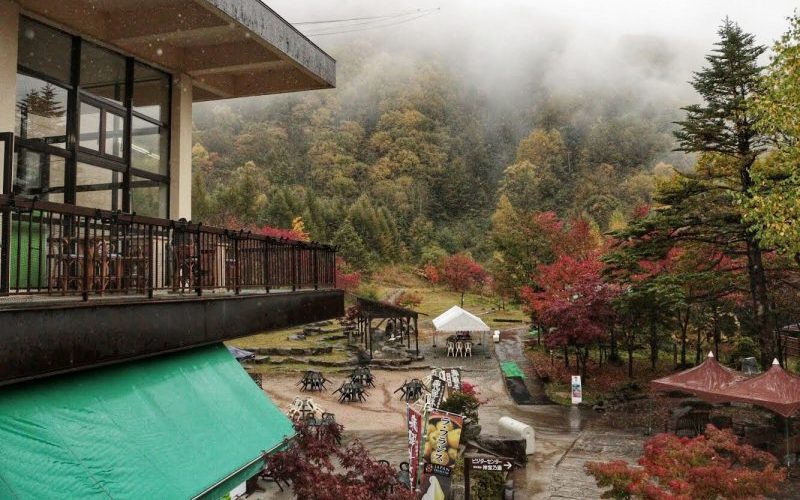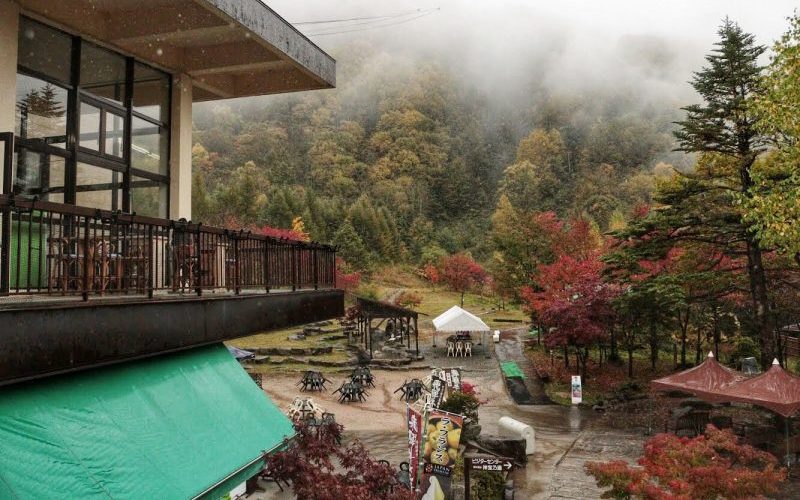 Moreover, there is a natural walking path where you can fully enjoy nature. Too bad the weather was not so good and we had to cancel the little trek.
Alternatively, you can soak into Kamitakara-no-Yu, a natural open-air bath with entry fees at 600 yen.
Ascend To The Summit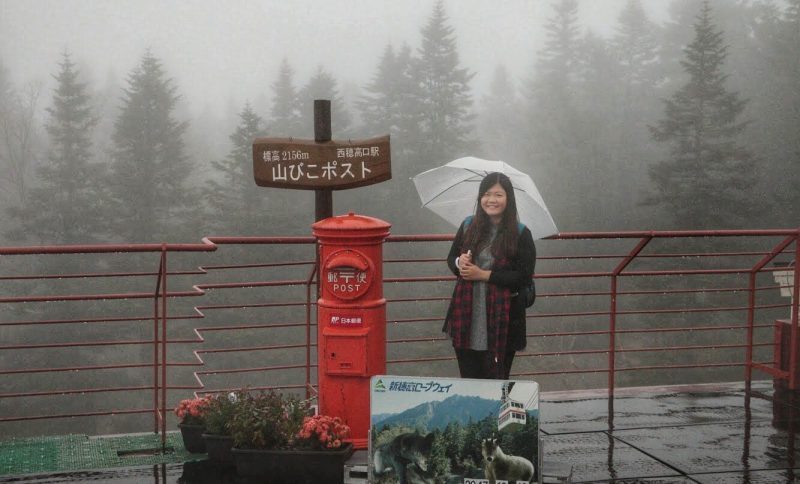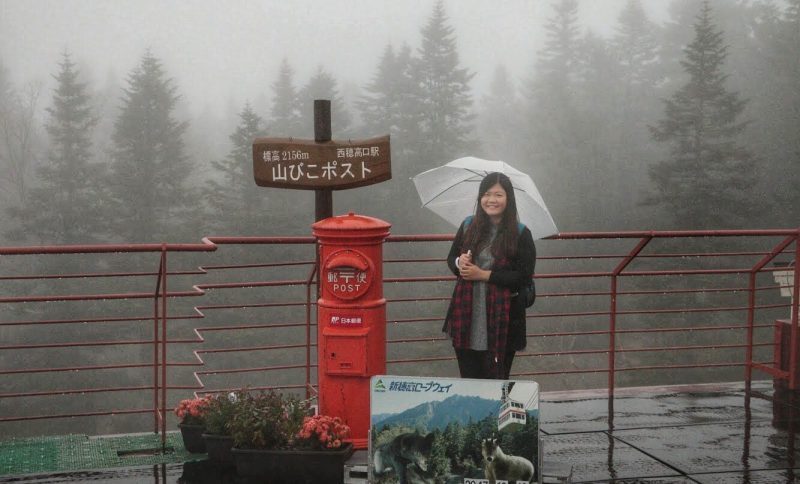 The second ride is Japan's only double-decker gondola for the 800-meter ride. It took about seven minutes to the summit, which is 2,156 meters above sea level.
We arrived in Nishihotakaguchi Station (西穂高口駅). There is a large panorama 360-degree observation deck where you will be greeted by the magnificent view of the Northern Alps on a cloudless day. We wish to spend more time on top. However, it was cold on top of the mountain due to rain. We took some photos and decided back to the ground.
Back To Takayama by Bus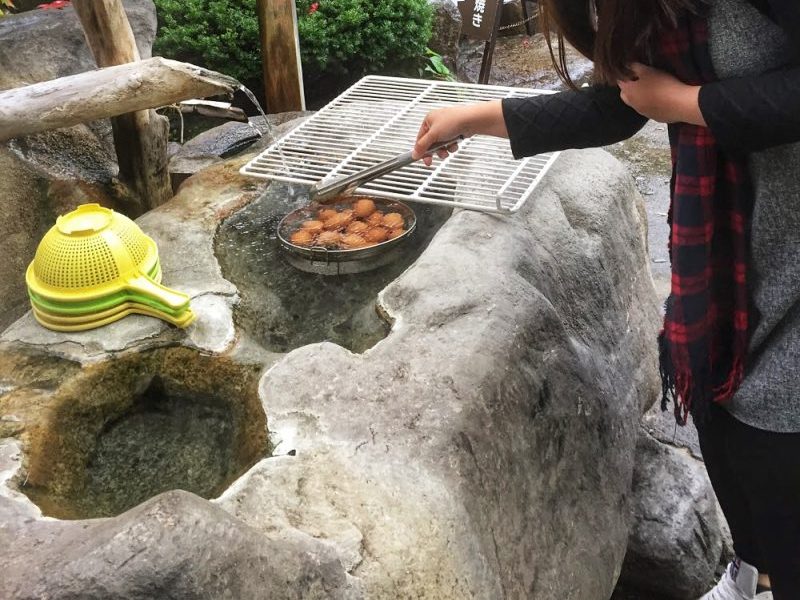 Back at the bottom of the ropeway, we relax our foot at the footbath while waiting for the bus back to Takayama station. It is a nice option to warm yourself with a footbath if you don't have time to enter the hot spring.
Added, there is a food kiosk in front of the bus station. You can get some hot spring soft-boiled eggs, steamed Hida beef buns or snack if you're feeling a little hungry.
Although we did not get a very good picture for the entire journey. We still highly recommended to enjoy the gondola ride with a magnificent view of the Northern Alps. Do visit the official Shinhotaka Ropeway website to check out the weather conditions.
Lastly, this Shinhotaka ropeway blog is part of our Chubu Japan travel itinerary. Read on our travel post if you need some ideas to plan on your itinerary.
Travel Guide and Itinerary:
Local and Best Food in Takayama: