Last updated on October 2nd, 2023
Keep reading below the Shirakawago travel guide on how to plan your trip to Shirakawa-go. This includes transportation to get there, where to stay, what to eat, and things to do in Shirakawa-go.
Located in Gifu Prefecture, Shirakawa-go (白川鄉) is a popular travel destination to visit in central Japan. It is one of the must-go bucket lists for many travelers to Japan. Listed in UNESCO Heritage Site, Shirakawa-go is known for its Gassho-style traditional houses which feature steeply pitched roofs surrounded by lush nature. It's like a Japanese version of a fairy tale town with its charm.
In this Shirakawago travel guide, we will introduce you to this quaint historic village with a unique architectural building. So read on!
How To Get To Shirakawago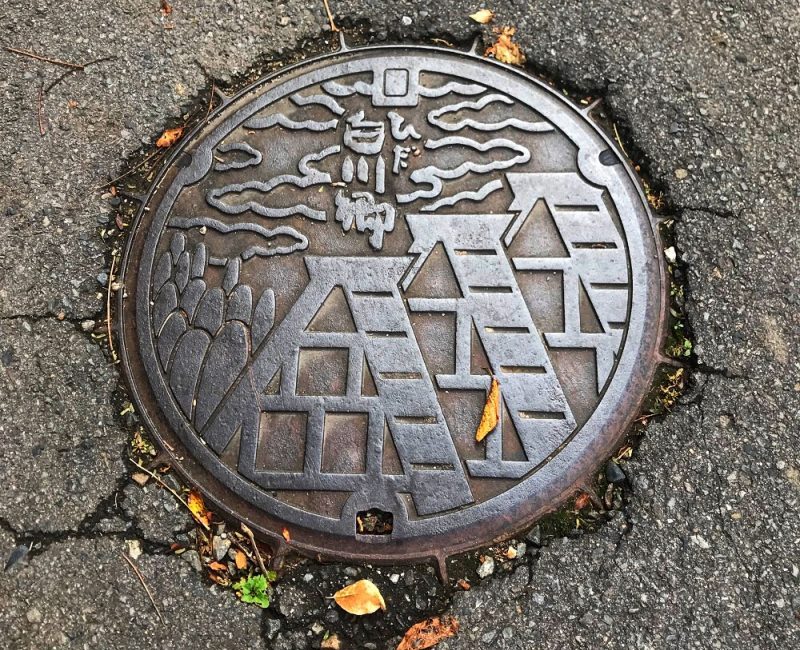 First of all, it is not so straightforward to get to Shirakawa-go. Nestled in a valley and geographically remote from other habitation, there is no direct train that can get you to Shiragawago. However, Shiragawa-go is still accessible by several types of transportation. It is advisable to make your way to its nearest town such as Takayama, Kanazawa, or Toyama. Then, transfer to a bus to Shirakawa-go.
Getting to Shirakawago by bus
Bus probably is the most budget way. Nohi bus (濃飛巴士) is running between Shirakawago, Takayama, Kanazawa, and Toyama. The traveling time from Takayama and Kanazawa is about 40 minutes. While the Toyama is required 80 minutes. Reservation is required to board the Nohi bus.
Getting to Shirakawago by self-driving
Probably the best option to get to Shiragawago. Renting a car to visit Shirakawago is the best way to travel at your own pace, especially for families with kids and the elderly. Parking is available with fees applied. We recommend using RentalCars.com to reserve your car as they have the best selection and prices.
Read also: Tips on how to rent car in Japan
Getting to Shirakawa-go by train
Again, Shirakawago is not accessible by train. Depending on which city you're coming from. You need to transfer to the nearest city and then ride the Nohi bus to Shirakawa-go. If you are coming from Tokyo or Osaka, consider going to the Kanazawa or Takayama via Shinkansen which is covered by Japan Rail Pass. The train ride normally takes around 2 to 3 hours.
Day Tour to Shiragawago
Shirakawa-go can be explored by public transport but if you prefer a hassle-free visit then consider taking a day tour. Klook provide day trip to Shirakawago with transportation and a professional guide. Therefore, an easy way to help you explore Shirakawago without worry on too much.
Best Time To Visit
Shirakawago is best to visit any time of year and each season has its charm. Similar to many places in Japan, Shirakawa-go is filled with sakura in full bloom during spring. In summer, the village is surrounded by green and flowery rice fields and plants growing. Moreover, it gets painted with colorful autumn leaves in the fall.
But one cannot deny, that Shirakawago is extremely beautiful during winter. The scene is like walking into a fairy tale when the Gassho house is thickly blanketed with white snow. Truly one of the most picturesque places and best scenes in Japan.
Where To Stay in Shirakawago
For a unique lodging experience, consider spending one night at Gassho-zukuri houses in Shirakawago. Most of the guest houses are run by owners. Enjoy the intimate and authentic experience of living in a traditional Japanese home. Have a taste of home-cooked meals at low tables and tatami floor with the host family. While there is only a limited guest house around the Ogimachi village, please make sure to book in advance, especially during peak season. You may check on the availability of guesthouses in Shirakawa-go at Japanese Guest Houses.
Alternatively, consider staying in accommodation nearby Shirakawa-go and walking to the village after the day-tripper leaves.
Shirakawago Guest House Kei is only 600 meters from the village. This accommodation has a dormitory room, private double, and quadruple Japanese room for your best stay in Shirakawago.
Onyado Yuinosho is a cozy ryokan that perfectly bled in traditional and modern facilities. Featuring with mountain view, guests can access to the sauna and hot spring. One of the best places to stay in Shirakawa-go.
CURIO Shirakawago is a newly open accommodation in the village. The location is superb and just a step from the Shirakawago heritage site. Good sizing room and clean. Everything is clean and perfect for a relaxing stay in Shirakawa-go.
Besides, Takayama is the best place to stay if you are planning for a day trip to Shirakawa-go. It has many unique Ryokan, hotels, and hostel in different price ranges and budgets. During my visit to Shirakawa, I was staying in Country Hotel Takayama and had a wonderful day trip to Shirakawago by Nohi bus.
What Is So Special About Shirakawa-go?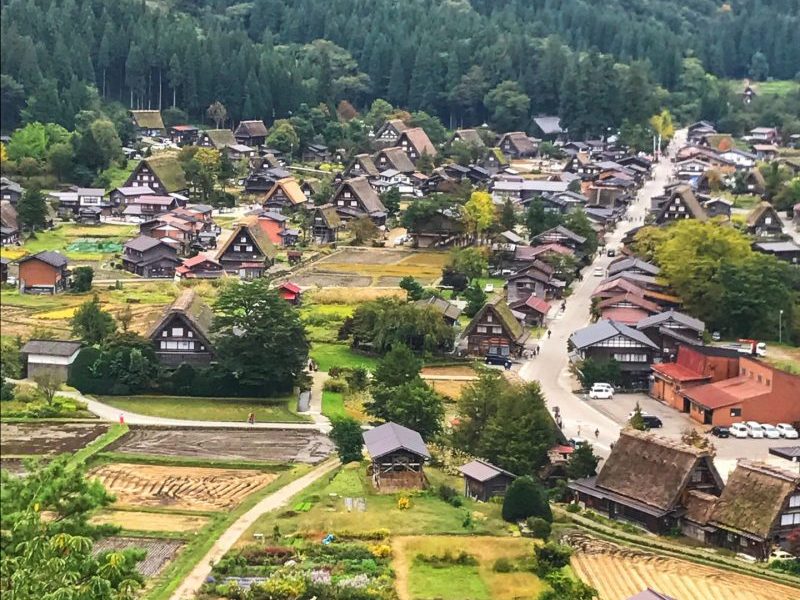 Shirakawa-go is a serene historical village that sits in a beautiful river valley. It is UNESCO's cultural heritage with a unique architectural design that is preserved today.
The located mountainous village, Shirakawago is developed independently from Japanese society, resulting in a unique culture and lifestyle. The most well-known is their Gassho-zukuri which is made of woof without a single nail. The roof is characterized by a steep slanting thatch roof with praying hands construction style. As a result, its unique design is exceptionally strong to withstand heavy snowfall and wind.
Their community system is very strong. Everyone is helping each other during the planting and harvesting season, and taking care of the natural environment surrounding. One of the perfect examples is the thatched roofs. While the roof can last for 30 years and it needs community effort to change on it. During this time, everyone will be gathered and help with these activities. Villagers are working together to protect their Gassho-style houses and the culture.
Things to Do in Shirakawa-go
Meanwhile, many travelers are visiting Shirakawa-go when getting to Chubu Japan. Most of them are only spent on few hours inside the village. But, there are many things to do and awaiting you to slowly discover.
We will cover all the best things to do in the Shirakawago travel guide including the special event and festivals.
Visit The Gassho-zukuri House
View On Village at Shiroyama Viewpoint
Cross the Deai-bashi Bridge
Wandering Around The Historical Village
Pray at Shirakawa Hachiman Shinto Shrine
Join the Doburoku Matsuri Festival (Fall)
Witness the Winter Light-Up (Special Winter Event)
Eat the Local Snacks
Visit The Gassho-zukuri House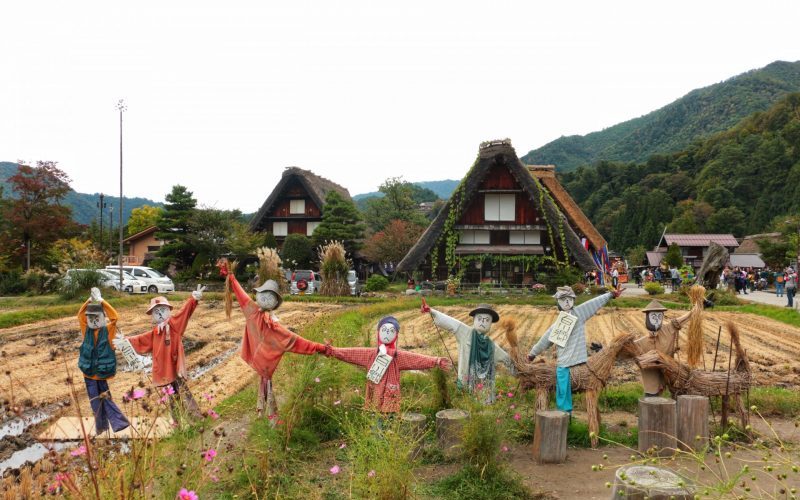 The impressive Gassho-zukuri houses the top attraction in Shirakawago. It has been well preserved since its establishment in the early 19th century. The cultural structures are made without a single nail. There are three houses open to the public for viewing for a nominal fee. We recommended choosing at least one of the houses to visit.
Firstly, Wada House is the largest and one of the oldest among Gassho-zukuri houses in Shirakawa-go. Constructed in about 1800, Wada House is recognized as an Important Cultural Property by the Japanese Government and is perfected preserved. It was the home of the Wada family who was prominent and resided in the village. This 3-story wooden building with the second floor and part of the first floor is open to the public.
Another worth visiting is Kanda House. This is where you can appreciate the ancient architecture of the house from the inside. It is also the only Gassho house that allows visitors to climb up to level 3. Added, there is also a lovely fireplace where you can enjoy freshly made hot wild grass tea. Having a cup of tea on the tatami is like bringing back to the old Japanese Edo period.
View On Village at Shiroyama Viewpoint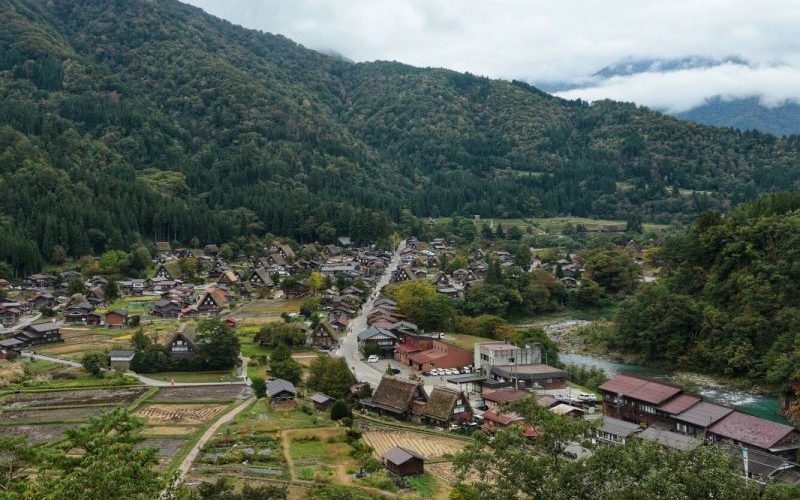 Shiroyama Viewpoint is the best place to enjoy the breathtaking view of the Shirakawa-go village. It is an excellent vantage point with an observatory deck above the village. Depending on the season, you can have a beautiful panoramic view of the village clothed in different colors. In winter, it is also the best place to view the world heritage thatch-roof house coated in snow.
While the Shiroyama Observation Deck is located high on a hill. To get there, you need to take a 15 minutes hike by foot from the main village. It is a relatively easy trek with a mild slope. Alternatively, just take the shuttle bus for ¥200 for one way. Do take note that during heavy snowfall periods, the trail to walk up may be closed.
Cross the Deai-Bashi Bridge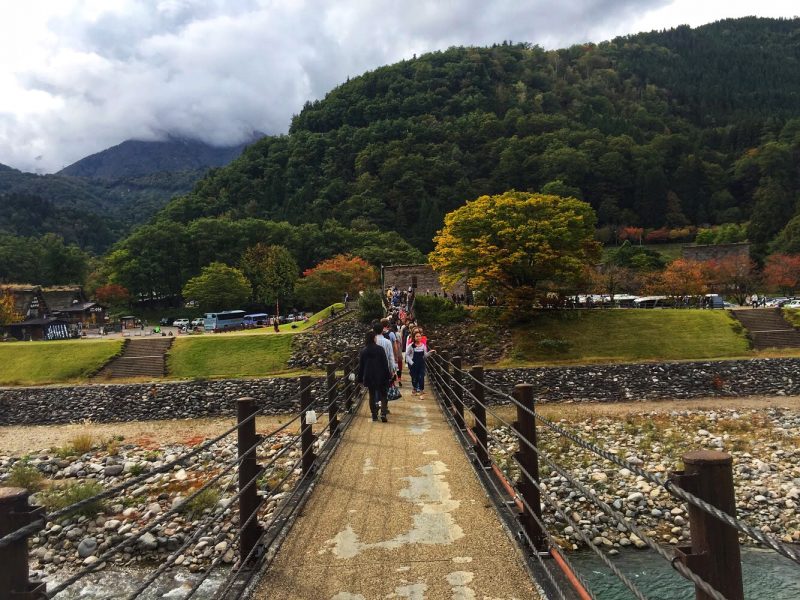 The mountain location is surrounded by stunning views with a beautiful landscape. There is a long river running across with suspension Deai-Bashi bridge over the river. It is a delightful and lovely walk across this Deai-Bashi bridge. When the season changes, you can enjoy the beautiful scenery behind with flowing water and fresh air.
This area is also the best place to enjoy the sakura in spring and autumn foliage. However, please make sure to be careful when taking the photo on the bridge. It can be very slippered, especially during winter with snow.
Wandering Around The Historical Village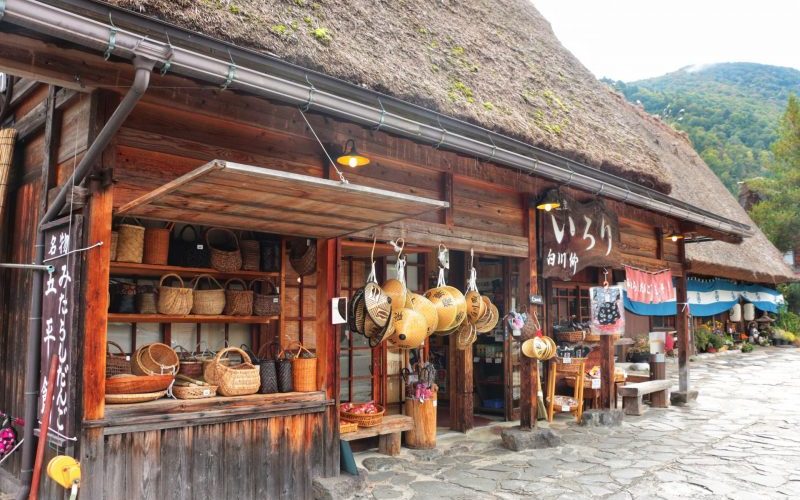 Next, another best thing things to do in Shiragawa-go is freely wandering around the village at no cost. Take your time to walk within the village paths, view the buildings, and explore the character houses.
That is to say, the center town of Shirakawa Kaido Street is the busiest street in the village. It features many souvenirs shops and local snack stalls. It can be crowded and full of visitors during noon. Take a detour and walk through the side valley to experience the simplicity of the village. Clearwater streams through the canals along the roads with possible fish inside. Shiragawa-go is a quaint village with a picturesque view.
Pray at Shirakawa Hachiman Shinto Shrine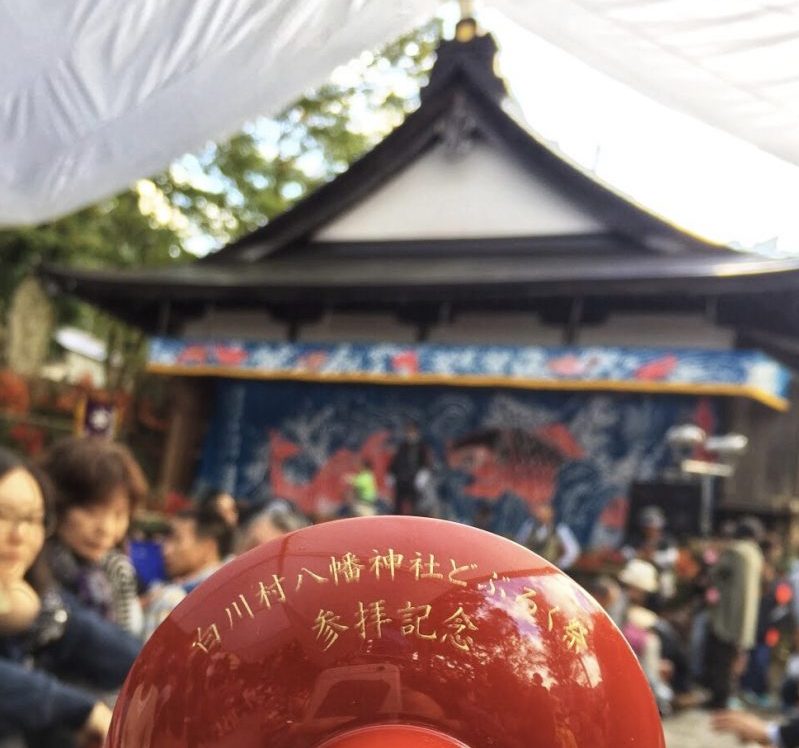 One of the local points of interest is the Shirakawa Hachiman Shinto Shrine. It is an important and well maintain shrine in Shirakawa-go. For a long period, Shirakawa Hachiman Shinto Shrine has served the local villagers for many generations. Take some time to pray at Shirakawa Shinto Shrine and enjoy the peaceful atmosphere.
Additionally, it is also the main venue to hold the Doburoku Festival during October every year. During this time, villagers gather here to offer prayers to the local mountain gods for a good harvest and thanks for protection.
Join the Doburoku Matsuri Festival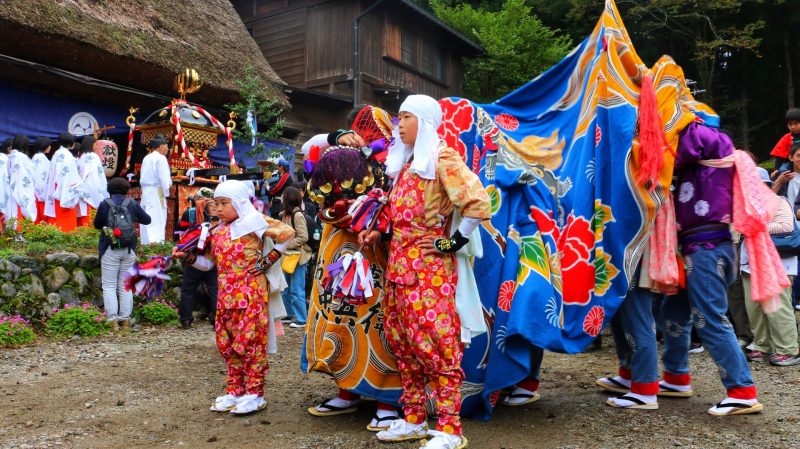 At Shirakawa-go, there is a yearly festival that takes place in the quaint village. During the Doburoku Matsuri Festival, villagers are gathered in the shrine to conduct sacred processions, pray for the mountain gods and thank them for their protection. There are also lion dances, a parade with songs, and dances by villagers.
Besides, one of the unique things to do during the festival is try on Shirakawa-go's specialty product, Doburoku sake. It is a home-brewed unrefined sake with white and opaque like rice porridge. Enjoy the vibrant festivity like a local with an unlimited flow of sake with villagers.
Witness the Winter Light-Up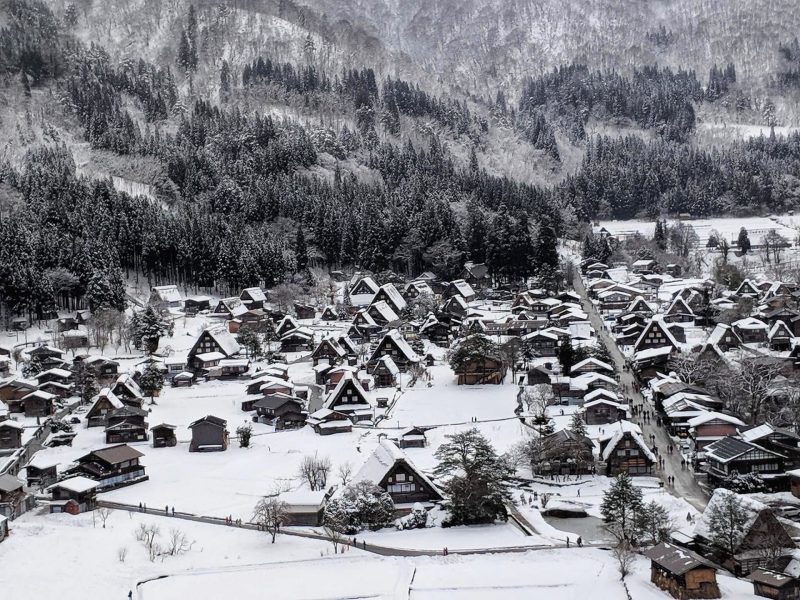 Like a fairy tale come to life, Gassho-zukuri houses in the Shirakawa-go are lit up at night during the winter season. The rustic village is so dreaming with illuminated lights twinkling under the heavy snow.
This exclusive Winter Light Up Event is held between January and February every year. It is very popular among visitors and even locals. Due to overwhelming, the regulations of joining the event are changes with reservations required starting from 2019. Guests are restricted to access the village without permission. Do make sure to plan early and check for information at the official website.
Eat the Local Snacks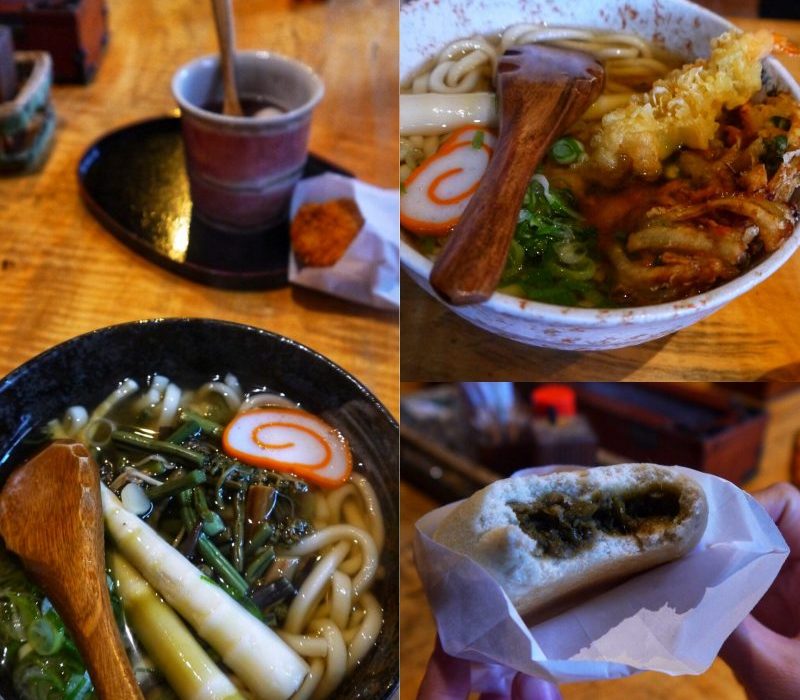 Not to forget to introduce on best food in this Shirakawago travel guide. There are only a few local food restaurants in the village if you are looking for what to eat in Shirakawago. Most restaurants are only serving simple local dishes with limited food selection. For example, a hot bowl of udon with seasonal vegetables or shrimp on top.
Additionally, plenty of food stalls selling a variety of local snacks along the main street. We recommended grabbing some snacks to try on. The Hida beef on a stick is the best in the Takayama region. Another worth recommendation is gohei-mochi. It is a savory sticky rice cake made from pounded rice.
To try on other local delicacies, you can have the doburoku sake ice cream, beef bun, croquettes, or red bean soup. Price is reasonable even in the famous place among visitors.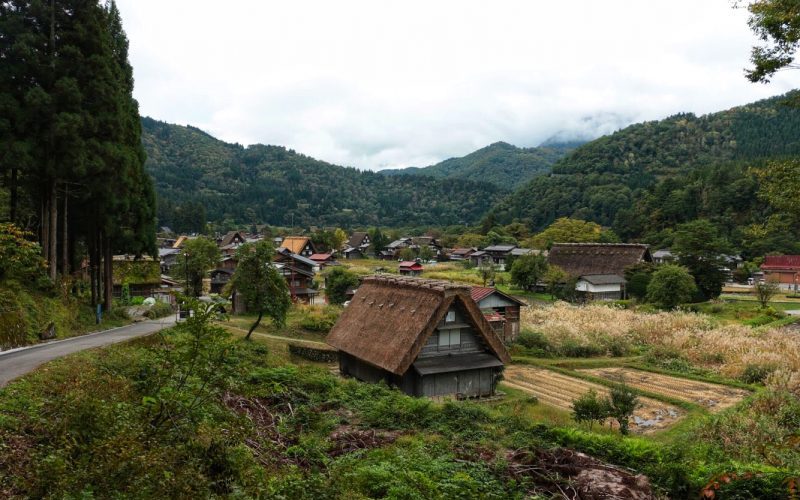 Overview: Shirakawago Travel Guide
To sum up, Shirakawa-go is the hidden gem in the protective arms of the surrounding mountains. Planning a visit to this rustic village can be easy by day trip with a few hours of visit. But there are many things to do and see in Shirakawago.
Lastly, hopefully, this Shirakawago travel guide can give you some ideas and inspire you to plan for the coming trip. Happy visit to Shirakawa.
Related Shirakawago travel blog:
Related Chubu itinerary and travel blog: