Last updated on September 12th, 2023
Don't forget to try the famous Japanese-style fried chicken wings (tebasaki) when visiting Nagoya. The Sekai no Yamachan is serving the tastiest chicken wings in Nagoya and Japan and is popular among locals.
The first food that comes to everyone's mind when mentioned about Nagoya food is Tebasaki (手羽先), or chicken wings. This signature Nagoya-style Fried Chicken Wings are called 'Nagoya no Tebasaki', has become synonymous with Nagoya food and must-eat when visiting Nagoya. You're no surprise there are many restaurants are serving the tastiest chicken wings, and Sekai no Yamachan is the most popular among all. Their chicken wings are flavored with secret ingredients and spices and then deep-fried into perfection.
As part of our Nagoya foodie hunt, we make our food trip to Sekai no Yamachan for this Nagoya's specialty, the deep-fried spicy chicken wings.
Sekai no Yamachan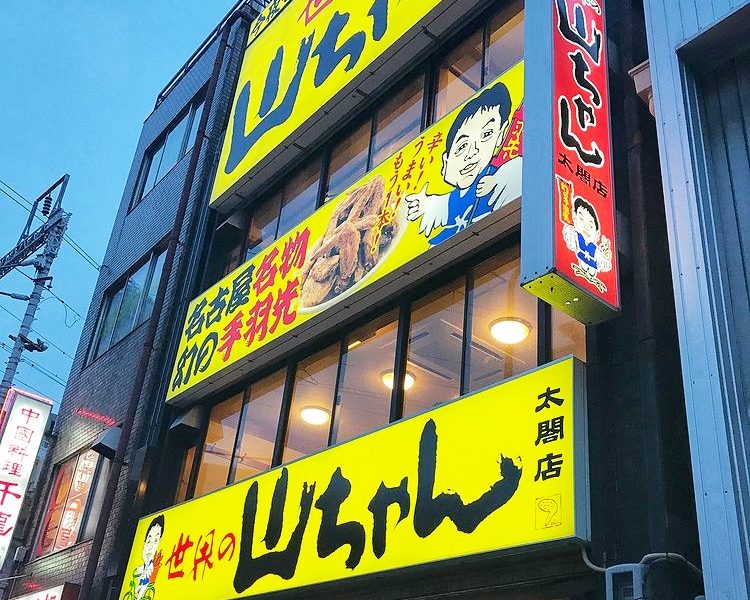 The famous Sekai no Yamachan (世界の山ちゃん) is a restaurant chain that is very popular particularly in Aichi prefecture. It is a relatively cheap Izakaya-style (Japanese bar) restaurant and popular for its Tebasaki comes with a deliciously spicy kick. This Nagoya-style chicken wing has widely spread in Nagoya and Aichi, and finally to all corners of Japan. Now Sekai no Yamachan can be found throughout Nagoya and other cities in Japan. They have close to 80 stores and even overseas stores in Malaysia, Thailand, Taiwan, and Hongkong.
In Nagoya, you can found numerous Yamacan outlets throughout every corner. You can't miss this restaurant especially at night when its big illuminated signboards light up. The blue bird-man marketing has been on top of their warm hospitality and including in the menu guide on how to eat chicken wings correctly.
Locals love visiting Yamachan for one main reason: the addictive spicy tebasaki! It is a very popular place to go with colleagues or friends after work. Even Yamachan has so many outlets, you still need to wait for seated especially Friday night due to its popularity.
Sekai no Yamachan (世界の山ちゃん) Nagoya's store locations: https://www.yamachan.co.jp/shop/aichi/
Our Visit To Sekai no Yamachan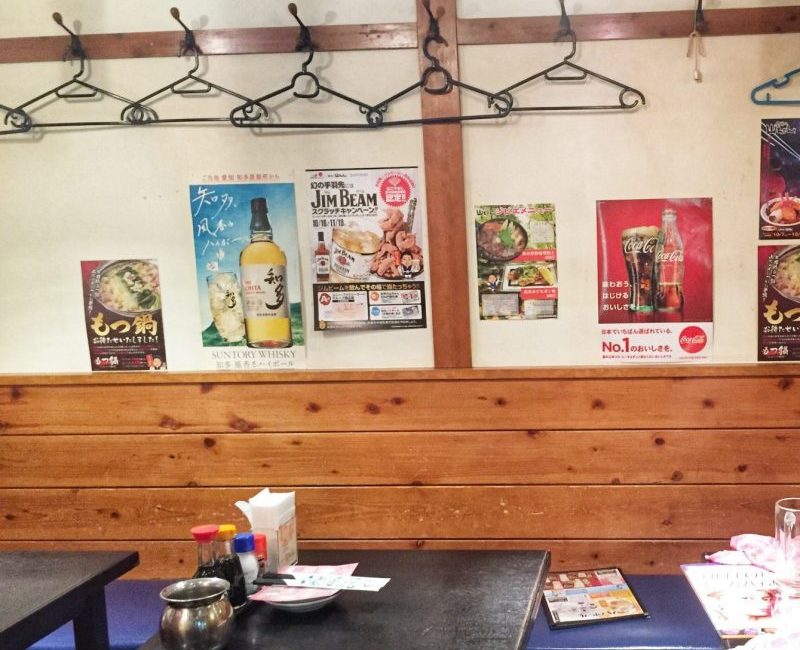 We reached Sekai no Yamachan after finished on our Nagoya itinerary. From Google Maps, we choose the nearest Sekai no Yamachan from our hotel. There are few outlets just along the business street. But still, we have informed the need to wait in line at the peak dinner time.
Inside the Sekai no Yamachan is a simple izakaya-style with a semi-open kitchen. We were served to sit in the normal seating area. There are private rooms to cater for a bigger group, but for sure longer wait time for the seat.
The waiters at Yamachan are super energetic and friendly. They yelled with welcome greetings in Japanese, coats were taken off of our hands and hanged, hot towels were served immediately.
How To Order in Yamachan
They have an English menu with pictures and English-spoken staff. So it is very easy to order your food in Yamachan, or you just have to point at whatever you want to eat.
Chicken wings are the most popular items here and you can't go to Yamachan and not order the chicken wings. At Yamachan, they have different flavors such as original, black pepper, and more. Each order is a set of five wings at about ¥500. This is considered a one-person portion but it's easy to eat much more than that! People in large groups literally order a mountain of chicken wings! So, keep your budget in mind as it can get pretty expensive quickly.
Besides, Yamachan also has a very wide choice of other dishes such as nabe dishes (hot-pots), fried fish, Japanese curry, salads, miso kushi age, soba, and many other.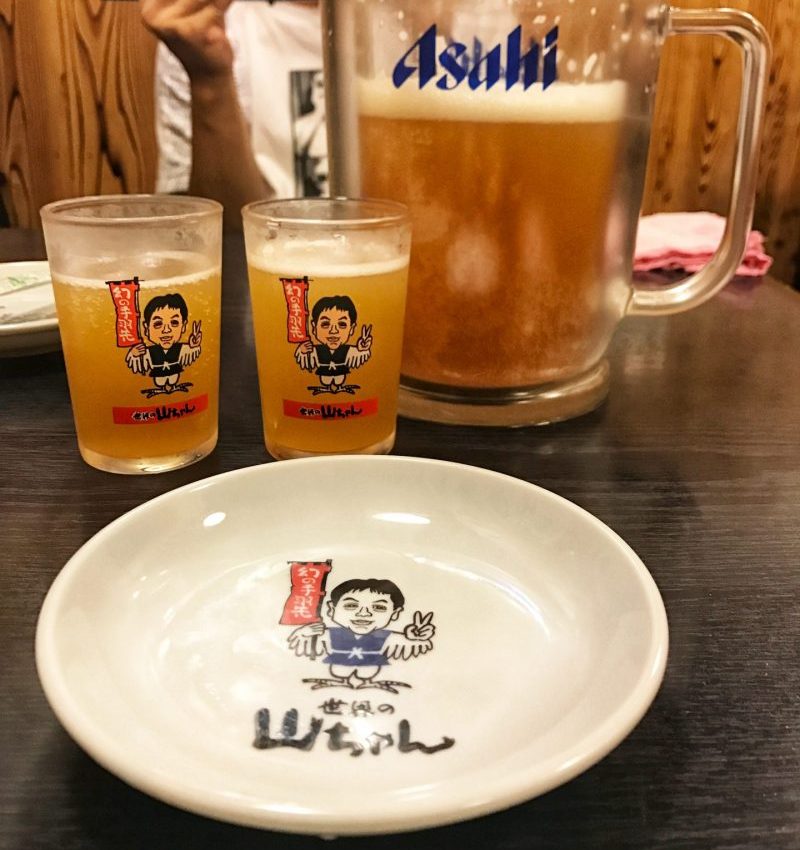 The drink menu is also huge. Different types of beer, highball, wine, Japanese sake, and soju, as well as a wide selection of non-alcoholic drinks. You will find something you like. Take note that Instead of a cover charge, Yamachan requires each person to order a drink.
Eating the delicious Nagoya famous tebasaki with a cold pint of beer is our recommendation. Nothing goes better with tasty chicken wings than a mug of cold beer!
Order to take-out is a popular option too. You can even buy the chicken wings frozen directly from the restaurants and bake them at home.
Nagoya-Style Tebasaki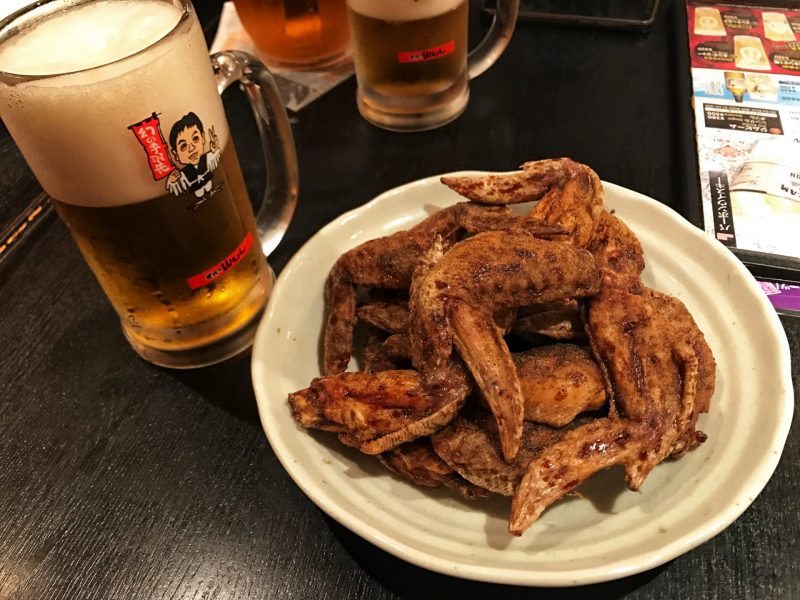 Our tebasaki were served on our table not long after. They were deep fried and glazed with soy sauce and mirin-based spicy sauce. It didn't look that appealing, brown, and dry-looking. But once we took a bite on it. OMG, it is so delicious!
The chicken wings were fried to perfection, the skin was crispy and flavorful meanwhile the meat inside was juicy, and of course, steaming hot. The spices were completely different than the Western Style, some kind of Japanese style of Buffalo wings. Together with the cold beer, these Japanese-style deep-fried chicken wings were so perfect. We can't stop eating and ordered more plates and drinks.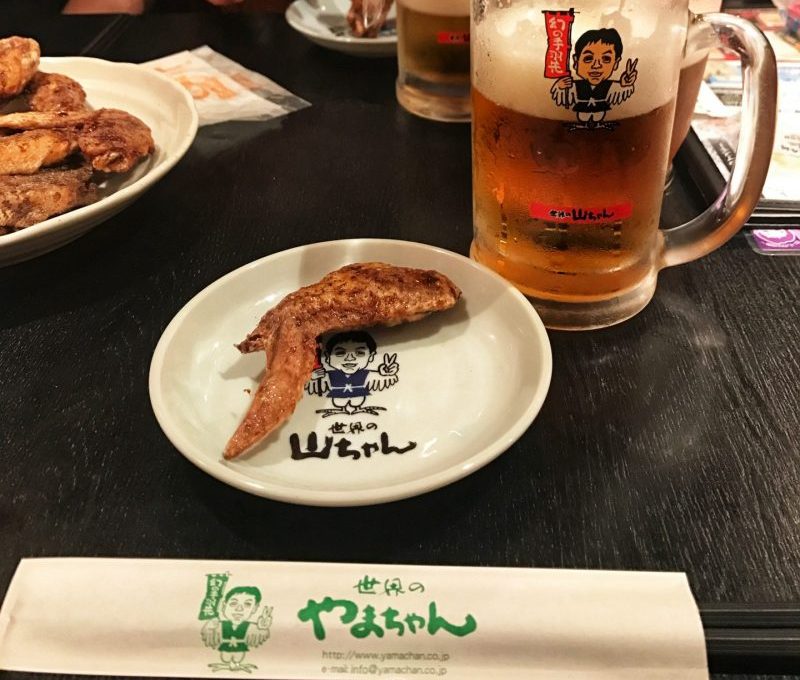 There is a special local way to eat the Tebasaki without having a scrap left on the bone. You will find the instructions on the paper wrapped around your chopsticks. Just pulling out the meat at one swipe! There is a small bucket in front of us to throw the chicken bone and it is easily full as we keep on eating.
In the end, we polished off 8 plates of chicken wings. Such a satisfying meal!
Final Thought: Nagoya Best Tebasaki
Visiting Sekai no Yamachan in Nagoya for dinner, as part of the Nagoya itinerary can be really fun. It is really easy, even for foreign tourists in Japan. They will make you feel welcome, and delight your taste buds with the irresistible Nagoya style fried chicken wings. Make sure to try this Nagoya famous tebasaki into your Nagoya Food Guide when visiting here.
If you enjoyed this Nagoya food post, you could also read about other Nagoya travel guide including Nagoya itinerary planning, where to stay and what to eat in Nagoya.
Complete read in Chubu travel blog:
Takayama and Shirakawago Travel Blog:
Tateyama Alpine Route and Kamikochi Travel Blog:
Kanazawa Travel and Food Blog: