Last updated on September 12th, 2023
See how I join the locals to celebrate the Shirakawago Doburoku Matsuri Festival Festival during my trip to Shirakawago. A great experience for Japan's local festival.
Shirakawa-go (白川鄉) is world-famous for its unique Gassho farmhouse design. This hidden gem sits in a beautiful river valley in Gifu prefecture. The preserved village has strong believe to god of mountain since ancient Japan. During mid of October (between 14th to 19th), Shirakawa is celebrating Shirakawago Doburoku Masturi. This festival is the biggest celebration at Shiragawa region. Offerings are made to the gods of the mountain to appreciate good weather and harvesting.
When planned on Shirakawago Itinerary, we get to know that Shirakawago Doburoku Masturi will be held during our visit. We were just in time to catch the Shirakawago-go Festival which held in October every year. Such a lucky for my Chubu Japan travel trip.
Read on my experience to the Shirakawago Doburoku Matsuri Festival and enjoy the festival with locals.
Shirakawago Doburoku Masturi
Every year, the Shirakawago Doburoku Masturi (どぶろく祭) is held at multiple shrines throughout the village which takes place in October. It is also the biggest celebration at Shiragawa region. While Shirakawa Hachiman Shrine is the major event among all the three important shrine in Shirakawa region. The activities will start from morning until night.
For detail on venue, date, and schedule for Shirakawago Doburoku Masturi, please check on the Shirakawago official website for the coming festival.
We participant Shirakawago Doburoku Festival during our day trip to Shiragawago and have so much fun. In the morning, we spend our time visited the UNESCO Heritage site village. We took some breaks and have our lunch at one of the cozy places for a simple yet heartwarming meal. Next, it's time for us to join the Shirakawago Doburoku Matsuri.
Related article: Shirakawago Itinerary: A Walk Into Cultural Japan Village
Sacred Procession And Parade
From far, we could see the villagers gathered and started for the procession from Shirakawa Hachiman Shinto Shrine. A portable shrine is carried around and pulled through the village in a parade. We joined the procession and stopped in front of one of the Gassho house.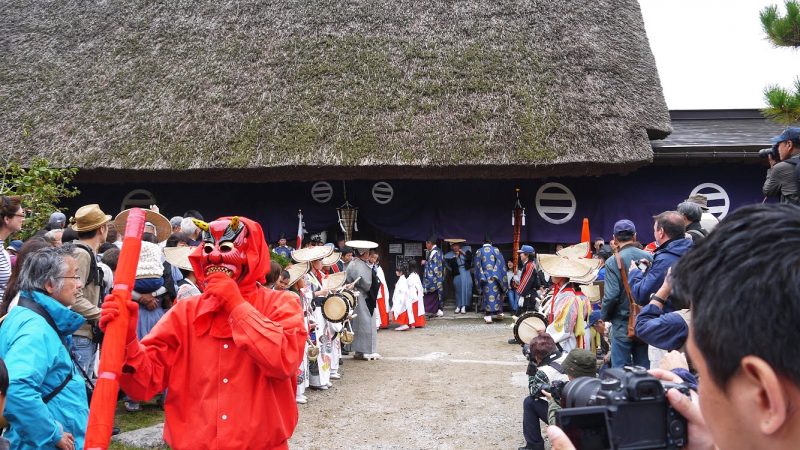 Two men wearing red-faced and green-faced devil mask with full-color suit for festival performances. They were not frightening and scary. They were very friendly and we also took some photos with them.
Folks Music And Songs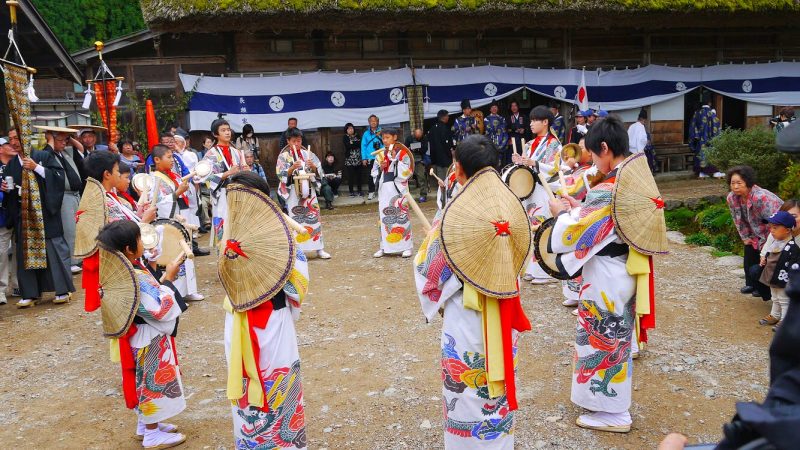 Local kids started their performance with traditional folk music and songs. The folks' song was performed in a circle and it is being handed down from generation to generation.
Shishimai Lion Dance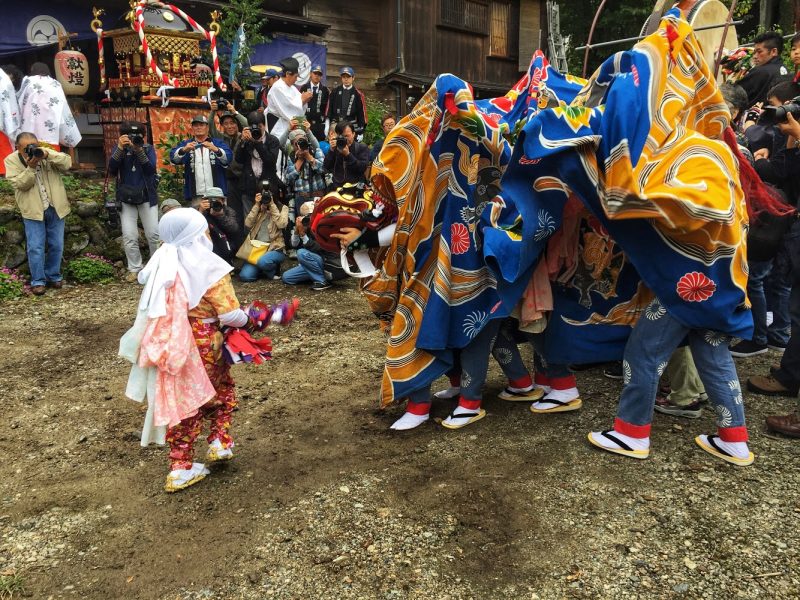 A mask lion called Shishi-gashira was handled by locals while two kids fighting the lion by using weapons. They moved around technically and fighting the Shishimai skillfully. It was so cute when seeing the little kids fighting the Shishi-gashira with weapon.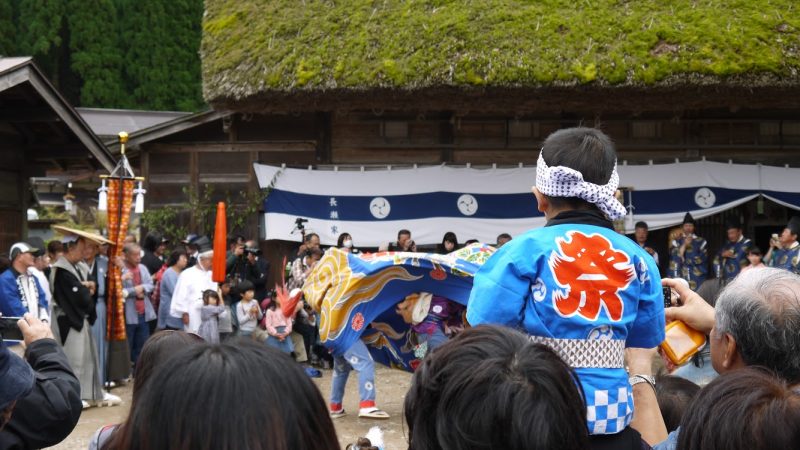 The performance show takes about 30 minutes. Next, the procession moved to another house and redo the same show. Many locals and visitors came and joined the celebration. Some even dress up with festival costume to join the Doburoku Matsuri.
The morning event ended at about 3 p.m. Its time to continue the celebration at Shirakawa Hachiman Shinto Shrine.
Afternoon Event at Shirakawa Hachiman Shinto Shrine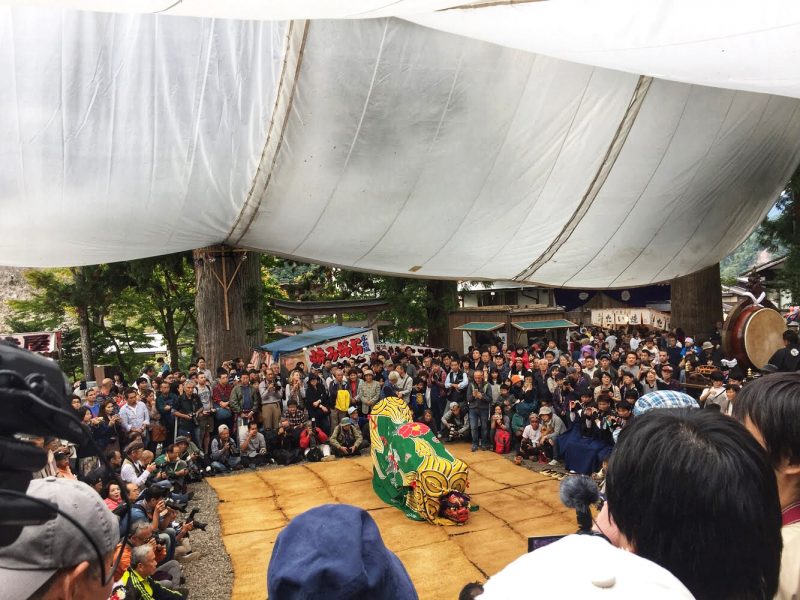 In the late afternoon, the festival celebration continues at the Shirakawa Hachiman Shinto Shrine. There was lion dance and folks song by the kids and villagers.
It was so crowded and probably all the villagers were gathered at the shrine.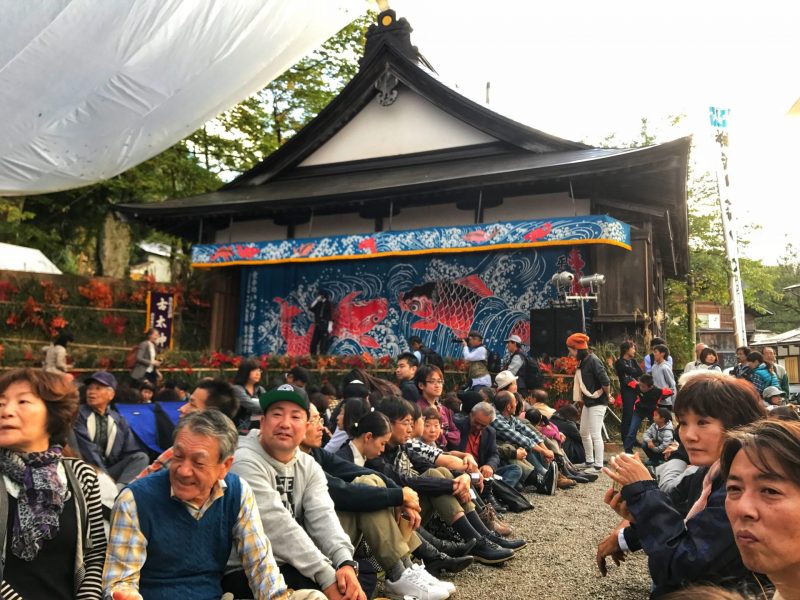 One of the special things to do in Shirakwago Doburoku Matsuri is doburoku distribution. Doburoku is an unrefined type of sake made with rice. This milky white doburoku is rich in fragrant with thick and sweet taste. Japan's government is very strict on sake brewery and banned for it. However, Shirakawa has special permission to produce the homebrew doburoku.
In Shirakawa Hachiman Shinto Shrine, we sat down on the floor with the prepared tatami together with locals. Everyone seems like waiting excited for the Doburoku distribution. You can also buy some snacks such as yakitori from the stalls nearby the entrance.
Doburoku Distribution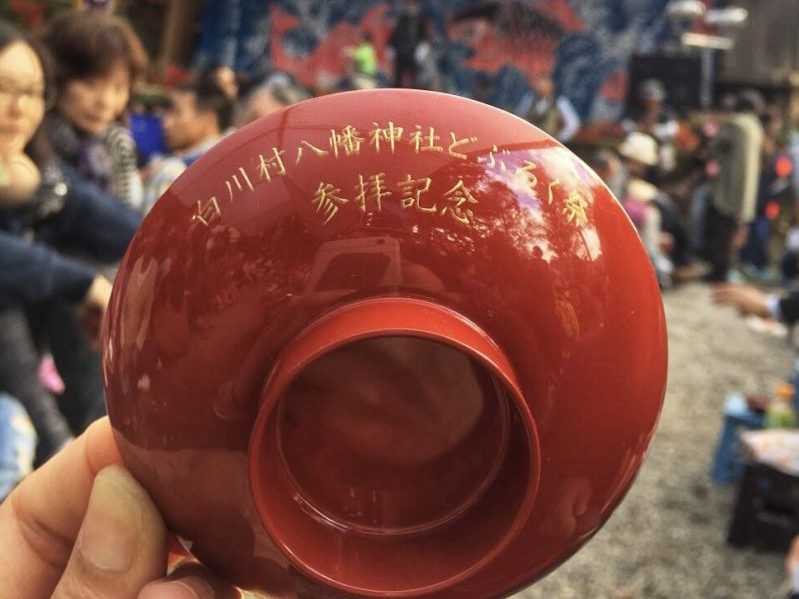 TThe doburoku was prepared and offered to local mountain gods in thanks for their protection and good harvest. The remaining are offered to local villages. Locals are happy to share it with visitors and join for their celebration. What you need to do is pay for 500 yen to get a flat cup at the entrance of the Hachiman Shinto shrine.
You can take a sip on doburoku from shrine for one time before the late afternoon event started. But don't throw this flat cup and remember to keep it. You can use it for unlimited doburoku during the late afternoon festival celebration.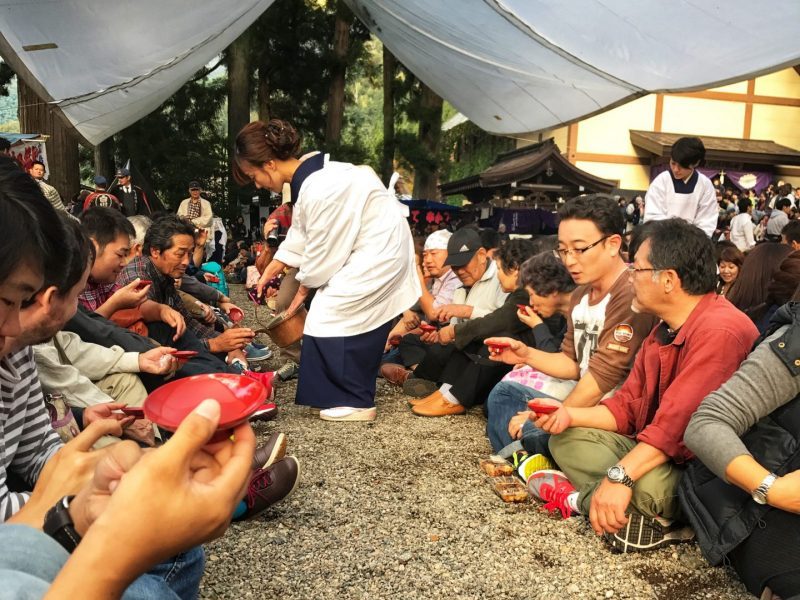 When the event started, some ladies served the sake one by one when there was an empty cup in front. They busily poured and filled up the doburoku into the flat cup.
The Unrefined Doburoku Sake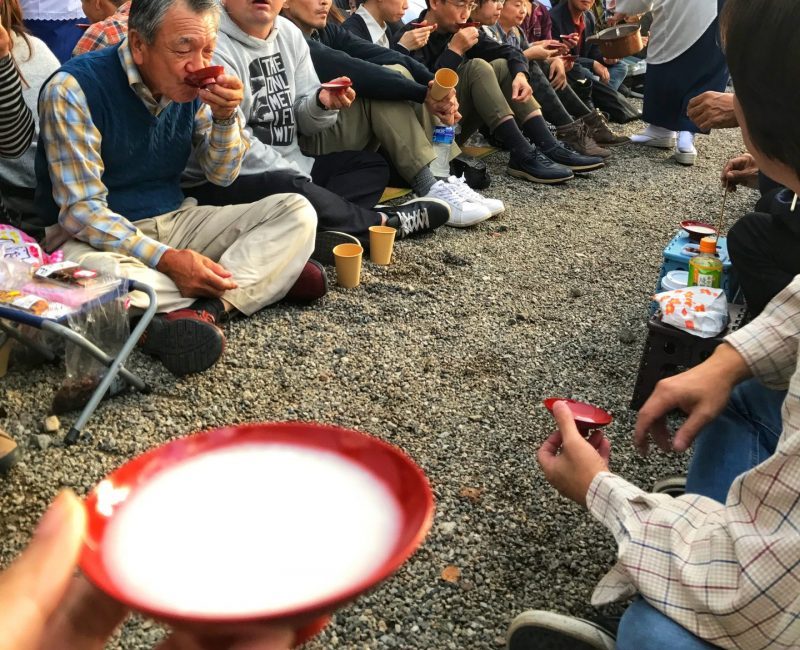 See my milky white unrefined doburoku sake. It looks like rice porridge but taste so good. We enjoyed the sake and soak in the festival atmosphere with locals. Such a magical experience in Shirakawago.
There were performed on stage but seem like nobody care. Everyone was enjoyed, laugh and focused on the sake drinking. We have almost 5 rounds of doburoku and it's time to catch our bus back to Takayama.
Most Unique Experience In Shirakawago Doburoku Matsuri
All in all, Shirakwago Doburoku Matsuri is one of the unique experience to enjoy a local Japan festival with locals. While Winter Light Up Event is extremely popular among the locals and visitors. But we enjoyed sacred procession and parade in the morning. In late afternoon, the unlimited Doburoku (sake) was distributed to every visitor. One of my unique experiences during my Japan travel trip.
Still, it is best to stay in Shirakawago if you have the time. The festival event will held until night. We stayed at Takayama Country Hotel which conveniently located opposite the bus station. If you need more accommodation options, check it out the best hotel pick if you are looking for where to stay in Takayama when visiting.
Lastly, this Shirakawago Doburoku Matsuri Festival blog is part of my travel post when visited Takayama and Shirakawago. Check out my Takayama travel and food blog if you are interested.
Travel Guide and Itinerary:
Local and Best Food in Takayama: