Last updated on September 23rd, 2023
If you have a chance on Jeju Island, don't miss the chance to try their grilled black pork. Neulbom Heukdwaeji (늘봄흑돼지) is a renowned restaurant among the locals for their Samgyeopsal, the bossless cut of pork belly. Neulbom Heukdwaeji grilled the black pork meat over charcoal instead of a gas stove so its naturally sweet taste won't be lost.
We tried the Dombedon, a popular grilled black pork restaurant in the black port street during our first night at Jeju. The taste was so delicious and unforgettable. So we decided to have another round of grilled black pork before leaving Jeju. The charcoal grill method is one of the main reasons we choose the Neulbom Heukdwaeji.
Neulbom Heukdwaeji Restaurant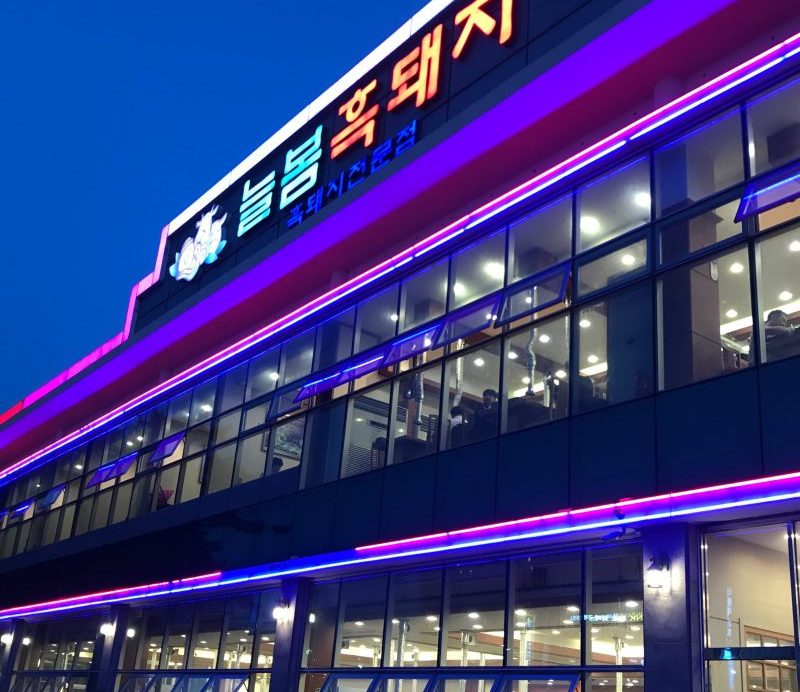 Neulbom Heukdwaeji occupied a two stories building with plenty of car parks available. We are served at a table on the lower floor.
The inside of the Neulbom is very wide and spacious with lots of tables. Most of their customer is local Korean families with kids and groups of friends who come to enjoy their dinner here. Smoke removal equipment is on every table so no worry about the smoky smell.
How To Order At Neulbom Heukdwaeji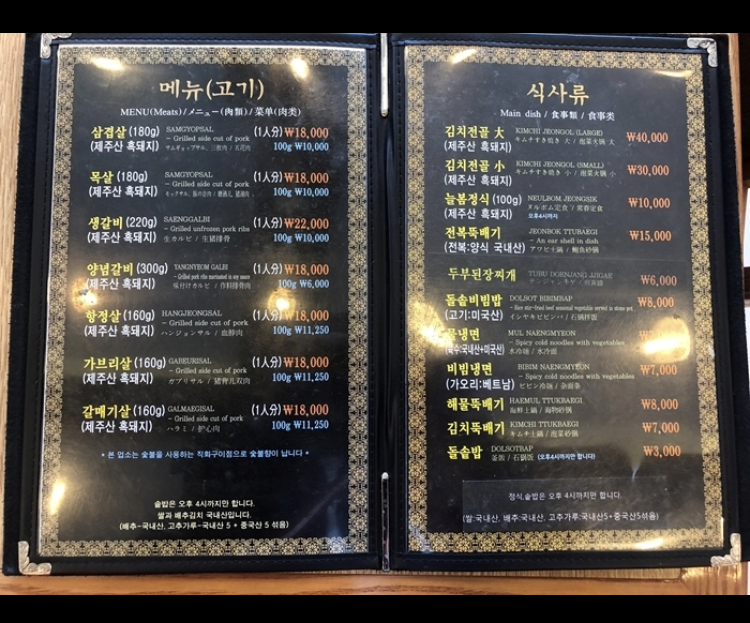 The menu of Neulbom is standard in Korean and English and Mandarin translated below. We choose the recommendation from the waitress on the first and second items on the menu, Samgyeopsal pork belly, and pock neck.
Minimum one order per person for dine-in at Neulbom which is standard for Korean BBQ restaurants. We also added bibimbap on top of our meat order.
Yangnyeom Gejang Side Dishes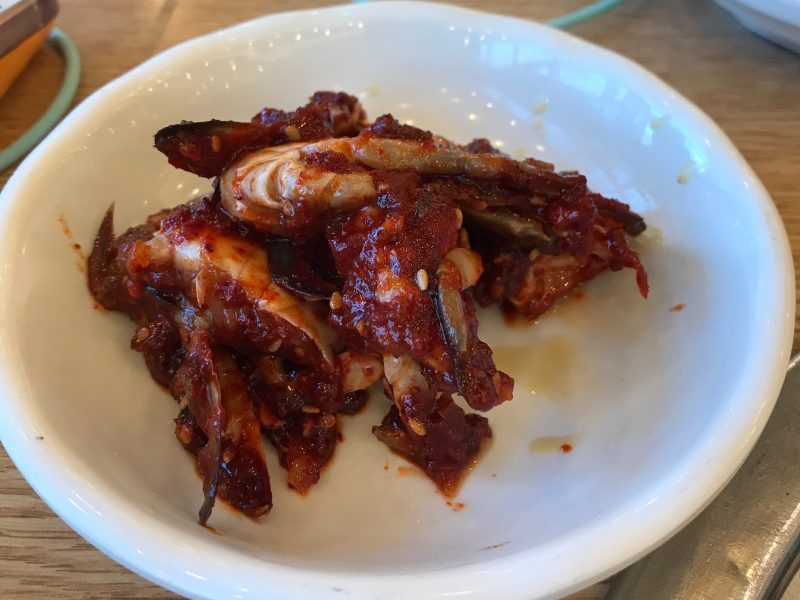 Banchan (starters/side dishes) are served quickly with a wide variety of choices like kimchi, onion, radish side dishes, and salad. One of the side dishes catch my attention, was the yangnyeom gejang (seasoned spicy raw crab). I noticed it a few times when I visited Jeju's traditional market and this is the first time I can try on it.
The eating of the raw crab is tame and hard. I feel it is hard to crew and end up I take out of my mouth.
Charcoal Grilled Pork Belly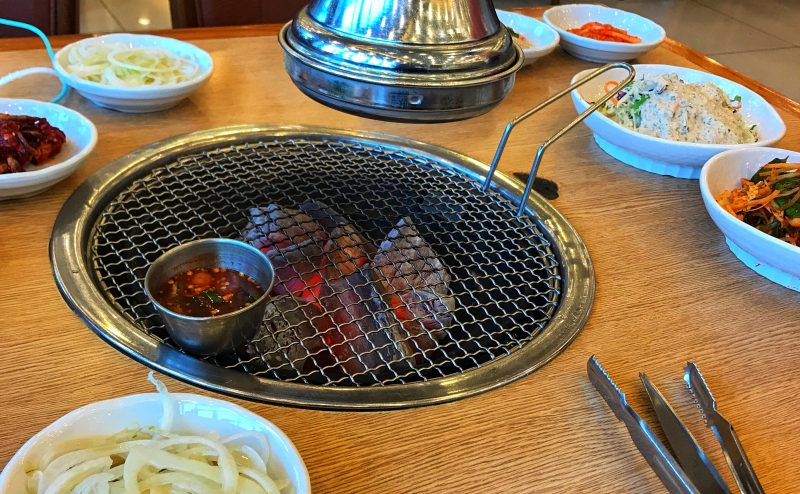 A BBQ kit is built into the table and a waiter will bring the hot charcoal for you to cook the meat on it.
The waitress is helping us to grill the meat and cut it into slides when the pork starts to turn into brown color. We can start enjoying our charcoal-grilled black pork meal.
Smoky Charcoal Scent Pork Bell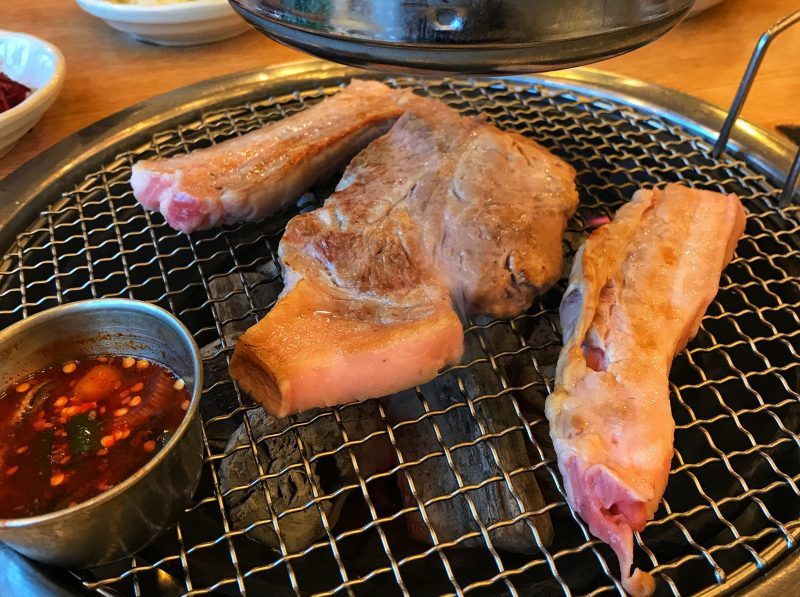 The pork was succulent with some of the pork skin getting crispy fried up which gives you a nice very nice texture to chew on it. Wrap the pork belly with the lettuce. But I feel the pork alone is already very delicious and fragrant with a smoky charcoal scent.
You can also dip the meat with fermented anchovy sauce served together but both of us didn't like it too much.
The dinner goes well with the bibimbap ordered accompanying kimchi, veggies, radish, and anchovies side dishes. I am voted for Neulbom Heukdwaeji compared with Dombedon. Probably because of the smoky charcoal scent, I feel the pork is more crispy and delicious.
Read more about our dining experience in Dombedon.
How To Go To Neulbom Heukdwaeji
Neulbom Heukdwaeji is located in Jeju city and has easy access from Jeju airport with less than 5 minutes drive. We compared and booked our car through RentalCar.com with the best price guarantee. Driving in Jeju will be more easily accessible to try the must-eat food in Jeju.
Check out how we rent a car and driving in Jeju.
[intergeo id="QM1QTM"][/intergeo]
Address: 2343-3 Nohyeong-dong, Cheju, Jeju-do, South Korea
Opening Hours: Daily from 11 a.m to 11.45 p.m
Korea GPS Tel No: 747-001
Jeju Food Guide: Top Five Must Eat