Last updated on September 23rd, 2023
Dombedon is a popular restaurant, that served the traditional Jeju dishes Dombe aka black pork meat raised on Jeju Island.
Black pork is Jeju's famous dish, one of the must-eat when visiting Jeju. It is not only tasty, and is said to be beneficial for health and beauty purposes, especially for women.
We are wondering how well the food quality in the Jeju restaurant, especially for a special dish of grilled black pork. As a result, we are voted for Dombedon (늘돔베돈) for our first dinner at Jeju.
Jeju Must Eat, Dombedon Restaurant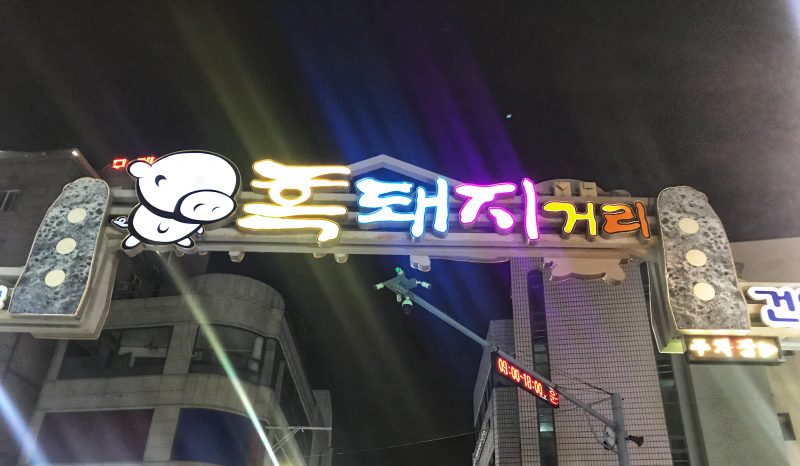 Dombedon Restaurant is located at the Jeju black pork street with a wide range of restaurants that specialize in black pork in the same row. This restaurant is hard can't miss as it is the busiest shop located at the entrance of the street with the little pig welcome signboard.
How To Order At Dombedon Restaurant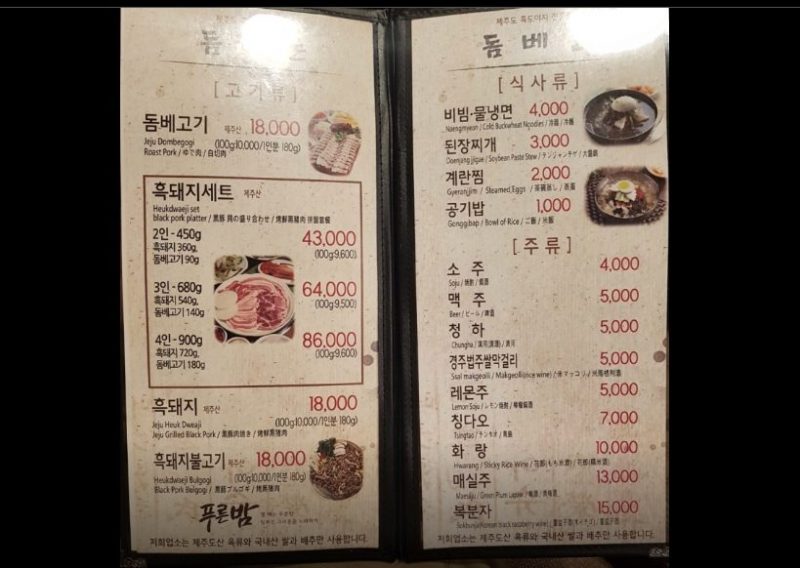 We reach Dombedon at around 7 p.m after the walk from the Dongmun market. The waiting time is just 5 minutes for the previous table to clean up.
The menu is in Korean with English/Japanese/Mandarin translated below. The picture and price are also well listed on the menu. So it is not difficult to order at Domdedon Restaurant. We choose the 450g of black pork set for 2 pax at 43,000 won, a bowl of rice at 1000 won and additional order of the soju at 4,000 won.
Dombe Meat And Side Dishes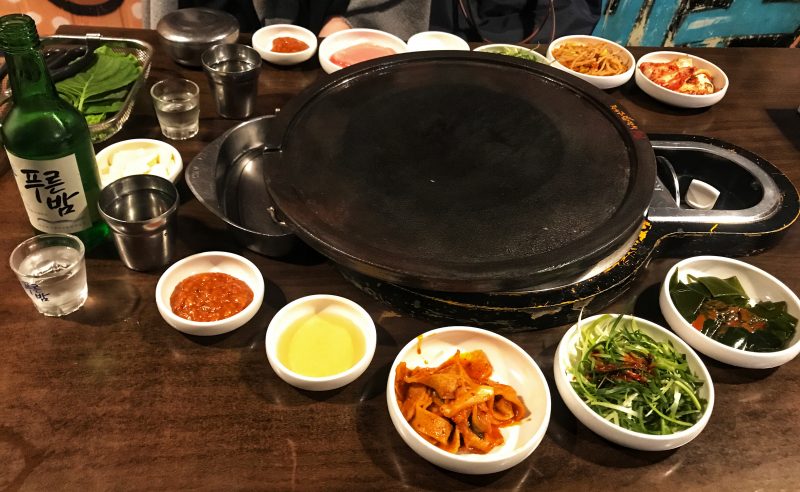 The whole restaurant is full of the delicious smell of grilled pork. Most guests are groups of Korean adults and couples. Please take note that Dombedon does not serve solo travelers unless ordering for 2 pax.
A wide selection of banchan (starters/side dishes) is served including raw garlic, mushrooms, dwejeong (red bean paste), bean sprouts, kimchi, seaweed, coleslaw, steamed egg, and tofu soup. I enjoy Korean food so much and especially love their Korean banchan.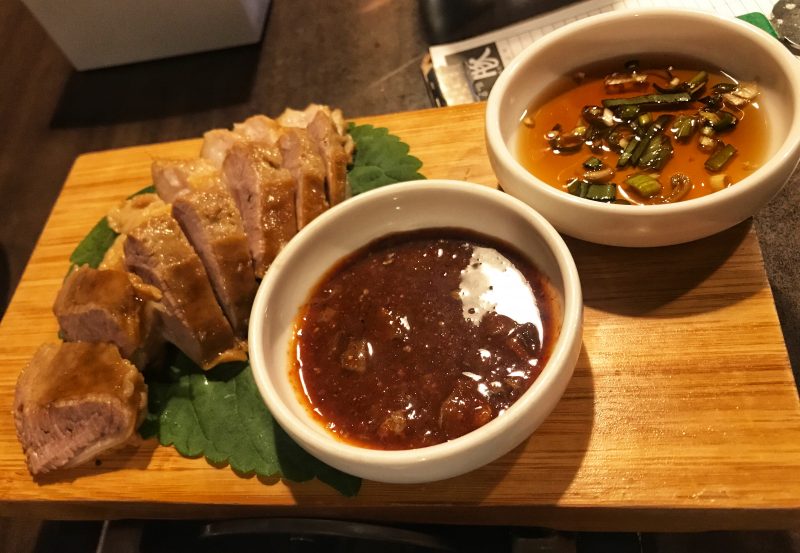 A plate of cooked roasted black pork belly is served as complimentary from the 2 pax meal set.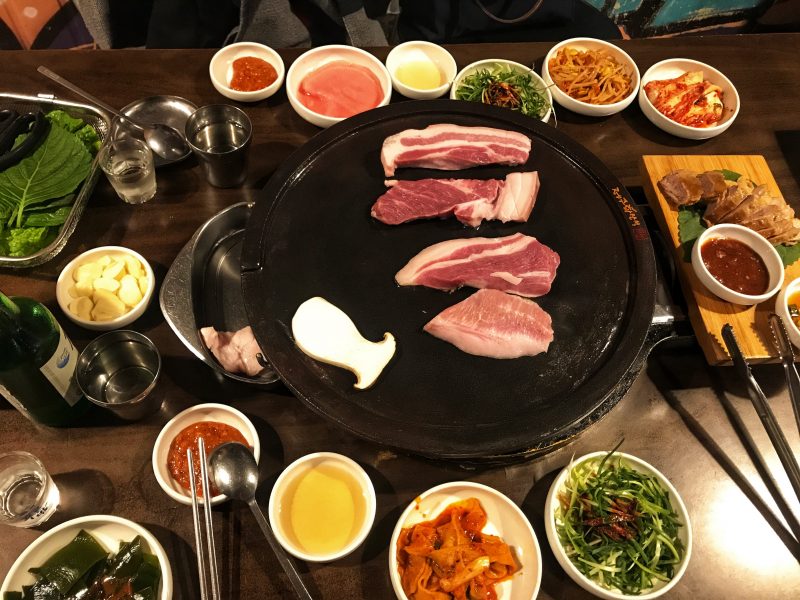 Without a long wait, the black port is served by staff to our table. Firstly, he started to grease the grill with a big cube of pork fat and then place the pork and mushroom on the grill.
Once everything was ready, he smile and ask us to wait for the pork to be well cooked before cutting it into slides. We also added the garlic, kimchi, and bean sprouts to grill together with the meat.
Golden Brown Grill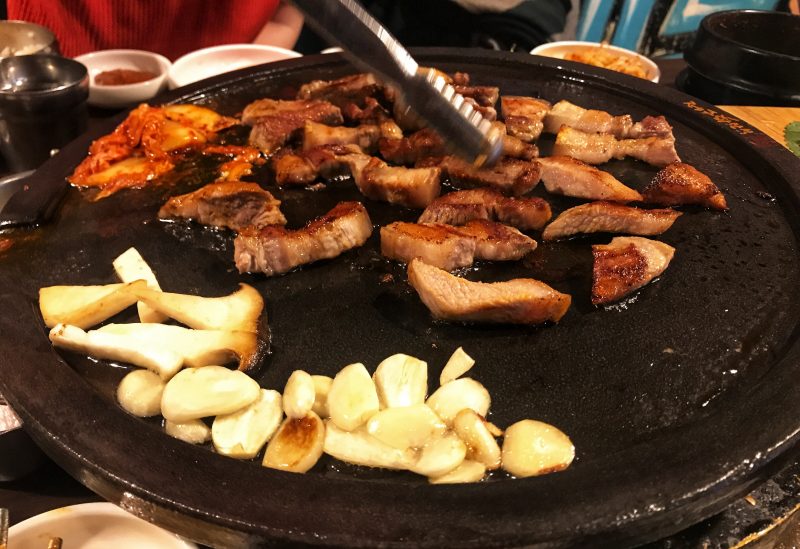 Wait for the meat to change to golden brown and you can start to enjoy it. We also wrapped the pork belly with the Perilla leaves or lettuce served together with banchan.
The meat is too delicious and tasty even without any marinated on it. The restaurant prepares its meat using traditional cooking methods, as opposed to simply grilling the meat like many restaurants in the downtown area do.
Our dinner at Dombedon is really enjoyable. We like their food, the atmosphere, and the service.
How To Go To Dombedon Restaurant
Dombedon is strategically located at Black Pork (Heuk-dwaeji) street. It is also nearby Dongmun market and Jungang underground shopping street in the old town area.
We went to Dombedon after a short visit to the Dongmun market by a few minutes of walking. Our dining experience in this Jeju must eat, Dombedon is a pleasant dinner with great food and friendly staff. Worth a try for their famous grilled black pork.
Address: 25 Gwandeong-ro 15(sibo)-gil, Geonip-dong, Cheju, Jeju-do, South Korea
Opening Hours: Daily from 11 a.m. to 12 a.m.
Korea GPS Tel No: 753-0008
Top Five Jeju Must Eat Restaurants
Still wondering what you should eat at Jeju? Check out our top five eateries at Jeju Island. We have tried all of them during our Jeju road trip and highly recommended you to try at least one of them.
How To Spend 6 Days In Jeju
Exploring Jeju by car for 6 days at your own pace is very relaxed, fun, and enjoyable. If possible, consider renting a car to travel around in Jeju. There are many things to do and food to eat on this wonderful island.
Check out our 6 days road trip itinerary at Jeju Island with travels tips: