Last updated on March 16th, 2023
The step-by-step guide for how to pick up a rental car from Jeju airport. Learn from my mistakes so you can save your time and money.
Jeju island no doubt is a top holiday destination of South Korea, Every year, millions of visitors from locals and international travel to Jeju Island to visit this picturesque gorgeous Korean island. This tiny island is full of must-visit attractions and unique food awaiting you to explore.
While getting around Jeju with public transport is doable but not flexible as some of the attractions are hard to access by bus. The best way for traveling in Jeju is by self-driving with car rental.
Below is my personal experience on how to book and pick up my rental car from Jeju airport.
Driving Requirements In Jeju
Make sure you meet below requirement if you are planning for self-driving in Jeju Island or South Korea.
21 years older with at least 1 year of driving experience
International Driving Permit (IDP) that has been issued within a year

Country must be registered by Geneva or Vienna convention
Indonesia, China, Taiwan are not accepted

Valid local country driver

'

s license
For type D vehicle (for 11, 12 seats),
At least 26 years older, with a minimum of 3 years driving experience.
Your IDP need to be stated with type D
Take Note: EU driver's license, international driver's license, and international driving document is not accepted in Korea.
Choose Car Rental Company
There are brunch of rental car company available in Jeju Island. Sometimes it's hard to decided which car rental company provided the best service. I prefer to compare various car rental companies at RentalCars.com for the best price guarantee.
It is easy and simple to do the comparison. Once decided, just booked it online directly! Booking online does not require any payment, so you still can cancel or amend it if required.
International Car Rental Company:
AJ Rent A Car, budget Avis in South Korea
Lotte Rent A Car, also known as KT Kumho
Sixty
Local Korean Car Rental Company:
Jeju Rent A Car, Tamra, Jeju One Car
How to Pick Up Rental Car from Jeju Airport
During my Jeju road trip, my car is rent from AJ Rent-A-Car, through RentalCars.com. AJ Rent-a-car is an international car rental company with English speaking staff supported. So no worry about the communication problem. Added, AJ also provided the cheapest price for my preferable car type after compare at RentalCars.
Bring along your passport, lDP, driving license and credit card (same as booking) to pick up your rental car. Below is the detail step-by-step guide on how to pick up car rental from Jeju Airport.
Step 1#Heading to Rental Car Counter at Exit 2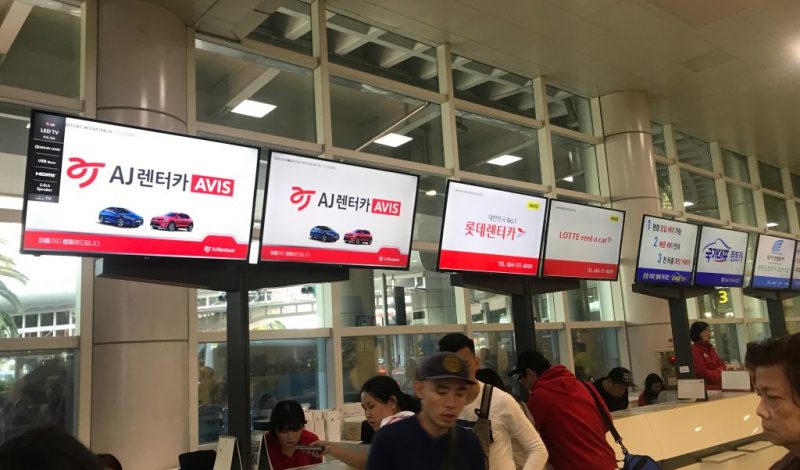 Upon arrival at Jeju airport, just picked up your luggage and exit the custom clearance as per usual.
Next, look for the AJ rental car counter which located nearby Exit Gate#2. All the rental car counter are located at exit 2, so no worry. AJ is the located at the most left corner among all the rental car counter.
Step 2#Document Checking at AJ Counter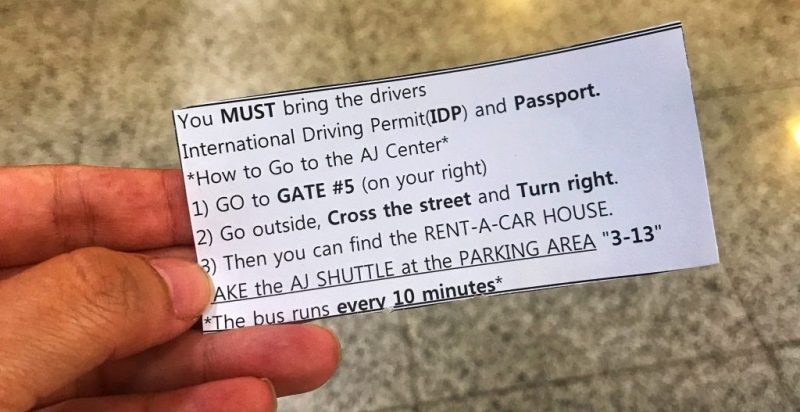 Show your booking confirmation to the staff at the AJ counter. The staff will quickly check through your reservation and documents like passport, lDP, driving license.
You will no pick up your rental car at Jeju airport directly. Instead, the staff will direct you to the rental-car-depot with a simple note provided.
Step 3#Exit Gate 5 and Cross the Street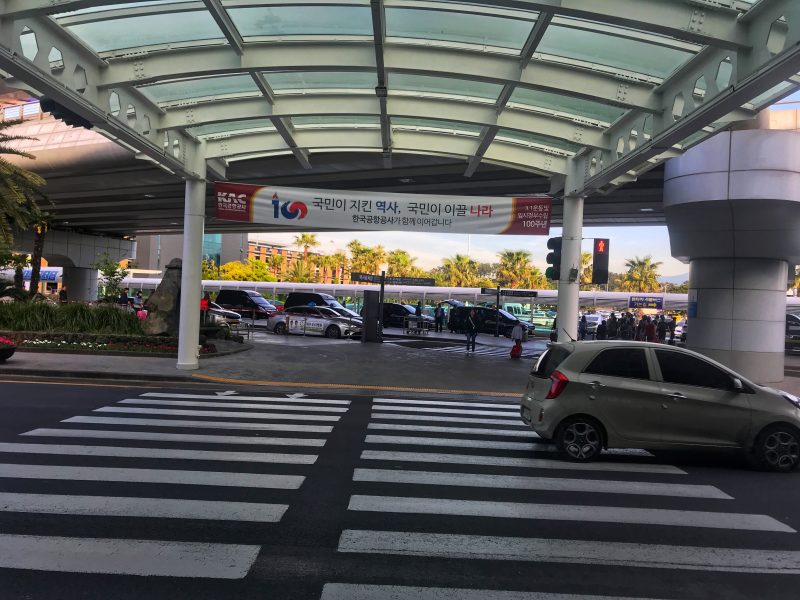 Follow the instruction, heading to Gate#5 and exit from Jeju airport. Cross the street to the parking area and turn right.
Along the walkway, you will see many different buses were parked at the bus waiting area follow the parking number in front. Look for the AJ parking area which located consider quite end of the walkway.
Step#4: Board the AJ Shuttle Bus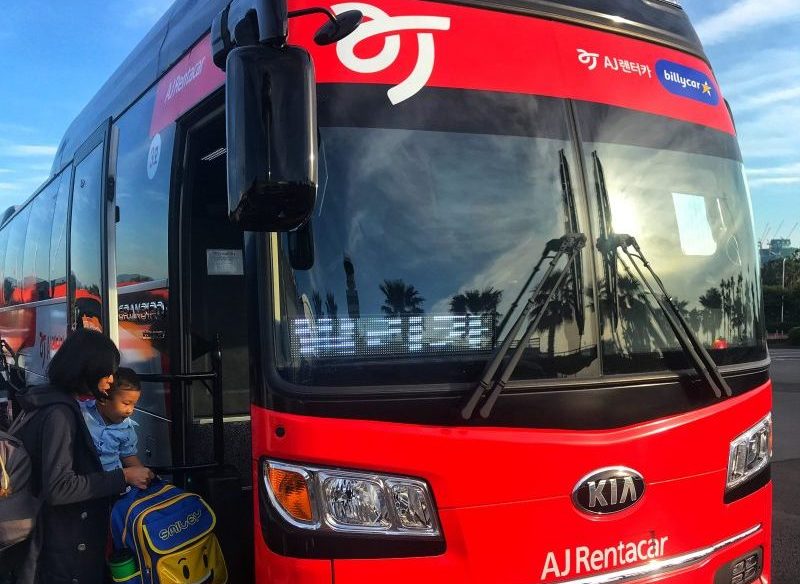 Shuttle bus runs every 10 minutes to the AJ Rental office from Jeju airport. The bus just arrived upon I reached the waiting area. Board the bus and it will bring us to take our rental car.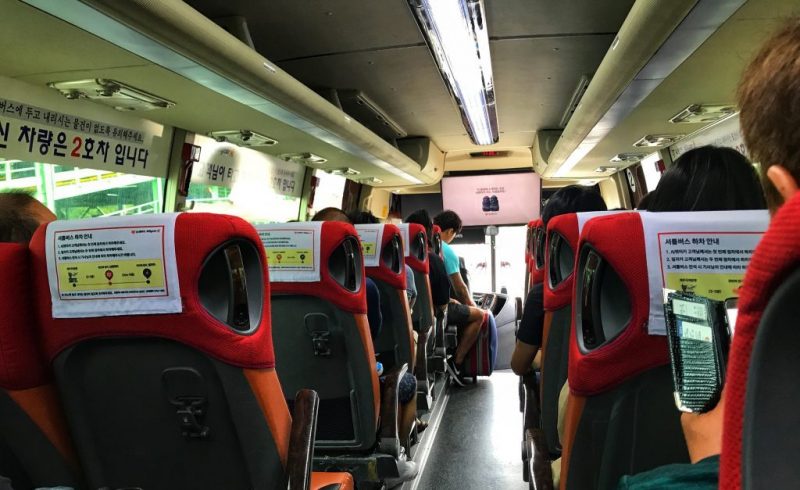 The shuttle bus is clean and comfortable. And it seem like sharing among AJ Rental Car and BillyCar. Quite several people boarding the same bus to the rental-car-depot.
Step#5: Go Down at AJ Rent-A-Car Office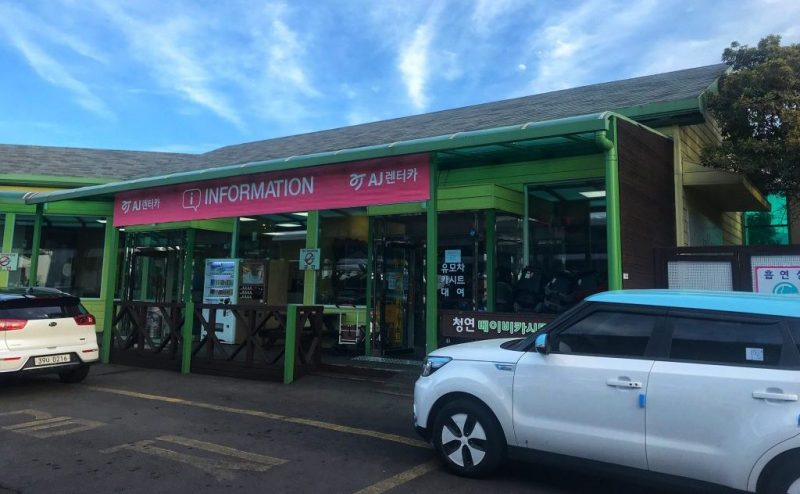 The bus journey takes approximately 5 minutes from Jeju airport to the AJ Rent-A-Car Office. It is the first stop (I don't know how many stop) for the bus journey. It is AJ Rental Office as I can saw many rental cars were parked in this area.
There is no proper announcement but the bus driver had called for AJ upon he stopped the bus. We double confirm the destination with the driver upon go down. Surprisingly, only a few people were going down with us.
Step#6: Final Document Check at AJ Office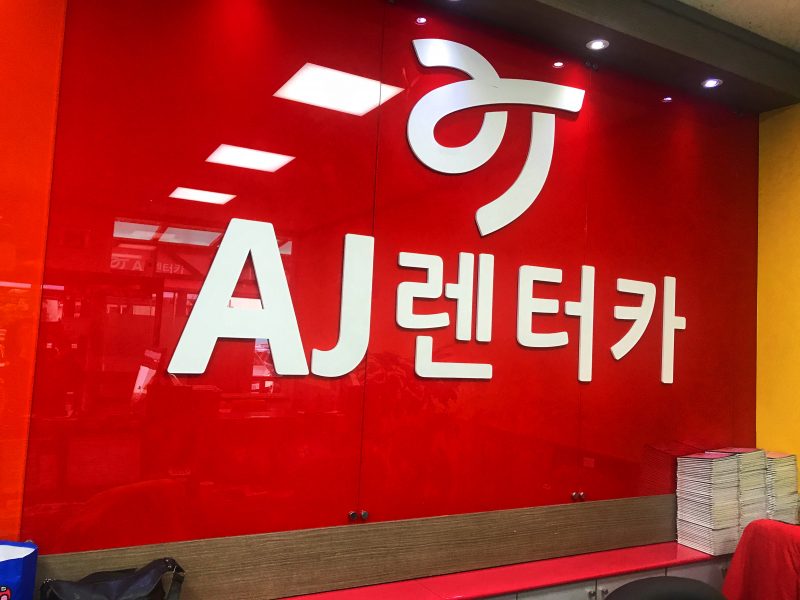 This is the last step for how to pick up car rental from Jeju airport. We took the queuing number and wait for our turn. There is only one counter is working and served the two customer before us. It is pretty fast and soon is our turn.
Again, we handed over all the required documentation including booking confirmation, passport, lDP, driving license to the staff. She will check through again the document properly as this is the final step before take up our rental car.
Out of our surprise, our rental car got free upgraded from Hyundai RAY to Hyundai Avante due the booked car is not ready. She ask for the agreement, of course, we were happy to accepted.
Once everything well explained and ready, we signed on the car rental agreement and paid with a credit card. Please take note, cash is not allowed which already stated at the booking confirmation email.
Step#7: Visual Inspect And Check The Rental Car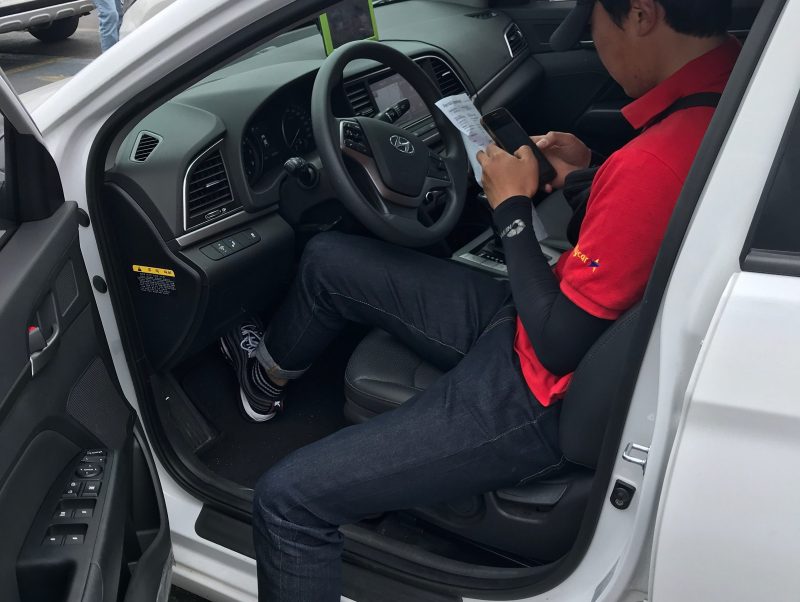 Lastly, we can proceed to take our rental car located outside of the office based on the location and car number provided.
However, this is not the last step for the pickup process. We need to drive our car to the exit gate for the final check out. Another staff was waiting for us at the exit gate. This guy helped us to perform the visual inspection and fuel level was recorded.
Make sure you don't skip this process to avoid unnecessary charges. Although the staff mentioned minor scratches are OK when returning. But I personally still snapped the photo on the current scratches and fuel level just in case.
Remember keep the booking agreement and don't throw it away.
Step#8: GPS Installed and Demo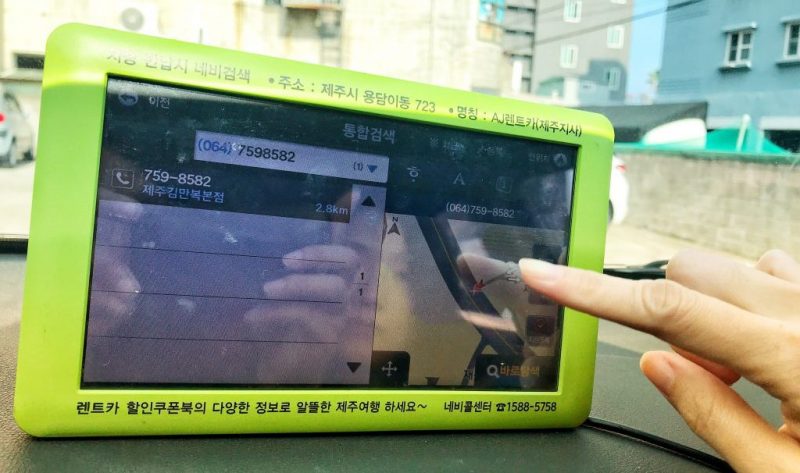 This is the last step on how to pick up car rental from Jeju Airport. GPS is installed and please ask the staff to set up the GPS language to English. Only voice guidance will change to English but the display is still in Korean.
But no worry as the phone number is the only thing you need to key in when looking for the places. You can also ask the staff to perform a quick demo on how to key in the phone number for place searching. You can anytime google for the places to look for the phone number.
So that's it. Overall the car rental pick up process is smooth and easy. Start enjoy and explore the beauty of Jeju Island at your own pace after take your car. You can also read more on how to rent a car and drive in Jeju Island if you need more help.
Happy travel!
Get The Mobile Data: Wifi Egg or Sim Card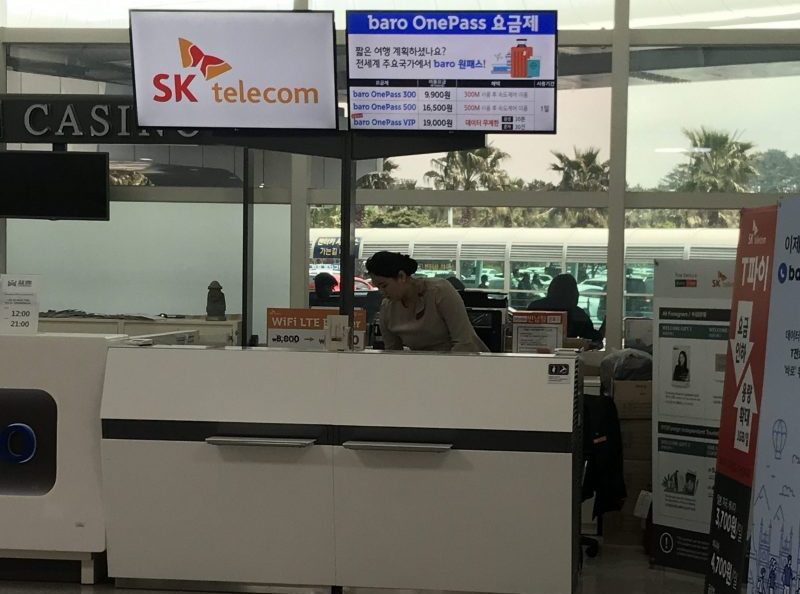 In case you need help, you can get the Wifi 4G SIM card or wifi egg at Jeju airport directly. The counter is located opposite the exit from the international arrival hall.
Pre-book early for cheaper price and collect at the counter once arrival.
Driving in Jeju Island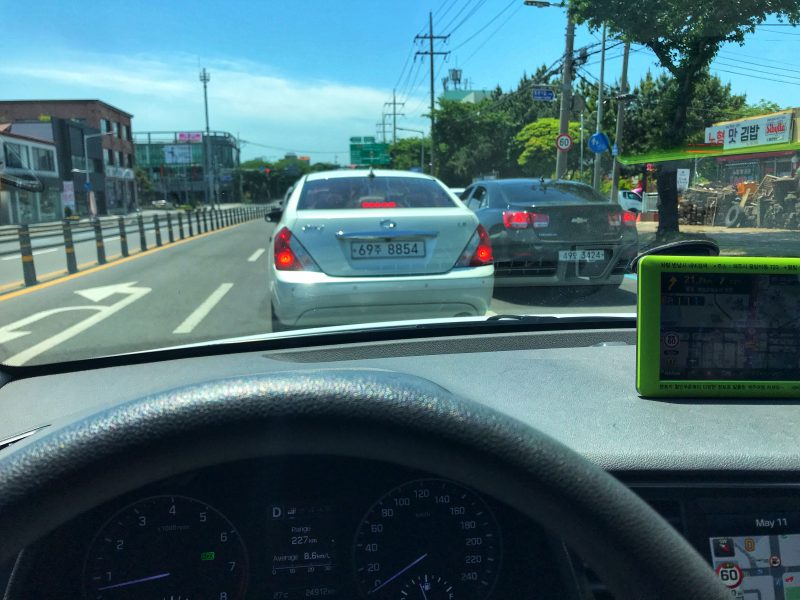 Driving in Jeju island is very pleasant, unlike mainland of South Korea. I don't feel stress even at the busy street, just drive as per normal. However, please take note the cars are driving on the right-hand side instead of the left-hand side, which similar US.
Speeding is hard as the GPS keeps on warning with loud sound unless you ignore the warning sound. Speed cameras and cams are everywhere! So take note.
Before your visit, read more on my 6 days Jeju Road Trip Itinerary for the travel idea on what to eat and where to stay in the tiny island.