Last updated on September 23rd, 2023
This Toyama Food Guide will lead you to some of the best restaurants with must-try food, so you can try local specialties when you're exploring Toyama.
Toyama is the capital of Toyama prefecture, in central Honshu on the Japan Sea coast. It is home to the beautiful Tateyama Mountain Range and is famous for its incredibly fresh seafood and local specialties. In Toyama, you can enjoy various gourmet dishes and some unique local specialties that you can't miss when visiting Toyama.
Whenever we visit a new city, we try to diversify our food choices to create as complete a culinary picture as possible. Toyama is a great place for us to discover a variety of different dishes as we can, such as black ramen, fresh seafood, traditional Japanese dishes.
We stopped by Toyama for a 1-day trip before heading to Tateyama Kurobe Alpine Route travel the next day. While the long-hour trip required us to depart as early as possible, so we decided to stay in Toyama and visiting the city. We stayed in Comfort Hotel Toyama which is located less than a 3-minute walk to the Dentetsu-Toyama station (next to JR Toyama Station). Once we dropped off the luggage and the arrangement for the next day, we started our Toyama food tour.
Here, we will introduce five famous specialties we would like you to eat in this Toyama Food Guide if you come sightseeing in Toyama.
Toyama Food Guide: Must-Try Best Food
No time to read this Toyama food guide? Here is a quick overall for what to eat in Toyama.
Toyama Food Guide:
Masuzushi (Traditional pressed sushi)
Shiro-ebi (White Shrimp)
Toyama Black Ramen
Toyama Bay Fresh Sushi
Udon
All the best Toyama food listed is included with recommended restaurants to sample it. Let's check it out.
Masuzushi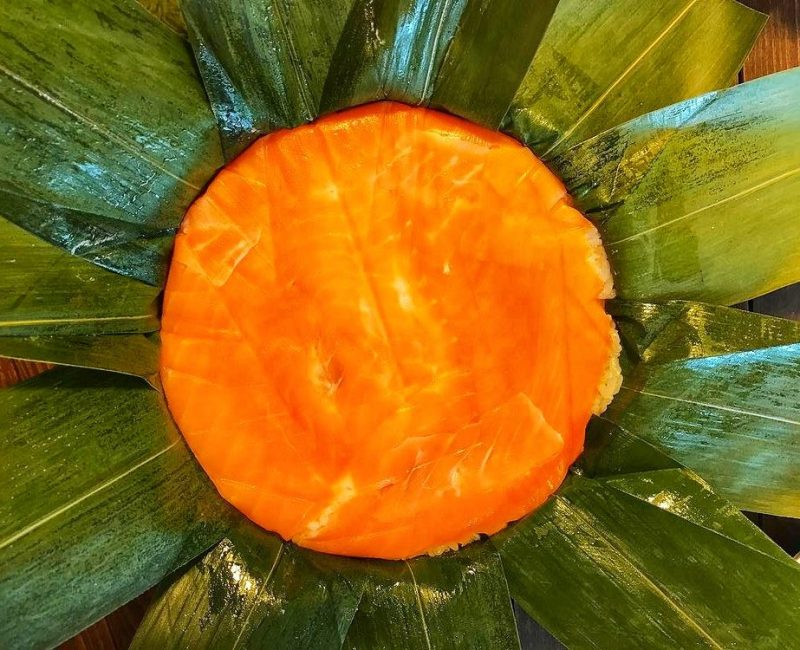 If you'd like to experience regional Toyama Prefecture food, then you should try masuzushi. It is known for being offered as a gift to visitors during the Edo Era. The Masuzushi or "Masunosushi" is a type of oshizushi (pressed sushi). The large round sushi rice is served with salt-pickled and thinly sliced flavored fresh trout, wrapped in a bamboo leaf and pressed into a round chip wood box. The sushi firmly absorbs the vinegar and ends up making it have another delicious taste compared with regular sushi.
The masuzushi was the most interesting dish I had in Toyama. It's a little sour, sweet, and with a good punch of saltiness and umami from the fish. A good balance flavor between the rice and fish. The taste is good but somewhat of an acquired texture and taste.
Where To Eat masuzushi in Toyama:
Masuzushi is served up in some restaurants around Toyama Prefecture. But it is frequently sold in these takeaway packs at train stations and commonly bought for long train rides. My research for masuzushi led me to this shop, Ogiichi Masuzushi Hompo (扇一 ます寿し本舗). The shop is a take-out-only shop and is very popular for the thick and flavorful masuzushi. Reservation is required as it very fast sold out once the shop opens.
Alternatively, you can get the masuzushi at Toyama station. The price is ranging from ¥1,500 to ¥3,500.
White Shrimp (Shiro-ebi)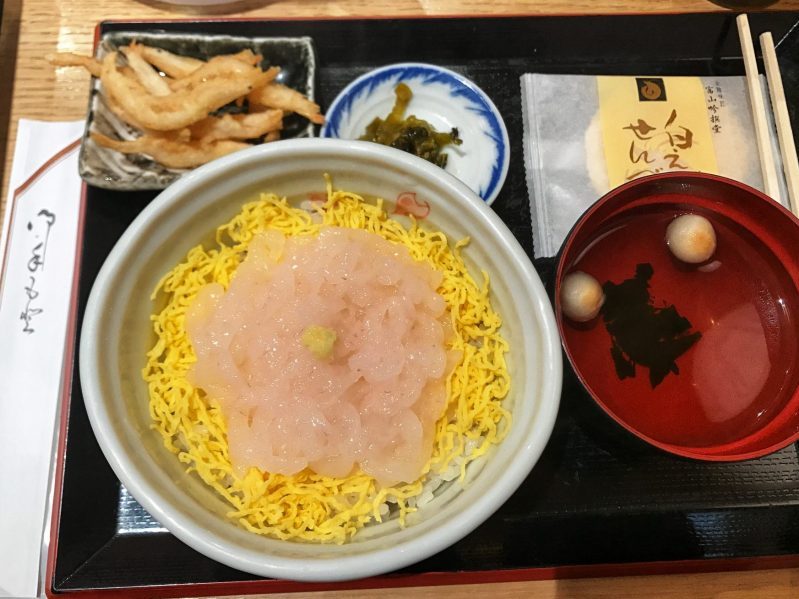 One of the must-try food and local delicacy in Toyama is Shiro-ebi. It is a type of shrimp that can be acquired in large quantities only in Toyama Bay. It is also called "Gem of Toyama Bay" due to its white, almost translucent appearance. The white prawn is small in size but the taste is extremely sweet when eaten fresh. It is one of the most pricey fish in the area due to the small amount of Shiro-Ebi can only be harvested every year. Shiro-ebi is in season between April and November, and it is the time to taste it.
There are lots of dishes using Shiroebi, and can be served as sashimi, deep-fried, tempura, or turned into a snack. The deep-fried white shrimp snack is perfect to enjoy with some of Toyama's Sake!
Where to eat Shiro-ebi in Toyama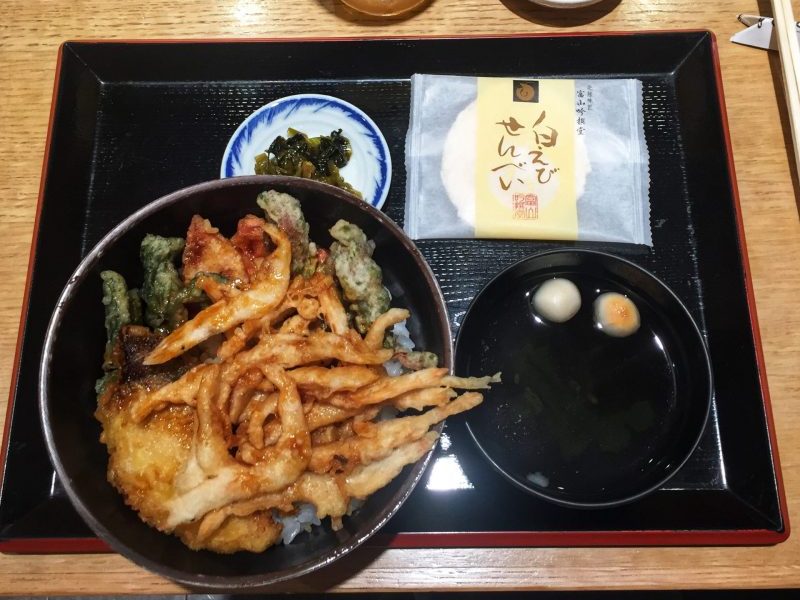 For all things about shiro-ebi, head to the Shiroebi-tei restaurant, one of the best Toyama restaurants for shiro-ebi. Conveniently located right beside Toyama station, Shiroebitei is well known among travelers and a local favorite restaurant of Toyama City. It is easily accessed and within walking distance from our hotel, Comfort Hotel Toyama.
The two best-known dishes served in Shiroebi-tei restaurant are shiroebi sashimi don (white shrimp sashimi rice bowl) at shiroebi tendon (white shrimp tempura rice bowl). Visitors can place their orders by using the vending machine at the front door and the staff will collect them from them.
We ordered both famous shiro-ebi dishes to try on.
The shiroebi sashimi don set consists of shiroebi sashimi don with a thinly sliced fried egg placed below the freshness shiroebi with rice as a base, shiroebi tempura, shiroebi cracker, preserved vegetables, and a bowl of soup. While eating, you can feel the fresh delicate flavor of the sashimi white shrimps!
On the sides, the shiroebi tempura with deep-fried white shrimp also tastes good and crunchy. The batter is light and the sauce is heavenly.
We truly enjoyed our Toyama local specialties meal in the shiroebitei. Depending on your preference, I prefer the shiroebi sashimi don with identical texture and unique taste. The price for the sashimi don is about ¥2,500 and the shiroebi tempura is at a more affordable price at ¥1,600. Worth trying when you are visiting Toyama.
Toyama Black Ramen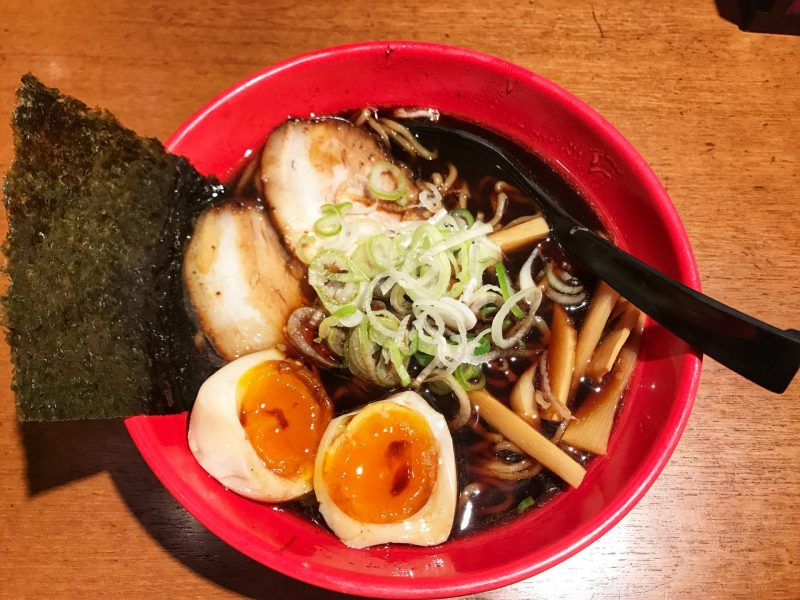 Next in the Toyama food guide is the black ramen. The famous Toyama's ramen earned its name from the blackish-brown soup flavored with black pepper. The black color broth is characterized by soy source, with a good balance of the dashi seasoning flavor. The taste is similar to the famous tonkotsu sauce and can be even saltier.
There are lots of restaurants where you can eat Toyama Black Ramen. Most of the ramen shops are located near the font of Toyama Station. A bowl of Toyama black ramen is very reasonable, ranging from ¥650 to ¥1,000 depending on the restaurant.
Where to eat Toyama ramen:
Nishi-cho Taiki is a restaurant in the south of Toyama City that offers bar seating and serves up generous portions of soup whose noodles are topped with delicious slices of charshiu pork, spring onions, and bamboo shoots.
If you're looking for local Toyama ramen nearby the Toyama station, Menya Iroha is your choice. Menya Iroha is a 5-time champion of the Tokyo Ramen Show and is famous for its black ramen, which originated from Toyama Prefecture.
Its signature black ramen was very delicious with the rich black sauce broth. As you can tell from the picture above, the broth looks fairly dark. The ramen is cooked to perfection with just the right amount of chewiness. Flavorful roast pork perfectly matched with the half-boiled egg.
Honestly, this wasn't the best bowl of ramen I've ever had but it is worth trying if you're looking for a hot bowl of ramen in Toyama. True ramen experience with locals, is definitely recommended.
Toyama Bay Fresh Sushi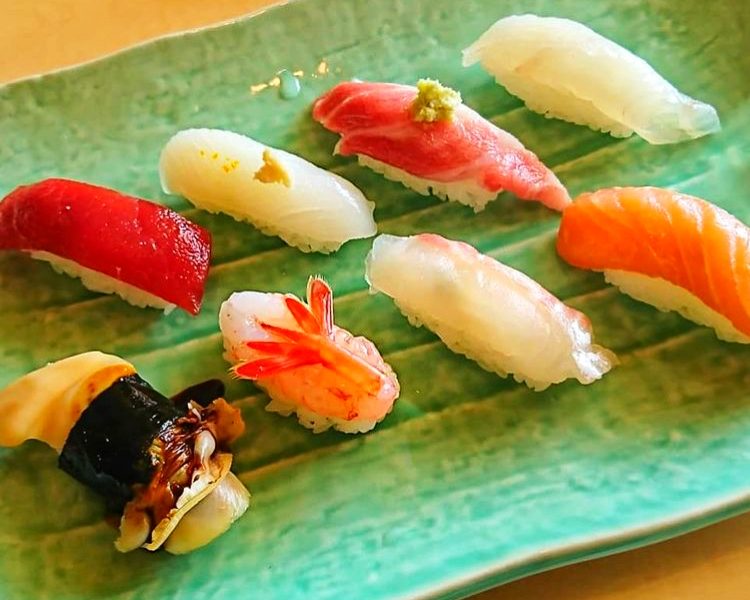 Toyama Bay is dubbed "nature's fish tank" for the short distance between fishing grounds and the port. It is known for nature's fish and is home to both warm-water and cool-water fish. Only visitors to Toyama can delight in the fresh best sushi, the Toyama Bay Sushi. The sushi is made from fresh local fish and the delicious Toyama Prefecture rice. Some fish that can be caught in Toyama Bay such as firefly squid and Himi Kanburi (Himi yellowtail) in Himi city.
Where To Eat Toyama Best Sushi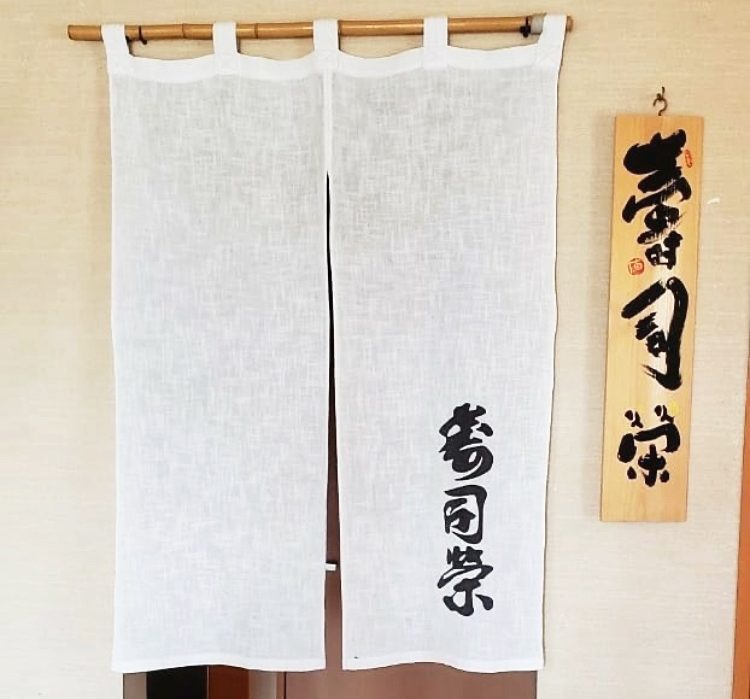 For high-quality sushi and enjoy the taste of Toyama bay sushi in the center of Toyama city. Toyama Bay Sushi Restaurant is well known for its quality grade of sushi. Alternatively, for a slightly budget option, Sushitama was pretty high quality for a conveyor belt sushi restaurant, and it was evident by the never-disappearing line of diners even during off-hours.
Another worth recommendation is SushiEi Sogawa, the best place for sushi lovers in Toyama. It served a variety of sushi, which are fresh and extremely tasty. It was a very traditional style sushi restaurant and the restaurant is very small. You probably will have to wait for a little for a seat and we managed to get a place hereafter the long queue. The atmosphere in the restaurant is cheerful and we were warmly greeted once entered. We would like to order the Toyama-style sushi, so decided to go for the most expensive omakase set at JPY5,500, and never regret it.
Excellent sushi prepared and presented in real-time. The interval for each piece was perfect, coming neither too soon nor too late, and each piece was just fabulous. The sushi is delicious, fresh, and tasteful, with some specialties from the Toyama region. It showed me how fresh sushi and sweet seafood could be. It was a superb mouthfeel, as it was a thick piece of seafood topped on sushi rice.
Overall SushiEi Sogawa gives me good memories of food hunts in Toyama. Pricey though but I might still want to return for another time. Considering both the quality and the price, I have never dined at a better sushi restaurant.
Udon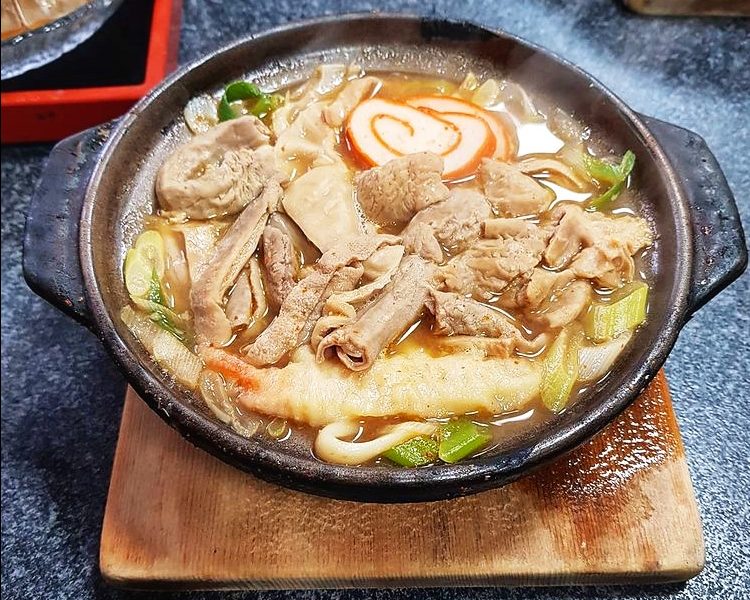 Lastly on the Toyama food guide is Udon. The Japanese Udon is a nationally famous Buckwheat noodle and is widely consumed in the whole of Japan. So it is not surprising that you can find good Udon restaurants in whole Japan, including Toyama.
Itoshou Toyama is one of the popular Udon restaurants in Toyama and went there for late dinner. We reached Itoshou Toyama at around 9 pm, but it was still packed with customers, most are locals. Ordered your food via the ticket machine with a picture display. We had the famous beef udon to try on. The chewy Udon had a good bit and soaked up the stock well. Slurping it up was just perfect on a cold day. While the broth was flavorful and goes well with the Udon. The bowl of udon had a good amount of beef and tasted good. Overall a good taste for a hearty meal of Udon to warm your soul up.
Overall: What To Eat in Toyama
All in all, I think it goes without saying what to eat in Toyama. If you love Japanese traditional seafood, then you're going to love Toyama. The fish is always fresh, there's a lot of variety such as traditional pressed sushi and nigiri sushi. Besides, it's cheaper and fresh than in most other Japanese cities as it is located in Toyama Bay.
As good as the sushi is, don't forget to try the other Toyama food specialties as well, especially Toyama black ramen and Udon.
Lastly, if you plan on visiting Toyama and exploring more of the Chubu region, then you may want to get a 5 Day JR Alpine-Takayama-Matsumoto Area Pass. It'll give you unlimited access to JR trains in the Chubu region, including the popular Tateyama Kurobe Alpine route for five consecutive days.
Continue Read on
This Toyama food guide blog when looking for what to eat in Toyama is part of our Chubu trip. If you are interested, please continue reading our travel itinerary and food blog below.
Complete read in Chubu travel blog:
Nagoya Itinerary and Food Guide:
Takayama itinerary and Good Guide:
Kanazawa itinerary and Food Guide:
Shirakawago, Kamikochi, Tateyama Kurobe Alpine Route: