Last updated on December 11th, 2023
Deciding where to stay in Da Nang can be challenging as there are just so many amazing hotels and resorts. We've put together a guide to help you decide where to stay in Danang, with accommodation options for every budget.
As Vietnam's fourth-largest city, Da Nang is a crowded and bustling town. It is a developing tourist destination with a continuously increasing number of travelers to this popular stop in Vietnam. If you're coming to Central Vietnam by International or domestic flights, you'll be landed at Da Nang Airport, approximately 15 minutes from the nearest city, Da Nang.
The popular tourist hot spot, Da Nang offers a good mix of cultural and sightseeing opportunities for all tastes, styles, and budgets. From French colonial buildings, cultural museums and temples, natural landscapes, and tranquil beaches with clear blue waters. Meanwhile, World Heritage Sites Hoi An, My Son, and the popular Ba Na Hill resort are also accessible from the city center. Whether you're staying for a few days or weeks in Da Nang, you'll never run out of things to do. Plan your trip quick and easy – here's where to stay in Da Nang.
In this accommodation guidepost, I will be listing down the best places to stay in the Da Nang for tourists. We will cover all types of Danang accommodation options from budget hostels to luxury resorts as well as how to decide where to stay in Da Nang and many more.
Quick Guide: Where To Stay in Da Nang
Here are some quick guides when it comes to where to stay in Da Nang.
If you want to stay in the heart of the city, then Da Nang downtown is the best choice for you. You'll easily access the local markets, shopping complexes, restaurants, bars, and buzzing nightlife. We recommend staying as close as possible to the river between the Han River Bridge and the Dragon Bridge.
If you want to relax by the beach, but still stay close to the city center, stay in MyKhe Beach. It is the most popular beach in Da Nang and is always filled with locals and travelers. Here you will find a white sand beach with many stores, beach massage parlors, and eateries nearby.
The south of MyKhe Beach Area is Bac My An Beach, another beach you can soak up the sun. It is slightly less crowded and provides a more relaxed holiday atmosphere. The area is very chilled out and relaxed, perfect for couples or solo travelers looking to recharge.
If you're looking for a luxury gateway, stay in Non Nuoc Beach. Beach here is more serene and quiet, even in the evenings and afternoons. This is not an area to go shopping or party in, it's an area to relax and enjoy the fresh air and sunshine. Besides, most of the resorts have private beaches. So, it is generally better suited for families with kids, and couples on honeymoon.
Da Nang Downtown
Da Nang City Center or downtown area is the business and administrative area of the city. It is an excellent base if you love to shop and eat. Just like a normal Vietnamese city, the downtown area is buzzing busily from dawn to dusk with markets along the main streets and a decent amount of restaurants and bars for those who enjoy the nightlife. It's where the best street food and restaurants are, and more a variety of rooftop bars and riverfront lounges.
Many hotels in Danang are located in or near the center, with options from budget hostels to luxury hotels with views of the Han River flowing through town.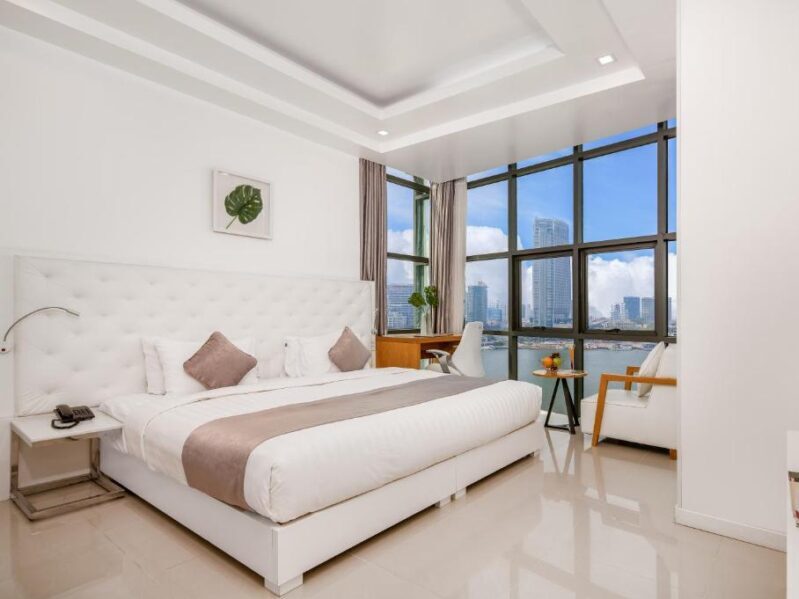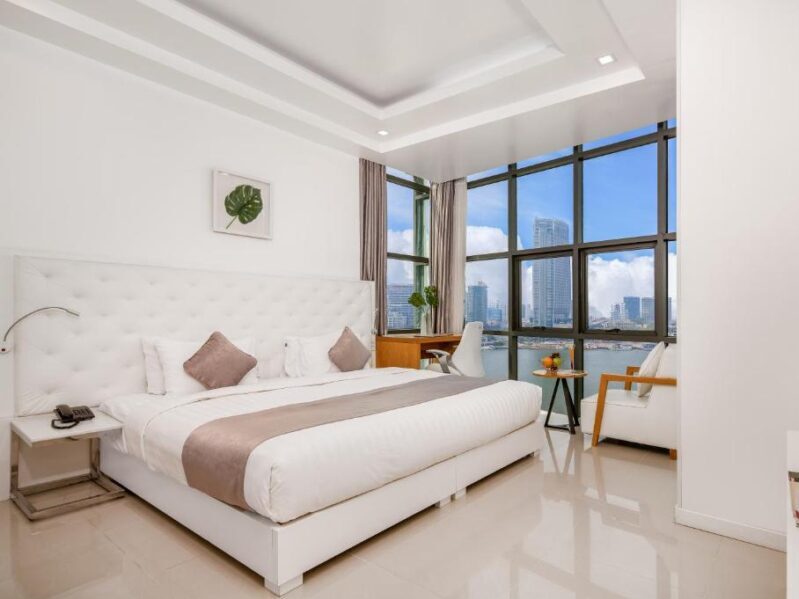 Star City Hotel & Apartments give your holiday a great start with comfortable and spacious rooms. It's a 3-star hotel with warm, friendly staff. The location is excellent and perfectly situated along the bank of the Han River, offering a splendid panoramic view of the Han River, the Dragon and Han Bridges, and the city. Free shuttle service to Hoi An.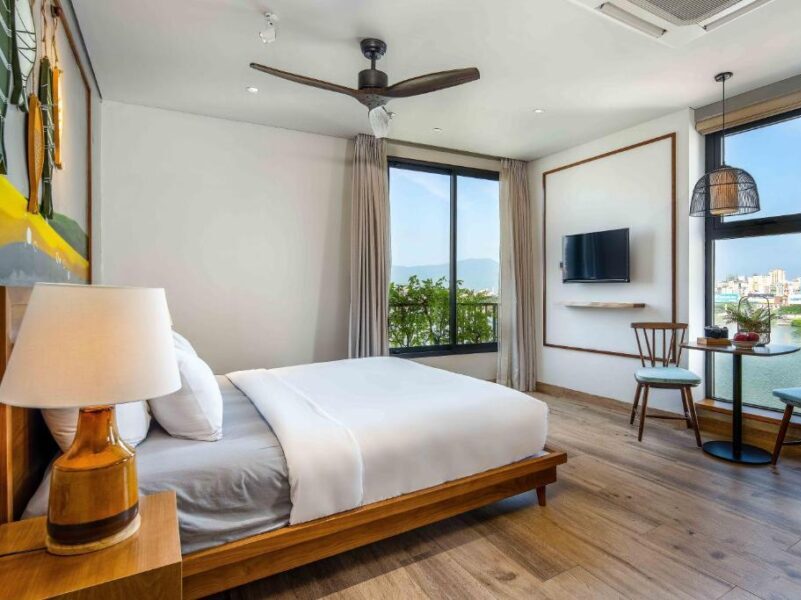 Seahorse Hostel & Bar by HAVI is a beautiful and modern mini apartment located by the river. The rooms are clean and comfortable. Staffs are friendly and always eager to help. They also have tours to Ba Na Hills and Marble Mountain. Stay here for 1-2 days and explore the city and surrounding attractions easily. 
MyKhe Beach
The best area to stay in Da Nang is without a doubt the MyKhe Beach area. It is a place where you can relax by the beach, but still stay close to the city center. The beach starts at the Son Tra Peninsula and goes all the way down to Hoi An.
This 9 kilometers coastline is always packed with locals and tourists to enjoy its beautiful beaches and white soft sand. MyKhe Beach is also a great place to stay in Da Nang for honeymooners.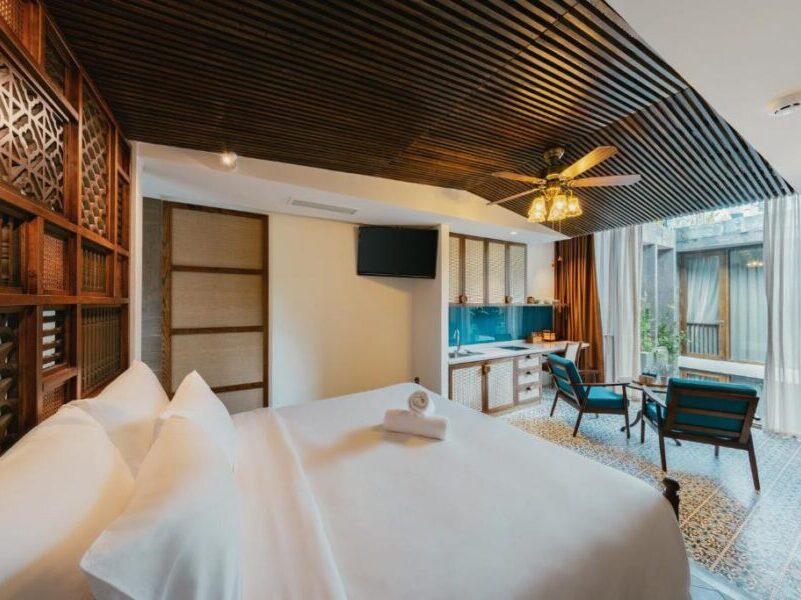 Top Pick: Minh Boutique gives you the best relaxation stay in Da Nang. You'll love the combination of uniquely concrete and wooden design that brings the ZEN structure. All rooms are exceptionally clean with the most comfortable bed and bedding. The rooftop pool is a great place to relax and have a swim or can sit and relax downstairs in the courtyard.
Reasonable price compared with the facilities. The location is perfect with 5 minutes walk to the MyKhe beach. A couple of nights' stay here is guaranteed to give you the best holiday.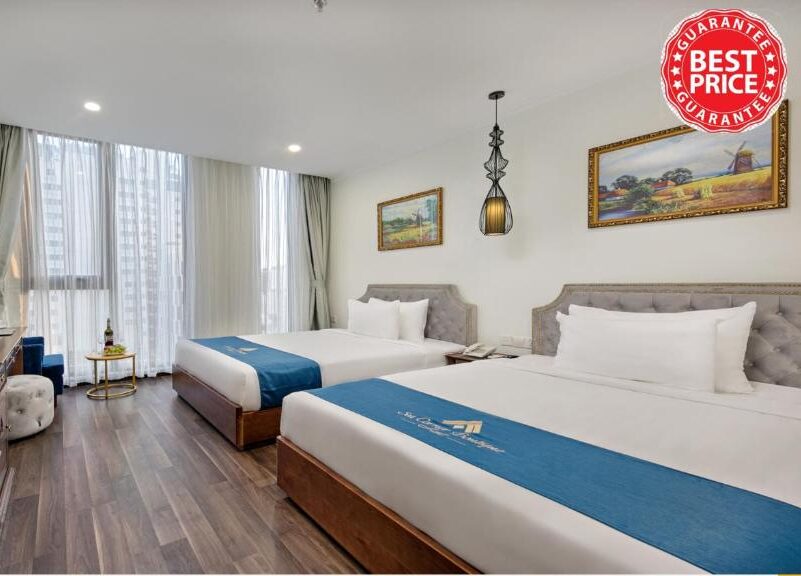 Mid-Range: Sea Corner Boutique Hotel & Apartment is a popular beachfront accommodation in Da Nang. The location is great which is located just 200 meters from My Khe Beach. A lot of shops, restaurants, and eateries nearby.
The hotel provides various facilities, such as a restaurant, fitness center, and an outdoor swimming pool for guests. Rooms and spacious and clean. Scooters are available to rent from the hotel for a reasonable price.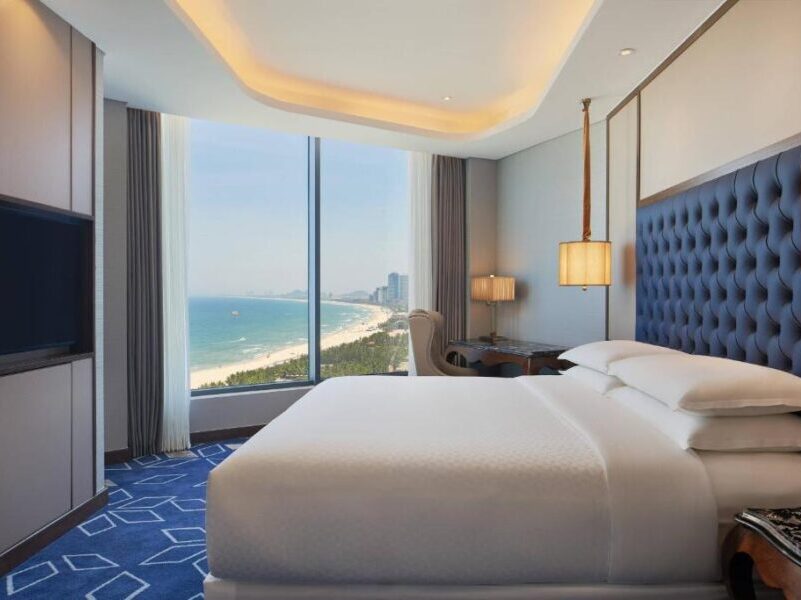 Luxury: You'll also find the luxury, high-end resorts lined along the MyKhe Beach providing the perfect getaway from the city. Four Points by Sheraton Danang is a modern stylish hotel in a fabulous location overlooking the bench.
Perfect rooftop swimming pool and bar with a great view. It is within walking distance of the beach. The rooms are in a modern style, spacious and comfortable.
Bac My An Beach
Another popular place to stay in Da Nang for the beachfront holiday is Bac My An Beach. It is south of My Khe beach, with approximately 4 km of coastal.
The big stretch of sand is lined with amazing hotels and suites, thanks to the fine white sandy shores endlessly stretching mingling with blue water together with romantic and pristine scenery.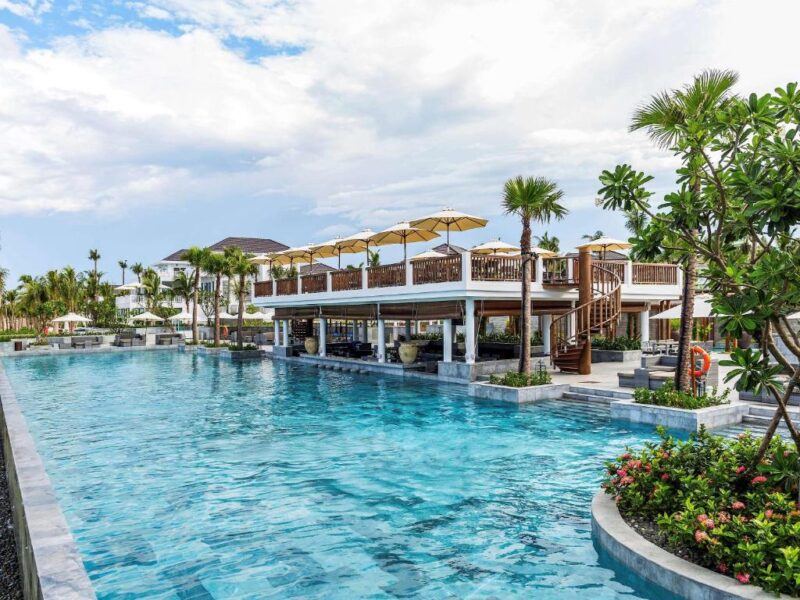 The Premier Village Danang Resort is a popular resort for travelers staying on is Bac My An beach, especially for families with children. The villas are spacious and well maintained, come with beautiful rooms. The pool is also directly facing the beach with the perfect sea view. The best place to stay in Da Nang to away from the hustle and bustle.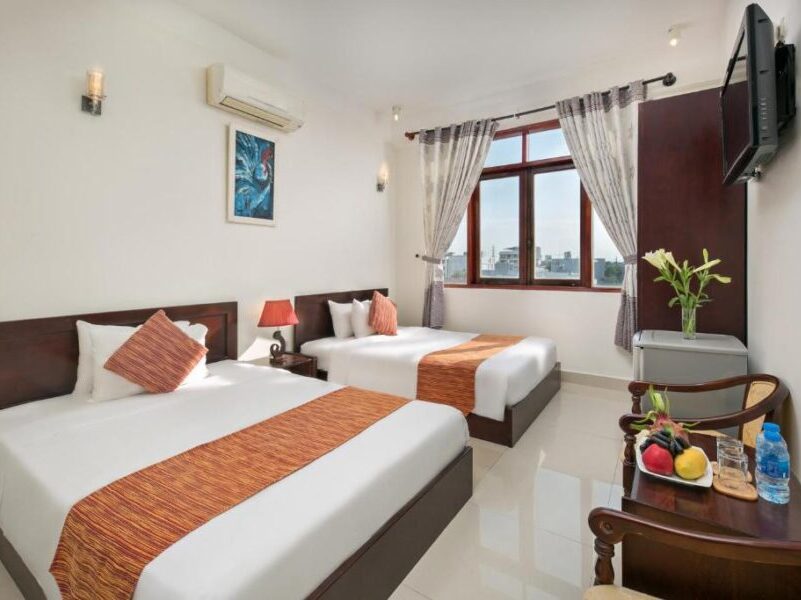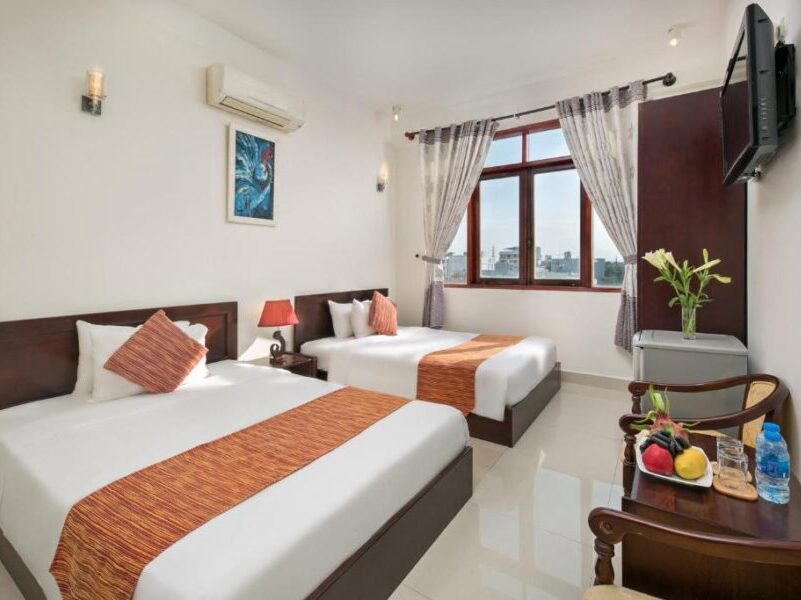 Dreams Hotel is located close to the beach and has many food options nearby. The rooms are clean, modern, and comfortable. Staffs are fantastic and offer a warm welcome to guests. It is slightly away from town but you can rent a scooter to explore the Da Nang and attractions nearby. The price is very reasonable and great value for money.
Non Nuoc Beach
Lastly is the Non Nuoc Beach. It is slightly further from the main part of Da Nang city, at least a 15-minute taxi ride away. With soft white sand stretches and a blue sea, Non Nuoc Beach is widely regarded as one of the most beautiful beaches in Da Nang. It was called China Beach during the Vietnam War and was very popular among soldiers.
The expansive beach hosts numerous luxurious five-star beach resorts with private beaches to serve tourists to have fun and relax. Visitors can do plenty of sightseeing and leisure activities whilst enjoying local seafood dishes at its many beachfront restaurants.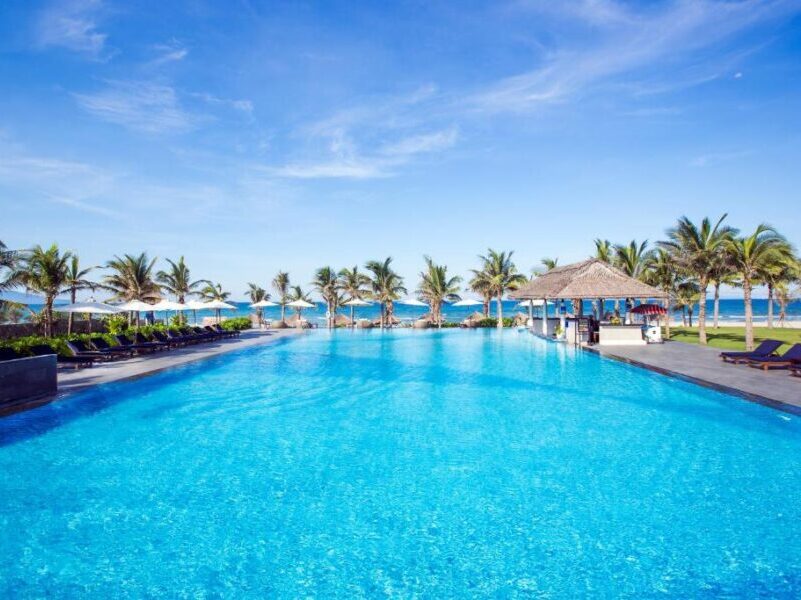 Melia Danang Beach Resort is a good retreat for travelers looking to soak up the sun. It has a beautiful private beach and a nice infinity pool that overlooks the ocean. The rooms are clean and big, while the staff is friendly and helpful.
Getting a grab was easy if you need to go into the city center. A good place to stay in Da Nang for a few days' break.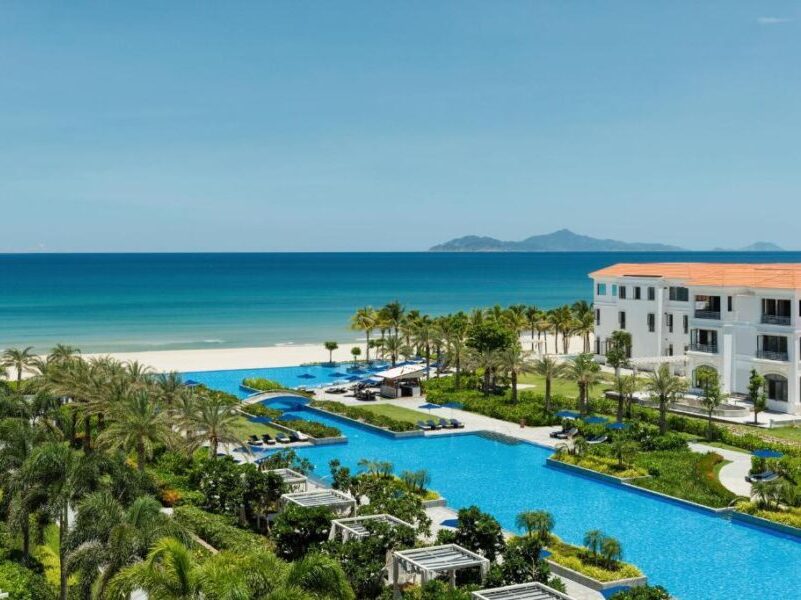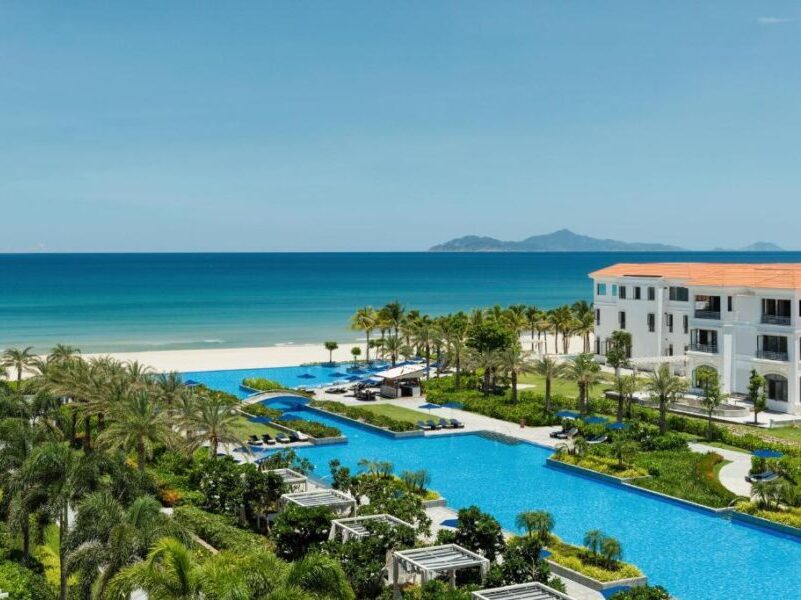 One of the best hotels to stay in Da Nang is the Sheraton Grand Danang Resort. It has a private beach area, an outdoor infinity pool, and a kid's pool for the hotel's guests. Comfort bed and luxury interior design.
The resort is a great place to stay in Da Nang for relaxing, and suitable for families with children to spend a nice time together.
Son Tra Peninsula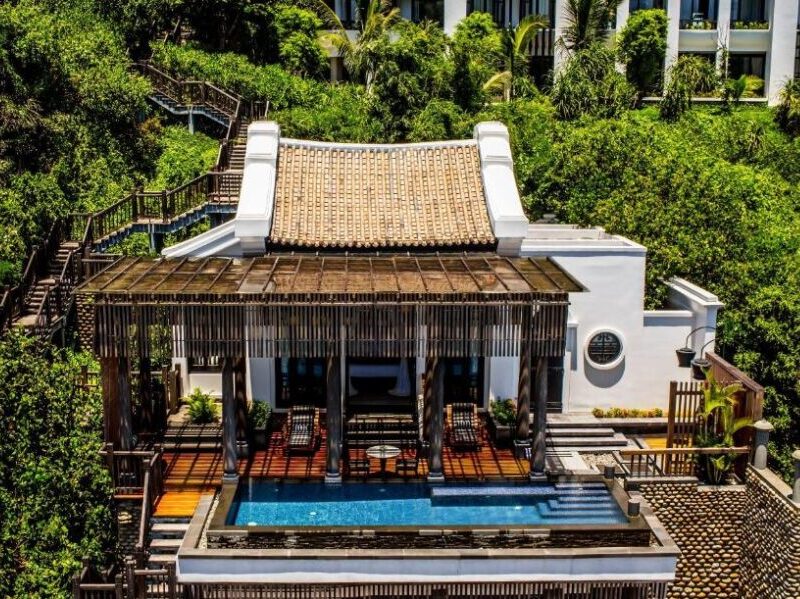 Lastly is The Son Tra Peninsula, which marks the northern end of the Danang beach. This area is best for those wanting luxurious seclusion rather than experiencing life in Da Nang. That is not much accommodation available here and The InterContinental Danang Sun Peninsula Resort is the notable 5-star luxury resort at Son Tra Peninsula.
Rooms are luxuriously decorated and provide private balconies. You'll be treated to spacious suites, a fully equipped kitchen, and a furnished balcony that looks out onto a fantastic view. This is perfect for families and big groups, as well as couples who want a local experience.
Overview: Where To Stay in Da Nang
In short, for a first-time visitor to Da Nang, it's important to know where to stay in Da Nang and which hotel best suits your budget and preference. There are plenty of accommodations are available in Danang and for sure you can get your best stay. There's no wrong choice as should you find one, as it is still can travel to another destination easily.
Stay in the downtown area if you want to experience the local life. While the southern beaches; My Khe, Bac My An, and Non Nuoc are the popular stay in Da Nang for a relaxing gateway. It is easy to book a great hotel in Danang with great facilities at a great price.
Traveling to Da Nang soon? Here are the Danang and nearby attractions travel blog posts:
Related Hoi An Travel Blog:
More Central Vietnam Travel Blog: