Last updated on June 3rd, 2023
Da Nang is a modern and vibrant city in Vietnam. There is definitely a lot more to see and do in Danang. In this Da Nang Travel Guide blog post, I will outline the things to do in Danang as well as travel information and tips to make your trip easier.
Da Nang was the first destination I start exploring Vietnam. I enjoy coming here for the unbeatable value, delicious Vietnamese food, and fascinating things to see in the city's streets. It is an amazing place that would not disappoint anyone.
As a developing coastal city, Da Nang is a growing tourist hotspot full of adventures and pristine sandy white beaches. It is voted by Forbes as 1 of the 6 most breathtaking beaches on the planet, making this an ideal beach gateway for visitors.
Alongside Da Nang's beaches, there are also many more beautiful and scenic spots to slowly discover. It is even best to plan a day trip to visit surrounding attractions and the UNESCO World Heritage sites nearby such as Hoi An and My Son. A great beach city that is a great introduction for beginner travelers who are looking to travel in Vietnam.
This Da Nang Travel guide is essential for a short trip to this Vietnam's most vibrant city. We've included the most fun and best things to do in Da Nang as well as recommendations for the best beaches, accommodation, and food in Danang to make the most out of your trip.
Best time to visit Da Nang
The best time to visit Da Nang for tourists is from February through April. The weather is not too hot and slightly chilly. Many visitors flock from all over the world to enjoy the fine weather and all the outdoor activities the city has to offer.
From May to August, the weather is noticeably hotter and it is to reach up to 40 degrees. Sightseeing is quite exhausting at this time due to the high temperatures. The rainy season begins from September until January. Rainy season means that you need to expect more rain showers and the climate is relatively unpredictable.
How To Get To Da Nang City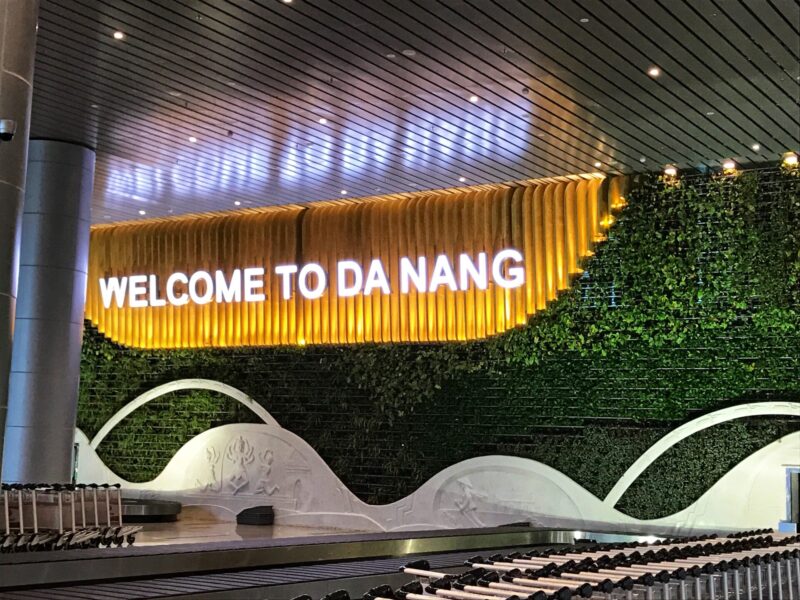 It's easily accessible to Da Nang city center from the Da Nang International Airport. It is about 10 minutes away from the city center. Generally, there are three ways to get into Da Nang city from Da Nang (DAD) International Airport.
Taxi is the fastest option with plenty of taxis waiting just outside the arrival hall. One-way of the 10-minute ride will cost around 110,000 VND depending on the distance
GRAB (South-East Asia of Uber) is another option when getting into Da Nang airport to the city. You can also use this e-hailing service when traveling in Da Nang. You just need to have the app ready on your smartphone before your travels and pinpoint exact pick-up and drop-off locations. A one-way 10 minutes trip will cost around 100,000 VND.
If you are going straight to Hoi An, you can pre-book the private transfer which will take you to your hotel in Hoi An directly. The price is reasonable and hustle-free without worrying too much about being cheated by the taxi scam.
PRE-BOOK: Private Transfer from Da Nang Airport
Where To Stay
I would highly recommend staying in the beach resort if you are looking for relaxation and tranquility on Da Nang. There are many beautiful resorts and accommodations available for your perfect gateway in Danang. Most importantly, the accommodation price in Da Nang is relatively cheap for the world-class facilities and services.
We recommended Premier Village Danang Resort at Bac My An Beach and Four Points by Sheraton Danang at MyKhe Beach. Both are popular picks among travelers to Da Nang.
Alternatively, you can also consider staying in Star City Hotel & Apartments. It is perfectly situated along the bank of the Han River, offering a splendid panoramic view of the Han River, the Dragon and Han Bridges, and the city.
Things To Do in Da Nang
There are many things you can do in Danang that we included in below Da Nang Travel Guide.
Within the Danang city itself, you can get lost in the downtown area by visiting the local market, watching the Dragon bridge performance, or strolling in the romantic love bridge. You can also go to pristine beaches to enjoy the sun and sea, or travel to Son Tra Peninsula for a birds-eye view of the city
Outside the Danang city, we recommended planning a trip to the UNESCO World Heritage Sites such as Hoi An Ancient Town and My Son Sanctuary. Besides, the Ba Na Hills, a hilltop French-colonial entertainment park is also best to plan into the Da Nang Travel Guide.
In short, here are the best things to do in Da Nang Travel Guide:
Relaxing on Da Nang Beaches
Shopping in Han Market
Have a Vietnamese Breakfast in Local Market
Visit Da Nang Pink Cathedral
Rent A Motorbike To Son Tra Peninsula
Visit Linh Ung Pagoda
Admire Tallest Lady Buddha in Vietnam
Watch Performance at Dragon Bridge
Romantic Stroll at Love Bridge
Eat Da Nang Quang Noodles
Enjoy the Cool Weather at Ba Na Hill
Explore Hoi An Ancient Town
Take a day trip to My Son Sanctuary
Relaxing on Da Nang Beaches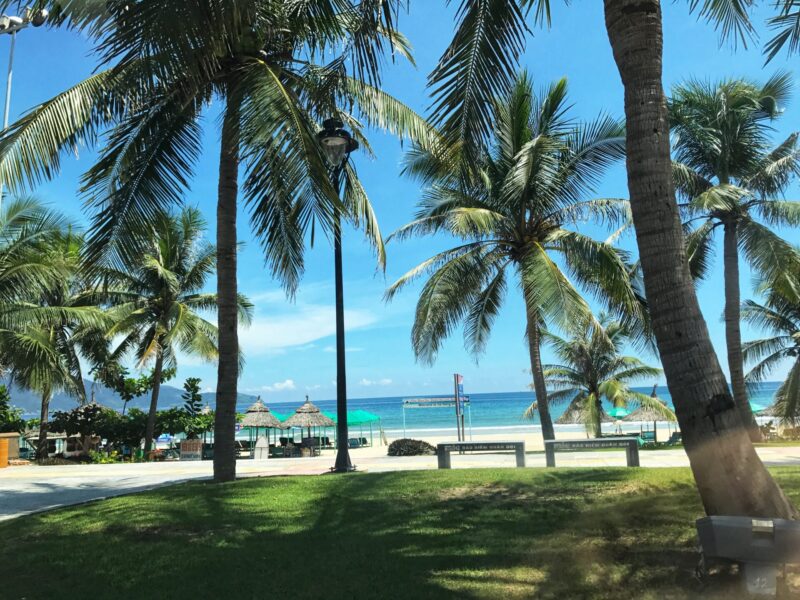 If you're a fan of outdoor activities, relaxing on Da Nang beaches is one of the best things to do in Da Nang. The city is blessed with beautiful beaches and some are easily accessible right from the city itself.
Most of the beaches in Da Nang are open for tourists all day long and can be visited any time of the year. Grab your swimsuits, towels, and sunscreen and head to the beaches in Da Nang.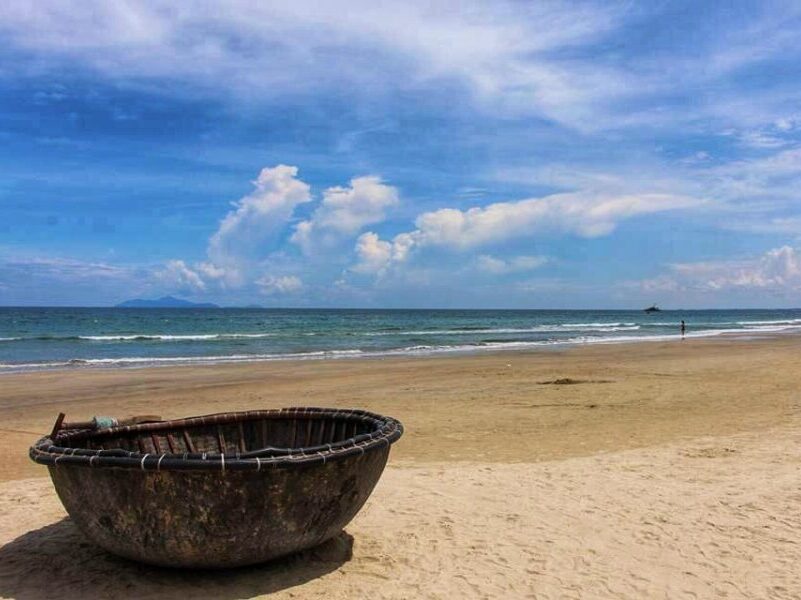 Among all the beaches in Da Nang, the most popular beaches are My Khe Beach and Non Nuoc Beach.
My Khe Beach is considered one of the best beaches on the planet by Forbes. The 20-mile stretch of white sands and majestic blue water will give you a luxurious vibe when step on the soil of this beach. The beach is popular for sunbathing, fishing, snorkeling, jet-skiing, and surfing. You'll also find many high-end resorts and seafood restaurants nearby the beach.
Another one of Da Nang's famous beaches is Non Nuoc Beach. It takes about a 20-minute drive from Da Nang City. The Non Nuoc Beach takes up five kilometers of Hoa Hai Ward's coastline and featuring with soft white sands, a gentle slope, unpolluted waters, and mild waves. It tends to be quite calm and you'll love to go for a barefoot walk along the pristine shoreline. Many visitors come here for leisure activities such as sunbathing, jet-skiing, and surfing whilst enjoying local seafood dishes.
Shopping in Han Market
Visiting a local traditional market is always a great experience to get a fantastic glimpse into local life. In Da Nang, the Han Market or Chợ Hàn is a great example of the ASEAN market. This is a great place to interact with the local people for a taste of the local life and also find a good bargain at the Da Nang's local markets.
Han Market is the central market, located in the heart of Da Nang city, near the Han River Bridge. The 2 stories covered building is operated since the French occupancy in the 1940s. There are hundreds of stalls in the markets and you can find almost everything here. From local produces handicrafts, T-shirts, accessories, and dried food to bring back home (nuts, coffee, pickles, and snacks). Even locals love visiting Han Markets to buy fresh fruits, vegetables, and meats for their daily living.
Enjoy the shopping sphere and bargain for the best prices with the vendors. The price was reasonable in Han Market. But be prepared to be squished in the crowd.
Have a Vietnamese Breakfast in Local Market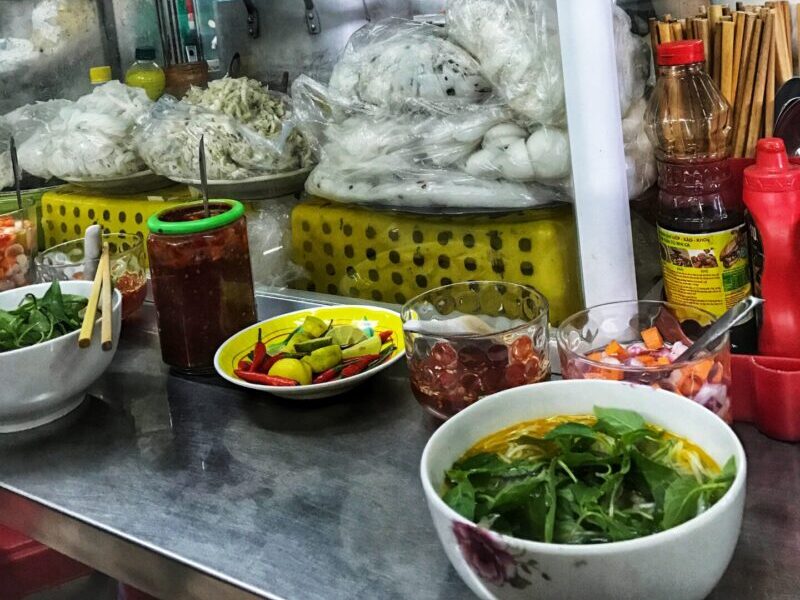 If you are visiting Han Market in the morning, consider having an authentic Vietnamese breakfast to kick start your day. There is a small food court in the center of the market, selling the local Vietnamese dish you can think of.
From Mi Quang(Vietnamese turmeric noodles), pho (beef noodles soup), Banh Xeo (crispy pancake), Bun Thit Nuong (dry Bun with grilled pork ), Goi Cuon (Vietnamese spring rolls), and many more Vietnamese local foods. Each of the food should cost you no more than VND 30,000. A tasty yet cheap breakfast in Da Nang.
Nothing beat having a cup of Vietnamese coffee and Vietnamese noodles in the morning like a local. We love our bowl of pho with their local sauce in Han Market.
Visit Da Nang Pink Cathedral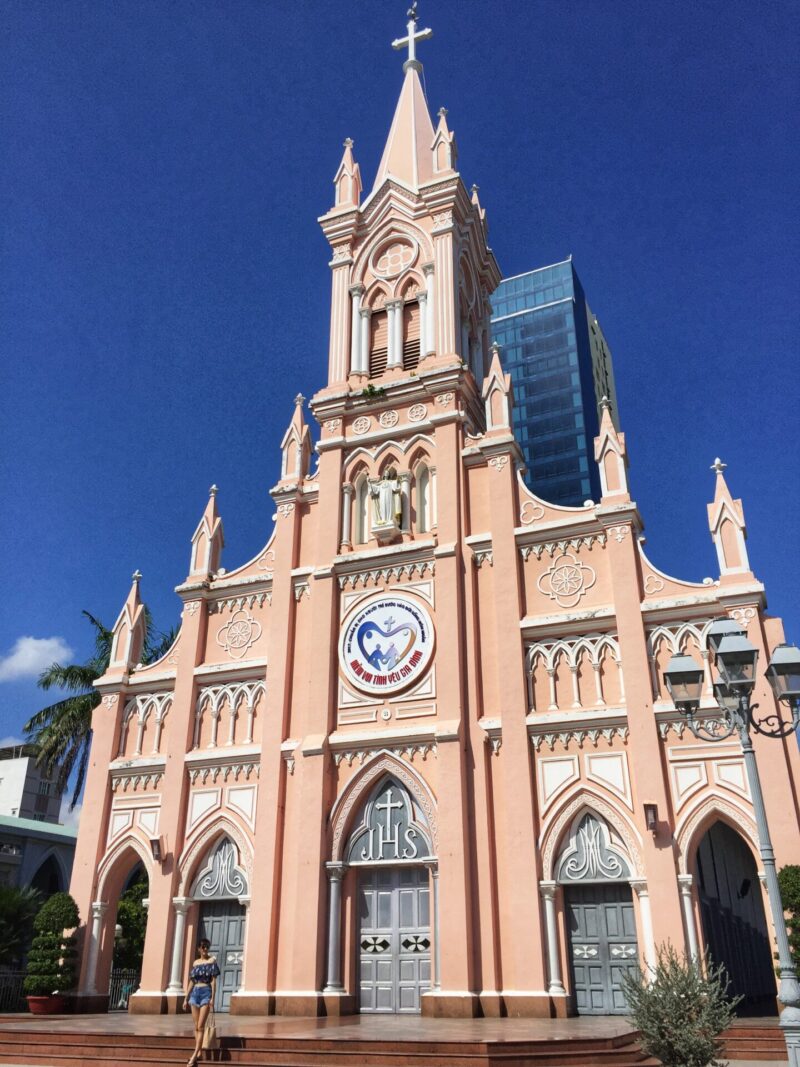 Da Nang Cathedral is one of the famous catholic churches in Vietnam thanks to its amazing design features. It is built by the French in 1923 and serves the local Catholic community until today. The cathedral has a signature pink-painted edifice as well as colorful stained-glass windows and an imposing bell tower topped with a rooster weathercock.
Entrance to Da Nang Cathedral is free of charge and you could visit this place irrespective of your religious orientations. It is highly recommended to visit the church once as a tourist if not on a day when Mass is held.
Opening Hours: Opening hours 11:30-14:00
Mass Time: Monday-Saturday 5:30, 17:30, Sunday 5:30, 6:30, 7:30, 15:30, and 17:30.
Rent A Motorbike To Son Tra Peninsula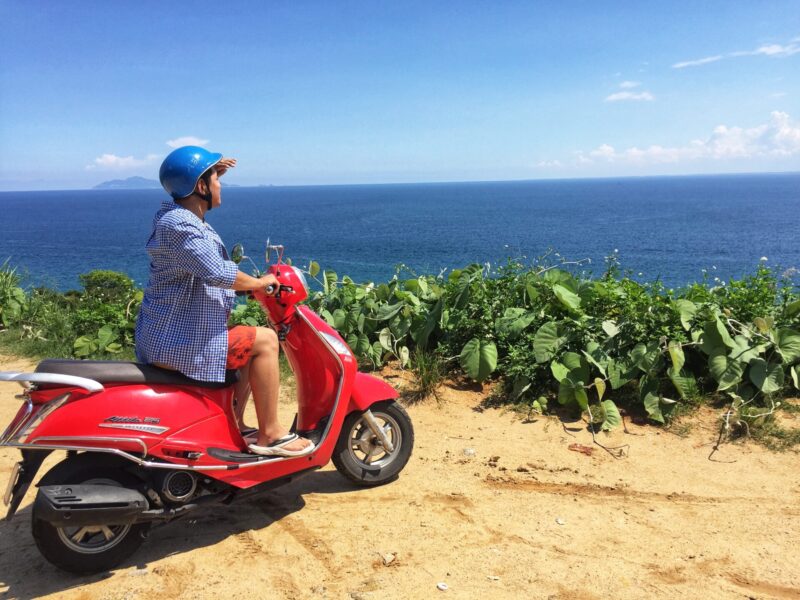 Also known as the Monkey Mountain, The Son Tra Peninsula is a breathtaking national park located in the northeastern part of Da Nang. It is about 13 km from the city center, away from the hustle and busy life of the city. The mountain is about 693 meters above sea level and could be reached by a 35-minute drive from the center of the city.
Son Tra Peninsula is spoilt with lush green, hilly landscapes and is surrounded by pristine beaches such as Bai Bac, Bai Nam, Bai But, and Tien Sa Beach. The winding road to the peak is a popular spot for hiking, cycling, and enjoying the natural scenery. You'll find the verdant jungles and also spot rare species such as the red face monkeys.
Traveling to Son Tra Peninsula would be a good morning or afternoon excursion. If you've got a scooter or are planning on renting one while in Da Nang then going for a ride around Son Tra Mountain is a must-do in Da Nang. The views of the hills and the Pacific Ocean are fantastic, and it is very chill when driving to the mountain. This is the most experience you need to get when you come to Da Nang city for sure.
Da Nang Travel Tips: You can reach the peak by car, motorbike, and even a bike if you are strong enough. If you are a little scared of the traffic in Vietnam, you can always hire a taxi, or go on a private tour, which will take you to all of the most important places.
Visit Linh Ung Pagoda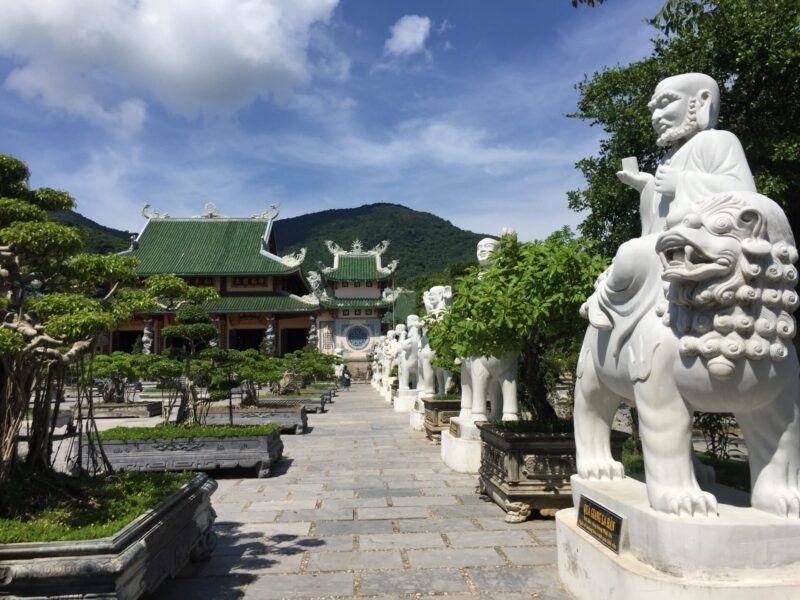 Visit Linh Ung pagoda is another thing to do on your Da Nang Travel guide. The pagoda is on a hill while making your trip to the Son Tra Peninsula. A perfect high point with a panoramic view of Da Nang.
After you enter the entrance gate, the lovely courtyard will mesmerize you with the well-maintained gardens with several kinds of bonsai, a small pond, and 18 different statues having different expressions. Besides, the temple houses a 1.1-meter-high seated Buddha statue and brass statues of the Goddess of Mercy (Avalokitesvara), and Dai The Chi Bodhisattva.
Despite the bustling Da Nang city center, the atmosphere here is very serene with locals praying in the morning and monks going about their daily lives. The entry to this place is free of charge, but remember to avoid it during the special occasions when it gets crowded with pilgrims. Many locals come to worship on the first and fifteenth of each month.
Admire Tallest Lady Buddha in Vietnam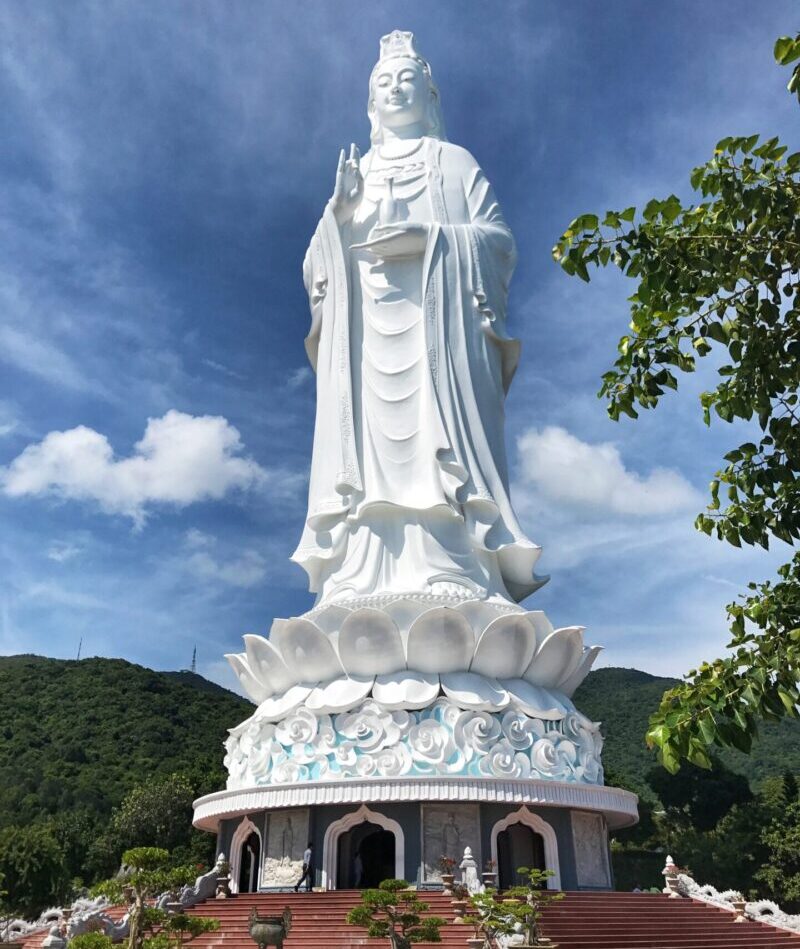 When walking up the steps in Linh Ung temple, you'll find the tallest lady Buddha statue in Vietnam. It is one of the highlights when visiting the Son Tra Peninsula.
The landmark statue of Lady Buddha dominates the skyline view and is visible from many locations in Da Nang. It is 67 meters in height and 35 meters in diameter at its base. Standing at its base to admire the lady Buddha is awe-inspiring.
Watch Performance at Dragon Bridge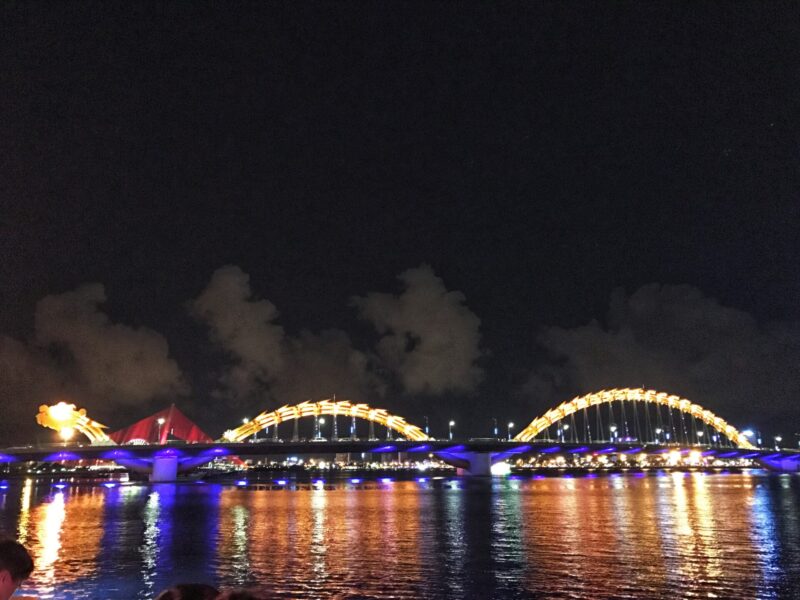 Da Nang possesses various beautiful bridges that's why somehow this city is called The city of bridges. Among them, the Dragon bridge constructed in the shape of a golden dragon stands out. Locals believe the dragon symbolizes power, nobility, and good fortune.
Dragon Bridge is the longest bridge in Vietnam with 666-meter in length. The six-lane bridge is crossing the Han River, connecting the important places in Da Nang.
In the morning, the dragon bridge is busy with motorbikes and cars crossing over the bridge. It turns into one of the stunning views in Da Nang at night when the dragon is lit-on and illuminated with a colorful light display. The river reflects the sparkling and twinkling colors off the water which creates a charming scene.
Every weekend from 21:00 onwards, the dragon bridge will schedule for fire and water performance. You'll see the dragon spit water and breathe fire from its mouth. It may not be a reason in itself for coming to Da Nang but once you're here it would be a shame to miss it.
Romantic Stroll at Love Bridge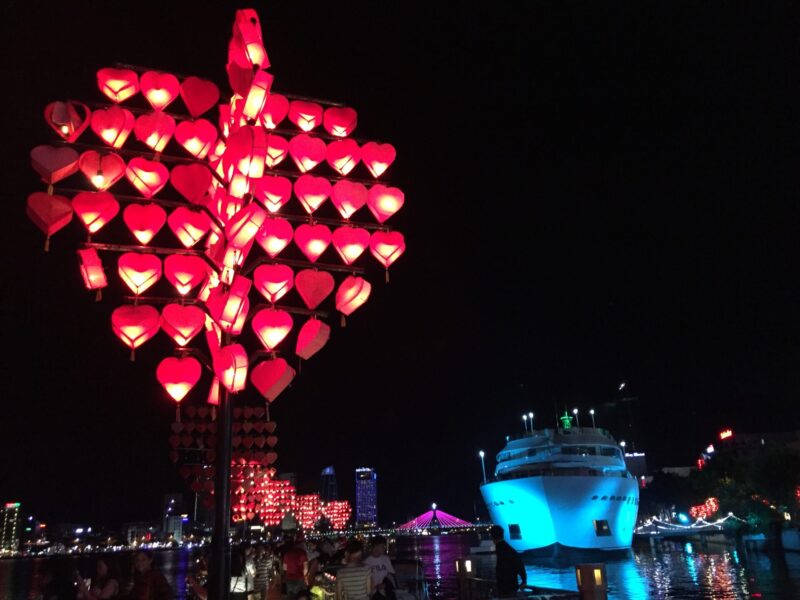 Just a few steps away from the Dragon Bridge is the Da Nang's love bridge on the Han River. It is inspired by the famous love lock bridges around the world with lots of personalized locks that have been locked onto arc shape bridges. Many young couples travel to love bridge just to put their lock on the pier, hoping for a good relationship.
In the evening, the love shape lights are lit up along the waterfront, creating a romantic scene when strolling along the bridge. There are also restaurants, pubs, and bars all around the area that serve tourists at any time of day to enjoy the beautiful view.
Eat Da Nang Quang Noodles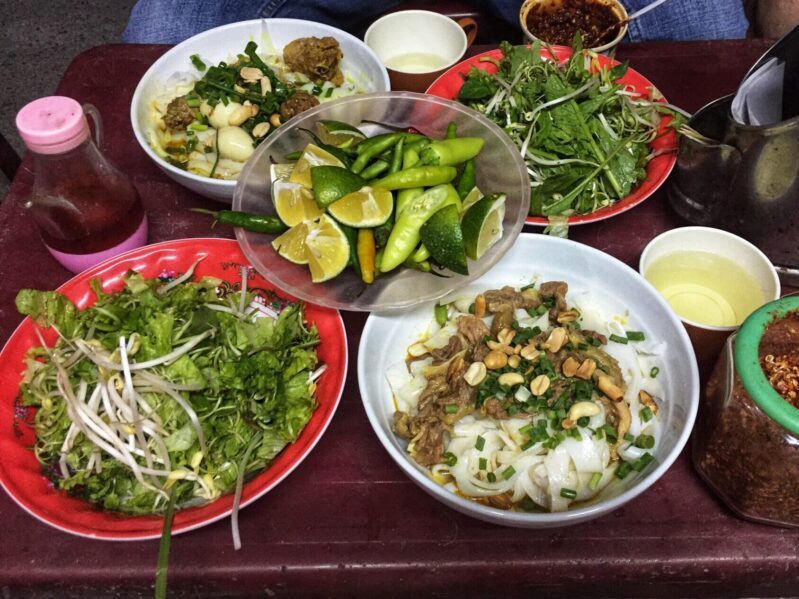 When it comes to central Vietnam regional local cuisine in particular, you probably will eat the Cao lầu (Hoi An Style Noodles) at Hoi An. But in Da Nang, mì quảng (Quang Noodles) is the one that you're not to be missed when you visit here.
Da Nang is heavily influenced by other regions like Hue or Quang Nam. So, it is not surprising many Vietnamese cuisines have become the regional popular cuisine. Originated from Quảng Nam Province, mì quảng is one of the best noodles from Central Vietnam, especially Da Nang city.
The turmeric rice noodles are made from rice flour and cut into flat fibers. It is commonly served with meats, vegetables, herbs, and a small amount of broth. Most restaurants in Danang are serving this regional dish and you can enjoy it in restaurants, or even food stalls in the street.
Enjoy the Cool Weather at Ba Na Hill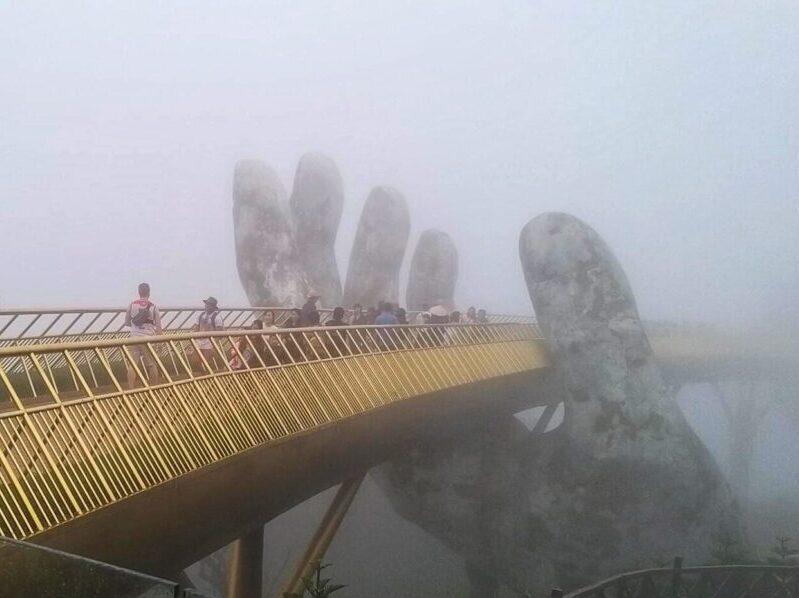 Located 40 km west of Da Nang, the Ba Na Hills has become one of the popular things to do when visiting Da Nang. This comprehensive entertainment attraction is located in the Truong Son Mountains with constant cool temperatures throughout the year.
Klook Exclusive: Roundtrip Shuttle Bus from Da Nang to Sun World Ba Na Hills
To get to Ba Na Hills, you will ride the world record longest 5801-meter long single-cable from the foot of the mountain to the top. Once you are at the top, you can start exploring the hilltop resort. The resort has a French village that looks like a medieval castle, amuse park with several adventure rides, a wax museum, and many more attractions.
The most popular attraction in Ba Na Hills is the golden bridge where the bridge is built at an elevation of 1400 mete with two hands holding on it. You will feel like being at the hands of God when you stand in the middle of the bridge.
Due to the nice weather, many people love to spend one night in this hilltop resort to experience the beauty of the 4 seasons. The Mercure Danang French Village Bana Hills is the popular pick if you plan for overnight at Ba Na Hill.
Explore Hoi An Ancient Town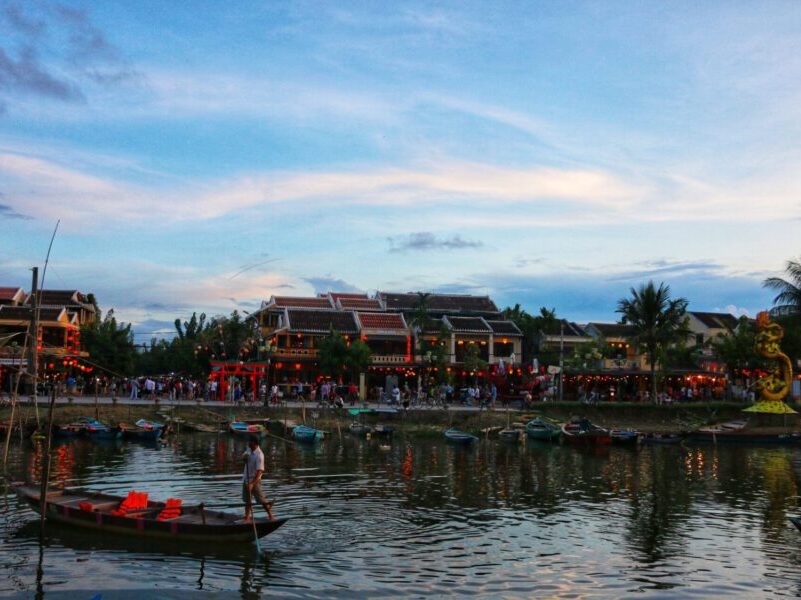 If you have more days to spend in Da Nang, we recommended visiting the Hoi An. The ancient town of Hoi An is about 30 km from downtown Da Nang. It is a great option for a day trip. But you can also stay there for days or even a weekend.
Hoi An is a well-preserved ancient town with a historic heritage building. It was once a trading port dating from the 15th to the 19th century and has a long history of exposure to foreign cultures. You will find Chinese, Japanese architecture, and French colonial buildings blend into this Vietnamese town.
The ancient town is very dreamy when the yellow town is lit up with colorful lanterns at night. You will fall in love with the ancient traditional culture and the local atmosphere.
Do you want to visit Hoi An? Check out how to plan your trip.
Take a Day Trip To My Son Sanctuary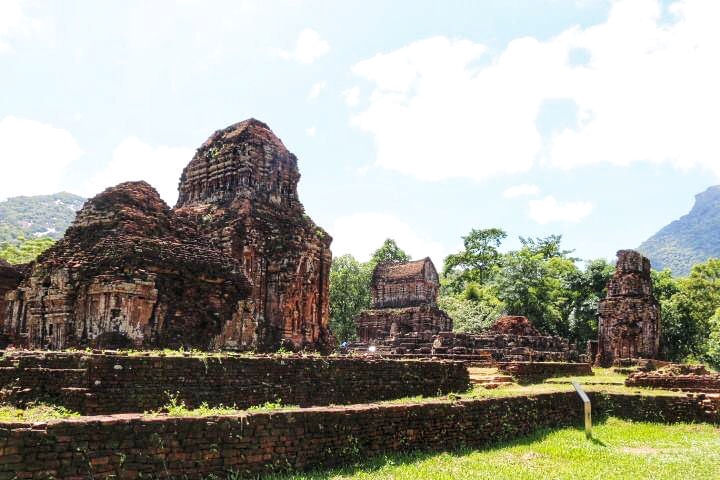 My Son Sanctuary is a UNESCO World Heritage Site made up of a collection of ruins by the kingdom of Champ. The ruins are about 1,300 years old now. It marks history and evokes the civilization they represent.
During your trip to My Son, you'll see the remaining 70 temples which survive the Vietnam war, ornate carvings as well as impressive stone pillars and buildings. It is like a small version of Angkor Wat, Cambodia.
For me, there isn't much to see here but it still provides a great insight into the country's past. Good for a day trip to understand more about a beautiful old-time of Vietnamese central region. A guided tour is recommended if you want to know more about the history of My Son Sanctuary.
Recommended guided tour: My Son Sanctuary Tour from Da Nang
More Da Nang Travel Guide Tips
All in all, Da Nang is blessed with not only beautiful beaches but also much stunning scenery, and mouth-watering cuisine. You'll easily find yourself being lost in a myriad of things to do and want to spend a few days exploring everything the city offers.
Lastly, we hope our detailed Da Nang travel guide blog will help you enjoy this charming city to the fullest. If you're still unsure of what to see, we've packed all of our tips at the Central Vietnam travel guide blog article so you can plan out your perfect travel route through Da Nang. Find out more here.
Related Travel information to Da Nang:
Related Travel information to Hoi An: