Last updated on September 23rd, 2023
If you're looking for a diverse Vietnamese food experience, then this list of best Da Nang and Hoi An restaurants, cafes, and street foods has you covered. You'll discover all the delicious, cheap, and mouth-watering local Vietnamese cuisine in the Da Nang and Hoi An Food Guide when you visit Central Vietnam.
When talking about the culture of a country, it is impossible not to speak about food. I have been to Central Vietnam and visited the Da Nang and Hoi An for a short gateway. We visited many attractions and enjoyed coming here for the unbeatable value, and most important delicious Vietnamese food. The food scene in Central Vietnam offers unique flavors and the local cuisine here will surely satisfy all travelers.
While our Central Vietnamese food guide focuses on the best dishes to have in Da Nang and Hoi An, and also some of the best restaurants to try those Vietnamese local dishes. If you'd like to know where to try some of the tastiest Vietnamese local dishes in Danang and Hoi An like Banh Mi, Cao Lau, Mi Quang, then this article will be useful to you.
On this ultimate Da Nang and Hoi An Food Guide, you will find our best food tips, where and what to eat in Da Nang and Hoi An. Feel free to check out all the food tips to know where and what to eat when you come here.
What To Eat in Da Nang and Hoi An
There are countless places to enjoy the best food in Da Nang and Hoi An. Among them, street food plays a big role in Central Vietnam with many local cuisines available on the many streets. If you are not street fans, there are also some great Vietnamese restaurants for casual Vietnamese food, offering a great chance to try regional food.
Here are a few local Vietnamese delicacies you have to try and listed in the Da Nang and Hoi An Food Guide:
Mì Quảng (Quang style Noodle)
Cao lầu (Hoi An Style Noodles)
Bánh mì (Vietnamese Bread)
Thit Xien Nuong (Grilled meat on Skewers)
Bánh xèo (Vietnamese Rice Crepes / Pancakes)
Phở Bo (Beef Pho Noodle Soup)
Com Ga Hoi An (Vietnamese Chicken Rice)
Refreshing drink (Vietnamese iced coffee, local beer, lotus herbal tea, and more )
Food Tour in Da Nang and Hoi An (Quick Link)
Eating at local Vietnamese restaurants is great, but so is going on a food tour. It's a great way to learn about the local cuisine. Check out some of the most popular food-related tours and activities in Da Nang and Hoi An.
Mì Quảng (Quang style Noodle)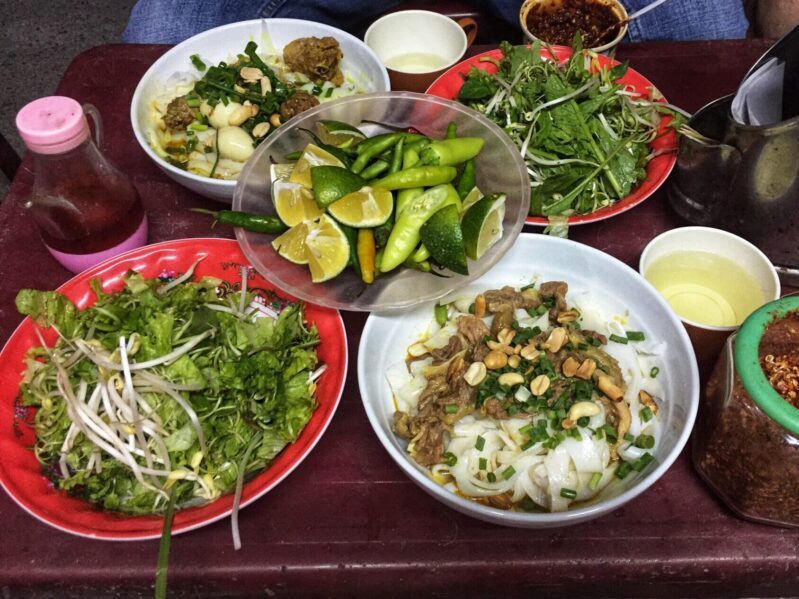 Mì Quảng is a Vietnamese noodle dish that originated from Quảng Nam Province in Central Vietnam. Literally Quảng style noodles, the famous Quang noodles have long been a favorite food among locals and travelers to Da Nang in the Central region.
Mi Quang has a rustic taste but it is rich in flavor. The main ingredients of mì quảng are turmeric rice noodles, meat, and herbs, most commonly served with a small amount of broth. Typically, this noodle dish is topped with freshly fried peanuts or rice crackers; and served together or separately with raw vegetables.
You can find Mì Quảng at almost everywhere in Da Nang for an authentic local bowl of this iconic dish. We tried the Mi Quang in the Da Nang city when we are wandering around in the city. It is a tiny restaurant in a hidden alley and all the customers are locals. Alternatively, Quang Thi Noodles is also another great choice. You can try the perfect combination of Quang noodles and crispy ram here. Most important, prices are extremely affordable.
Price from: 25,000-30,000 VND/bowl.
Cao lầu (Hoi An Style Noodles)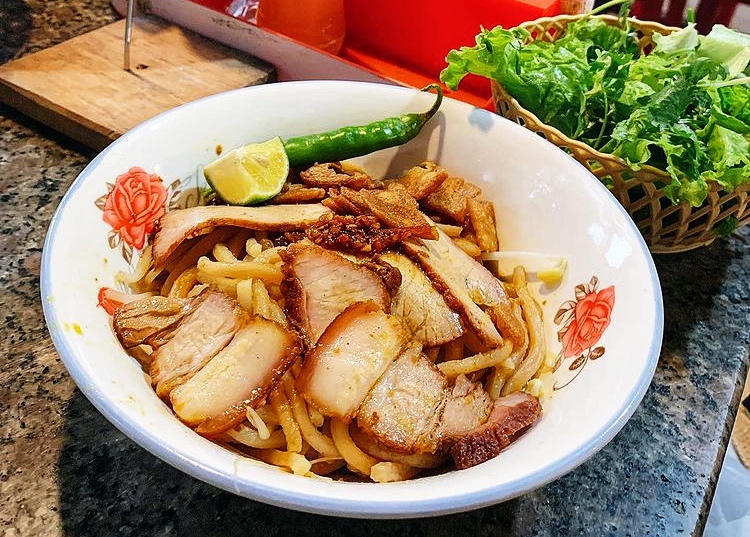 Another must-eat in Central Vietnam – Cao Lau, the Hoi An Style Noodles. It is a rice noodle dish served with pork, greens, and fresh herbs. The special about the Cao Lau is the noodles. The noodles are pre-soaked in local water with lye made from wood ash, giving it a unique bright yellow color and characteristic flavor.
Cao Lau is the historic town, Hoi An's quintessential must-try dish. You will easily find Cao Lau from noodle vendors at the restaurants, night markets, curbside food stalls, and backstreet eateries. We enjoyed our bowl of Cao Lau at one of the food stalls along the Hoai River when strolling in the Hoi An Ancient Town. It might not be the best Cao Lau in Hoi An, but we truly enjoy this tasty local dish.
Price from: 20,000-25,000 VND/bowl.
Bánh mì (Vietnamese Bread)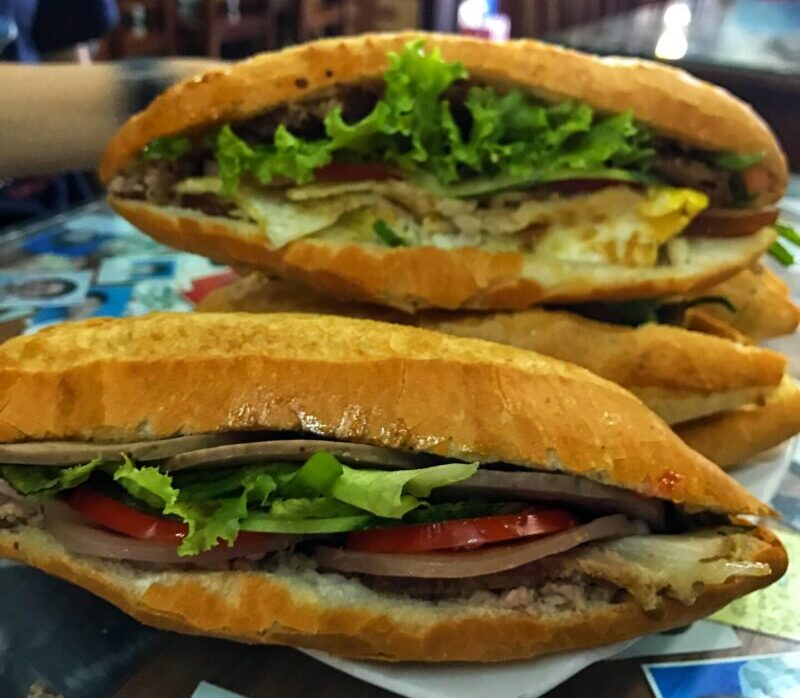 Introduced by the French during the colonial period, Bánh mì has become one of the National dishes in Vietnam. The "Banh mi "refers to bread but it's often used to describe the sandwich made with a small French baguette. The baguette is toasted until hot and crispy, and then filled with all kinds of fillings such as local Pâté (a mixture of cooked ground meat and fat minced into a spreadable paste), eggs, cold meat, shredded chicken, grilled meat, and vegetables.
The popular street sandwich can be found all over Vietnam but Hoi An has its variations to deserve the title of "the best Banh Mi in the world". Banh Mi Phuong and Banh My Queen are possibly the most popular place when looking for what to eat in Hoi An. Both were outstanding and served the best Banh Mi that I've had anywhere in Vietnam.
Recommended by the journalist Anthony Bourdain, Banh Mi Phuong is one the best banh mi in Central Vietnam. A crispy French baguette is filled with delicious spreads and pastes, topped with the meat of your choice. The price is around 20.000 VND for an authentic Banh Mi which is so cheap!
Price from: 15,000-30,000 VND / loaf.
Thịt xiên nướng (Grilled meat on Skewers)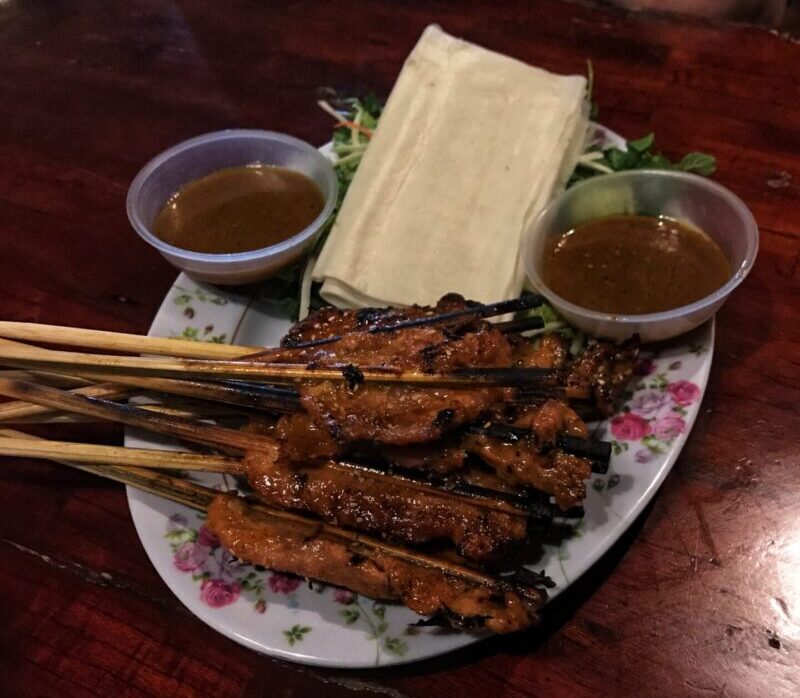 The meaning of Thit Nuong is baked or barbecued meat while Thit Xien Nuong means grilled meat on skewers. Pork is normally used as the meat for the skewers and served together with a basket of spices, sauces, and raw vegetables.
The grilled pork on a hot charcoal stove is wrapped in a layer of wet cake, herbs, and raw vegetables. The dipping sauce is the soul of the dish. Dipped the skewers into the specially prepared sauces when enjoying it. The sweetness of the sauce, together with the deliciousness of the meat and fresh raw vegetables, perfect match!
You would find the pork skewers sold at street stands almost everywhere in Vietnam. It is also very common and easily finds it in the central region, especially in the Hoi An Ancient Town. You'll find it's just impossible to resist this seductive smell when you've ever walked by.
Price from: 5,000 VND/skewers.
Bánh xèo (Vietnamese Rice Crepes / Pancakes)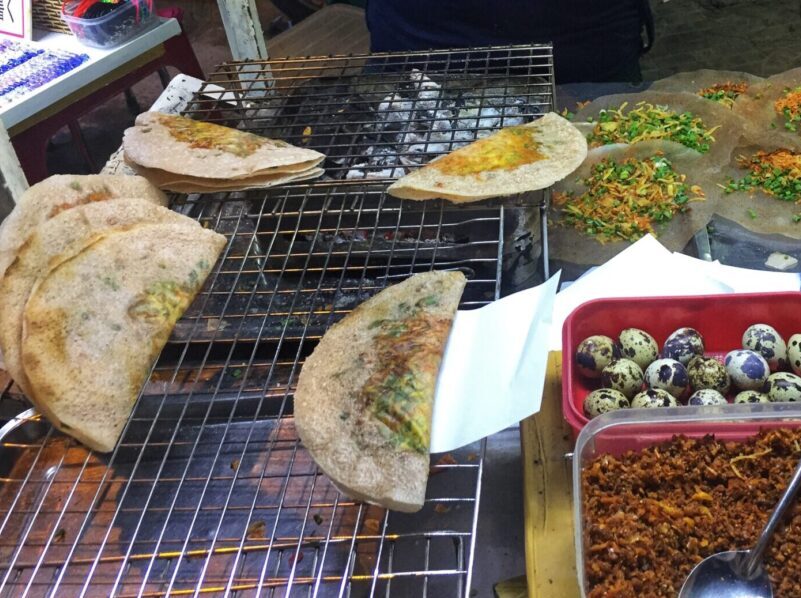 Bánh Xèo is a popular street snack in Vietnam, especially in the Central and the South of Vietnam. It is a savory crepe or pancake made from a basic blend of rice flour, turmeric, and coconut cream, along with other ingredients. The bright yellow crispy crepe is filled with shrimp, pork, and bean sprouts.
Walking along the street, you will many food stalls selling this local snack food. The delicious, crispy, hot pancakes will hold you back the first time you eat them. You can also try Banh Xeo in the restaurant. You'll also get a plate of herbs and lettuce to accompany your dish.
Price from: 10,000 – 30,000 VND/piece.
Phở bo (Beef Pho Noodle Soup)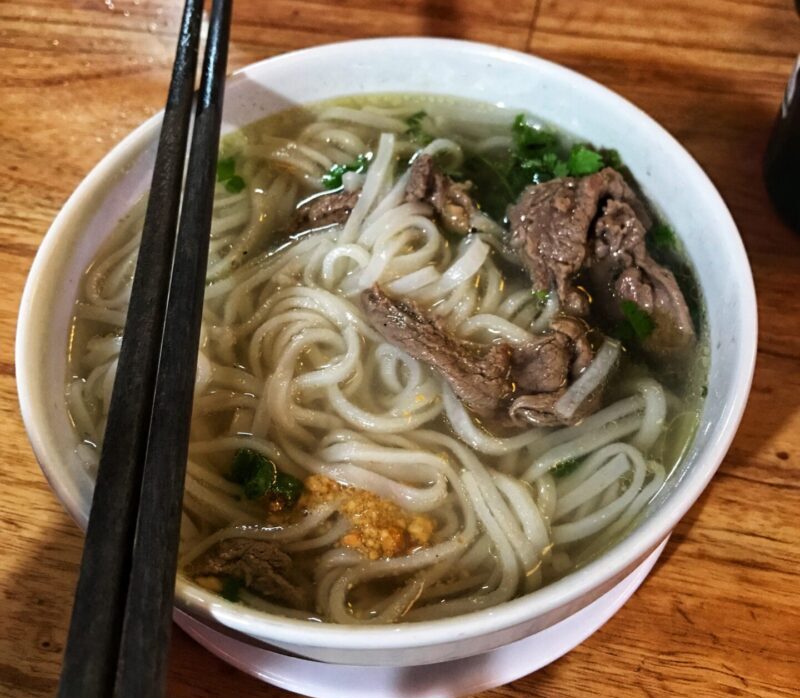 The iconic Vietnamese Beef Noodle Soup or Pho Bo is probably one of the most well-known noodles to come from Vietnam. A bowl of supremely tasty noodle soup dish is consisting of broth, rice vermicelli, herbs, and thin slices of meat. Pho is served in restaurants, street stalls, and local markets countrywide.
I enjoyed many Vietnamese dishes in Vietnam, but Pho bo was my hands-down favorite. It's delicious and one of my favorite dishes to eat not just in Da Nang and Hoi An, but in all of Vietnam. We love to eat the most authentic Pho when visiting the local market. A down-to-earth Vietnamese experience you don't want to miss.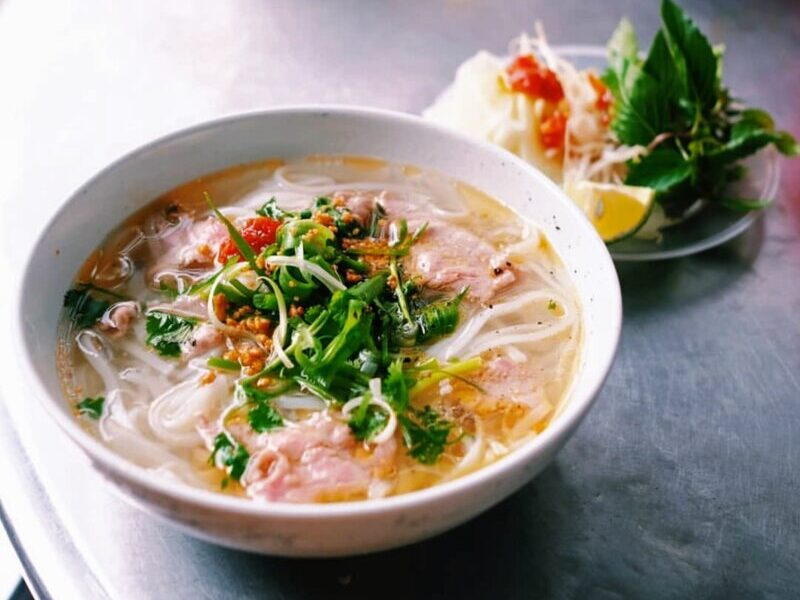 Besides, we also recommended Pho Tung, one of the popular Pho restaurants in Hoi An, serving the best pho in town.
Pho Tung is located in a quaint alley in Hoi An ancient town. It is a wonderful little family shop with two dishes on the menu: standard beef pho and a bigger bowl with an egg- both are delicious. The owner is very friendly and he even comes out from the stall and shows us how to eat the pho properly with the spices and sauces. Excellent taste and texture.
Price from: 20,000-25,000 VND/bowl.
Com Ga Hoi An (Vietnamese Chicken Rice)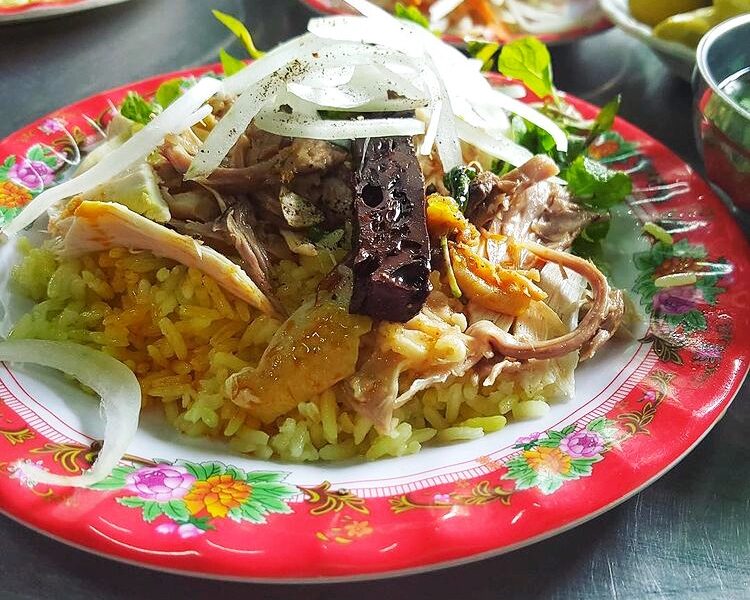 The Gom Ga is Vietnam's version of Hainanese chicken rice. You can find Gom Ga almost anywhere but the most outstanding is Com Ga Hoi An. They used young chicken and farm-fresh chicken, marinated with ginger and hand-pressed peanut oil for a golden color. While the rice is soft and flavorful as it is cooked directly in umami chicken stock. With all the ingenuity and meticulousness in processing, the Com Ga Hoi An is highly recommended.
Typically, a plate of Gom Ga is included with the shredded chicken, beautiful yellow turmeric rice, Vietnamese coriander, onions, and lime juice dressing. So tasty and refreshing!
Price from: 35,000 VND/plate.
Refreshing Drink
The drink menu in Central Vietnam is very diverse with traditional teas such as Bia hơi (fresh beer), herbal tea, lotus seed tea, corn tea, Vietnamese coffee, and more. There is something you're not to be miss in Da Nang and Hoi An Food Guide.
Vietnamese iced coffee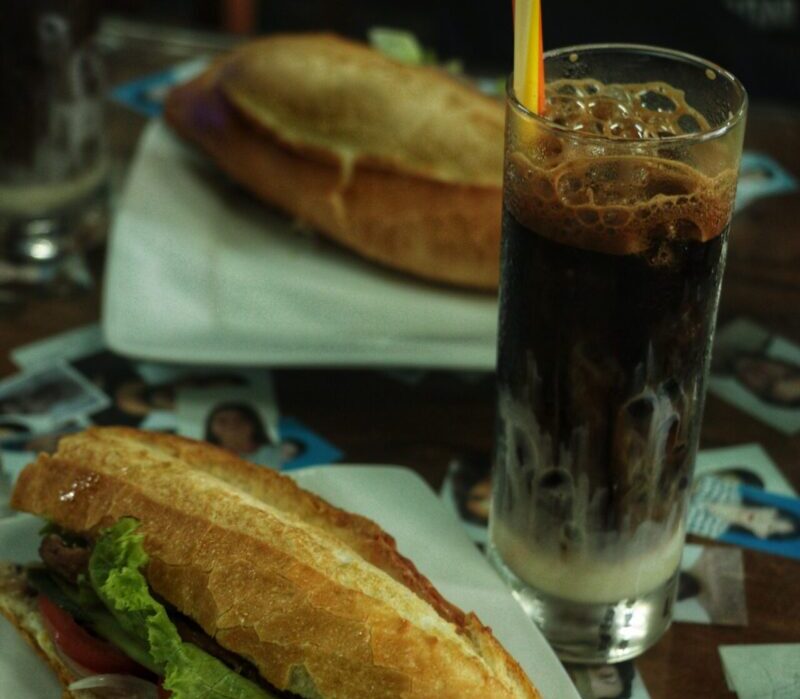 After a full day of visiting the city, there is nothing more suitable than a cup of coffee to cool down the day. You'll find various of coffee, from the traditional to the trendy, or the typically local to the Western-style in the yellow city of Hội An.
The famous Vietnamese iced coffee with condensed milk (Cà Phê Dá) is also cannot be missed when visiting Central Vietnam.
Bia Saigon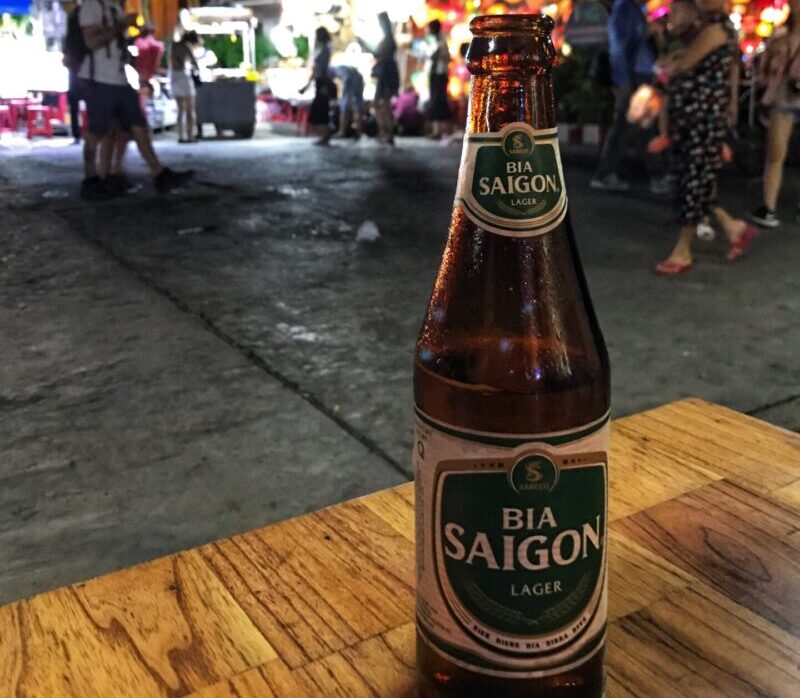 The Saigon Beer (or Bia Saigon) is the leading beer in Vietnam. This local brewery beer is foamy and tastes similar to regular beer but slightly less carbonated. Everywhere we go, beer is selling at the same price as coke. . The price is cheap if you are drinking beer in Vietnam, with prices starting around 15,000 VND and going up to 50,000 VND in restaurants.
Lotus Herbal Tea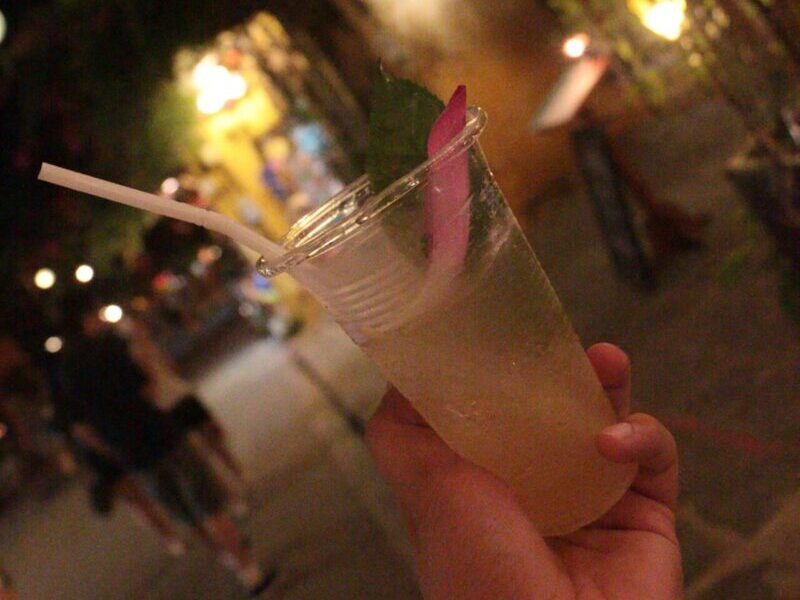 If you are looking for a unique tea, then try the lotus herbal tea from MOT, Hoi An.
This adorable storefront café on one of the busy old town streets offers local Vietnamese food and the best ice tea in Hoi An. Their popular Lotus Herbal Tea is a great iced tea made with lots of herbs, lotus root, and lemongrass; served with a lotus petal and lots of crushed ice. It's hard to describe this unique blend of tea, but truly refreshing. A great refreshment after strolling in the town.
Central Vietnam: Da Nang and Hoi An Food Tips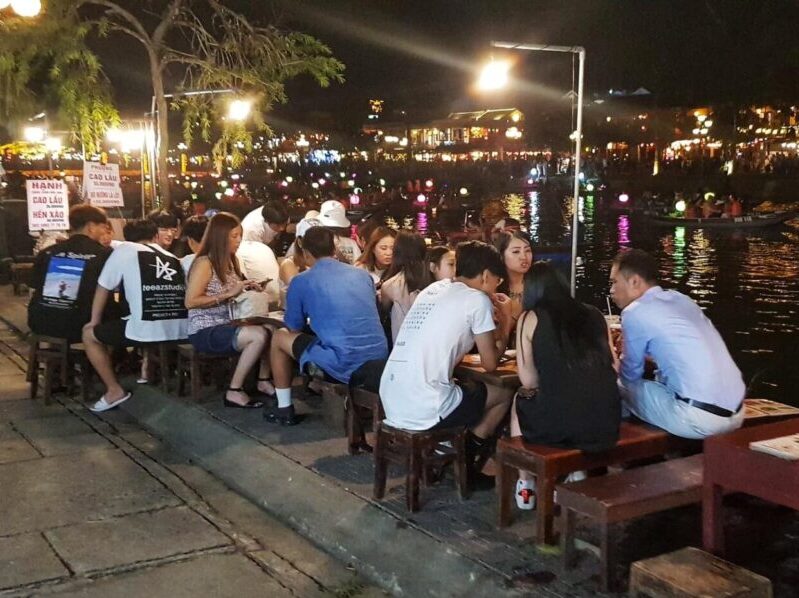 What is the must-eat food in Hoi An and Da Nang?
The Mi Quang, Cao Lau, Banh Mi are the top three must-eat signature dishes of Hoi An and Da Nang. Don't be afraid to try them all!
Where to Find the best food in Da Nang and Hoi An?
There is not necessary to go looking for the best restaurant in Vietnam as great food is everywhere. You can find the best Vietnamese food in restaurants, cafes, cozy eateries, local markets, or food stalls in the streets.
Where to Eat in Hoi An?
You can easily find delicious food in Hoi An at the sidewalks in the old town area, or a simple eatery nestled in a small alley by the side of the road. The Hoi An Market and the food stalls along the banks of the Hoai River is also a favorite place for many tourists to discover the Hoi An local cuisine.
What are the best restaurants serving the signature local dishes in Hoi An?
We recommended Banh Mi Phuong and Banh My Queen for the best banh mi, White Rose Restaurant for the signature Banh Bao Banh Vac (white rose/pork-filled dumplings), and Mi Quang Ba Minh for the best Mì Quảng.
How Much for a meal in Da Nang and Hoi An?
Food is cheap in Vietnam and this is the same for Da Nang and Hoi An. You can spend anywhere from $1 to $20 on a meal depending on where you eat. If you stick to local street food, then a food budget of around VND 200,000 (~$10) per day will be plenty.
Overview: Da Nang and Hoi An Food Guide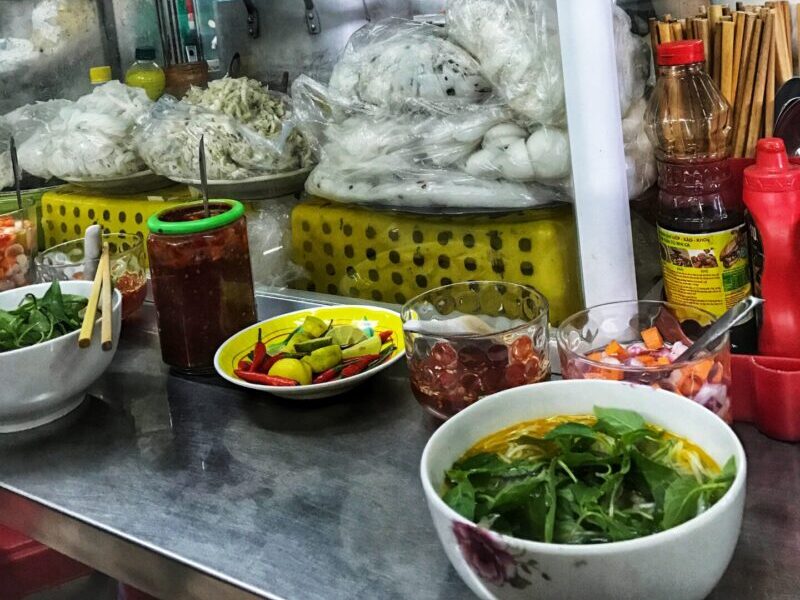 All in all, we hope this Da Nang and Hoi An food guide can give you some tiny idea of where and what to eat here. Literally, you can find almost all kinds of Vietnamese traditional food in the restaurants, local markets, or street food stalls.
Give it a try and you'll see it's a lot simpler than you think to back with happy tummy with Vietnamese flavor to your home. Enjoy your food tour in Da Nang and Hoi An!
Have you been to Hội An? Which foods did you try? Read more for my travel guide blog posts on my trips to Central Vietnam here.
Central Vietnam itinerary to Da Nang, Hoi An, Hue
Related Travel Blog to Hoi An:
Related Travel Blog to Da Nang: