Last updated on October 2nd, 2023
Traveling to Hoi An? Below Hoi An travel guide blog contains everything I know about Hoi An. It covered all the things to do, which areas to stay in, what food to eat, and all the useful travel tips when visiting Hoi An. For your convenience, I've even compiled links to hotels, tours, transportation, and other services. My Hoi An itinerary included.
We visited Hội An during our visit to Central Vietnam. This historical city is one of the travel destinations that I'd want to visit again. You will see the fascinating history of a preserved ancient town, the picturesque Hoai River with the rolling boat, and paper lanterns zigzagging from building to building.
Hoi An is lovely at any time of the day but at night, it turns into something magical. As the sunset, the lanterns are lit up the yellow town with the warm glow of yellow, red, and green light. It was so dreamy! How someone could didn't fall in love in this charming, colorful, and vibrant little town. My visit to Hoi An leaves me with an unforgettable memory that I won't hesitate to recommend to friends.
If you're visiting Hoi An for the first time, then this detailed Hoi An travel guide blog will tell you everything you need to know to plan your trip. I have come up with this Hoi An itinerary with things to do, what to see, and where to go, with a few useful tips I learned during my trip to Hoi An. Read on to find out what you can do there!
Hoi An Travel Guide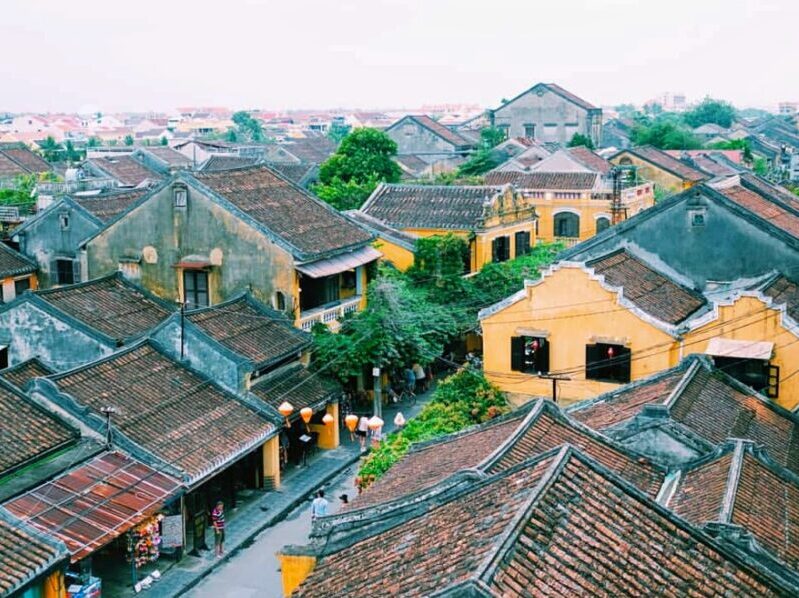 Hội An is one of the prettiest cities in all of Vietnam. It is a picturesque quaint town located in Central Vietnam. With the well-preserved ancient town, Hoi An is now listed as UNESCO World Heritage Site. This historical town used to be an important trading port for merchants coming from all over Asia during the 15th to 19th centuries.
Hoi An has a history of exposure to foreign cultures. Wooden Chinese temples, colorful French colonial buildings, Vietnamese tube houses, and the iconic Japanese Covered Bridge. Hoi An is a great example of the local Vietnamese cultural blend with foreign influence from Western, Southeast, and East Asia.
Heading to Central Vietnam? Check out my suggested travel itinerary to Hoi An, Hue, and Da Nang.
Best time to visit Hoi An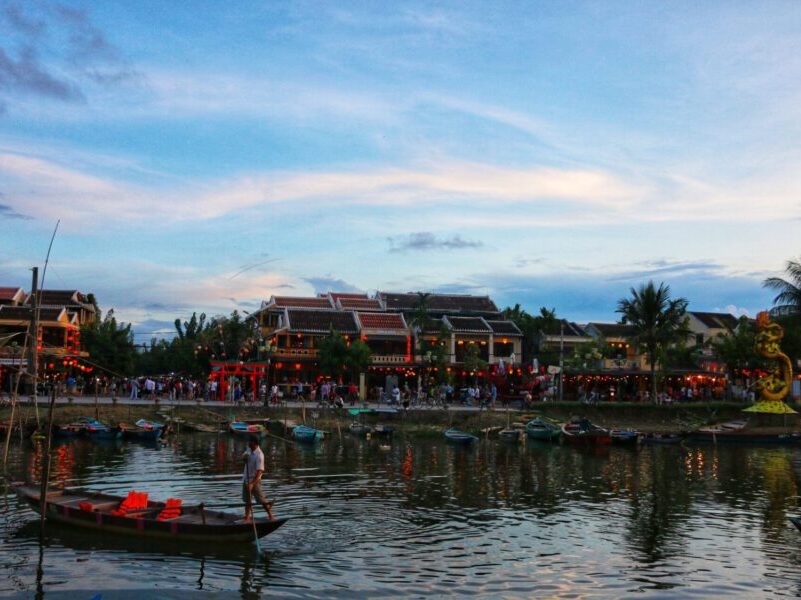 Weather-wise, the best time to visit Hoi An is from February through April when the weather is slightly chilly and cooler. This is the dry season but temperatures are very comfortable.
While May to August in Hoi An is getting hotter with a few degrees warmer. Although the weather was clear and sunny, the heat can go up to unbearable at 37C. Keep in mind that it can get EXTREMELY hot and humid between June and August.
The rainy season lasts from September to January. It can be annoying but there will be fewer tourists around and the prices are cheaper to visit Hoi An.
How Many Days For Hoi An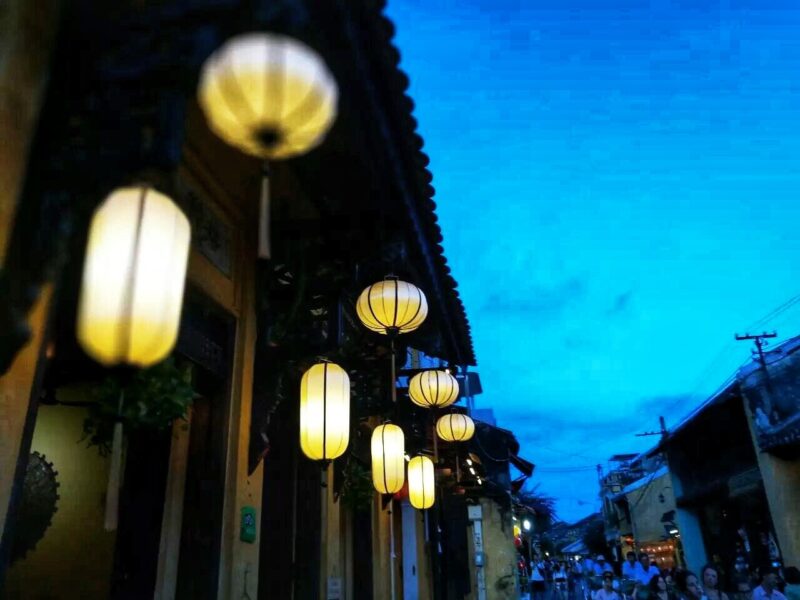 One day in Hoi An is doable if you are only interested in the ancient town. But if you want to explore all that Hoi An has to offer, I recommend setting aside 3 days. This gives you enough time to see Hoi An and the attractions nearby. There are many interesting activities and day trips that you can plan in your Hoi An itinerary.
Hoi An Travel Guide Tips: Make sure to stay one night in Hoi An as the ancient town is incredibly beautiful when the lanterns light up. You can read more things to do in the Hoi An Travel Guide below.
Where To Stay
If you're looking for places to stay in Hoi An during your first visit to Vietnam, the best area to stay is within Hoi An Ancient Town. Staying in the heart of Hoi An will put you closest to the attractions. You'll find the best food and explore the town easily.
We stayed at Hoian Central Hotel, a lovely 3-star hotel to stay in the heart of Hoi An. It is very close to the old town with about 3 mins walk. The room and bathroom were clean and very comfortable and everything you could want. They even have bicycles you can use for free during your stay.
A great value and a great location to stay in Hoi An. Check the room rate for your best stay in Hoi An.
How To Get To Hoi An
Hoi An has no airport, and no train station either. The nearest airport is Da Nang Airport (DAD) with frequent International flights and domestic flights from Hanoi, Ho Chi Minh City, and other large Vietnamese cities. From the airport, it is best to hire a car/taxi to take you to Hoi An, with an approximately 1-hour drive.
If you are in Danang, a taxi between Da Nang and Hoi An is usually between around 250,000 VND. You can also pre-book the city's transfer to ease transport arrangements. Find more Hoi An transport options HERE.
To get to Hoi An, we flew to Da Nang Airport from our home country and then had a pre-booked driver transfer us to Hoi An. We also booked the same private car charter to take us back to the airport from Da Nang at the end of the trip. It is highly recommended without worrying too much about transport arrangements and the price is very reasonable.
PRE-BOOK: Private Transfer Da Nang Airport and Hoi An
Hoi An Travel Tips: Pre-book 4G Vietnam SIM Card and pick it up at the Da Nang Airport when you land. This will save you a few dollars by pre-booking.
Getting Around in Hoi An
Hoi An is fairly compact with most of its major sights being within the ancient old town. Everything is walkable once you are in the ancient town. You could also borrow a bicycle or rent a scooter if you want to explore the nearby attractions. The streets in Hoi An can be very crowded with tourism hotspots, but much more fun when you wander around.
Planning for Hoi An Itinerary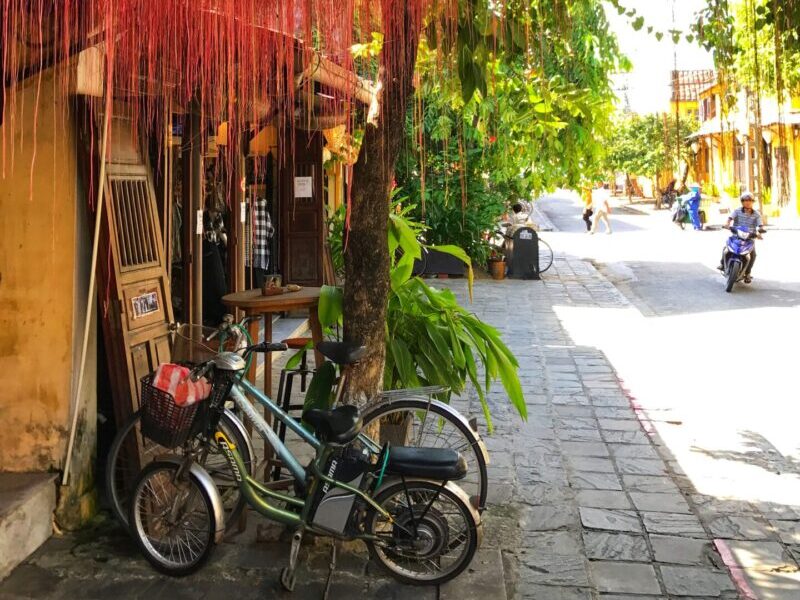 Hoi An is a perfect mix of history, culture, shopping, cuisine, and relaxation. To fully appreciate the town's aquatic charm, you need to know more from the Hoi An travel guide. Trust us, Hoi An is one place you don't want to miss.
Hoi An Itinerary: All The Best Things To Do in Hoi An
Walk Around in Hoi An Ancient Town
Visit Hoi An Historical Building
Admire the Japanese Covered Bridge
Make a custom suit
Shop for local handicrafts
Visit Hoi An Central Market
Drink Vietnamese Coffee at Cafe
Eat Hoi An Specialty Dishes
Chill with Herbal Tea
Watch Sun Set at Thu Bon River
Explore Hoi An Night Market
Shop at Lantern Market
Celebrate Hoi An Lantern Festival
Take a Day Trip To Attractions Nearby
Next, I'll run through all the best things to do in more detail in the below sections.
Walk Around in Hoi An Ancient Town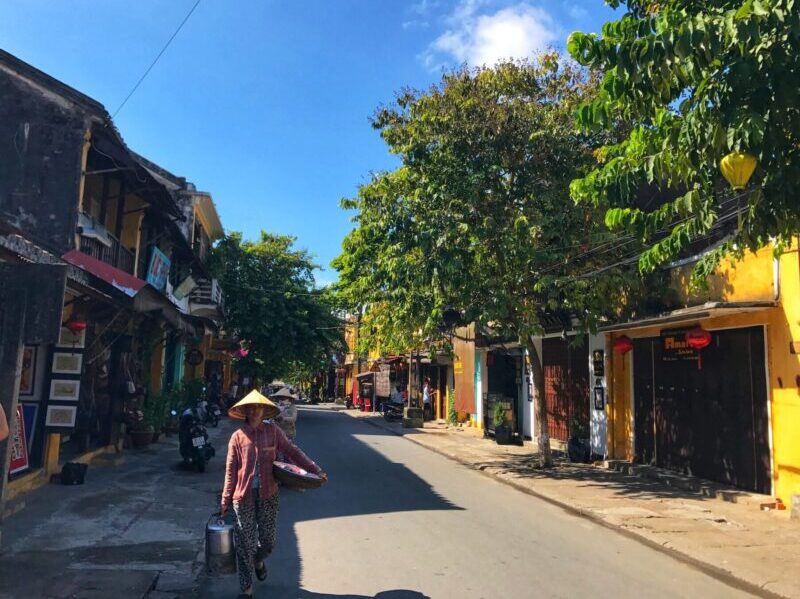 Compared to Vietnam's other cities, Hoi An is just the kind of town I'd imagine people would stay in when they want to take it slow. The mix of Chinese, Japanese and Vietnamese architecture makes the ancient town very unique. Few streets in the center are closed off to cars and motorbikes, making it much more pleasant for walking around.
Walking through Hoi An feels as if you're walking through an ancient fairy tale. Take your time and stroll along its narrow streets, old houses, blossoming gardens, ancient bridges, and busy markets. The best way is by exploring the charming old town with a relaxing stroll. You will find gorgeous architecture, historical buildings, adorable cafes, and hidden gems in the old town. It transports you back in time where you can enjoy the simple pleasures of life.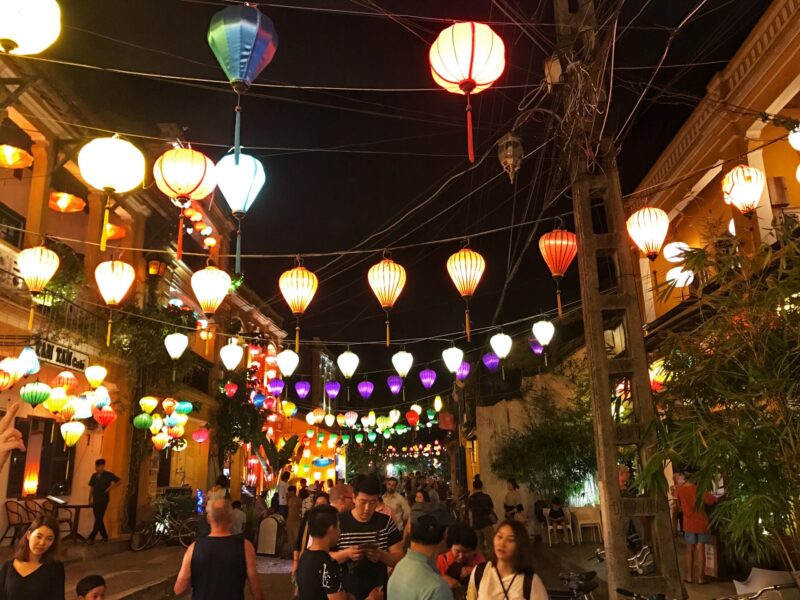 In the early evenings, the old town looks even more interesting. Hundreds of beautiful colorful paper lanterns are lit and illuminate the streets. It creates a magical, vibrant and unique atmosphere. A perfect place to go for a relaxing walk and take in all the beautiful sights on your Hoi An itinerary.
Visit Hoi An Historical Building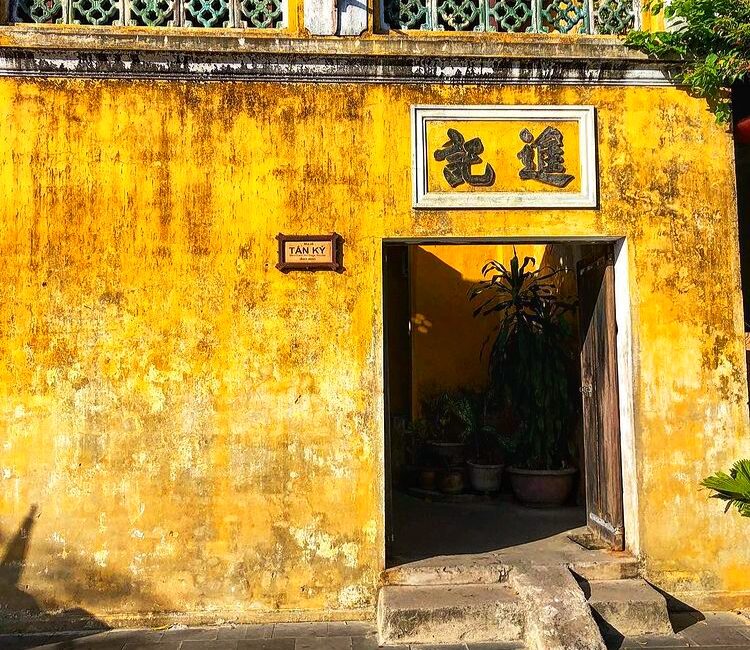 Listed as a UNESCO World Heritage site, Hoi An old town is filled with ancient historic buildings. There are up to thanks to its 800 historic buildings such as museums, ancient homes, and pretty temples. Some said most of the buildings is dated back to 2000 years ago.
There are several historical buildings and cultural significance that are open for public viewing. You don't have to pay for visiting the old town but if you are thinking of visiting those clan associations or some of the top temples, you will have to buy a ticket. The ticket costs VND 120,000 to enter 5 buildings within 24 hours.
There are 4 old houses, 4 museums, and 3 assembly halls to choose from. You can visit a museum, an assembly hall, an old house, Hoi An handicraft workshop, and a choice between Quan Cong's Temple or the temple within the Japanese Covered Bridge. The recommendation as per the Lonely Planet on Vietnam is the Museum of Trading Ceramics, Phuc Kien Assembly Hall, Tan Ky House, and Quan Cong's Temple.
Note: Admission fee goes to funding the conservation of the place.
Admire the Japanese Covered Bridge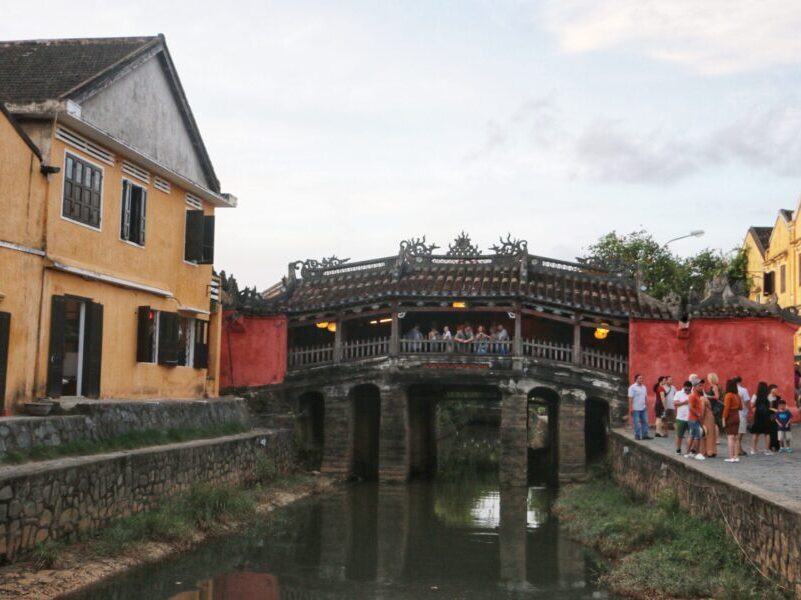 This is a Hoi An travel guide must-do that should be on your Hoi An itinerary. The iconic Japanese covered bridge is one of the most beautiful but busiest areas in the old town. It's also one of the first things that come to many people's minds when they think of Hoi An.
The Japanese Covered Bridge was constructed in the 1590s by the Japanese community to link it with the Chinese quarters. It is more than a bridge and a symbol of Hôi An which represents the fusion of the various cultures found in this city over the past centuries.
You can walk along the bridge on your own as it is free of charge. Or go on a guided walking tour through Hoi An Ancient Town.
Make A Custom Suit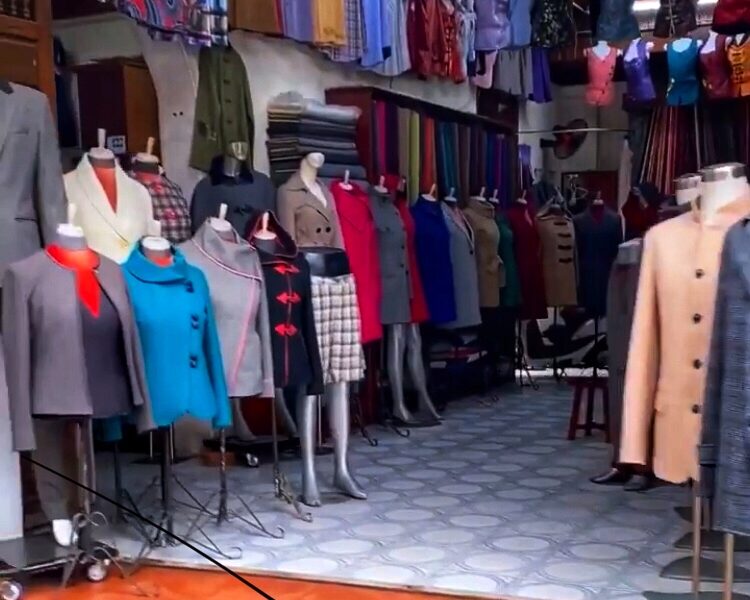 Hoi An is famous across Vietnam for its textile industry, making it a popular spot to make a custom suits. There is an endless number of tailor shops all over the town. From shoes, jackets, suits, to wedding dresses, you can get anything custom-made just for you.
Visit a shop, and choose your favorite fabric for your customized suit. It normally takes 24 hours or up to three days for a tailored suit depending on your design. So it's best to find a tailor and have your consultation on the first day you arrive in Hoi An. Plan accordingly to avoid disappointment.
Some of the shops are really cheap but remember that you usually get what you pay for. We did not purchase any suits in Hoi An. But the quality and prices of making a custom suit in Hoi An are really worth it!
Shop for Local Handicrafts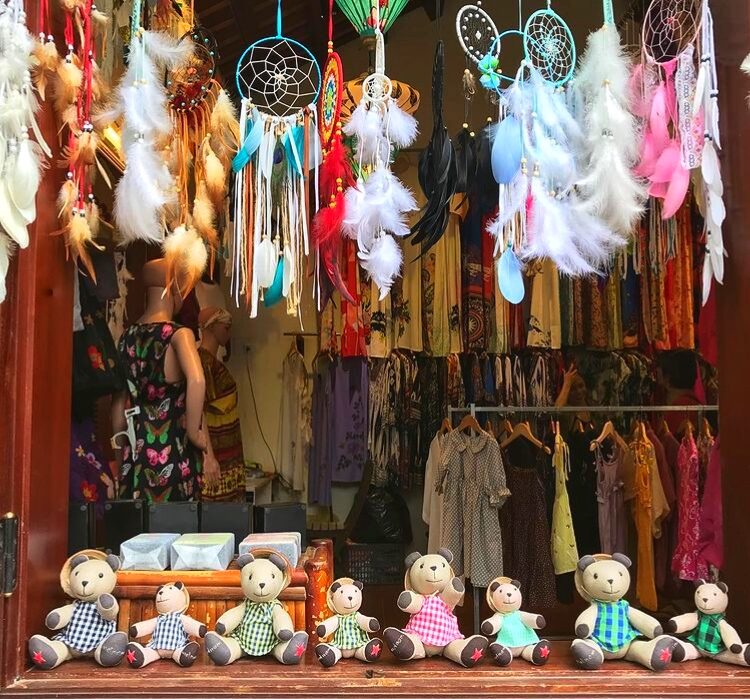 Feeling like shopping? Hoi An is known for beautiful local handicrafts. If you enjoy shopping there are also plenty of stores, boutiques, and night market stands selling adorable souvenirs at cheap prices. A wide variety of goods focused heavily on custom tailors and Vietnamese souvenirs, with the latter ranging from souvenir kitsch to seemingly quality art and textiles.
Besides, many local arts and handmade products are made by local minorities and make excellent gifts or souvenirs.
Shopping in Hoi An was thoroughly enjoyable, whether of the window shopping or spending variety. I enjoy window shopping and also buying a little lantern to bring back home.
Visit Hoi An Central Market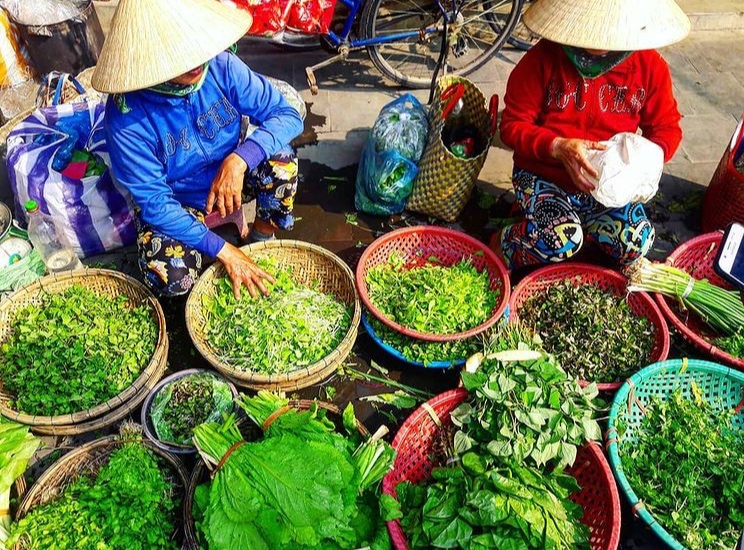 No matter where we go, we always love visiting a local market. It gives you a glimpse into what everyday life is like for the locals. Located at one end of the Ancient Town, the Central Market in Hoi An is the best choice to know the locals. It is a typical Southeast Asian market and you'll find locals bargaining for fresh fruit, vegetables, and meats.
Wake up early as it's best experienced in the morning when it's most active. You will understand more about the local lifestyle after exploring the central market. And, it is FUN!
Guided option: Tour the market with a local chef and pick up everything you need to prepare a few local delicacies at a cooking class back in the kitchen.
Drink Vietnamese Coffee in Cafe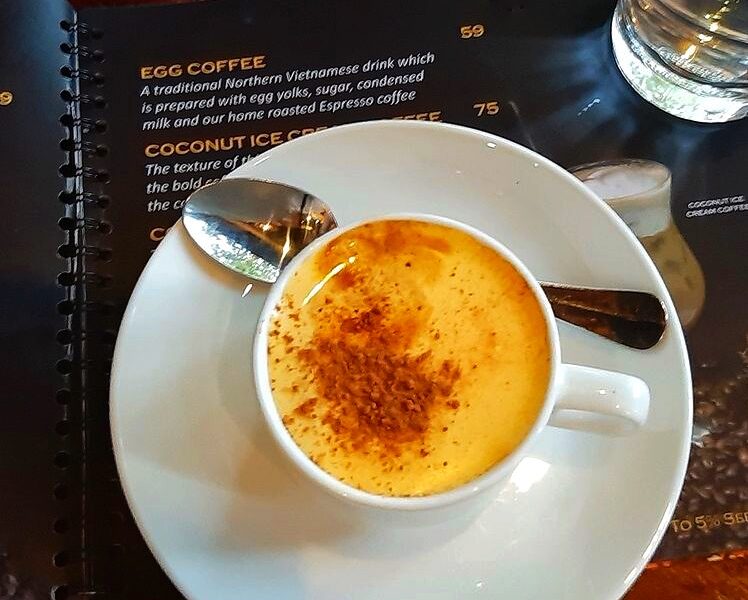 Hoi An is one of Vietnam's best destinations for relaxing. Aside from wandering around in the ancient town, drinking Vietnamese coffee in an outdoor cafe is one of the best ways to relax in Hoi An. Find a chill cafe, grab a seat, have a coffee, and watch the sunset over this historic city.
You'll find various Vietnamese coffee on every café menu in Hoi An. The most common is the Vietnamese iced coffee with condensed milk (Cà Phê Dá). For Hoi An culinary experience, you can also try the egg coffee (Cà phê trứng), prepared with egg yolks, sugar, condensed milk, and roasted coffee.
Eat Hoi An Specialty Dishes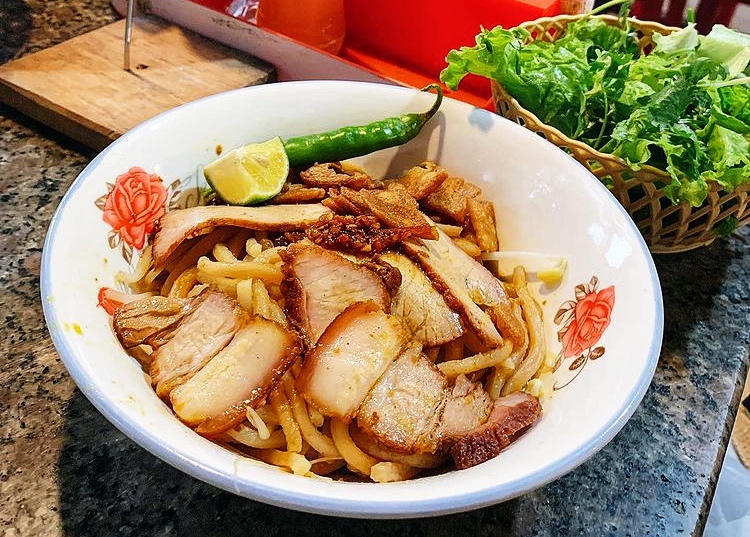 Being a food lover, I couldn't be more excited when looking for what to eat here. Hội An is truly a foodie paradise with plenty of street food, restaurants, and food markets.
Be sure to try the regional Hoi An specialty dishes when visiting here. We ate a lot and truly enjoy our food tour while staying here. The top three must-eat food in Hoi An are Cao Lau (Thick rice noodles with pork and local greens), Banh Mi (Vietnamese Baguette), and Banh Bao Banh Vac (white rose dumpling). Try as much of the food as possible!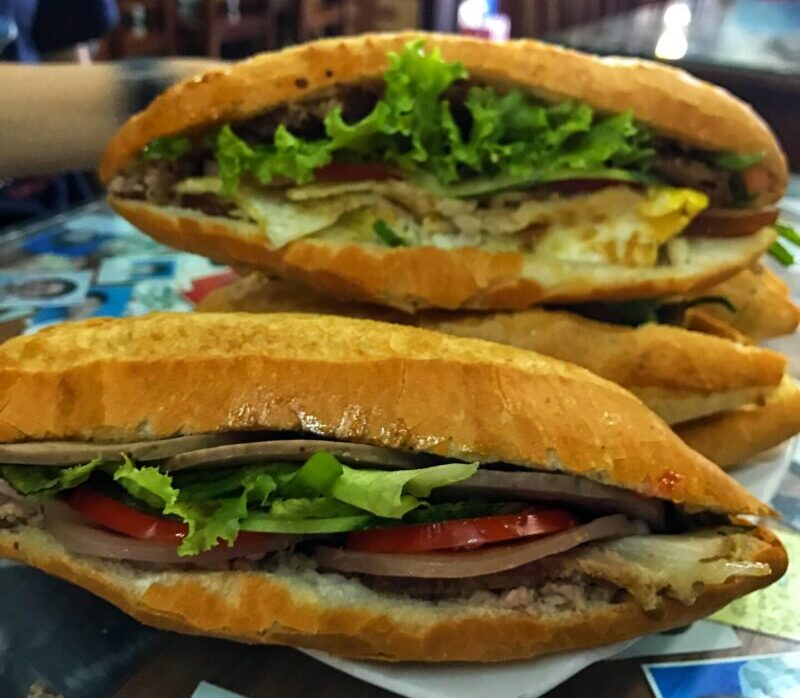 There are many more Hoi An food awaiting you to taste. Continue reading my Da Nang and Hoi An Food Guide, and taste them for yourself!
Hoi An Travel Guide Tips: You can go to any eateries and be rewarded with the best Vietnamese you've ever tasted in your life. But if you'd like to go on a food tour or other food-related activity, then you can book one on Klook. They offer various types of food tours in Hoi An!
Chill with Herbal Tea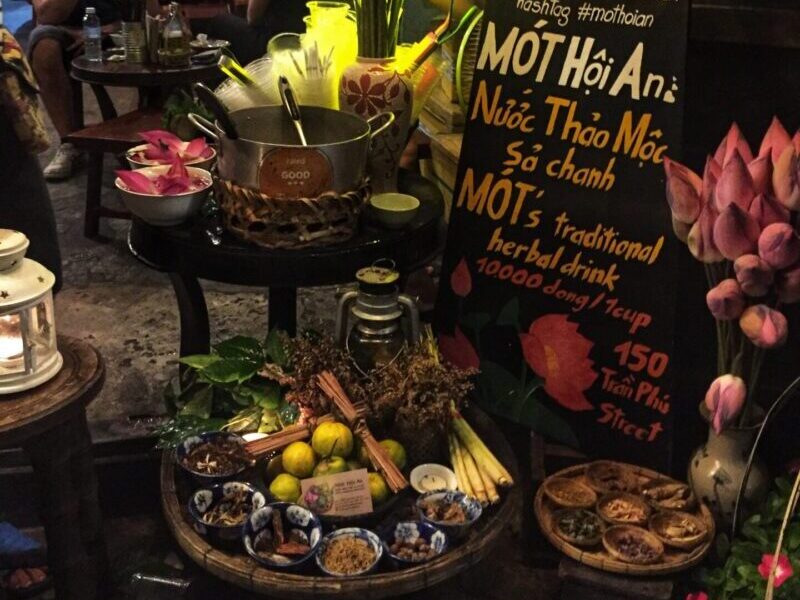 Nothing like a cold ice refreshing herbal tea on a hot day or night in Hoi An. The trendy traditional drink is made from herbal tea, lemongrass, and lemon, and is often served with a bamboo straw. It is a refreshing tea dispelling fatigue after a long walk around Hoi An.
MOT is a favorite stall that many people choose to enjoy herbal tea when coming to the old town. You will notice it as there are dozens of people waiting in line for its Take-Away Herbal Tea. The refreshment costs you 10,000 VND.
Watch Sunset at Thu Bon River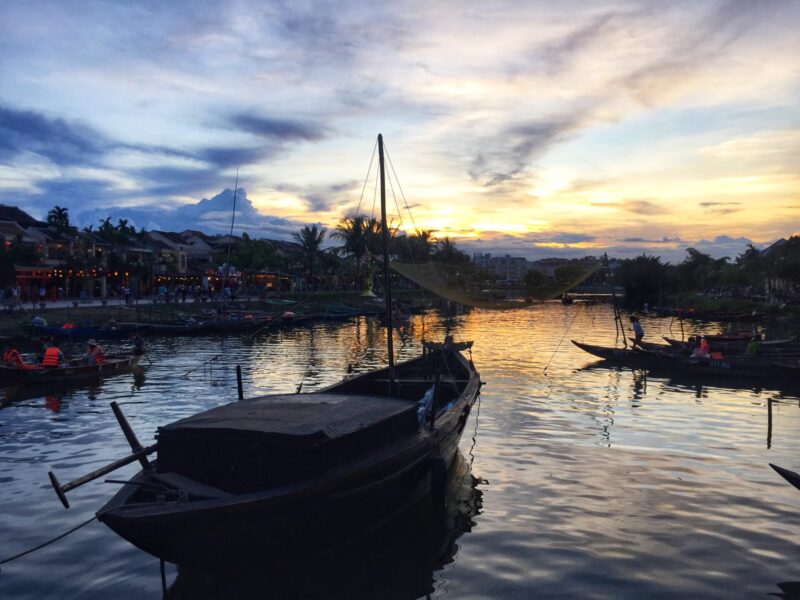 Once it's closer to sunset, make sure you walk by Thu Bon River. There is no better place to be when the sun starts to go down and watch the city transform at dusk, with boats and paper lanterns starting to float around Thu Bon River.
There are also many bars along the Thu Bon River for viewing the sunset. Due to the prime location, drinking there will be more expensive but the view is truly awesome.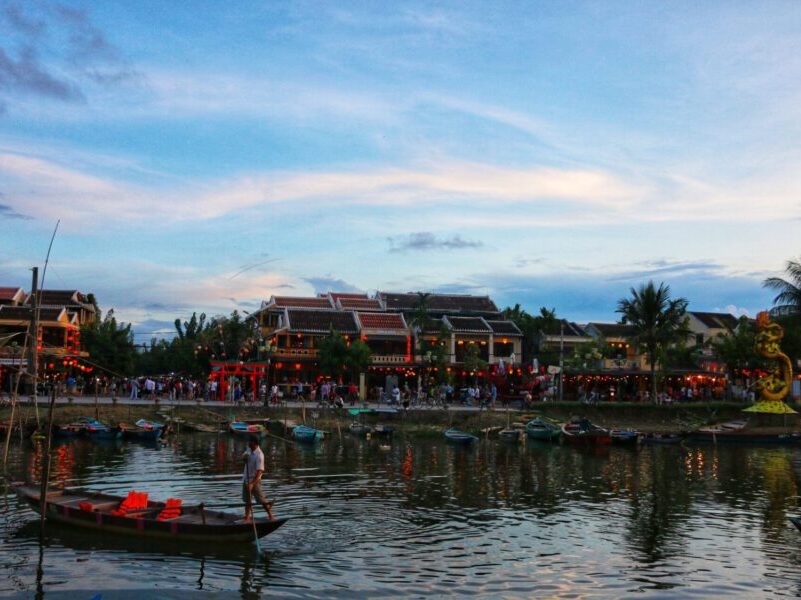 Explore Hoi An night market
Explore Hoi An night market is essential even if just to admire the glowing lanterns. Every evening, the 300-meter-long Nguyen Hoang Street is transformed into a lively night market. The street is located opposite the Cau Pagoda and next to the dreamy Hoai River.
There's a busy vibe with about 50 street vendors and stalls, that offer a varied selection of goods and foods. From the handmade jewelry and clothes, and food vendors on the streets to the various entertainment on the street, it was a sight to be seen.
We enjoy the shopping vibe in Hoi An night market and didn't buy here. There are loads of souvenirs but many repeated in various stalls. Worth walking through for something to do in Hoi An.
Shop at Lantern Market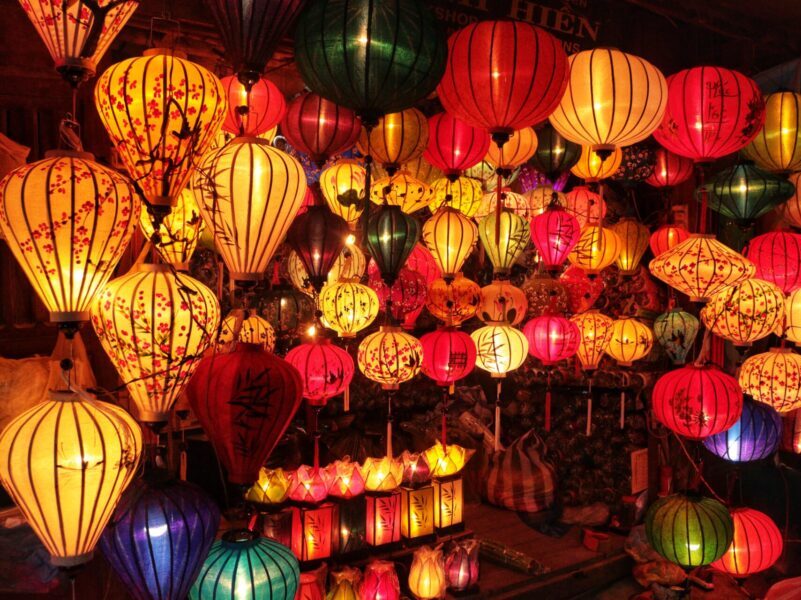 Another must-see in Hoi An is the spectacular Lantern Market inside the Hoi An Night Market. Hundreds of different colored lanterns decorate the street and illuminate the stalls, making it one of the most scenic markets in Vietnam.
You can buy traditional lanterns here which come in all different shapes and sizes. The lanterns are made of gorgeous Hoi An silk with super beautiful motifs and stand out with amazing color combinations. If you're looking for an authentic Hoi An experience, then the Lantern Market is not to be missed!
Celebrate Hoi An Lantern Festival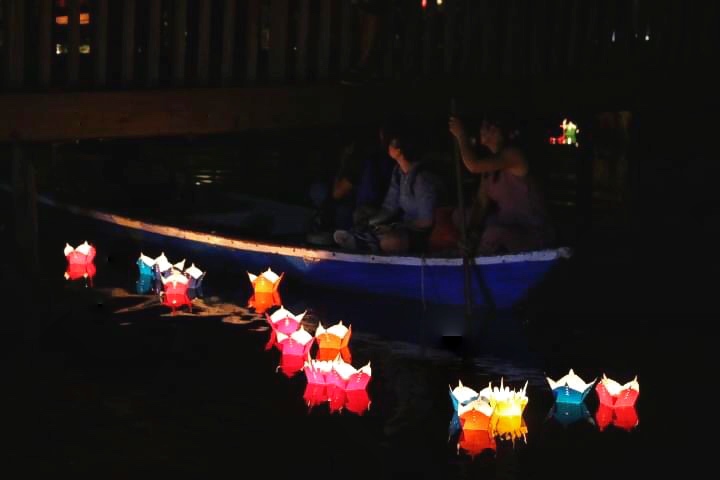 The UNESCO Heritage Site brings back ancient traditions and celebrates the full moon with the world. Hoi An Lantern Festival runs on the 14th day of every lunar month from 17:30 to 22:00. All the lights in town are shut off and the streets will be lit with lanterns. Besides, floating lanterns are illuminated the Hoai River, creating a magical glow.
Dropping lanterns is an experience not to be missed if you come to Hoi An. It represents the cultural traditions and spiritual world of the Hoi An people. You can go on a boat on the river for a short fairy tale ride. Get a lantern, send it down the river and make a wish. Just make sure to check the dates before you go.
Take a Day Trip To Attractions Nearby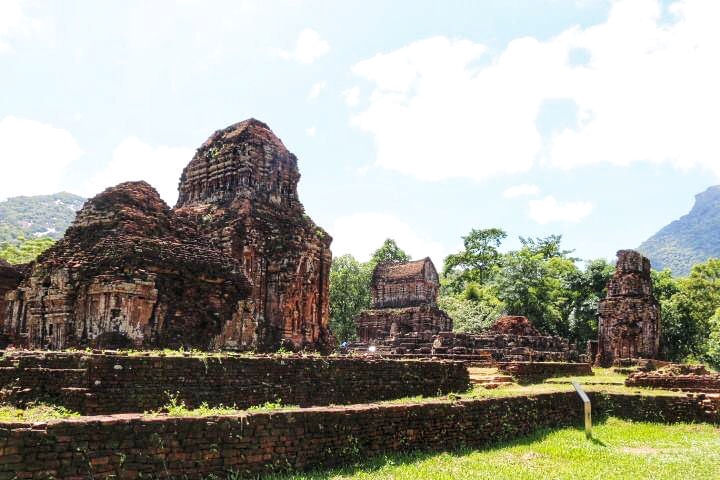 Numerous tours are found online, at hotels, and through local tourism, offices can take you around the town and region. You can easily take a day trip to the nearby beaches, Da Nang, and historic and cultural sights. Here is our recommendation if you have more time to spare in Hoi An. All are reachable for you in one day visit from Hoi An.
My Son temples and ruins – The most popular day trip you can make from Hoi An. These 1,300-year-old ruins are hidden in the jungle and built by the Cham people, an ethnic group found in Vietnam and Cambodia. It is like a small version of Angkor Wat, Cambodia, and best for those who like to know more about the history. This UNESCO World Heritage Site takes about an hour's drive west of Hoi An.
Hue Imperial Citadel – Another UNESCO World Heritage Site in Vietnam. The Complex of Hue Monuments is the former imperial capital of Vietnam and features hundreds of monuments and ruins, such as the Forbidden Purple City.
Da Nang Day Tour – If you've had enough of Hoi An, you can visit Da Nang to see what the nearby cities look like. Da Nang is a young and dynamic city with long, sandy beaches. I spend another two days in Danang after leaving Hoi An to enjoy the beaches in Da Nang.
Hoi An Impression Theme Park and Hoi An Memories Show – Join and take part in the world's largest outdoor show featuring over 500 performers in Hoi An Memories Show. It is a unique combination of music, scenes, and dance in a lively performing arts program. Highly recommend it to those who also seek to get to know the locals better and indulge in the richness of Vietnam culture.
Klook Exclusive Deal: Get Additional Service For Hoi An Impressive Theme Park Combo Ticket
More Hoi An Travel Tips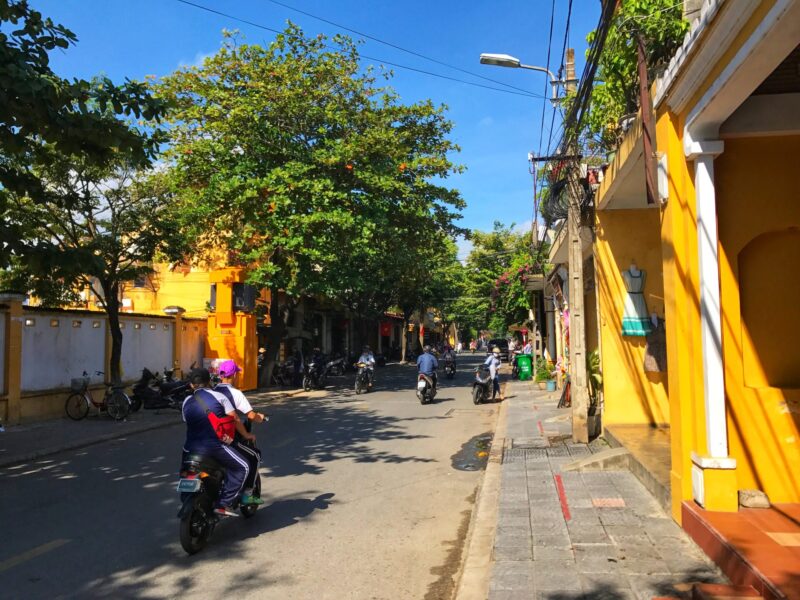 Last but not least, I am sharing some of the useful tips I learned from our trip in this Hoi An travel guide. I'm definitely not an expert on Vietnam but I do hope you find this information useful.
Why visit Hoi An?
Hoi An is one of the most popular places in Vietnam. And why shouldn't it be? The city is incredibly charming with smiling locals, food is cheap and delicious, and there are plenty of things to do in Hoi An for first-time visitors.
Is Hoi An worth visiting?
Definitely YES! I love the charming old town especially when the lanterns all lightened up at night. Strolling on the narrow streets, and hunting for mouthwatering food were some of my favorite things to do in Hoi An.
Is Da Nang or Hoi An better to visit?
Danang is famous for its beautiful beaches while Hoi An is popular for its ancient town. For me, I am preferring Hoi An's historical sites and perfectly chilled out. But both places are worth spending a few days of the visit.
Overview: A Visit To Hoi An
All in all, Hoi An is such an amazing and charming riverside town. The old port city still exhibits plenty of history and culture, although numerous people will tell you that tourism is taking over. But, there's a reason for that. The ancient town is so uniquely beautiful that you may not even mind!
I still love Hoi An and wish to come back for another visit. The yellow town is so colorful and full of things that you would like to explore. Little cafes, markets, riversides, and lanterns are a few things that would charm you no end. Highly recommend it as a highlight of your trip to Central Vietnam. We hope our Hoi An Travel Guide offers plenty of suggestions, things to do, and tips to help you plan your trip. Thanks for reading and have an amazing time in Hoi An!
Lastly, if you need any help in planning your trip to Hoi An, then feel free to read more on our Central Vietnam travel blog posts below:
Related Travel Blog to Da Nang:
Traveling to Northern Vietnam:
Traveling to Ho Chi Minh City? Feel free to read on our Saigon travel stories.