Last updated on December 11th, 2023
Here's our Hanoi itinerary for how to spend 1, 2, or 3 days in this charming historical city. We will share with you our tips, must-visit attractions, and what to do in this Hanoi travel guide blog.
Dotted with centuries-old architecture, beautiful lakes, and tranquil Buddhist pagodas, Hanoi is one of the most popular cities to visit. It is a vibrant city that you either love or hate. Although Hanoi is rapidly developing with many shopping malls and luxury hotels, the downtown area is still keeping its traditional culture. It is loud, chaotic, overwhelming with motorbike-packed streets, and unique with its own culture. A true tourist destination.
When visiting Hanoi, it is best to just spend a day wandering around the area and getting lost in the small streets and alleys. You can just stroll around the French colonial Old Quarter, browse through outdoor markets and shops, try local food from the street food vendor, or have a cup of Vietnamese coffee at a local coffee shop. It is an experience to be taken slowly and enjoyed.
If it's your first time visiting Hanoi, then I hope this Hanoi travel guide blog helps you make the most of your time in this lively city. We will cover how to get to Hanoi, the transport options from the airport to downtown, where to stay, and useful travel tips and information. Let's check out this awesome Hanoi itinerary for 1, 2, or even 3 days in Hanoi.
Hanoi Travel Guide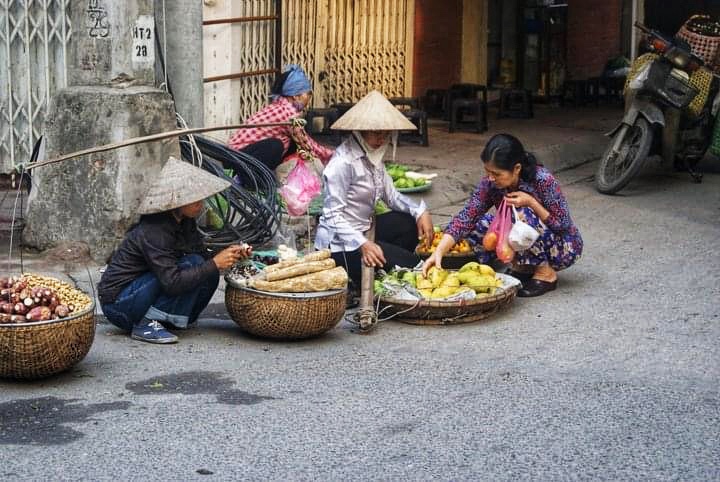 This Hanoi travel guide is comprehensive and long. As always, let's break things up into sections by section to make things easy in this handy Hanoi travel blog!
Hanoi, also written as Ha Noi is the capital of the Vietnam and second largest city in the country. It is a rich culture with influences of French, Chinese, and Southeast Asian. Being the major hub for Northern Vietnam, Hanoi is the ideal place to set up your base when visiting the attractions such as Sapa, Ninh Binh, and UNESCO heritage site Halong bay.
The Vietnam currency is VND and popularly called "Dong". Though USD is acceptable in Vietnam, it is advisable carrying the VND especially if you want to buy stuff or food from small shops and street vendors. Besides, hotels mostly can accept credit cards but many cafes only cash.
The majority of people in Hanoi are sincerely friendly, enthusiastic, and with a great sense of humor. In the service industry, you will be impressed by how the customer service did their job and cares for you. They can speak English even though some may not fluently. However, many people on the roads don't know how to speak English, but communication is not an issue (hand and sign) as tourists are very common in Hanoi.
How Many Days Should I Plan to Stay in Hanoi
You can plan a one-day stay in Hanoi or can even set aside a couple of days to properly explore this city. But generally, we recommend staying at least two days. That way you have enough time to see the main attractions in Hanoi and continue to explore some of the beautiful attractions nearby.
Spend three days in Hanoi if time is permitted. There are plenty of tourist attractions, cool bars, nice restaurants, and great cafes offering panoramic views over the city.
We spent totally 3 days and 2 nights in Hanoi. Firstly, we arrived at Hanoi Noi Bai International Airport and arrange our transportation by taking the overnight train to Sapa. After this, we came back to Hanoi for another 3 days of visit in this charming city. We also have a day trip to Halong Bay to end our Northern Vietnam trip before flying back to our home country.
Best Time To Visit Hanoi
The best time to visit Hanoi is in the Fall, from around the end of September till November, followed by Spring (March to May). During this time, the temperatures are ideal and pleasant. It is best to walk around in the vibrant city. Expect more tourists and higher hotel prices around that time.
Summer (from June to August) is the hottest and most humid time of the year. Not only that, the middle of the year is considered the rainy season in Hanoi. So it is not the best time to visit Hanoi and avoid these months if you can.
While December is still a great time as the weather is cool. However, the temperatures can fall to around 10ºC in January and February.
Traveling To Hanoi
For international visitors, most likely Hanoi will be the point of arrival if you are visiting Northern Vietnam. The Hanoi Noi Bai International Airport (HAN) is one of Vietnam's 2 major international airports. It is extremely busy, serving thousands of travelers everyday, from both internationally and domestically flying to Hanoi.
Many domestic flights are well connected with other cities within Vietnam. There are countless daily flight connections between Da Nang, Ho Chi Minh, and Hanoi. Those domestic flights are very frequent and extremely affordable. Remember to check baggage allowances as this may increase the cost with the hefty luggage cost included.
Besides, there are many low-cost carriers within South East Asia. Flying internally or from nearby countries is an incredibly good value. Be sure to research flights and prices for a great deal especially if you are on a tight budget. You can search for cheap flights from Skyscanner.
Getting To Hanoi Downtown from Airport
You'll need to arrange for transfers to your hotel from Hanoi Noi Bai International Airport. The airport is about 25 km from downtown Hanoi. Listed below are the different ways you can get to your hotel from Noi Bai airport:
Airport Taxi – This will be the most expensive option and easy to get scam. Make sure to look for a meter taxi or agreed with a good price before you depart. It will take you around 30 minutes to reach.
Private/Shared Transfer – This is the most convenient way of getting to your hotel from the airport but it's also one of the most expensive. Klook offers airport transfers from Noi Bai to your hotel in downtown Hanoi. You can pre-book a private comfortable air-conditioned car with hotel drop-off ahead of time for around – Best Offer.
Public Bus – You can take Public Bus Number 17 or the Hanoi Airport Bus Express (Bus Number 86) to get downtown. It is the cheapest option but you will need to get a taxi from the bus stop to the hotel. Not a good option for visitors to Hanoi.
Grab Car – When it comes to South East Asia, we highly recommend using the e-hailing service, Grab. Similar to Uber, you just need the app and internet inside Hanoi Airport to book a ride. Grab also support Grab motor in Hanoi but this option is only suitable for the light traveler.
Getting Around in Hanoi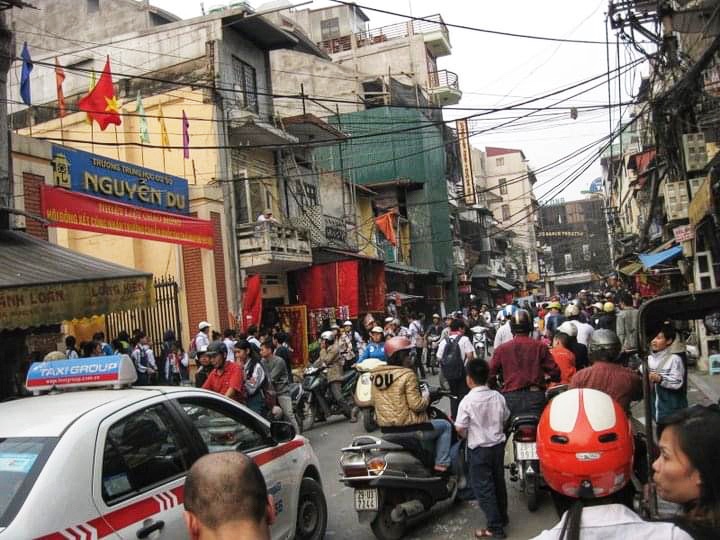 Hanoi is a very walkable city. Rather, we would say that you need to walk around to experience the vibe of this vibrant city. The city's packed streets, local market, and beautiful architecture can best be seen while walking.
The majority of the attractions are located in the downtown area and within walking distance. On this suggested Hanoi itinerary, you can easily walk around for the whole day. You can also spend an additional one more day in if you prefer to slow down the pace. A better way to get around Hanoi is to get a cyclo ride tour as you will be directly in the street life.
Alternatively, get the ride on Hanoi Hop-on Hop-off Bus to see the best sights in the city! The easiest way to get around and see the major attractions in Hanoi.
If you need to travel farther away, just use the Grab or Grab Motor. It's the Southeast Asia version of Uber and super easy to use!
Best Place To Stay
Hanoi is a travelers paradise. There is an enormous amount of great hotels and hostels all over the city. We recommended base yourself centrally in old quarter to ease on your Hanoi itinerary planning. Staying in qol quarter is easy to get around for attractions, food, and entertainment.
Here is few option with different budget range for staying in Hanoi Old Quarter:
Luxury: Peridot Grand Luxury Boutique Hotel is the best luxury hotel in Hanoi. But rest assured, even the most luxurious accommodation in Hanoi is affordable! The hotel is centrally located with beautiful rooms and comfy beds. Most importantly, the price is reasonable.
High-range: Acoustic Hotel & Spa is the popular affordable luxury Hotel in Hanoi. The location is pretty convenient and right on the border of the Old Quarter. It is walking distance to the train street and weekend market with lots of eateries along the way.
Mid-Budget: Ja Cosmo Hotel and Spa is a surprisingly affordable boutique hotel. Located in the heart of Hanoi Old Quarter, it is easy walking distance to visit the attractions nearby and find food even at night.
For more accommodation option, be sure to read our Ultimate Guide for Where To Stay in Hanoi.
Things To Do in Hanoi itinerary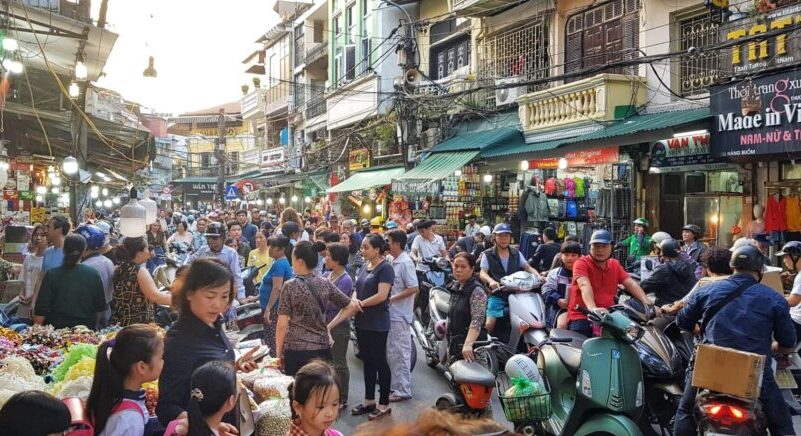 Hanoi is highly dense with people and full of motorcycles. You can easily explore the city on foot or try a cyclo tour to travel around all the streets with famous attractions. It is a real treat by wandering around and watching the locals and activities. Be careful or you can get lost!
The following Hanoi itinerary is action packed if you are only have limited one day in Hanoi. You are freely to adjust based on your interest and available in the city.
Things To Do in Hanoi Itinerary:
Start with relaxing stroll at Hoan Kiem Lake
Ngoc Son Temple and Turtle Island
Wandering in Hanoi Old Quarter
Hang Bac Street
Train Street
Have a cup of Vietnamese Coffee
Try Local Vietnamese Street Food
Enjoy Nightlife at Ta Hien Street
Hanoi Night Market
Hanoi Travel Guide: For excursions, I would recommend the Hanoi Sightseeing Motorbike Tour as you will be directly in the street life. Your driver will stop at the most interesting spots or on demand to save your steps. Most importantly, you can enjoy the picturesque and beautiful chaos. A fun and non-forgettable experience.
Relaxing Stroll at Hoan Kiem Lake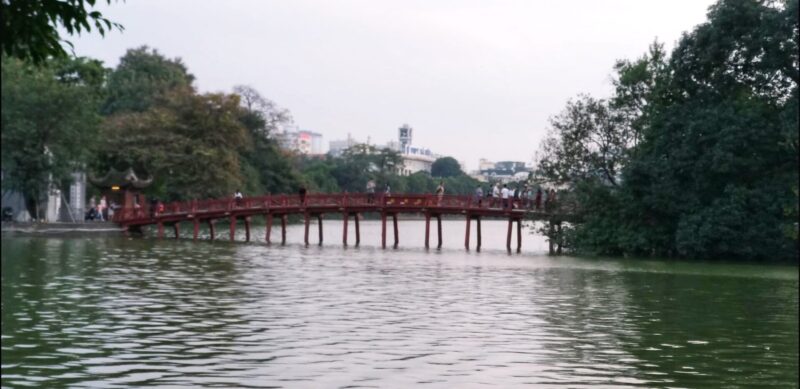 Centrally located in the middle of Hanoi, Hoan Kiem Lake is literary the oasis in the heart of the city. The lake is located in a lovely setting and is strangely peaceful. It is a nice place to relax, run around, or have your coffee to get some break from the hustle-bustle of the city.
Every morning, locals love spending their time here doing exercise, taking aerobic or tai-chi lessons, jogging around the lake, or just enjoying nature in calm and serene surroundings. While in the nighttime, the lake looks stunning with the bridge illuminated in flaming red. You must take your camera here to capture the astounding beauty of the lake and the activities around the lake.
There are many hotels, restaurants, and bars surrounding the lake. From Old Quarter it is an easy walk to Hoan Kiem Lake. Worth a quick 30 minutes stop and have a drink during your visit to Hanoi.
Ngoc Son Temple and Turtle Island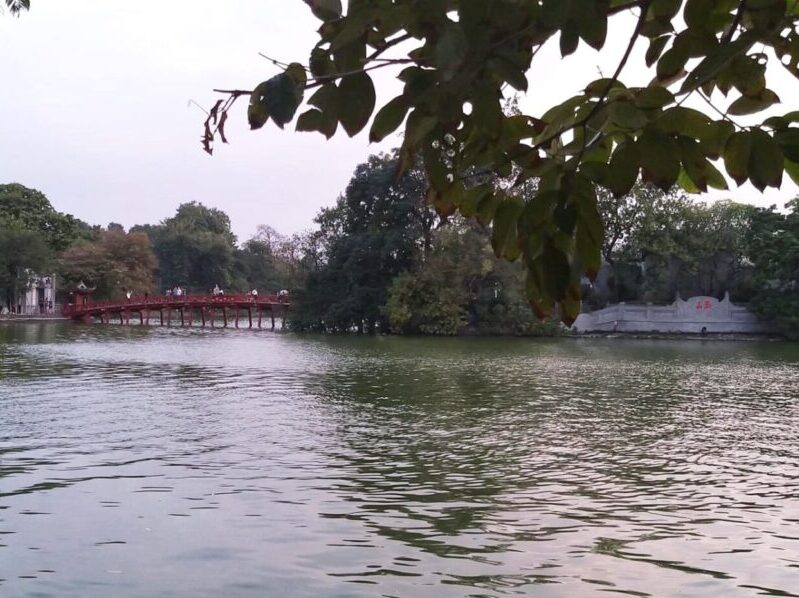 There are a few historical temples and buildings around the lake that are worth coupled during your visit to Hoan Kiem Lake.
At the north end of the Hoan Kiem Lake is an arched red wooden pedestrian bridge leading to Jade Island which houses the Ngoc Son temple. It was an 18th-century pagoda that was originally built during the Tran dynasty (1225-1400) but was last restored in 1865. It venerates Van Xuong, the god of literature, as well as La To (a physician) and Tran Hung Dao, a 13th-century leader who fought successful wars against the Nguyen.
While at the northern end of the Lake is a small island where a small tower called Turtle Tower is located. According to legend, Hoan Kiem Lake is the home to a mythical turtle who is a Vietnamese legend's hero. The tower was built to honor the magic turtle that still guards the sword. Enormous turtles still lived in the lake until now.
Walk the lush trail surrounding Hoan Kiem Lake and visit its Ngoc Son Temple. There is a small entry fee but worth paying it to cross the picturesque red bridge and enter the temple.
Wandering in Hanoi Old Quarter
Next on the Hanoi itinerary is the infamous Hanoi Old Quarter. Basically, you're not coming to Hanoi if you didn't visit the old quarter! The Hanoi Old Quarter is the main attraction of the city and it is one of the top places to visit on your Hanoi itinerary. As a first-time tourist, you can truly enjoy Vietnam culture in this old and quaint part of Hanoi. It does give a very nostalgic feeling of how life could be those days.
Hanoi Old Quarter is quaint, historically interesting, and chaotic! There're 36 dense streets in the area and every square meter is turned into a little business or shop and the energy pumps are non-stop. Each street name begins with "Hang" for Street, followed by the specific business or item located on the street for purchase, such as Hang Can for stationery or Hang Dau for shoes.
There have too many amazing things and you can find practically everything here with all types of products selling in the old quarter. It is very chaotic but very well-organized. From local produces, fruits, vegetables, silver jewelry, shoes, wallets, and clothes, up to shoe repair, you've got everything in the Old Quarter. If you wish to buy souvenirs for home, then this is the perfect place for that. Remember to bargain for a good price!
Hang Bac Street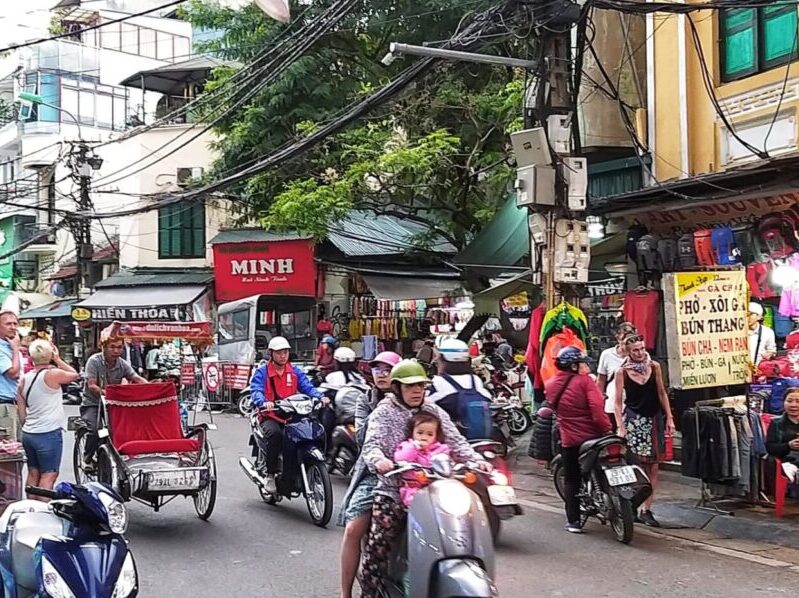 Among all the streets in the area, The vibrant Hang Bac Street is an excellent introduction to the Old Quarter. Like all the streets in Hanoi, Hang Bac is cluttered and chaotic. It is the busiest street situated in Hanoi downtown packed with shops, restaurants, bars, people, and lots of motorcycles.
In fact, Hang Bac means "Silver Street" but these days you can find all kinds of things and all kinds of shops. The street offers something for everyone from fine high-end fashion and home boutiques, to jewelry, to convenience stores. A great place to meet with locals from all walks of life and a great way to get to know the people. Be careful and watch out for the motorcycles while you are walking on this street.
Train Street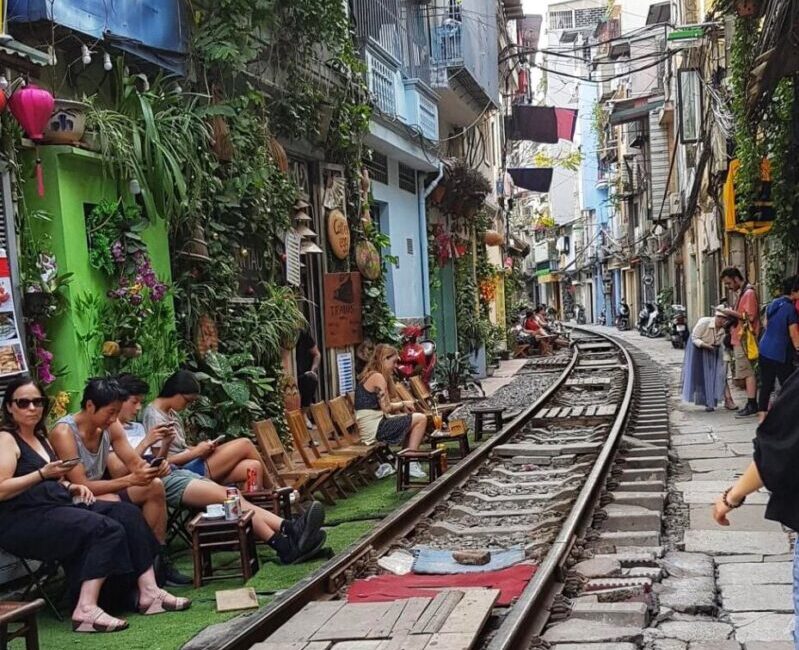 Situated in Old Hanoi Quarter, between Le Duan and Kham Tien street is the famous Hanoi Train Street. The train street is a unique attraction where visitors can watch a train speeding through the street on both sides of houses at a meter distance. People will shut down their homes and activity paused while the train went by but then back to business as usual. One of the most popular spots in the city and should not miss when coming to Hanoi.
If you wanted to catch the train passing by, make sure to do some research before getting here. Still, the train schedule is hit-and-miss and not a train was as per the timetable. But you can still roughly rely on the train schedule we got from the official website:
Weekday: 19:00, 19.45, 21.30, and 22:00.
Weekend: 6:00, 9:00, 11.20, 15.20, 17.30, 18:00 pm, 19:00, 19.45, 20.30, 21:00, and 23:00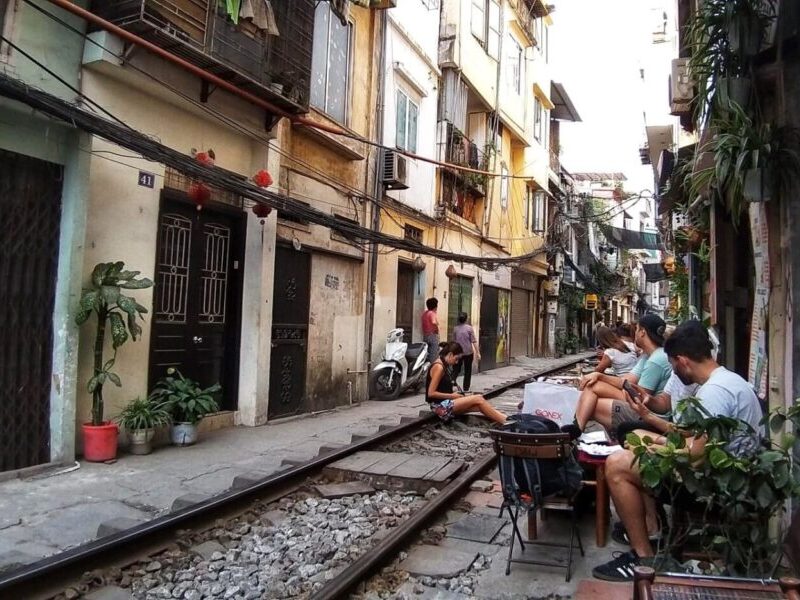 When visiting Hanoi train street, it is best to find a place to sit down and take a drink at one of the cozy places along the train lane. All the cafes have great views so any place would be great. Just chose one, sat down, ordered some coffee, and waited for the train came.
It is fun when the train finally passes by. During this time, all the owners shouted to warn all tourists to stand within the safe zone. Listening to the last-minute scramble and loud whistler to clear the tables and chairs to make sure the train line gets empty. Truly a unique experience when the train passes very close, only a few inches away by while drinking fantastic Vietnamese coffee.
Definitely worth seeing this once and make sure to pack this spot into your Hanoi itinerary.
Have a cup of Vietnamese Coffee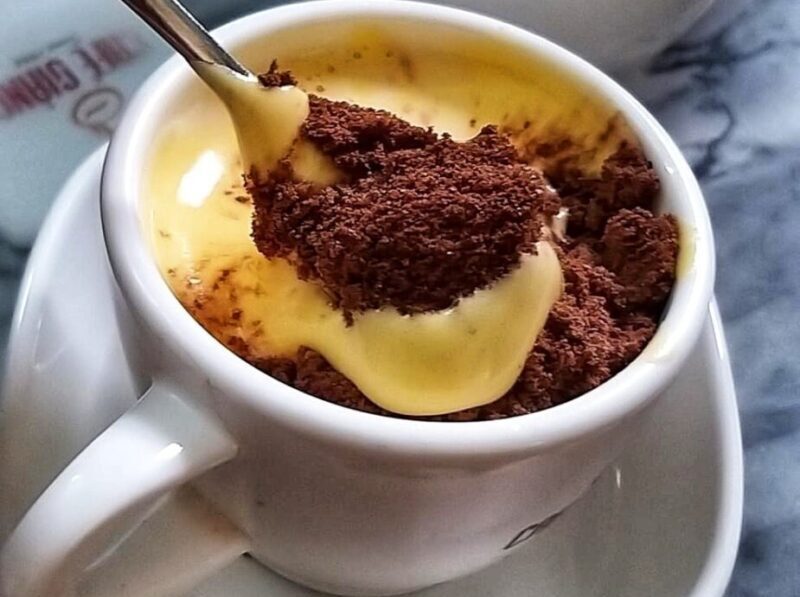 For a coffee lover, don't miss the Vietnamese coffee in Hanoi. The charming Hanoi has some of the best tastier cafes and coffee shops. It is worth wandering around and getting lost in the city while ending with a cup of Vietnamese coffee in one of the authentic coffee shops.
We highly recommended sampled delicious egg coffee. It is an egg custard densely foamed up and served on top of black coffee. It may sound disgusting but it tasted extremely delicious.
Try Local Vietnamese Street Food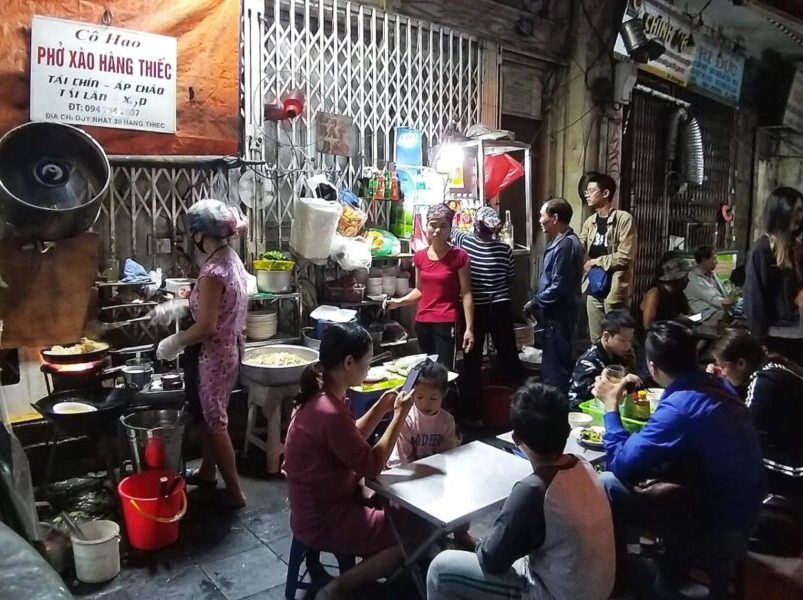 The walking tour of the Old Quarter was an enlightening experience especially coupled together with the local food that you can indulge in. Along your Hanoi itinerary, you can check out one of the many western cafes and restaurants or try some food from the local street food dealers.
Find out on a fun food tour in Hanoi's Old Quarter
Most of the famous Hanoi local foods are located in Hanoi Old Quarter such as Pho Bat Dan, Tao Pho, Bun Cha, salted apricot, Braised fish, Squid cake, and many more. It is truly an adventure to try street foods. The street food is very good and diverse but the price is very different from shops so remember to ask the price before ordering. Eat till you drop!
Related Read: Hanoi Food Guide – What To Eat and Drink in Hanoi.
Enjoy Nightlife at Ta Hien Street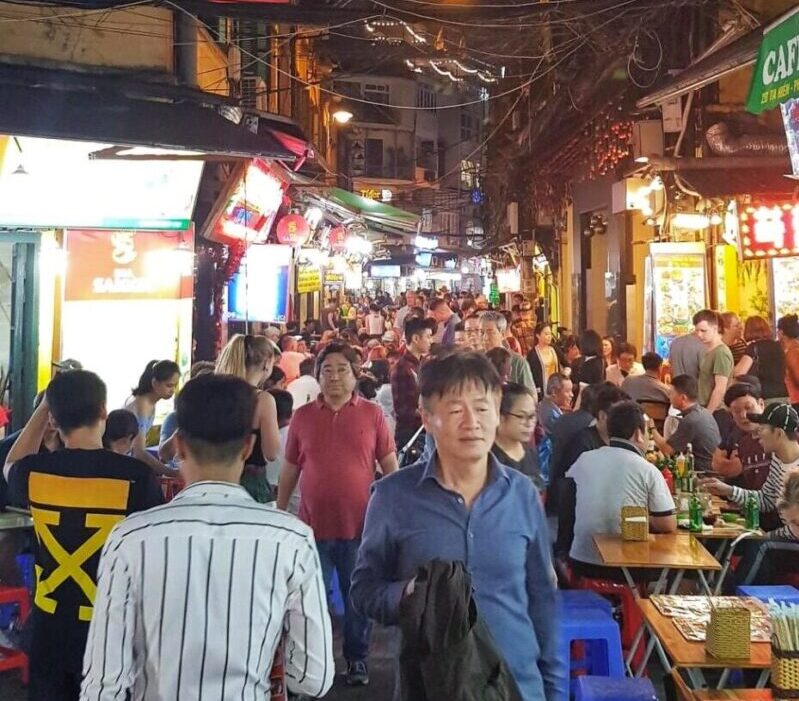 Ta Hien Street, which literally means beer street is the best street for enjoying the complete nightlife of Hanoi. The street is just only 200 meters long, Ta Hien Street is one of the most crowded streets I have been to in Hanoi filled with tourists and locals alike. There are many bars and street vendors where you can find a variety of Hanoi street foods with an ice-cold beer.
Most drinking is just done outside sitting on a small-sized plastic chair right on the street, having beer and food while people watching. The food and drink are slightly more expensive than in other places in the old quarter.
We had the authentic Vietnamese hotpot in one of the BBQ setup restaurants here. The food was delicious and the price is also reasonable. Most importantly, we enjoyed the atmosphere here. A perfect place where you can come and enjoy the atmosphere as well as the food and the drinks.
Hanoi Night Market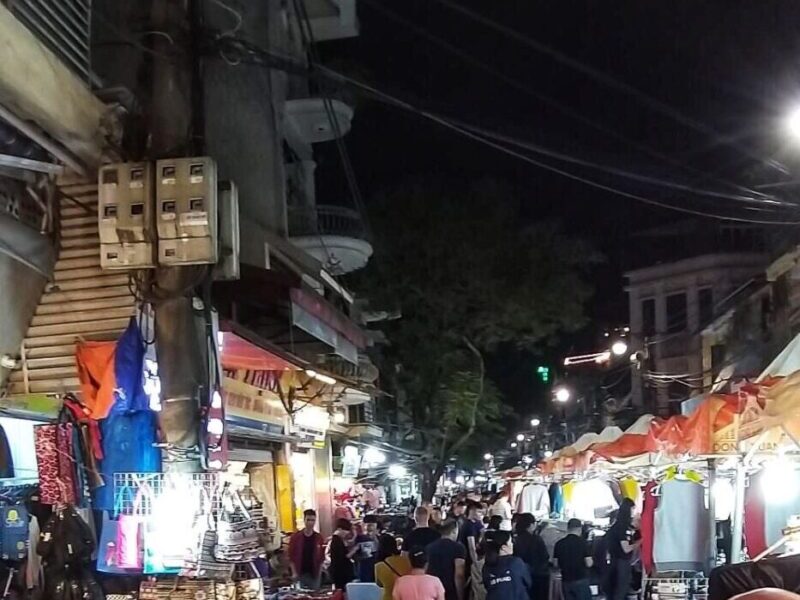 During the nighttime, the Hanoi Old quarter will be limited to motorcycles and cars so it becomes a good place to walk around. It's very interesting to explore Hanoi at night with a lined of street foods scattered around the area.
Apart from that, don't miss the Hanoi night market if you are visiting Hanoi during the weekend. The night market near the north side of the lake is a must-visit attraction with hundreds of vendors and street artists. You can walk around and enjoy a stroll in the street. There is often live music and performances make it very happening. Highly recommend you come to Hanoi on the weekend to take part in the atmosphere of the night market and walking street.
Other Attractions in Hanoi Downtown
There are a lot of attractions and small temples everywhere in the city which is really interesting. We didn't have enough time to explore those attractions. You can plan it if you are interested.
St. Joseph's Cathedral, Hanoi – A late 19th-century neo-Gothic Revival church with 31-meter-high twin bell towers. The cathedral is the oldest church in Hanoi and was constructed by the French government in 1886. It not only serves as the cathedral of the Roman Catholic Archdiocese of Hanoi but welcomes everyone to come, attend and experience.
Temple of Literature is an amazing place with precious history, culture, and structure. Dedicated to Confucius, the temple was built in 1070 and was reconstructed during the Trần dynasty (1225–1400) and in the subsequent dynasties. It hosts the Imperial Academy where royal members studied in the past. This is also considered the first national university in Vietnam. Best place to learn about the history and culture of Vietnam since the 10th century.
Ho Chi Minh Mausoleum is the dominating structure dedicated to the hero of the nation. It serves as the final resting place for this revolutionary leader. A place to understand more about the History of Vietnam and what the people have gone through.
The famous Thong Long Water Puppet show is located in Old Quarter area right next to the Hoan Kiem Lake. The puppets are moved from under the water in a show that showcases the pillars of Vietnamese way of life, culture and even religion. There are several shows daily, make sure to reserve your Water Puppet Show Ticket in advanced.
How To Plan Hanoi Itinerary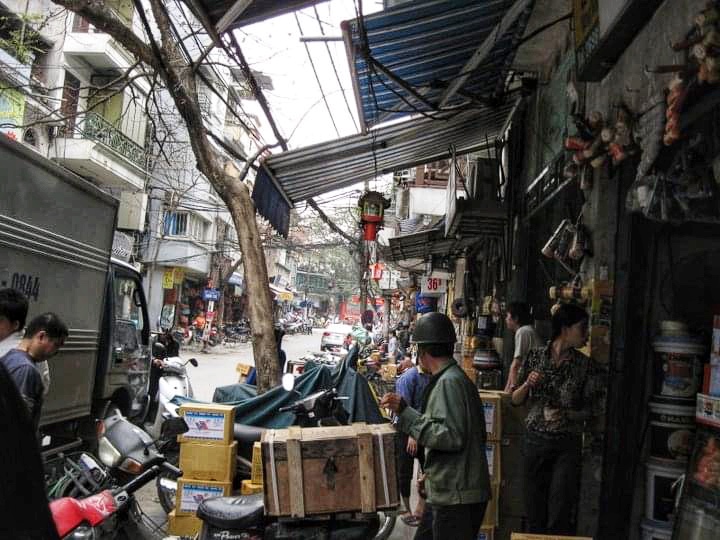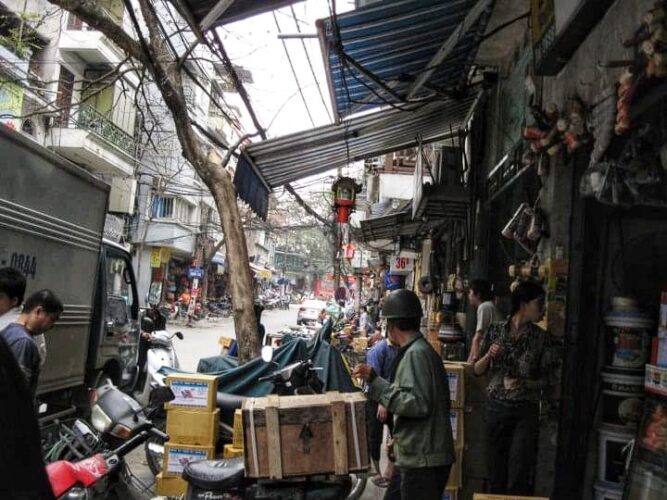 There are so many things to do in Hanoi that it is hard to decide where to begin. Hanoi is a great base when traveling around Northern Vietnam. With 1, 2, or 3 days in the city, you can explore it beyond the typical tourist attractions.
On your Hanoi itinerary, we recommended spending at least one full day exploring the Hanoi downtown area at Old Quarter.
Started the day with great Vietnamese egg coffee at a local coffee shop in the Old Quarter. Spend some time touring around Hoan Kiem lake, Ngoc Son Temple, and Turtle Island. Followed by wandering around the areas and other interesting attractions in Old Quarter such as St Joseph Cathedral. If you are feeling hungry, stop by for a great lunch at one of the restaurants selling local cuisines. Continued with wandering around the area such as train street, Hang Bac Street, and other vibrant streets in the old quarter. A great day in Hanoi!
If you'd like to explore the ancient city, you can easily slow down your pace and explore Hanoi for more days. Alternatively, you can have a tour of Halong Bay which is about 3 hours from Hanoi. Spent at least one day to enjoy the serene and picturesque of Halong Bay.
Tour Depart from Hanoi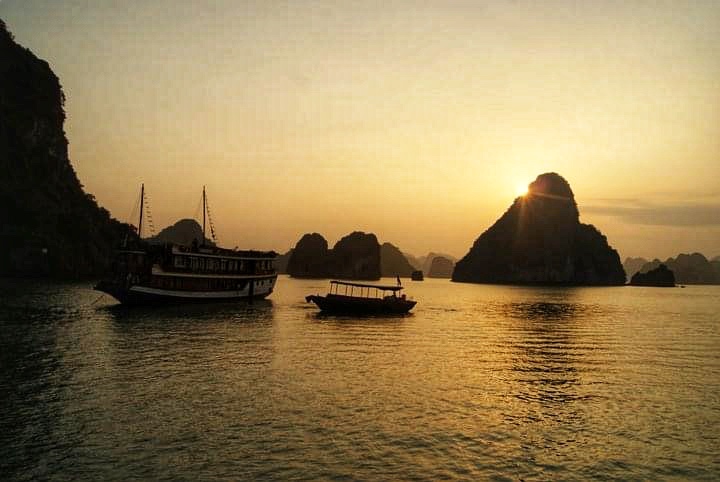 The stunning Halong Bay is a major tourist attraction and a must-see stop on your Hanoi itinerary. This UNESCO World Heritage Site is home to emerald waters and infinite towering limestone isles, islets, and caves topped by lush rainforests.
We recommended getting to Halong bay by joining a tour as the transportation is not well-connected. This is the most popular day trip from Hanoi with many people departing to Halong Bay every day. A not to be missed attraction if you are visiting Hanoi!
Related Read: A Trip To Halong Bay: Ultimate Travel Guide Blog
For a day trip to Halong Bay from Hanoi, here is our recommendation:
Consider to enjoy the serene Halong Bay with multiple-days tour:
Some other popular day trips departed from Hanoi for consideration:
Final Hanoi Travel Tips
Hopefully you don't feel too overwhelmed by all of the things we have discussed above.
The traffic and humanity are overwhelmingly congested. The sound of car and motorcycle horns every few seconds adds to the hustle and bustle of the place. It's very challenging crossing the roads as cars and motorcycles can appear from any direction. Stay alert and enjoy the charm.
Food and drinks are cheap overall. You can indulge and learn more about Vietnam's local cuisine in Hanoi. No matter your dietary requirements, you'll be able to enjoy the food very much.
If you plan to do a tour, we recommend you compare prices on Klook and  Viator – a TripAdvisor company. Both are reputation companies I can vouch for!
How many days should I spend in Hanoi?
If possible, try to allocated at least one day to discover the bustling Hanoi downtown area.
Is Hanoi safe for tourists?
Hanoi is a relatively safe city to travel to. The city is generally safe but some areas should be avoided, such as parts of Hanoi filled with clubs and bars that are usually filled with suspicious individuals. Be cautious and avoid these places late at night.
Is Hanoi worth the visit?
I must say, you wouldn't be disappointed at all by visiting Hanoi! From beautiful centuries-old architecture, and delicious Vietnamese food to smiling locals, you'll find no lack of things to do in Hanoi.
Overview: A Visit To Hanoi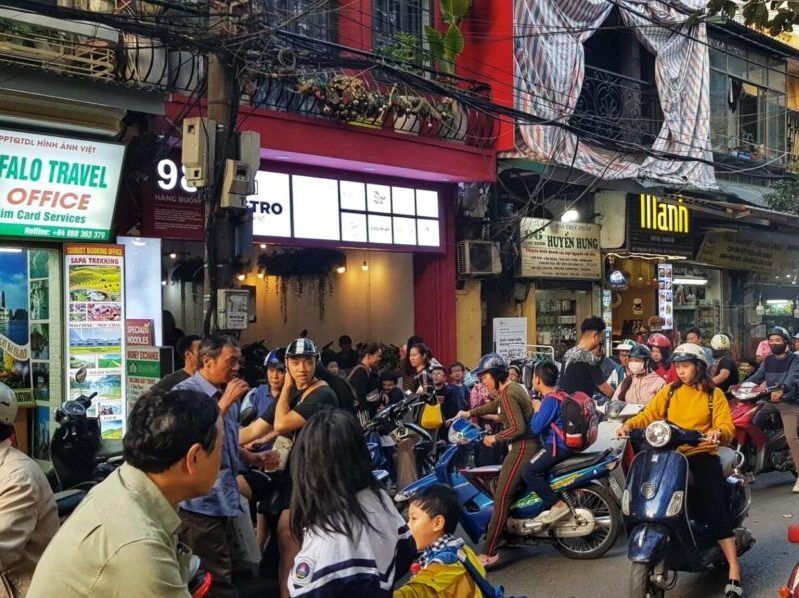 All in all, Hanoi is an amazing destination for all types of travelers, regardless if you're interested in sightseeing, temples, gastronomy, a great night market scene, art, and everything else in-between.
We hope our suggestions help you plan your Hanoi itinerary. I'm hardly an expert on Hanoi but I do hope that you find this Hanoi travel guide useful. Hanoi is truly amazing and around every corner is something new.
On our Hanoi itinerary, we sampled delicious street food, tried the disgusting yet tasty egg coffee, and enjoyed strolling around the streets absorbing the hustle and bustle. We stayed at the Acoustic Hotel & Spa and fell in love with the convenient and all that it has to offer. Many great restaurants and interesting attractions are within walking distance. Highly recommended.
Lastly, if you need more travel inspiration for Northern Vietnam, here you can find the best articles to plan your trip including Sapa, Hanoi, and Ha Long Bay.
Traveling to Sapa: