Last updated on October 2nd, 2023
Heading to Central Vietnam, then be sure to check out our detailed travel guide blog. We reveal our best travel tips and highlights in this 5 Days Hue, Da Nang, and Hoi An itinerary. You'll explore off-beat cities, historical sites, and colorful lanterns, as well as amazing food there.
The central part of Vietnam is where the cities of Hoi An, Hue, and Da Nang are located. These places are accessible from each other within one to two hours of the driving journey. Considered to be the popular touristic center of the country, this region is well-known for its well-preserved historical sites; charming streets of UNESCO recognized Old Town and breathtaking beaches. Added, the three World Heritages; Hue Imperial Citadel, Hoi An ancient town, and My Son Sanctuary, are located in Central Vietnam.
Five days in Central Vietnam to truly get a good feel for the city, especially if you're a first-time visitor. The Central region of Vietnam contains a diversity of attractions, and plenty of things can be done and seen here. With the right plan and itinerary, all three cities can be explored and mastered within 3 to 5 days of the visit.
In this Central Vietnam travel guide blog, we will share with you our itinerary through Hue, Hoi An, and Da Nang. This route is perfect for those who are traveling to Central Vietnam for the first time and want to get a glimpse of the best highlights in the region.
Central Vietnam Travel Tips (Danang & Hoi An)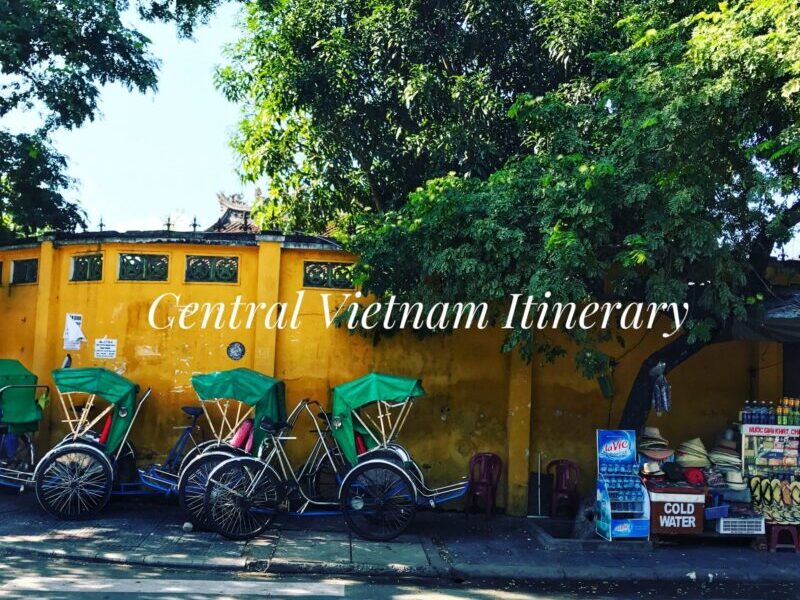 This detailed Da Nang and Hoi An itinerary will give you suggestions on which places to visit and where to eat for 5 days in Central Vietnam. It'll have all the information you need – like when to go, where to eat, how much to budget, to help you plan your trip.
Reliable Wifi is another must-have for the Central Vietnam itinerary. You'll need it to navigate, access Google Maps, do last-minute research for attractions and food, and also use it for Grab. We collected our pre-booked 4G Wifi from Klook directly upon arrival at Da Nang International Airport.
We don't always get travel insurance. It depends on where we're going, what we'll be doing, and how long we'll be away. For central Vietnam, we'll highly be recommended getting travel insurance for safety concerns.
Flights to Central Vietnam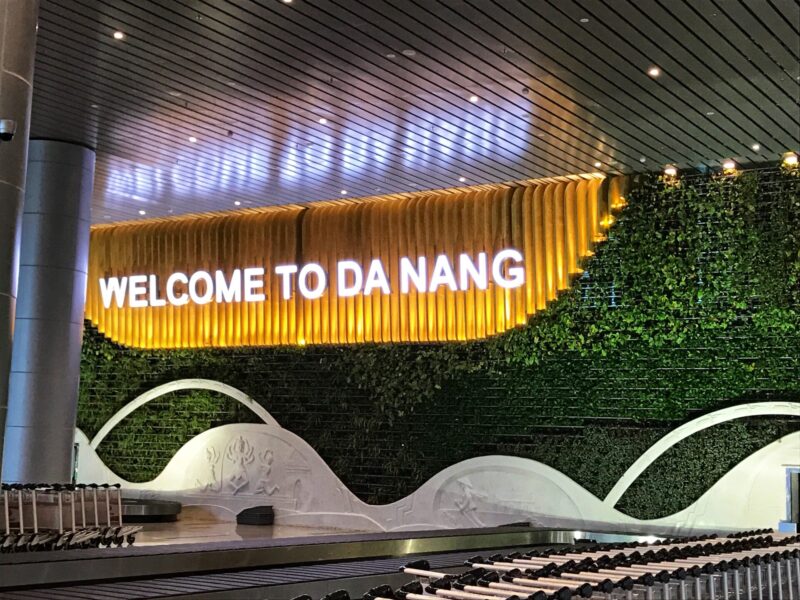 The nearest airport is Da Nang International Airport (DAD), with a very well linked for both internal and international flights. You can search for a flight aggregator like Skyscanner to find cheap flights to Da Nang from where you are. Once you reach the Da Nang International Airport, you may head to your next destination as per the itinerary.
The traveling time from the airport to the nearby cities is as below:
From Da Nang Airport to Da Nang City Center with approximately 15 minutes.
From Da Nang Airport to Hoi An with approximately 45 minutes.
Danang Airport to Hue with approximately~2 hours.
You can pre-book a private transfer from Da Nang Airport to your hotel HERE.
Getting Around Between Da Nang, Hoi An, and Hue
The Central region does not have a great public transport system, so it is always recommended to have an idea of how to get around within the cities. The best way to get around is to hire your own car with a driver, arrange the day-by-day activities by joining the local tours, and mix using e-hailing Grab.
We got an airport pickup which brought us to Hoi An and used the private city transfer within Hoi An and Da Nang. We used a private charter to cover the day trip to Hue Imperial City and My Son Sanctuary to ease transport arrangements. Besides, We also rented a scooter to explore Da Nang city and it was truly adventurous. For everything else, we use Grab (Uber in South East Asia) for the short-distance city transfer. It is super handy, fast, and reliable.
If you'd rather experience Central Vietnam on a guided tour, then there are a few you can choose from Klook.
How Many Days for Central Vietnam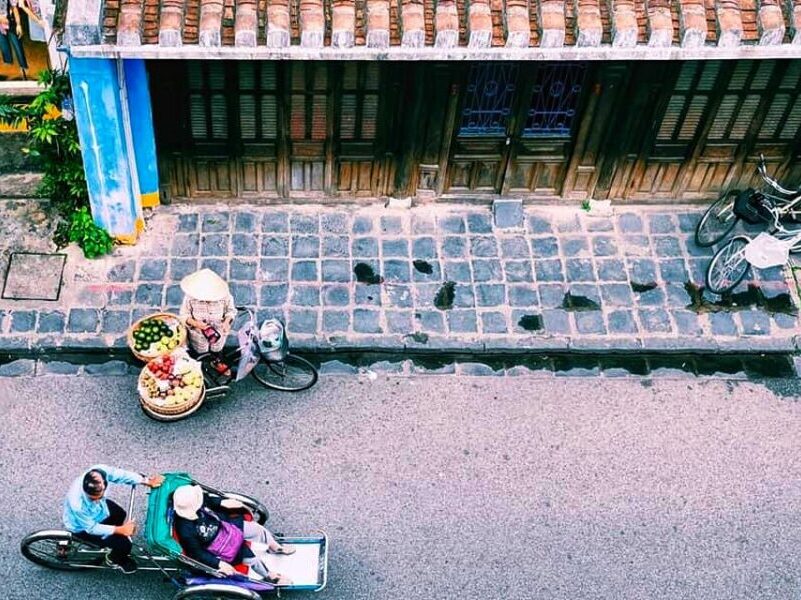 If you are planning Da Nang and Hoi An itinerary and thinking about how long you need to spend in the area, I would suggest you by spending five days in Central Vietnam to truly get a good feel for the city, especially if you're a first time visitor. As always, longer stays are better to know more details about the cities. But if you don't have the time, then you should be able to see the top attractions in Central Vietnam within 3 to 5 days.
If you only have 3 days, then you should skip one of the places in the above three cities. Depending on your interest, we recommended focusing on Hoi An and Da Nang if you only are short of time. You can explore the Hoi An on your two days and then spend the last day at Da Nang.
If you have 5 days and more, then you can adapt this Central Vietnam itinerary. Described in this itinerary are the best places to visit along with a few recommended places to eat during your 5 days in Central Vietnam if you have more or less time to spend here.
Central Vietnam: Da Nang and Hoi An Itinerary
Where you start depends on your personal preference and where you are coming from. During my trip to Central Vietnam, I arrived via Da Nang International Airport and first traveled to Hoi An and spend three days there. Instead of keep changing accommodation, we prefer to stay in Hoi An and make a day trip to Hue.
Lastly, we traveled down back to Da Nang for another two days before taking the flight back to our home country. From the city center, it's a 15-minute drive back to Da Nang International Airport.
Central Vietnam itinerary to Hue, Hoi An, and Da Nang:
Day 1: Arrive at Da Nang Airport and headed to Hoi An. Explore Hoi An.
Day 2: Hue Imperial City.
Day 3: My Son Sanctuary.
Day 4: Ba Na Hill.
Day 5: Da Nang City.
DAY 1: Arrive in Central Vietnam. Explore Hoi An
Welcome to Central Vietnam. First thing first, we headed to Hoian Central Hotel, our stay for the next three days, with the pre-booked private airport transfer via Klook. Our accommodation in Hoi An has located nearby the ancient town. Once settled down, we walked to the old town and start exploring.
Hoi An Ancient Town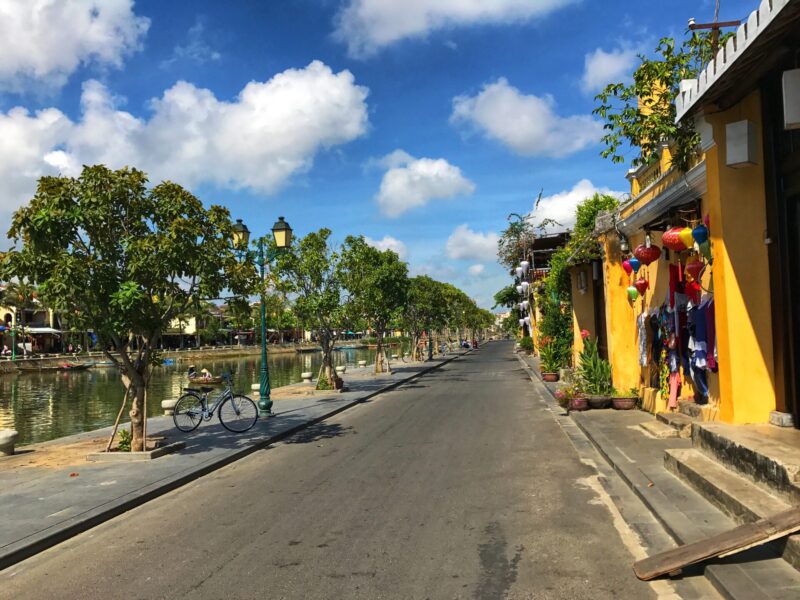 Hoi An is a charming old town filled with colorful lanterns all over the place. It is the busiest and most touristy part of Central Vietnam. However, it's also the most beautiful.
Claiming a UNESCO World Heritage City title in 1999, walking through Hoi An feels as if you're walking through an ancient fairy tale. The old wooden houses, the few or no cars on the streets. This charming town gives me the feeling of cozy.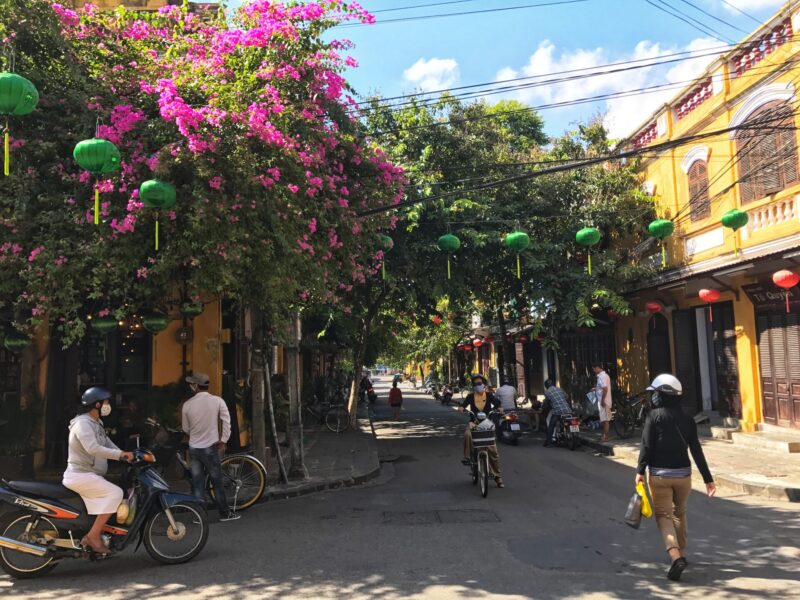 Exploring and getting lost in Hoi An is a great adventure. Don't rush, and walk yourself through small alleys in the 400-year-old town to discover the entire hidden gem.
This is where you'll find many street vendors, cafés, street art, and picturesque moments. You can literally spend all day just walking around the streets, taking pictures, eating street food, and drinking fresh beer.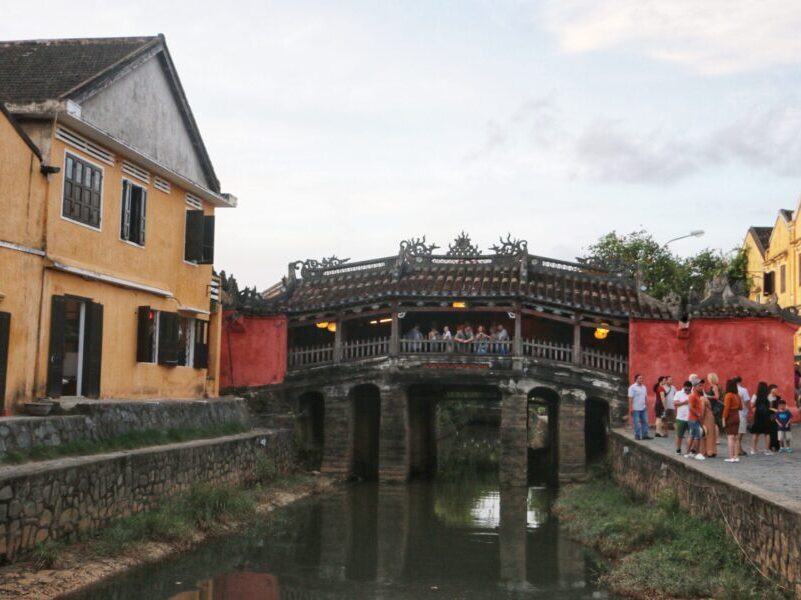 Don't miss the Japanese Bridge, a 300 years old wooden covered bridge, by the Japanese as a way to connect with the Chinese quarter. It is one of the iconic attractions in Hoi An and worth stopping by for a photo.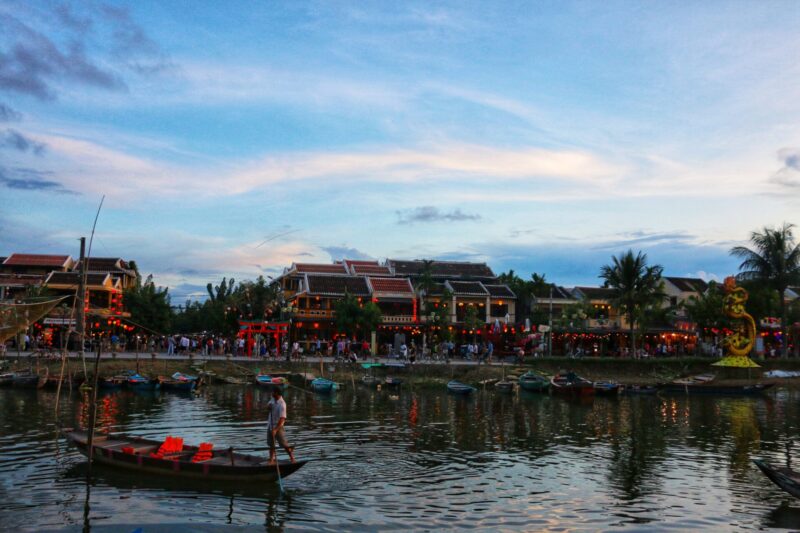 In the evening, thousands of lanterns are illuminated in the Hoai river and the streets fill up with people watching the sunset, chatting, and strolling. Seeing it for the very first time literally took my breath away. It is so indescribably beautiful and feels almost like a dream. A must-do in every Hoi An itinerary.
Related Read: Hoi An Travel Guide: A Complete Travel Guide
DAY 2: Hue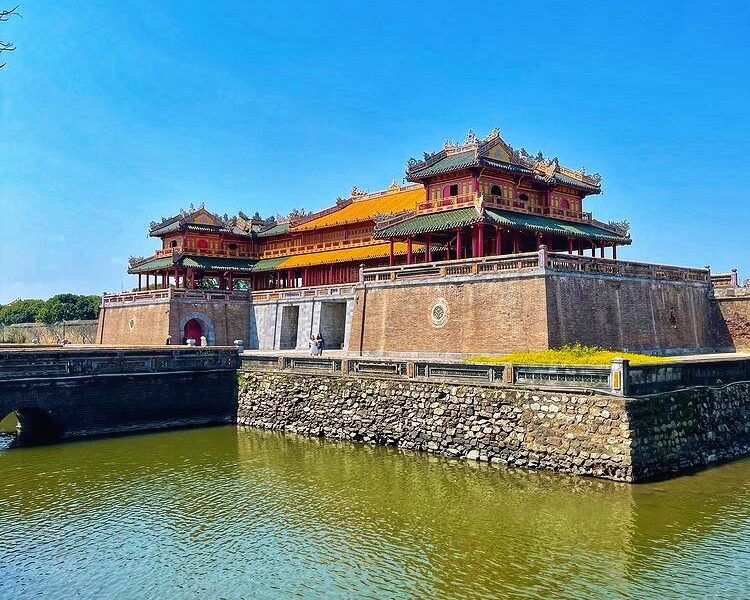 Our Day 2 in Da Nang and Hoi An itinerary is all about the Hue Imperial City. The citadel is a great place to learn the history of Vietnam, especially the Nguyen Dynasty. Hue used to be the capital of Vietnam ages ago. Today, the main attraction is the ancient Imperial City. UNESCO included the Hue Imperial Citadel on its list of world heritage sites in 1993 and it is very deserving of that.
Sightseeing can include the ornate Imperial Citadel, colorful Thanh Toan Bridge, royal tombs, and the Forbidden Purple City. All the attractions are eye-openers on the lives of the Vietnamese royalty then and the influence of the Chinese and French on them. It is a great location to spend time in and wander back into the past.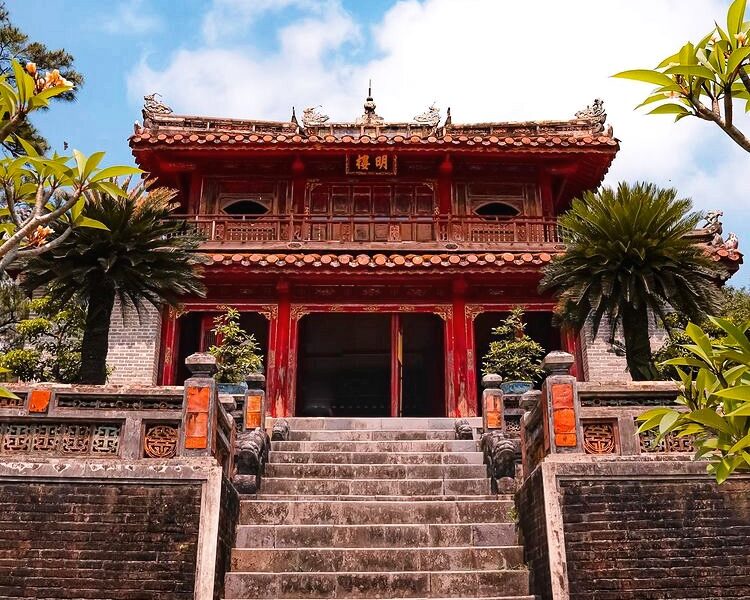 Hue can also be visited on a day trip from Hoi An, so if you are short on time and are not heading further North, consider booking a guided tour. With a guided day tour you will get to see all of the best attractions in Hue without having to worry about transportation or finding accommodation for the night.
We recommended booking a guided or private tour as it will save you a lot of time and energy. You can book a private city tour to Hue from Hoi An here.
DAY 3: My Son Sanctuary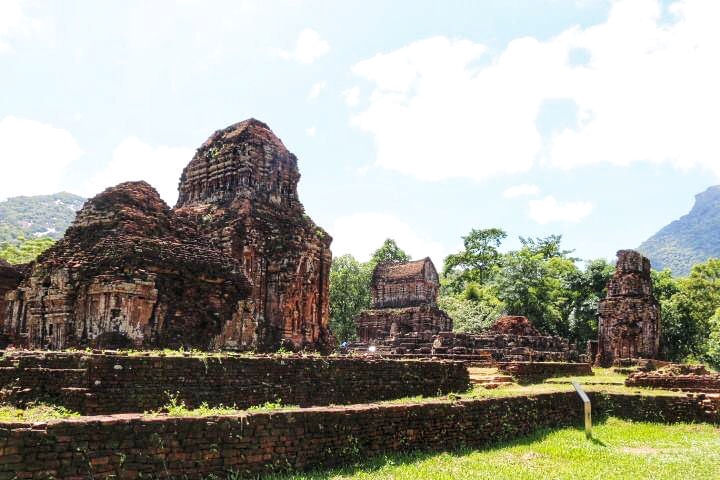 There are a few decent day trips from Hoi An that can be planned on the Central Vietnam itinerary. Among them, My Son Sanctuary is a must-go if you like history and ancient architecture. Constructed by the kingdom of Champa, these ruins were declared a UNESCO world heritage site in 1999. It is an ancient Hindu archeological complex featured with stone sculptures of Hindu deities and towers. There were originally over 70 temples; unfortunately, most of them were destroyed during the Vietnam War. But still, the remains evoke the civilization they represent. The 1,300-year-old ruin hidden in the jungle is located about an hour from Hoi An.
We took the My Son Sanctuary Day Tour from Hoi An from Klook. The tour bus picked us up from the hotel to explore one of Southeast Asia's greatest archaeological sites. We spend about 2 hours touring the monuments. The scale of the monuments is not that impressive, but it is beautiful in its way. On our way back we had a relaxing boat cruise with a simple and light lunch which provides a nice view of Hoi An from the river. A decent half-day trip from Hoi An.
After the trip to My Son, we headed to Da Nang, the largest city in the area. From Hoi An, we checked out of our hotel and took a private transfer to Da Nang, where we would be staying for two nights. Again, we pre-booked our transport arrangement from Hoi An to our hotel at Da Nang via Klook.
DAY 4: Ba Na Hill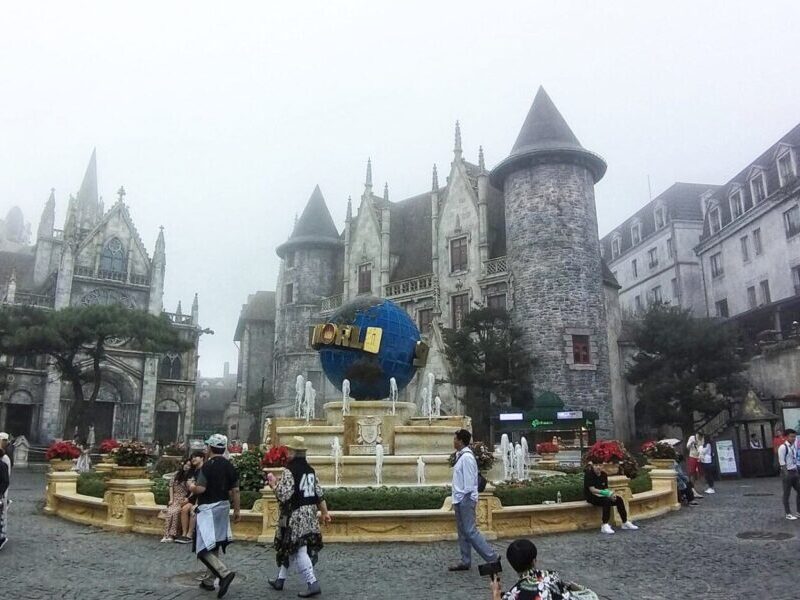 The Ba Na Hill, a beautiful hilltop resort perched atop a mountain in Central Vietnam, is a must-visit in Da Nang. Originally built by French colonists in 1919 as a leisure destination for French tourists, Ba Na Hill is now a popular hilltop resort for visitors all around the world. There are many things to do and see in Ba Na Hill for a leisure holiday.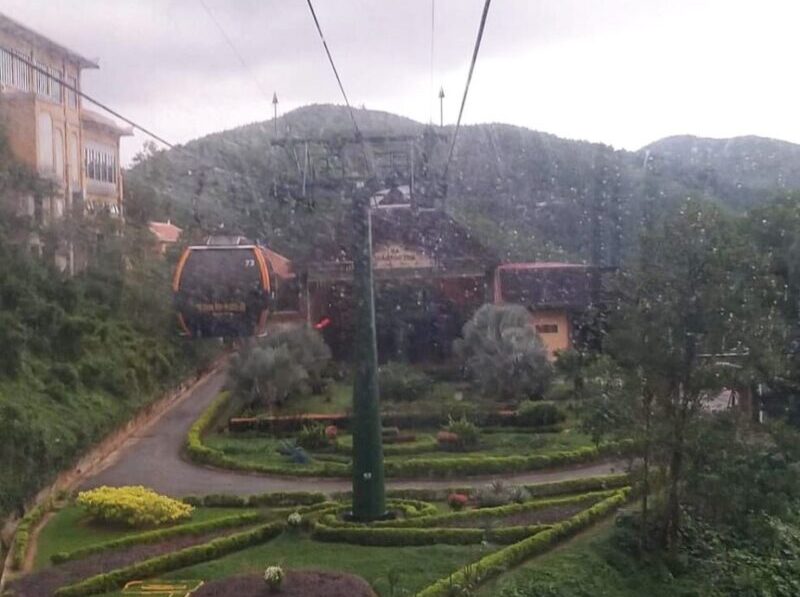 Take the Ba Na Cable car and enjoy panoramic views of the lush forests from the longest non-stop single-track cable car, stroll at cobblestoned streets and Parisian-style architecture at Frech Village, and get lost in Le Jardin d'Amour – The Paradise of Flowers.
If you're in the mood for a drink, visitors can take a break and enjoy a glass of wine at the 100-year-old Debay Cellar. For a family traveler, the Fantasy Theme Park is an ideal entertainment destination to have fun together with kids and family.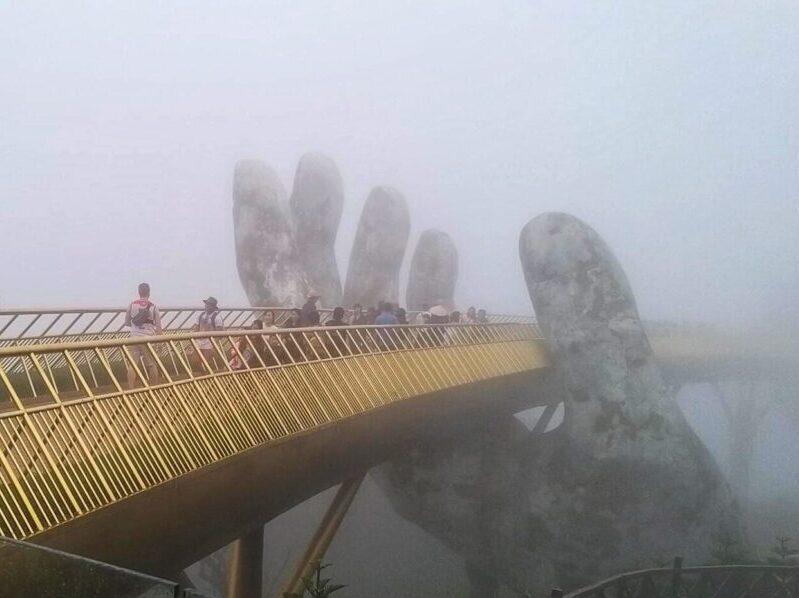 Don't forget to take a stroll and take some excellent photos at the Golden Bridge. Recognized as "the world's most impressive walking bridge", the striking footbridge is resembled two, gigantic hands holding up a shiny piece of gold to the gods above the misty clouds of Vietnam. The 150-meter-long bridge gives visitors plenty of space to take in the scenic views. It is so crowded, so make sure to get here early before the crowds.
Central Vietnam Travel Tips: Buying the Ba Na Hill Admission Ticker via Klook was fast and cheaper. The admission ticket is easy to redeem without waiting in line to purchase the ticket. This will save you a ton of time and hassle. Besides, Klook also has some integrated programs like Ba Na Hill ticket and shuttle bus, Ba Na Hill ticket with the lunch buffet. Book a trip and make your way from Da Nang to Ba Na Hills, take the cable car, and discover a wine cellar.
Klook Exclusive: Roundtrip Shuttle Bus from Da Nang to Sun World Ba Na Hills
Getting to Ba Na Hill
The easiest and most common way to get to Ba Na Hills is to drive a rented car or take a taxi to the foot of the mountain (Ba Na Cable Car Service Parking Lot), then take the cable car up to the resort. Alternatively, you may also hire a private charter driver to drive you to and fro Ba Na Hills at your preferred time.
Ba Na Hill
Opening Hours: Daily from 07:30 to 21:30
Admission Ticket: 750,000₫ Per Person (inclusive of all cable car rides, entrance to Fantasy Park and everything else — except for entry into the Wax Museum)
DAY 5: Da Nang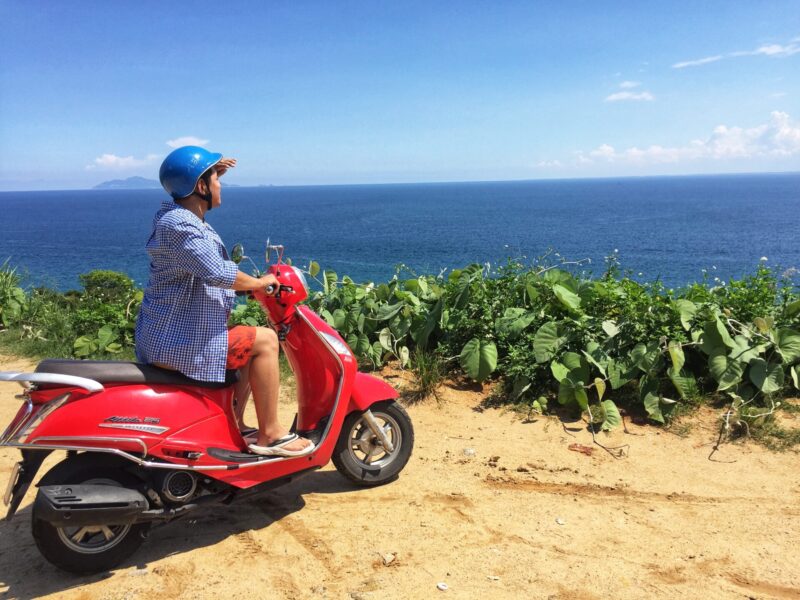 We spend our last day on the Central Vietnam itinerary chilling around in the Da Nang city. In the morning, we rented a scooter as our transportation for the day.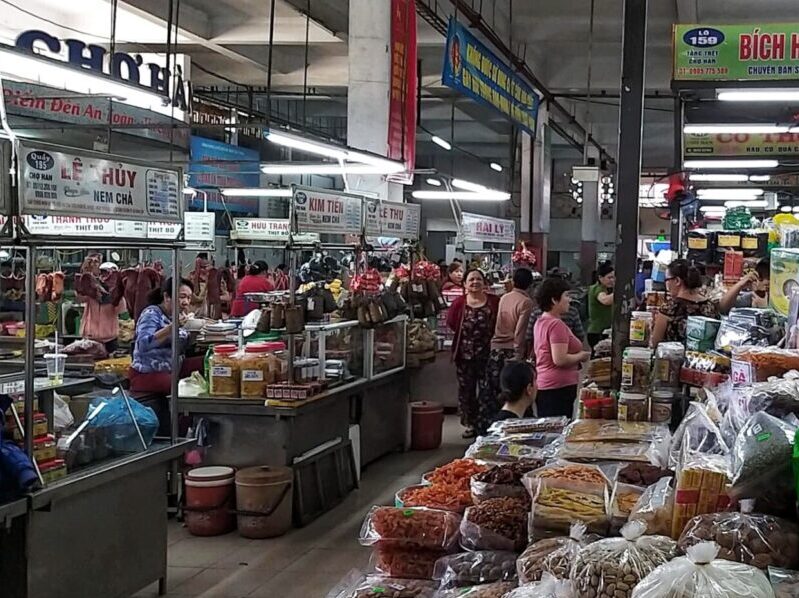 We first departed to Han Market with a shopping session. Don't miss this one if you're into markets. You can buy many local products as well as food and spices there. The market is open from 8:00 to 16:00. Once we finished, we also headed to their food court area and tried the traditional local Vietnamese noodles. That's how locals live like!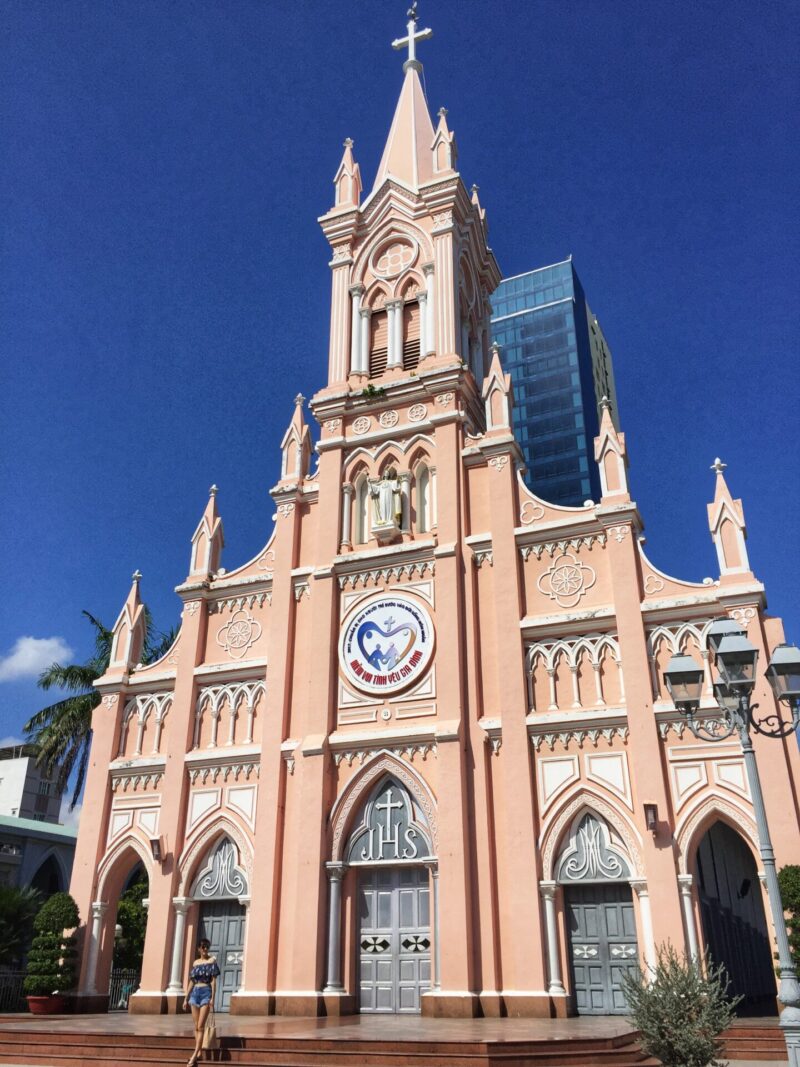 We then visited the Da Nang's Cathedral; a pink church built by a French priest in 1923. Located in the middle of the city, it's known as Rooster Church due to the imposing bell tower that's topped with a rooster weathercock. Impressive pink facade, and lots of nativity grotto depictions all around it.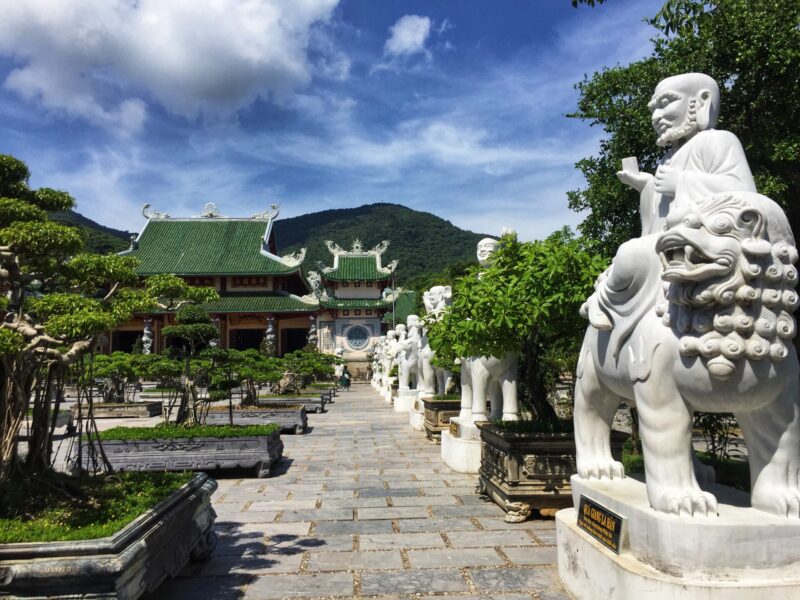 We next drove all the way to the Son Tra Mountain. The views on the way up are spectacular. We also stopped by the lady Buddha to check out the impressive statue and immerse ourselves in a beautiful view. The bike journey is the most adventurous experience you need to get when you come to Da Nang city. A perfect spot to get away from the urban's hustle and bustle.
Spend the remaining day at Phuoc My Beach, one of the most beautiful and historically significant beaches in Vietnam. There is a long stretch of warm sand with intermittent supervised swimming areas. The beach is popular among locals and lots of people enjoy the water activities here. We have a simple dinner nearby the beach.
Dragon Bridge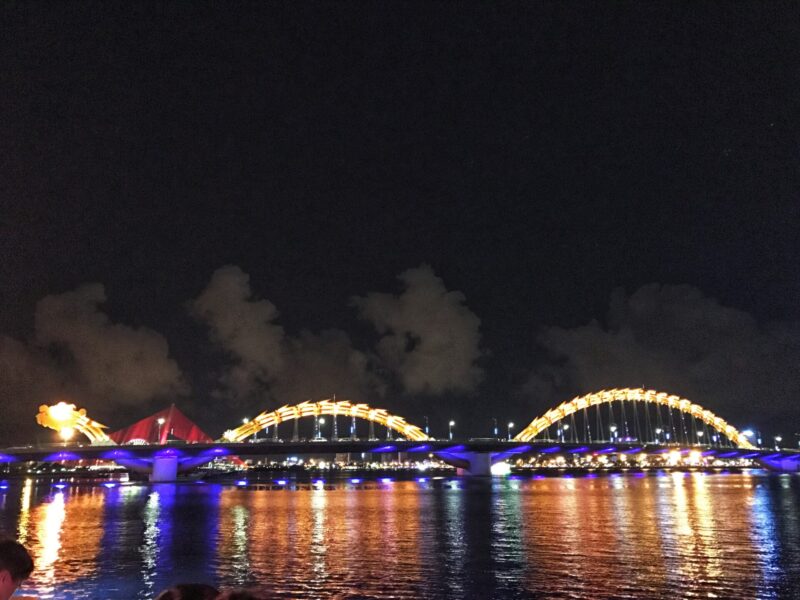 Lastly, we went to the DHC Marina to admire the beautiful Dragon Bridge. The ironic 666m long Dragon Bridge is an interesting landmark in Danang. Every evening, the dragon bridge is lit on and illuminated with colorful LED lights. Besides, the dragon is also scheduled for breathing fire and water at 21:00 every Saturday and Sunday. You can see the performances from the local coffee shops with a rooftop bar, and waterfront, or onboard the cruise to admire the night scene of Han River.
Just a few steps away from the Dragon Bridge are the Love Bridge, on the romantic Han River. We enjoy the relaxing stroll along the waterfront with the hearts all lit up.
Related Read: Things to Do in Da Nang: A Travel Guide Blog
Where To Stay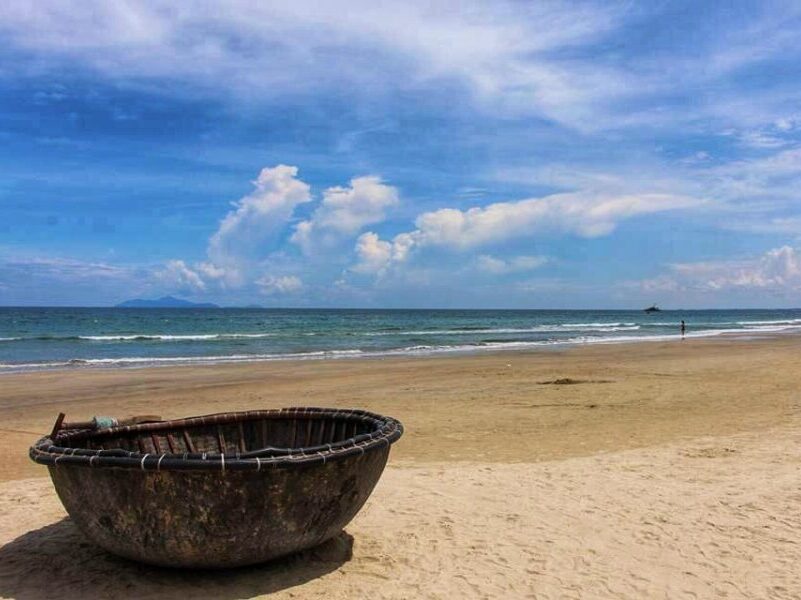 Next, we would personally recommend basing yourself in Hoi An and Da Nang for a few days each.
Stay in Hoi An as there is simply much more to do in the town. We recommend choosing hotels in Hoi An within short walking distance to the old town. Staying nearby an ancient old town offers an old town charm and easy for getting around. My hotels pick in Hoi An are Little Riverside Hoi An Luxury Hotel & Spa (luxury) and Hoian Central Hotel (mid-range).
Stay in Da Nang for a nice beach experience. Da Nang is blessed with a nice shoreline facing the South China Sea and is well known as "the city of beaches" with a 60-kilometer coastal line. There are plenty of compelling resort options and you can find plenty of award-winning luxury resorts here.
Some good recommendations are Premier Village Danang Resort at Bac My An Beach and Four Points by Sheraton Danang at MyKhe Beach. Both are popular picks among travelers to Da Nang.
Overview: Travel Itinerary To Da Nang, Hoi An, Hue
All in all, there's certainly a lot to see and do in Central Vietnam. You can easily spend a few days or weeks here and you'll still have something new to do. Hopefully, this 5-day Da Nang and Hoi An itinerary helps you plan your holiday in Central Vietnam. You can see the best of the Hue, Hoi An, and Da Nang in a short time, and make you want to come back for more.
Lastly, we are definitely not an expert on Vietnam but we do hope you find this Central Vietnam travel guide useful. I'm only sharing some of the things I learned from our trips to Hue, Hoi An, and Da Nang. Thanks for reading our Danang and Hoi An itinerary. Plan your trip and head to Central Vietnam for a colorful getaway like no other!
More Da Nang and Hoi An travel blog posts:
Related Travel information to Da Nang:
Related Travel information to Hoi An: