Last updated on October 2nd, 2023
Where to stay in Hiroshima? The two ideal areas to stay for first-time visitors to Hiroshima are nearby Hiroshima Station and the downtown area. These areas are the most popular to stay and offer a wide range of accommodations to choose from.
Hiroshima is one of the popular destinations for travelers visiting the Chugoku region. The infamous city offers many attractions to keep visitors entertained for a day. It has Incredible landmarks, well-preserved history, and a delicious food scene – Hiroshima is a thrilling city!
When looking for where to stay in Hiroshima, the city offers visitors a good range of accommodation options depending on your budget. Plus, Hiroshima is a fairly compact city with well-connected public transport, so no matter where you decide to stay you should be able to get around the rest of the city fairly easily. Just make sure you choose the ideal hotel!
This accommodation guide will cover where to stay in Hiroshima with some of the best hotel picks. All these are our highest recommendations with different price ranges to suit your travel style and budget.
Quick Guide: Where To Stay in Hiroshima
Visitors to Hiroshima have a good range of accommodations to choose from. Depending on what you plan on doing when visiting the city.
The Hiroshima downtown area is the best place to stay if you would like to stay close to major attractions, shopping malls, restaurants, and eateries in the city.
While the Hiroshima Station is the best place to situate yourself if you are with a tight schedule.
Stay in Hiroshima Downtown Area
Most accommodation in Hiroshima downtown area is found around the Peace Memorial Park. The park is centrally positioned and within walking distance of nearby attractions including the Atomic Bomb Dome and Peace Memorail Museum.
The mentioned three attractions are the city's most popular historical attraction and must-visit during your trip to Hiroshima. The best things is all the attractions are located adjacent, so it is pretty convenient if you choose staying within the area.
Below are our top recommendations of best hotel in Hiroshima downtown area. All are centrally located, highly rated and have excellent facilities.
The KNOT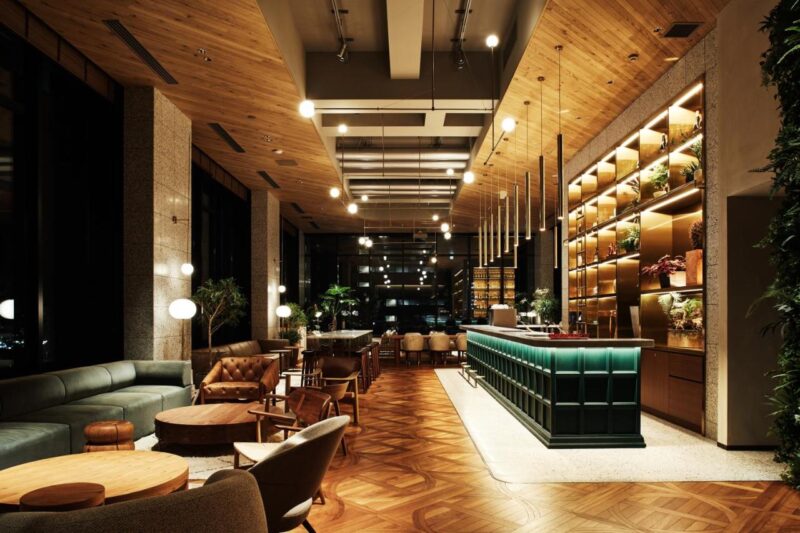 High-Range: The Knot Hiroshima is a popular pick when looking for where to stay in the Hiroshima downtown area. The hotel is beautifully designed and stylish. It offers decent-sized rooms with a great view and comfy beds to make sure you have your stay is enjoyable. The rooftop terrace and lounge area are exceptional!
The Knot Hiroshima is located at an amazing location, just a few steps from Memorial Park. It is great to spend one night visiting the attractions and exploring the city. There are many great restaurants and eateries that can be found within walking distance. The staffs are extremely friendly and polite. Rooms run fast and it is advised to reserve in advance to secure your room. Check the room availability for The Knot Hotel.
Rihga Royal Hotel Hiroshima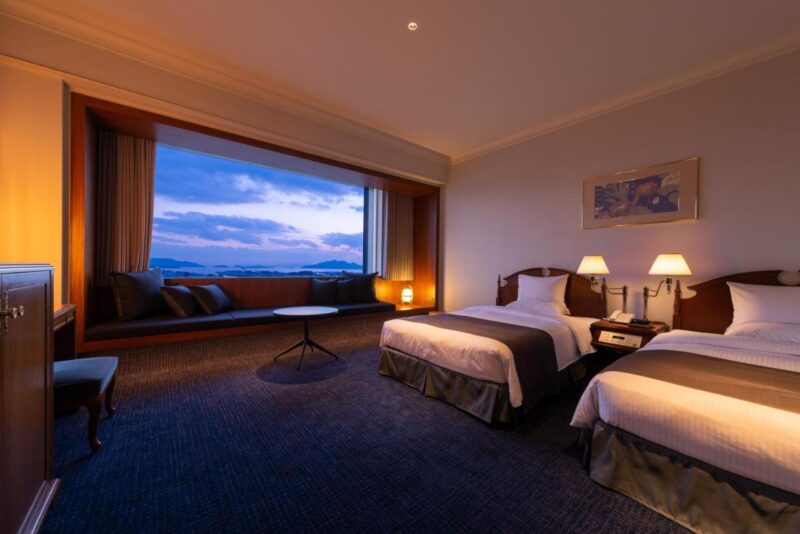 High-Range: Rihga Royal Hotel Hiroshima is located within walking distance of the major attractions in the city. It offers a convenient base for exploring the city and is close to shopping, dining and sightseeing options.
Righa Royal Hotel Hiroshima provides air-conditioned rooms with modern amenities and free internet access. It has a variety of rooms selection to cater to different types and groups of travelers. Some rooms offer a great view overlooking the beautiful Hiroshima Castle is spectacular.
KIRO Hiroshima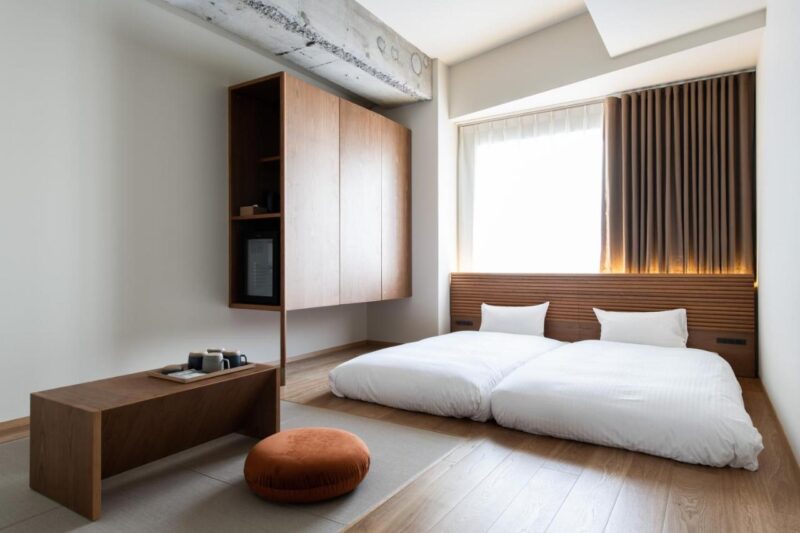 Mid-Range: Kiro Hiroshima is one of our favorite picks for where to stay in the Hiroshima downtown area. The property is a very minimalistic aesthetic with modern finishes. Your stay is featured with a clean room with comfortable floor beds and great facilities. There is also a variety of room types like Double, Twin, Triple, and Quadruple with modern or Japanese-style with tatami areas available to fit different types of travelers.
All in all, a great hotel to stay in Hiroshima with excellent staff, a nice sized room for the price, and great facilities!
Nest Hotel Hatchobori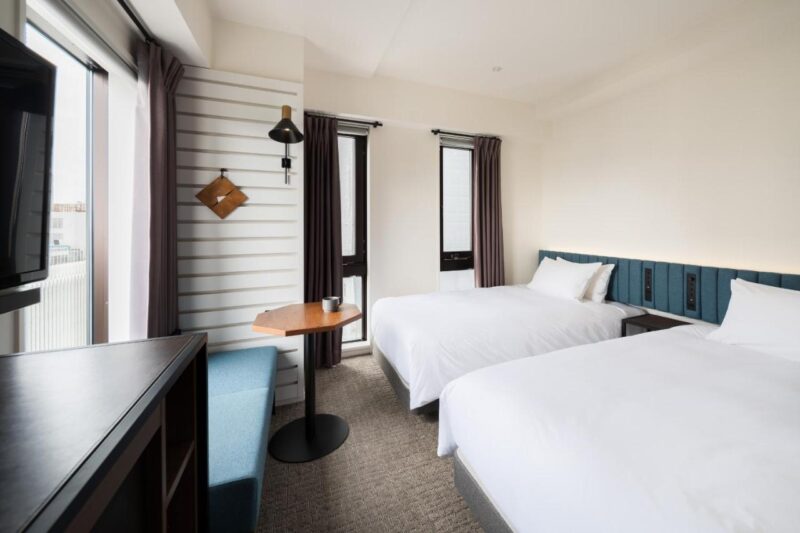 Mid-Range: Nest Hotel Hiroshima Hatchobori is another recommendation if you want to stay in Hiroshima downtown at a reasonable price tag. The room is stylish and has nice decor, with good accent lighting around the good-sized bed for a relaxing mood. The location of the hotel is very convenient and is within walking distance of the museums, restaurants, and shops. They also provide free wifi and luggage storage.
WeBase Hiroshima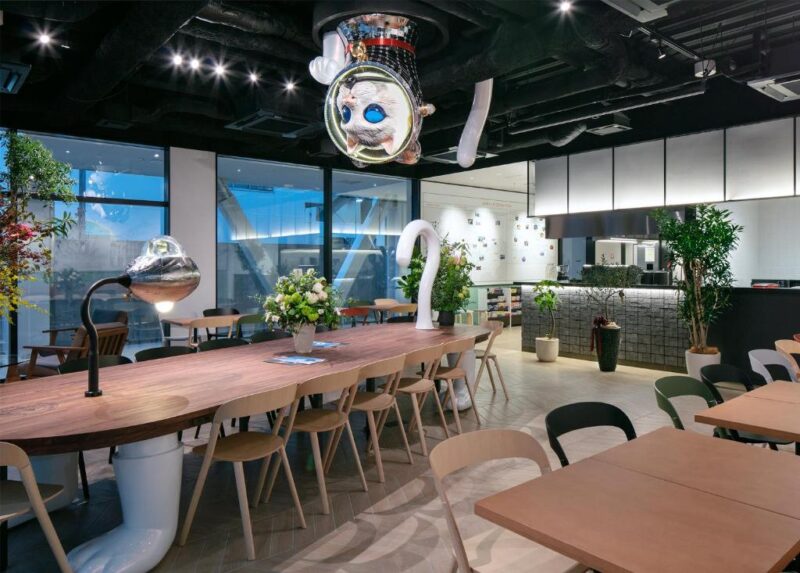 Mid-Range: WeBase Hiroshima is a comfortable 3-star hotel set in central Hiroshima. The design is modern with clean. It features with a comfortable and well-designed room with a super comfortable bed. Travelers can choose to stay in a double room, twin room, single room, or bunk bed in the dormitory room. A complimentary simple breakfast is a great plus!
The location is excellent within walking distance to the Peace Memorial, Hiroshima castle, Hondori shopping lane, and neighborhood restaurants. Highly recommended if you are looking for a mid-budget range of accommodation in Hiroshima.
Santiago Guesthouse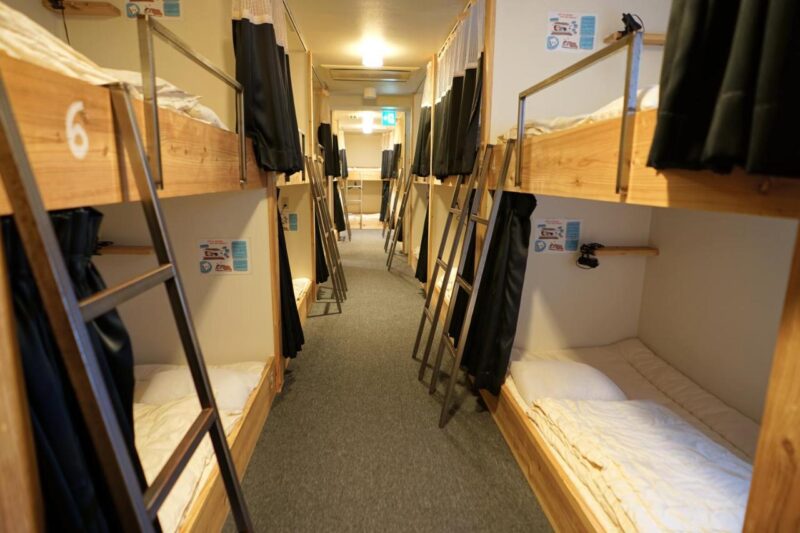 Budget: Santiago Guesthouse Hiroshima – this affordable guest house is perfect for visitors on a budget. It is centrally located in the city center with all major attractions that can be easily reached on foot. This bedroom comes with all basic amenities and all other essentials. The bathroom and toilet are shared, and there's a common area with every feature you would need.
Stay Nearby Hiroshima Station
In my opinion, the area nearby Hiroshima station is the best and most convenient place to stay in Hiroshima, especially if it's your first time in the city.
Hiroshima station is home to the main transport hub and is the first place most tourists see in the city. The location is very convenient and you can use the train, catch the streetcar, and Meipuru-pu bus when traveling around the city. Although it doesn't have many landmarks or attractions, staying nearby Hiroshima station does boast great shops, tasty restaurants, and a myriad of backpacker hostels and budget hotels.
Sheraton Grand Hiroshima Hotel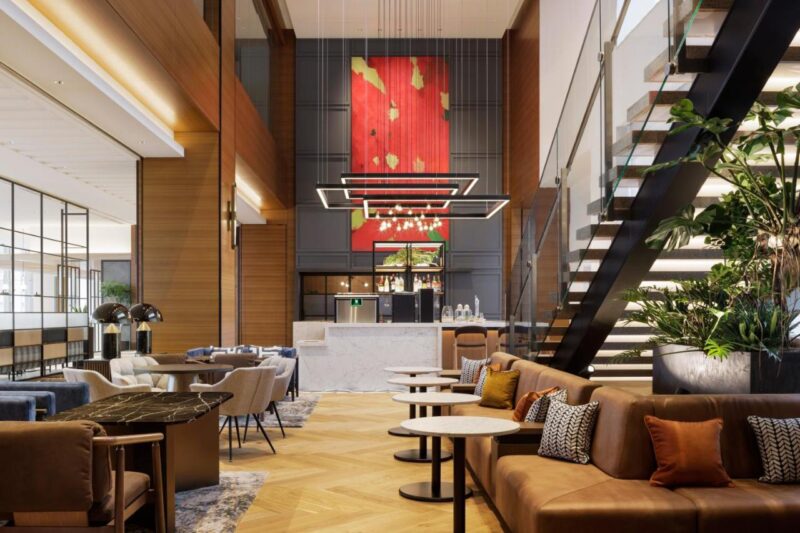 High-Range: Located about a 1-minute walk from Hiroshima Station, Sheraton Grand Hiroshima Hotel is a good place to stay for the night. You'll receive world-class hospitality with its customer service. The hotel is right next to the Station which connects with the Shinkansen, local trains, and electric tram. It's about a 10-minute drive from Peace Memorial Park.
If you're willing to splurge, you may find that it's well worth spending the night with the gorgeous decor and large size room. Check for the rate for a luxury stay in Sheraton Grand Hiroshima Hotel.
APA Hotel Hiroshima-Ekimae Ohashi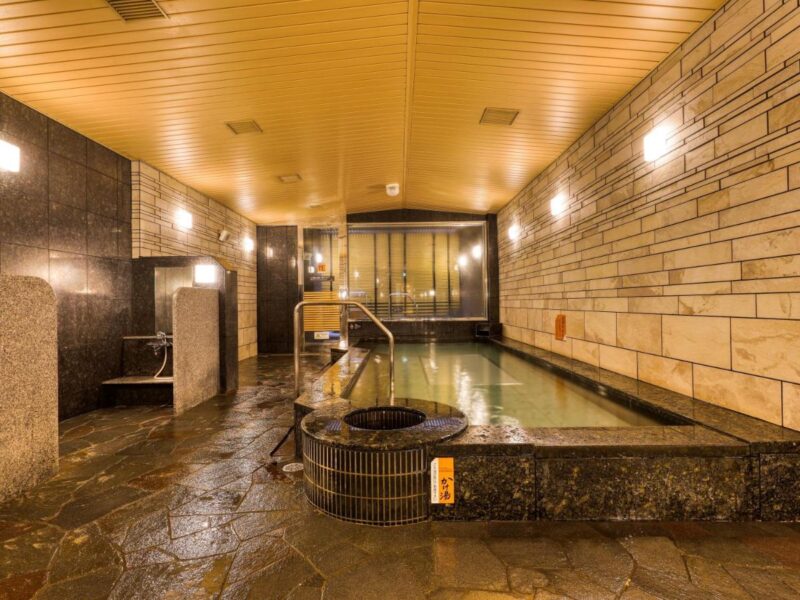 Mid-Range: APA Hotel Hiroshima-Ekimae Ohashi is a popular chain Japanese hotel, offering clean and comfortable rooms. It is a super practical accommodation with everything your need for a comfortable stay. Conveniently located within a 4-minute walk from the JR Hiroshima station. Your stay is boasted spacious public baths at a reasonable price tag.
In short, I would recommend the hotel to anyone looking for where to stay in Hiroshima. Great value for money!
KOKO HOTEL Hiroshima Ekimae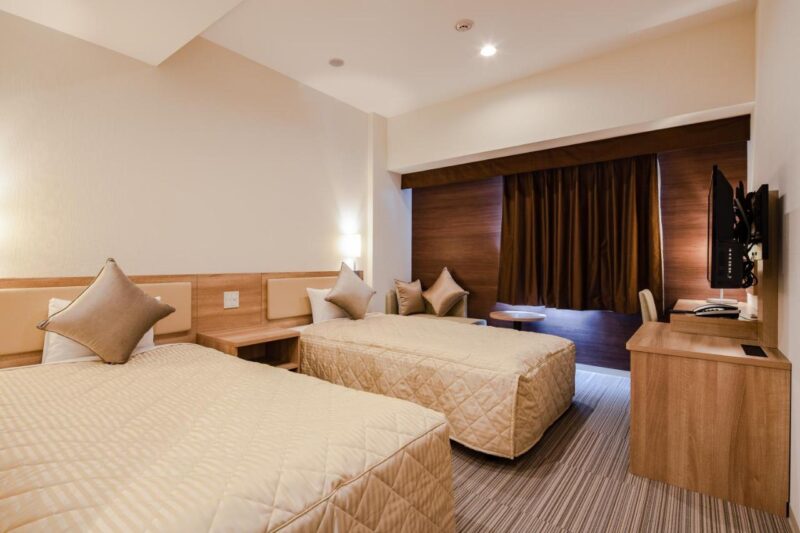 Mid-Range: KOKO HOTEL Hiroshima Ekimae is another pick for where to stay near Hiroshima Station. This standard business hotel is located a short 6-minute walk from the station. It is close to a great selection of restaurants and shops and is well-connected throughout the city. This hotel offers guests a range of facilities to ensure a comfortable and relaxing stay. A good choice if you are looking for a budget hotel for one and a few nights in Hiroshima.
Guesthouse Akicafe Inn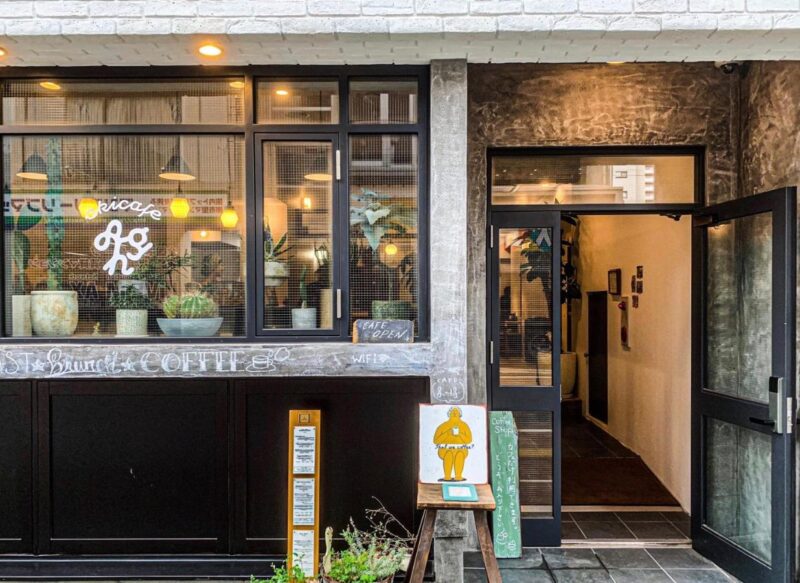 Budget: Guesthouse Akicafe Inn offers simple dormitory accommodation with a lounge and free-use kitchen. Your stay featured excellent facilities that were way beyond expectations, especially when considering the highly affordable rates. The dorm is clean and the beds are comfortable with enough privacy. Plus, the guesthouse also has an economy double room if you need a more private space.
Guesthouse Akicafe Inn is conveniently located just a 5-minute walk from JR Hiroshima Station. Best place to stay for budget travelers.
Overview: Best Hiroshima Hotel
All in all, we hope this accommodation guide focus on where to stay in Hiroshima has helped you find the best hotel that fits your style. If you still can't decide, we highly recommended The Knot Hiroshima and Rihga Royal Hotel Hiroshima if you want to stay close to the major attractions. Else, stay in APA Hotel Hiroshima-Ekimae Ohashi that nearby the Hiroshima station for easy getting around.
But, no matter where you end up, I'm sure you'll have an amazing trip to this amazing city!
Related Read: Hiroshima Itinerary: A Travel Guide Blog
Lastly, make sure to check out what you should not miss when visiting the Chugoku region: