Last updated on December 11th, 2023
Staying overnight on Miyajima is a great way to enjoy the UNESCO site for a more relaxed vibe. Here is the accommodation guide for where to stay on Miyajima island with top-rated hotels, ryokan, and a unique family-run guesthouse.
Located in Hiroshima Bay, Miyajima is a popular attraction in Hiroshima and Japan. It offers a range of activities, from hiking the iconic Mt. Misen to exploring the famous Itsukushima Shrine and its floating torii gate. Visitors can also enjoy scenic ferry rides and try local cuisine.
The island is crowded during the day with day-trippers from all around the world. If you'd like to be closer to nature and get the most out of your time, it's worth considering staying on the island overnight. Miyajima has plenty to offer when it comes to accommodation.
Check out our accommodation guide article on where to stay in Miyajima for your best stay on the island.
Quick Guide: Where To Stay in Miyajima
There's a good range of accommodations to choose from ranging from mid-size to large hotels along with plenty of ryokans and family-run guesthouses. Most of the accommodations are situated within an easy walk of the ferry pier and shrine on the island. But you can also choose to stay on the mainland and take the 10-minute ferry ride to the island. The rooms will be cheaper and more food options at night.
Listed below are some of the top-rated hotels and ryokans on Miyajima Island and nearby.
Where to stay in Miyajima island:
Where to stay nearby Miyajima island:
Pro Tips: Keep in-mind that Miyajima is extremely popular among locals and travelers. Rooms are running out fast, especially during the weekend. Make sure to book ahead to avoid disappointment. You can find accommodations on Miyajima Island on booking.com or Agoda.
Kurayado Iroha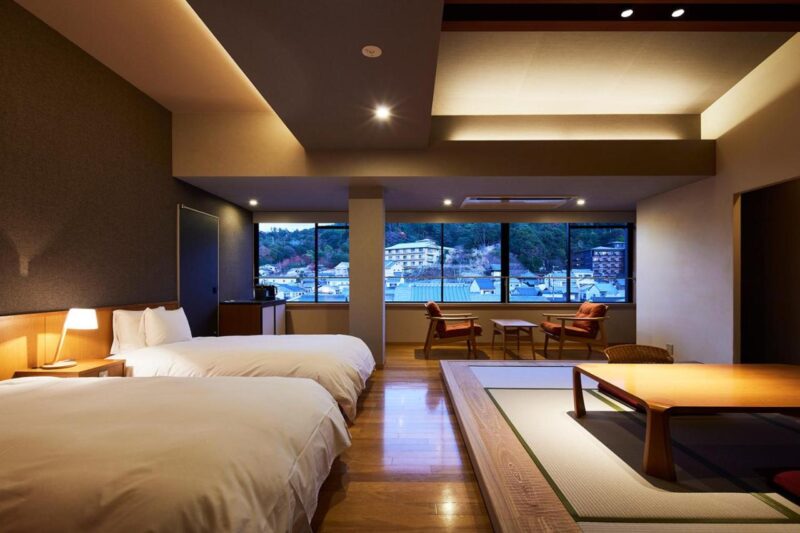 Luxury: Kurayado Iroha is one of the top-quality accommodations on the island. This 5-star Ryokan perfectly mixes traditional Japanese style with modern amenities. It offers an elegant room selection where you can choose between normal twin beds and traditional Japanese futon beds.
Miyajima Ferry Terminal and Itsukushima Shinto Shrine is only a 5-min walk away from this ryokan.
Their onsen facilities are amazing where the private bathrooms on the rooftop and outdoor public baths overlook the Setonaikai Sea and the Otorii Shrine Gate. It is truly magical when soaking in a hot bath while watching the sunset over the island. The Japanese breakfast option is also excellent. And we highly suggest including the dinner plan on your stay.
We highly recommend a stay at Kurayado Iroha, for me, it was perfection!
Miyajima Grand Hotel Arimoto
High-Range: Miyajima Grand Hotel Arimoto is a traditional Japanese resort hotel where you will get an authentic experience in a gorgeous setting. The property offers affordable luxury to families and couples alike. Guests can choose to stay in a Japanese-style room with traditional futon bedding on a tatami floor or carpeting and twin beds.
All feature a minimalist interior in neutral colors, with a Japanese style as well as a Western seating area. Your stay is also featured a soothing natural hot spring where to can unwind and relax after strolling around the island.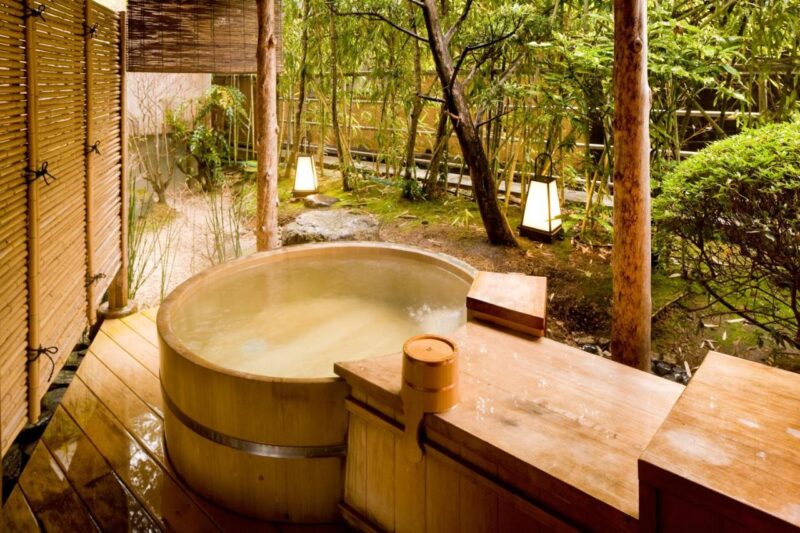 Miyajima Grand Hotel Arimoto is located a few steps away from the shrine and all the main attractions. The view from the window is spectacular. We recommended choosing the half-board option where authentic Japanese cuisine featuring fresh seafood is served for dinner and the breakfast featuring local seasonal products. The staff is very friendly and attentive to make sure your stay is comfortable. 
Popular accommodation in Miyajima and highly suggest booking early to secure your room. Check for room availability at Miyajima Grand Hotel Arimoto.
Iwaso Ryokan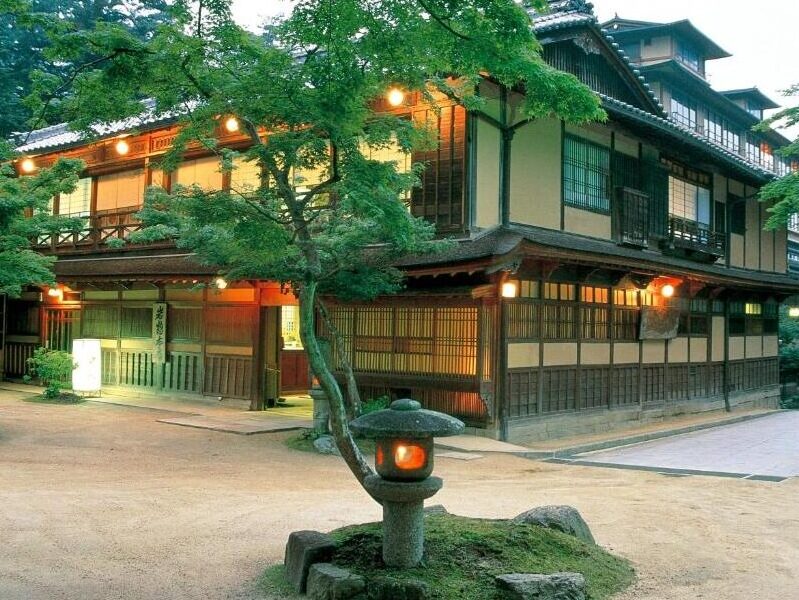 High-Range: Iwaso Ryokan is another popular pick when looking for where to stay in Miyajima for a traditional ryokan experience. It is one of Miyajima's oldest and most popular Japanese inns, open since 1854.
The Japanese-style room feature with tatami (woven-straw) floors and Japanese futon bedding, with beautiful surrounding views. Some rooms (in the old historical wing) have shared bathrooms.
Guests can relax in the indoor and outdoor hot-spring baths. A traditional Japanese multi-course Kaiseki dinner and breakfast is served either in the hotel restaurant or in your room. A free shuttle is available from Miyajima Ferry Terminal, which is also a 5-minute walk away.
Iwaso Ryokan is a very popular accommodation in Miyajima and always fully booked, so book ahead. Click here to make a reservation at Iwaso.
Jukeiso Ryokan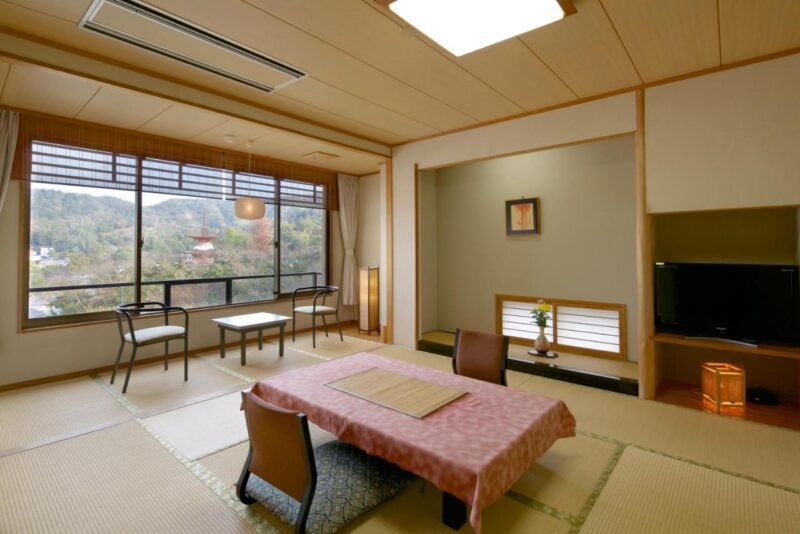 High-Range: Juekiso – Another nice ryokan in Miyajima offers Japanese-style rooms with a fantastic mountain view and a view over Miyajima Bay with the floating torii gate. This ryokan has both a public indoor bath and guests can unwind in a public indoor bath, which is available 24 hours. While an outdoor bath for private use offers views of Itsukushima-jinja Shrine. Breakfast and kaiseki dinner options are also available.
Jukeiso is located in a tranquil location within 5 minutes' walking distance from the Unesco World Heritage Site. But it is offer a free shuttle to/from Miyajima Ferry Terminal which is a good plus. A cozy and authentic ryokan stay.
Miyajima Morinoyado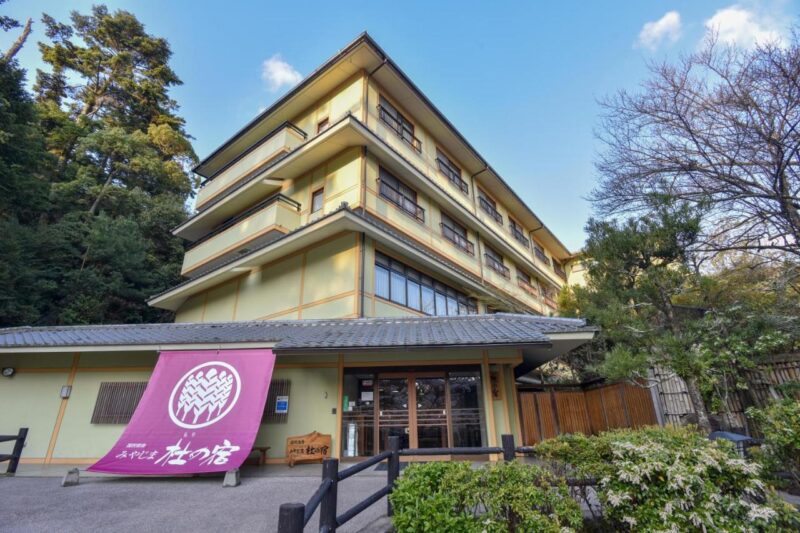 Mid-Range: Miyajima Morinoyado is another popular budget pick for staying in Miyajima in a relaxing vibe. It is located in a quiet area with a scenic view and you might be seeing deer passing by the window. The room is spacious and comfortable, and guests can enjoy the hot spring bath in a spacious public bath. Some rooms come with a private bathroom. We recommended choosing your stay with a half board option with traditional kaiseki cuisine and Japanese breakfast. Absolutely perfect for a wonderful stay.
The property is a 2-minute walk to Miyajima Aquarium and a 10-minute to Itsukushima Shrine. Free shuttle service is provided and it is helpful, especially if traveling with heavy luggage.
Kikunoya Ryokan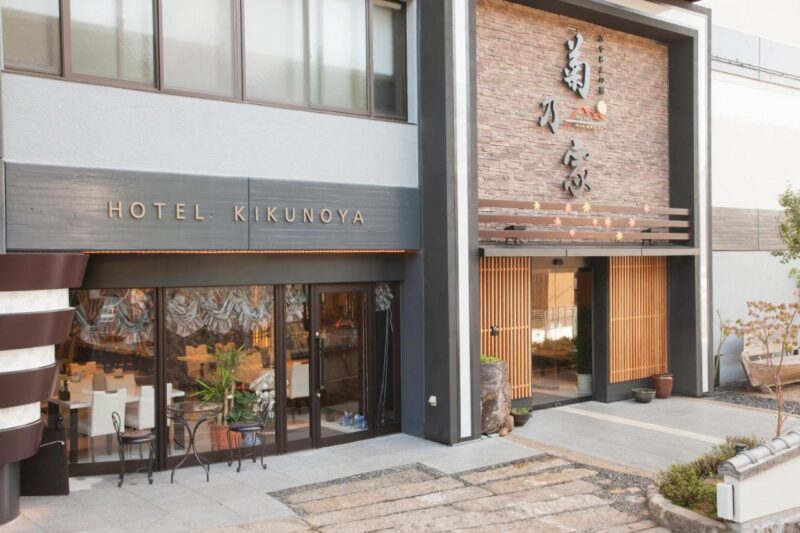 Mid-Range: Kikunoya is a warming, lovely homely-decor accommodation if you are looking for where to stay in Miyajima. It is a central budget bet that is Itsukushima Shrine, a UNESCO World Heritage Site. The location is close enough to Omotesando Shopping Street but a little away from it, on a charming side street. The ferry pier is a 15-minute walk away but a free shuttle is available.
Kikunoya offers clean and comfortable rooms for your stay. Guests can choose between Western and Japanese-style rooms, where some have private bathrooms. It also has big family rooms where up to five people can sleep. Click here to check rooms availability at Kikunoya.
Sakuraya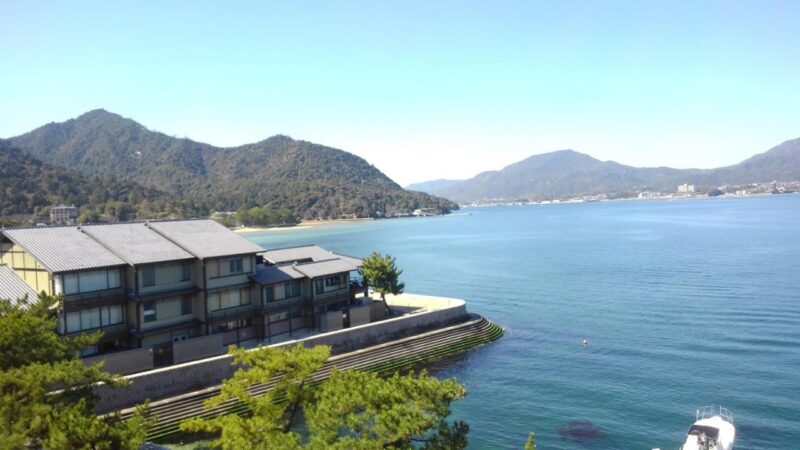 Mid-budget: Sakuraya is a mid-budget ryokan if you are looking for where to stay in Miyajima on a budget. It offers affordable Japanese-style rooms with mountain or sea views. The accommodations are clean and comfortable. The rooms are spacious with private toilets, and some have shared bathroom facilities which are available from the afternoon before midnight.
The location is also excellent, with 3 minute walk from the ferry terminal. Guests are able to drop off the luggage soon after arriving by ferry before exploring the island. Value for money and great for a one-night stay on Miyajima.
Miyajima Guest House Mikuniya
Mid-Budget: Miyajima Guest House Mikuniya is a beautiful cozy guesthouse if you are looking for where to stay in Miyajima on a budget. Guests can choose between private Japanese-style rooms with tatami mats and futon beds or dormitory rooms with bunk beds. All guests share the bathroom, shower rooms, and toilets. Everything was very clean, comfortable, and beautiful including the garden.
The owner and staff are welcoming to make your stay warm and comfortable. The guesthouse is very accessible and well located to the main spots but also gives access to quieter places. A simple breakfast is included but it did not serve lunches and Dinners. But guests can bring their food and freely use the kitchen to prepare meals.
Aki Grand Hotel and Spa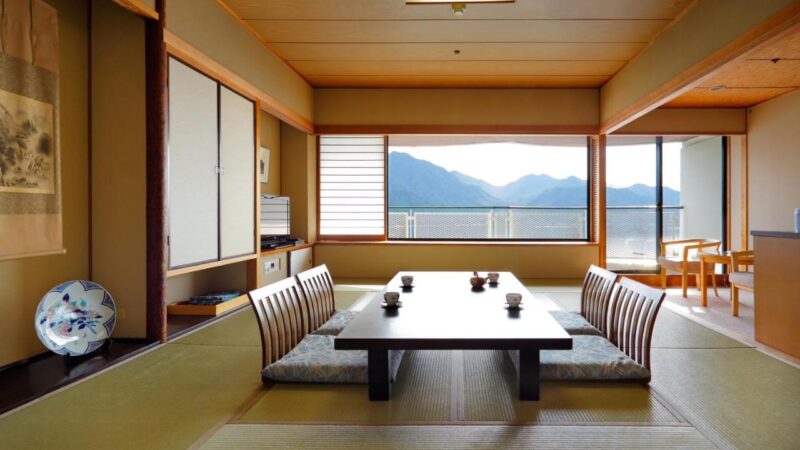 High-Range: Aki Grand Hotel and Spa is one of the popular choices when travelers looking for accommodation when visiting Miyajima Island. The property features Western-style or traditional Japanese-style rooms with an amazing sea view or mountain view.
The rooms are comfortable with air-conditioned and come with a TV and private bathroom with amenities. Japanese-style rooms are fitted with tatami mats.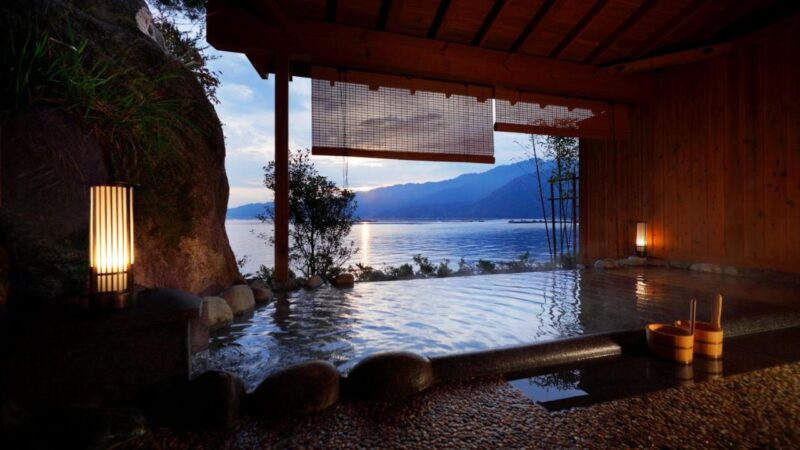 Guests staying in Aki Grand Hotel can reserve a private open-air hot spring bath with Itsukushima Shrine views. Activities at the hotel include a night cruising tour of the World Heritage Sites which is a very unique experience. The staff are extremely friendly and went above and beyond to make your stay enjoyable.
Aki Grand Hotel and Spa is located along Hiroshima's shoreline opposite Miyajima Island which requires 30 minutes drive from Hiroshima. It provides a free shuttle service to Miyajima Station, which is a 5-minute drive away and very convenient to transfer between the train station and the hotel.
Miyajima Coral Hotel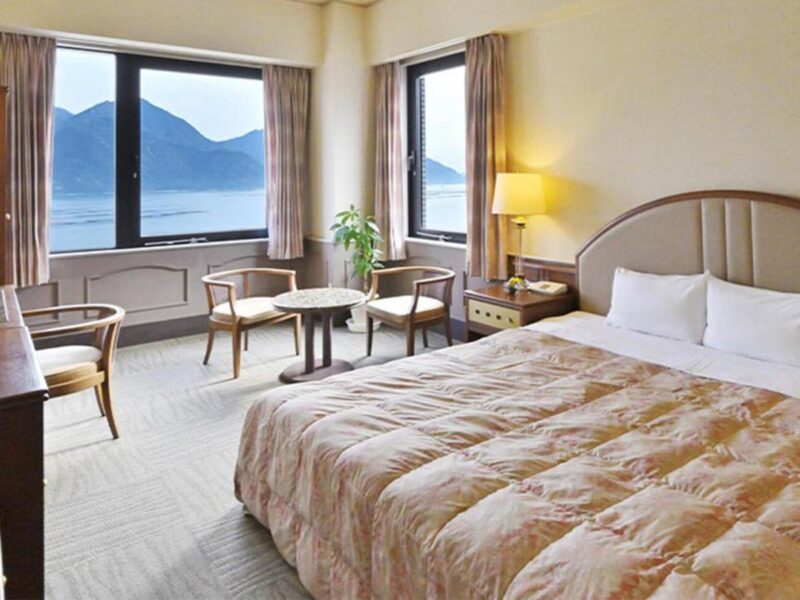 Mid-Range: Miyajima Coral Hotel is a 3-star accommodation if you are looking for cheap accommodation when visiting Miyajima. The rooms are simple yet comfortable furnishings. They are fitted with a TV, a refrigerator, and a private bathroom with a shower, bathtub, and toiletries.
The location is superb and just next to the ferry station, Guests can easily take the ferry to the island. Surrounding the hotel have many good restaurants where you can find local dishes for lunch and dinner. If you are looking for a mid-budget option, Coral Hotel is your pick!
Overview: Best Hotel in Miyajima
All in all, we hope you find this guide helpful in finding the best place to stay in Miyajima. The island is truly an amazing place to visit where you can visit the traditional shrines and temples, explore nature, and even hiking. We are pretty sure you will enjoy the trip to Miyajima very much, just like us!
We recommended staying one night to explore the island with a relaxing vibe. For those looking for a treat, stay one night at the beautiful Miyajima Grand Hotel Arimoto or Kurayado Iroha. If money is a concern, check out the cheerful Sakuraya Ryokan or budget Miyajima Guest House Mikuniya.
Related Miyajima and Hiroshima Travel info: