Last updated on December 11th, 2023
If you're visiting Hiroshima for the first time, then this detailed travel guide will tell you all you need to know to plan your trip. My Hiroshima itinerary is included!
Hiroshima should be a name familiar to those who studied world history in school and all of us. It is one of the sites of the infamous atomic bomb and not your typical travel destination that you fall in love with right from the start. You can learn about the history of what happened during the world war and how badly it affected the residents when visiting the city.
Hiroshima is always one on my bucket list to visit in Japan and we finally make it during our trip to the Chugoku region. We spend a day exploring the city and another day trip to Miyajima island. The historical sites A-Bomb Dome, Peace Memorial Park, and Peace Memorial Museum are all powerful and confronting experiences. Truly an emotionally encompassing experience.
Would you like to know what awaits you on a trip to Hiroshima?
In this Hiroshima travel guide blog, we will share with you all the information you need – like when to go, which attractions to visit, and what to eat to help you plan your trip. Our Hiroshima itinerary is also included to help you make the most of your time in the city. Let's check it out!
Hiroshima Travel Guide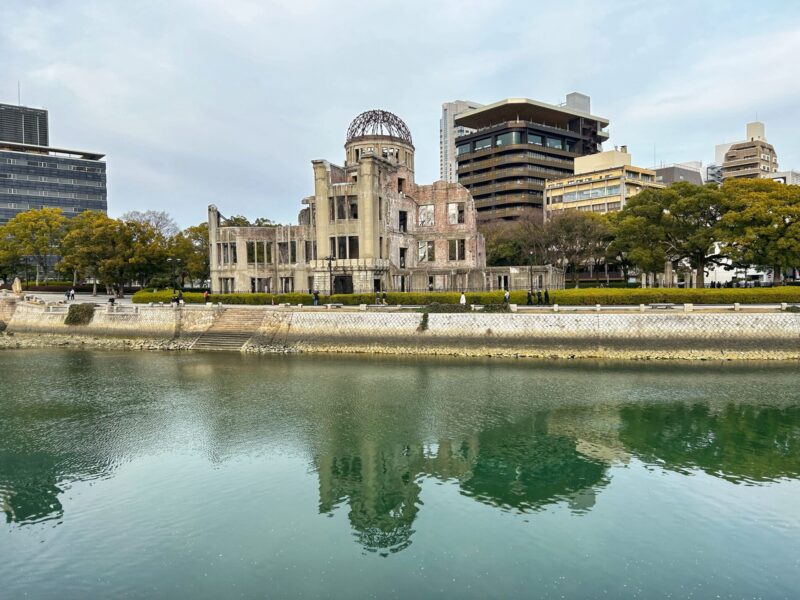 Hiroshima (広島) occupies a hugely important place in modern history. On August 6, 1945, the first atomic bomb was dropped on Hiroshima, followed by a bomb dropped on Nagasaki three days later.
About 70% of the city's buildings in Hiroshima were destroyed by the atomic bomb. It is estimated total deaths ranged between 100,000 and 180,000 people from the bombing and tens of thousands more would later die of radiation exposure, out of a population of 350,000.
Today, Hiroshima has rebuilt itself to become the biggest city in the Chugoku region. Hiroshima's history is extensive and its tragic heritage was left as reminders of that day. Many visitors make the journey to Hiroshima along with Nagasaki with a primary interest in the historical sites.
However, aside from its grim past, Hiroshima is also famous for its food. Don't miss tasting the mouthwatering Hiroshima-style okonomiyaki and plump juicy oyster on your marvelous food trip experience to Hiroshima. It is also best to couple your Hiroshima visit with a trip to Miyajima, a shrine that is half submerged in water during high tide.
Whether you're into history, food, nature, hiking, or cars, Hiroshima has something for you.
Best Time To Visit Hiroshima
Hiroshima is a year-round destination and every season has its beauty and uniqueness.
For the best time to visit Hiroshima, you can aim to visit during the Sakura season at the mid-end of March or during the Autumn foliage season in early to mid-November. Do note that these seasons would be peak tourism time, so expect heavier crowds, but beautiful! While winter is the best season to eat oysters in Hiroshima!
Try to avoid August to September as this is the hurricane or typhoon season.
How Many Days For Hiroshima
Generally, we recommend staying at least one night. That way you have enough time to see the main attractions in the city. Travelers in more of a rush could also be doing a day trip to Hiroshima but have to skip some of the major sights.
We spent two days in Hiroshima. On the first day, we arrived in Hiroshima and spent the day exploring Hiroshima city, studying its historical part, and immersing ourselves in history. While another day in Miyajima Island for the beautiful shrine and Torii gate. We wanted to have enough time to let Hiroshima's history wash over us.
How To Get To Hiroshima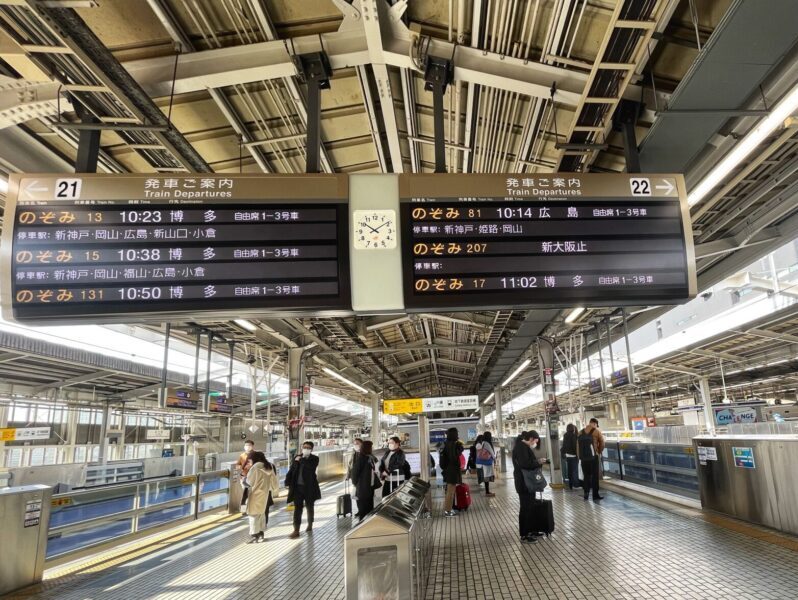 Hiroshima is a popular place to visit in Japan for locals and visitors. So expected many travelers, especially at major attraction sites. Thankfully a lot has been done to make it as accessible as possible from many cities in Japan. Here is the popular way to get to Hiroshima.
Getting to Hiroshima by Flight – Hiroshima does not have an international airport. But the Hiroshima Airport (HIJ) serves frequent domestic flights and a service route from a few Asia countries like South Korea, Thailand, Taiwan, and China.
Browsing through Skyscanner to get a cheap ticket to Hiroshima
When you are at the airport, you can easily get to the downtown area by limousine bus in about 50 minutes at ¥1,370. While taxis and private/shared transfers are faster and more convenient, expect to pay between JPY 14,000-18,000 for the fare. You can book one in advance through Klook.
Getting to Hiroshima by Shinkansen – Most people get to Hiroshima by train from nearby cities such as Osaka and Fukuoka via Shinkansen, Japan's famous ultra-fast bullet train.
You most likely will be interested in getting a Japan Rail Pass or JR Regional Pass that is included with the Shinkansen ride on this route. Check below for more detail. Buying the Shinkansen ticket separately would already cost almost as much as the JR pass, so it's definitely worth it.
Pro Tips: You can purchase a discounted JR Pass through Klook or Japan Rail Pass.
Hiroshima Travel Tips
There are various types of japan rail transport passes that are included with Shinkansen Route to Hiroshima. It can be a good value if you are planning for those exploring the designated area. Check below if the pass best fits into your Hiroshima itinerary.
Getting to Hiroshima from anywhere of Japan with Shinkansen (except Nozomi and Mizuho Shinkansen):
Japan Rail Pass: Unlimited access to all JR trains in Japan for 7, 14, or 21 days.
From Shin-Osaka to Hiroshima:
From Fukuoka to Hiroshima:
Both Route between Fukuoka to Hiroshima and Hiroshima to Shin-Osaka:
Getting Around in Hiroshima City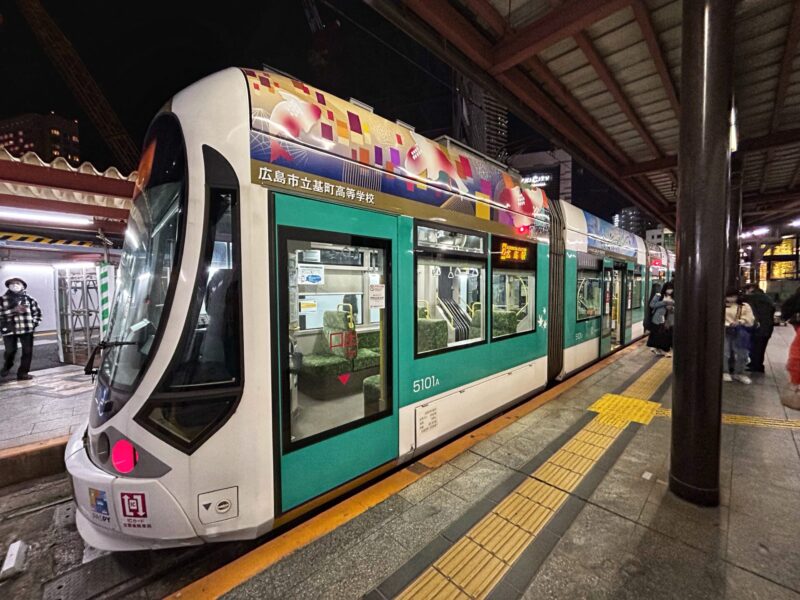 Hiroshima is a huge city but most of the tourist attractions are located within a relatively compact area. While Hiroshima Station is the main access point of the city and other regions. Shinkansen, local trains, buses, and trams line are well-connected and run frequently.
You can easily access many of the city's top tourist attractions in the city and surrounding.
Hiroshima Transport Pass
There are various transportation passes and cards that you can use when getting around Hiroshima City.
1-Day Tram Pass – For ¥700, the 1-day pass will give you unlimited rides on Hiroshima's tram network for one calendar day. For an additional ¥200, you'll also get a roundtrip ferry ride to Miyajima Island on the Matsudai ferry.
Hiroshima Sightseeing Loop Buses (meipuru-pu) – A network of tourist buses that run around the major tourist attractions in central Hiroshima. The best thing is Japan Rail Pass or a participating regional JR Pass can enjoy the ride for free!
Visit Hiroshima Tourist Pass – The Visit Hiroshima Tourist Pass will give you unlimited rides on trams, buses, and Miyajima ferries for 1, 2, or 3 consecutive days. It costs ¥1,000, ¥1,500, and ¥2,000 respectively, and can be purchased in advance through Klook.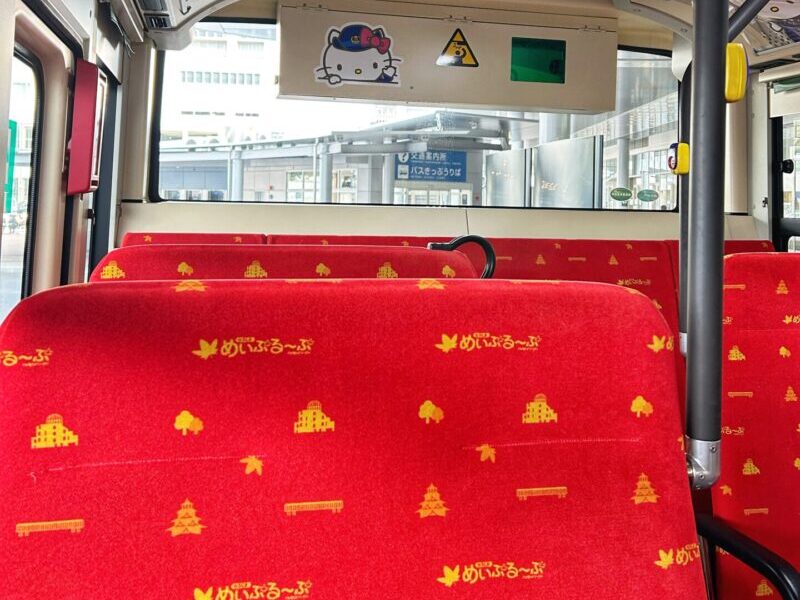 Even if you don't have a pass, you can use the IC Cards like the Suica, Pasmo, or Icoca or buy the ticket when riding the tram, ferry, or public bus in Hiroshima.
Hiroshima Travel Guide Tips: It is very convenient to use the Meipuru-puru Sightseeing Bus when visiting Hiroshima city. The sightseeing loop bus is free with JR Pass. But take note the last bus depart from Hiroshima station is 17:30. You can check the timetable here.
Where To Stay
There are two ideal areas to stay for first-time visitors to Hiroshima – nearby Hiroshima Station and the downtown area.
Hiroshima Station is the best place to situate yourself if you are with a tight schedule. The location is very convenient and you can use the train, catch the streetcar, and Meipuru-pu bus when traveling around the city.
Mid-Range: APA Hotel Hiroshima-Ekimae Ohashi is a popular chain Japanese hotel, offering a clean and comfortable stay. Conveniently located within a 4-minute walk from the JR Hiroshima station. Your stay is boasted spacious public baths at a reasonable price tag.
Budget: Guesthouse Akicafe Inn offers simple dormitory accommodation with a lounge and free-use kitchen. The guesthouse is conveniently located just a 3-minute walk from JR Hiroshima Station. Best place to stay for budget travelers.
While the downtown area is the best place to stay if you would like to stay with major attractions, shopping malls, restaurants, and eateries in the city.
High-Range: The Knot Hiroshima is a popular pick for staying in Hiroshima downtown area. The property is located at an amazing location, with just few steps from Memorial Park. The hotel is beautifully design, and offer decent sized room and comfy bed.
High-Range: Rihga Royal Hotel Hiroshima is located within walking distance of the major attractions in the city. It has a variety of rooms selection to cater to different types and groups of travelers. Some rooms offer a great view overlooking the beautiful Hiroshima Castle is spectacular.
More accommodation option: Where To Stay in Hiroshima: Best Hotels Pick.
Things To Do in Hiroshima Itinerary
Below I have provided all the best things to do in Hiroshima, so you can plan accordingly into your Hiroshima itinerary.
Things To Do in Hiroshima itinerary:
Hiroshima Peace Memorial Park
Atomic Bomb Dome
Children's Peace Monument
Memorial Cenotaph
Hiroshima Peace Memorial Museum
Taste Hiroshima-style Okonomiyaki
Hondori Walking Street
Depending on what type of traveler you are. Some people prefer to squeeze in as much as they can, while others prefer to travel a bit slower to explore the city. Feel free to adjust based on your interest.
Tour To Hiroshima
We visited Hiroshima on my own but if you'd like to go with a guide, then you may be interested in this Hiroshima and Miyajima guided tour. Here is our recommendation.
Hiroshima Peace Memorial Park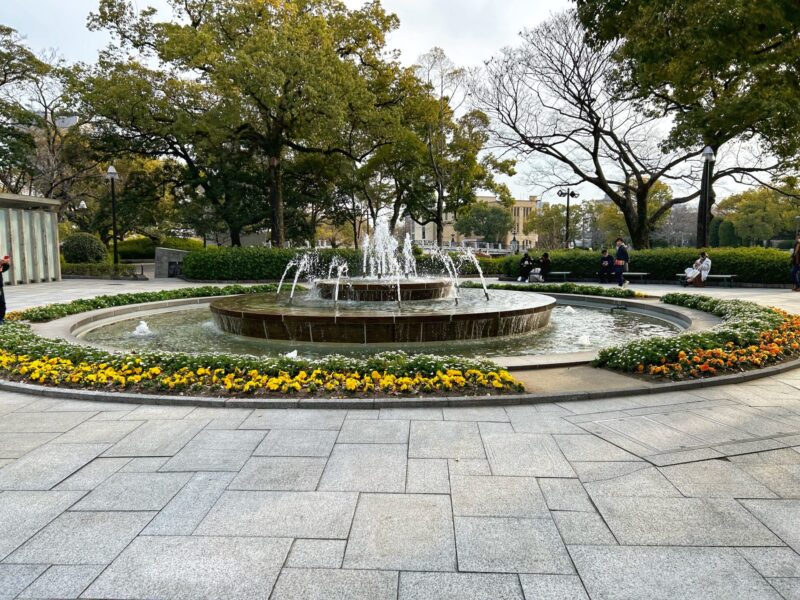 To get the most on your Hiroshima itinerary, you must visit the Peace Memorial Park, A-Bomb Dome, and Peace Memorial Museum. All three attractions are located adjacent, so it is best to allocate at least a few hours to explore the area. It could definitely be a full day's event, especially if you visit the museum.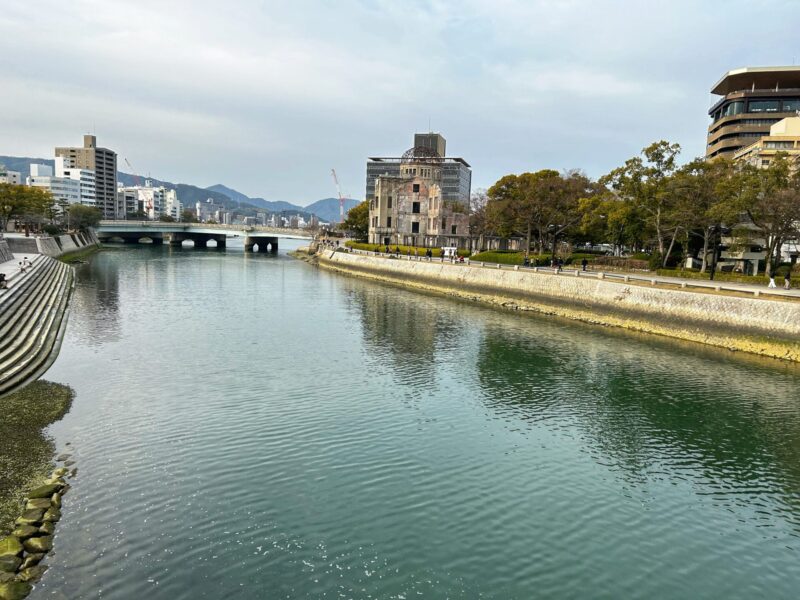 Located in the center of the city, Hiroshima Peace Memorial Park is the most well-known tourist attraction and an essential part of understanding Hiroshima City's history.
Before the bomb, this area was once the political and commercial heart of the city. It was then decided that the area would not be redeveloped but instead devoted to peace memorial facilities.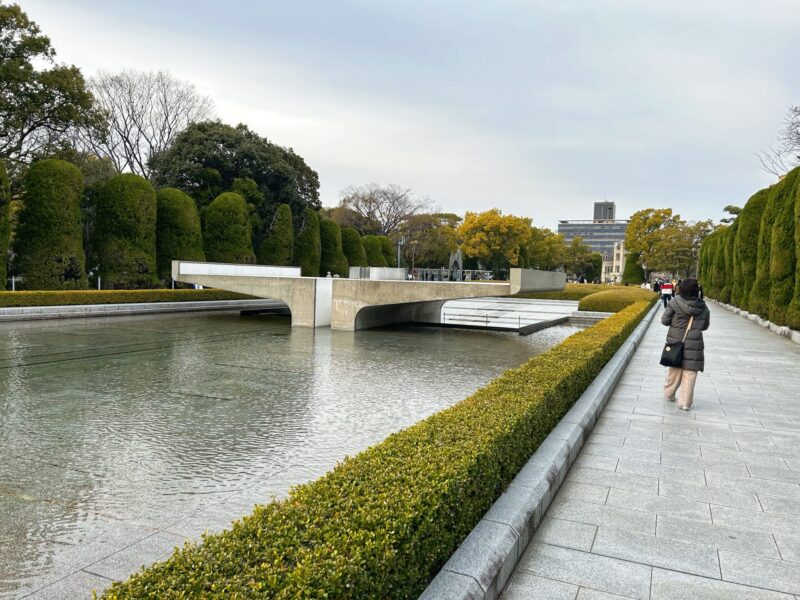 The park itself is quite expansive, in an open space of over 120,000 square meters. It features multiple monuments, towers, and significant markers spread across the park that are dedicated to the victims of the nuclear attack of World War II.
All of the memorials are within walking distance from each other, so when visiting allow yourself time to stroll around and view them all and take time to reflect.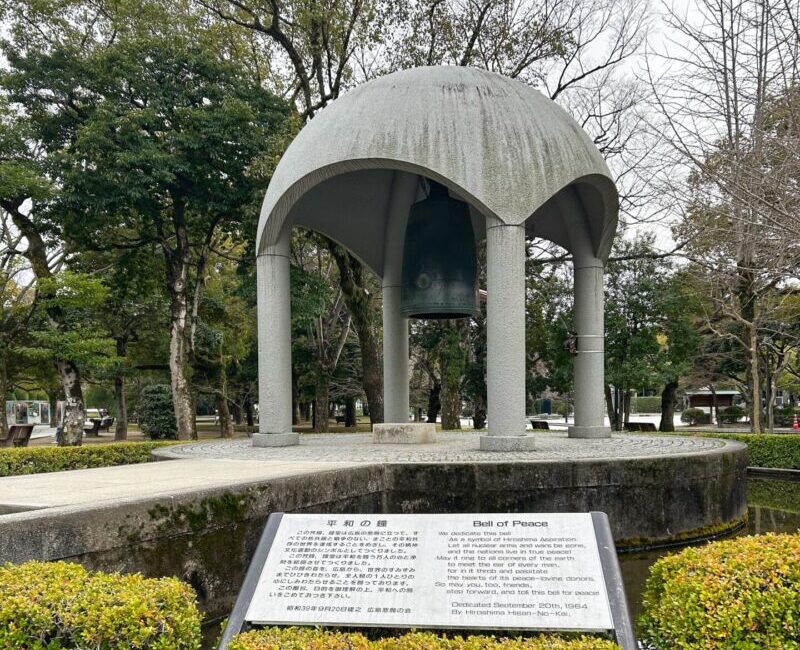 The most popular sights are The A-Bomb Dome – the skeletal remains of the Atomic Bomb Dome, The Flame of Peace, the Memorial Monument, the Memorial Tower, the Sankichi Toge Monument, the Children's Peace Monument, and the Peace Bell.
We took the sightseeing loop buses from Hiroshima Station. Once get down from the bus, the Hiroshima Peace Memorial Park is just a few steps away.
Atomic Bomb Dome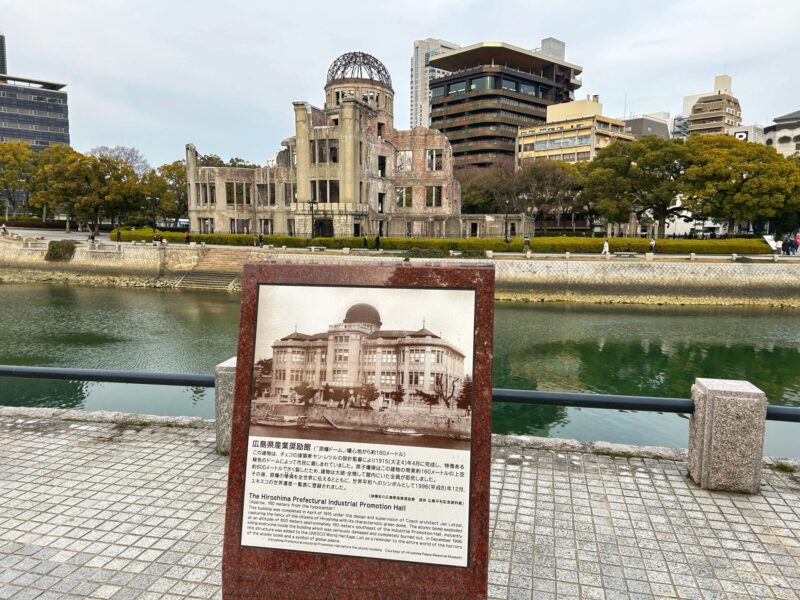 No visit to Hiroshima would be complete without this humbling and saddening monument – Atomic Bomb Dome.
The skeletal remains of the Atomic Bomb Dome are the most prominent structure at the Hiroshima Peace Memorial Park. This brick building was one of the few structures left standing after the attack. A somber place to see the remains of once devastation was poured out on this place.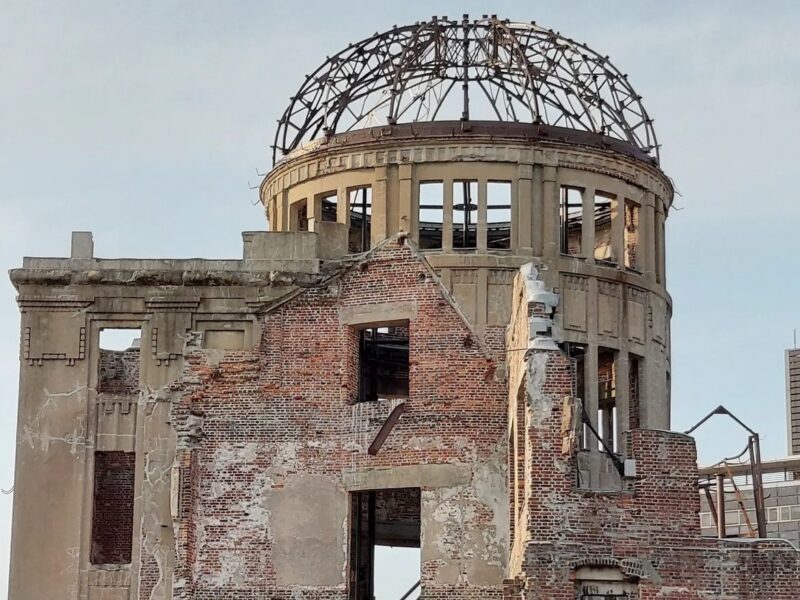 Atomic Bomb Dome was originally called Hiroshima Prefectural Industrial Promotion Hall, located 160m away from the epicenter of the blast.
The Japanese debated whether to demolish this building or keep it as a reminder of the horror they witnessed. Glad that they made the right for our sake to keep this reminder present.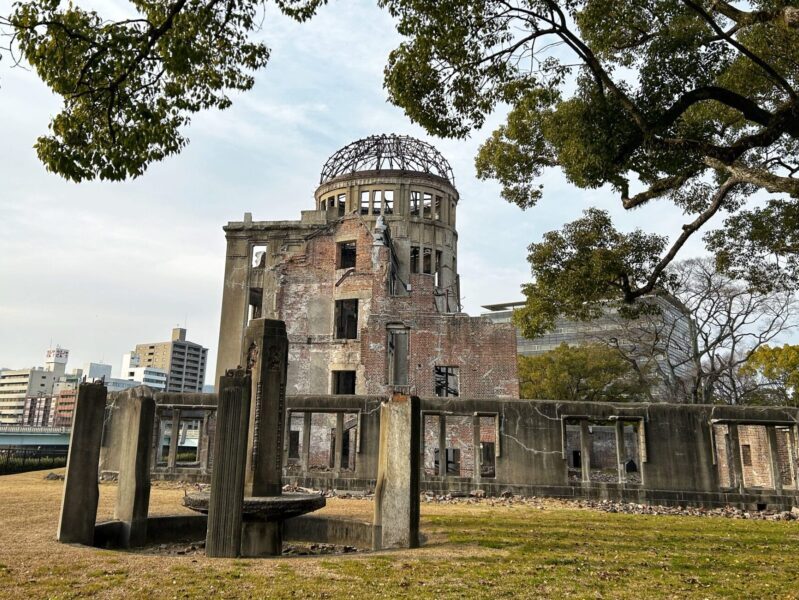 Atomic Bomb Dome is inscribed as a UNESCO Word Heritage Site in 1996. It stands as a reminder of Hiroshima's unique though tragic past. You probably may see this image before this, but it is even more striking when you are there. Be prepared to be reminded of the bomb that was dropped on humanity.
There is also memorial monument at Atomic Bomb Dome where you can pay your respect.
Atomic Bomb Dome (原爆ドーム)
Address: 1-10 Otemachi, Naka Ward, Hiroshima.
Opening Hours: Always Open.
Children's Peace Monument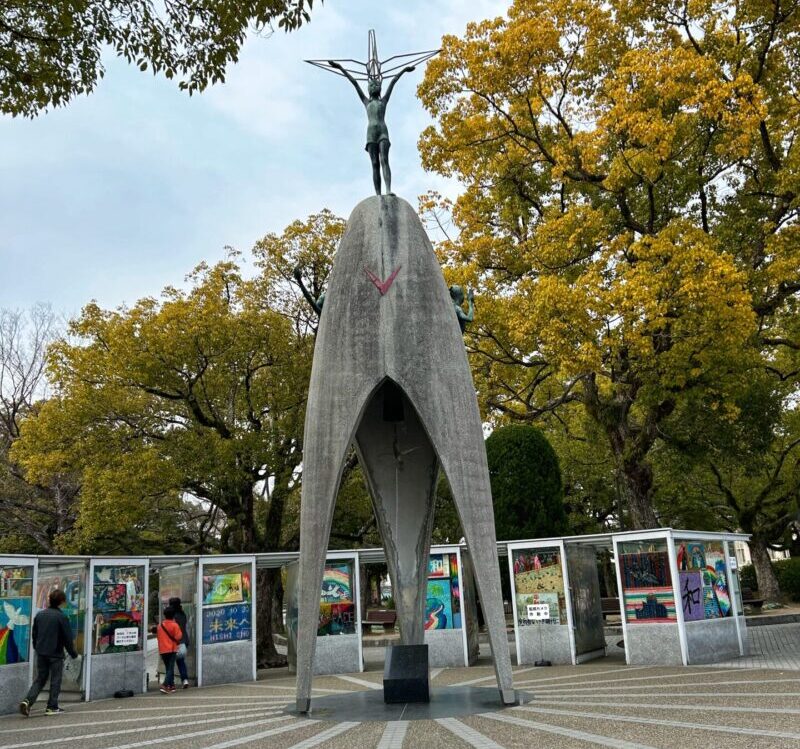 The second important memorial is the Children's Peace Monument. It is a monument dedicated to the children who died from the bomb, symbolized by Sadako Sasaki.
A 29.5-foot-high statue depicts a young girl holding a crane above her head and standing at the top of an elongated dome, with another bronze figure of a boy and girl featured on the side. This theme was inspired by Sadako Sasaki, a victim of the bomb. She was exposed to the atomic bombing when she was 2 years old, suffer from radioactivity and leukemia, and eventually die at 12.
We highly recommend reading Sadaki's story – it is heartbreaking and nice at the same time.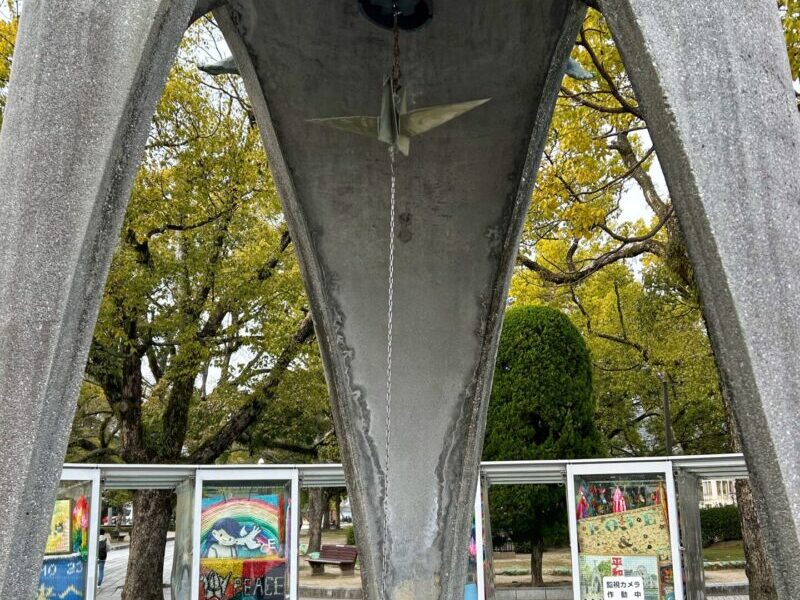 Several groups of schoolchildren came and visited to pay their respects while we were there to place paper cranes as a symbol of peace. You can't help but feel somber when visiting here.
Be sure to look inside the monument to see a beautiful bronze crane that is like a wind chime.
Children's Peace Monument
Address: 1 Nakajimacho, Naka Ward, Hiroshima.
Opening Hours: Always Open.
Memorial Cenotaph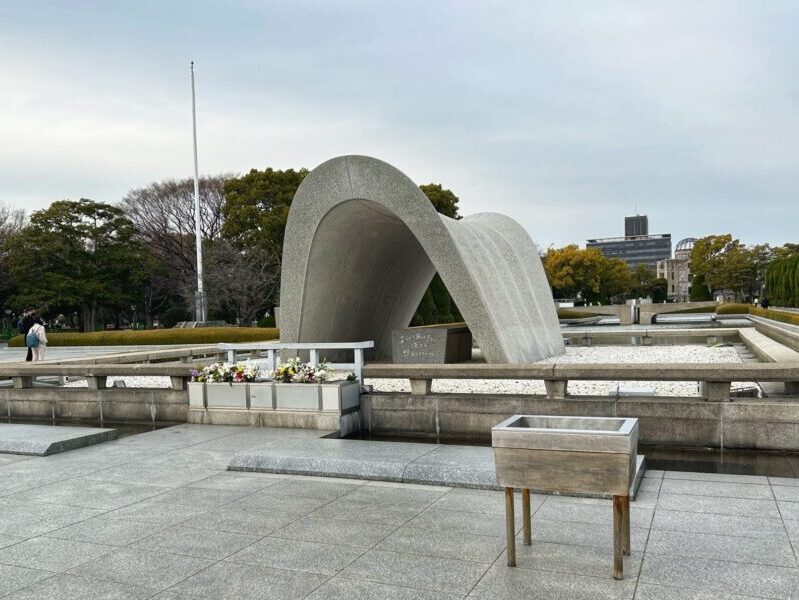 Next, Memorial Cenotaph is perhaps one of the most noticeable sculptures in the Hiroshima Peach Memorial Park. Constructed in an arch shape, it contains the names of the people who were killed by the atomic bomb.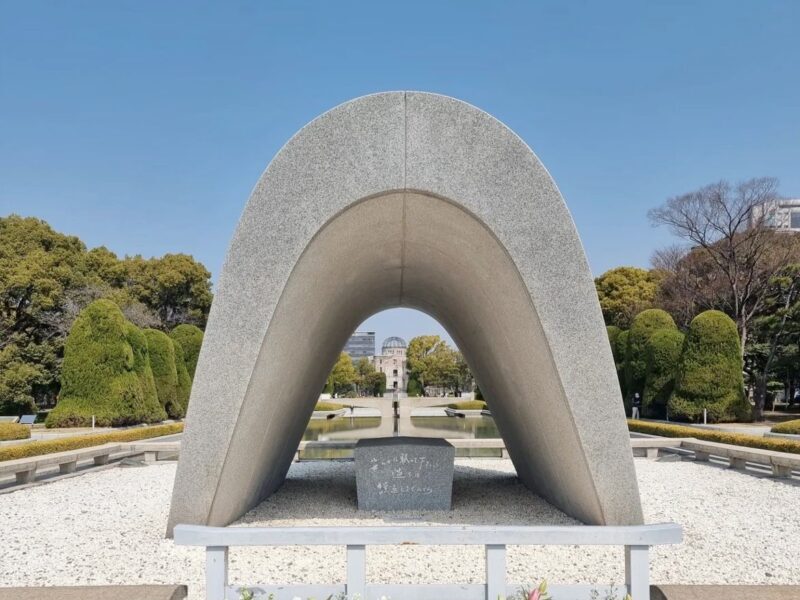 The cenotaph is located in the center of the Peach Memorial Park and perfectly lined up with the Atomic Bomb Dome with the Peace Flame burning eternally in front of this monument.
A grim reminder of those who died when the atomic bomb was dropped on the city. A place to have a moment of silence to pray and pay your respects.
Peace Memorial Museum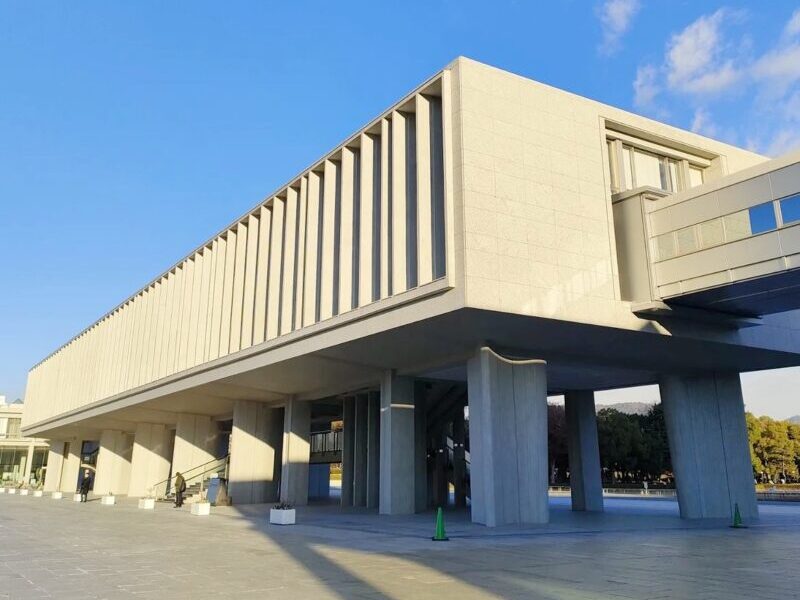 Opened in 1955, Hiroshima Peace Memorial Museum is an important place to see and an important part of history. It consists of two buildings with exhibits recounting the events of the atomic bombing. It features photos, documentary films, and also personal items from some of the bomb victims, along with the human stories behind them.
All give a very informative insight into the sad consequences of the atomic bomb dropped at Hiroshima.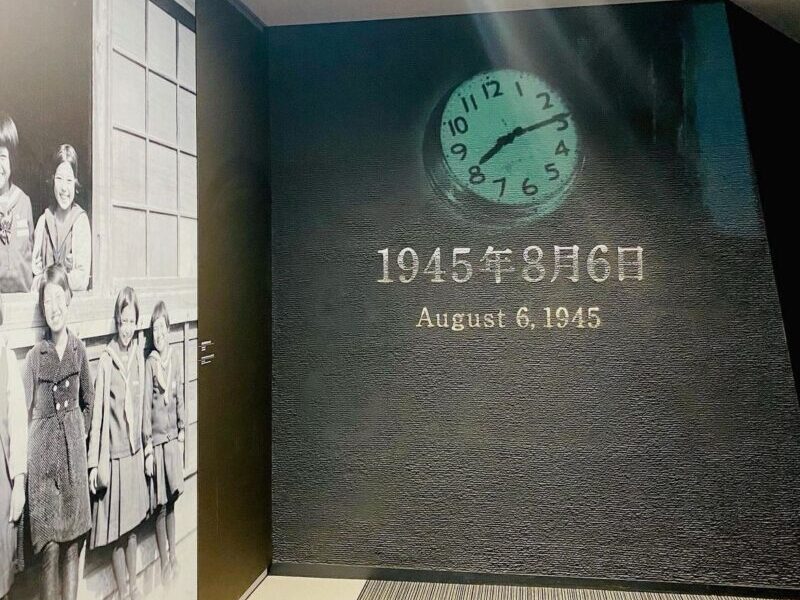 Our visit to Hiroshima Peace Memorial Museum truly gave me an impacting, emotional, and glimpse into a historical tragedy. From the first step into the museum until leaving, it was a very emotional journey.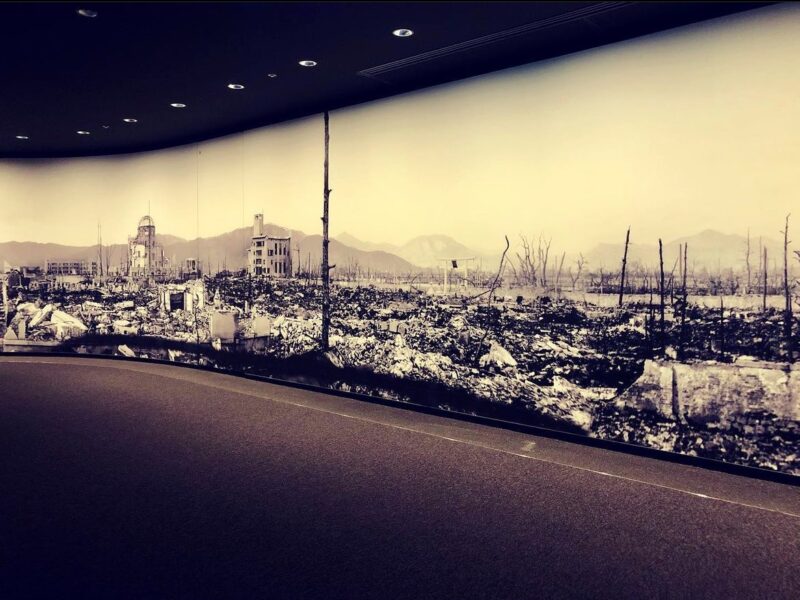 Looking at the beautifully curated exhibits, all excellently layer out the experience of the disaster of the atomic bomb in Hiroshima. Be warned, some sections can be emotionally draining.
We didn't take many photos and left the museum feeling a sense of reflection and sadness. The history is told so movingly that you need to fight back the tears.
In short, Peace Memorial Museum is a must-visit place in Hiroshima itinerary and would be highly recommended. An important reminder of the cruel incident that happened.
Note that the museum was fairly busy and packed with people and school tours. You should allow at least two hours for your visit.
Hiroshima Peace Memorial Museum (広島平和記念資料館)
Address: 1-2 Nakajimacho, Naka Ward.
Operating Hours: Daily from 8:30 until 18:00 (Last entry 30 minutes before closing)
Admission Fee: ¥200
Official Website: https://hpmmuseum.jp/
Eat Hiroshima-Style Okonomiyaki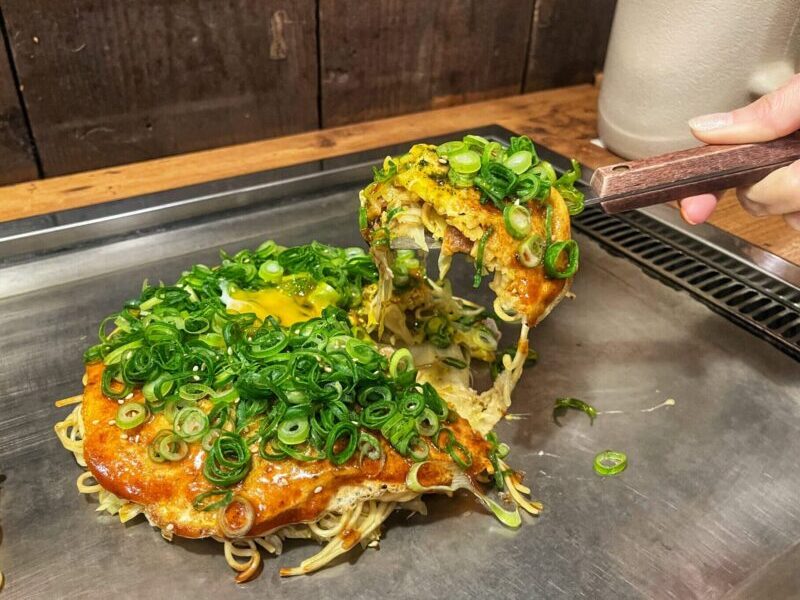 One thing should not miss when visiting Hiroshima is to taste the okonomiyaki, one of Japan's tastiest dishes. It is one of the best dishes you can have in Hiroshima.
Sometimes referred to as a 'Japanese savory pancake', okonomiyaki is a tasty Japanese dish made with wheat flour batter mixed with eggs, shredded cabbage, bonito (dried fish) flakes, and a huge variety of optional ingredients. It is cooked on a hot plate before being lavishly covered with Japanese mayonnaise and okonomi sauce.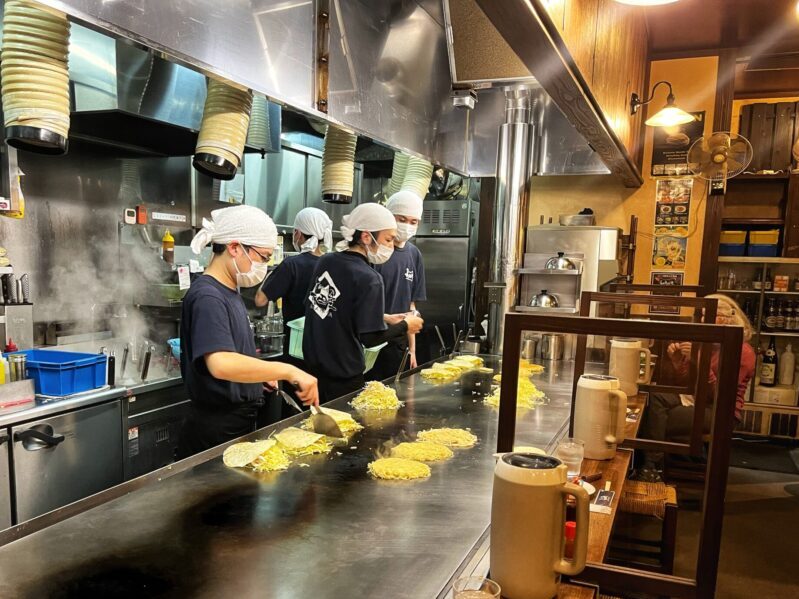 Compared with Osaka-style, Hiroshima-style okonomiyaki is slightly thinner and has more cabbage. Besides, the ingredients of Hiroshima-style okonomiyaki are cooked layered-by-layered rather than mixed into the batter before being cooked on the grill.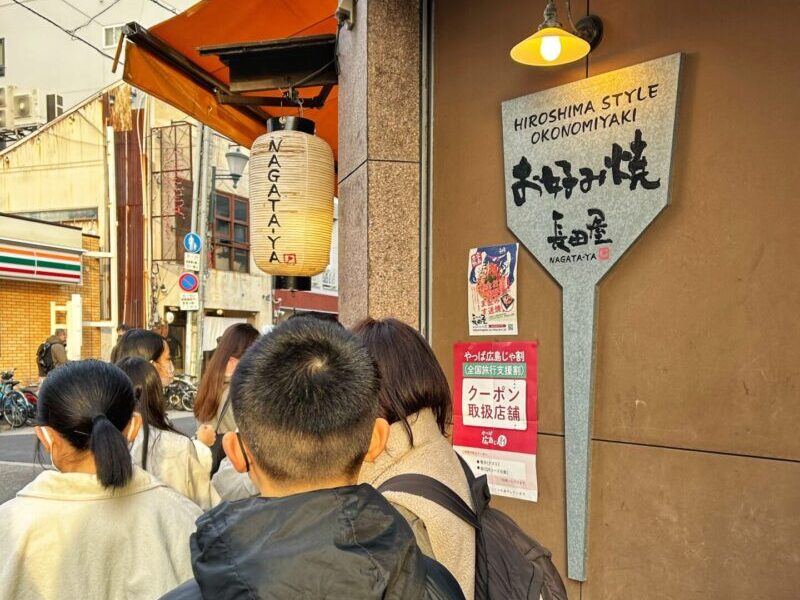 Many restaurants in Hiroshima serve this local take of Hiroshima-style okonomiyaki. One of the best restaurants to try the okonomiyaki in Hiroshima is Nagata-ya. The restaurant is conveniently located nearby the Peace Memorial Park and always has snaking-long queues to taste their food. We taste the okonomiyaki at Nagata-ya and highly recommended it.
Read more about our food review in Nagata-ya: Must-Eat Okonomiyaki in Hiroshima.
.
Hondori Walking Street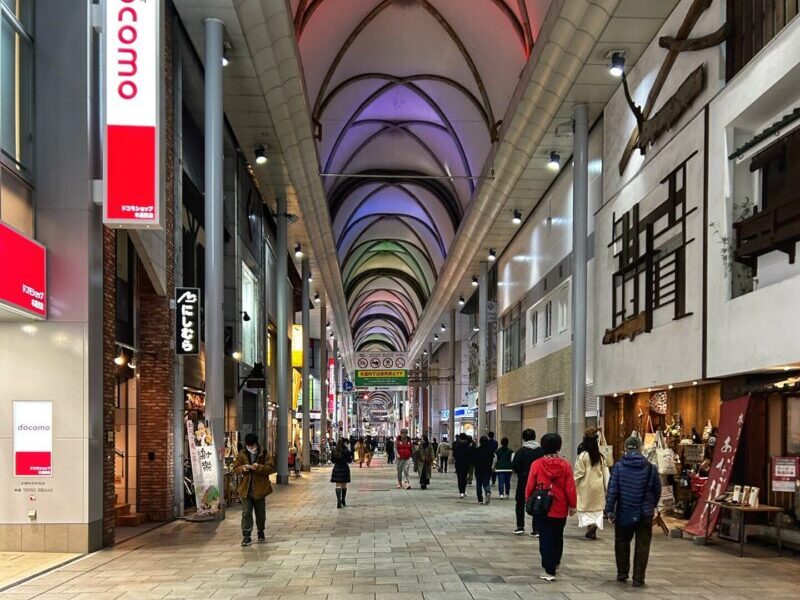 After the dinner at Nagata-Ya, we went to explore the downtown area. The 0.5 km long Hondori Walking Street is the main shopping street in the bustling downtown area. It starts near Peace Park and is lined with big shopping malls, shops, cafes, and souvenir. You can also find many nice cafe and restaurants for food and drinks when wandering around.
A good walk to burn off some calories before heading back to our hotel in Hiroshima.
More Time for Hiroshima Itinerary?
Due to the limited time, we have to skip some of the attractions during our visit to this city. Here are some of the attractions that you may consider to be included in your Hiroshima itinerary.
Hiroshima Castle or Carp Castle is an important building in Hiroshima. The castle was originally constructed in 1589 by Terumoto Mori and it was destroyed by the atomic bomb in 1945. It was rebuilt and restore in 1989. It now houses an impressive collection of artifacts and exhibits about the history of Hiroshima and is highly orientated to the Samurai Culture. The entrance fee to the ground is free but you have to pay ¥370 to enter the main castle building.
Constructed in 1620, Shukkeien Garden is a historic Japanese garden in Hiroshima city. It was the private garden belonging to Asano Nagaakira, the first feudal lord of the Hiroshima domain. The garden consists of a huge lake with paths to walk through and constructed delights, such as bridges, and an island for turtles. It offers wonderful vistas that bring peace and tranquility. Recommended for any Japanese garden lover.
Mazda Museum offers an overview of Mazda's history since the 1920s. You'll get a chance to see the impressive 7 km long assembly line of the Mazda car. Visiting the plant and Museum is free, but they have run free English tours once per day, so it is advised to make a reservation at their website in advance.
Final Tips on Hiroshima Travel Guide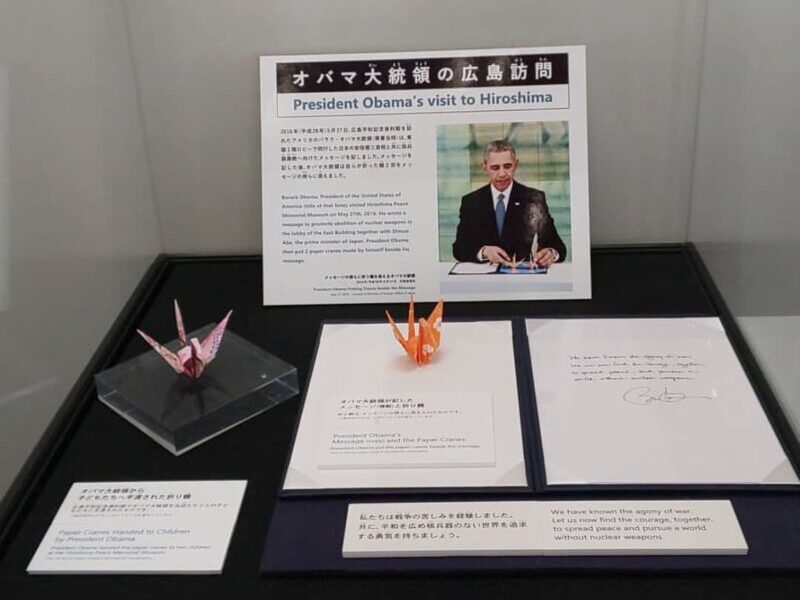 How many days should you spend in Hiroshima?
One day is good enough to see the major attractions in Hiroshima city. We recommended spending another day in Miyajima which is located about 30 minutes train ride from the city.
What to do in Hiroshima in one day?
With one day in Hiroshima, one should not miss the visit to the historical sites A-Bomb Dome, Peace Memorial Park, and Peace Memorial Museum. Visiting those attractions can easily spend at least three to four hours.
Can you do Hiroshima as a day trip from Osaka or Kyoto?
A day trip to Hiroshima from Osaka or Kyoto is very doable. The Shinkansen ride only takes you about 1.5 hours from Osaka and 2 hours from Kyoto. Take note that certain JR regional passes may not cover the Shinkansen ride between Osaka and Kyoto.
Is Hiroshima worth visiting?
Definately Yes! Hiroshima is a city with a lot of history, and emotion, and fully restored from the past. An important place to visit is where you can remember the tragic event of the atomic bomb.
Overall: A Trip To Hiroshima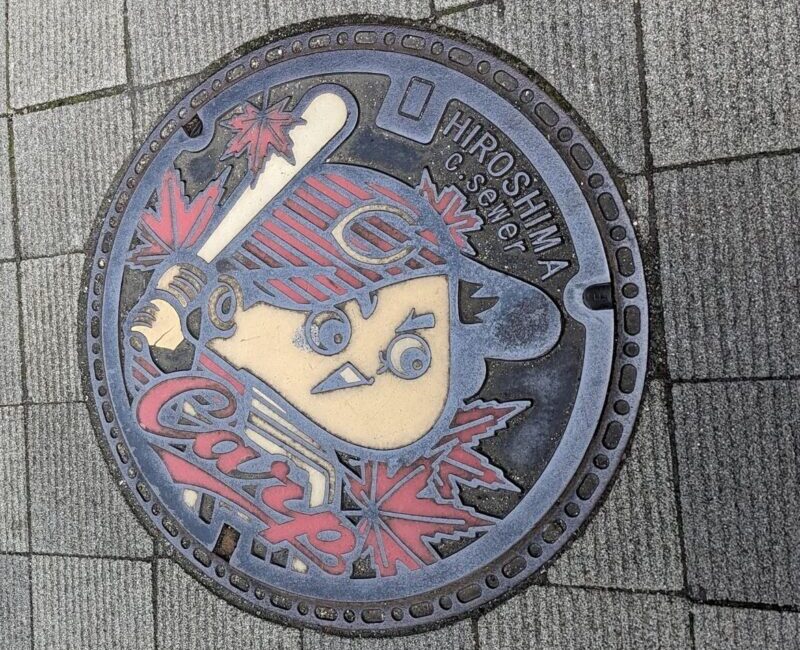 All in all, we hope this Hiroshima itinerary is helpful. Our visit to Hiroshima is rather enjoyable at a relaxing pace. This historical city took us by surprise with all its fantastic sights and attraction. Although it was in a heavy and somber mood when seeing those tragic pasts. To me, it is something we should always learn and remember more of.
We explored and learn about the rich and colorful history of the city, and also taste the mouthwatering Hiroshima-style okonomiyaki and some other local dishes. We truly enjoy our trip and highly recommended spending another day in Miyajima to see the cultural and important shrines in the Chugoku region. Thanks for stopping by and have an amazing time in Hiroshima!
Related Read: Where To Stay in Hiroshima: Best Hotels Pick.
Lastly, make sure to check out what you should not miss when visiting the Chugoku region.