Last updated on October 2nd, 2023
There are so many incredible things to do on Miyajima Island from visiting traditional temples and shrines, to enormous torii, and exploring nature and wildlife. Here we share our Miyajima travel guide blog, all about what to do on the island, with a detailed Miyajima itinerary to help you plan your trip there!
Located in Hiroshima Bay, Miyajima (宮島) is a small island in Hiroshima prefecture. This enchanted island is extremely beautiful and more commonly referred to as "Shrine Island". It houses the world-famous Itsukushima Shrine and its enormous torii gate. At high tide, this UNESCO World Heritage Site and the giant torii gate appear to float on water.
During our visit to Miyajima, the primary reason was to see Itsukushima Shrine. The shrine itself was amazing and serene when visiting the shrine and torii gate. But we were inspired by how beautiful this island is. The island is home to lots of free-roaming deer, and walking around the whole surrounding area made it a truly wonderful experience. You may also plan for hiking trails that take you up Mt. Misen for spectacular views of the city and bay.
This Miyajima travel guide blog highlights how to get to Miyajima, what to do in Miyajima in one day, and where to stay overnight. Our Miyajima itinerary is combined with a visit to Miyajima Island and its famous floating tori gate. Check it out!
Miyajima Travel Guide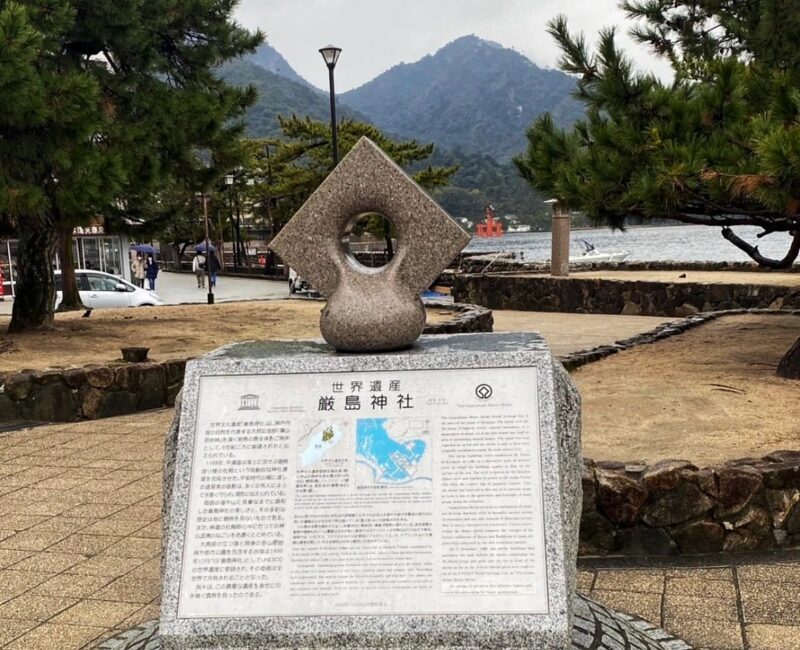 Miyajima Island without a doubt a popular travel destination in Hiroshima and even Japan. The island house the world-famous Itsukushima Shrine and seabound 'torii' gate.
But did you know, the island used to be called Itsukushima Island due to its popularity? Today, it's more commonly known as Miyajima which means "shrine island". When the water recedes at low tide, visitors can walk up to the Torii gate and see it up close.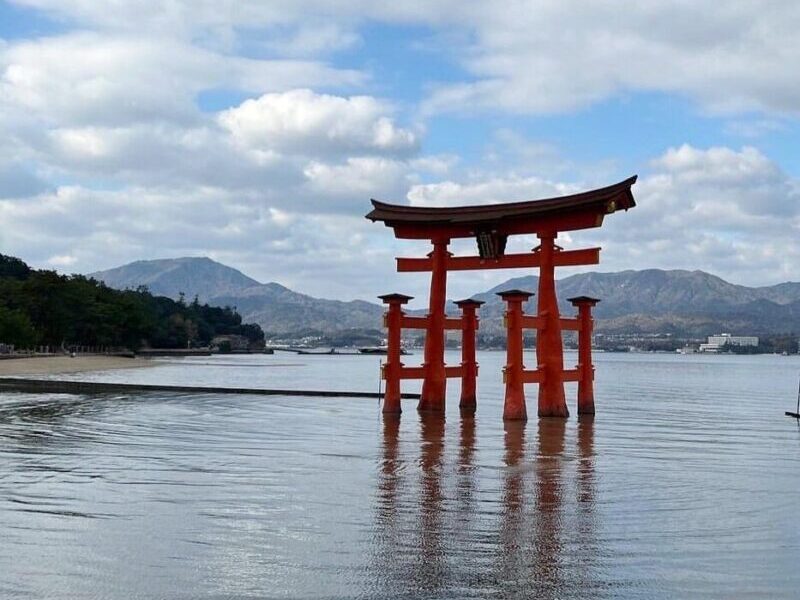 The Itsukushima Shrine and the O-Torii gate are one of the Japan's most celebrated views. It is rated as Japan's three most scenic views, along with Amanohashidate in northern Kyoto and Matsushima Bay in Miyagi.
Though outside the central city, Miyajima Island without a doubt the most visited attraction in Hiroshima. It is one of the best day trips from Hiroshima and also nearby cities such as Osaka, Kyoto, and Okayama. Fom Hiroshima Station, it only takes about less than an hour (about 40 minutes) to reach. Visitor also can has a good alternative to staying in the island in the relaxing vibe.
Miyajima Travel Official Website: https://www.miyajima.or.jp/english/
How To Get To Miyajima Island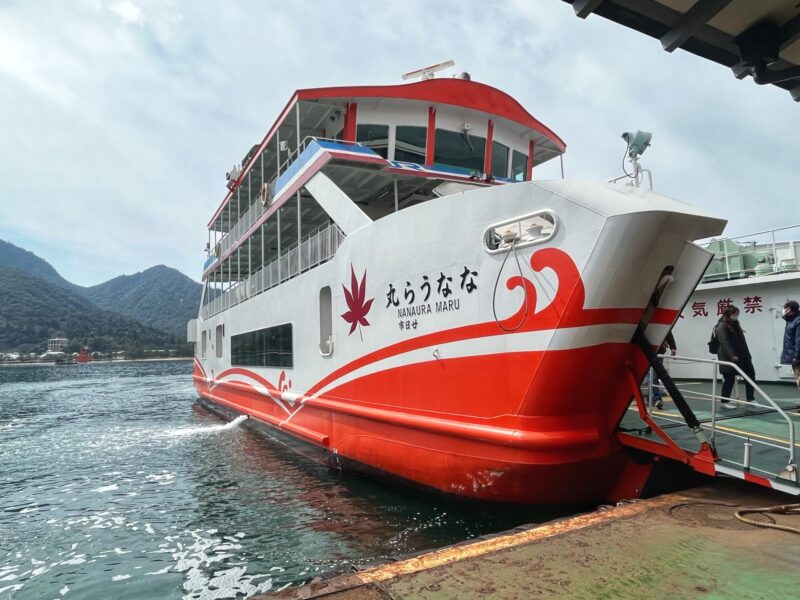 Getting to Miyajima is easy and straightforward. It will only take less than an hour to reach Miyajima from Hiroshima station by a combination of the train and the ferry.
How To Get to Miyajima Island:
From Hiroshima Station (広島駅), take the JR Sanyo Line to Miyajimaguchi Station (宮島口駅). The ride will take between 20-30 minutes depending if you take a local or rapid route.
Walk a few minutes walk to the ferry port and board the ferry. The boat ride is nice and relaxing, with beautiful views of the city in the distance.
The best thing is Japan Rail Pass and Regional JR Pass (JR Kansai-Hiroshima Area Pass) allowed visitors to make the round-trip by train and ferry for free! With the JR pass you can catch the local train (JR Sanyo) and JR ferry for no extra charge, and there is a very frequent service. Once you are on the island, most of the major attractions on Miyajima Island are within walking distance.
Click here to buy your Japan Rail Pass for a discounted price.
Miyajima Travel Guide Tips: We also documented a more detailed step-by-step guide on how to get to Miyajima island. Check it out!
How Many Time For Visiting Miyajima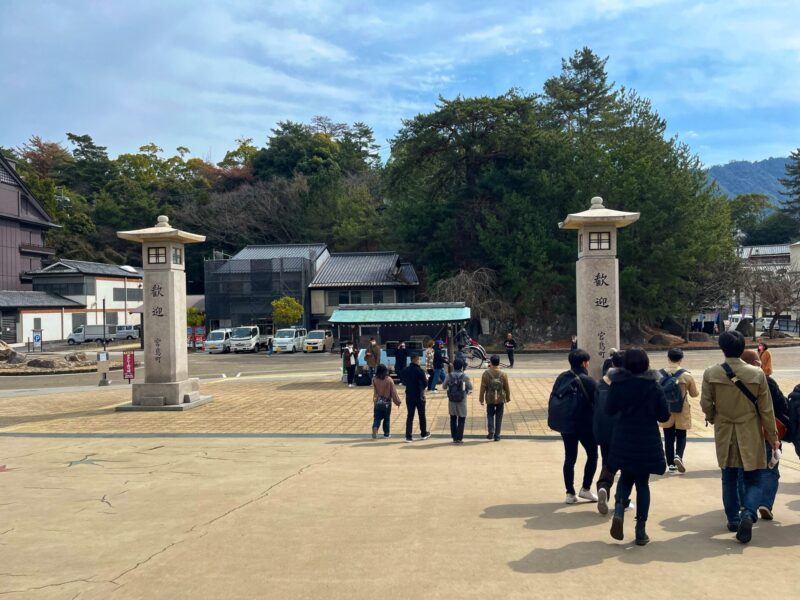 A day or half-day trip is absolutely doable when planning the Miyajima itinerary. We suggest that you spend a full day in Miyajima to maximize sightseeing opportunities. Visiting the Itsukushima Shrine with the torii gate, and walking around the island that is full of deer, enjoying the food at the food street can easily fill up the 3 to 4 hours. Don't forget to allocate more time if you plan to climb Mt Misen.
If time is permitted, we highly recommended staying overnight in Miyajima to experience ancient Japan. The island can be very busy during the day, especially on weekends. You will have a more serene time on Miyajima Island when the last ferry takes most tourists back to the mainland late in the afternoon.
Where To Stay
Although we visit Miyajima as a day trip, we highly recommended spending one night on the island. We felt it was slightly crowded during the day especially since our visit is on weekend. Also, Miyajima surprises us with its fantastic sights and attraction. We spent the whole day there and didn't regret it. It would be lovely to stay overnight.
There are many top-rated hotels on the island to visit and you can consider staying overnight on the island for a more relaxed vibe. Here is our recommendations:
Luxury: Kurayado Iroha is one of the top-quality accommodations on the island. The stylish rooms feature tatami-mat flooring and private bathrooms on the rooftop.
High-Range: Miyajima Grand Hotel Arimoto is located a few steps away from the shrine and all the main attractions. The view from the window is spectacular. Incredible stay!
Mid-Budget: Sakuraya offers affordable Japanese-style rooms with mountain or sea views. Value for money and great for a one-night stay on Miyajima.
Miyajima Travel Guide Tips: Limited rooms are available on Miyajima island. It's always advice to book the hotels and homestays in Miyajima (aka Itsukushima Island) early.
Check for more more accommodation options: Where To Stay in Miyajima – Best Hotel and Ryokan Pick.
Things To Do in Miyajima Itinerary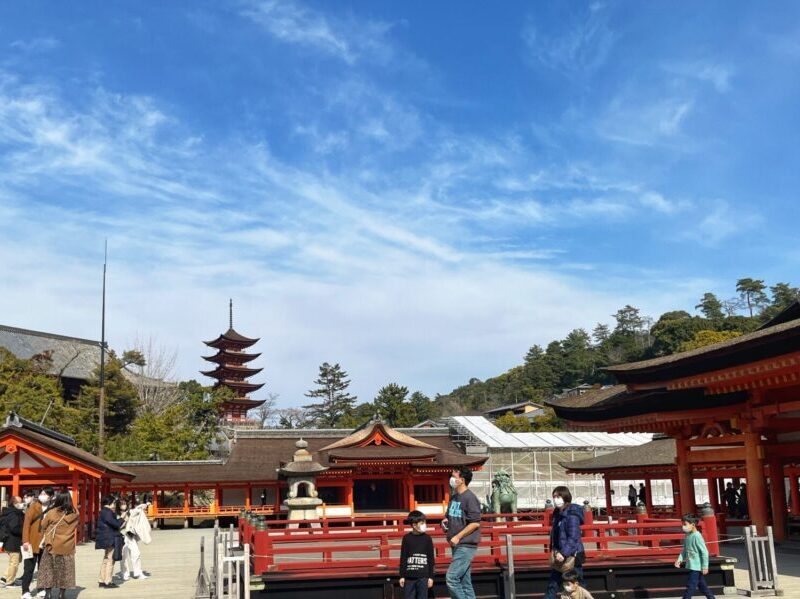 There are so many incredible things to do in Miyajima during your visit. Depending on how much time you have on your Miyajima day trip, feel free to tailor this one-day Miyajima itinerary in any way you'd like.
Things To do in 1-Day Miyajima itinerary:
Start the Miyajima itinerary with a scenic ferry ride
Meet The Friendly Deer
Itsukushima Shrine
Touch the Great Torii Gate During Low Tide
Daiganji Temple
Shop and Eat Along Omotesando Shopping Street
Taste the Fresh Oyster
Maple Leaf Pastries (Momiji Manju)
Daishoin Temple
Hike Up To The Top of Mount Misen
Toyokuni Shrine & Five-Story Pagoda
Tour To Miyajima
We visited Hiroshima on my own but if you'd like to go with a guide, then you may be interested in this Hiroshima and Miyajima guided tour. Many tours will take you to the top attractions in both Hiroshima City and Miyajima Island. Here is our recommendation.
Take A Scenic Ferry Ride
The Miyajima itinerary start will a scenic ferry ride. A 10-minute ferry ride takes you to this divine island that is Heritage listed and one of the best sights in Japan. Take the JR ferry for no cost when you use your JR Pass.
Approaching Miyajima, our boat passed extremely close to the island's iconic vermilion torii, which seems to float on the water during high tide. Preparing for your trip where you can start visiting the renowned gate in the ocean, ancient temples, and pagodas, and ride the cable car up the mountains for the next few hours.
Pro Tips: Sit on the right side of the ferry and you get a pretty close view of the Torii gates.
Meet The Friendly Deer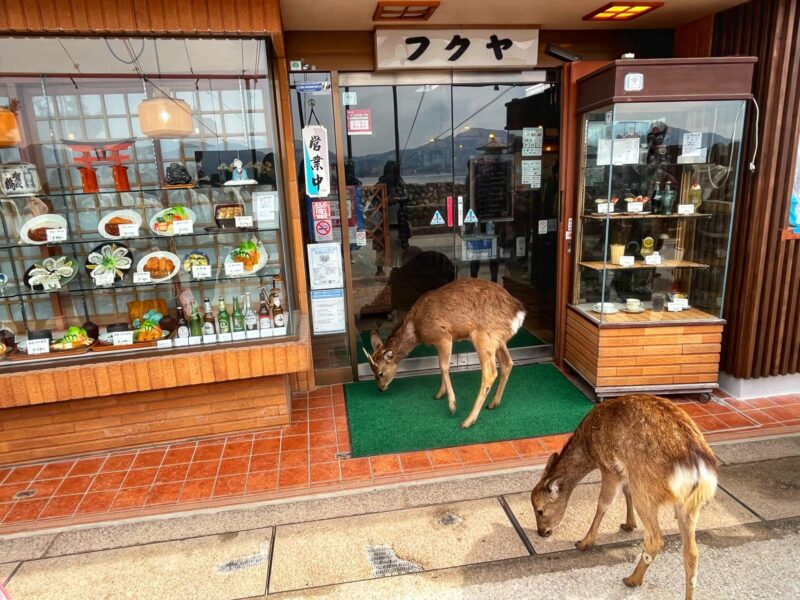 After coming out of Miyajima ferry station, you'll be greeted by a lot of friendly welcoming deer at Miyajima nearby! There are lots of deer wandering around on the island freely, with no fear of humans.
While Nara is a fun place to see deer, we loved the deer at Miyajima Island. You'll find most of them are very gentle, lazing under a tree, or hanging out around Omotesando Shopping Street. They are also happy to stay while you snap a selfie or two. So adorable, but be very mindful of your food and even paper! They will take a bite of it and walk off.
The deer are considered in Shinto messengers of the gods. Feel free to take your photo with them but please be respectful and don't feed the deer in Miyajima.
Itsukushima Shrine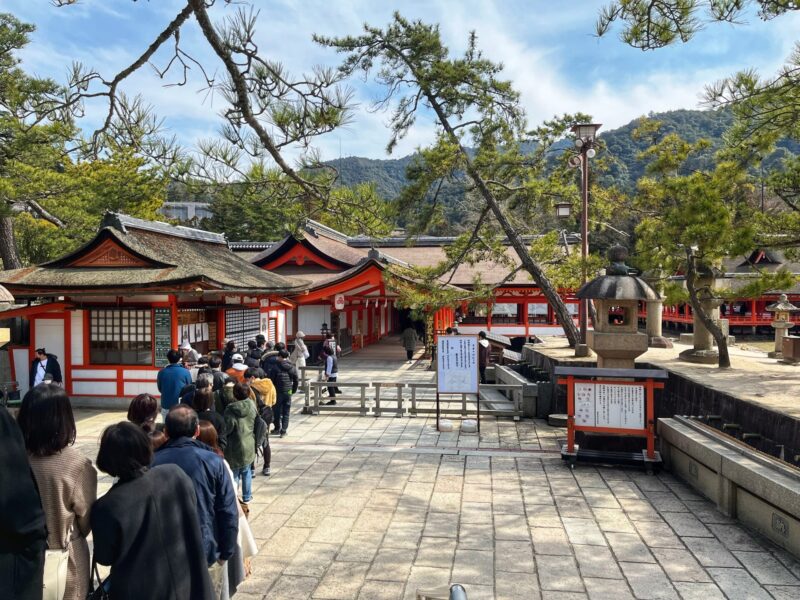 The most iconic place in Miyajima – Itsukushima Shrine (嚴島神社) is a must-see on your Miyajima itinerary and probably the main reason why people visit the Island. It is a gorgeous Shinto shrine and is recognized as a UNESCO World Heritage site for its outstanding universal value.
Many people are queueing to visit Itsukushima Shrine, but the line moves pretty fast.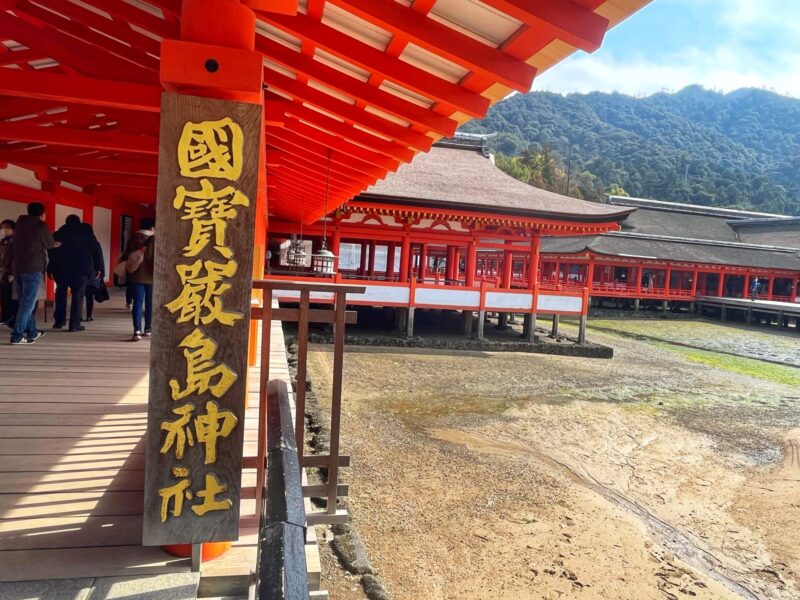 The 12th-century shrine itself is pretty amazing with its corridors featuring vermillion color is very captivating. The view is amazing and unique as the shrine will look like floating on water at high tide.
Still, I found it to be even well worth visiting during low tide.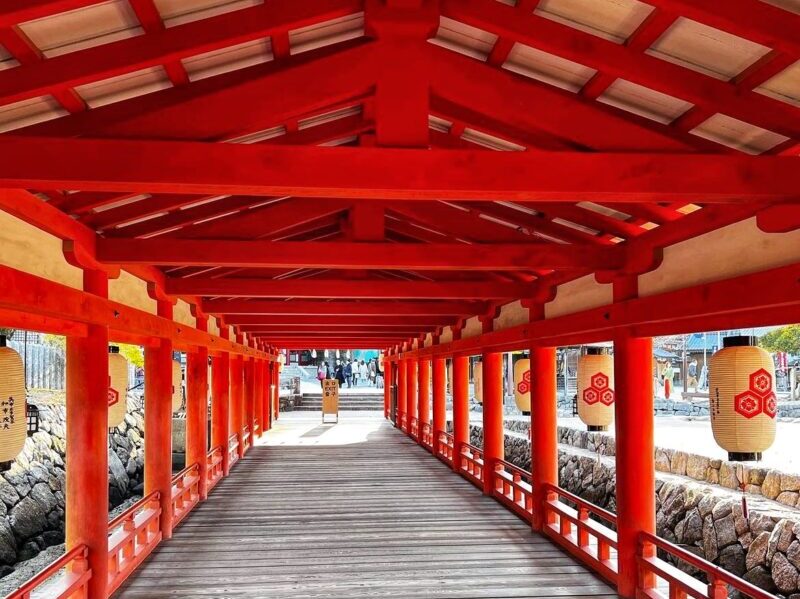 Follow the signs, you'll walk through the bright red corridor and pass by smaller shrine areas. You can do some prayers and offerings at several of the shrines. Take the time to walk around to observe the various aspects of the shrine. Plenty of good spots for the photo opportunity.
Spend some time marveling at the unique architecture of the Itsukushima shrine. Truly a peaceful and memorable experience.
Itsukushima Shrine 厳島神社
Address: 1-1 Miyajimacho, Hatsukaichi, Hiroshima.
Admission Fee: ¥300
Touch the Great Torii Gate During Low Tide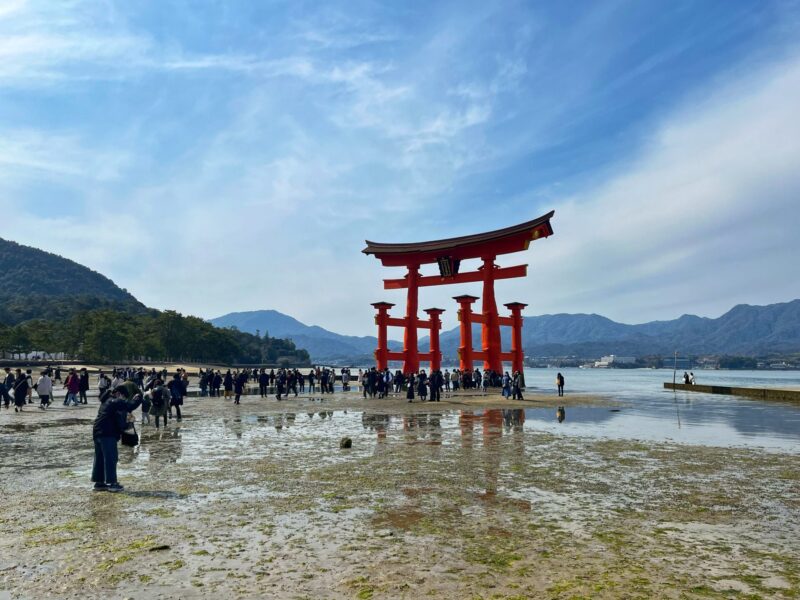 The 52.5-foot-high, 60-ton Itsukushima-Jinja torii gate is the signal of the entrance to Itsukushima Shrine. It is one of the unique things to do in the Miyajima itinerary, to see torii, located in the middle of the water, during the high and low tides.
During high tides, the shrine and torii look like they are floating in the water. It's a special experience to see the floating aspect!
During low tides, you're able to walk along the wet sand, get up to the torii gate, and touch it! The 16 meters tall Miyajima Torii Gate is known as one of the largest torii gates in Japan. Many come by during low tide to make a wish before leaving a small token on (or wedged into) the Torii gate.
We didn't plan the time and it was recedes to low tide while we were there. We could walk out to the torii gate and make a wish. What a magnificent day on this sacred Island.
Miyajima Travel Guide Tips: If you have a particularly low or high tide to see, you may check the tide schedule at the shrine entrance or from Google. But it is required to stay on Miyajima island for at least 6 hours if you plan to experience both high and low tide.
Daiganji Temple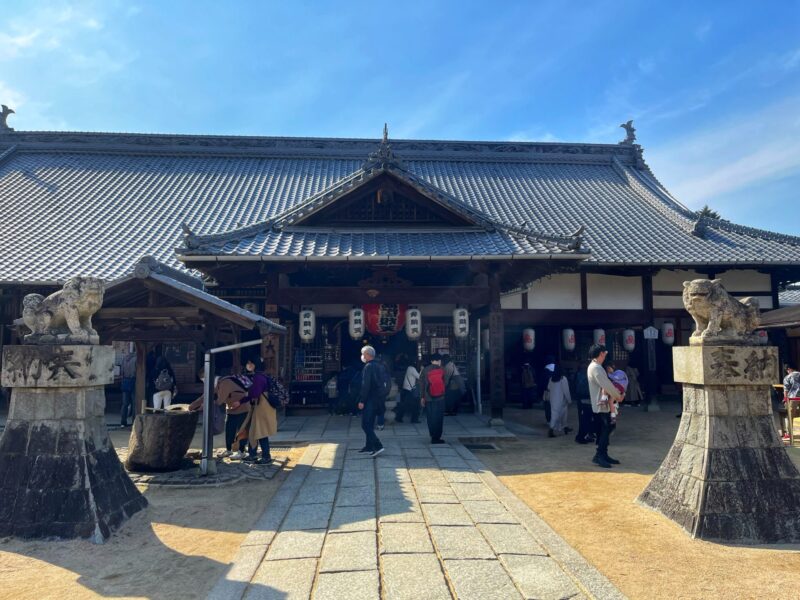 As you exit the famed Itsukushima shrine, you will not miss this humble but beautiful Daiganji Temple. This historic temple is in charge of the upkeep and restoration of the Itsukushima shrine. The building has a beautiful authenticity and old-world charm.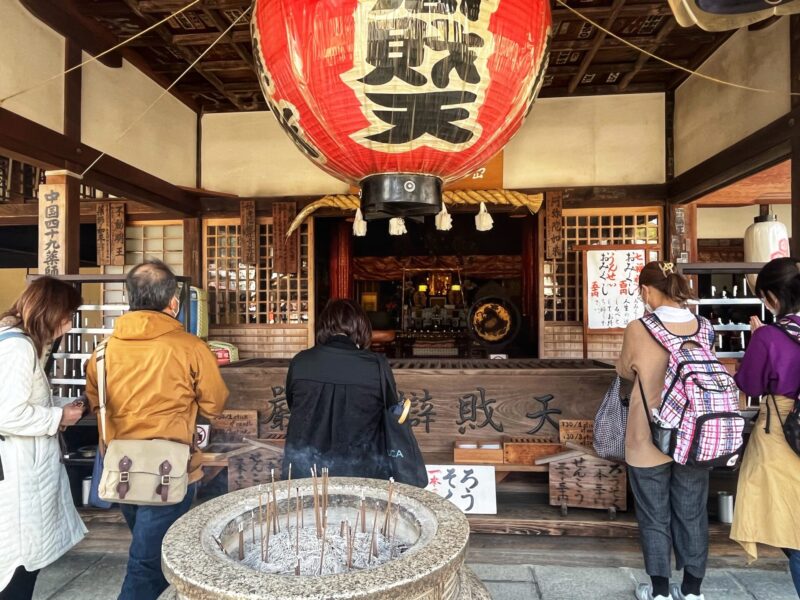 We did a quick walkaround the Daiganji Temple. It is much smaller but also worth stopping by on the Miyajima itinerary.
Daiganji Temple 大願寺
Address: 3 Miyajimacho, Hatsukaichi, Hiroshima.
Admission Fee: Free!
Getting there: A 2-min walk from the Itsukushima Shrine.
Omotesando Shopping Street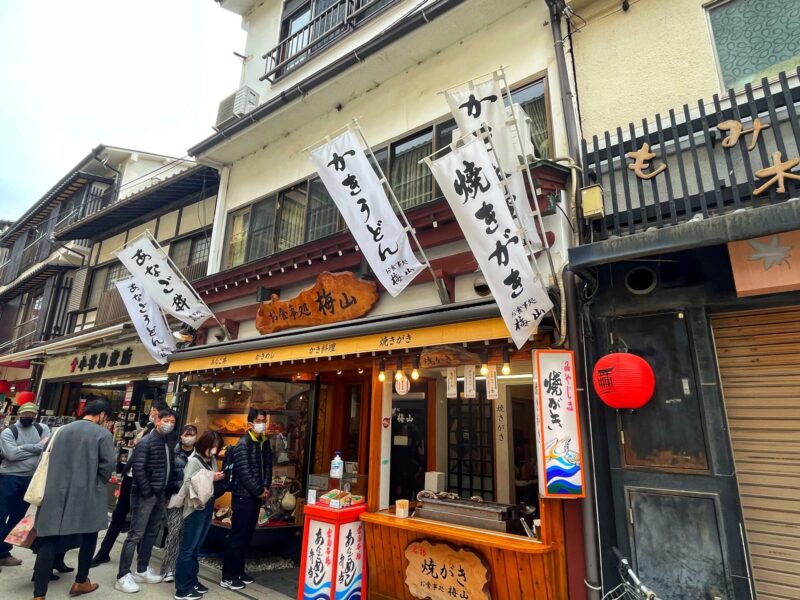 Next, continue your walk along Omotesando Shopping Street, a must-visit on your Miyajima itinerary. The bustling area is a bit of tourism, but still, it's a fun street to browse around for food and souvenir shopping. There are many authentic Japanese food stands and restaurants to indulge in before exploring the rest of the island.
Many nicely made snacks and oyster restaurants and you can eat in the shop or pick up a snack to enjoy at the street side with the sea view. Try the momiji manju (maple leaf pastry) with custard, fried momiji manju, fried fish cake, or famous beef buns. I wished I'd had room to try all the food here!
Taste the Fresh Oyster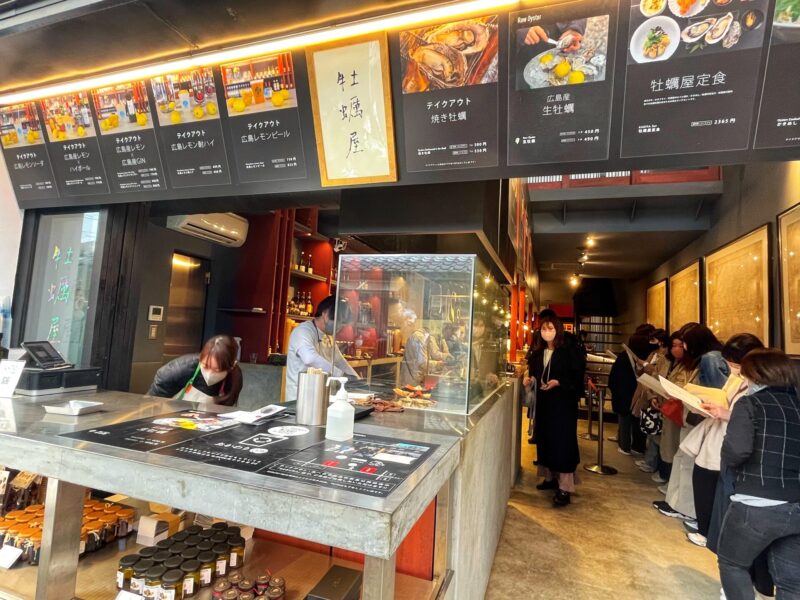 Miyajima is known for its fresh oysters and a must-try food in Miyajima. Winter is the best time to eat the oyster, but still, you will see many grilled oysters sold at pop-up shops and restaurants on the island all year round.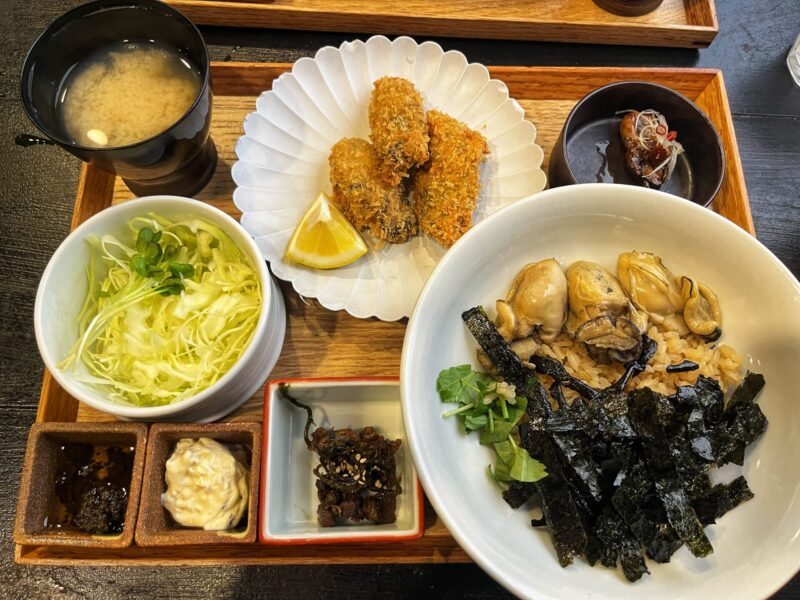 One of the famous shop in Omotesando Shopping Street is called Kakiya and probably be easily spotted with a long queue outside. We had our late lunch at Kakiya after came back from Mt Missen. We ordered the oyster set and the taste was pretty good. The Oyster set comes with grilled, fried, and all kinds of oysters, together with salad, rice, and soup. We also ordered fresh oysters. Truly an oyster feast!
Related read: Miyajima must eat – Oyster Feast in Kakiya.
Just to note, we really love the grilled oysters and I wish I have more room to eat them!
Kakiya 牡蠣屋
Address: 539 Miyajimacho, Hatsukaichi, Hiroshima
Operating Hours: Daily from 10:00 to 18:00
Price Range: Expected spend about ¥2,000 – ¥3,000 per person
Maple Leaf Pastries (Momiji Manju)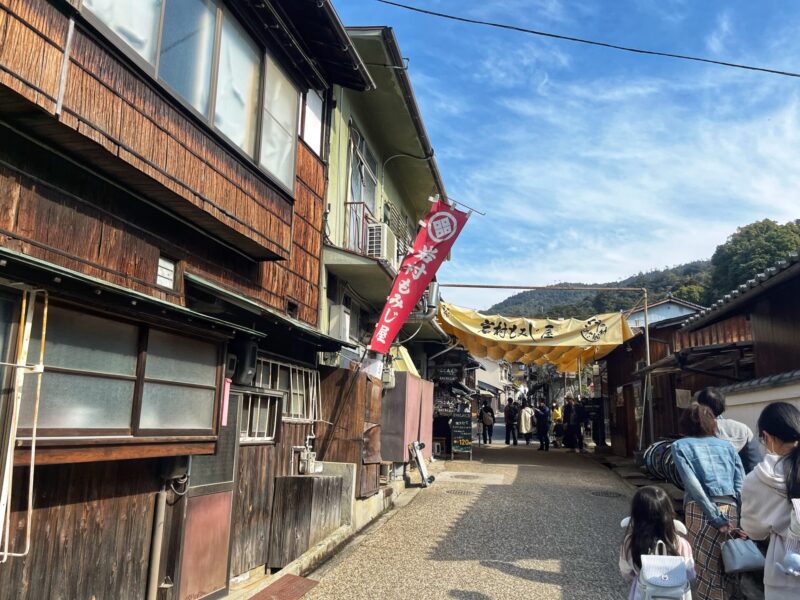 One of the icons of Miyajima is the momiji manju. It is a popular snack in Miyajima where you can found all over the island of Miyajima. These maple leaf-shaped pastries are traditionally filled with red beans but can be found in other flavors such as cheese, chocolate, or caramel.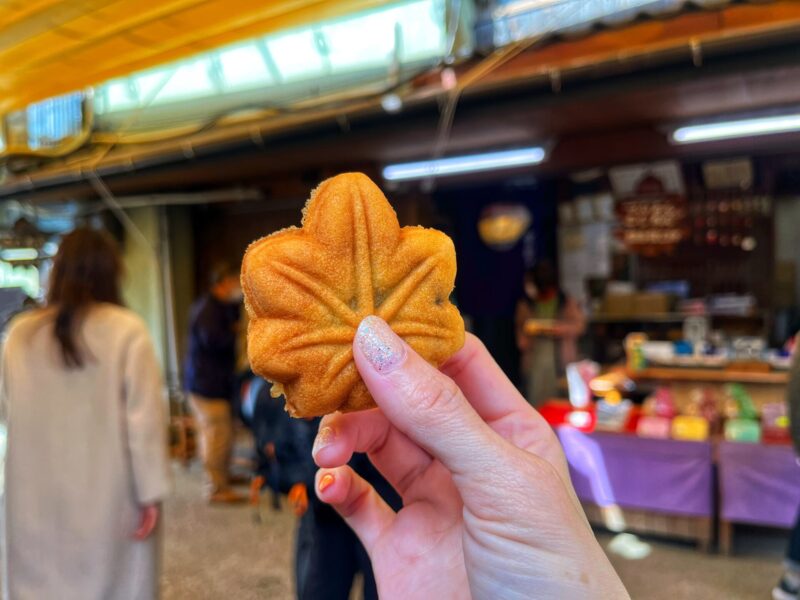 Iwamura Momijiya is a long-established momiji manju store. The shop was founded in the late Meiji era and still keeps the traditional way of making their momiji manju. Many people buy the momiji manju from Iwamura Momijiya and bring it back home as souvenirs. The taste is good and not too sweet!
Iwamura Momijiya
Address: 739-0525 Hiroshima, Hatsukaichi, Miyajimacho.
Getting there: 3 minutes walk from Omotesando Shopping Street.
Hike Up To The Top of Mount Misen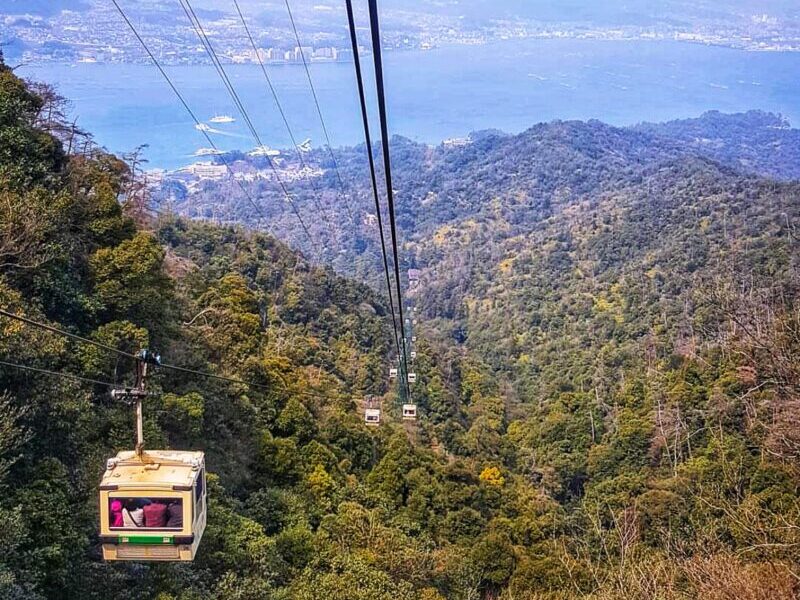 Another highlight of Miyajima is the hike to the sacred Mount Misen. We recommend including Mount Misen on your Miyajima itinerary only if you plan for a hike and have time on your hands.
There are a few hiking trails option available that take you about 2 hours to the summit. But if you are not able to hike the entire evaluation, the Misen ropeway will take you to the upper station where you can walk the remaining 30 minutes uphill to the highest part of Miyajima to enjoy a panoramic view of the island and its surroundings.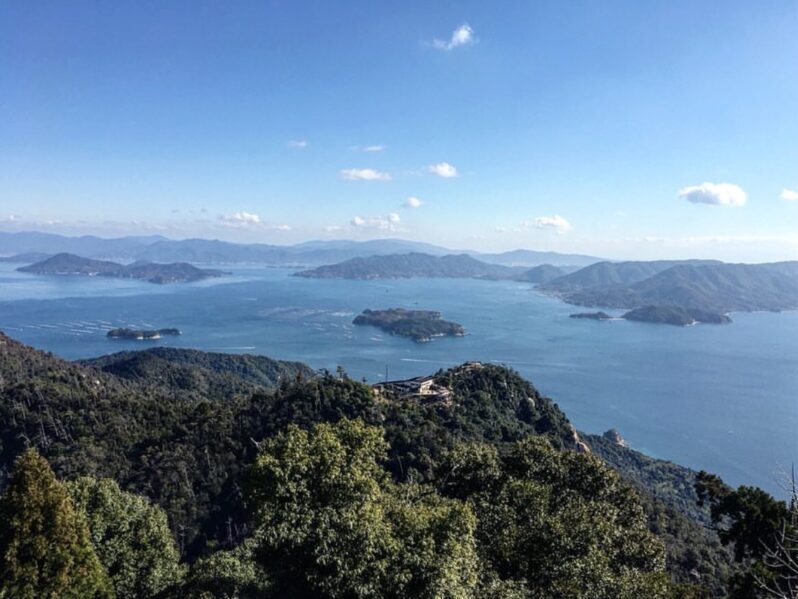 From the base, we took the ropeway to the upper cable car station before continuing to hike up to the top of Mt Misen. The views from the top are beautiful and worth the trip. Go early enough as the upper observatory will close. Also, take note of the last ride down and factor in walking time to the station.
Read for more details on our visit: Mt Misen – A Travel Guide with Hiking and Miyajima Ropeway.
Pro Tips: A free minibus ride is available to the cable car point in case you don't feel like walking.
Toyokuni Shrine & Five-Story Pagoda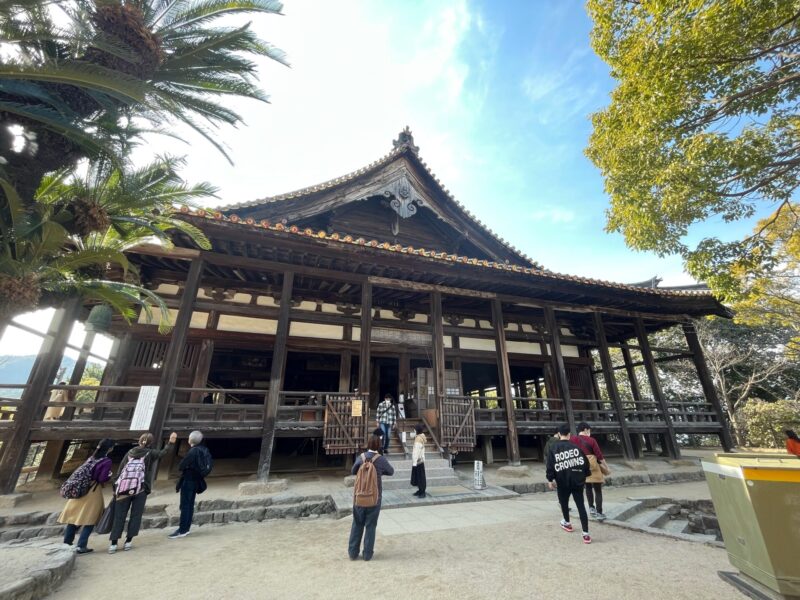 Coming back from Mt Misen, we made our way and stopped by the Toyokuni Shrine and Five-storied Pagoda!
Perched on top of a hill, Toyokuni Shrine (thousand mataka) stands apart from the main structure of Itsukushima. You can see loads of historic wooden artworks and paintings donated by various local societies for only ¥100. We didn't get in but only take a glance at its wooden building.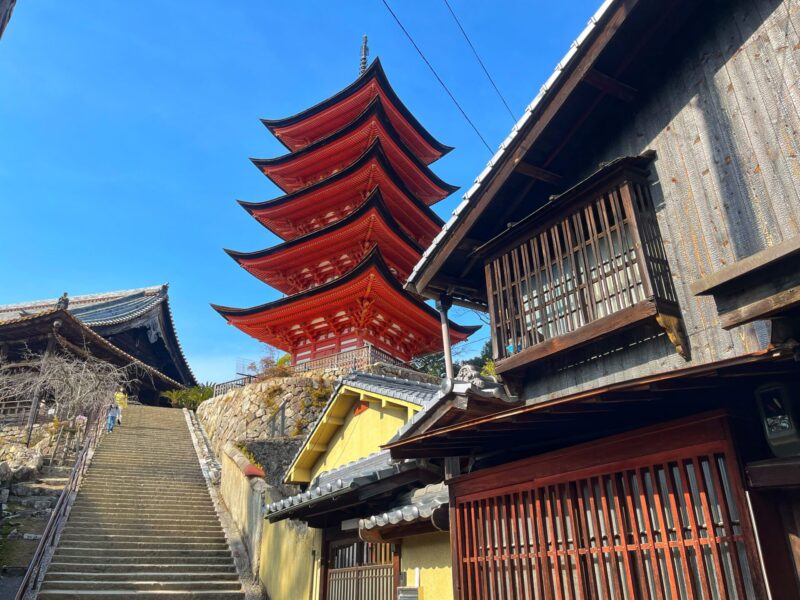 Right next to the Toyokuni Shrine is the Goju-no-to (5-storied pagoda).
The 15th-century, five-Storied Pagoda is located south of Miyajima Island. It provided splendid views and offers a good photo opportunity from its hillside location. We took a few photos with the pagoda before proceeding to the next attractions. A quick stop-over on Miyajima itinerary.
Toyokuni Shrine Five-Story Pagoda
Address: 1-1 Miyajimacho, Hatsukaichi, Hiroshima
Admission Fee: Free! But require ¥100 to see the wooden artwork.
Final Tips for Miyajima Itinerary Planning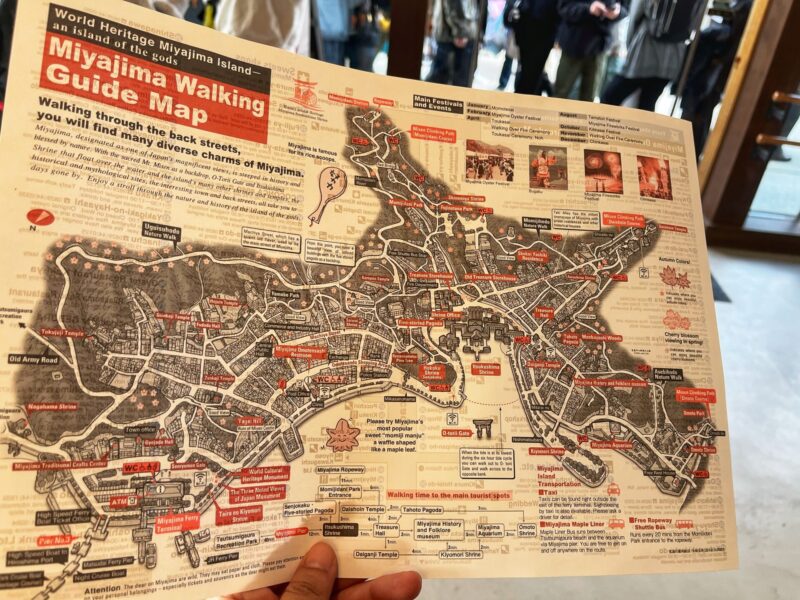 Lastly, here is some handy useful travel tip to help you plan on the Miyajima itinerary:
Most people visit Miyajima from Hiroshima on a day trip. Getting there early as it takes about 1-hour travel from Hiroshima city. We recommended arriving before 10:00 am as it can be quite crowded at noon.
If you have a JR pass can take both the train from Hiroshima and the JR ferry from Miyajima-guchi for free with your pass. Beware of the ferry schedules back to Hiroshima if you are on a tight Miyajima itinerary.
There are many things to do in Miyajima and you will need plenty of time to explore the island. Spend a night on the island. You'll see many more things and you'll be more relaxed.
Miyajima is a touristy place, prices are higher compared to the city area.
The island is filled with hungry deer who are not shy about taking a bite of any food in your hand or pocket. Due to the deer on the island, there are no bins except for at the ferry terminal so bring something to carry your rubbish in as well.
Most of the restaurants and food stands are generally concentrated along Omotesando street. And generally, they are closed early! Please keep this in mind if you are planning to have dinner in the evening.
My last final tips on this Miyajima Travel Guide:
What is the best time to visit Miyajima?
The best time to visit Miyajima is during the winter months when the fresh oyster harvests. Always visit Miyajima as early as possible as it is crowded at noon, especially during the weekend.
Can you visit Hiroshima and Miyajima in one day?
It is possible to do Hiroshima and Miyajima in one day. However, some advance planning is necessary.
How much time needed for Miyajima?
Visiting Miyajima for one full day is a great way to get a taste of Miyajima and its beautiful culture. If time is limited, we strongly suggest spending at least 5 hours when visiting Miyajima.
Is Miyajima worth visiting?
Definitely Yes! Miyajima should be at the top of the list for any visit to Hiroshima. The place impressed me with its beautiful landscapes, historic shrines, and culture.
Overview: A Visit To Miyajima Island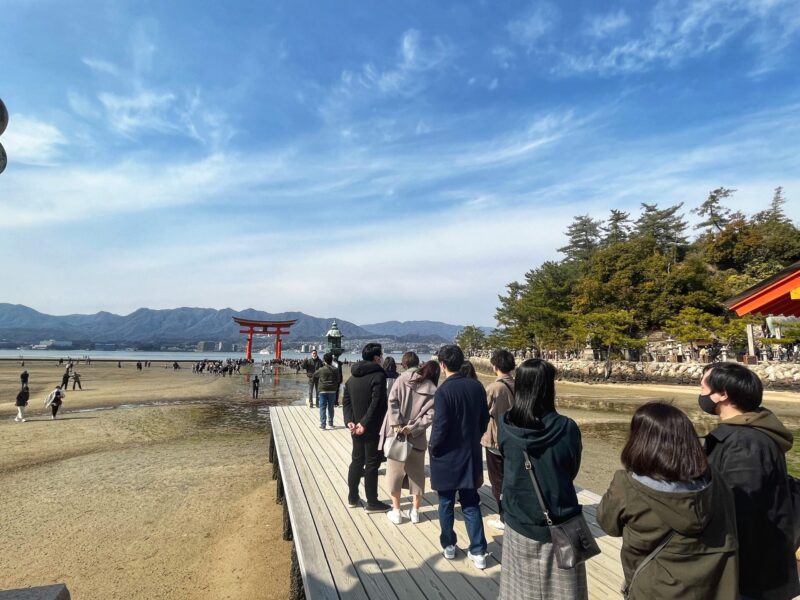 That's it, our 1-Day Miyajima itinerary to this enchanted island with the best sights, including its main attractions. We do hope that you find this simple and easy Miyajima travel guide blog useful. The island is so beautiful to walk around, with ancient temples to admire, and delicious food stores offering oysters and local snacks. We felt a little like we'd stepped back in time a few hundred years and easily spend an entire day here.
In short, my visit to Miyajima island was a pleasant one-day excursion and we highly recommend visiting on a day trip or spending a night there. Strolling around visiting all the shrines and temples, or hiking up to Mount Misen. Truly not to be missed!
Related travel info:
Lastly, make sure to check out what you should not miss when visiting the Chugoku region.