Last updated on September 23rd, 2023
We highly recommended the Nagata-ya if you are craving the best okonomiyaki when visiting Hiroshima. It is a must-eat food for every traveler and one of the best things you can eat in the city!
A visit to Hiroshima must include trying the traditional Hiroshima-style okonomiyaki. Just like Osaka, Hiroshima is famous for okonomiyaki and this delicious food is something you need to try when you visit the city. You can have okonomiyaki everywhere in Hiroshima so it was important for me to find the best.
We decided to try the best Okonomiyaki at Nagata-ya, making it a part of my Hiroshima itinerary. Nagata-ya is one of the popular restaurants specializing in okonomiyaki, long known for serving some of the very best okonomiyaki in Hiroshima.
Let's read more about our food trip to Nagata-ya food, must-eat okonomiyaki in Hiroshima!
Nagata-Ya: Must-Eat Food in Hiroshima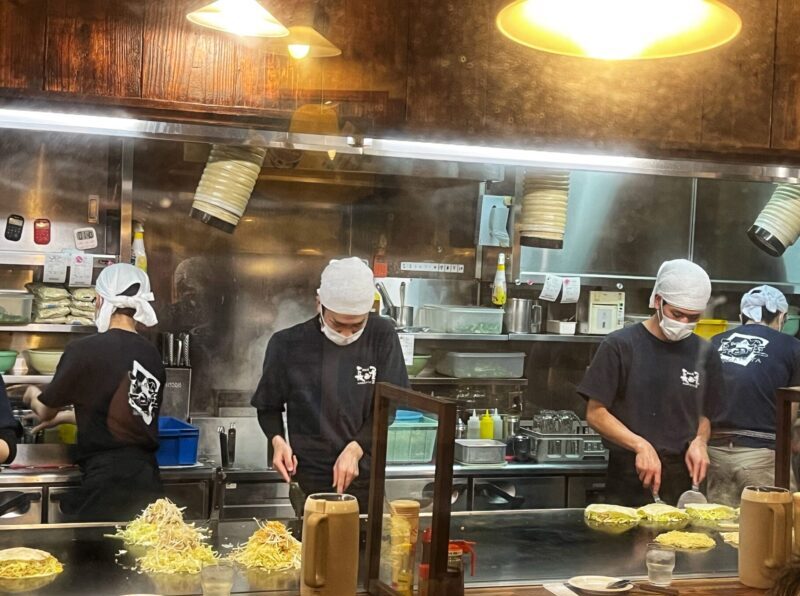 If you enjoy eating okonomiyaki in Osaka, then should not miss tasting this popular Japanese food in Hiroshima.
Okonomiyaki is a savoury Japanese pancake dish made with wheat flour batter mixed with eggs, shredded cabbage, and optional ingredients such as pork, seafood, green onions, noodles, and more. It's typically cooked on a teppanyaki grill and drizzled with Japanese mayonnaise and dark savory sauce.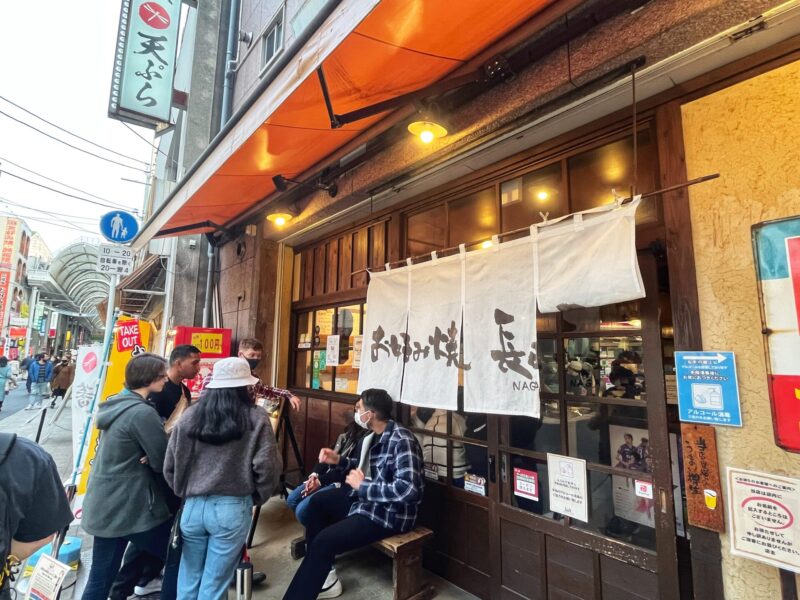 The highly-rated Nagata-ya is very easy to find and conveniently located within walking distance of the Memorial Peace Park. You can easily plan to dine here when visiting the Hiroshima downtown area.
Okonomiyaki Nagata-ya
Address: 1-7-19 Otemachi, Naka-Ku 1F, Hiroshima 730-0051 Hiroshima Prefecture.
Operating Hours: Daily from 11:00 to 20:00 (Closed on Tuesday)
Getting there: 2-minute walk from Peace Memorial Park
What to Order: Okonomiyaki!
Expect to Pay: About ¥1,000 to ¥1,500 for the okonomiyaki
Note that Nagata-ya does not take reservations and they only accept cash.
My Food Visit to Nagata-ya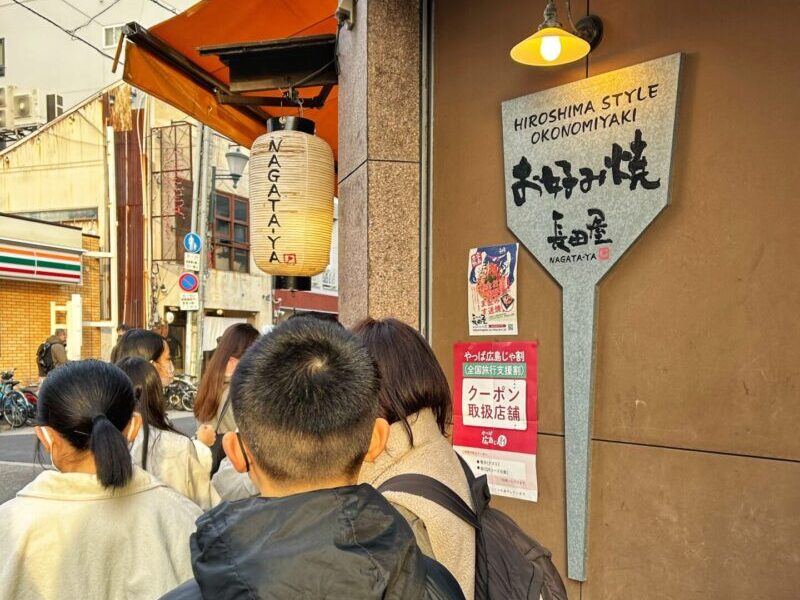 Okonomiyaki Nagata-ya is popular with both tourists and locals so expect a line no matter what time of day you go. But don't let the queue at the door beat you as it moves fairly quickly.
Besides, Nagata-ya has an organized system and they will take your order outside while waiting in line to make it quicker. So once you are seated, your order comes quickly.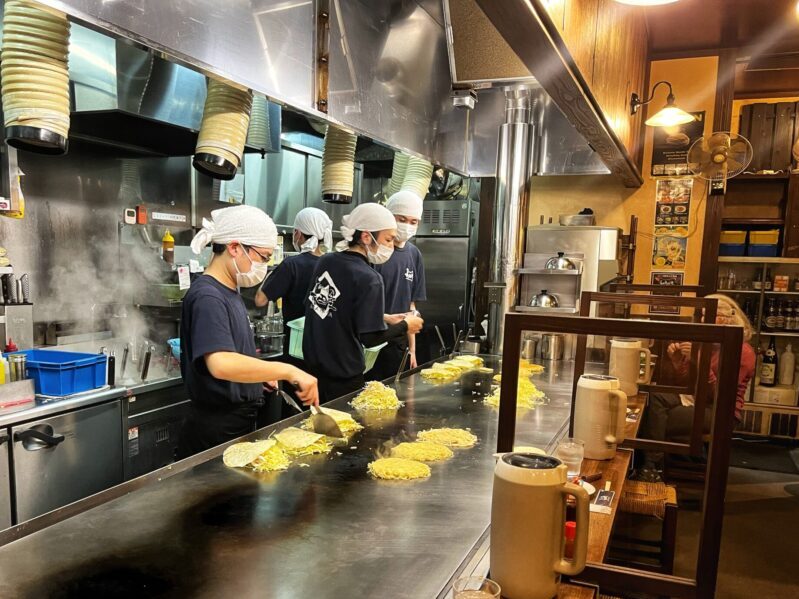 It was the weekend during our visit to Nagata-ya. We wait about 30 minutes before seating. The staff is attentive and friendly. The restaurant isn't very large and it has a good mix of locals and tourists, making for a great atmosphere.
There are 2 types of seating areas, counter bar, and table.
A counter bar is a good option where you can watch the chefs make all the different kinds of okonomiyaki right in front of them and they serve you directly from there. However, for hygienic reasons, the counter bar seat is now only for the solo eater and it is not allowed to talk due to the food being cooked and prepared at the grill located in front.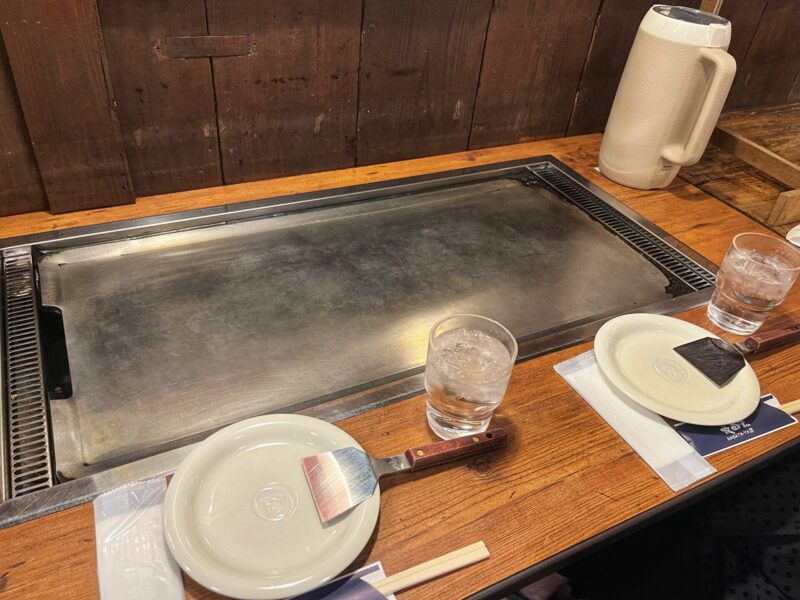 While the tables are designed with a hotplate built into the tables to keep the okonomiyaki warn when the food is served.
The Menu: What To Eat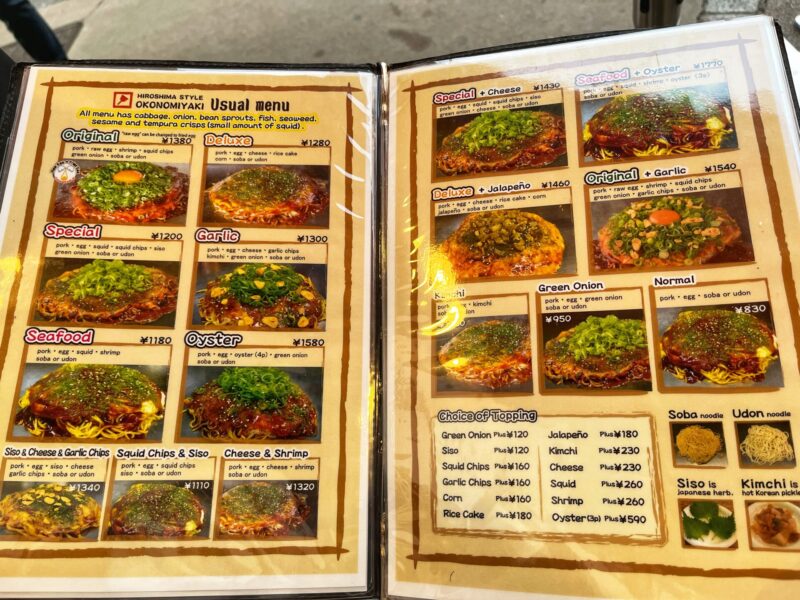 While waiting in line, we get the English menu for food ordering. They are plenty of options to choose from, with a choice of udon or soba noodles. Also, Nagata-ya is a vegan and vegetarian-friendly restaurant, offering a separate vegan and vegetarian menu with clearly labeled ingredients. So, if you are vegetarian or vegan, Nagata-ya is a must.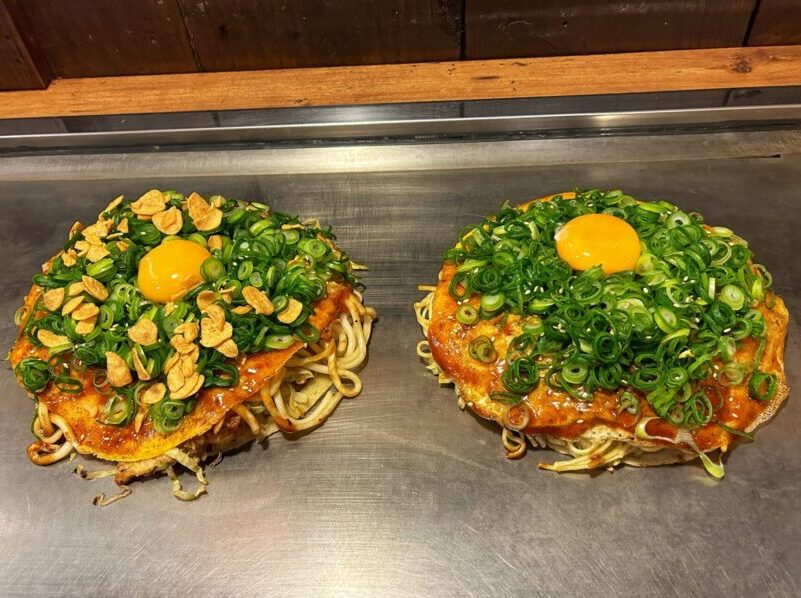 With a party of two, we ordered two okonomiyaki – the original and add on with extra garlic. Also, Hiroshima okonomiyaki includes noodles as a bottom layer. We had udon and soba for each of the selections.
Our okonomiyaki was served fast and it is served with piping hot and kept warm at the hotplate built into the tables. The portion was great and it was cooked to perfection.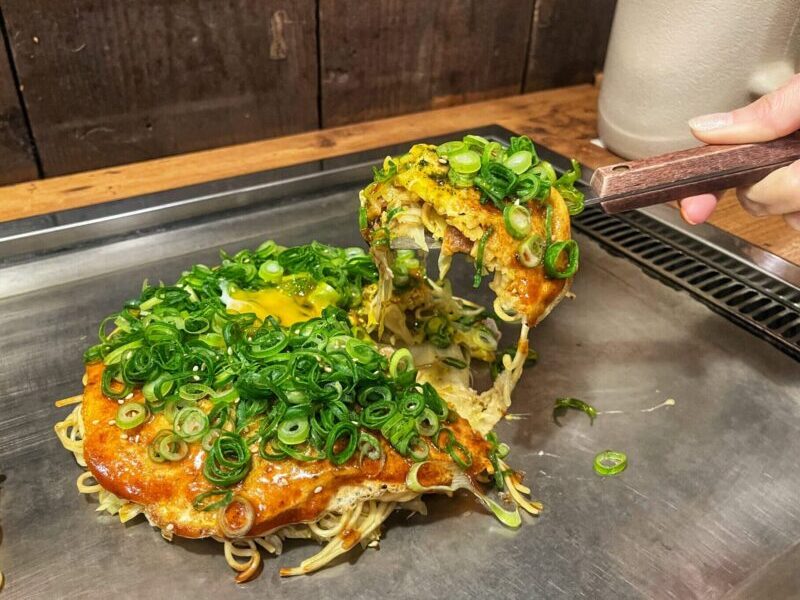 We cut the okonomiyaki into bite-sized portions with the chopper and we truly enjoyed every bite.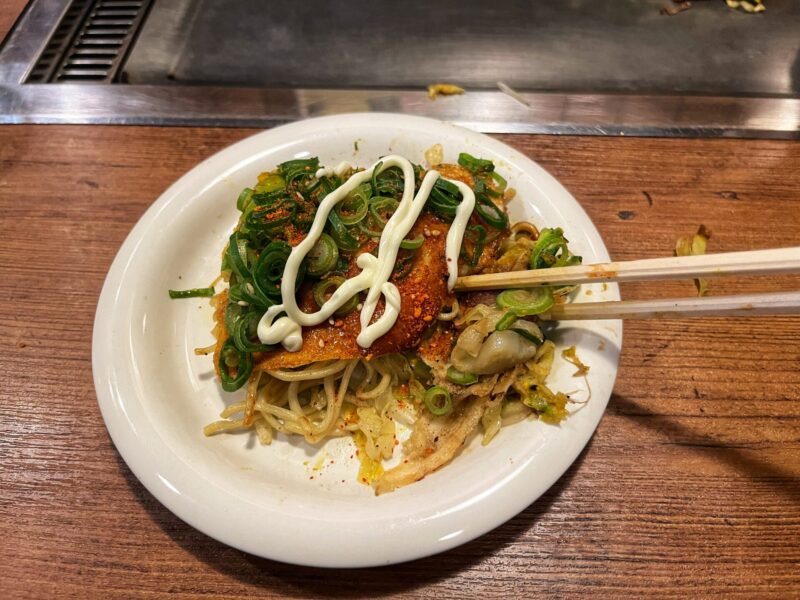 Lots of sauces like lemon sauce, garlic salt, mayo, okonomiyaki sauce, or spice okonomiyaki sauce are at the table so you can add on to your okonomiyaki to enhance its taste.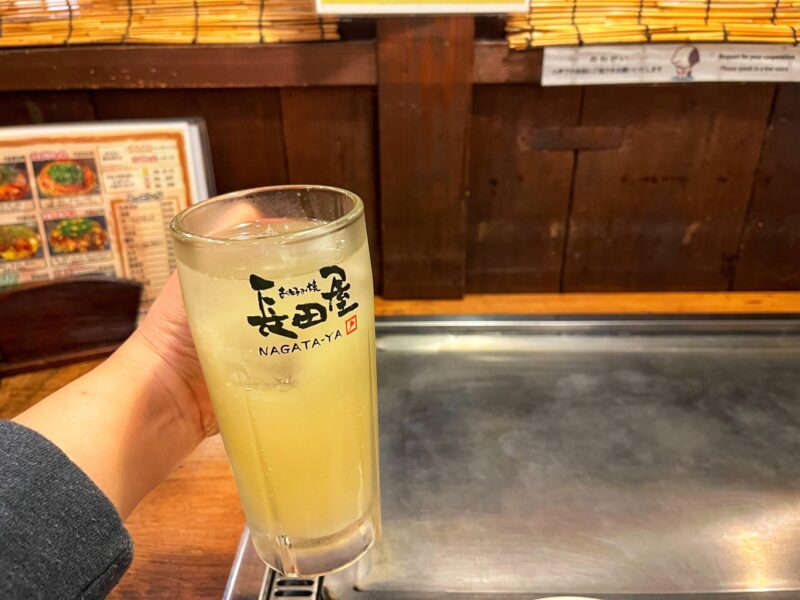 Both okonomiyaki was excellent, but we liked the extra garlic with soba. The soba seems to soak the flavor better. The taste was so excellent and it is even best to pair with a mug of Hiroshima Lemon Highball. Highly recommended!
Overview: The Best Hiroshima Okonomiyaki?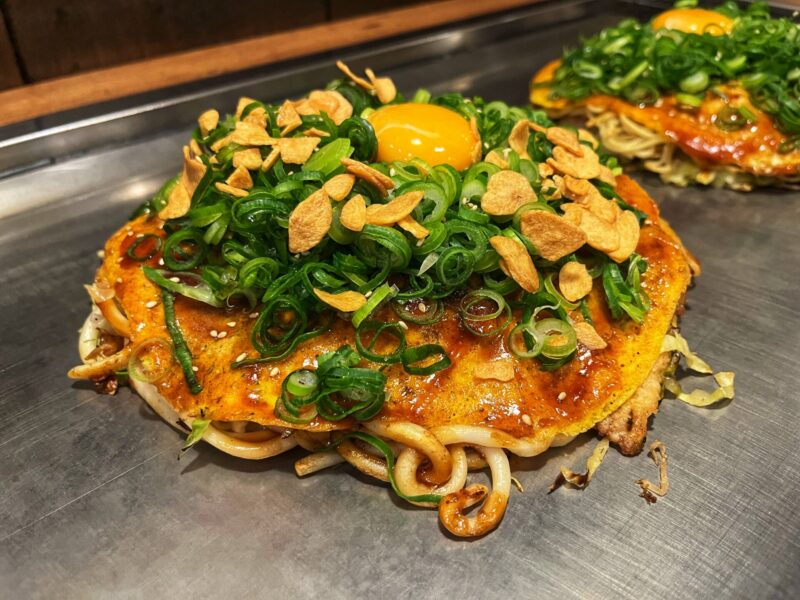 Frankly speaking, Nagata-ya is not my first experience eating okonomiyaki and it might not the best okonomiyaki in Japan. But still, the okonomiyaki from Nagata-ya was very delicious and filling. The food is amazing, and perfectly seasoned, and a good variety of choices. Reasonable price for the level of food and service. We leave the restaurant with a happy tummy and very satisfied.
In short, we highly recommended Nagata-ya if you are looking for what to eat in Hiroshima. The food is uniquely Japanese and the dining experience is fun. Get yourself hungry and try the best Hiroshima okonomiyaki at Nagata-ya!
Related Hiroshima Food Blog:
Lastly, make sure to check out what you should not miss when visiting the Chugoku region: