Last updated on September 23rd, 2023
Staying in Japanese ryokan is your must-do when visiting Kinosaki Onsen. Read about our stay with a detailed Sinonomesou review in this accommodation post.
Kinosaki Onsen (城崎温泉) is known for being one of Japan's most attractive onsen towns. This is a picturesque idyllic hot spring town nestled in a lush mountain valley of Hyogo prefecture. Travelers can stay one night in a Ryokan or Japanese traditional Inn to experience the traditional Japanese lifestyle.
During our trip to Kinosaki Onsen, we stayed at this mid-range ryokan – Sinonomesou. This is a 3-star lovely ryokan run by kind Japanese ladies who made us feel very welcome. Our Japanese tatami room is spacious and clean, with lower dining tables and chairs. The Kaiseki room option is superb and we had a marvelous Snow Crab meal. A good affordable option for exploring Kinosaki Onsen. We loved our stay here.
Read about our Sinonomesou review to know more details in below accommodation guide.
Getting to Sinonomesou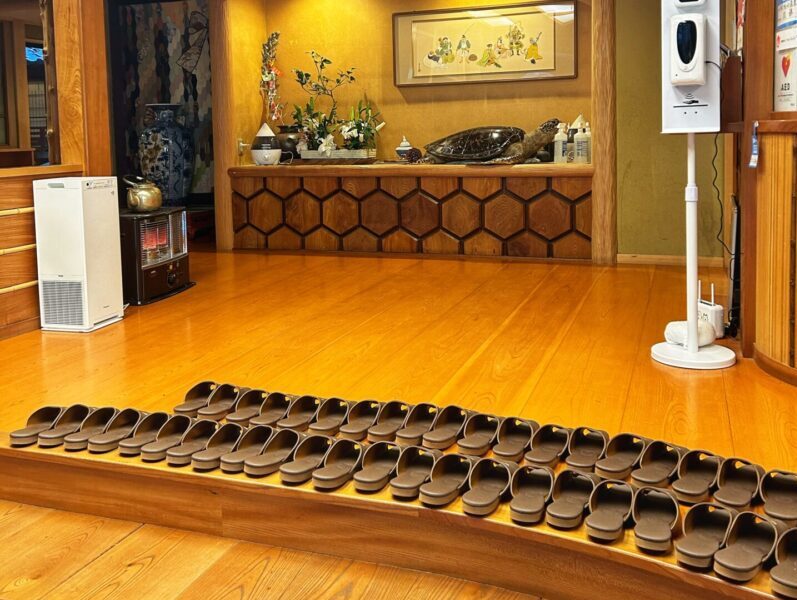 Ryokan Sinonomesou is tucked away in an alley off the main road. We arrived by JR train at Kinosaki Onsen train station. It was about a 10-minute walk to the ryokan. Along the journey to Sinonomesou, you'll walk by some restaurants, eateries, gift shops, and specialty stores.
Once arrived in Sinonomesou, we were welcomed by the friendly lady owner. Though they cannot speak well in English, simple communication is not an issue. We were brought to our room upon completing the check-in process. You will be also asked for the preferable dinner time if you have reserved for the half-board plan.
Additional bath tax of about ¥800 per person per day is paid upon check-in. Dinner and breakfast are included for our stay and this is part of the reason the room price is high. But it is worth it!
Sinonomesou
Address: 757 Kinosakicho Yushima, Toyooka, Hyogo 669-6101, Japan.
If you'd like to make a reservation at Sinonomesou, then you can do so through Booking.com or Agoda.com. You can browse through those links for other listings in Kinosaki Onsen as well.
The Room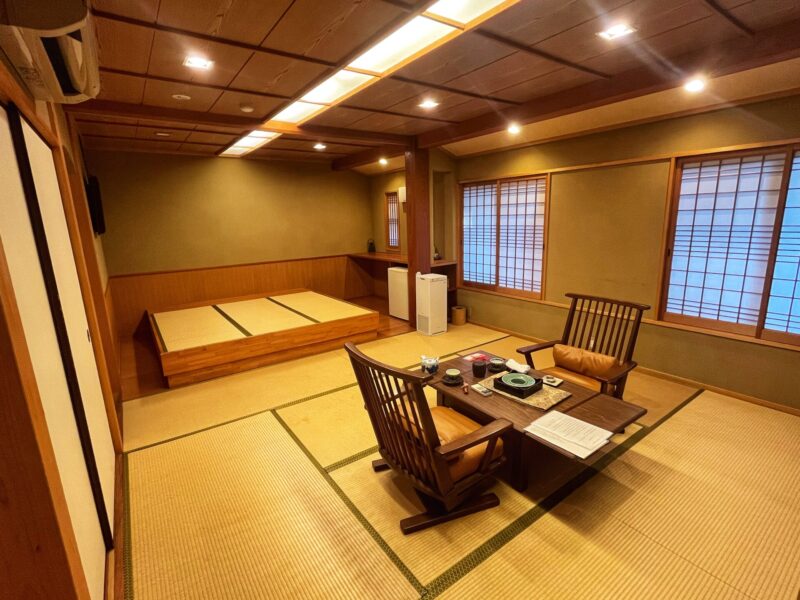 Here's our room. These traditional Japanese rooms all pretty much look like this. You'll find a Japanese low dining table with tatami mats over a heated floor.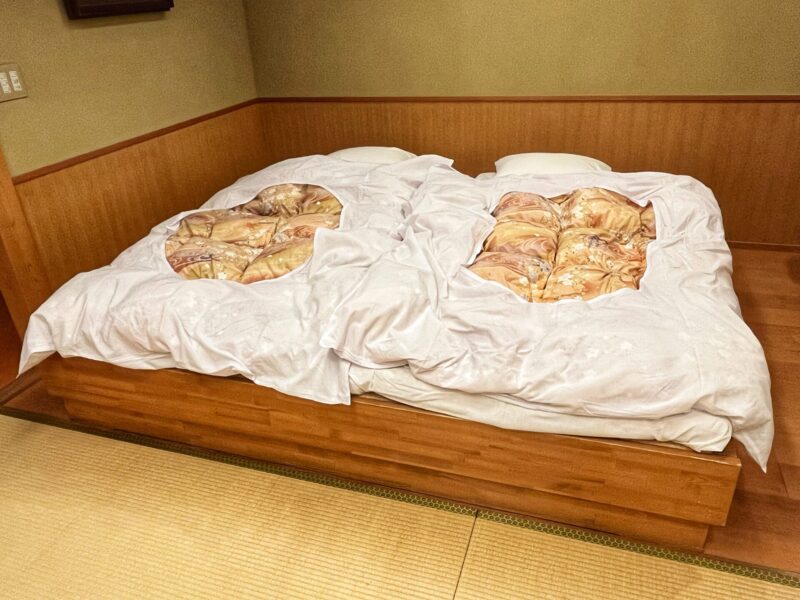 Sleeping is on the tatami mats and futon mattresses and they are usually kept in the closet. The ryokan staff will only prepare your Japanese-style beds and futons for sleeping after dinner.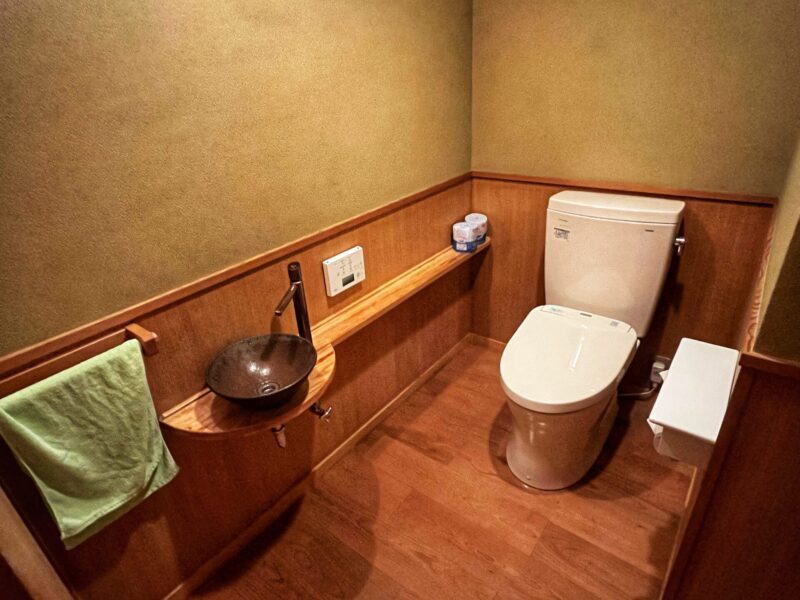 The best thing about our room is this private room had a private toilet and washbasin. Most of the ryokans have no private showers because you're meant to use the public onsens to bathe. Although we didn't use the private shower in the room, it is a great plus if you are looking for a private shower in the room.
Check the latest prices of Sinonomesou Ryokan here.
Wearing Yukata and Wooden Clogs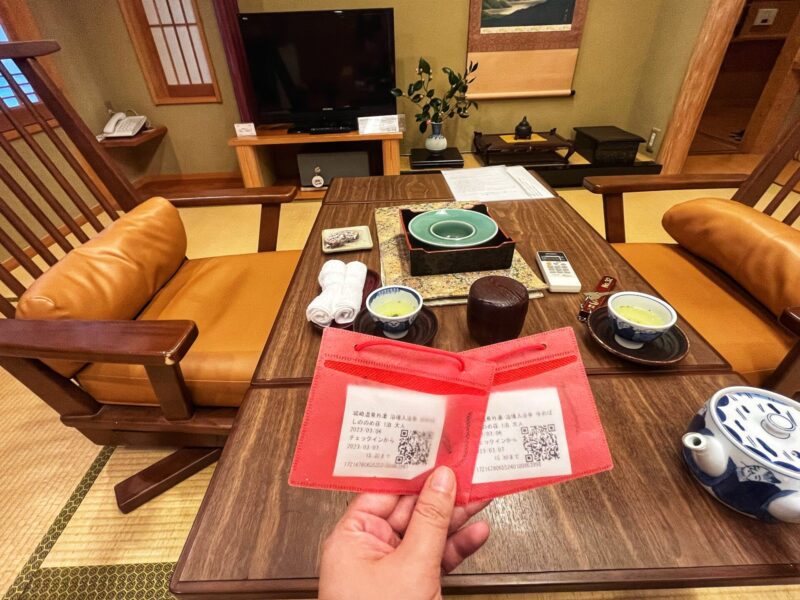 We settle in and can't wait to head for the onsen dipped in Kinosaki Onsen. We then get changed into our yukata and using the wooden clogs provided in the lobby, start our onsen hopping!
When staying in Kinosaki Onsen, the ryokan will offer the Onsen Pass that allows guests to use the Kinosaki Onsen for FREE! This gives you free access to all seven public hot spring baths. The onsen pass is valid from 15:00 on the day you check in until the next day at 10:00 when you check out.
For day tripper, you can purchase the Yumepa pass at ¥1,300 from the tourist information center or entrance to each of the onsens. Alternatively, you can pay ¥500 per onsen bath.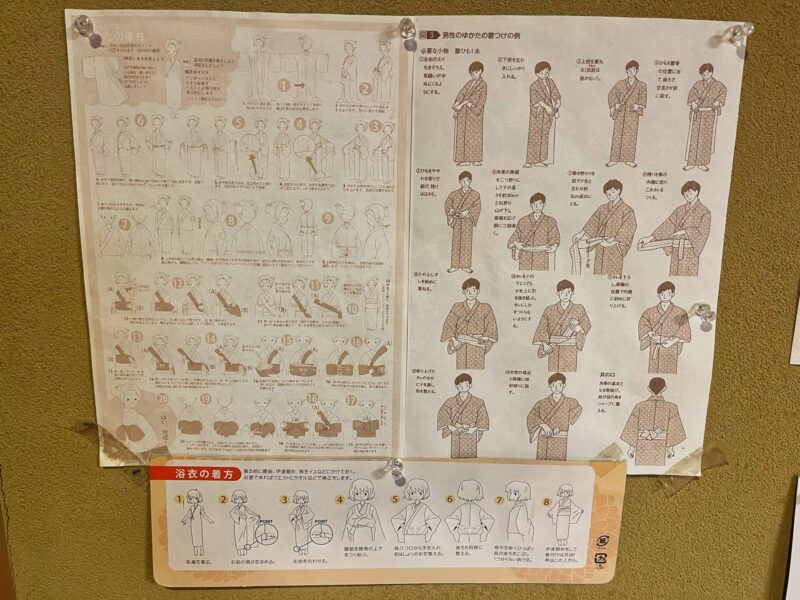 There is a guide on how to wear the yukata for man and woman.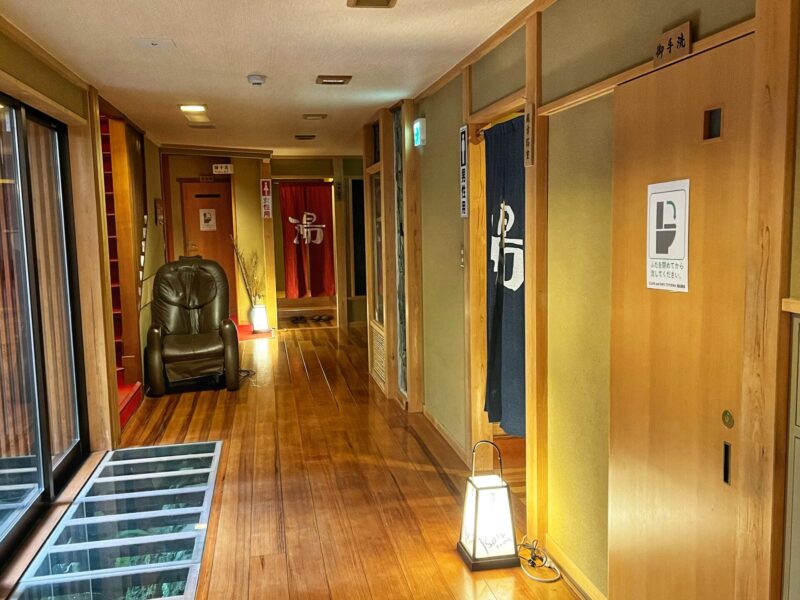 There are 7 onsens in town, but we've stopped at 3 during our trip to Kinosaki Onsen. Each onsen is gender-segregated. Unless you are an onsen lover and would like to try all the seven onsens in Kinosaki Onsen. Else, 2 or 3 onsens dipped should be sufficient to experience the natural hot spring water here.
It's also good to know Sinonomesou had its own baths – one for men and one for women.
Kaiseki Ryori Dinner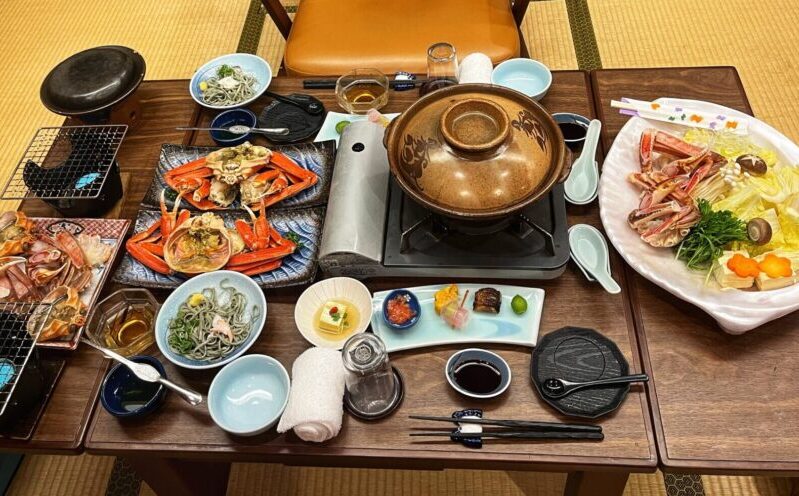 After the onsen, we were ready for the crab feast! We were advanced booking with the winter special Kaiseki Ryori meal with Snow Crab. The half-board meal is not included with the Matsuba Crab and we have been called to the property to upgrade our meal plan.
It is much more expensive than the price advertised. But trust me, it was totally worth it!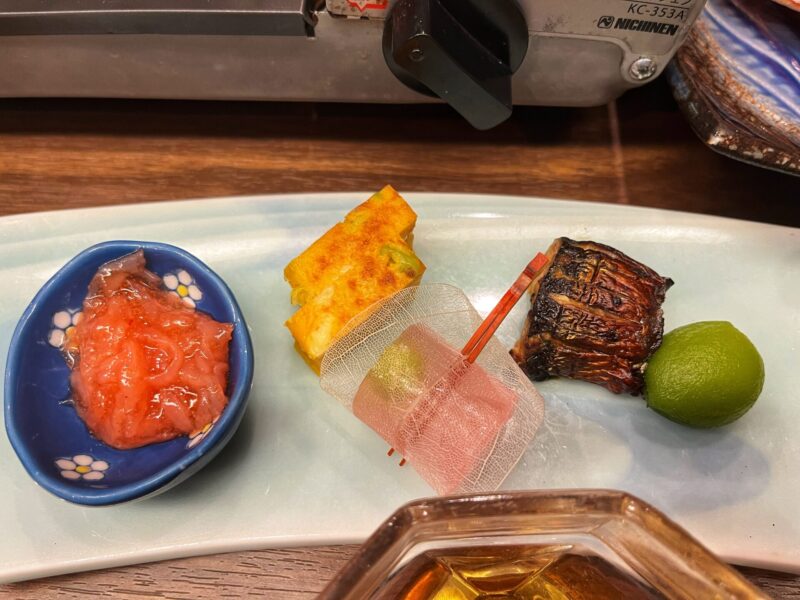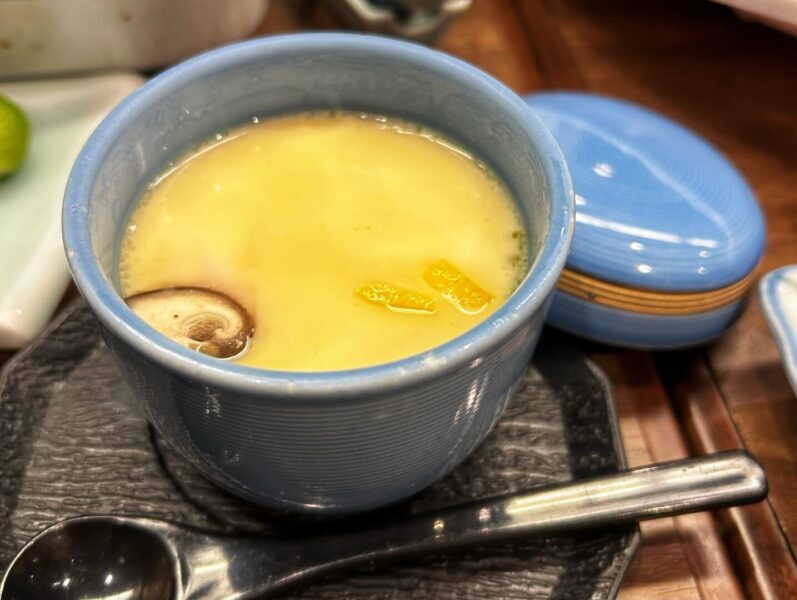 As we entered the room, the table was already set with a full crab and various other plates and vessels, all containing crab.
There are lots and lots of small plates. A bit of so many different flavors. The food was outstanding!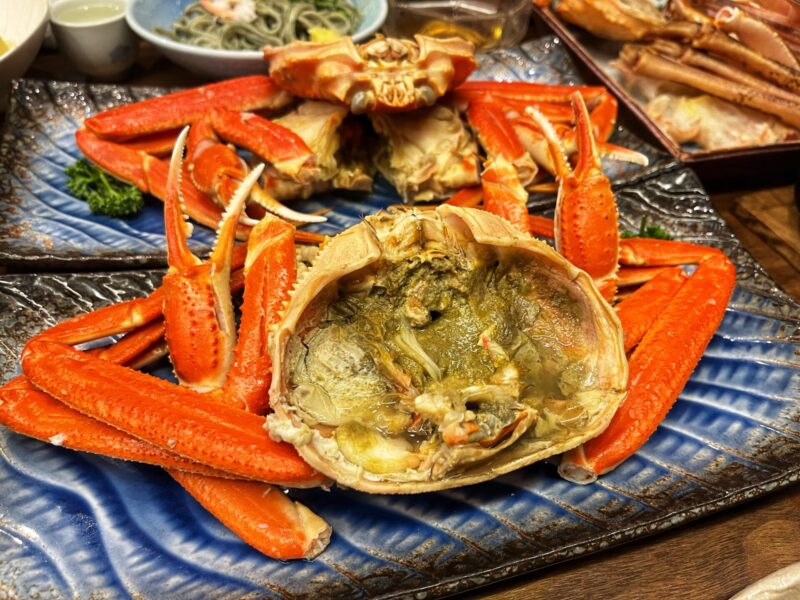 Matsuba crab is caught between November and March each year and is fished from the Sea of Japan, just 10 minutes or so from Kinosaki Onsen. It's my first Matsuka Crab and it was so fresh!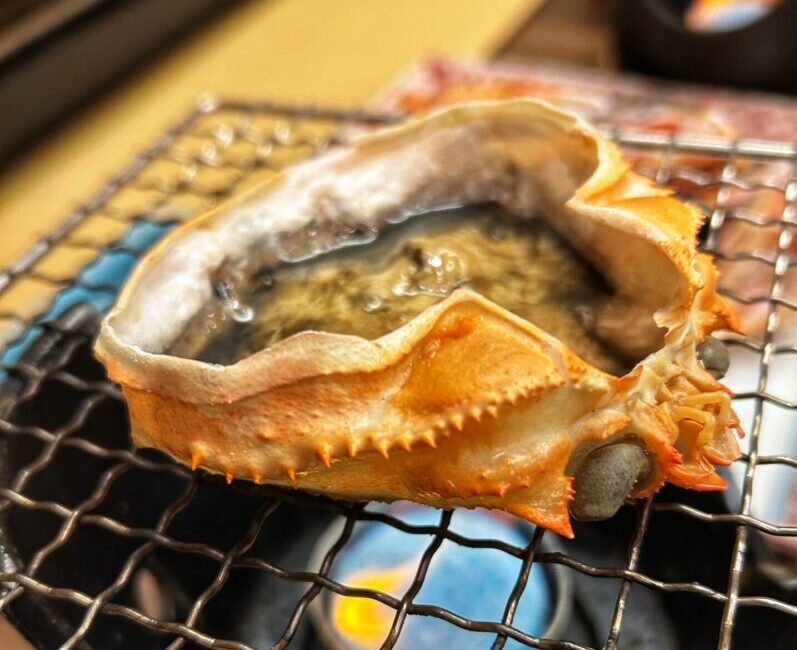 We ate the Matsuba Crab via sashimi and also grilled it.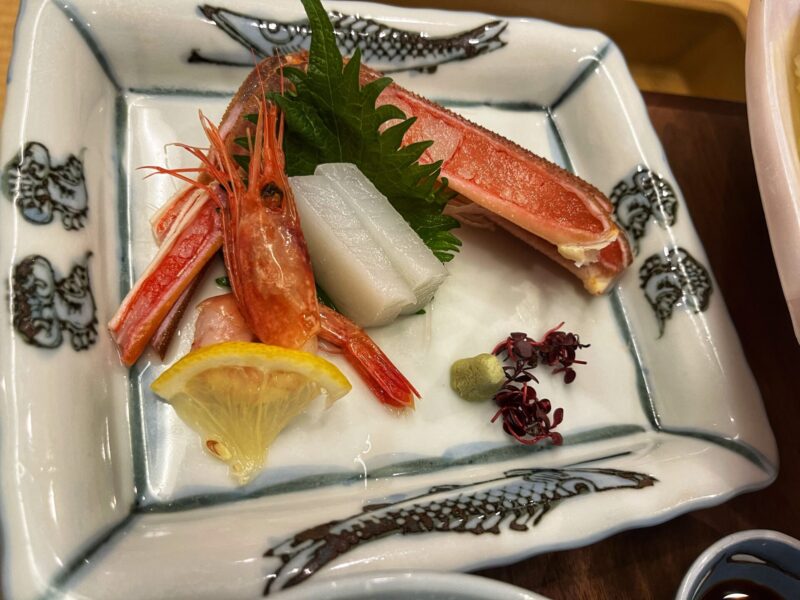 Sashimi plate with crab,ebi, and fish.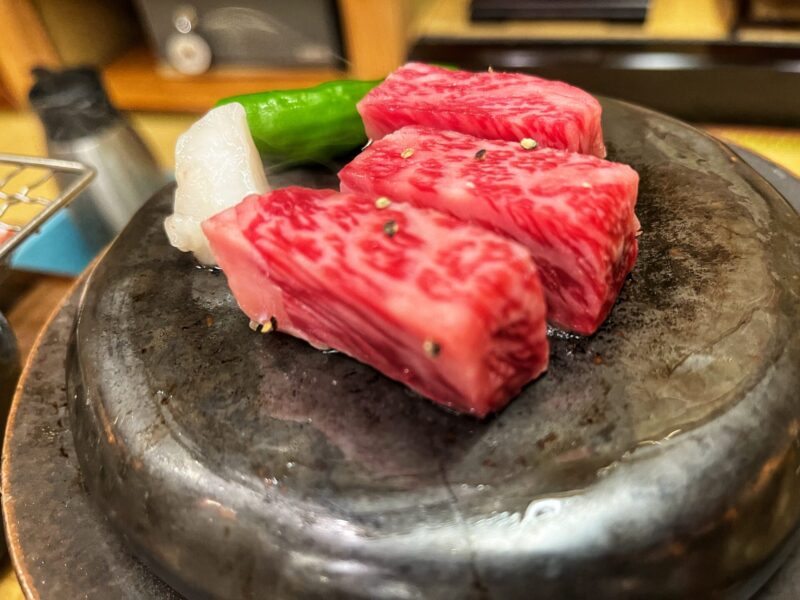 Be sure to try Tajima beef here in Northern Hyogo! Only purebred Tajima beef, borne and raised in Hyogo prefecture can be certified as Tajima beef!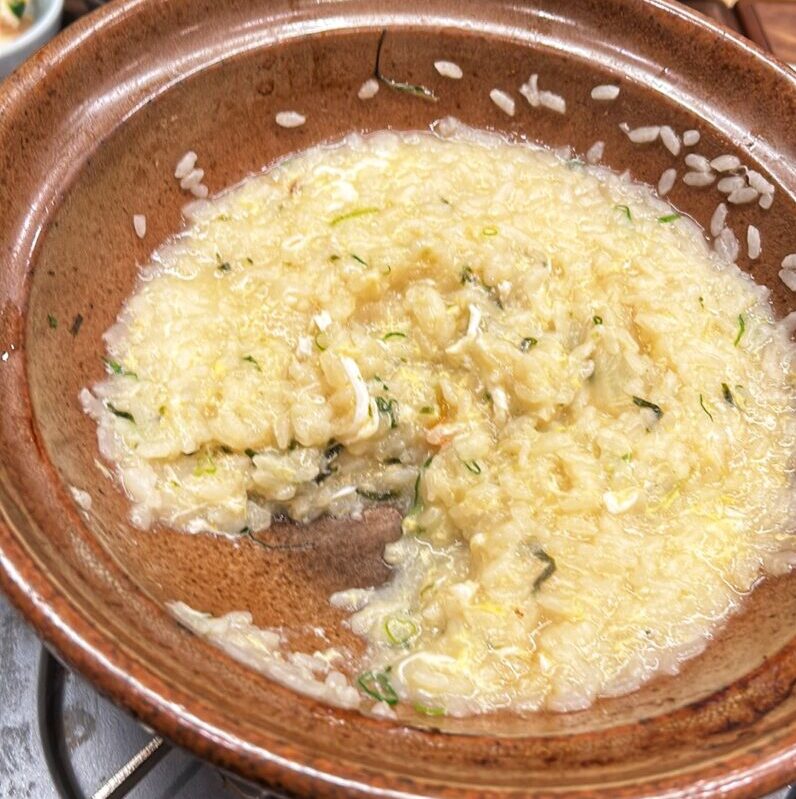 Lastly, our Kaiseki Ryori dinner is ended with Japanese rice soup zosui. It is a satisfying dinner in Sinonomesou!
Japanese Traditional Breakfast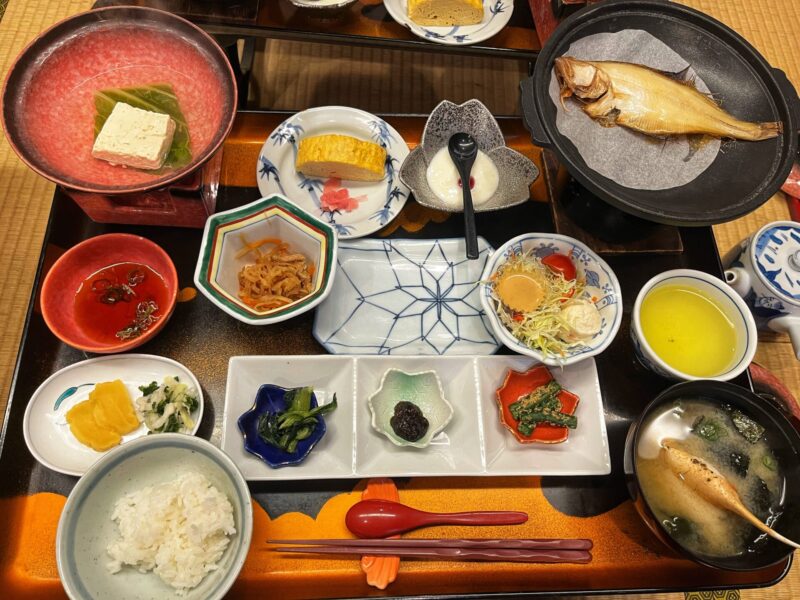 The next morning, the breakfast is also served in the room. We have the Japanese traditional rice set for breakfast. It is featuring with rice, miso soup, fish, pickles, and seaweed. We enjoyed seeing how it was served and prepared. It was so full to finish all of the items!
After that, we leave and head towards the train station to the next destination. It was a superb experience at our Kinosaki Onsen Ryokan and one of the most memorable ryokan stay in Japan.
My Final Sinonomesou Review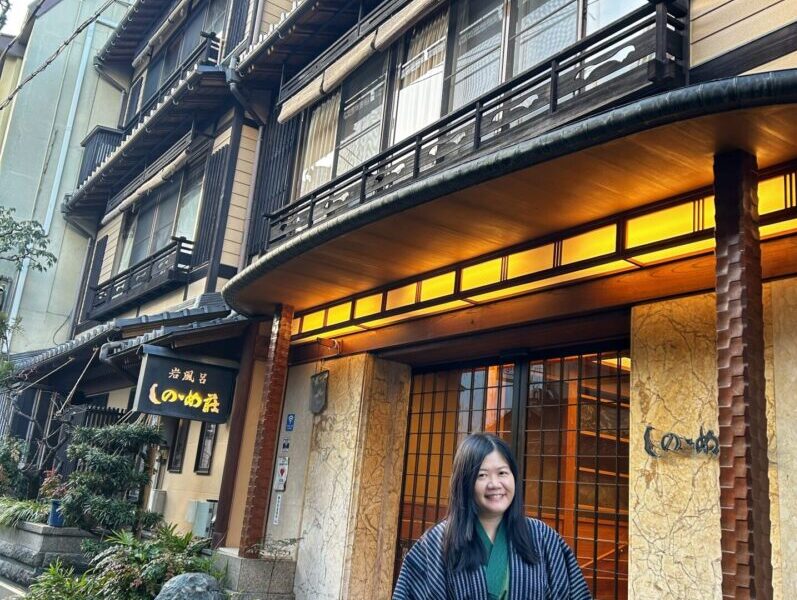 All in all, we hope this Sinonomesou Ryokan review is helpful. It is a lovely ryokan run by kind Japanese ladies who made us feel very welcome. We truly enjoy our ryokan stay experience in Sinonomesou and will look for them on return trips to Kinosaki Onsen whenever possible.
In short, we truly enjoyed our stay in Sinonomesou and highly recommended it!
If you'd like to make a reservation at Ryokan Sinonomesou, then you can do so through Booking.com or Agoda.com. There are many ryokans with onsens in Kinosaki Onsen so be sure to go through the listing to find one that best suits you. Alternatively, you can look for other accommodations in Kinosaki Onsen as well.
Related Kinosaki Onsen travel stories:
Traveling to the Kansai Wide and looking for some inspiration? Free feel to continue to check out our travel stories to some other interesting places: