Last updated on October 17th, 2023
To make the most of your time exploring this Japan's heritage fishing village, here's the Ine Funaya Travel Guide Blog to help you plan your visit to see the picturesque boathouse. Our Ine itinerary is included!
Ine Fishing Village (伊根の舟屋) is a seaside village in the "Kyoto by the Sea" area. This charming village is known for its picturesque Funaya, or boat houses, which have been around since the Edo period. A visit to Ine Funaya Boathouse offers an amazing abundance of outdoor scenery with cool sea breezes. The best place to experience a different side of Kyoto.
Don't miss visiting this Japan's heritage fishing village! Ine is recognized as one of the most picturesque villages in Japan. Upon visiting for yourself and strolling through the peaceful Ine town, you'll understand why.
Ine no Funaya is located 2.5 to 3 hours to the north-west of Kyoto. Most people did not visit Ine Funaya due to the long traveling journey. With the charming picturesque fishing village seaside, for this reason alone we were glad that we had decided to visit Ine to see what the fishing town had to offer. Also, we recommended coupling your visit to historical Ine Funaya with the stunning Amanohashidate nearby.
In this Ine Travel Guide Blog, we will cover our Ine itinerary, how to get to Ine, where to stay, what to eat, and also some of the important travel information and tips to help you plan on your trip. So, keep reading, and let me walk you through the best way to travel Ine!
Ine Funaya Travel Guide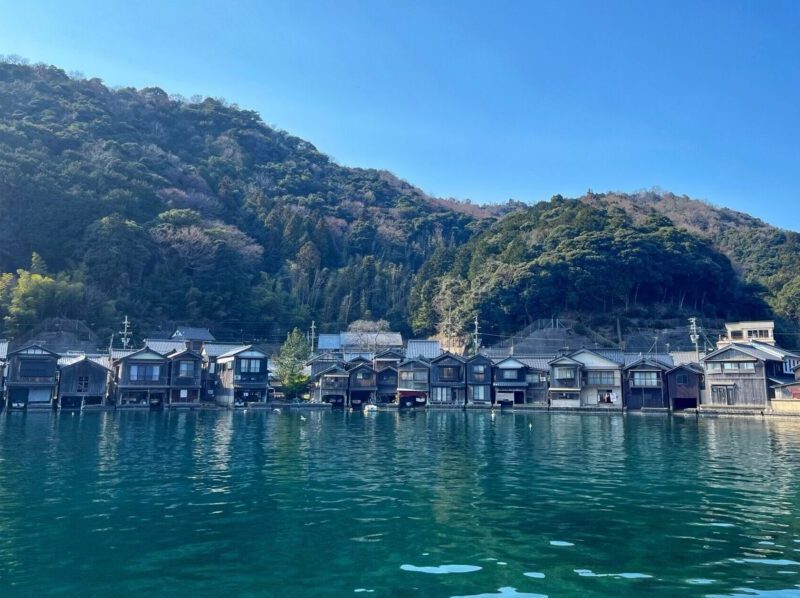 A little brief introduction to Ine Funaya Boathouse.
Ine Fishing Village (伊根の舟屋) is one of the most picturesque fishing towns in Japan. The fishing town is surrounded by the ocean and has a beautiful coastline along the bay. It is also rated by UNESCO as one of the most beautiful bays.
But what's standing for Ine is the traditional Funaya or boathouses. There are about 230 wooden boathouses that have been around since the Edo period. The first floor is used for boat storage to store their fishing boat and fishing gear and while the second floor comprises the living quarters. As the first floor is the sea level, locals can park their boats directly from the ocean. The unique design also makes the boat houses look like floating on the bay.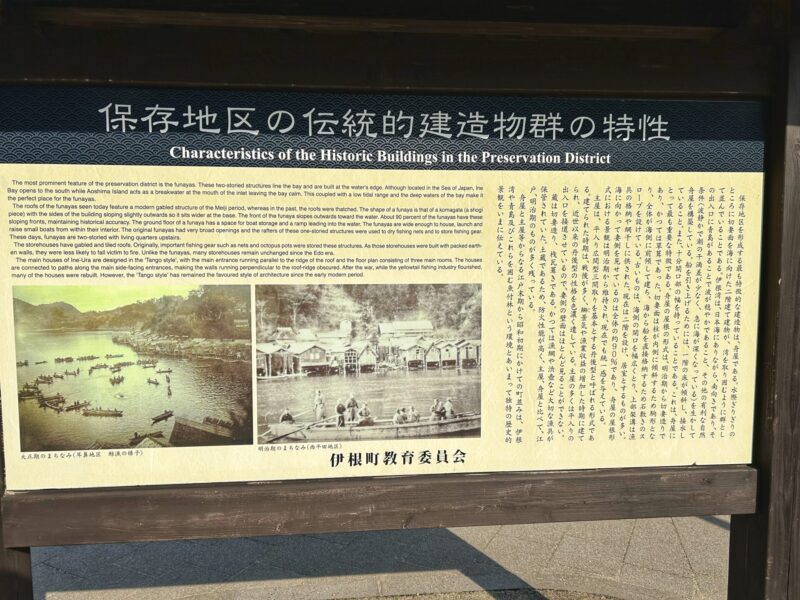 Due to the strategic location, this historical place has been saved from natural disasters and has been designated a historically preserved district.
Many TV shows, movies, and documentaries have been filmed here for their historical value and beautiful scenery. Although some have been renovated into cafes, restaurants, or lodgings, many wooden boat houses are still well-preserved and locals are practiced their lifestyle since the Edo period. Refer below for more details on Ine Funaya Travel Guide and its history.
Official Ine Town Tourism Association: https://www.ine-kankou.jp/en
How To Get To Ine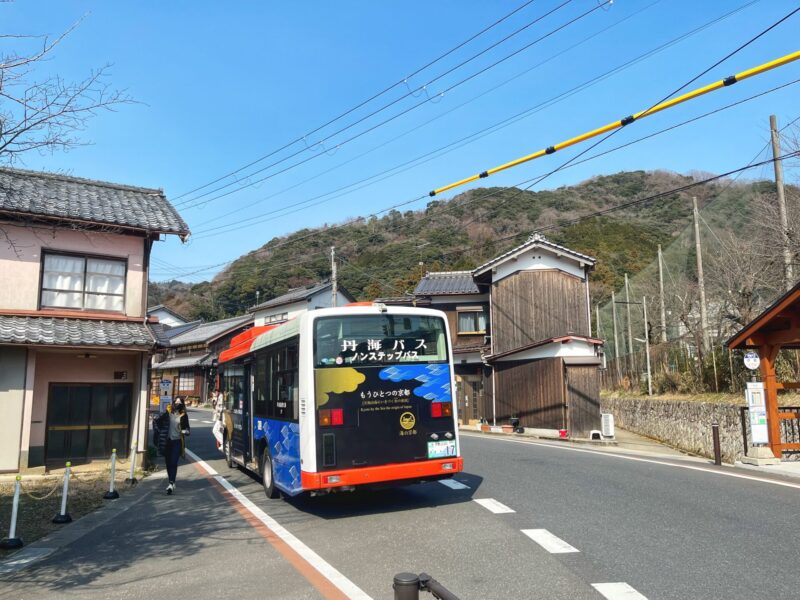 Generally, there is only one way to get to the Ine Funaya (besides self-driving). There are scheduled buses that departed from Amanohashidate toward Ine. You can board the bus from any bus stop at Amanohashidate to Ine Funaya. The journey takes about 30 minutes to 1 hour, departing on the location.
How To Get To Ine Funaya from Amanohashidate:
Board the Tankai Bus from Amanohasidate (天橋立) station to Ine, approximately 60 minutes with a one-way fare is ¥400.
Alternatively, board the bus at Amanohasidate Kono Jinja Shrine bus stop located in front of Motoise Kono Shrine (元伊勢籠神社). The journey is shorter to about 30 minutes.
Note that public transportation is very limited and is scheduled only one-time an hour, so, please be prepared not to miss.
If you're not sure how to get to Amanohashidate before continuing the Ine itinerary, check out this transport guide for access and travel tips: How To Get To Amanohashidate.
When boarding the bus, just take the number ticket when you board and pay when you leave. Only accept cash and no IC card is accepted. Make sure you get off at the correct bus station as there is no English display on the board. We will also share in more detail the station's name on respective things to do at the below Ine itinerary session.
Getting Around in Ine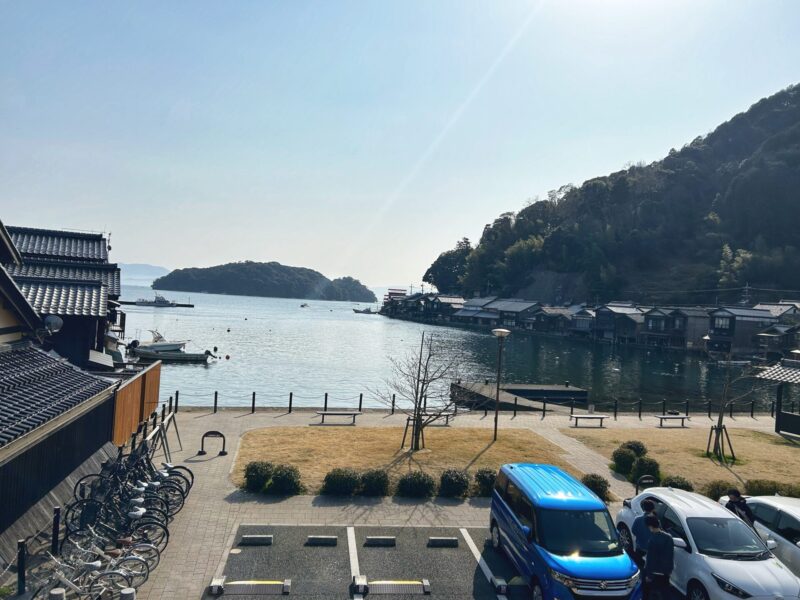 When you are in Ine, the charming fishing town is pretty compact. You can choose to walk around on foot or take a bicycle to wander around. There are bicycles for the visitors to do sightseeing around the village and it's free!
Pro Tips: For day-trippers with luggage on hand, Amanohashidate Station has luggage storage where you can store your luggage.
Where To Stay in Ine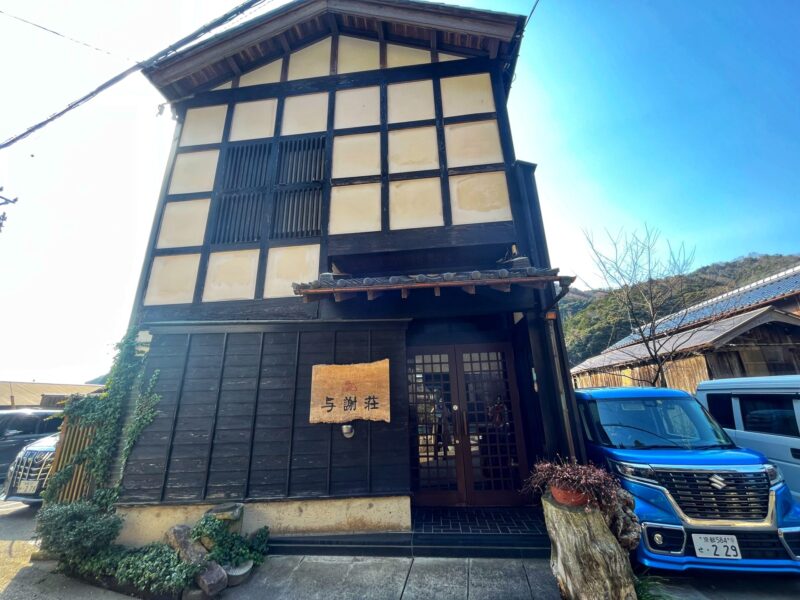 This is not easy to get to Ine Funaya and it is best to stay one night in Ine to enjoy the vibe. We highly recommend staying at a Funaya to experience authentic Japanese fishing village vibe! The only downside is that accommodation in Ine Funaya is limited to 1 group of guests a day and it tends to be expensive. You may check on the below accommodation if this best fits your budget and schedule. Reservations can be made up to 6 months in advance.
Ine Funaya Chalet (舟宿 壱) provides an incredible stay with traditional Funaya style dating back to 1920. Recently renovated, the 2-Bedroom chalet is a fully equipped kitchen with a microwave and a fridge. The chalet is 5 minute's walk away from the bus stop.
CAFE & BB Guri is a charming B&B hosted by exceptionally friendly owners. It is a well-designed, modern, and calm accommodation renovated from a 66-year-old private house. Extremely popular, make sure to reserve in advance.
Yosaso is another boathouse where you can experience staying the night at a funaya. It features tatami rooms that face the picturesque bay of boathouses. Be sure to open the window to enjoy a view of the charming townscape floating on the water.
Things To do in Ine Funaya Itinerary
Below are some of the things to do that you can plan on your Ine itinerary. We only spend about half-day in this heritage  fishing town and truly regret it. We would recommend spending more time or even overnight to truly enjoy the tranquil scene.
Things To Do in Ine itinerary:
Ine Bay Cruise Ferry
Take a tour in a sea taxi
View on Funaya Boat Houses
Feed Seagulls
Strolling in the Edo-Period Ine Town
Taste Local Fresh Seafood
Stay in a renovated boat house on the sea
Ine Travel Guide Tips: Our Ine itinerary is done on our own. But you can also go on organized tours that usually combine with Amanohashidate. Click on below tour option to know more detail.
Ine Bay Boat Tour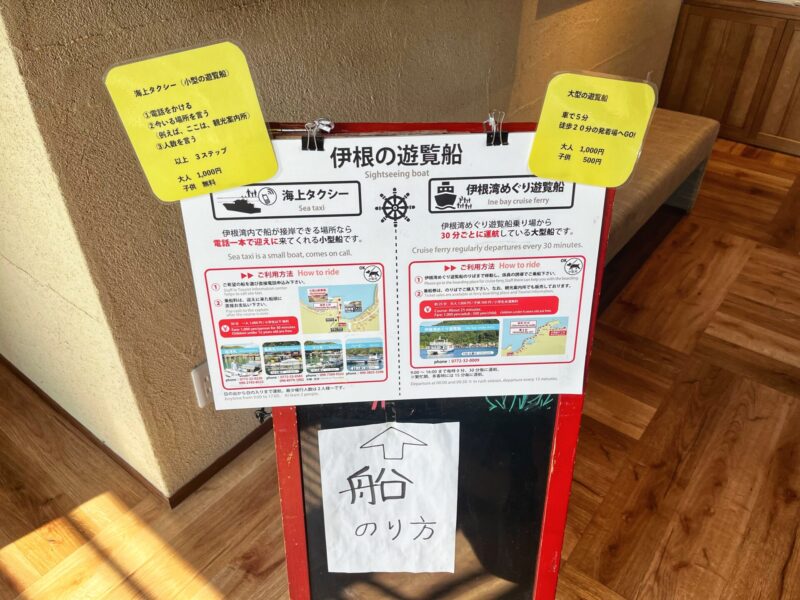 No Ine itinerary would be complete without a tour of the Ine Funaya Boathouse.
There is a range of tours and activities with which to enjoy Ine. For example, the Ine Bay Boat Tour is a popular way to see the boathouses from the water. It's a large excursion boat with a short 20 mins boat ride around the bay to see the old houses that still line it, with a few fishing areas. Before you board, one could purchase a small pack of Calbee Prawn Crackers for seagull-feeding on board.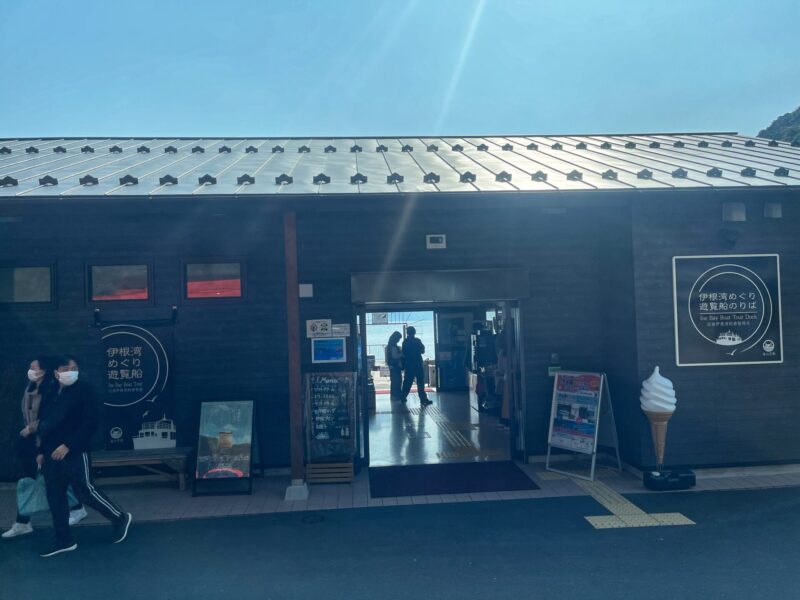 The boat cruising regularly departs every 30 minutes. You can purchase the ferry ticket at the boarding place or the tourist information center.
Note that if you choose to take the Ine Bay Cruising Ferry, you should get off at Inewanmeguri Hide (伊根湾めぐり・日出) bus stop. The departure location is right in front of the bus stop.
Once you finished the cruise tour, you can walk along the coast to Ine town on foot, or choose to board the next bus to Ine town. The walking distance is about 20 to 30 minutes.
Ine Bay Boat Tour (伊根湾めぐり遊覧船)
Operating Hours: Daily from 9:00 to 16:00. Extend to 16:30 from 28 April to 28 October.
Fare: ¥800 per Adult and ¥400 for children. Children under 12 years old are free.
Departure Time: Regularly depart every hour at 00 and 30 minutes.
Take a Tour in Sea Taxi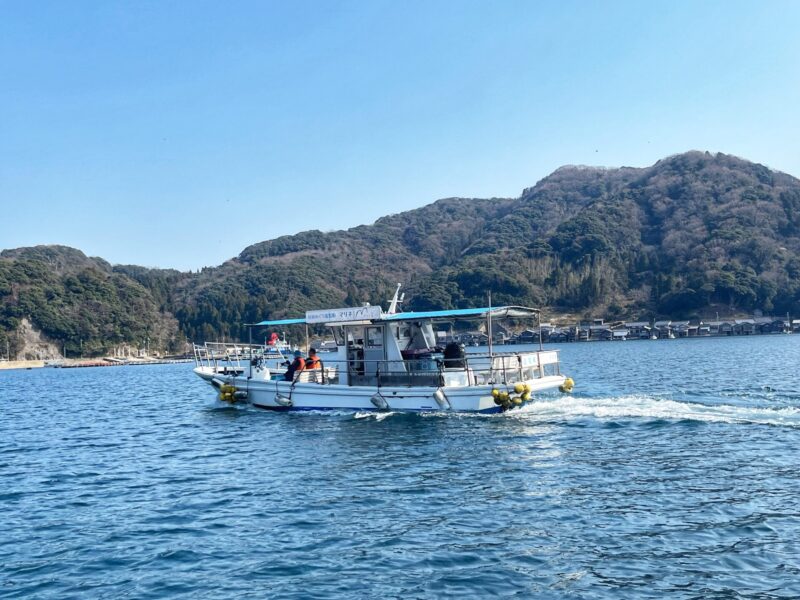 While the sea taxi is a sightseeing boat where a local boatman will guide you around Ine Bay. It is a fun ride and plenty of photo opportunities along its 30-minute route. There are three local operators are operated sea taxis at Ine. You will be riding the speed boat to see the Ine Funaya boathouse and fishing grounds in the bay, and enjoy the view and surrounding.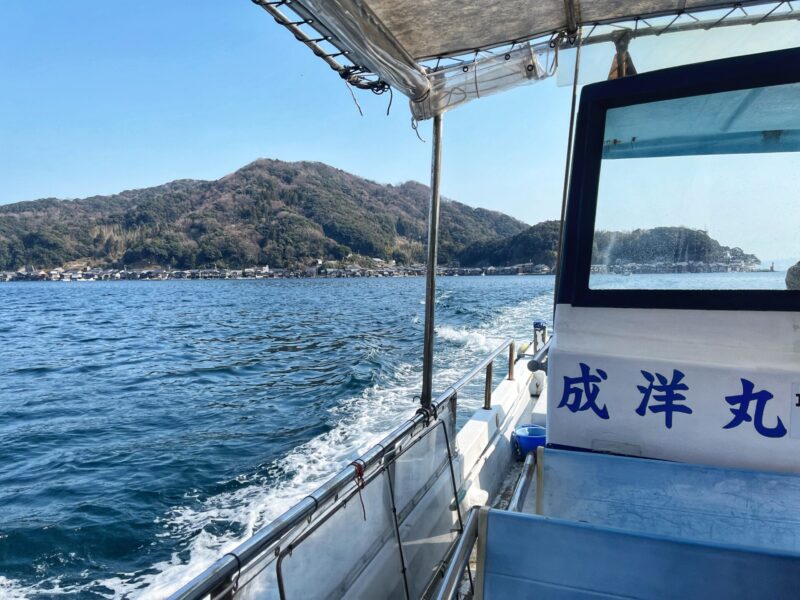 Among the two options, we choose to take the sea taxi as the time is more flexible and easy to access. Also, in my opinion, the sea taxi is a better option as you can go to see the very boat dock closer.
Once we get off at the Ine bus stop, we confirmed the sea taxi schedule at the Tourist Information Center and then walk to the departure point which is only 3 minutes away. From there, you can freely jump into any sea taxi which is available based on your liking.
The 30-minute sea taxi ride cost about ¥1,000 for one adult, but it was very reasonable.
Sea Taxi
Operating Hours: Daily from 9:00 to 17:00.
Fare: ¥1,000 per person. Children under 12 years old are free.
Departure Time: Anytime from 9:00 to 17:00. Minimum 2 people per boat ride.
Departure Location: In front of Ineura Park. 2 minutes walk from Ine Tourist Information Center.
View on Funaya Boat Houses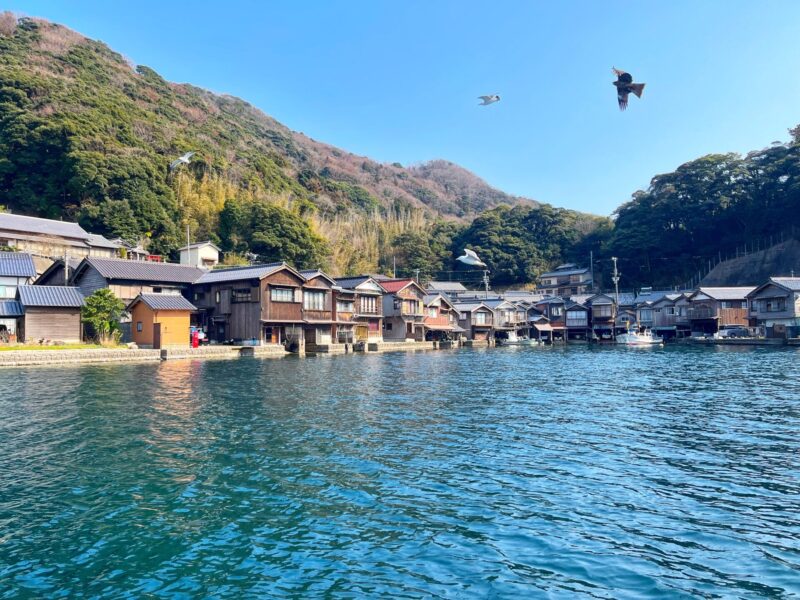 While cruising around Ine Funaya, we were taken closer to the Funaya boat house and spot the fishing village. Around 230 funaya stand surrounding Ine Bay. 
Even today, Ine still looks like a Japanese traditional fishing village that makes you feel like you've slipped back in time. The first floors of Funaya boat houses are "garages" for their boat while living on the second floor. The appearance of lining up with the Funaya facing the sea makes you feel nostalgic. It was a pleasure cruise to see the boathouse look like floating on the sea.
Feed Seagulls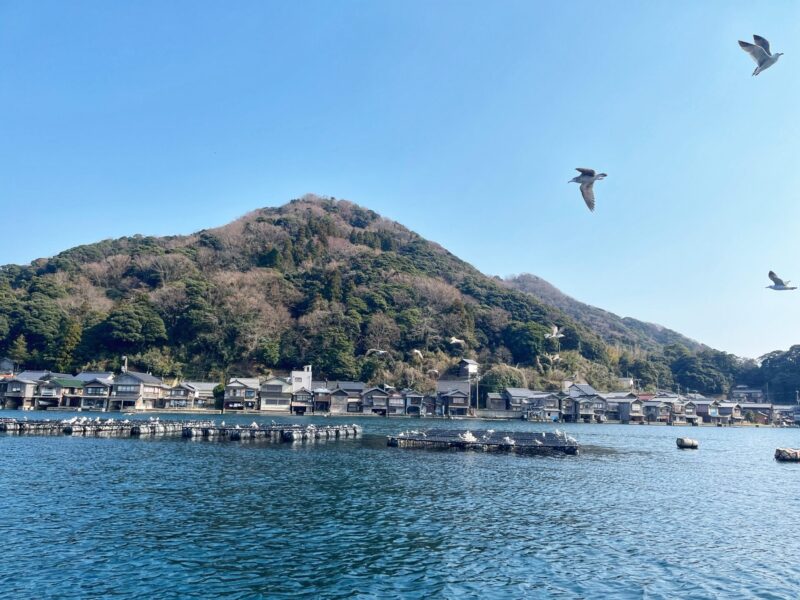 The view of the scenery from the boat is amazing! You can also feed the seagulls on the ride. The boat driver prepares the prawn cracker for feeding the seagulls. It was fun when flocks of seagulls flew over and ate snacks directly out of our hands.
The boat driver will explain the history and some of the recommendations like the Sake brewery, coffee shop, and restaurant to be explored in town. One of the downsides is the communication is in the Japanese language. Still, the friendly boat driver tries his best to explain everything about the history in some English with help of printing material. Whether you understand Japanese or not, it's still a valuable experience.
Overall, it was still a good experience.
Strolling in the Edo-Period Ine Town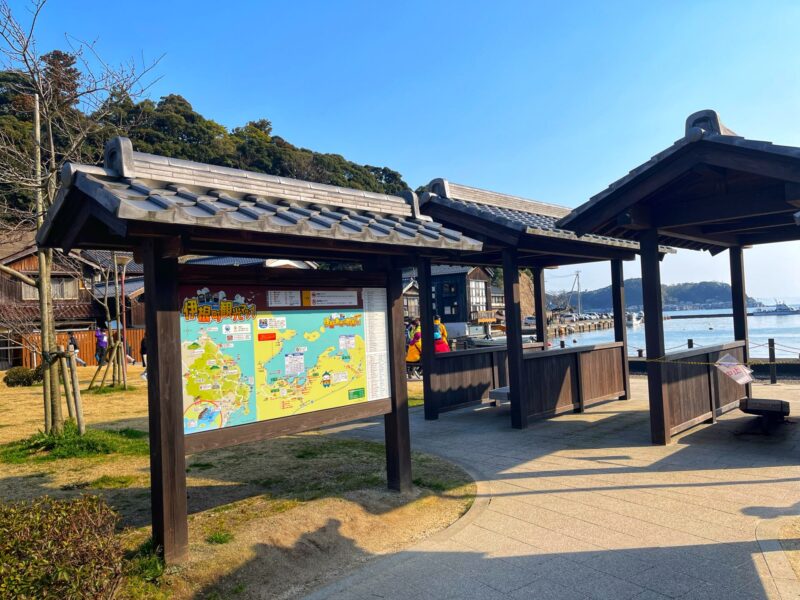 As mentioned above, Ine is renowned for the historic funaya that has been used by local fishers for centuries. but strolling through the town will reveal the quiet, local life here. You can enjoy the nice views by walking around the town along the old and narrow streets.
Take the time to walk through the town and see how the residents live. You might spot fishers out on the water or reeling in the catch from their boathouse decks. There is also a famous sake brewery, Mukai Shuzo offers high-quality sake and its signature is the rose-like sake made with red rice. You can consider including the trip in your Ine itinerary if you are interested in sake brewery.
Please note that although some funaya have been renovated into cafes, restaurants, or lodgings, almost all boathouses are the people's personal living quarters. Their privacy should be respected all the time.
Taste Local Fresh Seafood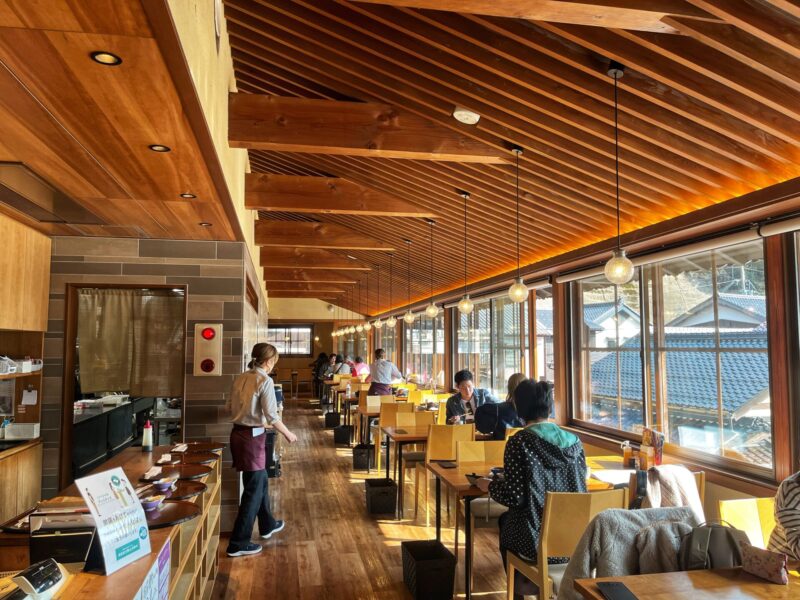 When visiting Ine, you'll have a chance to taste the freshly caught seafood from the fishing port. There are using locally harvested fish and vegetables where you can enjoy the flavors of traditional Japanese life.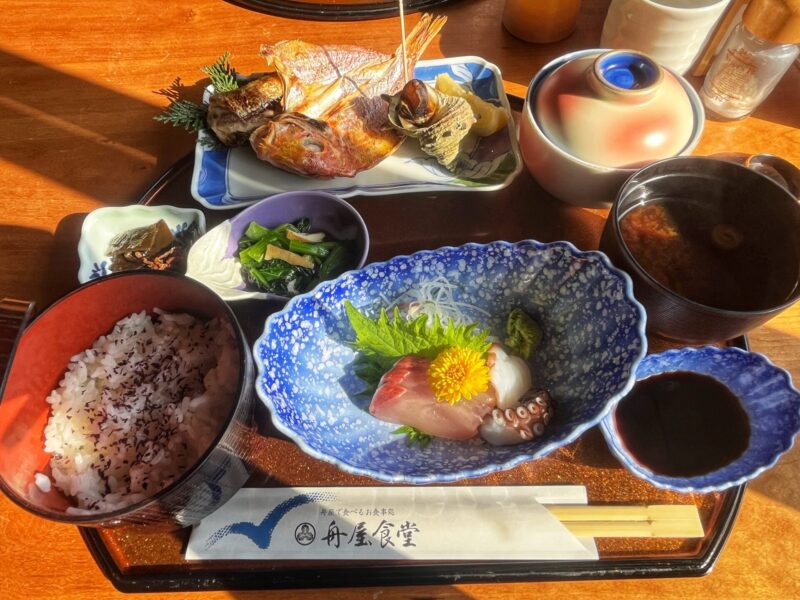 Due to the tight schedule, we are having our late lunch at the Funayasyokudou (舟屋食堂), located at the second of the Tourist information center. We have the freshly caught seafood meal set filled with local and seasonal delicacies, sashimi, grilled fish, and the marvelous Funaya scenery! The food is nice and we enjoy sitting in a restaurant overseeing the bay.
In fact, we planned to have a coffee at the visit Ine Cafe. It is one of the most popular spots in the town where you can have dessert and coffee with a view of the bay. Unfortunately, it was closed during our visit.
How To Plan Ine Itinerary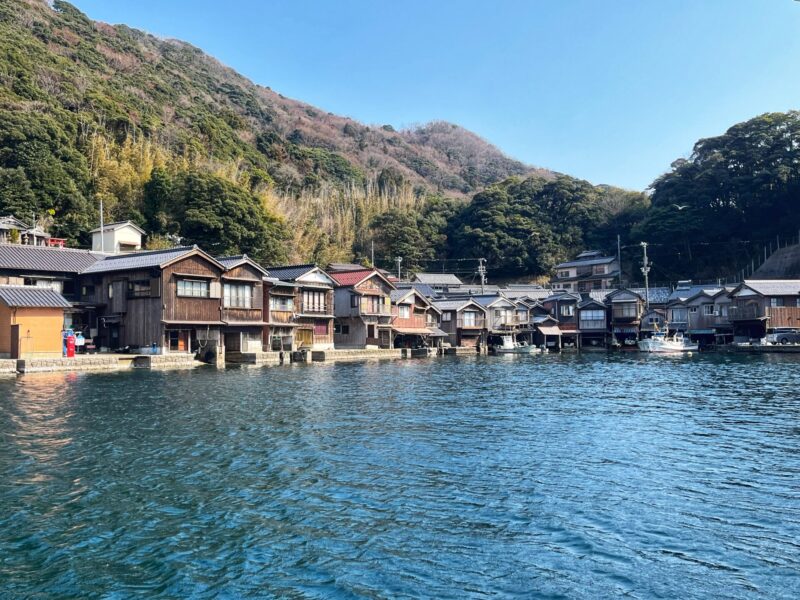 Frankly speaking, we didn't have any plan on what to do and eat in Ine Funaya. In my defense though, I was more focused on the sights to see and the Ine Funaya itinerary in a more relaxed vibe. But fret not, I did enjoy the seaside and peaceful vibe in Ine.
Below is how we plan on the Ine itinerary with an estimated time allocation for you to have an overview. You may freely adjust based on your schedule and travel pace.
Suggested Ine itinerary:
Arrived at Amanohashidate in the morning and take in the views at Amanohashidate
Head to the seaside town of Ine from Amanohashidate Station (1 hour)
Arrived Ine and take the Ine Bay Cruise or Sea Taxi Tour (1 hour)
Lunch with local fresh seafood or enjoy a cup of coffee (1 hour)
Strolling and relaxing at Ine town (1 hour)
Back to Amanohasidate Kono Jinja Shrine and continue to visit the remaining attractions. (30-minute)
However, I only have about half a day here due to the limited rush schedule. My advice is if you can afford it, book an overnight stay in Ine! You will be able to enjoy the serene view and sleep at a historical boathouse. Wake up early in the morning just to experience true serenity where you can hear boats rubbing against the dock line. Learn from my mistakes and try to allocate more time for Ine if you enjoy the relaxing vibe during travel.
Ine Funaya Travel Guide Tips: For traveling to Ine by Tankai Bus, it is recommended to always make sure of the bus schedule when planning for the Ine Funaya itinerary.
Tankai Bus timetable to Ine town: https://www.tankai.jp/en/bus/tankai-bus/
Final Tips For Ine Funaya Itinerary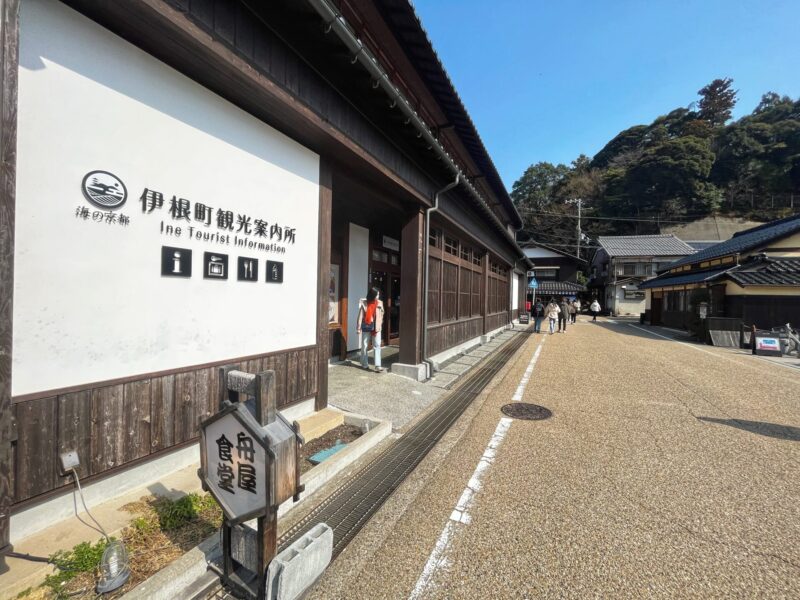 We recommend stopping by the Ine Tourist Association for information on using bicycles in town, e-bike rentals, and tours. They are very helpful and can provide much useful information on how to explore the town. You can book tours to enter the boathouses, experience fishing, or learn about the history of Ine on a cycling tour.
Ine Funaya is a fairly small fishing village – walking the perimeter of this lake takes about an hour, and it's mostly lined by local houses. There isn't much to do here but relax. That's the main reason why we came here!
Most of the Funaya in Ine is on private property and cannot be entered. If you want to see the inside of the Funaya house, we recommend taking a guided tour. You can see the inside of a Funaya house that you can't usually see. You can check for more information at the Tourism Center.
Check for a guided tour conducted by Ine Tourist Association: Ine Strolling Guided Tour.
What's so special about Ine?
Ine is famous for its traditional Funaya or boathouses. There are about 230 wooden boathouses that have been around since the Edo period.
Is it worth going to Ine?
If you love the tranquility and simple local life, a visit to Ine is highly recommended. It is one of the best places to experience the traditional Japanese village.
How long should I spend in Ine?
Allow at least 3 to 4 hours to explore the fishing village. If time is permitted, we recommended staying overnight in Ine to experience an authentic Japanese fishing village vibe.
Overall: A Trip To Ine Funaya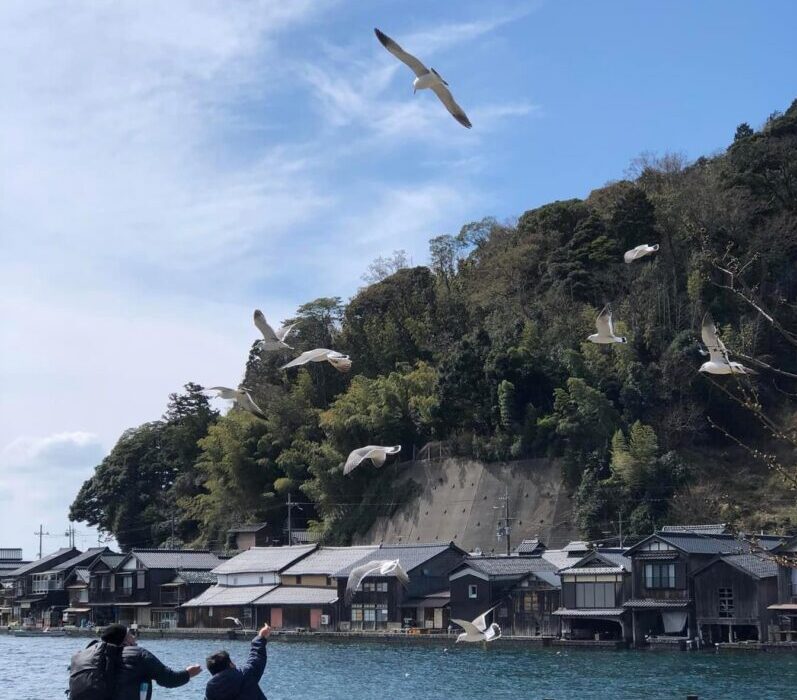 That's it! Thank you for reading this Ine travel guide blog.
We hope that now you have a clearer idea of what to expect and how to make the most of your Ine trip! In short, we truly enjoy the picturesque views of Kyoto by the Sea. This heritage village site is one of the natural wonders and a must-see during your Kansai Wide visit. It is truly a gorgeous area and great for relaxing. Next time, I'd like to stay overnight!
Traveling to the Kansai Wide and looking for some inspiration? Free feel to continue to check out our travel stories to some other interesting places: