Last updated on June 3rd, 2023
Shirahama boasts plenty of accommodation options ranging from traditional Japanese Ryokan to modern hotels. Here is a list of Shirahama accommodation options for best places to stay in Shirahama. You'll be able to find somewhere that suit your budget when looking for where to stay in Shirahama.
Shirahama is one of the popular beach gateway destinations in Japan, particularly for the summer holiday. It is known for its appealing mix of pristine white beaches, hot springs, and interesting rock formations with stunning sunset views. Beach lovers enjoy the beaches here, as well as those who want to see the beautiful sites that Shirahama has to offer.
When looking for where to stay in Shirahama, there are many hotels for all types of budgets and interests to choose from. Accommodation options range from luxury beach resorts, high to mid-range hotels, traditional ryokan, or budget guesthouses.
Check out this accommodation guide for where to stay in Shirahama to ensure that you will have an amazing time when visiting this spectacular beach gateway in Wakayama Prefecture.
Where To Stay in Shirahama
Like most of the hot spring towns, Shirahama is filled abundance of hot springs where you can truly enjoy the natural onsen when visiting here. It is recommended to spend at least one night in Shirahama for a more relaxing trip.
To help decide where to stay in Shirahama, here is a quick guide on the city's popular accommodation:
Pro Tips: Always look for accommodation nearby with a bus station if you are traveling to Shirahama using public transport. Else, you will not have an issue if you are getting around Shirahama with a rental car.
Nanki-Shirahama Marriott Hotel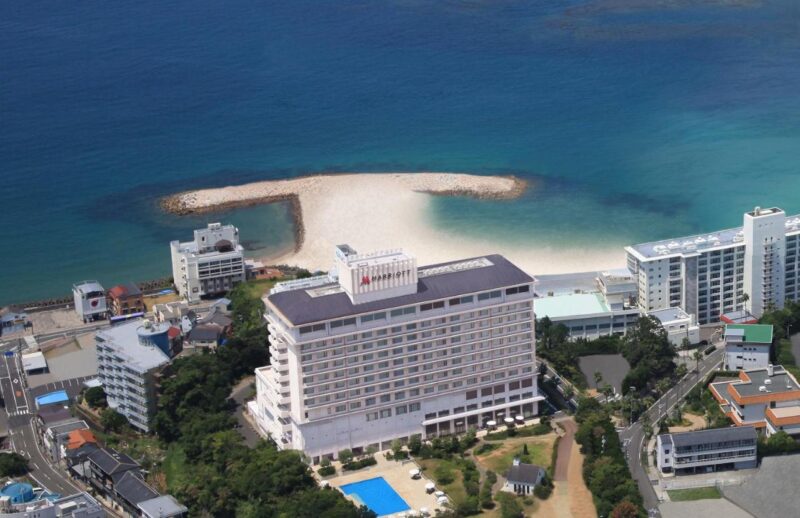 Nanki-Shirahama Marriott Hotel is a great luxury Shirahama hotel, located only 3 minutes away from the beach. The property boasts an open-air bath and a lounge on the top floor, featuring panoramic ocean views as well as views of the sunset.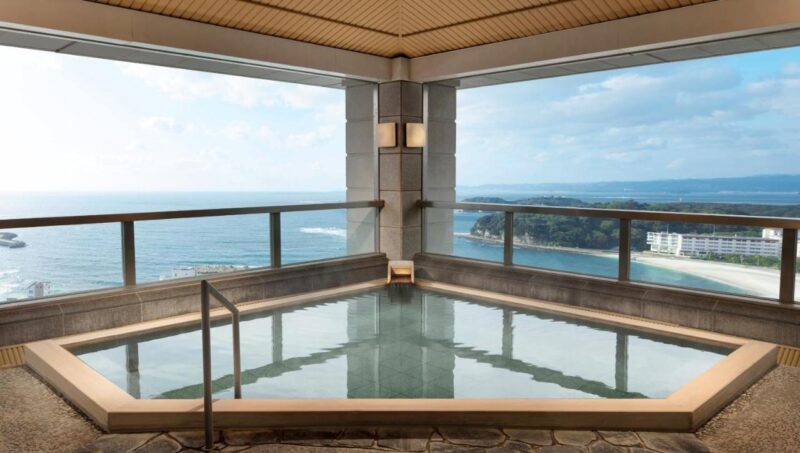 The rooms are very bright, cozy, and super clean. Some rooms feature ocean views, while others feature an en suite hot spring bath boasting the spring water of the Nanki-Shirahama hot spring, renowned as one of the Three Ancient Springs of Japan. The best place for a luxury gateway when looking for where to stay in Shirahama.
Infinito Hotel and Spa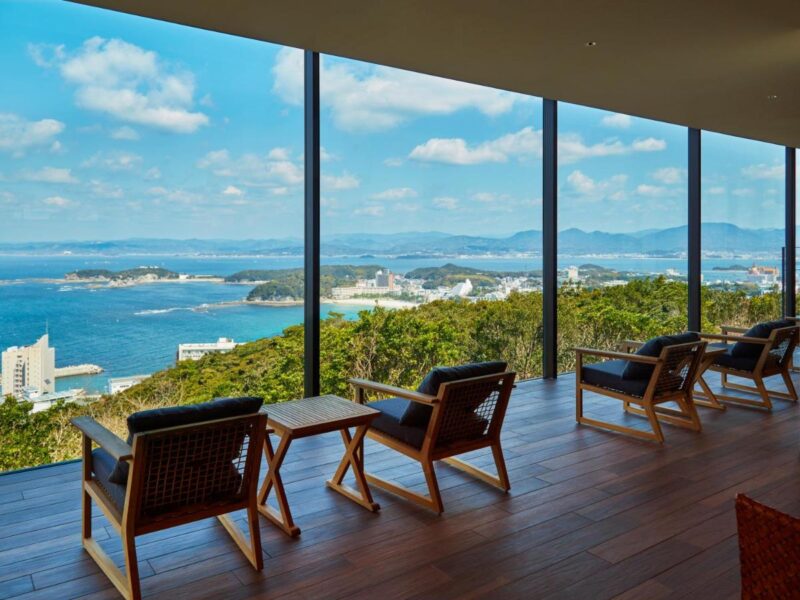 Infinito Hotel and Spa is one of the popular luxury accommodations in Shirahama. It is located on the hilltop of Shirahama with magnificent views of the Pacific Ocean.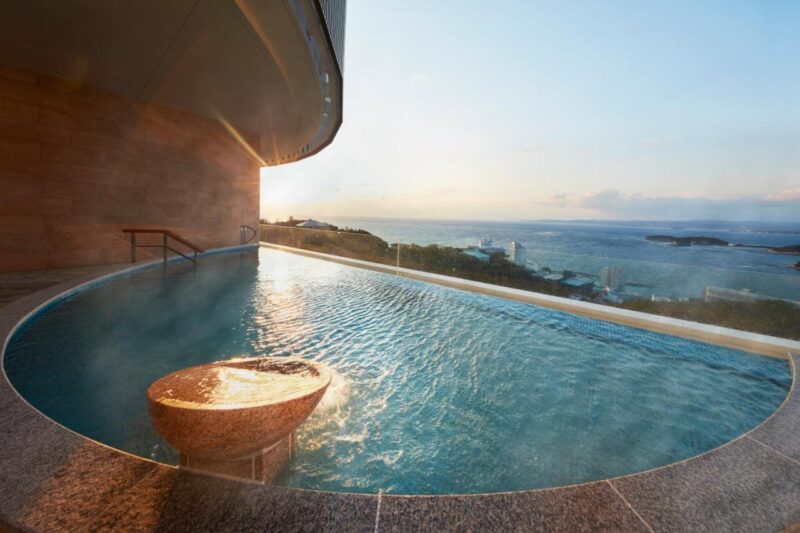 Besides, Infinito Hotel and Spa boasts indoor/outdoor public hot-spring baths with free-flowing spring water and ocean views. Japanese and Western-style rooms are available, and the rooms are spacious and comfortable. Make sure to book with a meal plan where Kaiseki, a traditional multi-course Japanese meal is served for dinner.
Hotel Musashi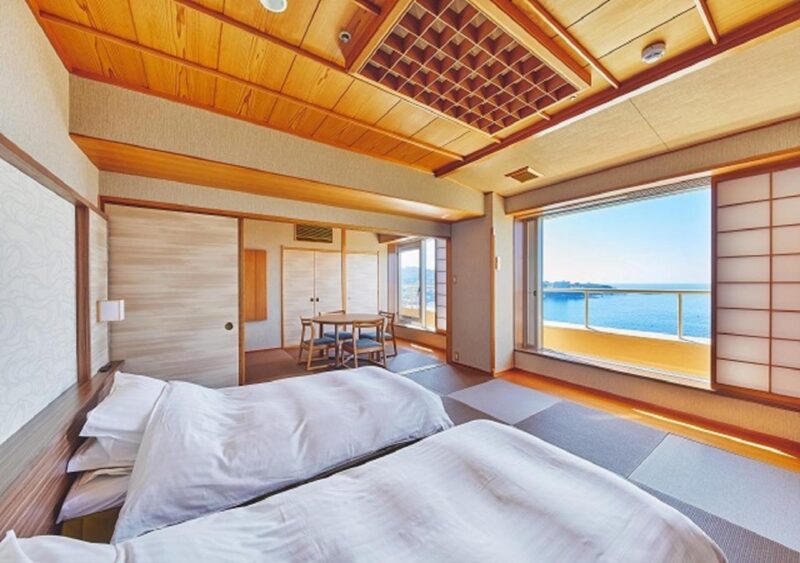 Hotel Musashi is a popular Japanese-style accommodation in Shirahama with public onsen (public baths). The rooms are clean and spacious, featured with tatami (woven-straw) flooring and Japanese futon bedding. You can wear the cotton yukata and enjoy the hot spring bath while staying here.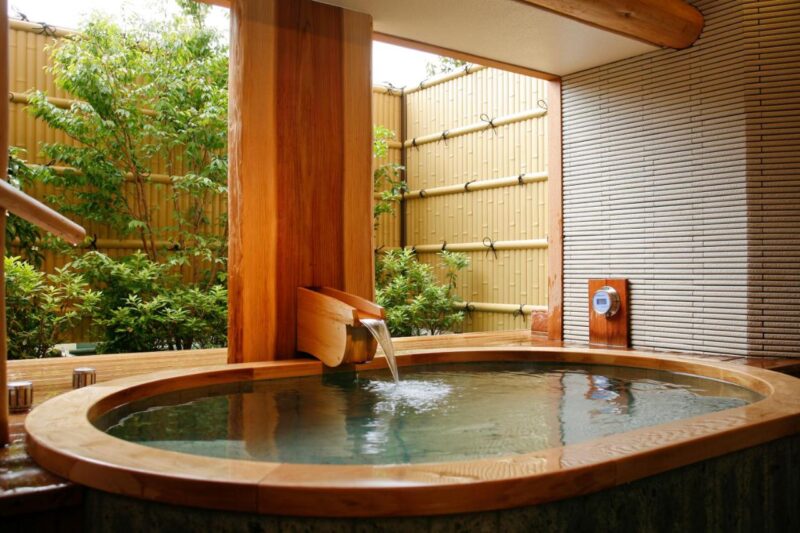 The location is very convenient as it is close to the main beach and souvenir shops. It is required a 20-minute drive from JR Train Station and a free local shuttle bus is available from the station to the hotel on a first-come-first-serve basis.
Shirahama Key Terrace Hotel Seamore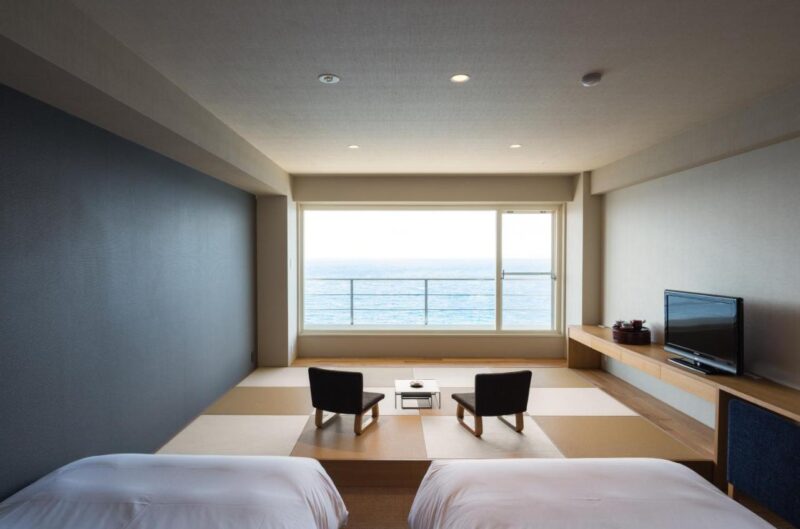 If you are looking for a luxurious place to stay, Shirahama Key Terrace Hotel Seamore is an alternative. The hotel boasts an infinity onsen pool overlooking the sea with a stunning view, especially during sunset. There are also onsen facilities that overlook the bay and even rooms with amazing sea views. Guests can relax in the sauna or hot-spring baths.
Seamore Residence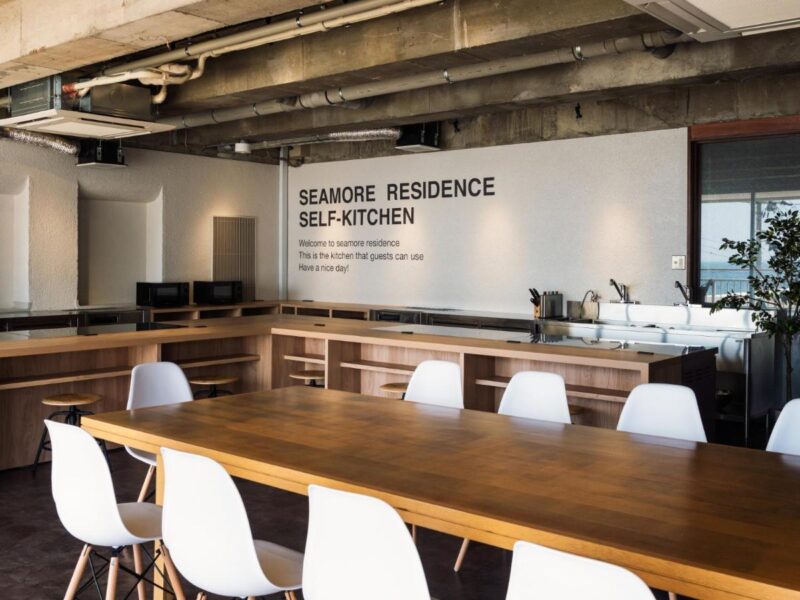 Seamore Residence is another popular pick for mid-budget accommodation in Shirahama. The property is designed with a modern industrial vibe. While the rooms are comfortable, spacious, and clean. Guests can also use the common lounge and kitchen and there are clean, well-maintained, and cozy.
Seamore Residence is a separate building from the main hotel, the popular Seamore hotel which is famous for its outdoor pool overlooking the ocean. Guests can access the main hotel and could use their incredible onsen, this was an added perk!
Grampus Sea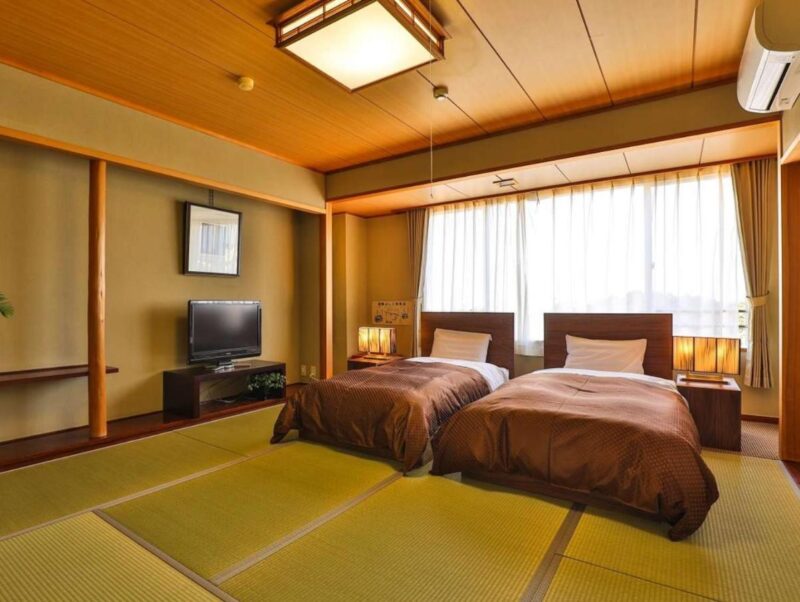 Grampus Sea is highly recommended if you are looking for where to stay in Shirahama on mid-budget range. The location is convenient and located with a few minutes walk from the bus stop. It is also very near to the sandanbeki cliffs and easy to visit around.
Spacious room for a reasonable price. You can choose from Western style or Japanese style room. Guests can enjoy three different types of outdoor hot spring baths. Simple breakfast is free for your stay!
Shirahama no Yado Daigo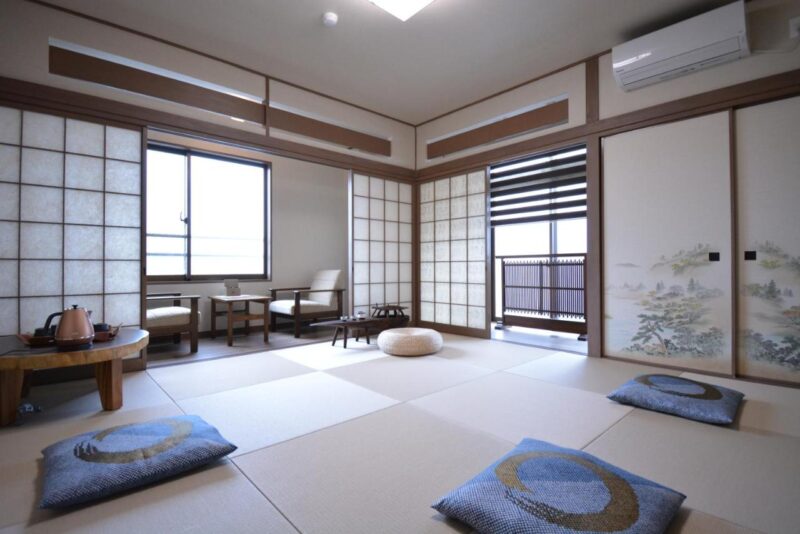 If you're looking for affordable accommodation options in Shirahama, we highly recommended Shirahama no Yado Daigo. This place presents excellent value for money, being super convenient in the middle of town, near the bus stops, beach, and restaurants.
The ryokan is clean with a modern touch. The room is very clean and comfortable, perfect to relax in after onsen hopping in town. Plus, a simple breakfast is included for your stay.
Dormitory Sandanya Guesthouse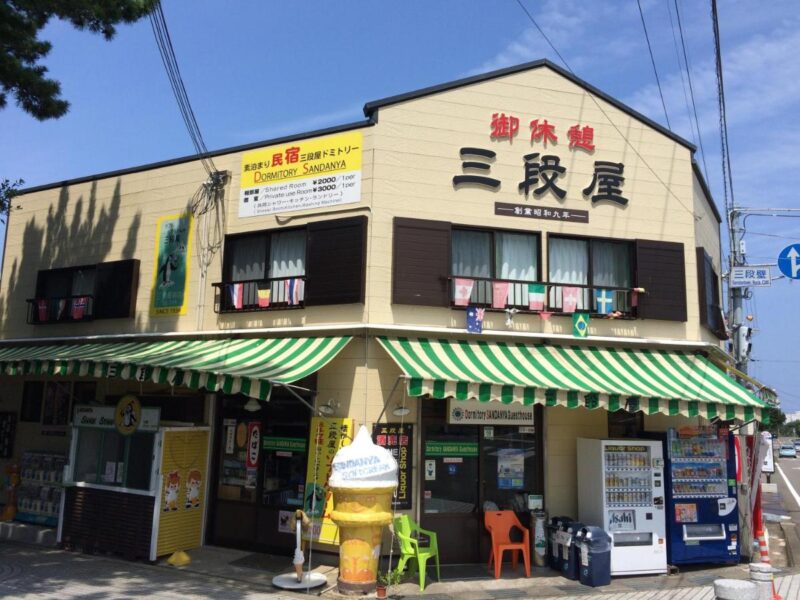 Dormitory Sandanya Guesthouse is the best pick if you are looking for where to stay in Shirahama on a budget. It provides a clean and comfortable stay at a cheap price. The owner is extremely friendly and accommodating.
This budget guesthouse is located right outside Sandanheki Bus Stop, 20 minutes via Meiko Bus from JR Shirahama Station. Free private parking is available on-site. An excellent value for money.
Overview: Where to Stay in Shirahama
All in all, I hope my accommodation guide to the best hotels in Shirahama has helped you find your best stay in this beach paradise.
During our visit to Shirahama, we stayed at the Grampus Sea. We chose it because of the convenience and the cheap price. Plus, our stay is featured a marvelous natural hot spring bath. It is very comfortable but can be slightly inconvenient for dining options at night. If budget is not an option, we also recommended Shirahama Key Terrace Hotel Seamore, my second option when choosing the accommodation.
Lastly, don't forget to check out my guide to the best things to do in Shirahama, plus my travel guides Wakayama and Kumono areas.