Last updated on December 11th, 2023
In this Kinosaki Onsen Travel Guide blog, we will share about the interesting thing to do and some useful travel tips to help you plan your perfect Kinosaki Onsen itinerary. Let's check it out!
Nestled in a lush mountain valley of Hyogo prefecture, Kinosaki Onsen (城崎温泉) is a picturesque idyllic town. It has been running since the Heian era (794-1185) and is rated as one of the most charming hot spring towns in Japan.
This romantic onsen town is located about 2.5 hours from Osaka and Kyoto, making it a perfect day trip and weekend gateway destination. Many locals and travelers are flocking to Kinosaki Onsen to soak into its nourishing hot spring waters and even spend their nights in the traditional ryokan.
The main reason to visit Kinosaki Onsen is to experience their infamous seven public onsens. You basically can't miss out on the opportunity to dip into one of the onsens. Wooden buildings building houses with natural hot spring baths lined along a charming Otanigawa River running through it. It's a uniquely Japanese experience with traditional scenery. The best place to visit when traveling to Japan.
We visited Kinosaki Onsen during our visit to the Kansai Wide region. The town was so picturesque and we are fall in love with this charming town. We would like to share this Kinosaki Onsen Travel Blog with a detailed itinerary to help you plan your trip here. Keep reading to learn more about the Japanese ancient town.
How To Get To Kinosaki Onsen
The best way to get to Kinosaki Onsen is by train. Generally, it takes about two and a half hours by train from Kyoto and Osaka. If you are planning for this travel route, we recommended you purchase the Japan Rail Pass and Kansai Wide Area Pass to save you some money.
By JR Train:
From Kyoto to Kinosaki Onsen – It takes about 2.5 hrs to get to Kinosaki Onsen from Kyoto by Kinosaki Limited Express train. There are 4 direct trains per day and it costs ¥4,320 for one way.
From Osaka to Kinosaki Onsen – It takes about 2.45 hrs to get to Kinosaki Onsen from Osaka by JR Train. There are 9 direct trains per day and the journey costs ¥5,080 for one way.
Kinosaki Onsen Travel Guide Tips:
The transportation costs to Kinosaki Onsen are extremely expensive. You can save some money by using the transport pass. Here is the transport pass that can be used on the train journey.
Take note that limited express train to Kinosaki Onsen from Osaka / Kyoto are all reserved seat.
Getting Around in Kinosaki Onsen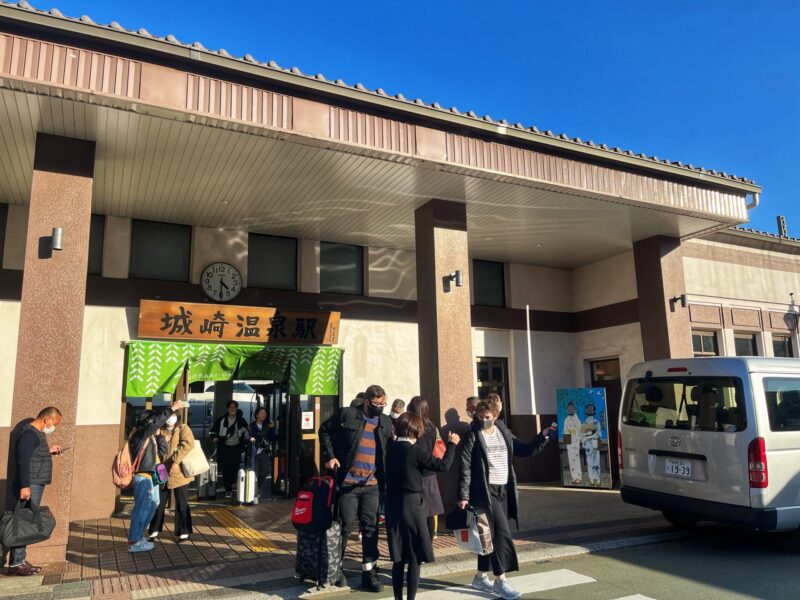 Once you arrived at Kinosaki onsen, everything is easy to explore on foot. The town is pretty compact to walk around. Most of the ryokans are a short walk from the JR Kinosaki Onsen Station and the ropeway station is just a 20-minute walk.
Some ryokans also offer free shuttle buses from the train station to the local ryokans which is very handful for travelers to find their stay.
Best Time To Visit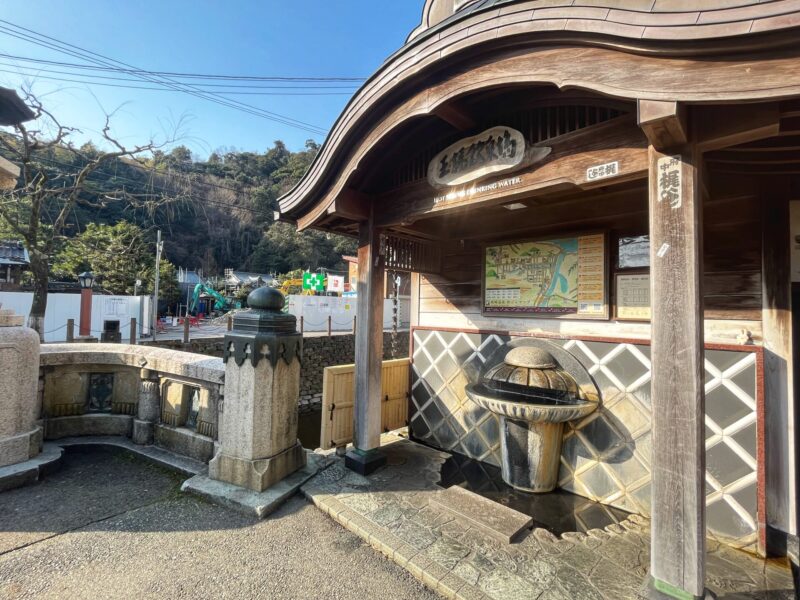 Kinosaki Onsen is the best place to visit all year round and each season has its own pretty.
During spring, the town turns into a stunning cherry blossom ancient town with cherry trees lining the canals. While fireworks are launched in Kinosaki Onsen every weeknight for a month from the end of July to the end of August.
In Autumn, the "Kinosaki Autumn Festival" is held at Shisho Shrine to pray for the prosperity of the hot springs. The festival is usually scheduled around 14 or 15 October. Lastly, winter time (From November to March) is the best time to indulge the snow crab in Kinosaki Onsen. Hungry travelers are visiting Kinosaki Onsen to taste this local specialty!
Where To Stay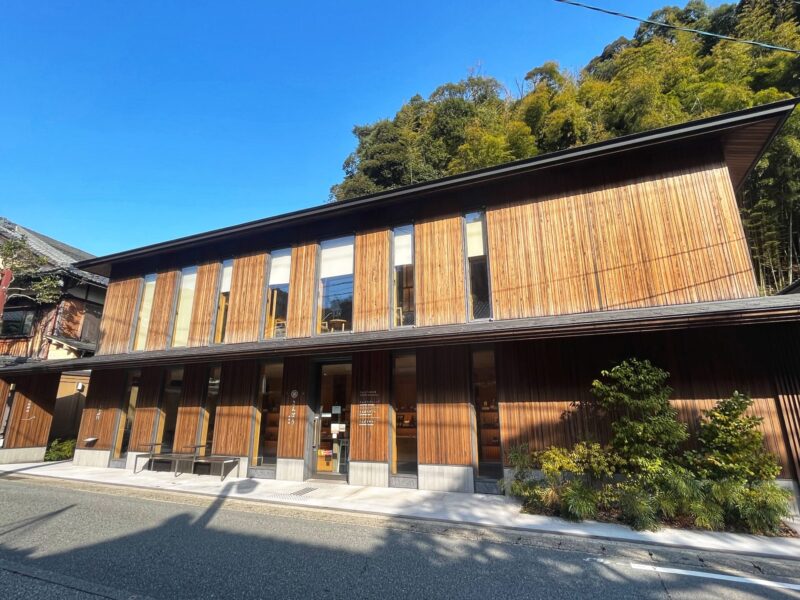 There are many ryokans to choose from based on your interest and budget. The perks of staying in Kinosaki Onsen allow for having unlimited access to Onsen!
Top-Rated: The top ryokan in Kinosaki Onsen is Nishimuraya Honkan. The property is a 150-year-old elegant and has been recognized as the best ryokan in Kinosaki. Alternatively, we also recommended its sister hotel Nishimuraya Hotel Shogetsutei. It features natural views and beautiful outdoor hot-spring baths for your luxury stay in Kinosaki Onsen.
High-Mid Range: Ryokan Sinonomesou and Ryokan Tsubakino offer a wonderful authentic Japanese experience stay. Both are popular mid-budget ranges in Kinosaki Onsen.
Looking for more accommodation options? Read more on where to stay in Kinosaki Onsen.
Things To Do in Kinosaki Onsen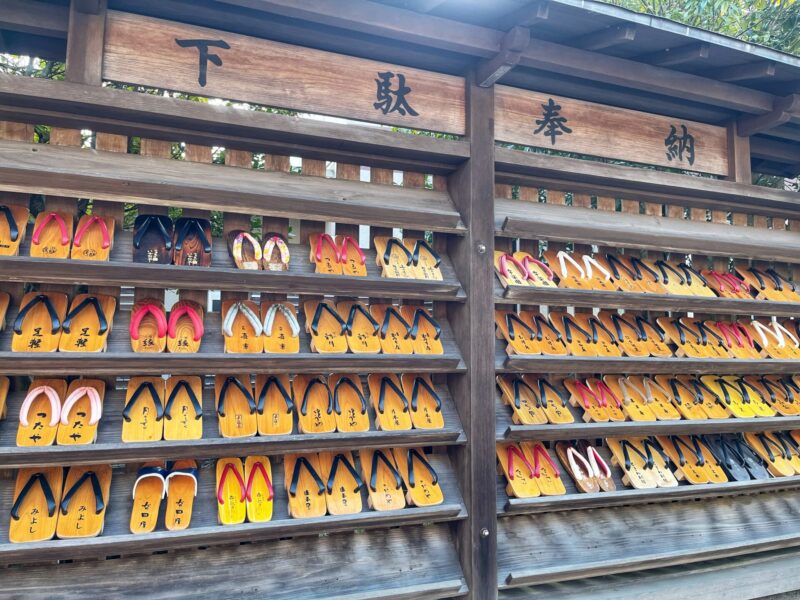 There is plenty to keep you busy in between the people-watching, onsen hopping, and food hunting. Read more detailed below on our Kinosaki Travel Guide.
Things To do in Kinosaki Onswen itinerary:
Soak into the Popular Seven Public Onsens
Explore Kinosaki Onsen town
Stay in Japanese Traditional Ryokan
Take a Walk in Yukata and Geta
Eat Snow Crab
Eat Tajima beef
Kinosaki Onsen Travel Guide Tips: Check-in time at Ryokans is usually 15:00, so it is best to arrive around this time to fully utilize your time for the Kinosaki Onsen itinerary!
Soak into the Popular Seven Public Onsens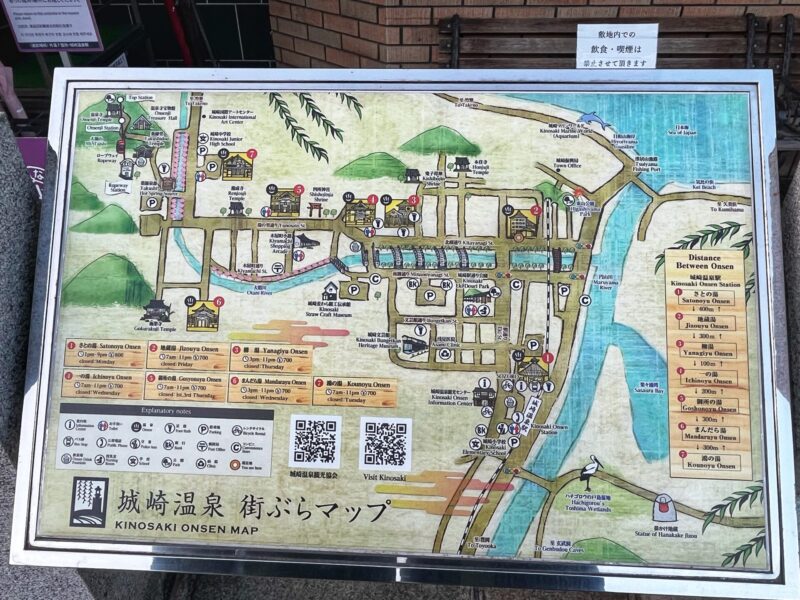 Kinosaki Onsen boasts seven public baths in the town. Each has its unique style with a different character, water temperature, and more. The best part of all the public onsens is tattoo-friendly. An Onsen hopping by touring them all is one of the most popular activities. Single onsen tickets cost an affordable price of ¥700, and you can also enjoy unlimited access with onsen-hopping.
We stayed overnight in Kinosaki and managed to visit four of them. Although we didn't try all 7 onsens, it was truly well worth the trip.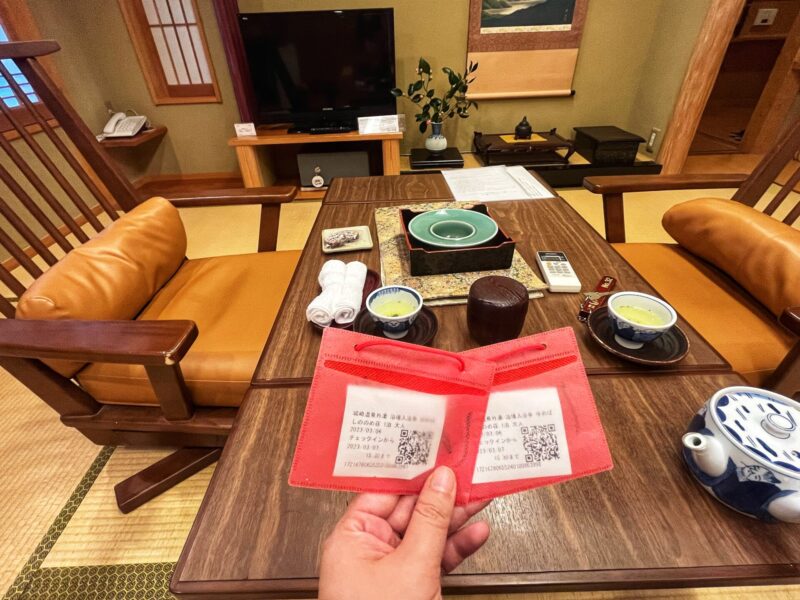 Kinosaki Onsen Travel Guide Tips:
If you are staying at a Kinosaki Onsen ryokan, you will be given a free onsen pass when you check in. This gives you free access to all seven public hot spring baths. The onsen pass is valid from 15:00 on the day you check in until the next day at 10:00 when you check out.
If you're visiting just for the day and plan on bathing in two or more hot springs, we recommended you can buy purchase a Yumepa pass at ¥1,300. The ticket is available at the visitor center or entrance to each of the onsens
7 Public Onsens in Kinosaki Onsen
Take note that not the seven public onsens not are open every day, and each will have at least one rest day per week for cleaning service. Check below details of the 7 public onsens in Kinosaki.
Gosyono-Yu (御所の湯)
Opening times: From 7:00 to 23:00. Closed on the 1st and 3rd Thursday of each month
One of the most popular onsens in Kinosaki. The building was modeled on the Imperial Palace in Kyoto. It features an outdoor stone bath and a huge indoor bath.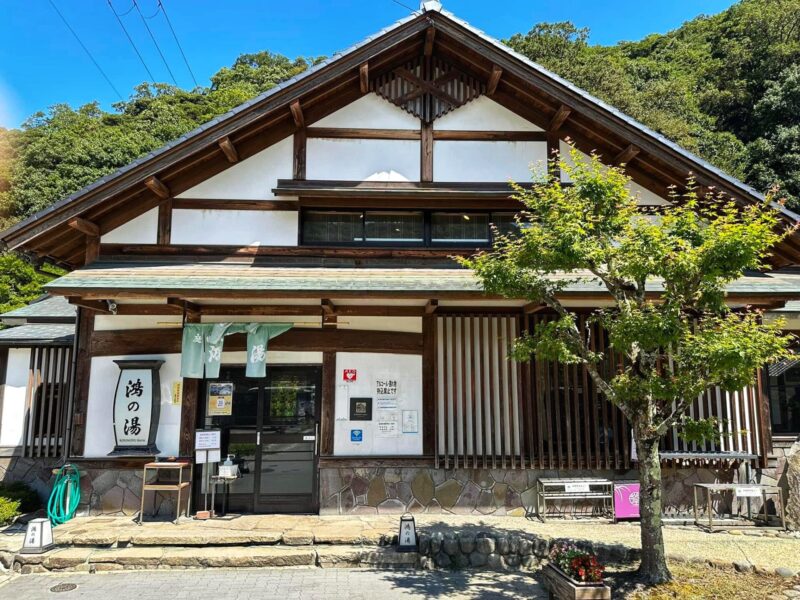 Kouno-Yu (鴻の湯)
Opening Hours: From 7:00 to 23:00. Closed on Tuesdays.
The first public onsen in Kinosaki and one of the most popular onsen in the town. Locals believe soaking in Kono-yu will bring you happiness and longevity in your marriage. It is the furthest onsen from the JR Station and takes about 20 minutes to walk here. It has an outdoor stone-lined onsen as well as a large indoor hot bath with floor-to-ceiling windows.
Jizou-Yu (地蔵湯)
Opening Hours: From 7:00 to 23:00. Closed on Fridays.
Jizou-yu, sometimes Jizo-yu is popular with families. It includes a modern indoor bath along with family-type baths. Slightly smaller and has no outdoor bath.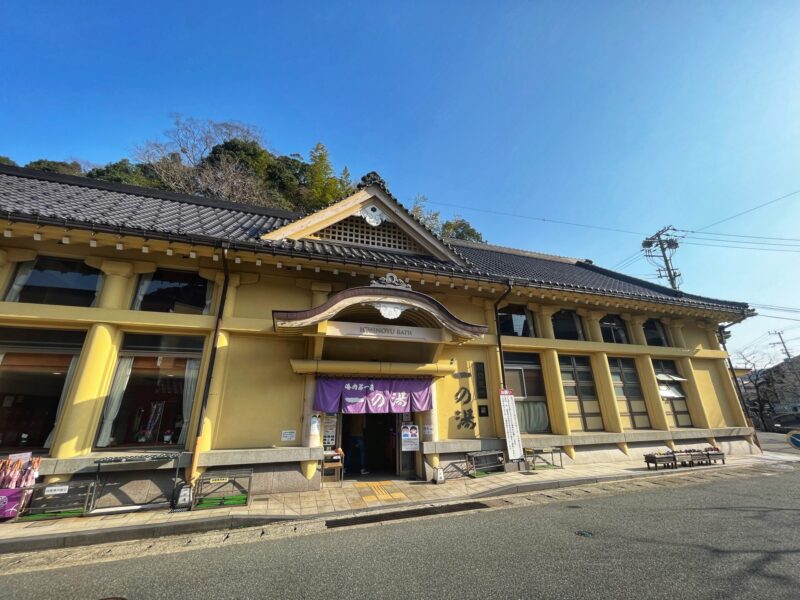 Ichino-Yu (一の湯)
Opening hours: From 7:00 to 23:00. Closed on Wednesdays.
Made of natural boulders and famous for its mystical cave bath. The interior features modern architecture and locals believe soaking in Ichino-Yu will bring success and good fortune.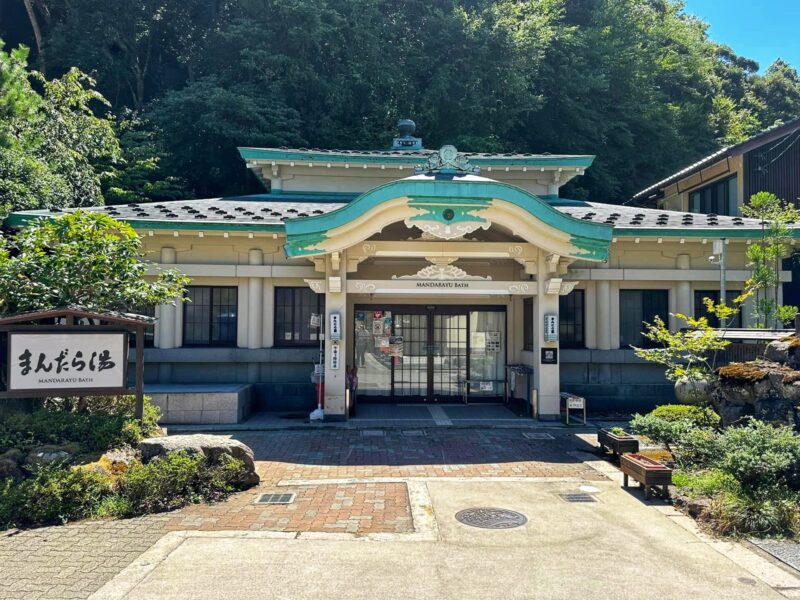 Mandara-Yu (まんだら湯)
Opening Hours: From 15:00 to 23:00. Closed on Wednesdays.
The Mandara-Yu is located just off the main street. There is a large indoor onsen as well as 2 small outdoor baths.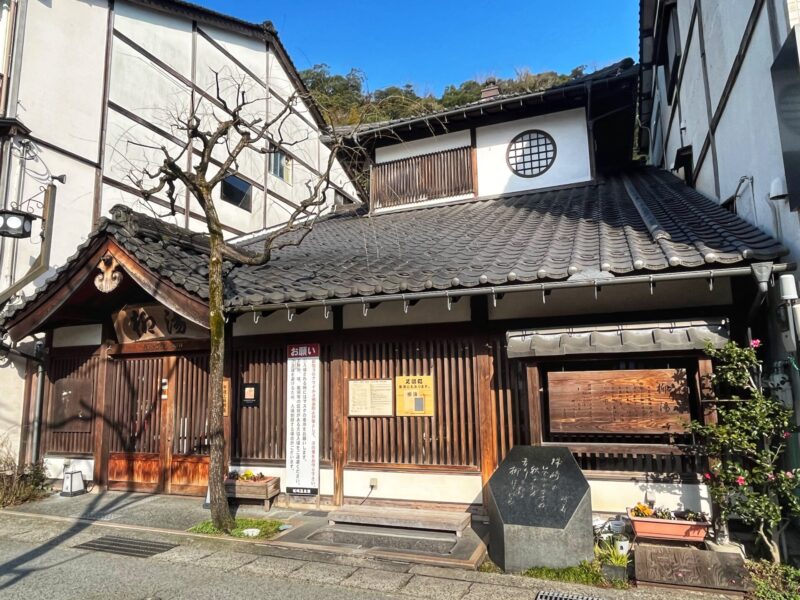 Yanagi-Yu (柳湯)
Opening Hours: From 15:00 to 23:00. Closed on Thursdays.
One of the most traditional, but also the smallest onsen in Kinosaki with fragrant cypress wood enclosures. It gets its name from the willow-lined street that runs in front of the Yanagi-yu.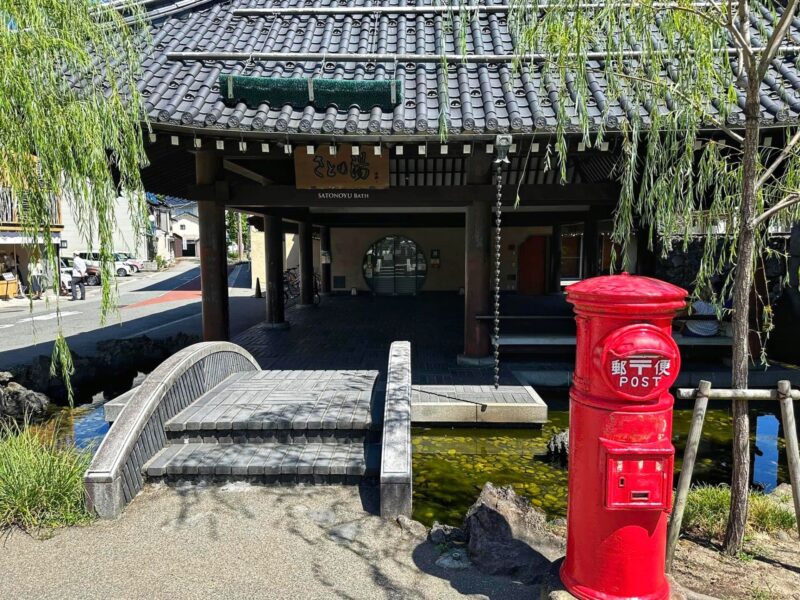 Satono-yu (駅舎温泉 さとの湯)
Opening hours: From 13:00 to 21:00. Closed on Mondays.
Located right next to the train station with a free footbath outside. This huge onsen has a variety of different baths and bathing experiences. There are different baths on different floors and each day switches between which baths are open to men and women.
Explore Kinosaki Onsen Town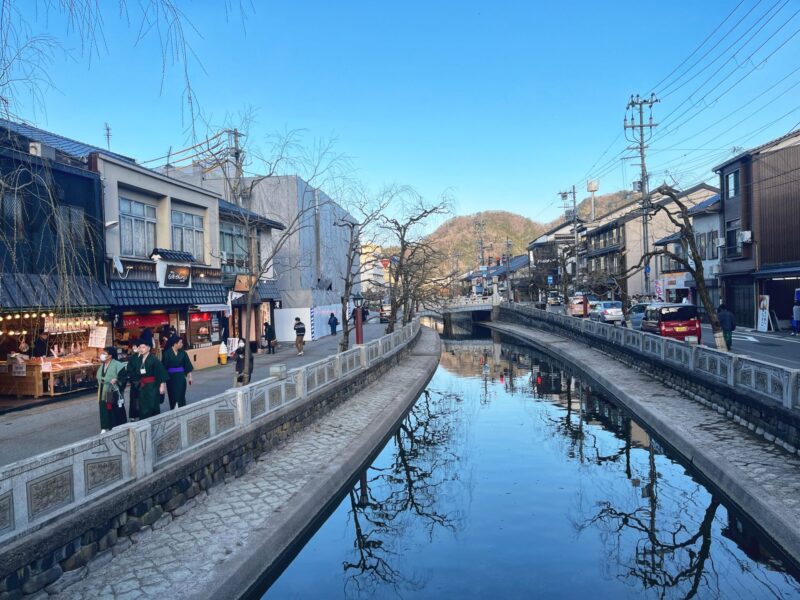 Kinosaki is a gorgeous picturesque town and it's nice to walk the streets and take pictures of the ancient street. There are multiple pedestrian bridges that cross the rivers giving you many opportunities to take great photos.
The town isn't that big and you can probably finish the whole place in a couple of hours only.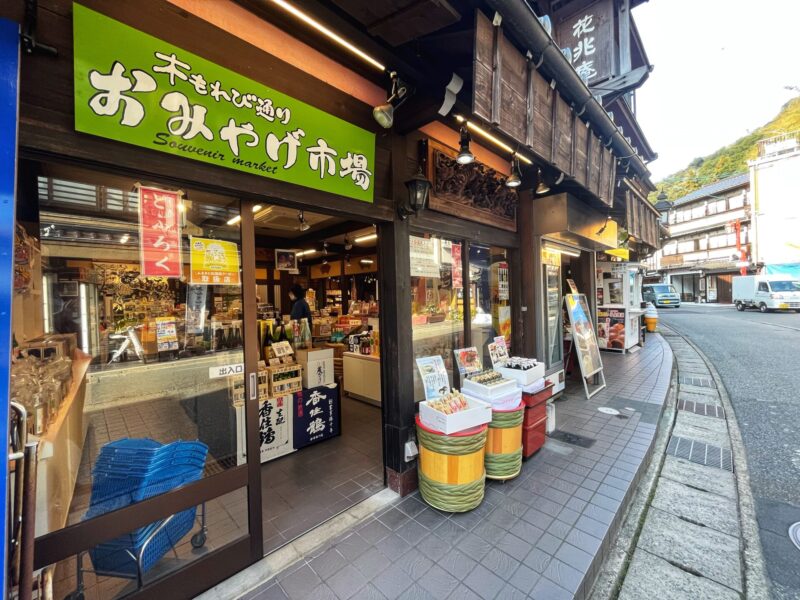 Along the winding narrow street, there are some restaurants, eateries, gift shops, and specialty stores worthwhile to visit. A taste of a Japanese ancient town.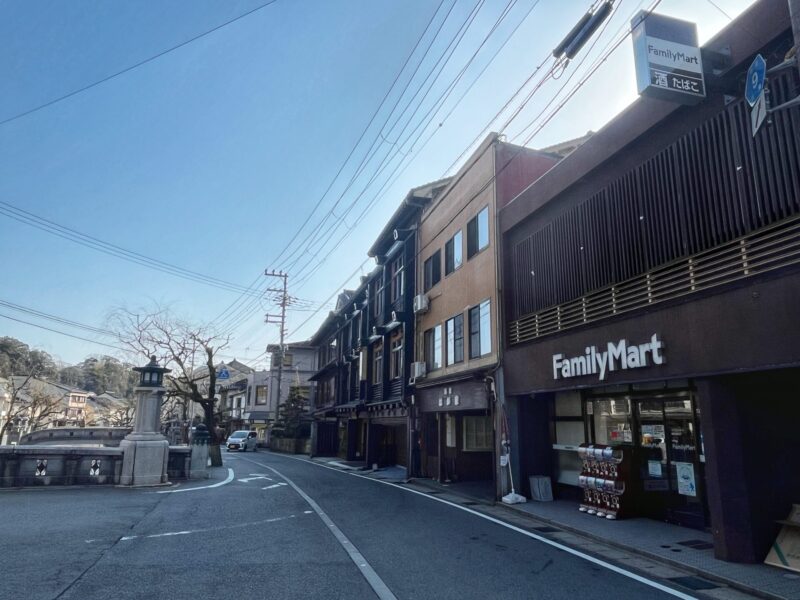 You may also find the convenience store in Kinosaki Onsen town, which is very convenient.
Stay in Japanese Traditional Ryokan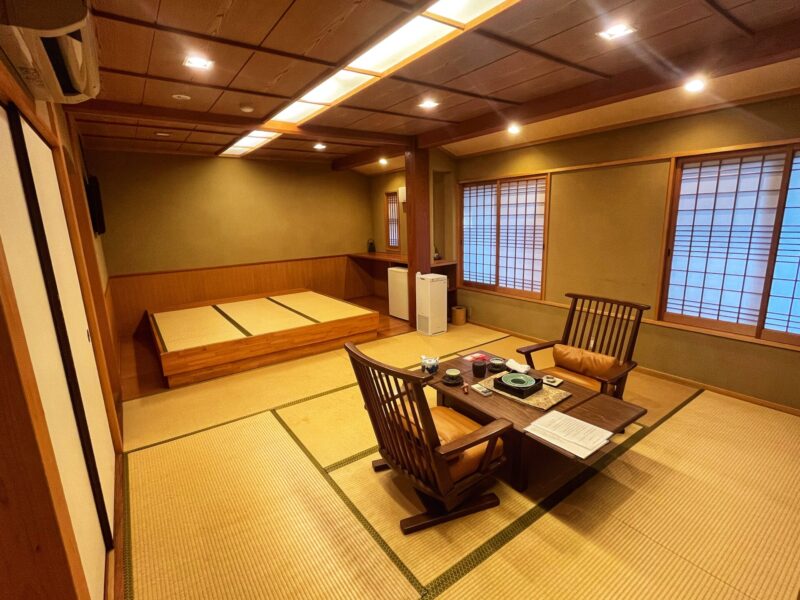 The best way to enjoy Kinosaki is by staying in a charming ryokan or Japanese traditional Inn. Stroll around the town in a yukata, enjoy relaxing dips at one of the many public onsens available around the town, and have a tasteful kaiseki dinner during your stay. It was so amazing for your Kinosaki onsen itinerary!
We stayed at Ryokan Sinonomeso, a mid-range ryokan in Kinosaki Onsen. Our private room is a traditional Japanese style and we sleep on the tatami mats and futon mattresses. The room comes with lower dining tables and chairs and had a private toilet and washbasin. We truly loved our stay here in Kinosaki.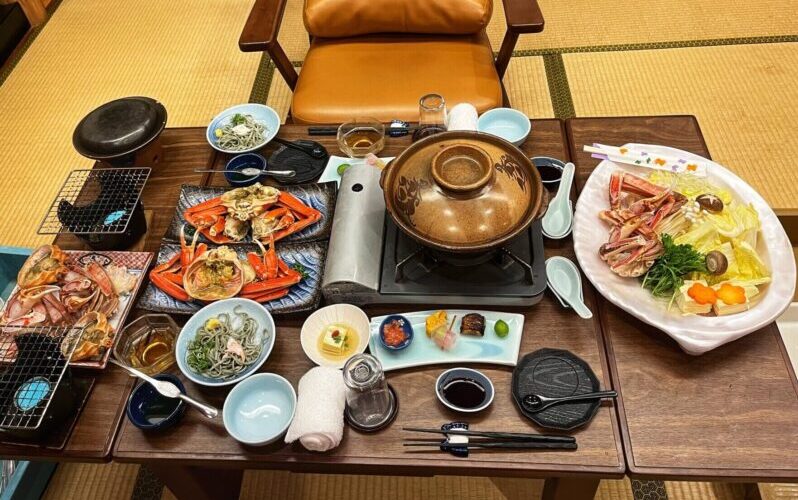 We also opted for its Kaiseki dinner which is included for half-board guests. It is very tasteful and beautifully presented. Absolutely delicious!
Take a Walk in Yukata and Geta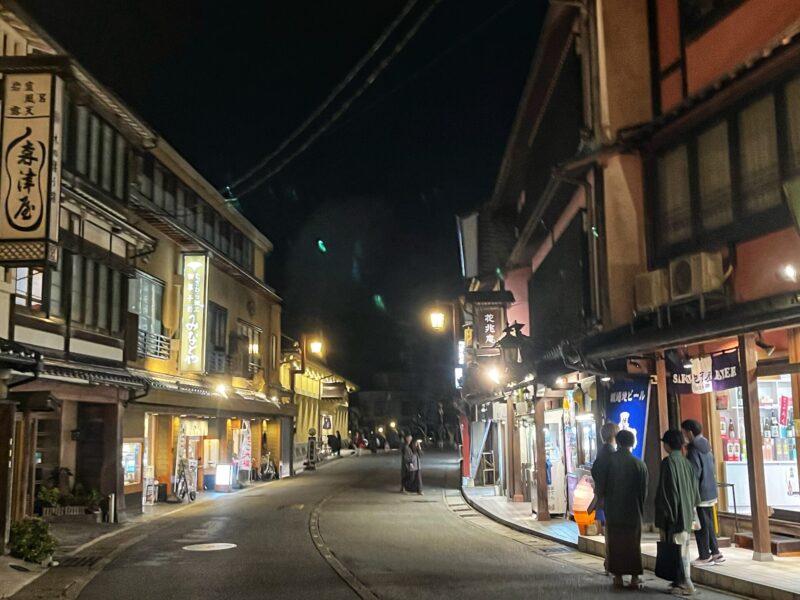 Kinosaki is charming by day, but it turns out to be magic in the evenings after dark. You'll be provided with a yukata and Geta to wear if you're staying in Kinosaki Onsen town in a ryokan.
What an experience to see everyone walking along the street with yukata and clogs hopping from onsen to onsen.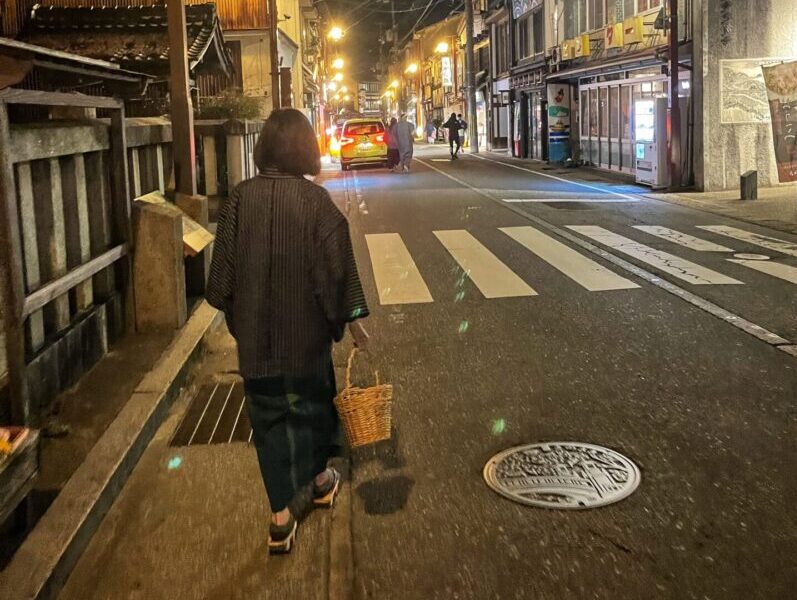 The entire village was full of the click-clocking sounds of the clogs on the street that adds to the atmosphere.
There are several footpaths throughout the town, so you can stop to soak your feet if you are tired, or need to warm up during the cold weather.
Eat Snow Crab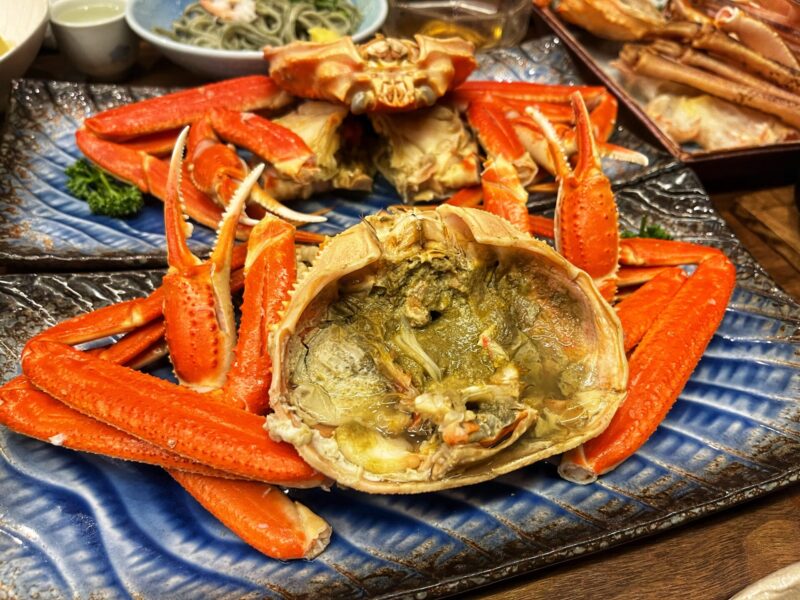 If you like crab, make sure to visit Kinosaki to taste this local specialty!
The local specialty of the area is Matsuba crab or snow crab. It is fished from the Sea of Japan, just 10 minutes or so from Kinosaki Onsen. Matsuba crab is caught between November and March and many ryokan will offer the winter meal with crab during this period.
Eat Tajima Beef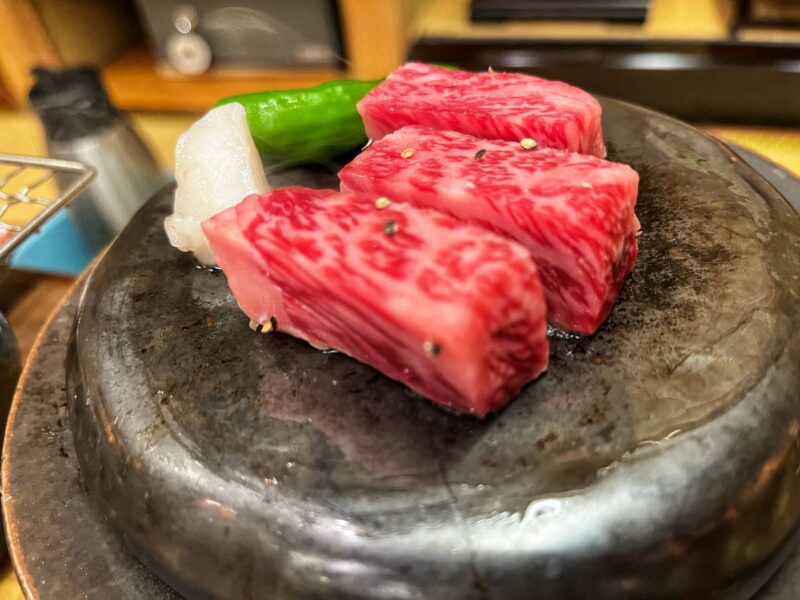 Another must-do on Kinosaki Onsen itinerary when visiting here is eat Tajima beef!
The Kinosaki's Tajima Beef is a type of kuroge-wagyu Japanese Black cattle raised in the northern part of Hyogo Prefecture. Only purebred beef, borne and raised in Hyogo prefecture can be certified as Tajima wagyu beef!
More Times for Kinosaki Onsen Itinerary?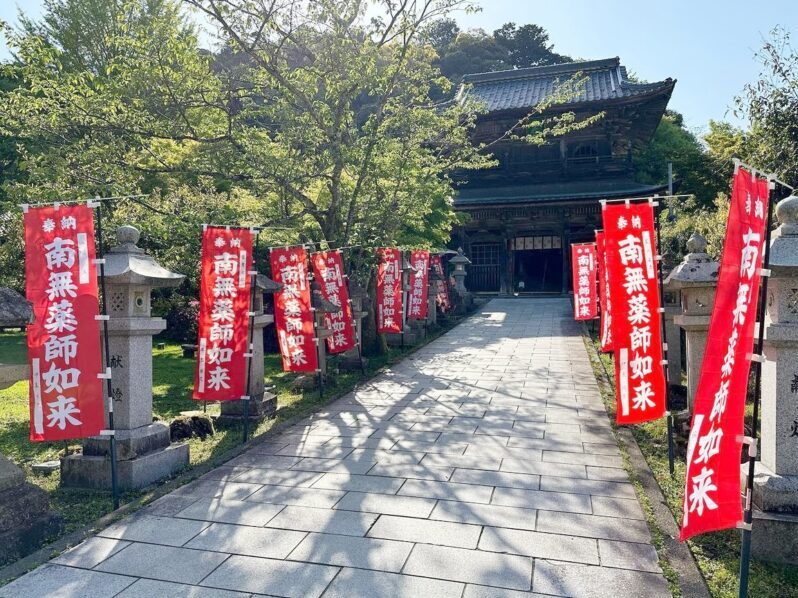 We recommend spending most of your time on your Kinosaki Onsen itinerary with relaxing soaks in hot springs. You'll be able to visit a traditional picturesque Japanese ancient town by soaking into the onsens and staying in a ryokan, a traditional Japanese Inn.
We spend one night in Kinosaki onsen and did not manage to try all the 7 onsens baths in the area. So we don't recommend including too many things in the Kinosaki Onsen itinerary.
But if you have more time, it is worth considering reaching the summit of Mt. Daishiyama via the Kinosaki Onsen Ropeway. The ride takes around 7 minutes at ¥810 for a round trip. You will be able to gaze upon a sweeping panorama of the Sea of Japan and the valley cradling Kinosaki Onsen. You may also couple your visit with Onsenji Temple, the oldest temple in the region boasting 1,300 years of history. The temple can also be reached on foot via a designated path.
What To Eat in Kinosaki Onsen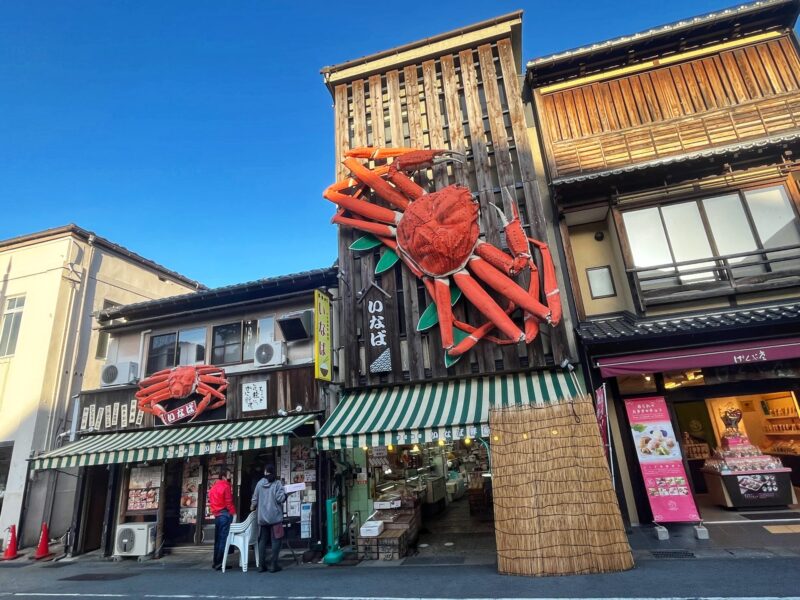 The local food in Kinosaki Onsen is well-known for fresh seafood, especially snow crab and Tajima beef. We recommend that you take meal packages at the ryokan that you stay at in Kinosaki Onsen, it's part of the whole experience to take your breakfast and dinner in the room in traditional Japanese Style.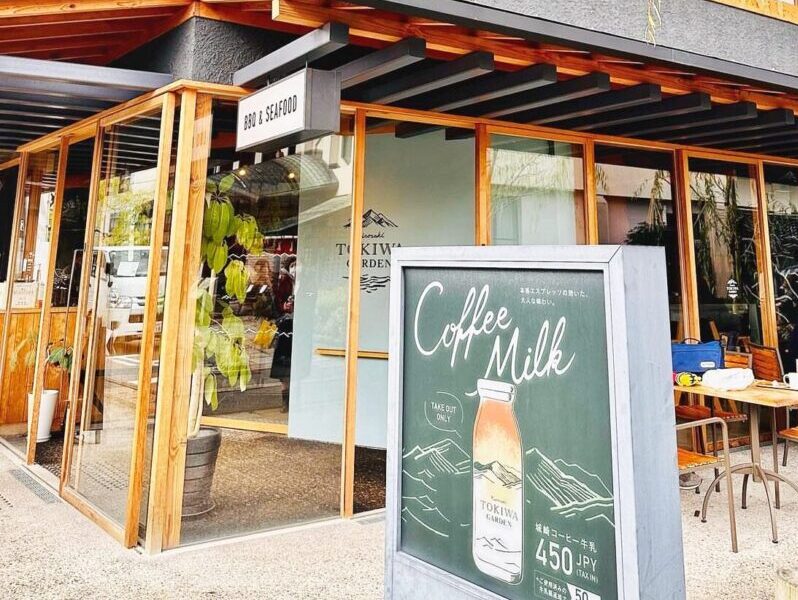 There are many little shops to browse through and places to stop for coffee, tea, juice, or snacks. Local snacks and soft-serve ice cream are widely available in Kinosaki Onsen. We've tried some local snacks were all really good. Even the beef bun (pau) in the stall on the street was delicious! We wish we have a bigger stomach to eat it all!
Kinosaki Onsen Travel Guide Tips
Are tattoos allowed in the onsens in Kinosaki?
Yes. Kinosaki onsen is tattoo-friendly and it is possible to visit the 7 public onsens of Kinosaki if you have tattoos. Some onsens within Ryokans may have different in-house onsen rules, so please check before booking a room.
Is there a luggage storage service in Kinosaki Onsen?
There are coin lockers at the JR train station to store your luggage. You may also be able to leave your bags at your ryokan or hotel before or after check-in. Please check with the accommodation beforehand.
Is day trip to Kinosaki is doable?
A day trip to Kinosaki is doable, but an overnight stay will help you relax and enjoy more of an experience here.
Is Kinosaki Onsen worth a visit?
Definitely Yes! We spent one night in Kinosaki onsen and would recommend this to anyone looking for a relaxing trip away from the hustle and bustle of the city.
Overall: A Trip To Kinosaki Onsen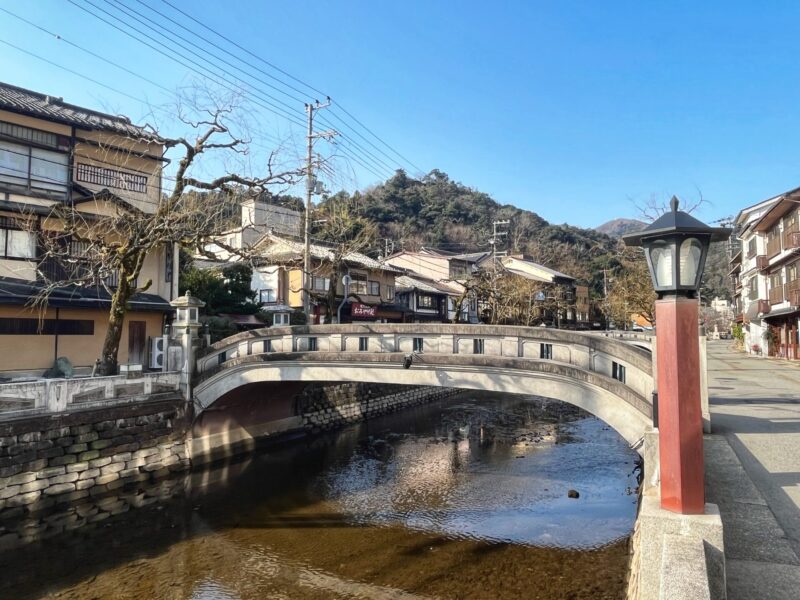 All in all, we hope this Kinosaki Onsen Travel Guide blog is helpful. Tour the seven public baths and take your time to soak in the hot spring water, indulging in delicious local cuisine, and spend the night in a Japanese traditional ryokan. There's a unique experience visiting this gorgeous onsen town.
Just imagine yourself wearing a traditional yukata walking the street among willow trees and canal and to the public baths, you just have to be here to experience it.
In short, we truly enjoyed our visit to Kinosaki Onsen and highly recommended it!
Related Read: Where To Stay in Kinosaki Onsen
Traveling to the Kansai Wide and looking for some inspiration? Free feel to continue to check out our travel stories to some other interesting places: