Last updated on September 23rd, 2023
In this Amanohashidate travel guide blog, we're sharing the Amanohashidate itinerary with all the must-see attractions and other helpful information with travel tips.
Located in the Northern Kyoto Prefecture, Amanohashidate is a popular visit place. This place is renowned for its scenery, consisting of nearly 8,000 pine trees covered on a sandbar that spans across Miyazu Bay. The view is breathtaking and unique.
During our exploration of the Kansai Wide area, Amanohashidate stood out as one of the unique places to visit. It is the perfect day trip from Osaka or Kyoto to enjoy the scenic view with a laid-back vibe. From the incredible view, and relaxing stroll along the sandbar, to the sacred Shinto shrines, spending one day in Amanohashidate is a fantastic way to enjoy the picturesque town in Northern Kyoto.
Keep reading this Amanohashidate travel guide blog and I'll show you all the best things to do and see in a day trip to Amanohashidate itinerary.
Amanohashidate Travel Guide: What You Need to Know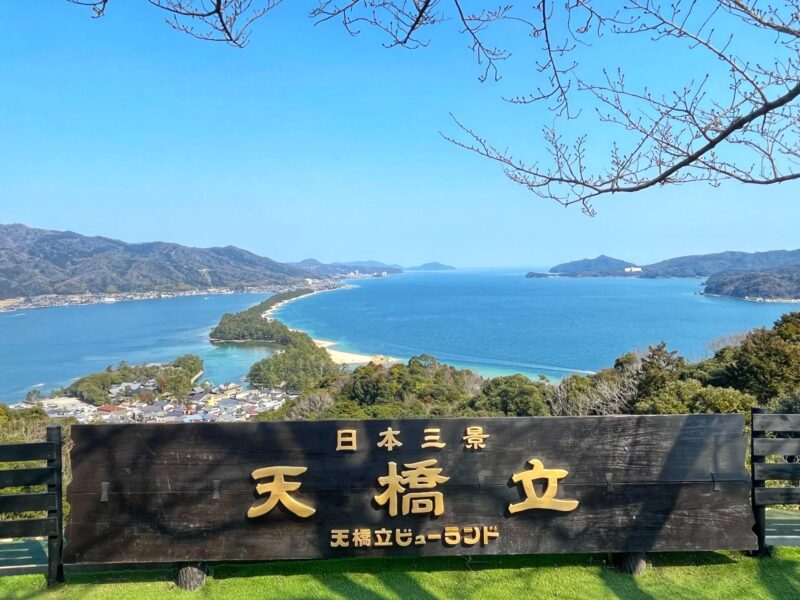 Before we proceed to more detail on the Amanohashidate travel guide blog, there is something you need to know when planning on the Amanohashidate itinerary.
Amanohashidate (天橋立, Heaven's bridge in Japanese) is renowned for its scenery. Together with Miyajima and Matsushima, Amanohashidate is rated as one of Japan's three most scenic views. It is a natural land bridge, covered with pine trees situated in a protected bay in northern Kyoto Prefecture.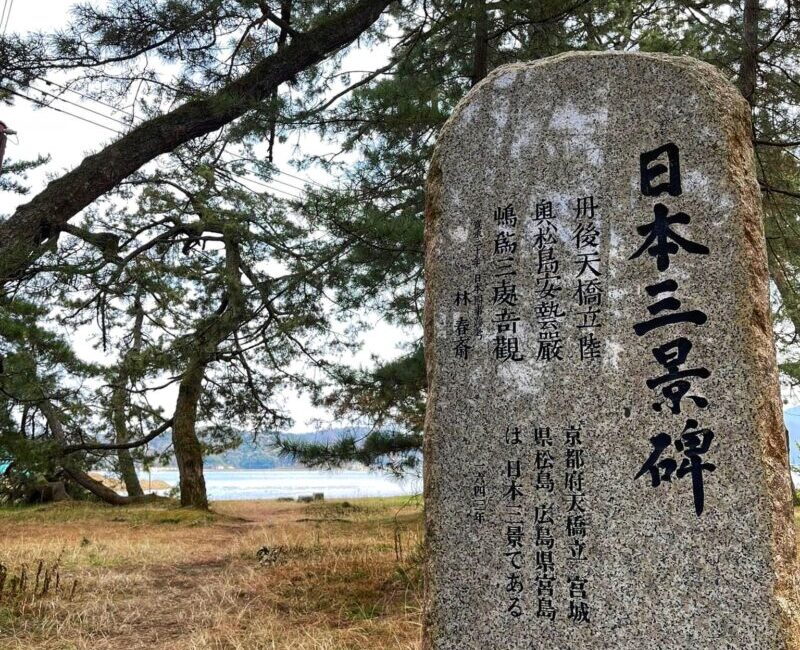 There are many ways to enjoy Amanohashidate, such as walking across the sandbank or relaxing on the beach. If you go up to the observatories by cable car, you'll be able to see a view of the sandbank dividing the waters.
But if you're visiting Amanohashidate, you definitely have to visit one of these two mountain peaks to appreciate the Amanohashidate land bridge from the top!
Amanohashidate Travel Guide – Tourism Information
Official Website: https://www.amanohashidate.jp/lang/en/
Pro Tips: There are various admission tickets to access all the facilities. If you are planning to fully enjoy the Amanohashidate, consider getting the Kyoto Amanohashidate Ine Sightseeing 2-day Pass where you can enjoy major 3 activities and a free Local bus around the Kyotango area for 2 days.
Where To Stay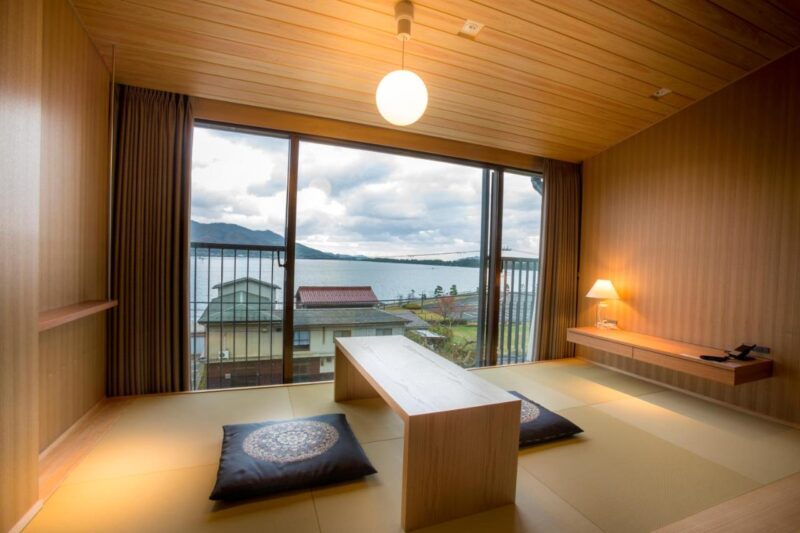 While many travelers visit Amanohashidate with a day trip from Kyoto or Osaka. It is doable but we recommended spending one night in the area if the schedule is permitted. We feel too rushed for 1 day especially since we are packed for our visit with Ine Funaya nearby.
Our traditor's pick is the Auberge Amanohashidate. and Amanohashidate Hotel. Both are affordable options to stay in Amahashidate and the price is reasonable for mid-budget travelers. For an upgrade, stay in Hotel Kitanoya and Monjusou Shourotei, traditional Japanese luxury ryokan stays with beautiful hot-spring baths. 
For more accommodation options, read more: Where To Stay in Amanohashidate Miyazu.
Note that there are not many accommodation choices and prices get higher when cheaper options are running out. We recommended to reserve it early to secure your room.
Getting to Amamnohashidate
The transportation for getting to Amamnohashidate is a bit overwhelming, especially for first-time travelers. In fact, Amamnohashidate is easily accessible from Kyoto and Osaka by train or bus. However the traveling journey is about two to three hours, we recommend you depart early in the morning so that you can arrive at Amanohashidate before lunchtime.
For more detailed transport information and schedule, read on: How To Get To Amanohashidate.
Getting to Amamnohashidate By JR Train
The transportation costs to Amanohashidate are extremely expensive and easily cost you more than ¥5,000 for a round-trip journey. As a smart traveler, it is advised to fully utilize the Japan transport pass to save you a lot of money. The JR Pass, JR Kansai Wide Area Pass, and JR Kansai Hiroshima Area Pass are highly recommended if you are planning to visit the other Kansai Area.
By JR Train from Kyoto (traveling time around 2.5 hours):
Hashidate (はしだて) Limited express takes you to Amanohashidate directly.
Kinosaki (きのさき) Limited Express from Kyoto to Fukuchiyama, and then change to the Kyoto Tango Railway to Amanohashidate.
By JR Train from Osaka (traveling time around 3 hours):
Konotori (こうのとり) Limited Express from Osaka to Fukuchiyama, and then change to the Kyoto Tango Railway to Amanohashidate.
Alternatively, you can also travel to Kyoto and board the train from there.
Note that all seats are reserved seat for Hashidate, Kinosaki, and Konotori limited express train. The entire train journey is covered by the JR Pass, JR Kansai Wide Area Pass, and JR Kansai Hiroshima Area Pass. You can be reserved a seat for free before boarding the train.
If you have the Japan Rail Pass, the journey from Kyoto is mostly covered but JR Pass is not valid on the Kyoto Tango Railway between Fukuchiyama and Amanohashidate. You can top up with Amanohashidate & Ine Pass to ride on Kyoto Tango Railway for an unlimited train ride.
Getting to Amamnohashidate By Bus
By Highway Bus: The cheapest option with 3 highway buses run between Kyoto / Osaka and Amanohashidate per day.
From Kyoto: The journey takes about 2 to 2.5 hrs and costs ¥2,900.
From Osaka: The journey takes about 2 hrs 40 mins and costs ¥2,650.
Tour to Amanohashidate
To explore Amanohashidate efficiently with limited time, how about taking a private one-day tour? With a local guide, you can visit the best highlights of the city in one day. Below listed are popular tours that take you to all the best spots including Amanohashidate, Miyama Thatched Village, and Ine Bay.
Choose the trip below from Kyoto and Osaka:
Getting around in Amanohashidate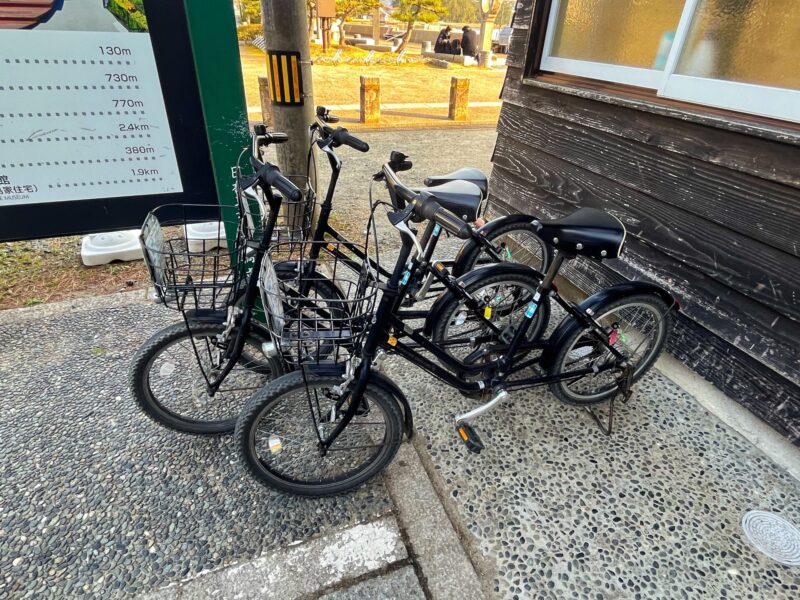 Once you are in Amanohashidate train station, it's easy for getting around in Amonohashidate. There are different ways to travel around in Amanohashidate. By far, the most popular way to get around the area is via rental bicycles.
There are bike shops on both banks of the bay and it is very flexible to return the bike. You can rent a bicycle near the Amonoshidate station and drop off your bicycle on the opposite side after you've crossed the sandbank. It will take about 20 minutes to cross the sandbank by cycling. The cost is between ¥200 per hour.
Things to do in Amanohashidate Itinerary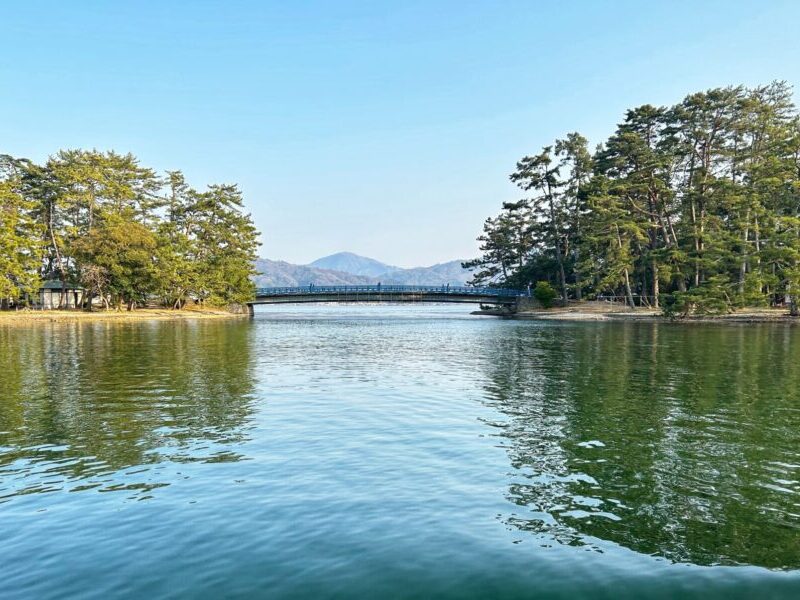 There are so many things to do and experience on a 1-day Amanohashidate itinerary. But at a bare minimum, you will need at least 4 to 5 hours in Amanohashidate to see some of the best attractions in the scenic town.
Things to do on Amanohashidate itinerary:
Chionji Temple
Amanohashidate View Land (South End)
Take the cable car or Chairlift
Admire Amanohashidate Land
Trying Matanozoki
Cross the Amanohashidate Sandbar by bicycle or on foot.
Motoise Kono Shrine
Kasamatsu Park (North End)
Back to the south end by ferry ride with seagull feeding
Take a Footbath after the Walk
Side trip to Ine Furaya
The above activities are suggestions and you can choose and plan according to your Amanohashidate itinerary based on your interest.
Chionji Temple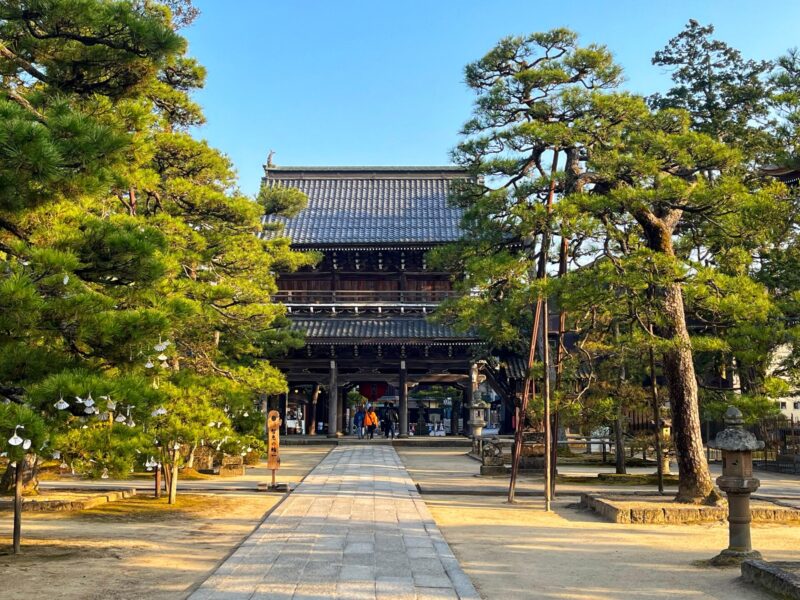 Dating back to 808, Chionji Temple is dedicated to the Buddhist god of wisdom and intellect. The main deity of the temple is a wooden statue of Manjusri. It is one of Japan's "Three Important Statues of Monju Bosatsu". People visit from all across Japan to pray for success in academics.
Inside the temple ground, there is a two-storied pagoda that was completed much earlier in 1501. The pagoda is one of the several important cultural properties designated by the national government at this temple complex.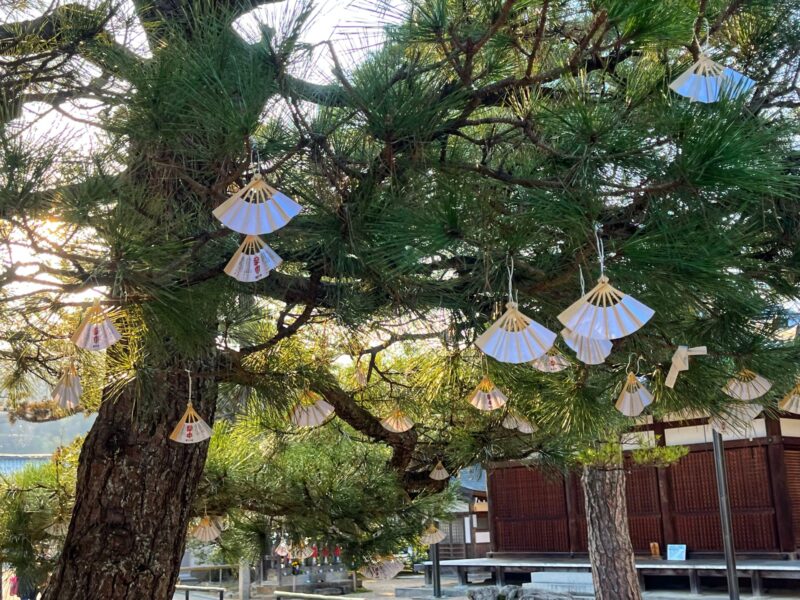 Besides, you will also see the "omikuji" fans hanging on the temple's pine trees. These folding fans are Chionji Temple's fortunes and symbolize your future spread out before you. Interesting to see this style of fortune fans.
Getting there: 5 minutes on foot from the Amanohashidate Station.
Estimate time: Less than 15 minutes.
Admire Amanohashidate Land Bridge
Amanohashidate View Land on the southern side and Kasamatsu Park on the Northern side are two observatory places at the top of the mountains on two ends of the Amanohashidate sand bar. Both will give you access to an overlook of Amanohashidate with a funicular cable car and chair lifts to go up.
Here is the quick overall on Amanohashidate View Land and Kasamatsu Park if you are considered to include either one or both in your Amanohashidate itinerary.
Amanohashidate View Land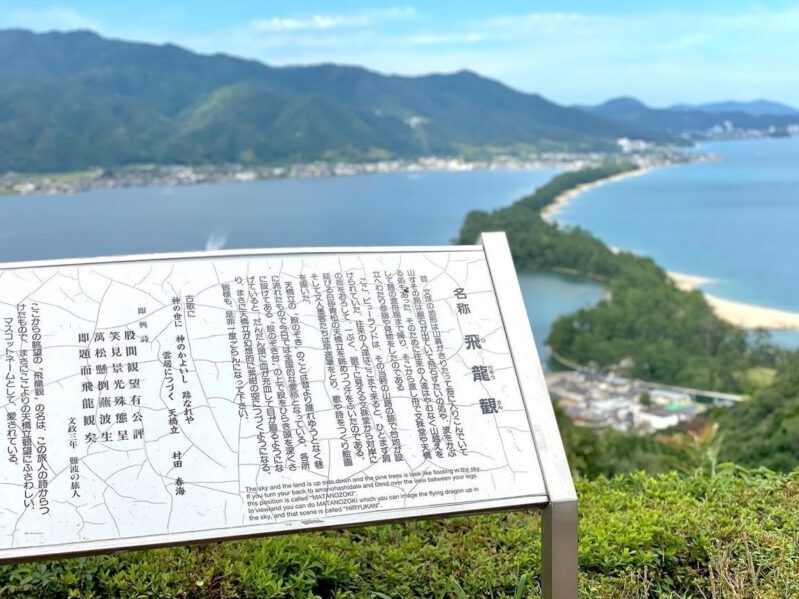 Amanohashidate View Land is ideal for people with less time to explore the area. It's only about a five-minute walk from Amanohashidate Station to the lift and monorail platform. Besides, it is also very ideal for family travelers with kids as there is a small theme park that features a collection of amusements including a Ferris wheel, and go-kart.
Most people recommended the Amanohashidate View Land as this is where you can see the sand split with a more breathtaking view.
Kasamatsu Park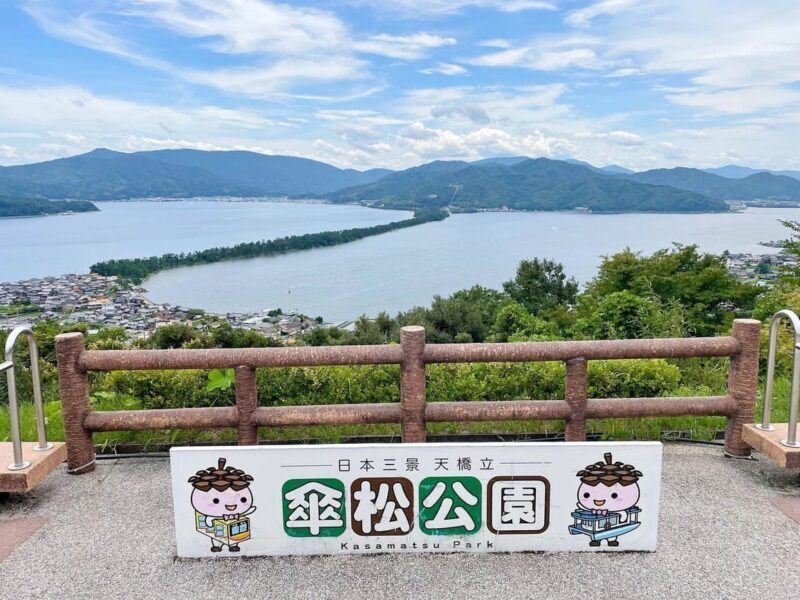 While Kasamatsu Park is another option for the best place to admire the picturesque view of Amanohashidate. However, getting to Kasamatsu Park is slightly trickier, since it's on a mountain peak on the other side of the land bridge. But, this is also one of the reasons the place is more serene and fewer tourists compared to the Amanohashidate View Land.
There is nothing much to do in Kasamatsu Park except the view, a gift shop, and a snack shop.
Also, apparently, the correct angle to see the Amanohashidate land bridge as, "a dragon flying to heaven" is here at Kasamatsu Park.
My Visit to Amanohashidate View Land
After consideration, we decided to visit the Amanohashidate View Land for the view of the land bridge.
From the Amanohashidate station, we first proceed to the Amanohashidate View Land before the large crowd comes it. The view is truly stunning and we are rewarded with a lovely view of the sand bar the whole way. We truly enjoy spending time at the top admiring the scenery.
Take the Cable Car or Chairlift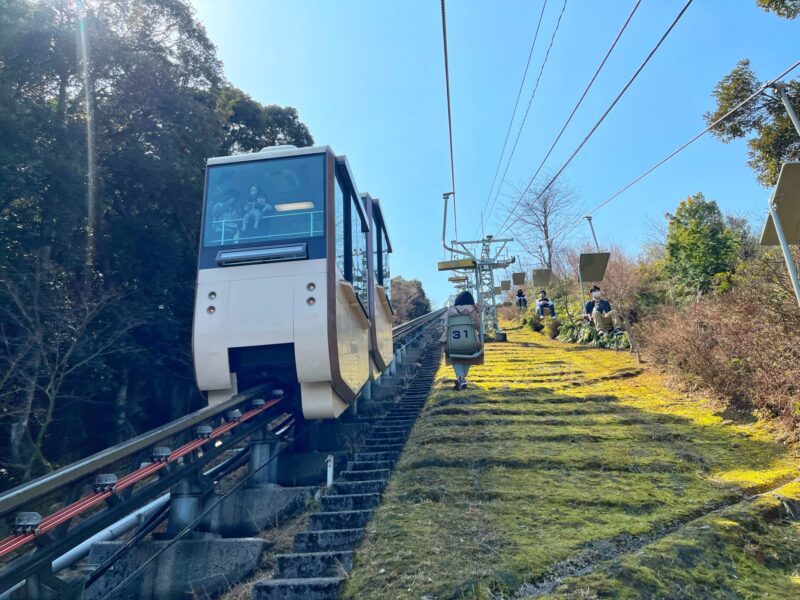 To get the best view of the sandbar from the top, you can choose to access the viewpoint by cable car or chairlift.
The cable car operates only every 20 mins and it takes about 40 pax each time. While the chairlift is constantly running so you don't waste time waiting. The duration up is about the same 6-7 mins and it costs ¥850 for a roundtrip journey.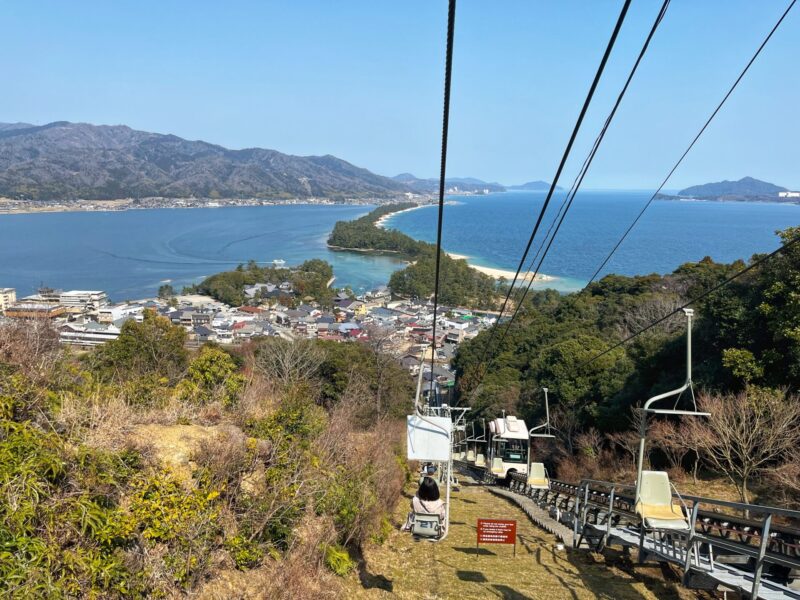 You can opt for going up with the cable car and down with the chairlift to have both experiences. But we highly recommended the chairlift as it was so much fun.
The chairlift, however, doesn't have any belt so you have to sit properly along the ride. And it's not as scary as it looks. If the weather is cooperating, choose the chair lift. It is a much better experience.
Cable Car / Chairlift to Amanohashidate View Land
Admission Fee: Round trip costs ¥850 for adults and ¥450 for children.
Required time: 22 minutes.
Cable Car / Chairlift to Kasamatsu Park
Admission Fee: One way costs ¥340 for adults and ¥170 for children. Round trip at ¥680.
Required time: 16 minutes.
Pro Tips: Remember to show your Kansai Wide Pass to get the some discount!
Trying Matanozoki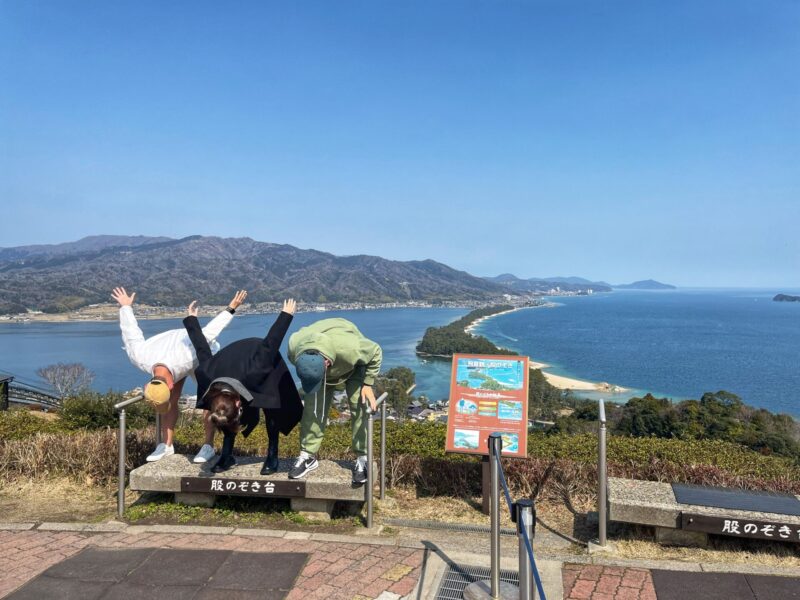 The highlight must-do in Amanohashidate is the "Matanozoki", a strange way of taking in one of Japan's best views. You have to stand on one of those stone steps, open your legs apart, bend over, and look at something from upside down between your legs.
Allegedly, the sand pitch with the lush greenery is supposed to appear like a dragon ascending to the sky. Quite honestly, I did it a few times but didn't quite see the flying dragon. Still, Amanohashidate is a scenic view and we enjoy it.
Cross the Amanohashidate Sandbar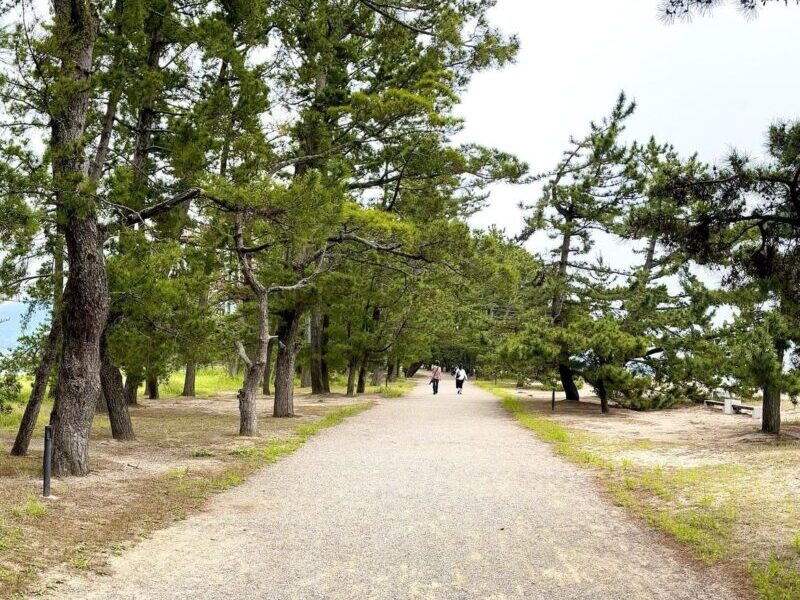 Once visited the attractions at the south end, you can proceed to the attractions at the north side. We come down from the Amanohashidate View Land and proceed to the next attraction.
There's a walking trail on the sandbar that you can use to go from one side of the bay to the other to admire the view. The entire length of Amanohashidate is 3.6 kilometers that covered with approximately 8,000 pine trees. It is a leisure path with shrines, stone monuments, and torii gates along the way. Be sure to take the time to stop and enjoy the scenery.
Don't forget to my feet in the waters of Miyazu Bay just enjoying the scenic views.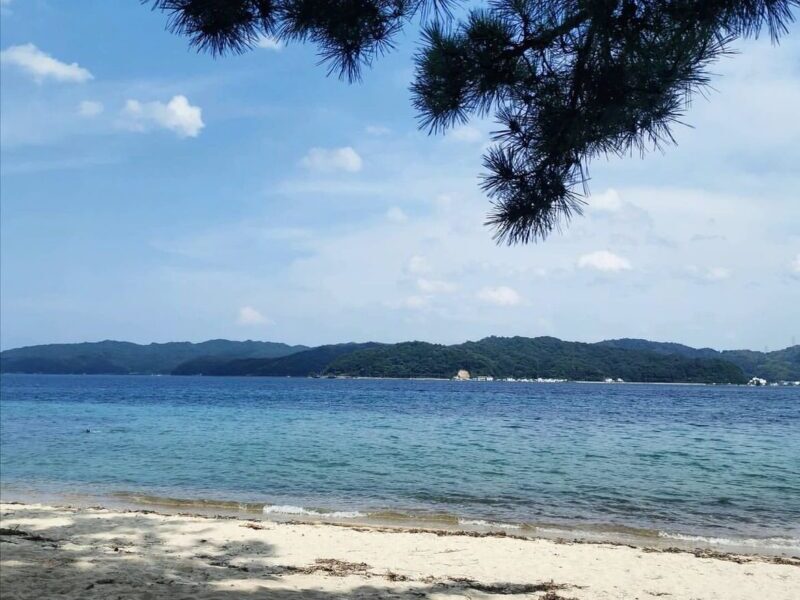 The journey would take about 45 minutes from Amanohashidate Station on the southern end of the sand bar to the other side of the bay on foot. We recommended getting a rental bicycle and you can cross the Amanohashidate sandbar much quicker.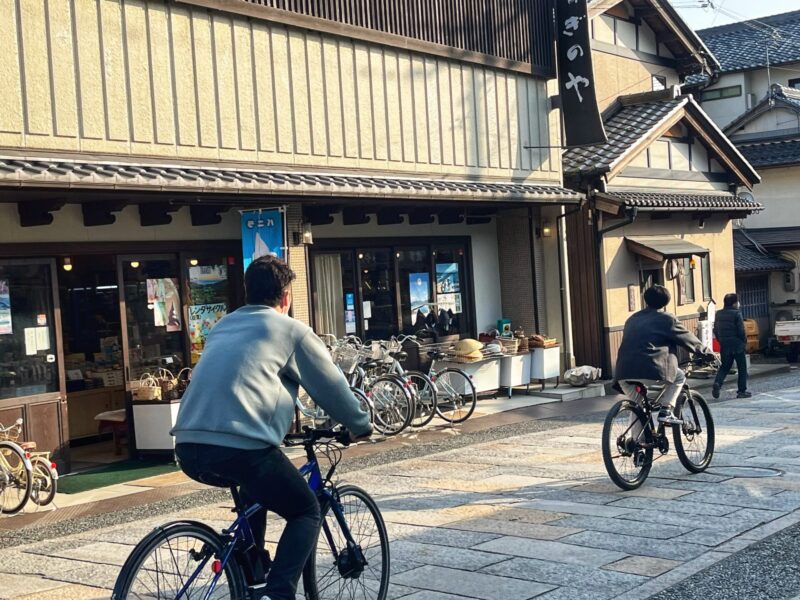 On the northern end of the sand bridge, you may return your bicycle to Kasamatsu no Sato Bike Shop. If you are opted to visit Kasamatsu Park, you can proceed by getting to the observatory by using either the cable car or the chair lift.
Motoise Kono Shrine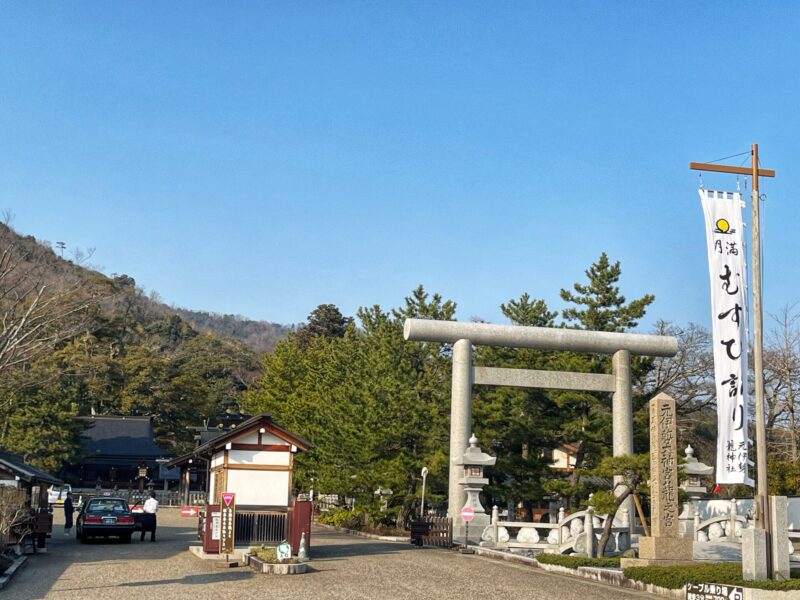 Motoise Kono Shrine (元伊勢籠神社, Motoise Kono Jinja) stands near the northern end of the Amanohashidate Sandbar.
Historically, Motoise Kono Shrine was the most important sanctuary in northern Kyoto's Tango region. It claims to be one of the shrines where the deity of the Ise Grand Shrine of Mie Prefecture, "Amaterasu" (the Sun Goddess), and a local deity, "Toyokehime" resided many centuries ago before it move to Ise.
Pay your respect and enjoy the time by walking through the shrine complex.
If you go further to the left, you will find a route to the lower station of the cable car and the open chair lift to Kasamatsu Park.
Estimate time: Less than 15 minutes.
Ferry Ride with Seagull Feeding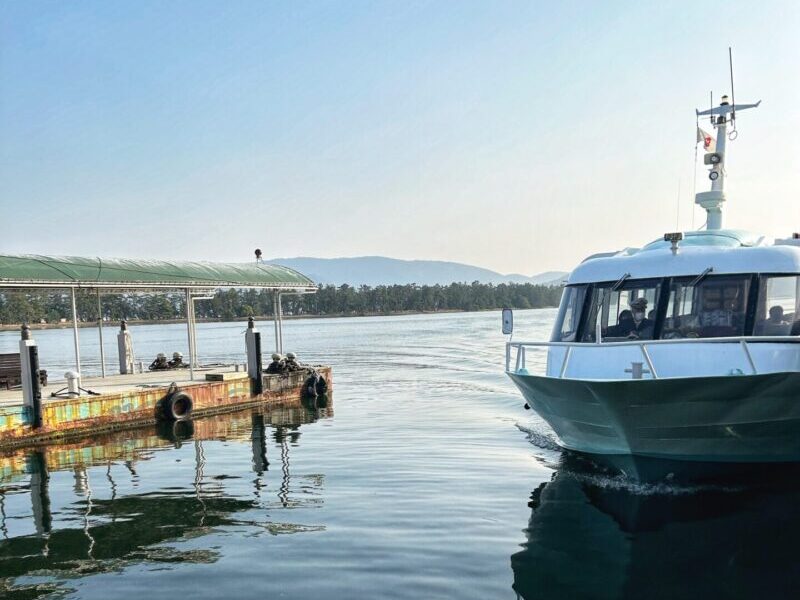 Lastly, you may enjoy a ferry ride from the Tango Ichinomiya Boat Dock back to your starting point. The Amanohashidate Sightseeing Boat will be sailed between the northern part of Amanohashidate (Ichinomiya) and the southern part (Amanohashidate Sanbashi).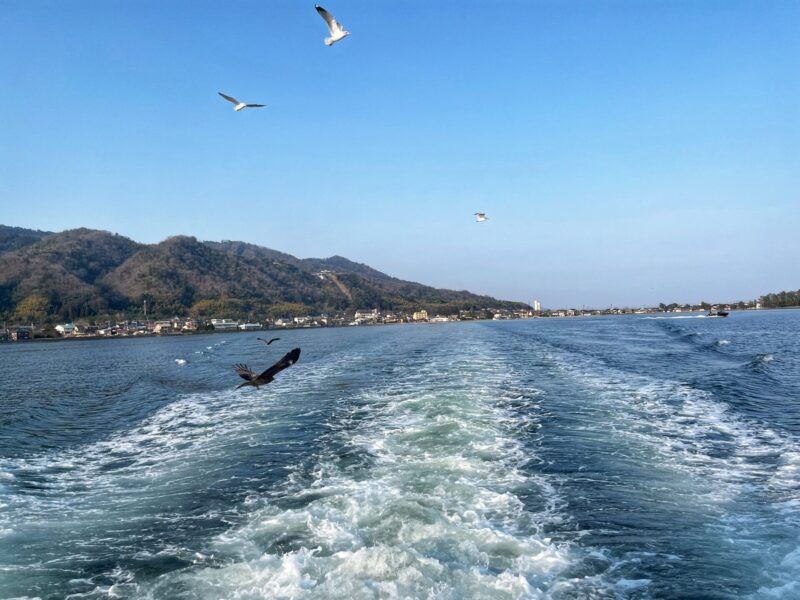 This 12-minute ferry ride is another ambient viewing experience and hand-feeding seagulls are included on the ferry ride. The one-way costs ¥600 and you may consider taking the Kyoto Amanohashidate Ine Sightseeing 2-day Pass which is included with the ferry ride.
Admission Fee: One-way costs ¥600 for adults and ¥300 for children. Round trip at ¥1,000.
Required time: 30 minutes.
Take a Footbath after the Walk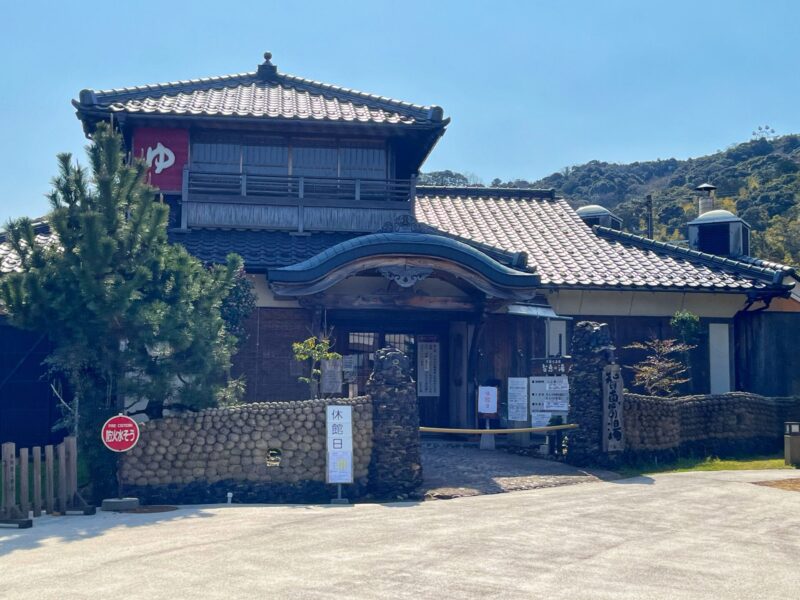 Before leaving Amanohashidate, why not enjoy the footbath while waiting for the train back to Kyoto or Osaka?
Right next to Amanohashidate station, there is an onsen (hot spring) called Chie no Yu. It is a great place to relax after a long day of exploring the area.
Chie no Yu has open-air baths and is well-known for its spring water which is good for beauty. Admission costs ¥700, but visitors also can use the footbaths for free which are located outside the facility.
Admission fee: ¥700 for adults and ¥350 for children.
Side Trip to Ine Funaya
Most of the travelers will end their Amanohashidate itinerary and back to the start point by ferry ride. We did not take this option, instead, we did a half-day trip to Ine town to see the historical boathouse.
You can choose to board the Tankai Bus from Amanohashidate station from Amanohashidate to Ine town. The journey takes you about 1 hour and costs ¥400. Alternatively, you can also board the bus from the Motoise Kono Shrine area and proceed to the Ine Funaya. The 30-minute bus journey is shorter compared to the 1-hour ride from Amanohashidate Station to Ine.
Both options are flexible depending on how you plan on your Amanohashidate itinerary. Note that the scheduled bus is only one-time per hour, so, please be prepared not to miss it.
Read more to continue our Ine travel journey – Ine Funaya Itinerary: A Travel Guide Blog
Amanohashidate Travel Guide FAQ
Is a day trip to Amanohashidate doable?
It's definitely manageable if you want to visit the Amanohashidate in one day with proper planning. It is advised to allocate 4 to 5 hours to the area to fully appreciate the view and ambient.
Is Amanohashidate worth visiting?
Yes, Amanohashidate is definitely worth the visit to take a break from the busy Kyoto. This is a great place to experience the different sides of Kyoto.
Is it worth staying in Amanohashidate?
It's well worth staying overnight or even for a few days in Amanohashidate. This gives you the time to explore and make the most of this charming and nearby town.
Conclusion: A Visit To Amanohashidate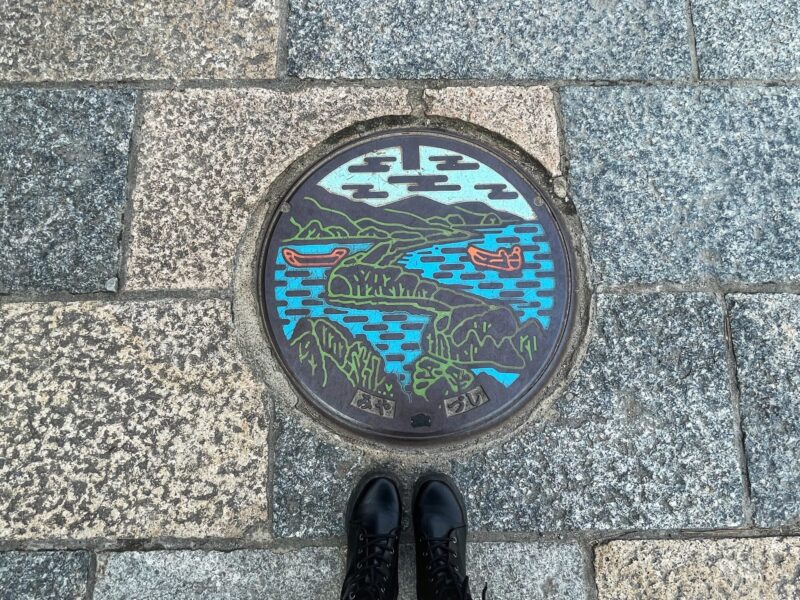 All in all, we hope this quick and easy Amanohashidate travel guide blog is helpful. The above Amanohashidate itinerary will easily fill up your day of visit. Spend your time wandering around by walking, biking, boating, or taking a cable car ride up to the mountain to enjoy the view.
If you'd like to continue exploring nearby, Ine Funaya (boathouse) is about 60 minutes by bus and Kinosaki Onsen is about 90 minutes by train. Also, we highly recommend spending at least one night in the area for a dose of the traditional Japanese experience.
Related travel stories:
Traveling to the Kansai Wide and looking for some inspiration? Free feel to continue to check out our travel stories to some other interesting places: