Last updated on December 11th, 2023
Wakayama City offers the visitor a gateway to Japan's rural countryside. It is about 1 hour by train from Osaka and 1.5 hours from Kyoto, making a great day trip to Wakayama city by train. This is our Wakayama itinerary about how you can spend a wonderful day in Wakayama City!
If you're seeking off-the-beaten-path destinations near Osaka or Kyoto, Wakayama City might just be perfect for you. It is one of Japan's lesser-known cities that's located on the Kii Peninsula in the Kansai Region of Japan. It's not a very touristy city, so it's a great place to get off the tourist trail in Japan.
Wakayama City (和歌山市) is the capital city of the Wakayama Prefecture in Japan.
When visiting Wakayama City, there are tons of cultural experiences, divine foodie spots, and far fewer crowds. We spent only one day in Wakayama City and were unable to visit all of the attractions. Still, we absolutely loved our time here and really wish we could have had even more. That's why we've decided to write this Wakayama itinerary so that hopefully you can get some inspiration for an upcoming visit.
In this Wakayama travel guide, we'll go through why you should visit Wakayama, how to get there, where to stay, and how to spend your time discovering this interesting place in Japan. Let's dive in.
How To Get To Wakayama City
I'd say it is pretty easy to get to Wakayama City given its proximity to other major cities in the region.
From Kansai International Airport (KIX) to Wakayama City:
The closest airport to Wakayama City is Kansai International Airport (KIX). If you arrive at Kansai airport, it takes about 40 minutes to train to reach Wakayama City.
From Osaka to Wakayama:
It's easy to get to Wakayama if you come from Osaka. There are a number of lines that can get you there, but the most recommended and fastest route to take is the JR Limited Express Kuroshio from JR Shin-Osaka Station to JR Wakayama Station. It'll take about 1 hour to get there. Noted that seat reservation is required for JR Limited Express Kuroshio.
Besides, many transport passes can be used on the JR Limited Express train between Osaka and Wakayama. Here are the lists of transportation passes:
Getting Around in Wakayama City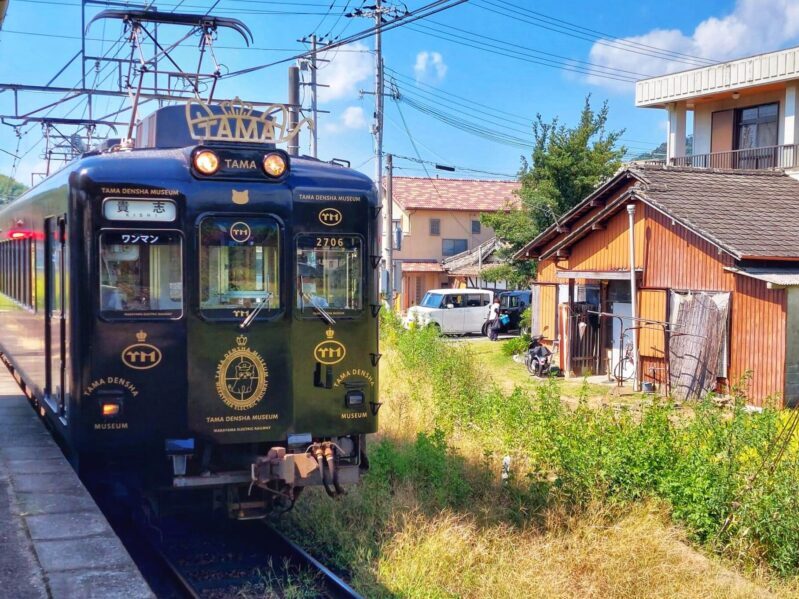 Although Wakayama City does not have a subway system, getting around the city is easier when you reach town. There are a few transportation options for getting around in Wakayama City.
By Train: Depending on where you want to go, the JR line, and the Nankai line are the main train lines you can take while visiting Wakayama. Plus, riding the Theme Electric Train is one of the experiences you can't miss during your trip to Wakayama.
By Bus: While most of the attractions are spread out, getting around in Wakayama City by bus is a good transportation option. Grab a bus route map or use the Public Transit option to figure out which bus to take. If you have a Kansai Thru Pass you can use it on the city buses. Otherwise, use the IC Card to ease the get-in and get-off from the public transport.
By Rental Car: Renting a car and visiting Wakayama prefecture is a great travel option. You can drive through the coast bay along the Kii Penisula to Shirahama, Nachikatsuura, and more. We used and highly recommend Rental Cars.com for all our car rental bookings.
By Bike: Although I didn't try it, you can get around Wakayama City by bike. You can rent a bike at Wakayama Station and many hotels also offer free bikes when you stay there.
Walking: Walking is the best way to see most attractions in the city. But some of the attractions are still required to travel by bus, car, or train.
How Many Days For Wakayama City
Wakayama City is actually only a short distance with about 1 hour train ride journey from Osaka. So planning a Wakayama day trip from Osaka is also doable. It will be a longer day with a rather early start. Still, we highly recommend spending at least one to two days in Wakayama because there are so many things to do in this area.
Where To Stay
Depending on your Wakayama itinerary, you'll either continue to your next destination at the end of the day or spend the night in Wakayama City. You can choose to stay at a hotel close to Wakayama Station or spend one night at an onsen resort to enjoy the natural hot spring bath.
Here is our recommendation for where to stay in Wakayama City:
Wakayama Urban Hotel: For a convenient stay, check out this mid-budget hotel with great reviews. It has an extremely convenient location which is right near Wakayama Station, only 3 minutes away by foot. You can rent bikes for free to explore the city.
Dormy Inn Premium Wakayama Hot Spring is conveniently located within a 7-minute walk from Wakayama Station. It is a great Japan hotel chain that offers accommodation with hot spring facilities for guests. Complimentary supper soba noodles are included in the late evening.
Manpa Resort: If you really want to feel a true Japanese experience, check out this hot spring resort with an insane sea view. Your stay is included with access to the natural hot spring onsens that overlook the bay. The accommodation is slightly far from the town and best for self-drive travelers.
For more accommodation options, feel free to read more on: Where To Stay in Wakayama.
Planning For Wakayama Itinerary
Wakayama Prefecture is a large area that encompasses a number of cities and towns in an area. My trip to Wakayama City started from Osaka and the visit continued to Kii Katsuura to Shirahama. Here are some of the best things to do in Wakayama City to plan for your visit.
What To Do for Wakayama Itinerary:
Ride the Theme Electric Train
Meet Tama the Station Master
Wakayama Marina City
Kuroshio Market
Porto Europa
Wakayama Castle
Momijidani Garden
Wakayama Travel Guide Tip: Most of the attractions are spread out so it's best to allocate more time when planning on the Wakayama itinerary.
Ride the Theme Electric Train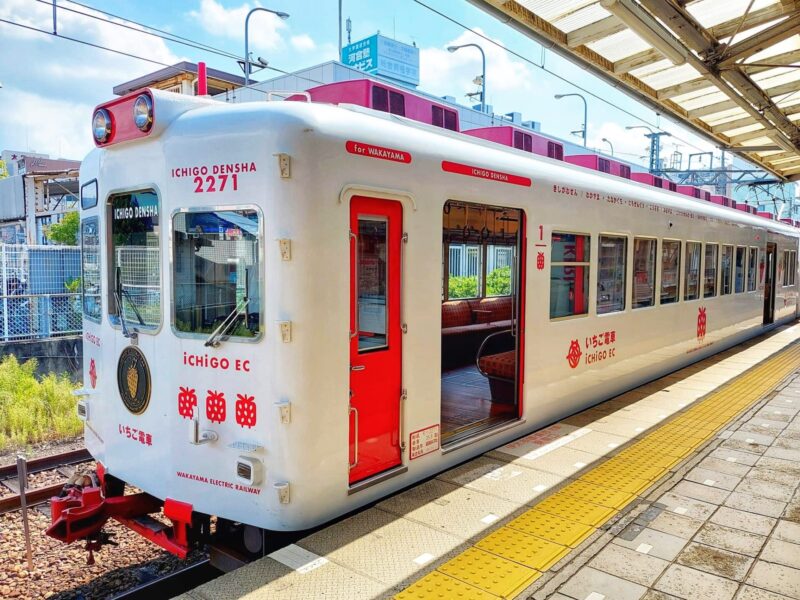 For cats or railways lovers, don't miss the chance to ride the Wakayama Electric Railway (和歌山電鉄, Wakayama Dentetsu).
The Kishigawa Line with electric railway runs through a rural area on a changing schedule with four unique themed trains ('Strawberry', 'Plum', 'Toys' and 'Tama'). As the name, each of them has a different theme and decor. All are very cute, but the most popular is with the Tama – the Cat train.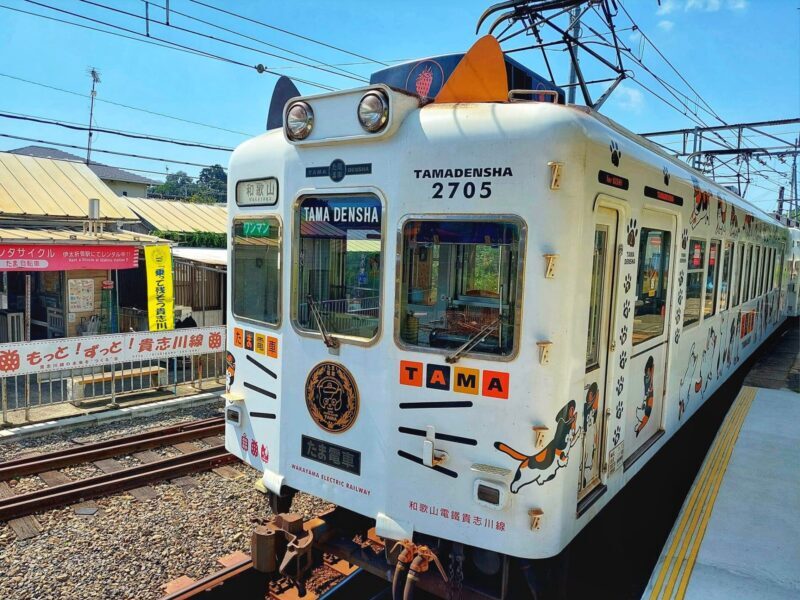 The Tama Train or Tama Densha (たま電車) is a dream ride for cat lovers everywhere. The train was decked in adorable cat-inspired decor. It also houses 101 unique illustrations of Tama the Station Master which spread throughout the cabin walls. It made the train ride fun and interesting.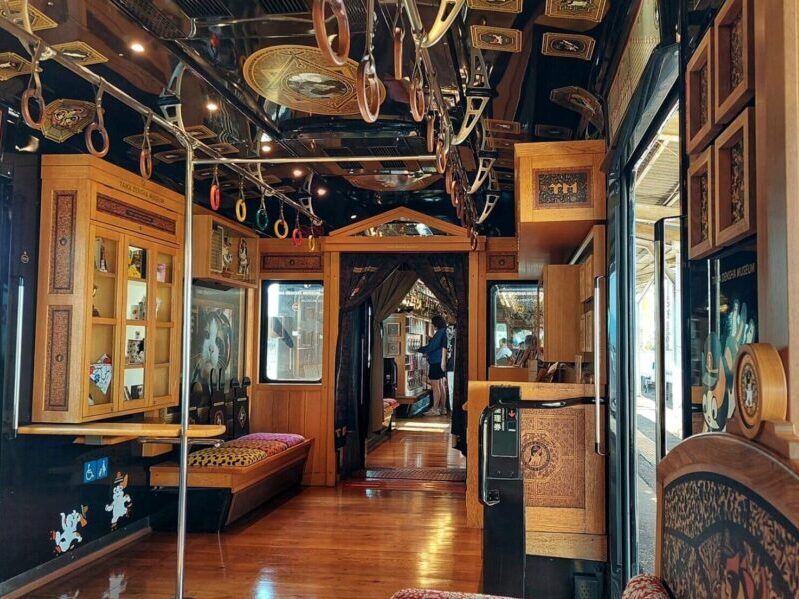 We recommended getting a day pass at the station at ¥800 for an unlimited ride on the train if you are doing a return trip from Wakayama to Kishi station. The JR Kansai Wide Area Pass is covered for this route.
With a day pass, visitors have the opportunity to get on and off along the 14.3km line connected to several sites to try all the 4-themed trains. On the day we visited, we had the opportunity to ride on the Tama Desha with interesting interior design with cat.
The train ride itself is very fun though, well worth a look if you are in Wakayama.
Wakayama Travel Guide Tip: Do check the train schedule here for which train you want if you wish to ride on a designated train.
Meet Tama the Station Master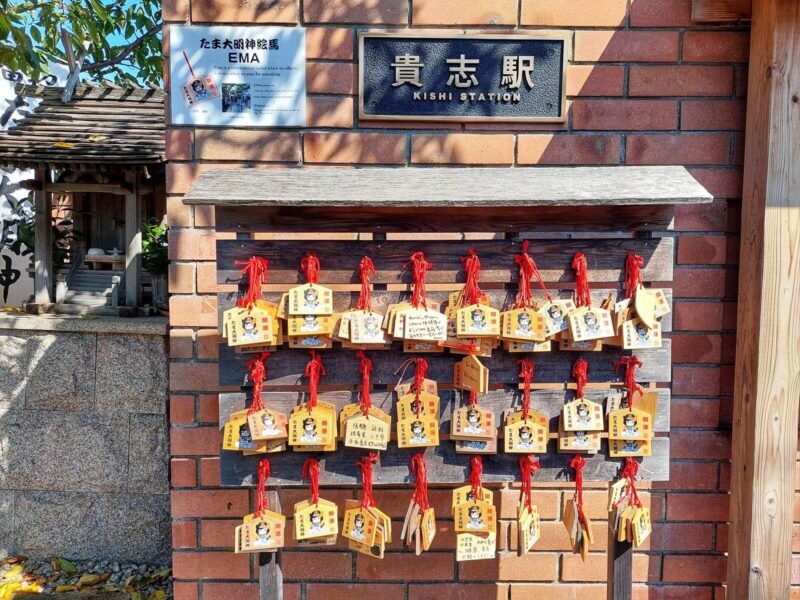 The Wakayama Dentetsu train line runs through a rural area and makes a nice escape from the urban attractions. There are several sites you can visit along the route but the most popular is the Kishi Station – the terminus station where the Tama Cat Museum and Cafe is.
Tama is the official Train Station Master. It has brought several million dollars to the area and probably saved the railroad from abandonment over the last decade. Sadly, the original Tama passed on in Jun 2015. Nitama (Tama II) has taken over as station master of Kishi station.
Similarly, if you are on the lookout for Nitama, pls also check her schedule. She gets 2 days off a week.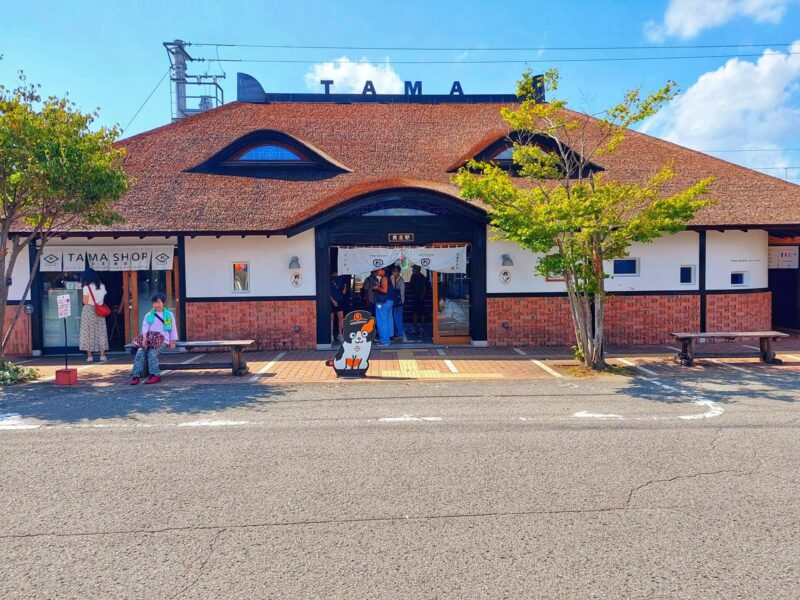 The main attraction at Kishi Station where the entire station is dedicated to this calico cat. The station has an interesting cat design and was rebuilt to resemble the face of a cat with pointy ears.
Inside the station, there is a gift shop with Tama merchandise to bring some goodies back home. You can also have a cup of coffee at the themed cafe which serves a limited menu.
Wakayama Marina City
Located in the southern of Wakayama City, Marina City is a resort town with chic European designs built on an artificial island. This resort complex faces the beautiful Wakaura Bay and is slightly far from the city. You'll need to travel about 40 minutes by bus to reach.
Here, you'll find Porto Europa, Kuroshio Market, and a series of hotels, souvenir shops, and restaurants. Spend some time wandering around and grab some seafood lunch.
Getting there: Ride the Wakayama Bus from JR Wakayama Station and get off at "Hotel-mae". The bus journey takes about 25 minutes. Note that the bus has very limited timings so make sure you check the timings beforehand!
Kuroshio Market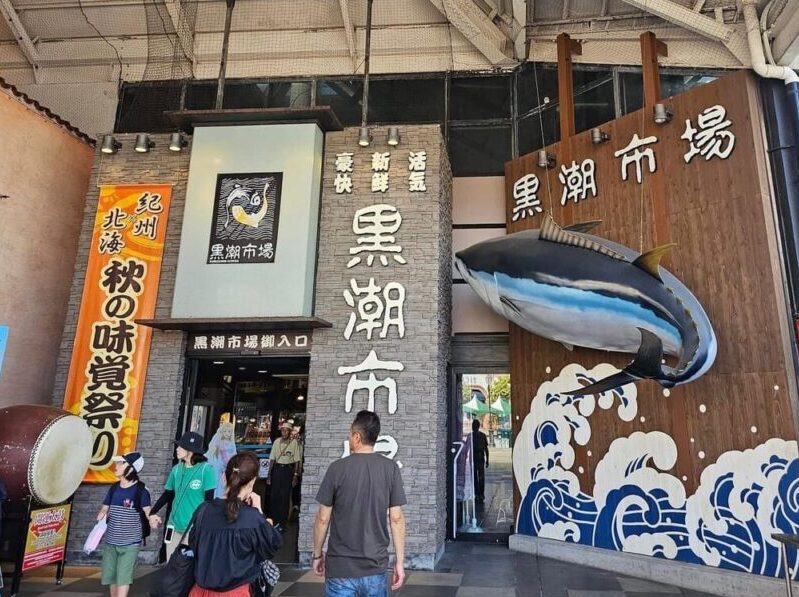 Once arrived in Wakayama Marina City, first headed to Kuroshio Market to grab some lunch. The local market is not huge with several stalls offering different types of seafood, as well as pickled vegetables, freshly prepared fish, and local products.
There is plenty of choice and several eating areas inside and outside. You can also pick out some seafood skewers and grill in the public seating area.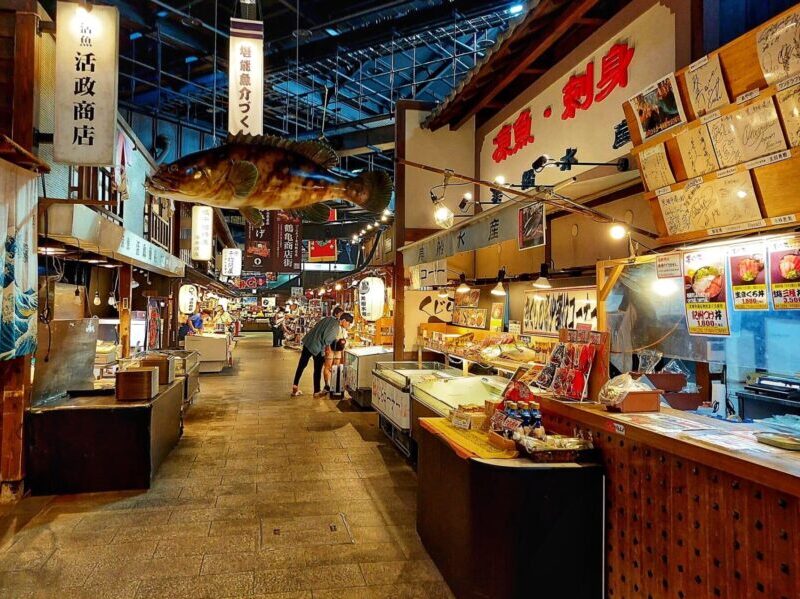 The main highlight is the tuna cutting demonstration, where a skilled guy showcases the different parts of the tuna while cutting it up. Although in Japanese, it was nevertheless entertaining and educational. Three tuna-cutting shows happen each day, at 11:00, 12:30, and 15:00 daily.
Take the opportunity to witness the tuna-cutting show if your timing is right.
Kuroshio Ichiba Market (黒潮市場)
Address: 1527 Kemi, Wakayama City, Wakayama
Business Hours: Daily from 10:00 to 17:00
Entrance Fee: FREE!
Porto Europa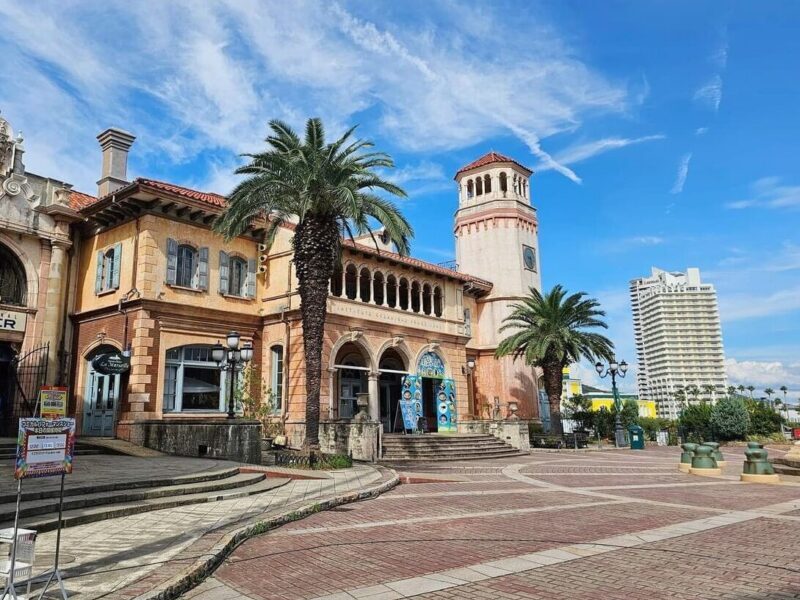 Next, head to Porto Europa which is located just a few steps from Kuroshio Market.
Porto Europa is a beautiful amusement park and consists of a collection of European buildings. There are various rides such as the roller coaster and the Ferris wheel to let your inner child out.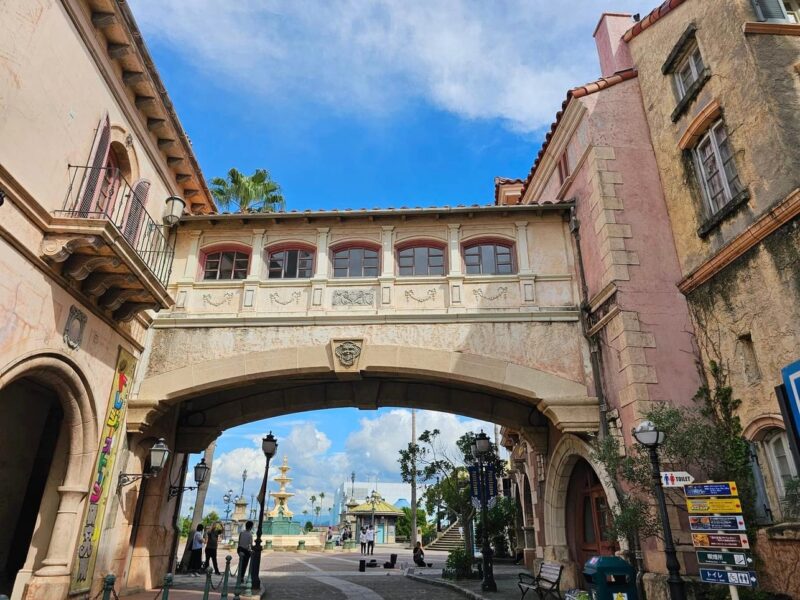 Unlike many other amusement parks, entrance to the Porto Europa is free and you need to pay for rides. There is also a pass to enjoy unlimited rides or games. You can walk around it in a few minutes, taking photos, exploring the shops, and playing arcade games.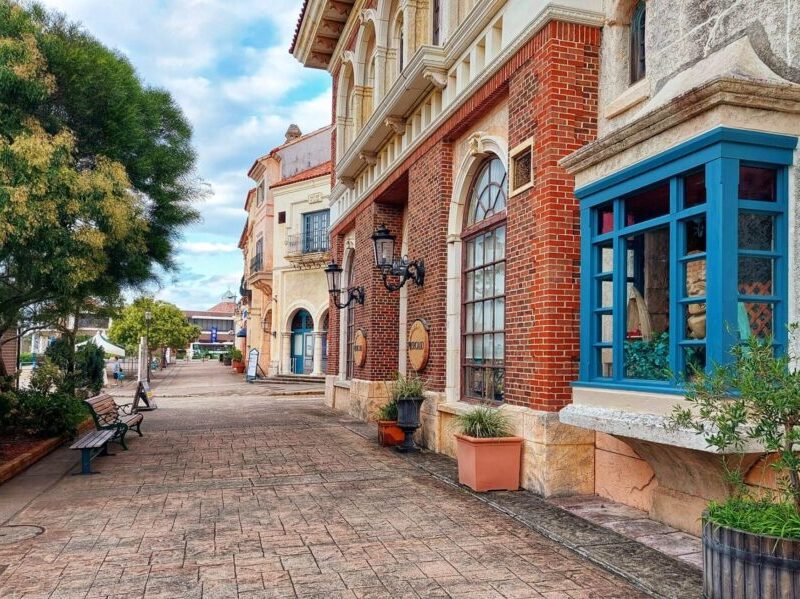 Worth a visit for a few hours when visiting Wakayama City.
Porto Europa
Address: 1527 Kemi, Wakayama City, Wakayama
Opening Hours: Daily from 10:00 to 17:00
Entrance Fee: FREE!
Wakayama Castle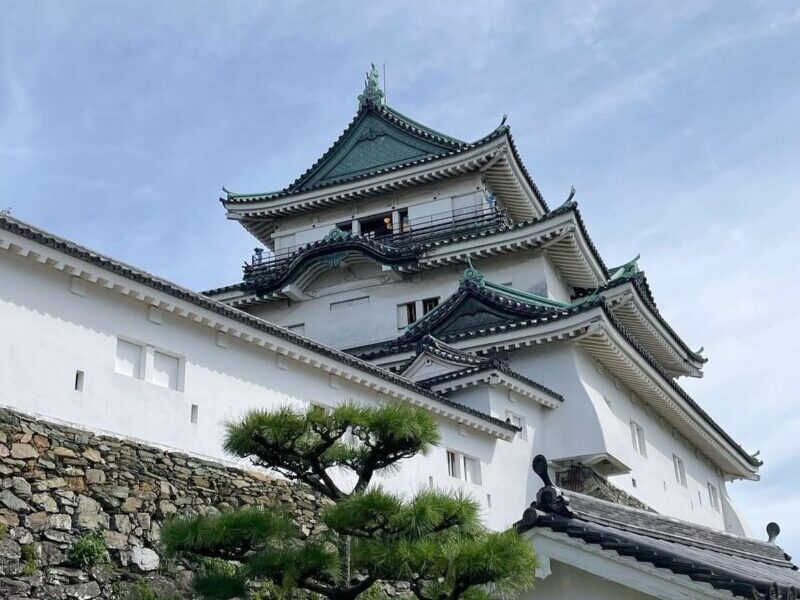 Wakayama Castle (和歌山城, Wakayama-jō) is the symbol of the city. Like most castles in Japan, Wakayama Castle to destroyed by fire during WWII and it was rebuilt and restored to its original state in 1958. This historical site now houses a number of exhibitions inside the castle and some other attractions within its grounds including the Momijidani Garden and the Ohashirouka Bridge.
Wakayama Castle was built at the peak of Mt. Torafusu. Enter through the main entrance, Otemon Gate to visit the castle to start exploring the castle grounds. There are several routes to get into the castle tower but not very steep.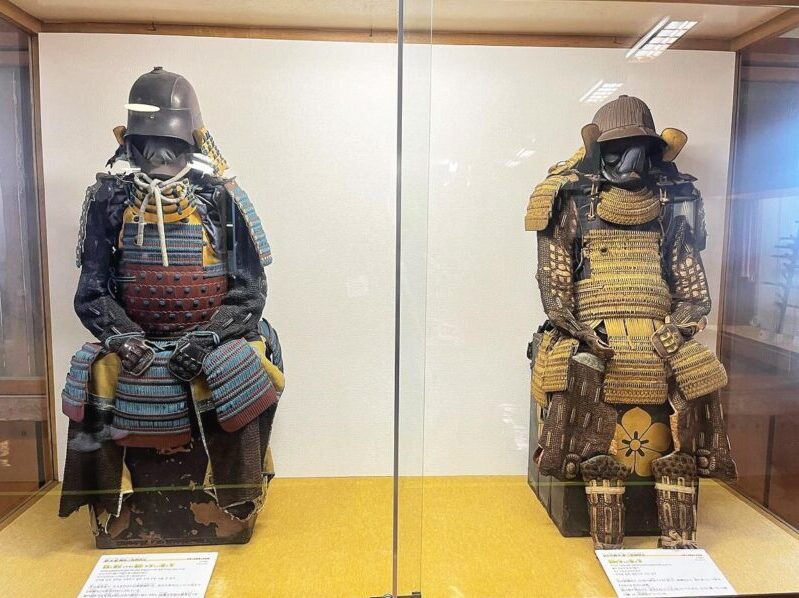 Once inside the castle tower, there are historical documents and treasures on display such as samurai armor suits, weapons, and many historic relics from the Edo period. Don't forget to climb up to the observation deck to enjoy a panoramic view of Wakayama City.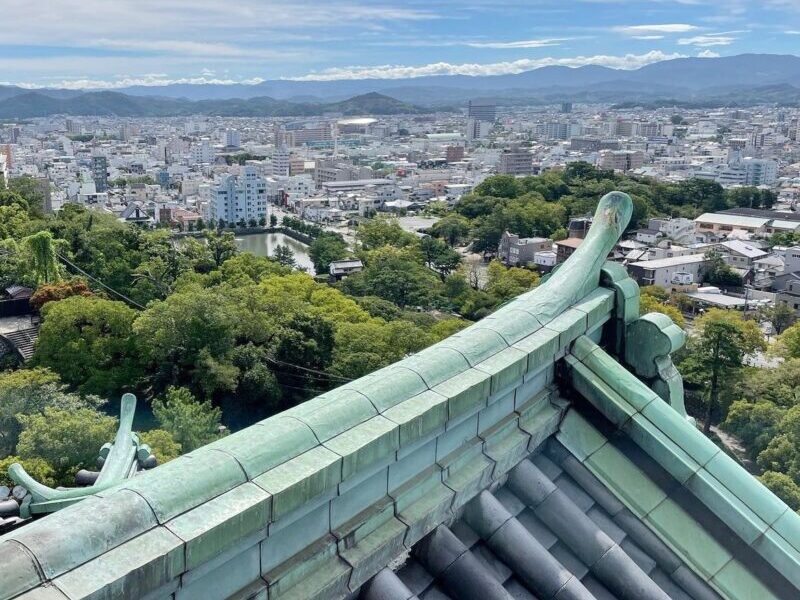 The castle is not so impressive compared to other Japanese castles. Not so crowded, but lots of photographers around. We recommend visiting Wakayama Castle if you have extra time on your Wakayama itinerary.
Wakayama Castle
Address: 3 Ichibancho, Wakayama, 640-8146, Japan
Opening Hours: Daily from 9:00 to 17:30
Admission Fee: ¥410 for adults, ¥200 for children (Get discount by using Nankai Rail Pass)
Getting there: Board the city bus and drop off at the "Koenmae" bus stop. Alternatively, walk for 20 minutes from Wakayama Station to Wakayama Castle.
Momijidani Garden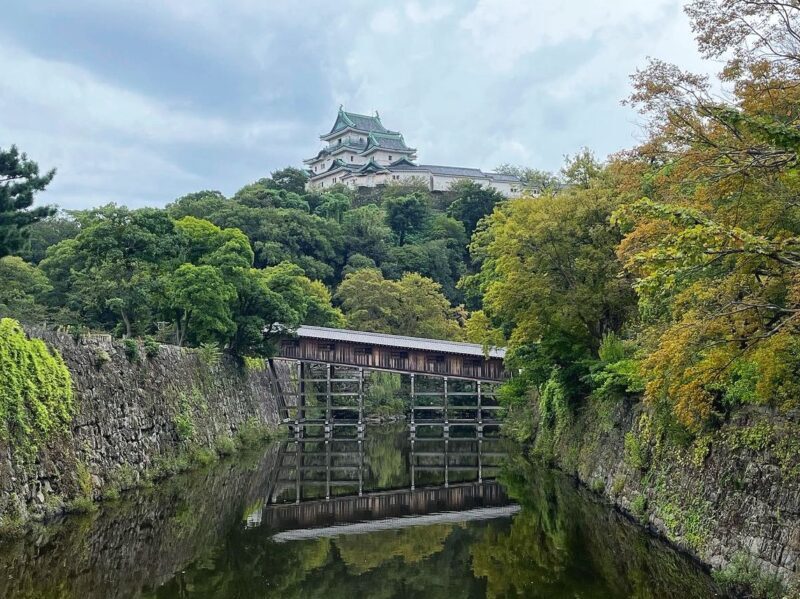 Don't forget to explore the surroundings after visiting Wakayama Castle.
The Nishinomaru Garden (also known as Momijidani Garden) is a beautiful traditional Japanese garden with a pond, a waterfall, with a tea room. The Momijidani Garde is famous for sakura viewing and autumn leaves.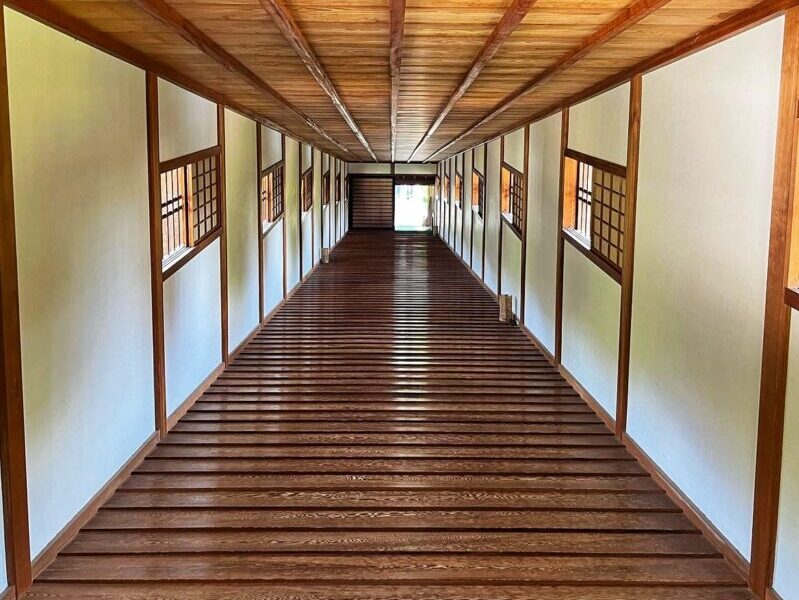 One of the highlights is the Ohashi Roka Bridge. It is a covered inclined bridge with a significant pitch of 11 degrees with steps inside to prevent slipping. You will need to remove your shoes when walking through. It is a splendid experience walking through the Ohashi Rouka Bridge. It is open to the public and free of charge.
From inside Wakayama Castle Park, you can easily view the bridge in front of a stunning view of Wakayama Castle.
More Time for Wakayama Itinerary?
There are still some attractions in the city for Wakayama itinerary. Feel free to include it onto your visit if you are spending more than 1 day in Wakayama City.
Kimii-dera Temple is home to one of the most important temples in the city. The temple has an 11-meter tall golden Buddha statue and offers a great city view from above.
Tamatsushima Jinja is a shrine dedicated to the three Waka poetry gods and is often featured in poems and other written works. Magnificent view at the top when visiting the shrine.
Some other cultural places to visit include Kishu Toshogu Shrine and Tamatsushima-jinja Shrine.
Overall: A Visit To Wakayama City
Thank you for reading this Wakayama itinerary post. We do hope this Wakayama travel guide blog is helpful in planning a trip to this charming city. Although Wakayama City is not a major tourist place, it is worth stopping by if you would like to explore the off-the-beaten-path attractions.
In short, we truly enjoyed our time exploring the cityy, eating seafood, and relaxing. We can't wait to go back to Wakayama and see more and explore places beyond the city.
Related Read: Where To Stay in Wakayama: Best Hotels and Ryokans
Traveling to the Wakayama Prefecture? Free feel to continue to check out our travel stories to some other interesting places: