Last updated on September 23rd, 2023
If you are planning to visit many places in the Kansai region, this JR Kansai Wide Area Pass is a must-buy. Just plan your itinerary and it will greatly save a lot for transportation. Value for money!
Japan offers different kinds of transport passes to make traveling within regions easier for foreign visitors. In the Kansai region, the JR Kansai Wide Area Pass is one of many transport pass visitors can use to explore the region. It is a super-saving transport pass that allows you to explore the Kansai region with unlimited travel for five consecutive days. Travelers can utilize the pass for unlimited travel on designated train and bus lines (including Shinkansen and limited express trains) in the Kansai Region.
There are many places you can include in your itinerary with Kansai Wide Area Pass that Okayama, Takamatsu (Kagawa Prefecture), Kinosaki Onsen (Hyogo Prefecture), Amanohashidate (Kyoto), Shirahama Kishi and Kii-Katsuura (Wakayama Prefecture). The coverage area is wider than the regular Kansai Area Pass and is best to use for long-journey trains for the Kansai Wide Area itinerary.
To find out more about the JR Kansai Wide Area Pass, make sure to read our details travel guide blog here!
JR Kansai Wide Area Pass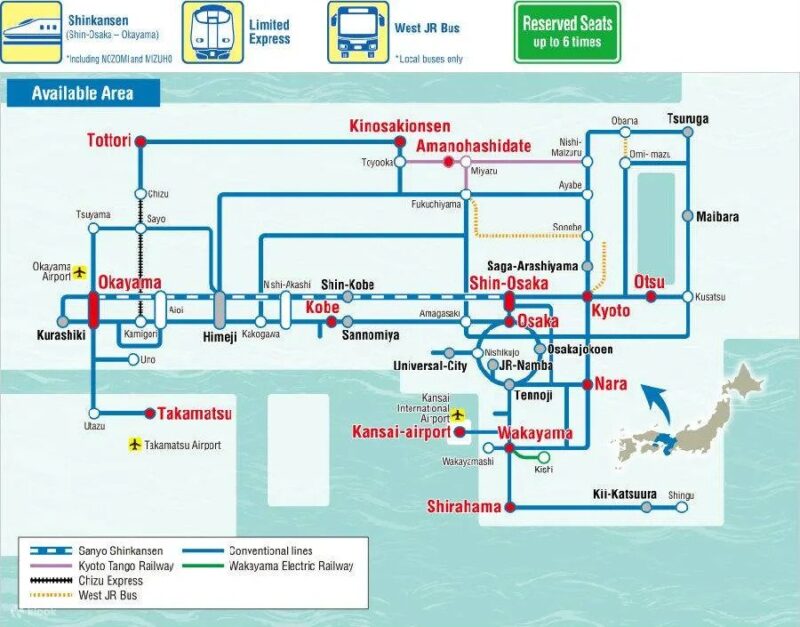 The JR Kansai Wide Area Pass is a rail pass for exclusive use by foreign tourists. This pass allows you to explore the Kansai region and is valid for unlimited travel on the designated railway. It can be used for local, rapid, and special rapid JR trains on JR-WEST Conventional lines. Some trains require seats to be reserved. Make sure you reserve seats before getting on to those trains.
Get discounted JR Kansai Wide Area Pass here
Here are the valid trains to be used for JR Kansai Wide Area Pass:
Unlimited use of trains along the JR lines shown on the map above. 
Up to six times of seat reservations can be made at no additional cost.
The Sanyo Shinkansen is covered between Shin-Osaka and Okayama (including Nozomi and Mizuho trains). However, the Tokaido Shinkansen between Kyoto and Osaka is not covered.
Haruka (Hello Kitty) train from the airport can be used.
Express Trains Haruka, Kuroshio, Thunderbird, Kounotori, Super Hakuto, Super Inaba, and etc. also can used. (available for the reserved seat ticket)
Unlimited use of the Kyoto Tango Railway, which provides access to Amanohashidate.
Unlimited use of the Chizukyu Express Line between Kamigori and Chizu, a non-JR line that provides the fastest train access to Tottori.
Unlimited use of the Wakayama Railway.
Unlimited use of local JR buses between Kyoto Station, Takao and Shuzan, between Obama and Omi-Imazu, and between Fukuchiyama, and Sonobe.
Free use of rental bicycles at designated Ekirin Kun outlets within the covered area.
Pro Tips: Always double-check if the lines are covered by the JR Kansai Wide Area Pass as some of the route is not applicable. The price is a steal if you use it correctly, otherwise, you would need to pay extra if you took the wrong train.
How To Buy JR Kansai Wide Area Pass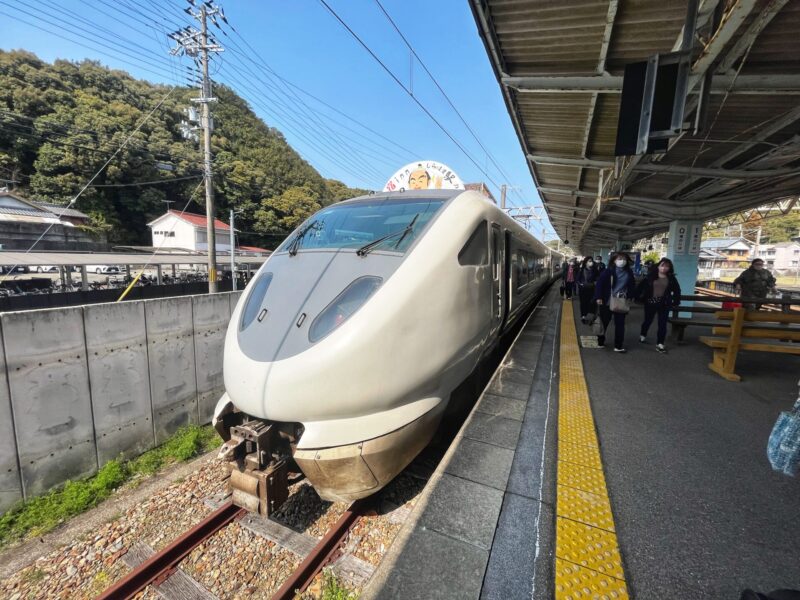 Travelers can purchase the JR Kansai Wide Area Pass from the travel agency. Klook sells a range of passes from the Whole Japan Rail Pass to the region-specific pass. We usually get the Japan transport pass from Klook before arriving in Japan. It is cheaper and very convenient.
Get JR Kansai Wide Area Pass from Klook
The JR Kansai Wide Area Pass is valid for consecutive 5 days. It will greatly save a lot if you're able to plan and narrow down the places you want to visit with this regional pass.
How To Use JR Kansai Wide Area Pass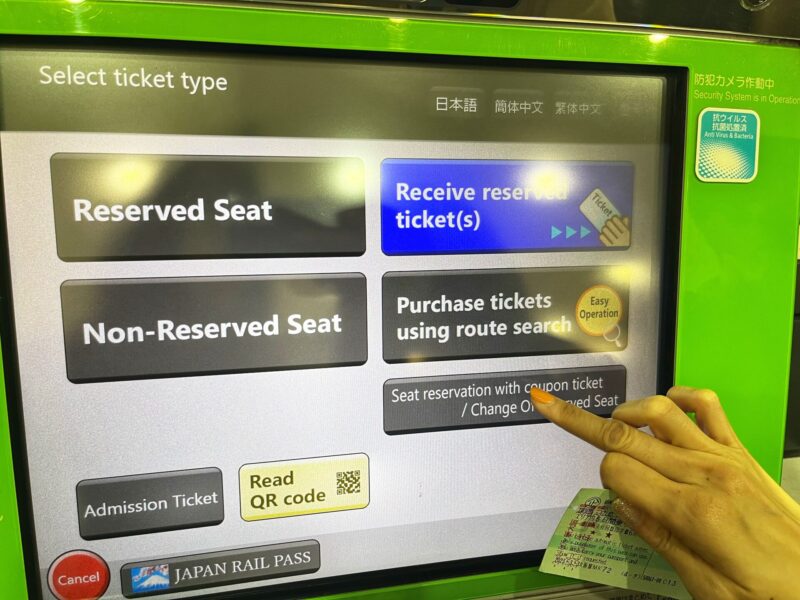 Travelers can purchase the JR Kansai Wide Area Pass from the travel agency. Klook sells a range of passes from the Whole Japan Rail Pass to the region-specific pass. We usually get the Japan transport pass from Klook before arriving in Japan. It is cheaper and very convenient.
It is very easy to redeem the JR Kansai Wide Pass with multiple languages on the machine. Scan the QR code and scan the passport and tickets are dispensed. At the same time, I can reserve tickets to locations I have on my itinerary.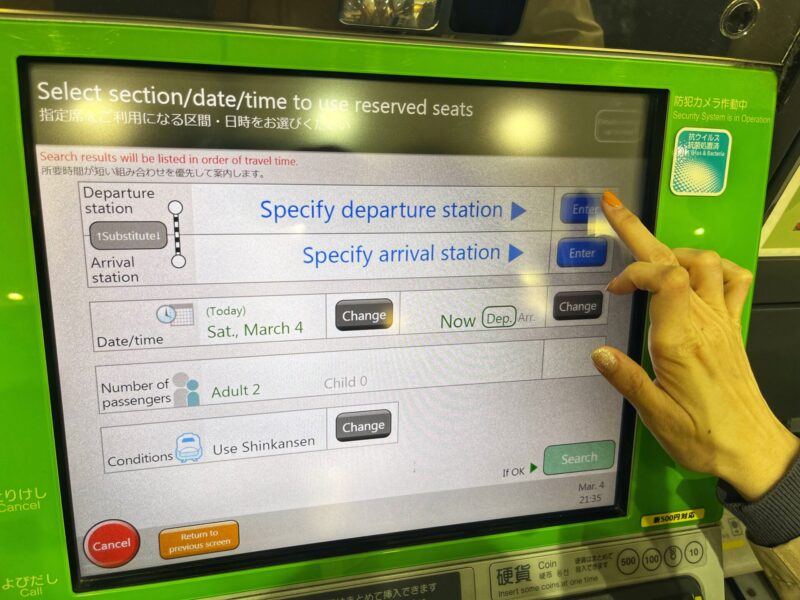 Enter dates, and times, choose the schedule available, and insert the 5-day pass ticket in the machine. And the reserved tickets will be dispensed along again with the 5 days pass. Reserve up to 6 times. Then used it for non-reserved random trips!
Planning on JR Kansai Wide Area Pass Itinerary
There are many ways to explore Kansai Japan. This JR Kansai Wide Area Pass itinerary focuses on the Kansai Wide region and takes you to some of the top destinations with longer traveling journeys. Be a smart traveler and plan your itinerary well to fully optimize the pass. Here are some of the places I visited using this pass that you can add to your itinerary.
Suggested places to visit for JR Kansai Wide Area Pass Itinerary:
Okayama and Kurashiki (1 – 2 days)
Himeji (1 day)
Kobe (1 – 2 days)
Kinosaki Onsen (1 – 2 days)
Amanohashidate and Ine Funaya (1 – 2 days)
Shirahama (1 day)
Nachi Falls (1 – 2 days)
Pro Tips: It is advised to check the required traveling journey from/to the desired destination. We recommended allocating at least one full day to explore the area. If time is allowable, it is also best to stay overnight to have a more relaxed traveling pace.
Pre-Trip Essential
The easiest way to explore the Kansai Wide region is to enter Japan through Kansai International Airport (KIX). You can redeem your JR Kansai Wide Area Pass at the ticketing machine at the airport. The best thing is Haruka Airport line to Osaka also can be used for JR Kansai Wide Area. Next, plan for the first destination to the nearby cities.
Take note that the JR Kansai Wide Area is valid for consecutive 5 days. Since it is a relatively short 5-day consecutive day pass, you may opt to have it activated at a later date. The duration will start counting when you start boarding the train or on the first boarding day on the reserved seat.
Get discounted JR Kansai Wide Area Pass here
Depending on your itinerary planning, you can choose to base yourself in Osaka or nearby cities with easy access to the JR station, and then do a day trip. Alternatively, consider staying at the places of visit along the journey. We will recommend some of the best places to stay for each travel destination.
Okayama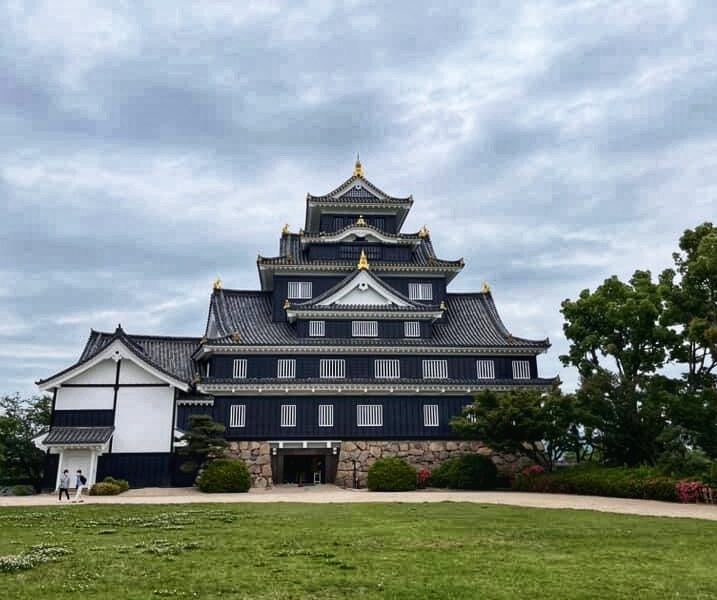 Firstly, use your JR Kansai Wide Area Pass to travel from Shin-Osaka station to Okayama in Okayama Prefecture. To maximize your day, we suggest starting as early as possible and taking the Shinkansen to get to Okayama in under 1 hour.
Built-in 1597, Okayama Castle (岡山城) is one of Okayama's main sightseeing attractions. Unfortunately, the castle was destroyed in the war of 1945 and it replicated what it looked like in 1966. Unlike the traditional white castle, Okayama Castle is unique as it has a black exterior. The building is not so big but a beauty nonetheless.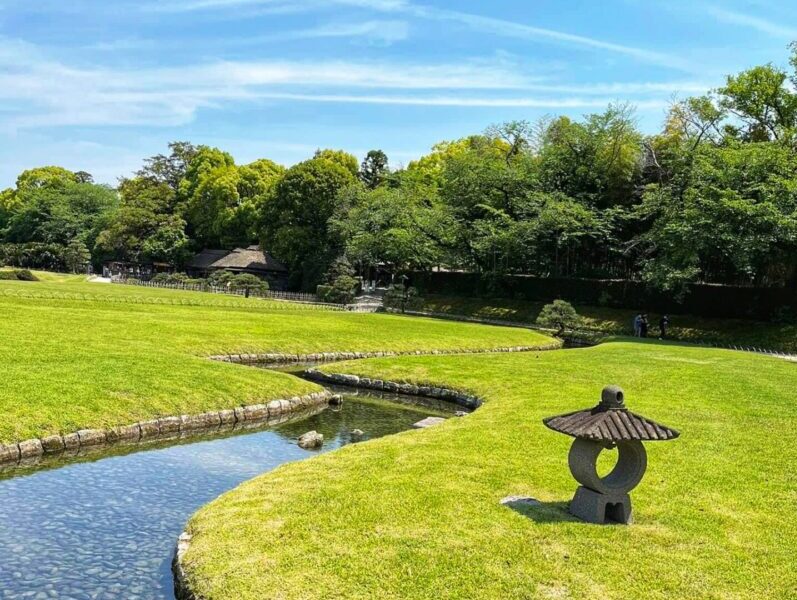 Okayama Korakuen Garden (岡山後楽園) is one of the Three Great Gardens in Japan (the other two are Kenrokuen in Kanazawa and Kairakuen in Mito) and is a fabulous spot to visit after exploring the Okayama Castle. The best place to visit to explore and see the Japanese Garden. It's easy to get to since it's only a few minutes walk from the south side of Okayama Castle. A combined entrance ticket for Okayama Castle and the Korakuen Garden is available.
How To Get there: Shinkansen to Okayama station from Osaka takes you less than an hour. Keep in mind that the Shinkansen access for JR Kansai Wide Area Pass is only valid between Osaka and Okayama.
Kurashiki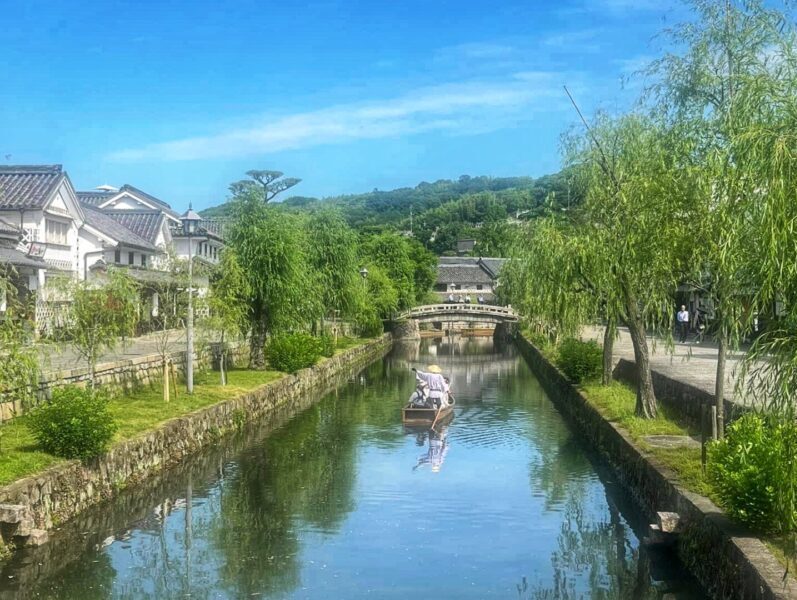 If you have extra time in the afternoon of your Okayama day trip, head to Kurashiki (倉敷市) for a few hours. Kurashiki deserves a full day since there are a lot of attractions to visit. But if you have limited time, it is still worth visiting Kurashiki to experience Japan's Venice town.
The Bikan Historical Quarter is a former warehouse area with traditional facades. There are plenty of shops, museums, pottery shops, and other fun shops scattered throughout the area. Take your time strolling around and you'll love the quaint area with the gorgeous canal setting. If the weather is good, take a canal ride or get a rickshaw to drag you around.
Depending on your itinerary, you'll either continue to your next destination at the end of the day or spend the night in Okayama. You can choose to stay at a hotel close to Okayama Station or nearby Okayama Castle. We recommended ANA Crowne Plaza Okayama which is conveniently located next to the Okayama Station.
Getting there: To get to Kurashiki, catch a 20 minutes local JR train to Kurashiki from Okayama station. Next, walk 10 minutes to the Kurashiki Bikan historical area.
Kobe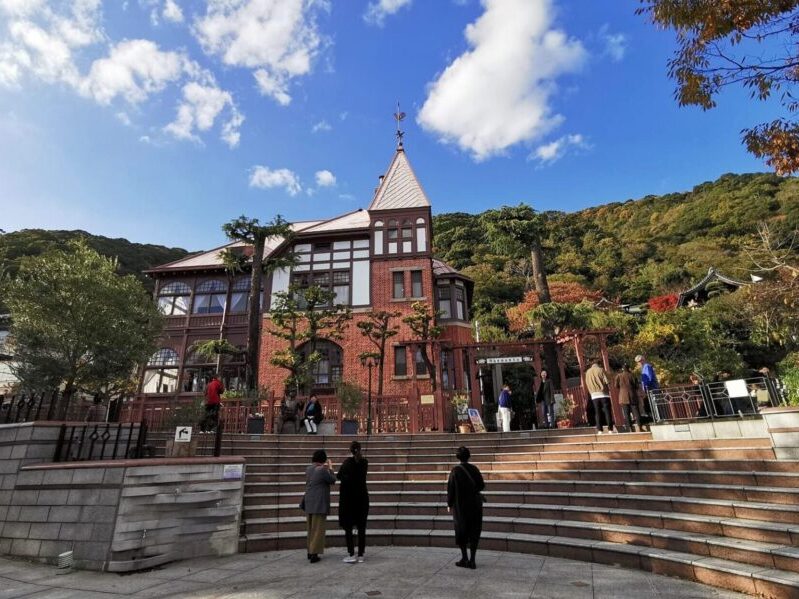 Most people stop in Kobe just to try the famous marbled Kobe beef but there are a couple of attractions that you can include on your itinerary. This charming port city has the perfect mix of international influence and authentic Japanese with loads of art, architecture, and history awaiting you to explore.
Firstly, board the JR train or Shinkansen to Kobe with less than 30 minutes ride, and you can start exploring Kobe.
The Kitanocho area is a charming historical district with western-designed houses owned by foreign residents who came in during the late Meiji period. Most of them are well-preserved and several of these former residences are open to the public as museums with entry charges to get in.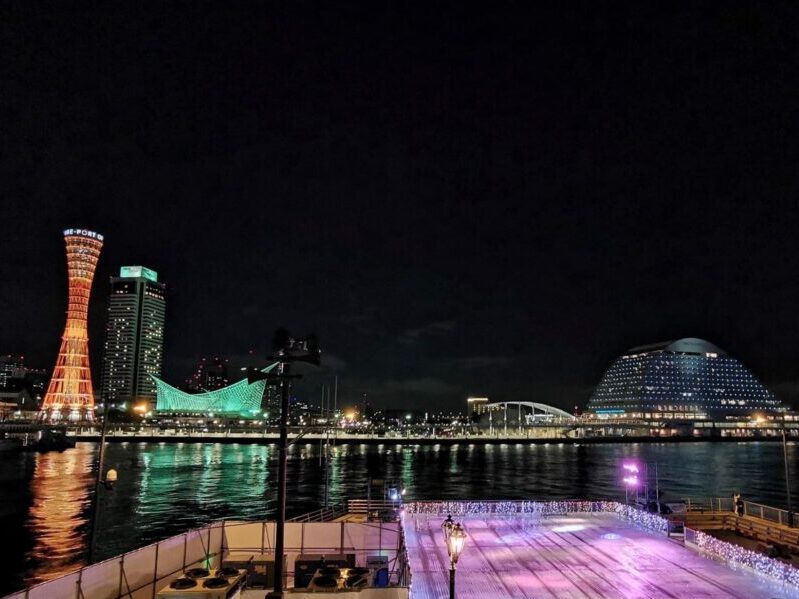 A trip to Kobe should not miss to taste the world-class Wagyu beef at Kobe. There are many options for Kobe Beef around the city. We recommendation the Steakland, known for its affordable cuts. The beef was melt-in-your-mouth, juicy, and flavourful!
In the late afternoon, spend your time in Kobe by visiting the Nankinmachi (Kobe Chinatown) or Kobe Harborland. The view is fantastic and there are plenty of shops, cafes, and restaurants in the area.
Related travel blog:
Where To Stay: Sannomiya and Motomachi areas for easy getting around. The Daiwa Roynet Hotel Kobe Sannomiya Chuo Dori is one of the popular picks with spacious rooms and comfortable large beds. The price is also very reasonable.
Himeji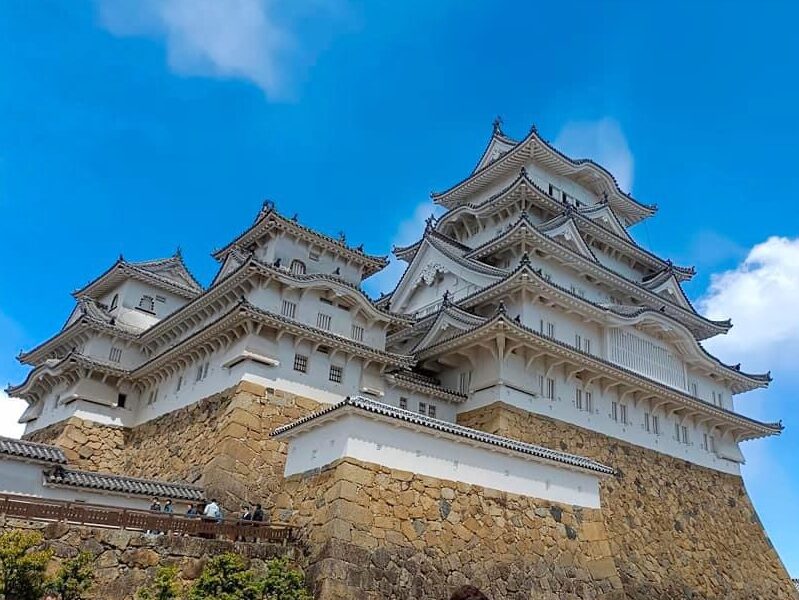 What better way to plan your Japan trip than by visiting a Japanese castle? Also known as White Heron Castle, Himeji Castle (姫路城) was one of the most popular castles in Japan. It is arguably the best of Japan's 12 original castles, and without a doubt its best maintained. Himeji Castle is also the first castle in Japan to be registered as a UNESCO Cultural World Heritage in 1993 as well as designated as a National Treasure in 1951. This enormous, gorgeous castle with sprawling grounds is definitely worth a visit.
Himeji Castle is known as White Egret because of its white color. The building dates back to the 15th century, although it was completed in 1609. To get to the castle, you have to go through the ticket office first and then take a winding path to reach the castle. You can walk inside and climb up lots of steps to the top floor. The view is worth the climb.
Plan to stay at least a couple of hours. You may also couple your visit to the Koko-en garden, just next to the Himeji Castle. An ideal day trip to include for your JR Kansai Wide Area Pass itinerary!
How To Get There: Getting to Himeji is pretty straightforward. Less than an hour by Shinkansen from Osaka will take you to Himeji Station. The castle is about a 20-minute walk from the train station. Alternatively, a shuttle bus at ¥100 will bring you to the main entrance.
Kinosaki Onsen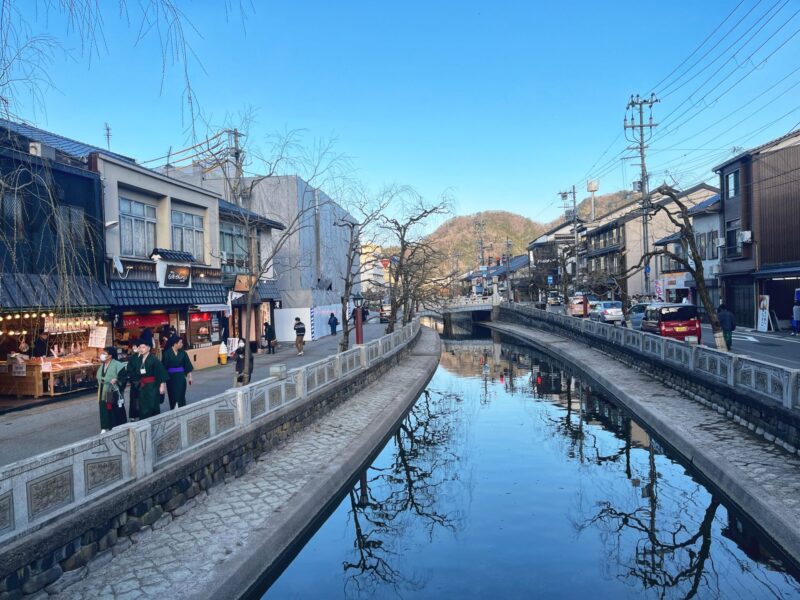 Locate in Hyogo Prefecture, Kinosaki Onsen (城崎温泉) is a quaint hot spring town in the lush mountainous area. The main point of visiting an onsen town is, of course, to enjoy the hot springs. Kinosaki Onsen has boasted 7 public baths and has been running since the Heian era (794-1185). Soaking in an onsen is one of the best things you can do when visiting Japan!
The town is fairly compact and is a very pleasant little place to explore. Wander along the narrow, winding streets lined with traditional wooden buildings, restaurants, souvenirs, and specialty stores worthwhile to visit. It's pleasant wandering around this area. A taste of a Japanese ancient town.
Related travel stories: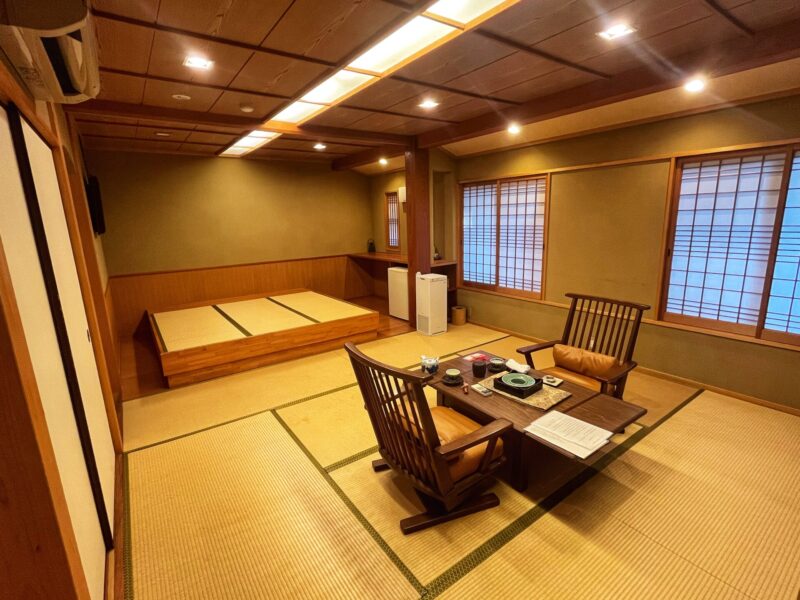 When visiting Kinosaki, it is best to spend at least one night in the traditional ryokan to experience the traditional Japanese inn. We stayed at Ryokan Sinonomeso, a mid-range ryokan in Kinosaki Onsen. Our private room is a traditional Japanese style and we sleep on the tatami mats and futon mattresses. It is even best to include the Kaiseiki dinner for your stay!
How To Get there: Catch a train to Kinosaki Onsen and then explore the town on foot. It takes about 2.5 hours by train from Osaka or Kyoto. Take note that limited express trains to Kinosaki Onsen are all reserved seats.
Amanohashidate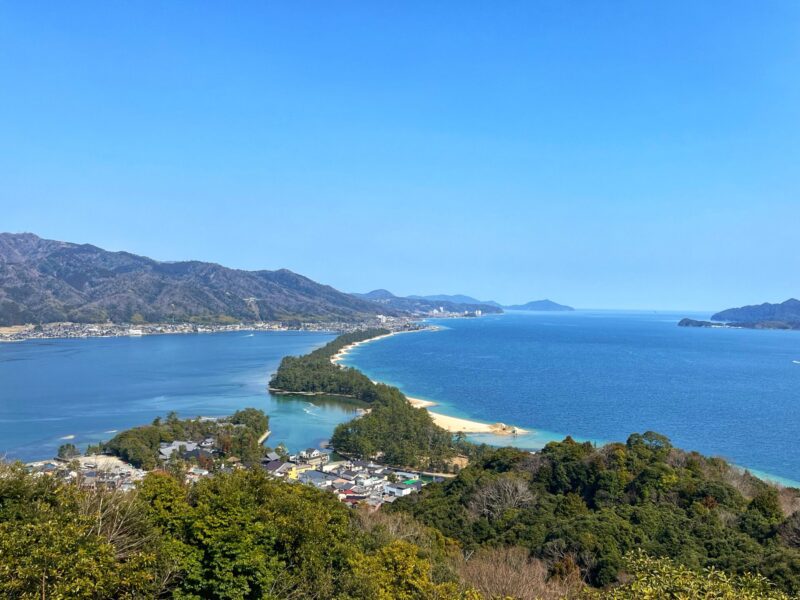 If you want to visit nature with beautiful scenery, Amanohashidate is the perfect option for you! Plus, you can save a lot transport fee by using JR Kansai Wide Area Pass.
Amanohashidate (天橋立) is a natural land bridge, covered with pine trees that spans Miyazu Bay in northern Kyoto. Together with Matsushima Bay in Miyagi and Itsukushima Shrine's "floating" torii gate, it's considered one of Japan's three most scenic views. It's best appreciated by the amazing view from the mountains on either side of the bay. You can get to the top via a chairlift or by monorail to enjoy the best views of Amanohashidate.
Spend your time wandering around by walking, biking, boating, or taking a cable car ride up to the mountain to enjoy the view. There are also a few small temples and shrines like Chionji Temple, Nariaiji Temple, and Motoise Kono Shrine to include on your itinerary.
Check out our Amanohashidate travel guide if you plan on visiting this beautiful place.
Getting there: Amanohashidate is over two hours away and makes for a scenic day trip from Kyoto or Osaka.
Ine Funaya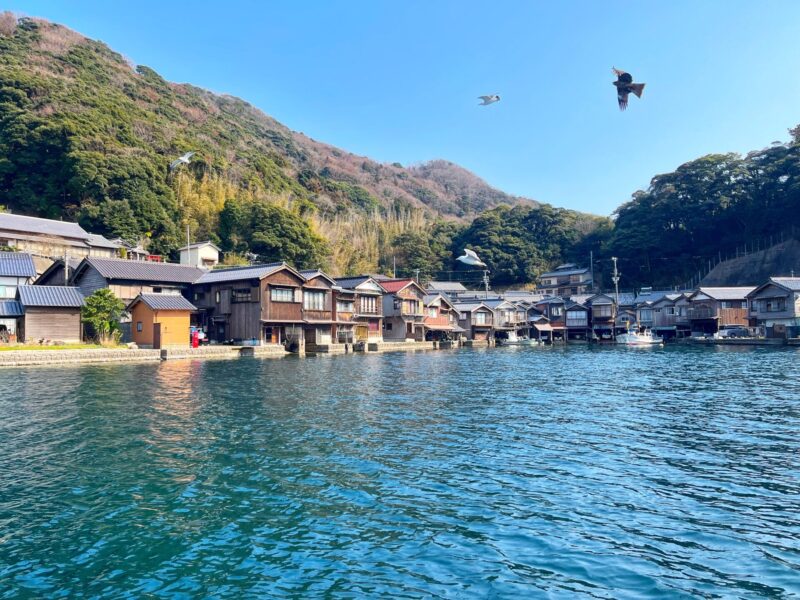 A bonus side trip to Ine Funaya from Amanohashidate is one of the highlights of my recent trip to the Kansai Wide region.
Ine town (伊根) is a charming fishing village surrounded by the ocean with a beautiful coastline along the bay. It is known for its Funaya, or boat houses that have been around since the Edo period. A visit to Ine Funaya Boathouse offers an amazing abundance of outdoor scenery with cool sea breezes. The best place to experience a different side of Kyoto.
RELATED READ: Ine Funaya Itinerary: A Travel Guide Blog
Getting there: There is no train connected to Ine town. From Amanohashidate, Visitors can take the Tankai bus from the Amanohashidate area to Ine. The bus journey takes you about 30 to 60 minutes departing when you boarded the bus.
Shirahama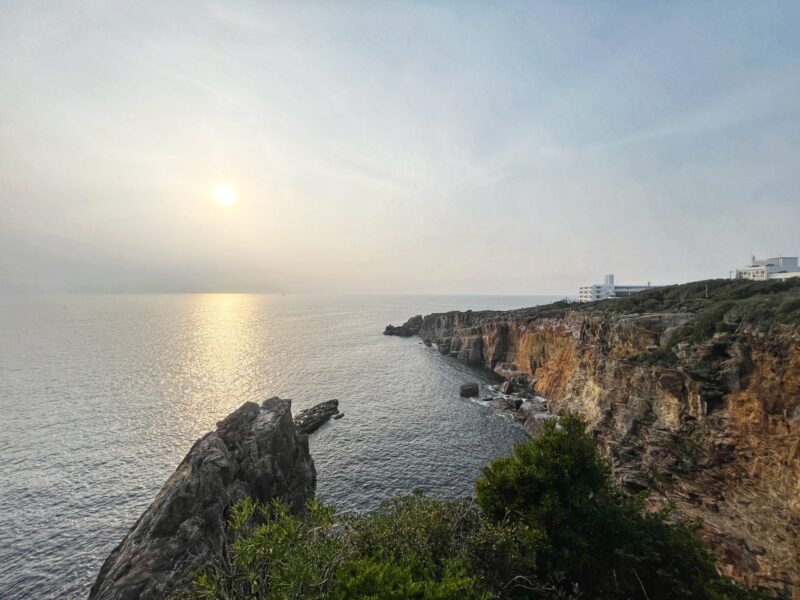 Next, it's time to unwind in Shirahama!
Shirahama (白浜) is a popular Japan's summer beach holiday destination. It is known for its pristine white beach and is filled with an abundance of hot springs. Visitors can enjoy soaking in an onsen while enjoying the stunning ocean views. Besides, there are also other attractions such as Engetsu, Senjojiki Rock Plateau, Sandanbeki, and Sandanbeki Cave to keep you busy.
Another major attraction of the area is Adventure World. It is a huge theme park that integrates with an amusement park, zoo, and aquarium all together in the town. Don't forget to check out the family of Giant Pandas who are the main stars of the park. A fun destination for a family day out!
READ MORE:
In short, Shirahama is a fantastic destination for a traveler to immerse themselves in a different side of Japan.
Getting there: Take the Kuroshio Limited Express train to go to Shirahama Station. From Osaka, it'll take about 2.5 hours for a one-way. Trains depart per hour, make sure to plan accordingly.
Nachi Falls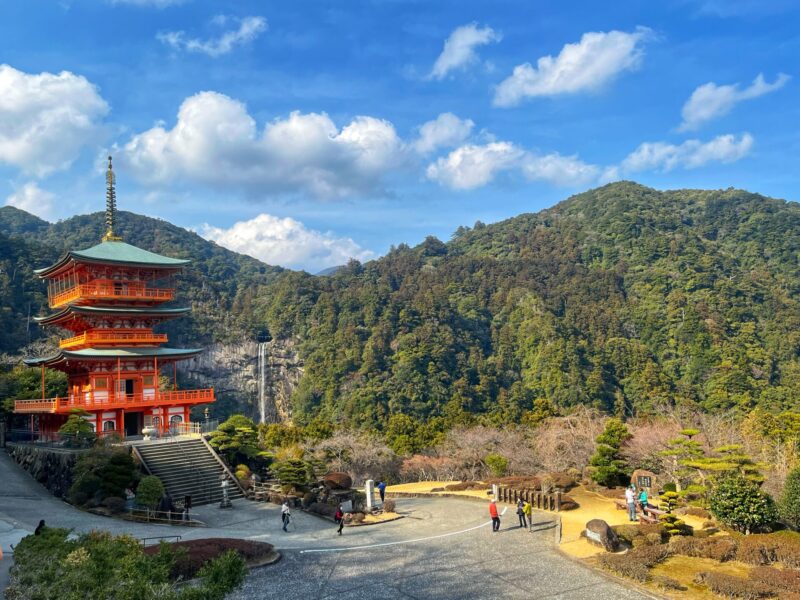 The serene Nachi Falls is where you will find one of the most famous views of Japan!
For those who plan to visit Nachi Falls, it's a slightly long journey so make sure you start early! But still, we recommended overnight at least one night as the one way train journey already take you about 5 hours from Kyoto / Osaka. Travelers will need to heading to Nachikatsuura, an underrated fishing town located in Kii Peninsula. This small town is the gateway to seeing the famous Nachi Falls.
When visiting Nachi Waterfall, you can't miss the Seigantoji Temple (Seiganto Ji Temple) and Sanjudo Pagoda. All of them are situated next to each other in the Kii mountain range. These majestic attractions have turned into a picturesque sightseeing spot when the three-story pagoda towers over a lush forest with Nachi no Taki falling in the background. A majestic view!
Related Travel Stories:
Hikers will choose to hike through the Kumano Kodo trails for several days. But if you are only interested in the Nachi Falls, then you might also plan for a trip visit to see the amazing view.
Getting there: From Osaka, you can take the Express Kuroshio Train all the way to Kii-Katsuura station. Note that this is not a bullet train, and the journey will take around 4.5+ hours. Also, all train is reserved seats. From the Kii-Katsuura station, transfer by bus to Nachi Falls.
Overall: Is JR Kansai Wide Area Pass Worth it?
All in all, if you are traveling to Kansai and visiting different cities in the region, the JR Kansai Wide Area Pass can be a very good money-saving transport pass. The price is very reasonable and travelers can use this to visit one of the coverage areas, such as Amanohashidate, Kinosaki Onsen, Okayama, or even the Kumano Region. We visited many places using the JR Kansai Wide Area Pass and highly recommended it.
Get discounted JR Kansai Wide Area Pass from Klook
By using the pass on your JR Kansai Wide Area Pass itinerary, you can travel to many places with unlimited travel within the designated train lines. With a round trip to Amanohashidate or any of the places, it's already worth the ticket price, definitely worth it. Take note that this pass will not pay off for short-distance travel around Osaka, Kyoto, Nara, and Kobe alone.
Lastly, we hope you enjoy our JR Kansai Wide Area Travel Guide blog. If you need more inspiration for your itinerary, feel free to read our travel stories below.
Traveling to Kyoto Prefecture (Amanohashidate, Ine Funaya) and Hyogo Prefecture (Kobe, Kinosaki Onsen):
Traveling to Wakayama Prefecture (Shirahama, Nachikatsuura, Nachi Falls):