Last updated on December 11th, 2023
There are many accommodations to stay in Kinosaki Onsen and you'll be able to find somewhere to stay for all budgets. Here are our top-rated ryokan picks at different price ranges to suit your budget when looking for where to stay in Kinosaki Onsen.
Located in the northern part of Hyogo prefecture, Kinosaki Onsen is an idyllic town known for its seven public hot springs. The onsen has been running since the Heian era (794-1185) and locals are flocking to Kinosaki Onsen for its natural hot spring. It takes about two and a half hours from Kyoto and Osaka, and popular among travelers to experience the Japanese ryokan stay in the Kansai region.
Staying in Japanese ryokan in Kinosaki Onsen is a unique experience where you can get a taste of the public onsen bath, just like a local. There are no modern hotels here and most of the traditional inns in Kinosaki Onsen are onsen ryokans. The best way to immerse into the Japanese culture.
Here is our recommendation for where to stay in Kinosaki Onsen.
Quick Guide: Where To Stay in Kinosaki Onsen
There are many ryokans to choose from based on your interest and budget. The perks of staying in Kinosaki Onsen allow for having unlimited access to Onsen! Below are our recommendations.
Where to Stay in Kinosaki Onsen:
Pro Tips: Kinosaki Onsen is a popular place to visit among locals and travelers. It is always advice to reserve earlier to secure your room, especially during peak seasons and weekends. The room price will be getting higher when most rooms run out!
Nishimuraya Honkan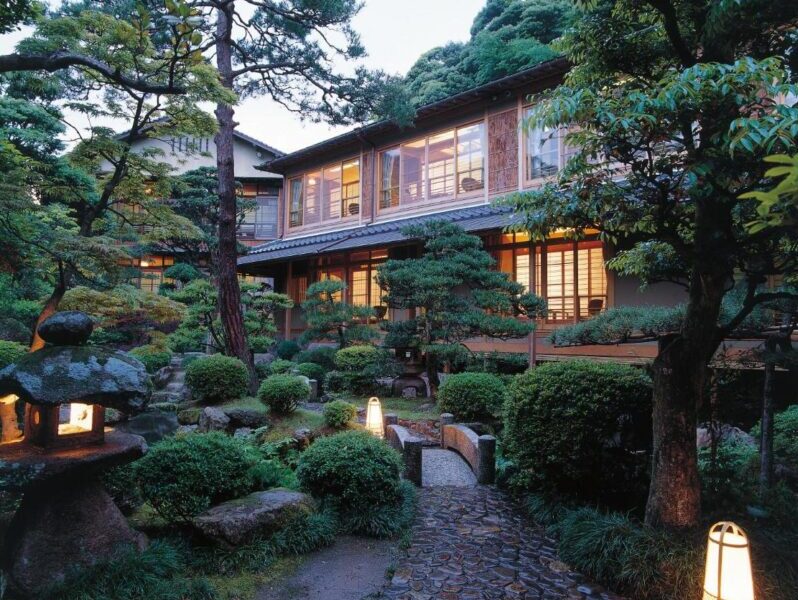 Top-Rated: The top ryokan in Kinosaki Onsen is Nishimuraya Honkan. The property is a 150-year-old elegant and has been recognized as the best ryokan in Kinosaki. It has been run by the same family for 7 generations to serve the guests the ultimate ryokan stay experience.
There are 35 rooms here and 3 suites. All rooms at Nishimuraya Honkan Ryokan are traditional and minimalist. It has traditional futon bedding and tatami (woven straw) floors. Each is air-conditioned and comes with a tea maker, flat-screen TV, and private bathroom.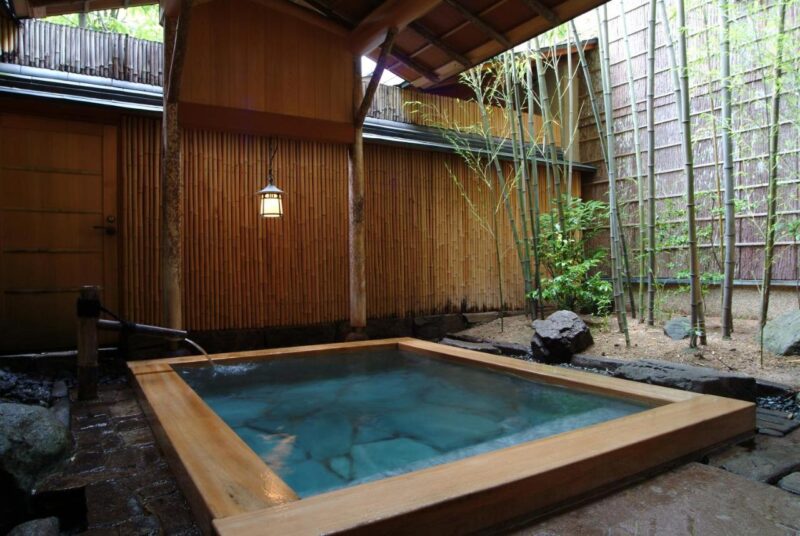 Your stay in Nishimuraya Honkan is featured beautiful Japanese gardens and hot spring baths. Plus, it has its private onsen and is built in the style of a Japanese tea house. Amazing staff and the best Japanese hospitality. The best places when looking for where to stay in Kinosaki Onsen.
Check prices and book your stay in Nishimuraya Honkan here.
Nishimuraya Hotel Shogetsutei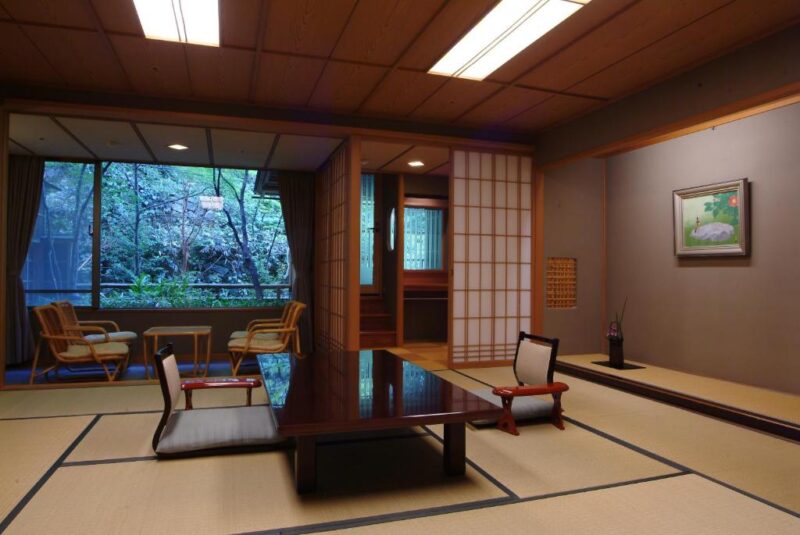 Top-Rated: Set in the woods by Mount Kuruhi, Nishimuraya Hotel Shogetsutei is a luxury and well-kept accommodation for your best stay in Kinosaki Onsen. It is about 5-minute drive from Kinosaki-Onsen JR Train Station with a free shuttle provided for guests.
The rooms come with traditional Japanese styles with futon mattresses on the floor and Western-style rooms with beds. The suites here have private terrace hot tubs with gorgeous views over the forest and a private glass-walled lounge.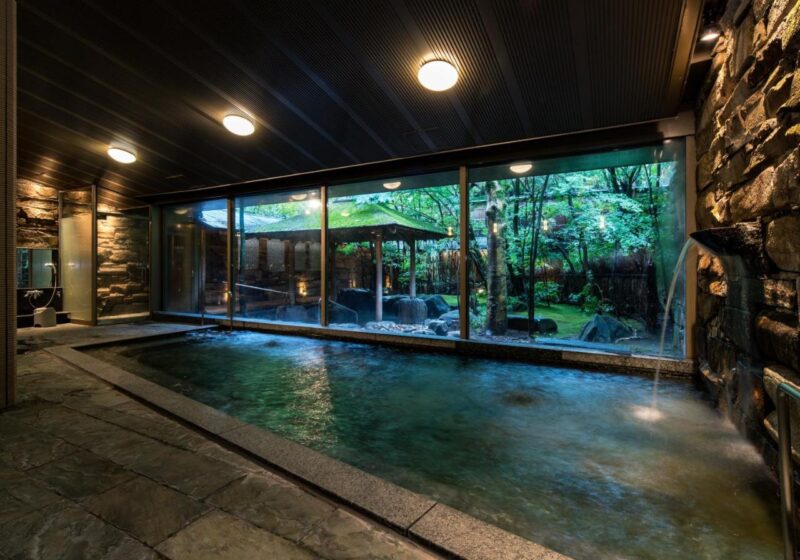 Staying in Nishimuraya Hotel Shogetsutei is truly amazing. It features natural views and beautiful outdoor hot-spring baths for relaxing. You can also use the free onsen bath at Nishimaruya Honkan, which is 700 meters away. Free-use bicycles are provided.
Limited room available. Check availability and see the best room rate from Nishimuraya Hotel Shogetsutei.
Morizuya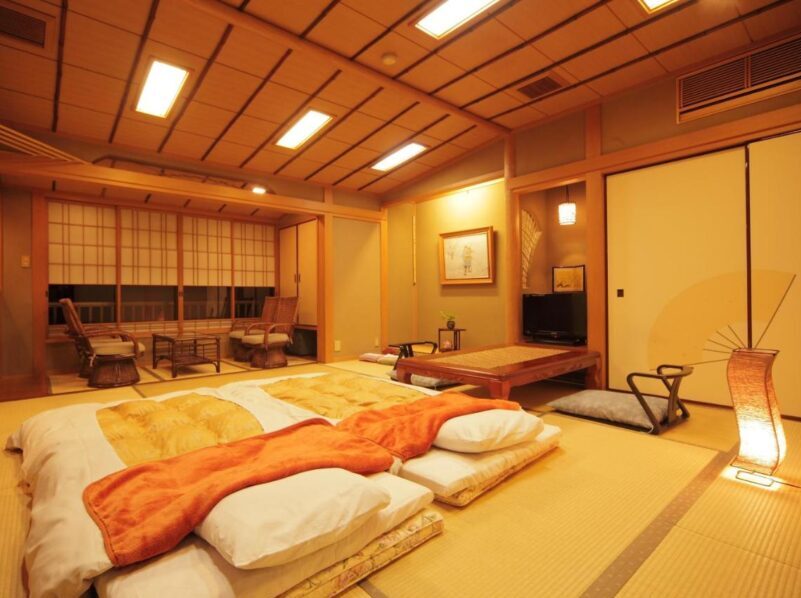 High-range: Morizuya offers authentic Japanese-style accommodation, hot spring baths, and Japanese dining. The location is superb at the center of the lively street about a 6-minute walk from Kinosaki Onsen Station. A shuttle service to/from the station is offered.
Rooms come with futon bedding on tatami (woven mat) flooring and a comfortable seating area. It is very spacious with a lovely view, of either city or the mountain views. Guests can enjoy their time soaking in the private bath, wearing colorful yukata robes, and enjoying an amazing and delicious kaiseki dinner. Famed for its hospitality, the staff was extremely welcoming and kind. They will always make sure your stay is comfortable.
Rooms running fast. Check availability and see the best room rate from Morizuya here.
Sennen no yu Gonzaemon Ryokan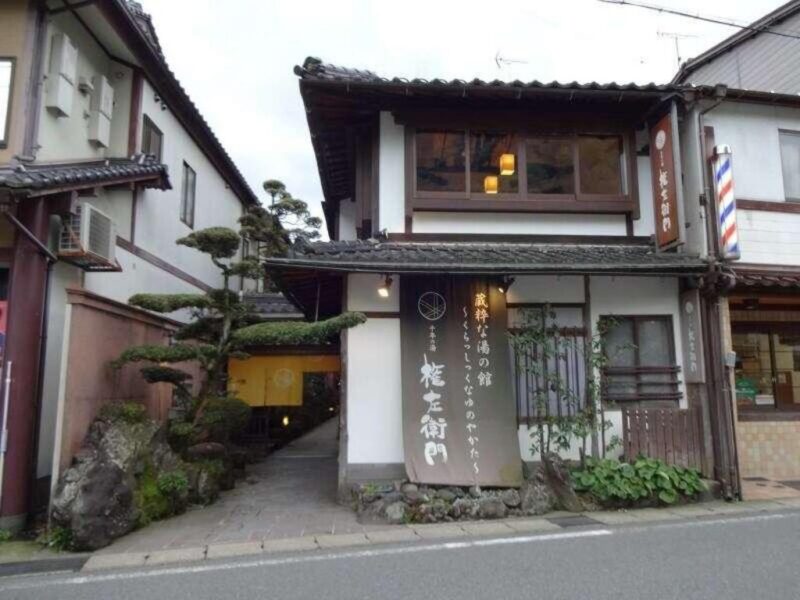 High-Range: Sennen no yu Gonzaemon Ryokan is a 4-star accommodation for the traditional ryokan experience in Kinosaki. The location is perfect, right in the middle of the town and close to other onsens. Plus, you'll also have access to its onsen so it's very convenient for late-night bathing.
Your stay comes with the Japanese-style rooms and the room is spacious and clean. Highly recommended their half-board option. The food was more than generous and stunning. It is served in the room and generous in portion. The staff is always polite and the services are exceptional, from the reception to the dinner services.
In short, we highly recommend Gonzaemon Ryokan to anyone who looking for where to stay in Kinosaki Onsen.
Ryokan Sinonomeso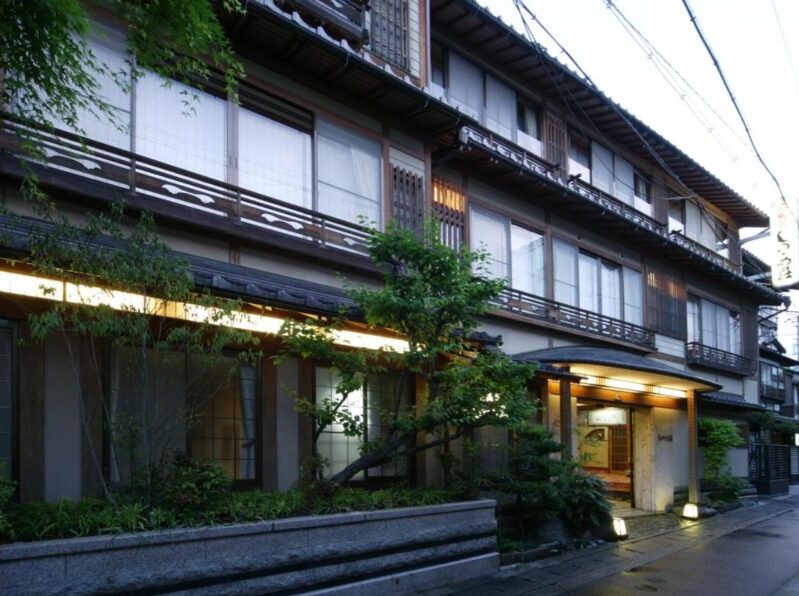 Mid-Range: Sinonomesou is a popular mid-budget range in Kinosaki Onsen. The location is good, in a back alley of the main street, and easily accessible. It is within easy walking distance of the Kinosaki train station and very convenient.
All the rooms are traditional Japanese style, with lower dining tables and chairs, sleeping on tatami mats and futon mattresses. An Onsen pass is provided for guests staying in Sinonomeso which is a great pass.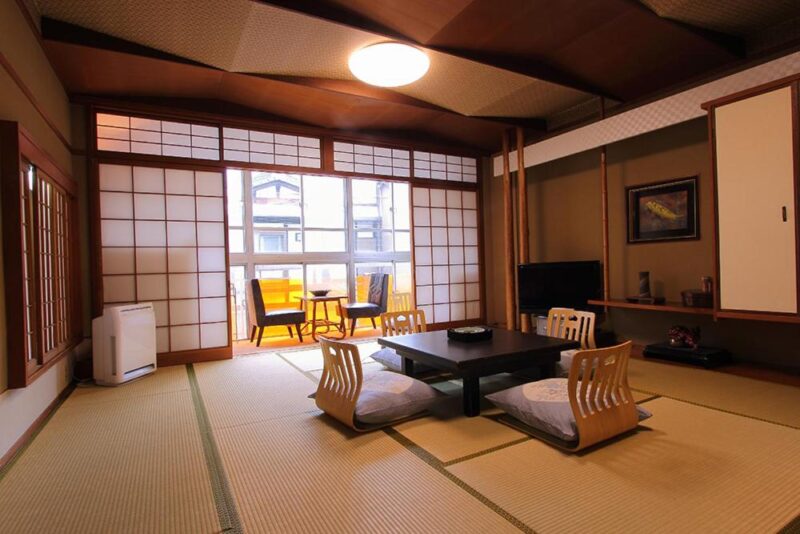 The Kaiseki option is superb for half-board guests. The great dinner and breakfast provided are very tasteful and beautifully presented. The staff is attentive and very helpful.
High recommended for where to stay in Kinosaki Onsen. Check availability and book now at Sinonomesou.
Ryokan Tsubakino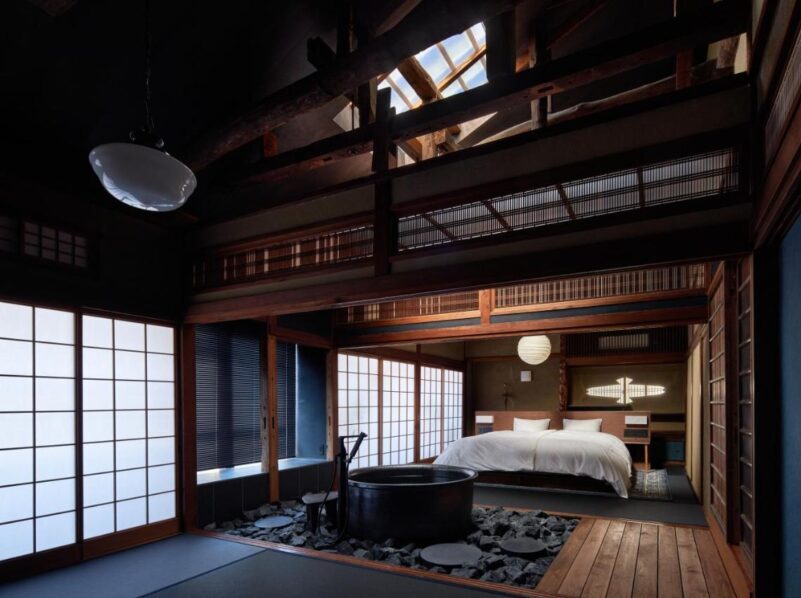 Mid-Range: Ryokan Tsubakino is gaining popularity with its wonderful authentic Japanese experience stay. This family-run ryokan has a gorgeous simplicity natural design and a relaxing garden. A full Japanese traditional room is available with super sumptuous multi-course meals.
Plus, a free onsen pass is given to guests once they check in to try the 7 public onsens around Kinosaki. It also has a public bath for customer use on the property. Rooms running fast, reserved now to secure your best stay in Kinosaki Onsen.
Koyado Enn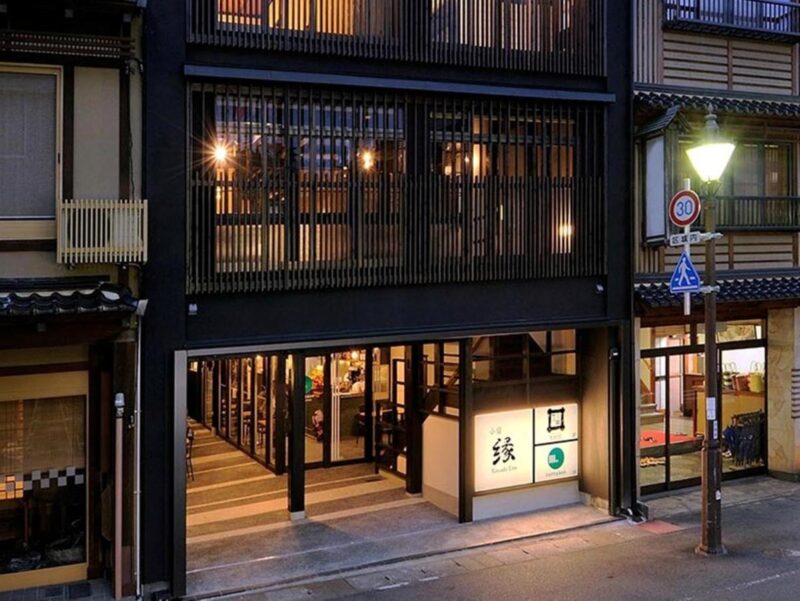 Mid-Range: Koyado Enn is another popular pick for travelers when choosing mid-budget range accommodation in Kinosaki Onsen. It is located at a great location with a 3-minute walk from Kinosaki Onsen JR Station.
The property offers modern, comfortable rooms that come with a Japanese interior with either traditional futon bedding on a tatami (woven-straw) floor, or Western beds. Guests can relax in a private hot spring bath. This ryokan is offering luggage service and laundry services.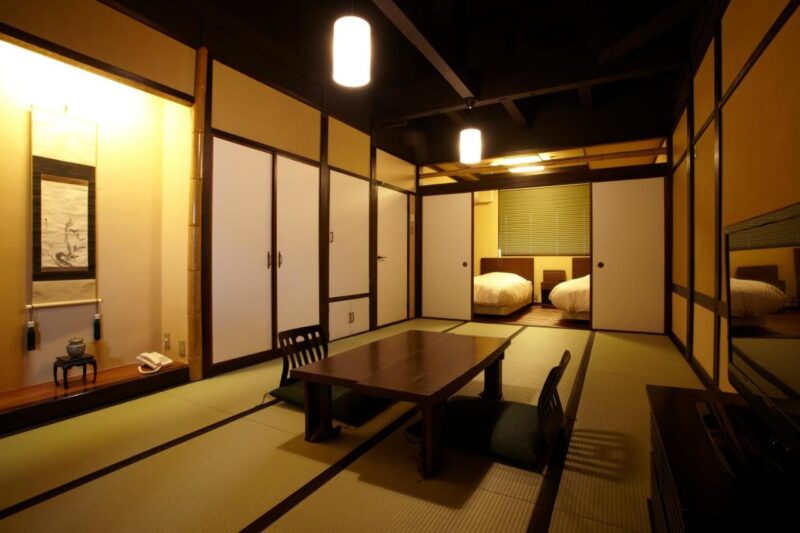 The price is very reasonable although the rooms are not very spacious. But the location is fantastic and the rooms are pristine and clean. Recommended for their half-board meal plan which came with exceptional Tajima beef in the dinner and seasonal fresh local produce for its breakfast.
Check availability and book now at Koyado Enn.
Tsukimotoya Ryokan
Mid-Budget: Tsukimotoya Ryokan offer a good value stay in Kinosaki Onsen. The location is excellent in the center of town. Two public baths are located within short walking distance, which was extremely convenient. Rooms are Japanese style with tatami mat flooring and sleeping mats. All are very clean and comfortable.
Incredible half-board is included for both dinner and breakfast where the food is tasty and excellent. The price is great for what you get. The staff is also super nice and accommodating.
Highly recommend Tsukimotoya Ryokan for the great value that offered to guests. Truly a great ryokan stay when looking for where to stay in Kinosaki onsen on a budget.
Overview: Best Ryokan in Kinosaki Onsen
All in all, spending one night in a traditional ryokan in Kinosaki Onsen is highly recommended. If budget is not a concern, we highly recommended the Nishimuraya Hotel Shogetsutei for the authentic stay experience.
We spend our night in Ryokan Sinonomeso in the mid-range when visited the idyllic town. Sleeping in the tatami futon bed and soaking in the famous onsen bath. We also top it off with a half-board package, including kaiseki dinner and breakfast in the room. Truly one of the best experiences we had during our trip to the Kansai Wide region.
Related travel story: Kinosaki Onsen Itinerary: A Travel Guide Blog
Traveling to the Kansai Wide and looking for some inspiration? Free feel to continue to check out our travel stories to some other interesting places: