Last updated on September 23rd, 2023
Read on our post for the best place for cherry blossom viewing in philosopher's walk Kyoto. A must visit during April with sakura blossoming when visiting Kyoto.
Philosopher's Walk (哲学の道) is located at the northern part of Higashiyama district in Kyoto. Philosopher Walk is a pedestrian path with a cherry tree lined along the canal in Kyoto. During normal days, it is just a walking trail located between temples and shrines in Kyoto. Great for a little detour with enjoyable natural leisure stroll when visiting these places.
However, do you know that Philosopher's Path extremely popular during April? It is renowned as one of the best spots for hanami viewing during the cherry blossom season in Kyoto. It is enchanting about walking under interlocking canopy with plenty of sakura blooming.
We visit Kyoto for 3 days during early April. For sure, this beautiful Philosopher's Path stroll must be taken into our Kyoto cherry blossom itinerary. Relax, take your time to follow us for an amazing stroll and enjoy.
History of Philosopher's Walk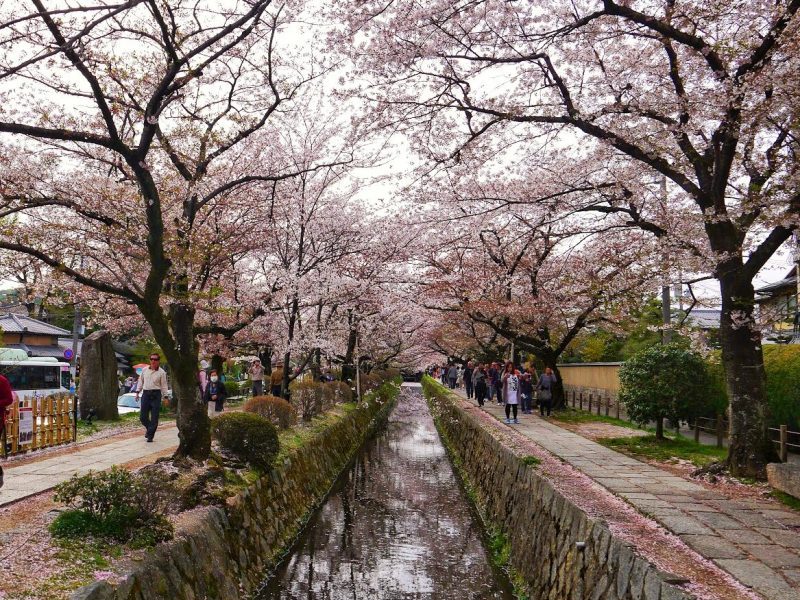 First of all, some little basic information and touring tips for doing Philosopher's Walk. It named after a Kyoto University philosopher, Kitaro Nishida, who used to practice meditation and undertake reflective thinking here. There are many different names for the Philosopher's walk. For example, Philosopher's Path, Path of Philosophy, Philosopher's Path, Tetsugaku-no-Michi and more.
This walking path is approximately 1.8 km which started from Ginkakuji and end at Nanzenji. So if your Kyoto's things to do bucket list have these two temples, consider to include Philosopher's Walk into your Kyoto itinerary. You may extend your Kyoto walking itinerary to Maruyama Park, Gion or Kiyomizu Temple if you have more time and energy.
Getting there: Get off at Ginkakuji or nearby by Kyoto city bus (#5), (#17), (#100) at ¥230 from Kyoto station.
Entrance fee: Free!
Walking in Philosopher Path With Sakura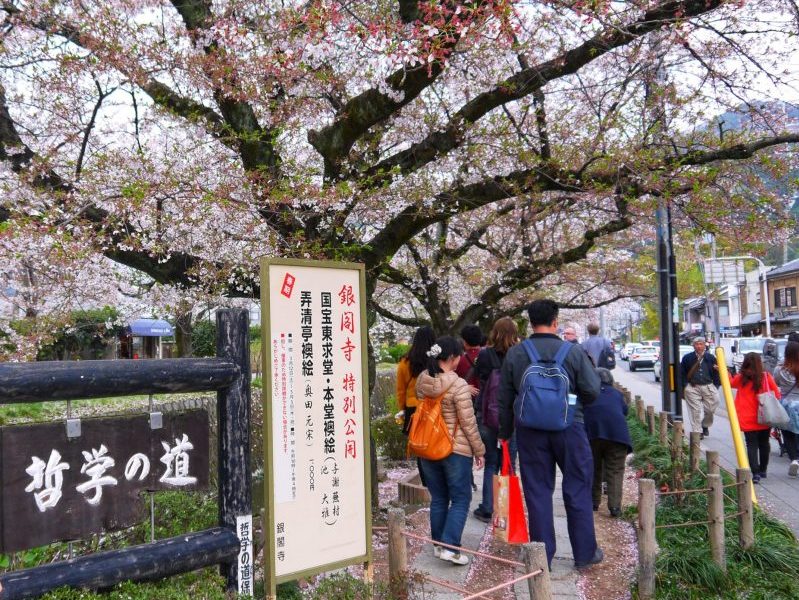 Again, we were so lucky to be in Japan during the cherry blossom season. Although it was not my first time to the sakura viewing spot in Japan during the cherry blossom season. However, I must admit Philosopher Walk can be rated as one of the best spots for hanami viewing in Kyoto.
We arrived Philosopher Walk around afternoon. As expected, it was packed with people. But it did not detract from its loveliness.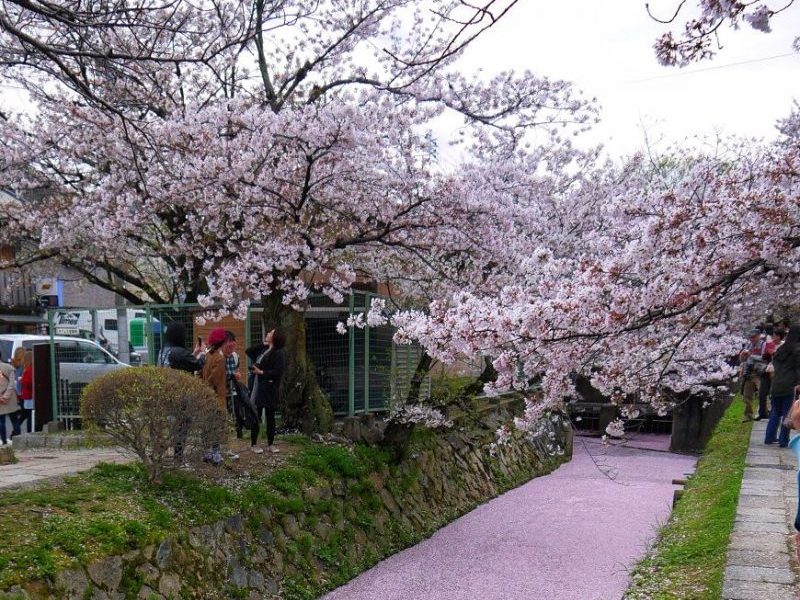 A canal river walking with falling sakura is what makes this street so scenery and picturesque view! You can even smell the fragrant cherry blossom in the air. The vibe was so romantic and beautiful.
Stunning View in Philosopher's Walk With Sakura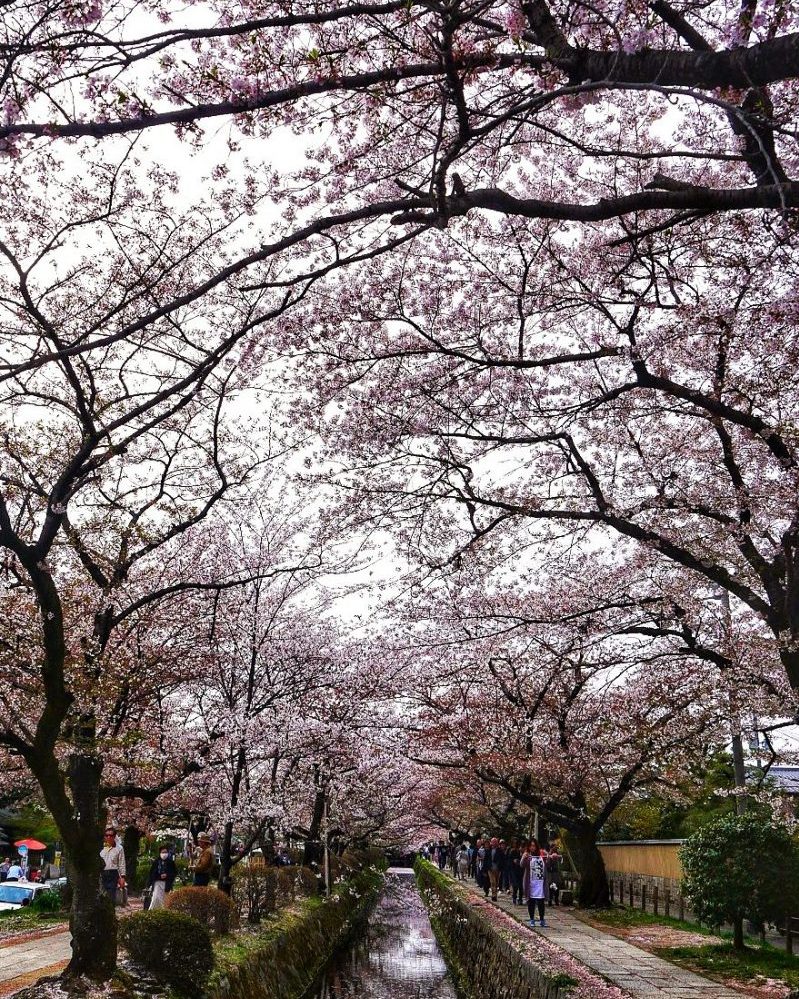 We were amazed by the stunning view with the sakura tree densely lined along the Philosopher's Path. It just looked like a pink umbrella overlooking the whole passenger path.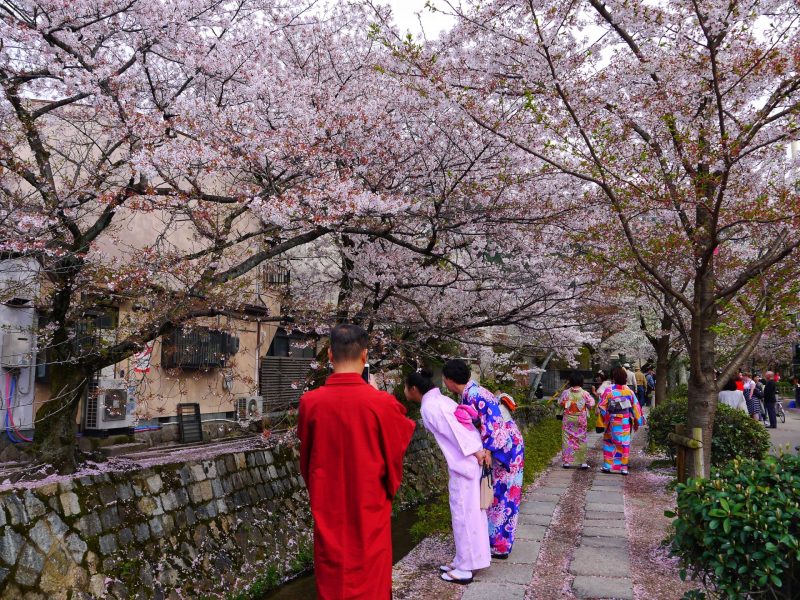 The ladies were wearing with their colorful kimonos walking along the pathway. It is just beautiful and romantic under the cherry blossom. You can rent a kimono for a perfect picture. Price ranging around ¥1,000 to ¥3,000.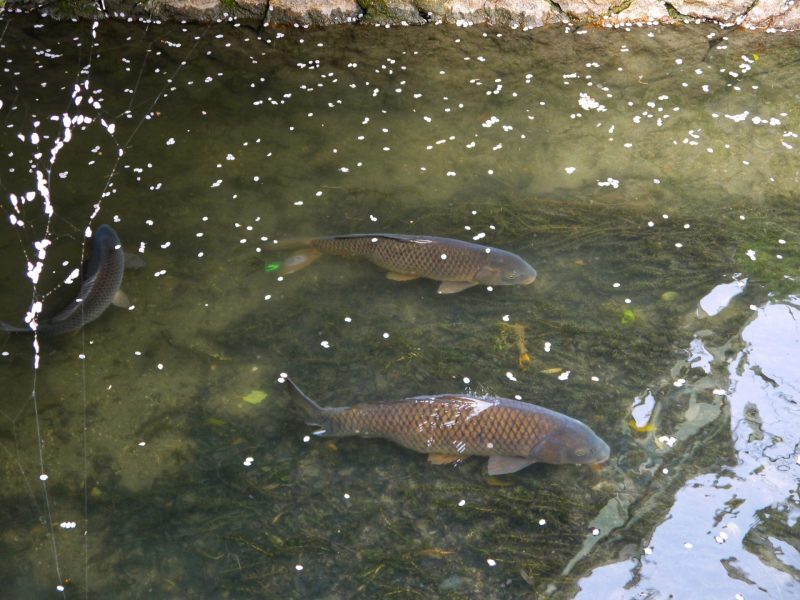 The little stream that flowed through the walk framed by cherry blossoms was very picturesque. It was very clean and so clear.
Spot the fish were swimming in the canal.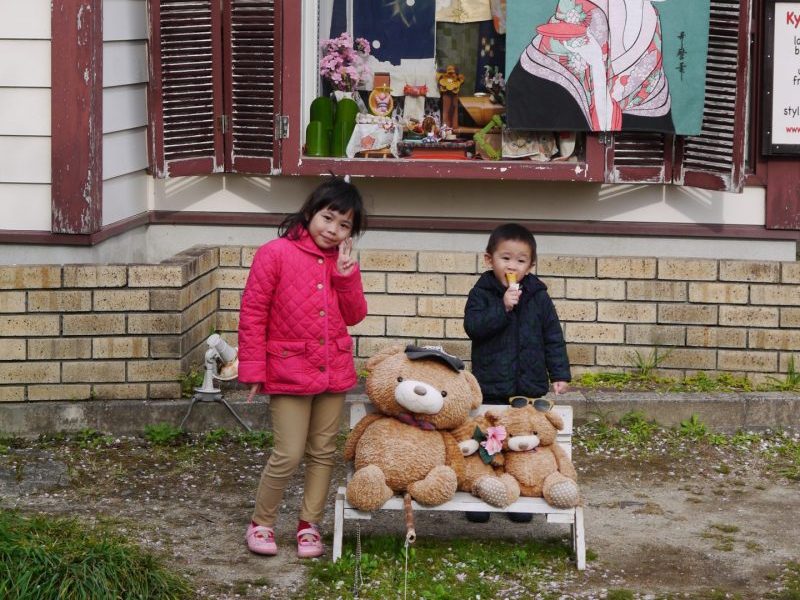 There are lots of great cafes, restaurants, little boutiques, and unique antique shops along the way. We stopped and wander along the gentle walking journey. Keep your eyes open on your walking journey and you'll have a nice surprise! See little kids posting in front of the shop.
It probably take you about 30 minutes from start to end. However, we took a longer time than what we expected. You may take up to 1 to 2 hours if you visit the temples and shops along the walking journey. We enjoyed our lovely time shooting for a beautiful photo, stopping by for refreshment at the cafe.
Philosopher Path: Best Place For Sakura Blossom Viewing in Kyoto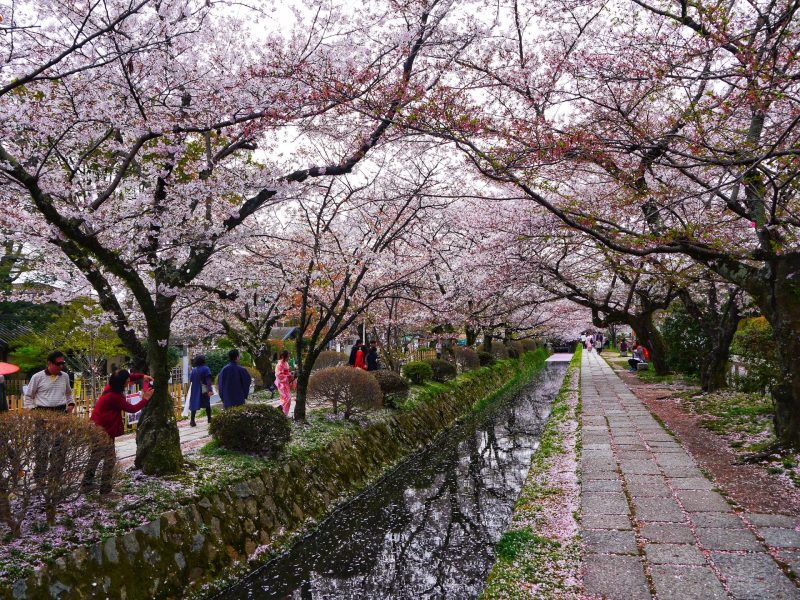 All in all, the Philosopher's walk is one of my favorite sakura viewing experiences in Kyoto Japan. The walk in the Path of Philosophers is a must-do in Kyoto during cherry blossom season. It a great experience worth for tranquil walk. Don't forget to include this amazing beautifully walk into your 1 day, 2 or 3 days Kyoto itinerary. A must-do in Kyoto!
Besides, if you are looking for where to stay in Kyoto, we recommended staying nearby Kyoto station for easy getting around.
Best hotel or hostel nearby Kyoto Station:
For a budget traveler, Pieces Hostel Kyoto is your best budget hotel in Kyoto. It is a great option with a beautiful design hostel with clean room at a reasonable price. Strategically located with less than 5 minutes' walk from Kyoto station. Meanwhile, there even have their second branch Pieces Hostel Sanjo if you prefer to stay in the downtown area.
Alternatively, you can also check out the Daiwa Royal Hotel Grande Kyoto. It is reputation Japan chain hotel with great sized room and professional staff. It has a variety of room choices that cater to solo, couple and family.
Best Ryokan Stay nearby Gion:
Kyoto Granbell Hotel is your best accommodation in Kyoto. It features modern architecture yet with traditional Japanese design. Located at a great location among all the attractions in Gion and close to the Gion-Shijo Subway Station with 3 minutes walk. Added, a public bath is available for hotel guests.
Don't forget to check our Kansai Japan travel guide if you're planning an itinerary that includes Kyoto, Osaka, and Nara.