Last updated on September 23rd, 2023
Planning an island holiday to Koh Phi Phi? Here is our Koh Phi Phi island travel guide blog includes all the exciting things to do with the calm relaxation you'd expect from a pristine tropical island paradise.
Koh Phi Phi, also known as Phi Phi islands, is one of the world-famous beautiful islands in the world. Many people traveling to Thailand will add the Phi Phi island for a pristine island holiday.
During our vacation in Phuket, we visited the popular Phi Phi Islands as part of an island hopping tour by speed boat. It was the highlight of our Phuket trip and never regret spending one day on the island. The areas are so beautiful and the beaches are serene. We did swimming and snorkeling at a few spots around the islands. You cannot miss it when you're visiting Phuket or Krabi.
Phi Phi island is one of the most amazing places we've ever traveled to. Although you can now find almost all the information you need on the internet, these are our comprehensive Phi Phi Island travel guide tips for a trip to this natural beauty. A must-visit destination when you're traveling to Phuket or Krabi.
Phi Phi Islands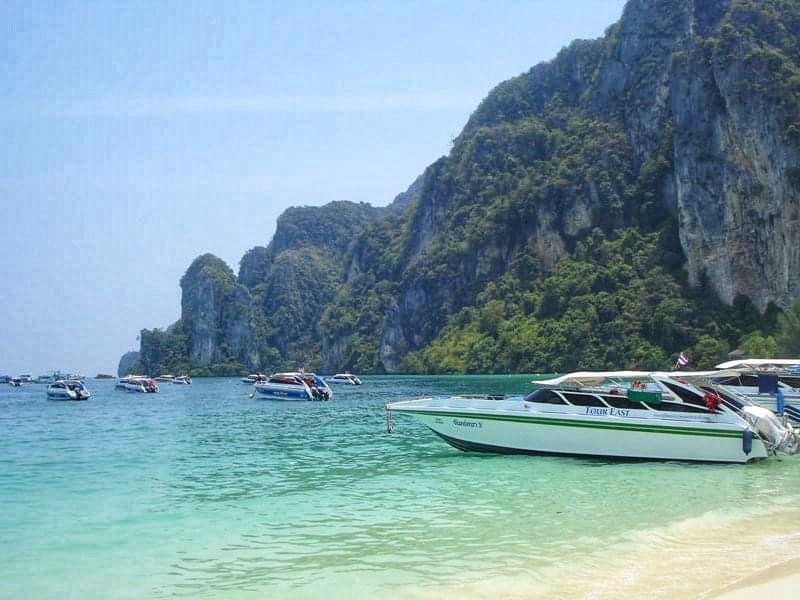 Dubbed the "jewels of the Andaman Sea", Koh Phi Phi or Koh Phi Phi is located on the Andaman Coast, Thailand. It is part of the Nopparattara-Ko Phi Phi National in Krabi Province south of Thailand, covering an area of about 388 km². The deadly 2004 tsunami enormously damaged the Koh Phi Phi and it is amazing to see the transformation from the devastating effects.
Phi Phi Island is the most popular island compared to Krabi, Koh Lipe, or Koh Lanta on the west coast. It consists of two islands: Koh Phi Phi Don and Koh Phi Phi Leh. There really are no words to describe how beautiful these islands are. Both islands are absolutely gorgeous.
The Koh Phi Phi Leh Island is an undeveloped and uninhabited island. It is a prime tourist destination and home to the famed Maya Bay. The views here are absolutely amazing. But unfortunately, Maya Bay has been closed to repair the damage since 2018. We will share more information on the Phi Phi travel guide blog below. Besides, Koh Phi Phi Lei is also one of the 6 Islands that form the Mu Ko Phi Phi National Park.
While Koh Phi Phi Don is an inhabited island and it's home to all the accommodation, restaurants, and amenities of the Phi Phi Islands. If you're staying overnight on Koh Phi Phi, you're staying on Koh Phi Phi Don. It's a vehicle-free island.
Pre-trip Essentials
Just like the setting of the Leonardo DiCaprio movie – The Beach, Koh Phi Phi is an island paradise as you see them in the movie. It has beautiful turquoise clear water, stunning white, and coconuts on a palm tree next to a hammock. Exquisitely beautiful.
Here are a few pre-trip essentials that you need to know prior to planning your Phi Phi island itinerary.
When is the peak season for Koh Phi Phi?
Starting from mid-November to early May is the high season for Koh Phi Phi. The super peak season is December to the end of January when world travelers are flocking to Phi Phi islands for the best sunshine and island gateway!
When is the best time to visit Koh Phi Phi?
The best time to visit Koh Phi Phi is as the weather is perfect on this beautiful island on the Andaman sea. It is very ideal for beach activities, such as swimming, snorkeling, diving, and boating.
How many days do you need at Phi Phi Island?
You need two or three days on Phi Phi Island to take in the fabulous scenery and enjoy the sparkling clear blue waters and sandy beach.
How To Get To Phi Phi Islands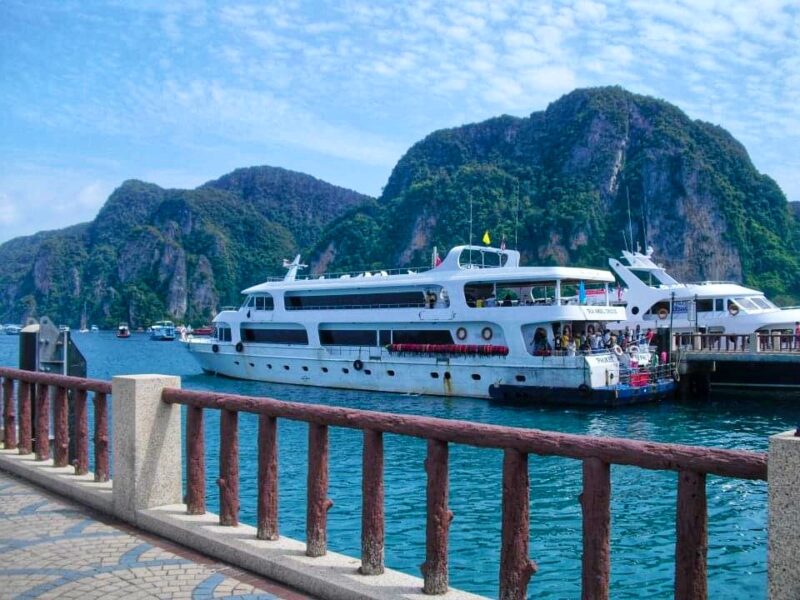 Phi Phi island can be reached year-round from Phuket or Krabi, Thailand. While going to Phi Phi islands from Krabi is easier than Phuket, Phuket seems like they bring more tourists compared to Krabi as many world travelers can fly directly to Phuket international airport. From there, access Phi Phi island by boat ride or join any of the tour operators.
See Skyscanner for the best rate
Phi Phi Island Travel Guide Tips: We always recommend using Skyscanner to find your best flight times and cheap flights when we travel.
From Phuket or Krabi to Koh Phi Phi
If you're already in Thailand or South East Asia countries, you can also choose first to travel to Krabi or Phuket by train, ferries, or flights before getting to Phi Phi Islands. Both places are very convenient to get to Phuket.
Once you are in Phuket or Krabi, do not worry about how to get to Phi Phi Island. There is always a way to transfer you from the mainland to Phi Phi island, or between islands. You can pick up tickets for slow ferries and speedboats to get to Phi Phi Island. Both options, the speedboat as well as the slow ferry, are not expensive.
Coming from Phuket you can take a 1-hour speed boat from Chalong Pier. While from Krabi, the speedboat will take you approximately 50 minutes. A normal boat will take a longer time, with about 2 hours from Phuket and 90 minutes from Krabi or Koh Lanta.
Where To Stay in Phi Phi Island
Most people will choose to stay in Phuket and do an island trip to Koh Phi Phi. But you can still stay in Phi Phi Don to get closer to paradise. You can spend your leisure time snorkeling, sunbathing, and photo shooting when the day-trippers are going back to Phuket. The accommodation is more limited and pretty expensive as compared to Phuket city if u wanna stay on the island.
Find the best Koh Phi Phi Hotel Deals Here
Phi Phi Island Travel Guide Tips: Like most of Thailand, prices fluctuate greatly based on the season. We recommended booking it early to secure your room rates as the prices will be higher when the rooms are running out.
Best Hotels in Koh Phi Phi
In case you're after recommendations for a beachfront accommodation, here is our best pick:
ChaoKoh Phi Phi Hotel and Resort is easily one of the best stays in the Phi Phi Don. A nice resort design with a great pool welcomes you that has most of what you'll need for a relaxing, comfortable stay. Very close to the beach with only 3 minutes walk. Definitely one of the nicest hotels on Phi Phi Island.
SAii Phi Phi Island Village is still the unbeatable luxury hotel in the mist gorgeous setting on Phi Phi Island. The location of the resort is astonishing and situated along Lo Ba Goa Bay with a great sea view. It offers spacious accommodation and features a private beach and infinity pool equipped with a pool bar. The rooms come with a thatched roof and solid wood furnishings. Staying here to enjoy the exclusive gorgeous beach of the most beautiful island, with the amazing professional service. A peaceful hideaway on Phi Phi island.
Another worth recommendation is the Viking Nature Resort. The resort offers classically furnished rooms adorned with simple interiors made with natural materials. It's authentic with a private beach and close to nature stay on the island. Amazing peaceful stay with friendly staff.
Island Hopping Tour to Phi Phi Island
An Island Hopping Tour to Phi Phi Islands is an opportunity to see some extraordinary scenery and are superb locations for diving and snorkeling. If you are looking for an island hopping tour to Phi Phi Islands, here are a few recommendations. Most of the tour consists of swimming, snorkeling, and sightseeing via speedboat. It is worth every cent spent.
Phi Phi Islands Tour From Phuket:
While the above tours will be gathered with a group of people to share for the speedboat. If you prefer more private time, there are also Private Boat Tour recommendations you might consider. The price for sure will be more expensive, but definitely worth it.
Things To Do in Phi Phi Island
Our group of four had a terrific Phi Phi islands hopping tour during our trip to Phuket. As part of the tour, we visited some of the sublimely beautiful sites around the Koh Phi Phi. We enjoyed the speedboat tour, swam, relaxed in the sun, snorkeled, enjoyed some time ashore, and took photos of the amazing scenery.
Below, you'll find Phi Phi Island Travel Guides and recommendations for things to do on this tropical island. Check them out if you want to learn more about visiting Koh Phi Phi!
Here is the list of things to do on Phi Phi Island itinerary:
Speedboat or Longtail Boat Tour
View on the Famous Maya Bay
Boat Trip to Viking Cave
Snorkeling at Phi Phi Leh
Swimming in the lagoon
Enjoy the beach
Sea Cave Kayaking
Speedboat or Longtail Boat Tour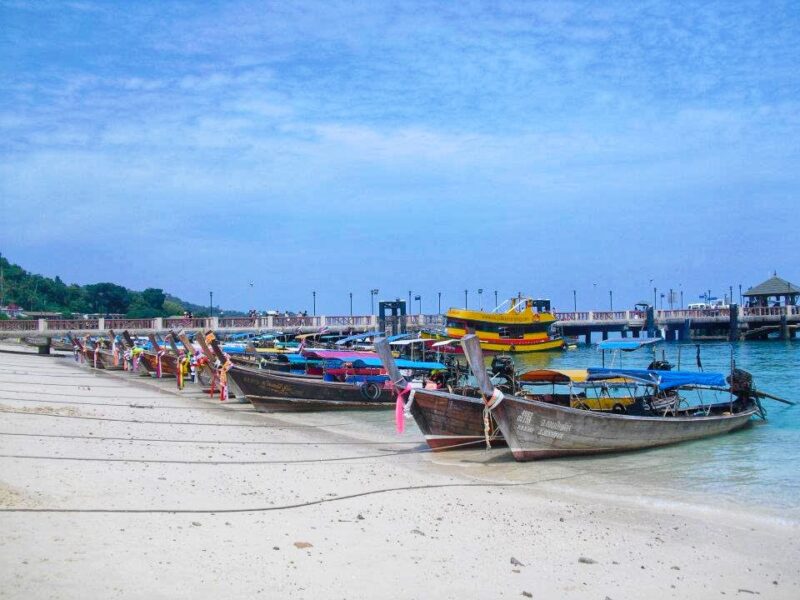 When getting to Koh Phi Phi from Phuket or Krabi, there is always fun to take a speedboat or a longtail boat tour. Both options offer a convenient way to get to the Phi Phi Island, by speedboat will save a lot of time and you can get to the island earlier.
From Phuket, we have our hotel pick-up to the pier and joined a group of people getting to Koh Phi Phi. Our speedboat was cruising through clear, blue emerald waters and suddenly these limestone cliffs arise out of the middle of the ocean. The view was so stunning and we truly enjoyed the speedboat journey.
James Bond Island in Phang Nga Bay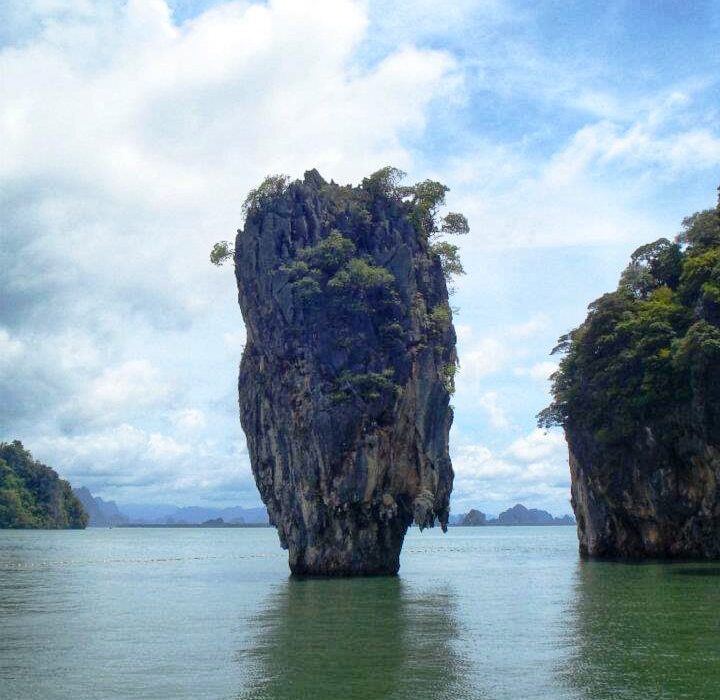 James Bond Island, locally known as Khao Ping Kan, is another popular spot in Koh Phi Phi when you choose among all the island hopping tours.
The famous landmark is located about 25 kilometers northeast of Phuket Island, in Phang Nga Bay. The name came after the shooting of the James Bond movie in 1974 "The Man With the Golden Gun". The surrounding is a very scenic and definitely a great spot for Instagram pictures
View on the Famous Maya Bay
The famous Maya Bay is the most popular attraction around Koh Phi Phi surrounding. It is where the popular Hollywood movie "The Beach" acted by Leonardo DiCaprio was filmed. Everyone flocks into Maya Bay after seeing the movie. The reason is simple, Maya Bay is almost unspeakably gorgeous.
Sadly, due to over-tourism, Maya Bay was closed by the Thai Goverment to assist in ecological regeneration and protect the coral and marine life in that area. It is a good action that our nature is being protected. It is re-opened in 2022 recently and hopes I can visit Maya Bay soon!
When Maya Bay is closed, visitors are still possible to go snorkeling around but you can't access the beach. You only can view the beach from a distance and take pictures of the beautiful scenery from the speedboat.
The view from Maya bay is spectacular and absolutely a photographer's delight.
Boat Trip to Viking Cave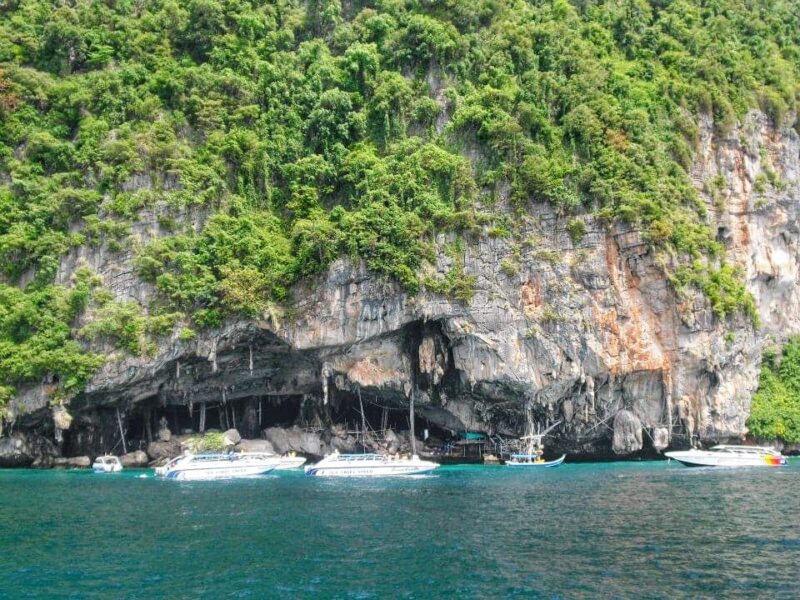 Viking Cave is one of the tourist attractions on Koh Phi Phi Le island and part of the island-hopping tour. It is located on the way to Pileh Lagoon and is a short stop on most tours of the islands.
Viking Cave is private property and not accessible to the public. It is used as a huge collection of hundreds of swifts nests, a Chinese specialty used for Traditional Chinese Medicine. Locals harvest the swift's nests in the darkness by climbing the cliff using the bamboo scaffold.
During the island hopping, the speedboat will ride around the cave and stop for a good glimpse of the cave. The guide will also explain the history and how the whole process of retrieving these valuable nests. Nothing special but a great stop during the boat trip.
Pileh Lagoon
The Pileh Lagoon is another popular spot for the Phi Phi Island itinerary and most of the island tor will stop here for visitors to enjoy swimming or snorkeling. We snorkeled and swam in the pristine blue waters in Pileh Lagoon, just a magical experience for me.
The place is absolutely stunning and simply took my breath away. The emerald turquoise sea surrounded by spectacular limestone cliffs is awe-inspiring. It is truly amazing especially when the sun is hitting the water. Simply unforgettable!
Snorkeling at Phi Phi Leh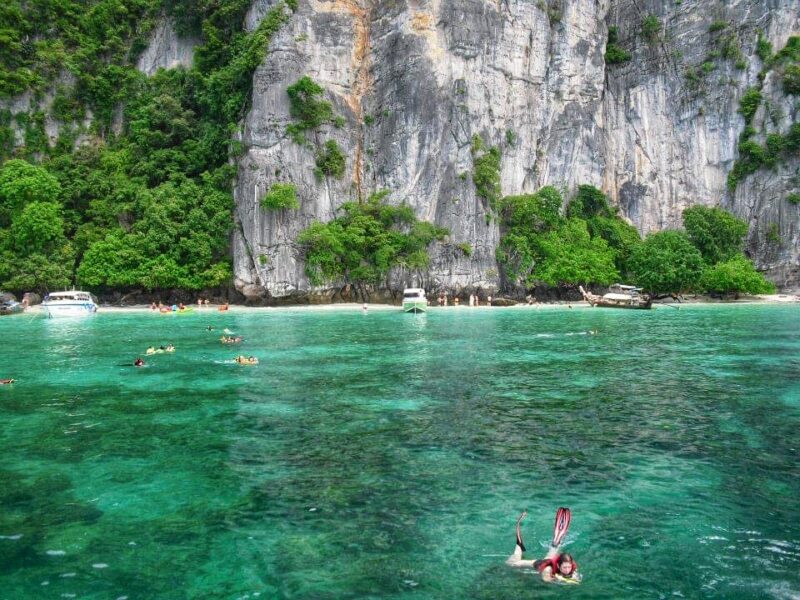 Snorkeling around the Koh Phi Phi island was amazing and the water is so clear. This place is such a wonderful place to spend snorkeling with. It has crystal clear blue water where you can see live underwater creatures. The experience where you directly see underwater life was a different feeling.
During your island tour to Koh Phi Phi, there are several opportunities where people can do snorkeling. The boat will stop and the guide will tell you to enjoy the Waterworld.
For me, snorkeling is not my first time but you'll still amaze by how beautiful the Koh Phi Phi is. The world underwater is so colorful and mesmerizing. There is beauty around every turn and incredible fish viewing when you're snorkeling. Sadly, due to over-tourism, most of the coral around these islands has been decimated, however, it is still a magical way to enjoy nature in the beautiful Andaman Islands.
Swimming in the lagoon
Next, swimming in the lagoon is another best thing to do for water activities. It was a great experience. The water is very clear and you'll be able to see lots of fish surrounding you, many kinds of fish to view and even small sharks if you are lucky. The waters are the most amazing colors and the backdrop scenery of the cliffs is stunning.
Even if you don't know about swimming, you still could manage it with the help of a life jacket. Just put on your life jackets and jump into the sea, don't miss out on it.
Enjoy the Beach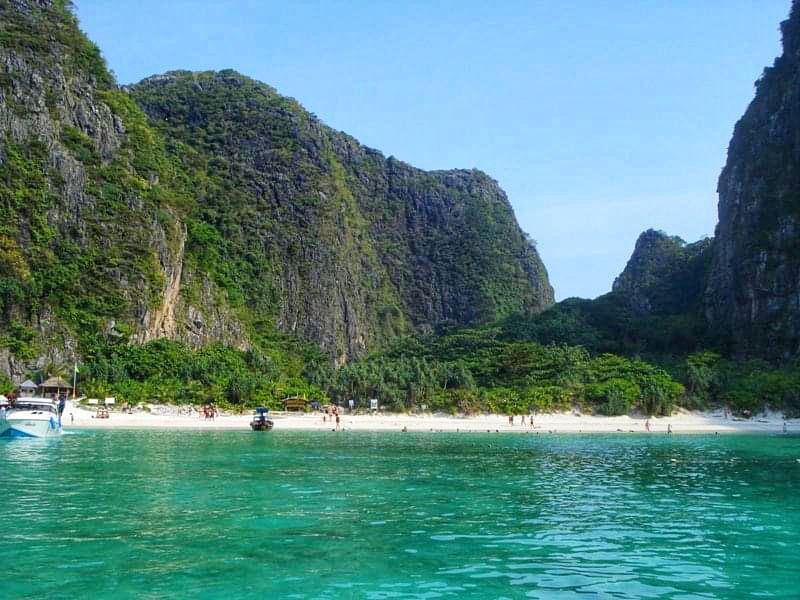 As we approach the end of the trip, some relaxing beach time would be much welcomed. At the end of the island tour, the guide will bring you to the island with a white sand beach that offers pleasant beach opportunities.
Depending on your island tour, there are numerous islands near the shoreline such as Bamboo Island and Khai Island. All offer amazing experiences and Instagram moments on the beach. The ocean water is very clean and the colors of the water on the white sandy beach seem unreal.
Take your time to enjoy the views while watching the boats come in. You can swim and chill at the beautiful beach. Alternatively, you can opt to go for a leisurely stroll by the beach, enjoying the sea breeze, and playing in the sand. It is absolutely beautiful even if you just tip your toes into the water!
Sea Cave Kayaking
If you're adventurous and looking for extraordinary things to do on Phi Phi Island, we highly recommended you take this Sea Cave Kayaking activity. The tour will bring you to the hidden wonders of Phang Nga Bay, including a kayaking tour of limestone sea caves and cliff-lined lagoons. We are so interested in this activity but have no extra time to include during our visit to Phuket. It is my next bucket list and hopes I can make this happen soon! Free feel to check it out!
Sea Cave Kayaking and Loy Krathong Floating
Extra Phi Phi Island Travel Guide Tips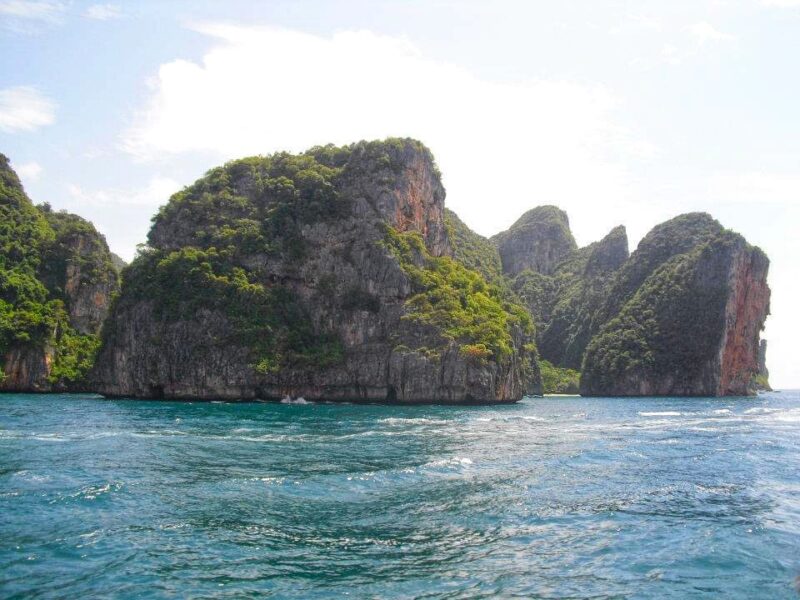 Lastly, don't forget to read more of our final tips in Phi Phi Island Travel Guide:
Recommend choosing the tour that can go early to avoid heavy congestion from Phuket-based tours. You could be able to stay there longer and have more personal time with these beautiful islands.
Speedboat is faster and saves a lot of time. But I also recommend chartering a private longboat for the day and exploring the island and the many beaches if you prefer for more leisure and enjoyable tour.
Please wear a swimsuit, flip flop, towers, and most important sunscreen.
Keep your belonging in the hotel and only bring those things you need for water activities.
Do not leave your waste, bottles, and papers there. Take only photographs and leave your footprints.
Remember to fully charge your mobile phone for taking photos. There is also a cameraman who will take photos along the trip. It's on you to buy it or not and they are not pushy at all.
Is Koh Phi Phi Worth the Visit?
Sadly, overcrowded tourism and overdevelopment have ruined the Phi Phi Islands. The water is emerald color but the coral has been pretty destroyed. The beaches are full of rubbish and a large number of tourists that sour around you and are everywhere! The waters are beautiful, the coral has lost its color from too many tourists. Locals care more about the money to be made and do not protect the sealife.
But we still think Phi Phi island is worth the visit, even if just for a few hours of island hopping. The islands may be overcrowded but definitely not overrated. It is truly paradise dubbed as one of the most beautiful islands in the world. You can get there early when the sun is rising you will experience the magic that this beautiful country has to show.
This island is truly a jewel. You'll understand why Phi Phi is a popular destination when people think of the best island paradise. The place is great for swimming, snorkeling, diving, and sunbathing. Definitely check it out.
Overview: A Trip to Phi Phi Islands
All in all, an island trip to Phi Phi island is a must-do if you come to Phuket or Krabi. Words cannot describe or pictures do it justice, just how stunningly beautiful this place is.
We had such a wonderful time visiting Phi Phi Island during our island hopping tour. It was so stunning and the nature is astonishingly beautiful. I cannot explain how amazing was the views, snorkeling experience, and scenes around there. An excellent place for swimming, sunbathing, snorkeling, taking photos, or just enjoying the majestic views. You won't regret the money and time spent there. Definitely an island you need to visit once in your life!
Have you ever been to Phi Phi Island? How did your Phi Phi Islands itinerary go? We wish you enjoy reading this Phi Phi Island Travel Guide and had a great time there. If you need more Thailand travel tips, feel free to check out the below travel post to popular travel destinations in Thailand.
Island Holiday in Phuket:
Travel to Bangkok: