Last updated on October 2nd, 2023
In this accommodation guidepost, I explained everything you need to know about the 8 best areas when looking for where to stay in Phuket, with carefully chosen hotels in each of the areas. A quick guide to finding your perfect Phuket hotel for your holiday.
Phuket is one of Thailand's best holiday destinations. With crystal clear water and a sandy white beach, tourists can experience stunning sea views in the various places in Phuket. Thanks to its mass tourism, the infrastructure is very good, making Phuket easy to access by domestic and international travelers.
The island is also one of the popular places for wedding and honeymoon venues with many luxury villas along with the island.
However, it can be a headache when looking for where to stay in Phuket. This island paradise is much larger than you might think with a wide range of accommodation available. You'll find various luxury villas, 5-star beach resorts, high to mid-price hotels, and even a range of budget hostels to stay in Phuket.
This quick and easy guide to Phuket's best hotels and accommodations will help you decide where to stay. Whether you're in the mood for a luxury gateway or budget solo holiday, we've got the best of the Phuket for you.
How to Plan Your Phuket Itinerary: A Travel Guide Blog
Quick Tips: Where To Stay in Phuket
As a first-time traveler to Phuket, it is always ideal to know where to stay in Phuket prior to planning your trip. Most tourists will choose to stay on the west side of the island. This area houses many great bays and resorts that offer beach and sea views with a sunset.
The infamous Patong beach is the most popular beach on the west side of Phuket. From there, you can choose the Karon and Kata beach (south of Patong), or Kalim and Kamala (north of Patong). It tends to be quieter and more laid back, away from the hustle and bustle of the main action area of Patong.
Alternatively, the Old Phuket Town will be away from the beach area. But here you can know more about the history of Phuket. The accommodation here will be cheaper and recommended for budget travelers.
Where to stay in Phuket – Top 7 Areas on Island
Patong Beach – The most happening area on the island. Best places to stay for first-time travelers.
Karon Beach – Adjacent to Patong. Another popular place when looking for where to stay in Phuket.
Kata Beach – The best place to stay for the familiar in Phuket.
Kalim Beach – Located in the north of Patong and offers a more calm neighborhood.
Kamala Beach – Another great option to stay in Phuket with a family-friendly atmosphere.
Rawai Beach – The best place to stay in Phuket for the local vibe.
Old Phuket Town – Central of the island without sea view. A historical stay in Phuket.
Phuket Travel Tips: Make sure to book your stay as far in advance as you can if you want to secure the perfect accommodation for you and save some money as well!
Patong Beach
Being the most popular place in Phuket, Patong Beach is the busiest beach on the island. You can do various water activities such as jet-skiing, parasailing, snorkeling, windsurfing, and more here. Besides, this happening area is home to all kinds of restaurants, shopping malls, night markets, and shops. The most happening street, Bangla Road is also located in this area. Here you'll find the dance bar, bistro, go-go bars, and live music restaurants.
With tons of interesting things to do and water activities, Patong beach is a great place to stay in Phuket for holidaymakers or groups of friends. The party scene makes this place an exciting place in Phuket. Plenty of accommodation can be found here, from luxury 5-stars holidays to cheap budget hostels. If you think Patong Beach is the perfect area for you, here are the hotels I recommend in these areas.
Where to stay in Phuket – Patong beach:
Best Hotels in Patong Beach – Luxury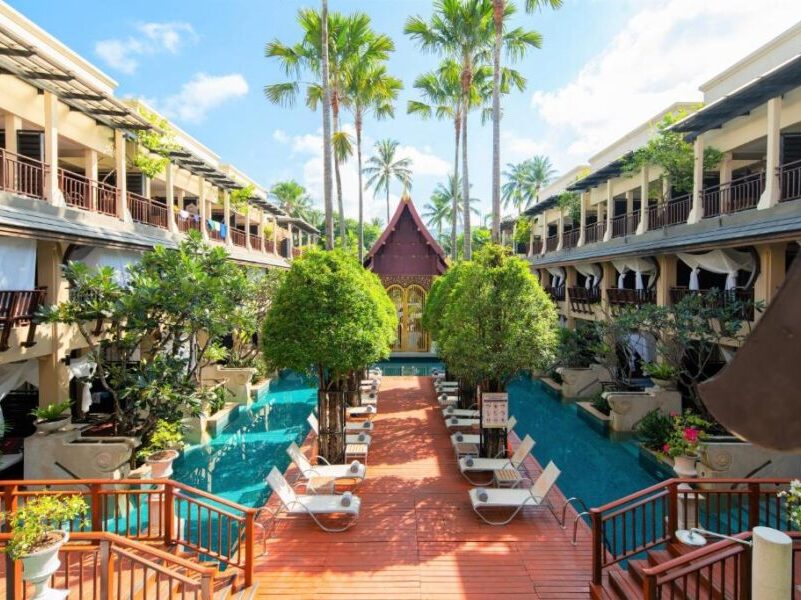 Burasari Phuket Resort & Spa will give you the most luxurious experience in Phuket. Excellent located along Patong Beach which is far enough out from the main busiest area to have a good night's sleep yet still everything still within walking distance. The infamous Bangla street is just10 minutes on foot. Huge clean room and friendly staff. Absolutely wonderful stay in Phuket.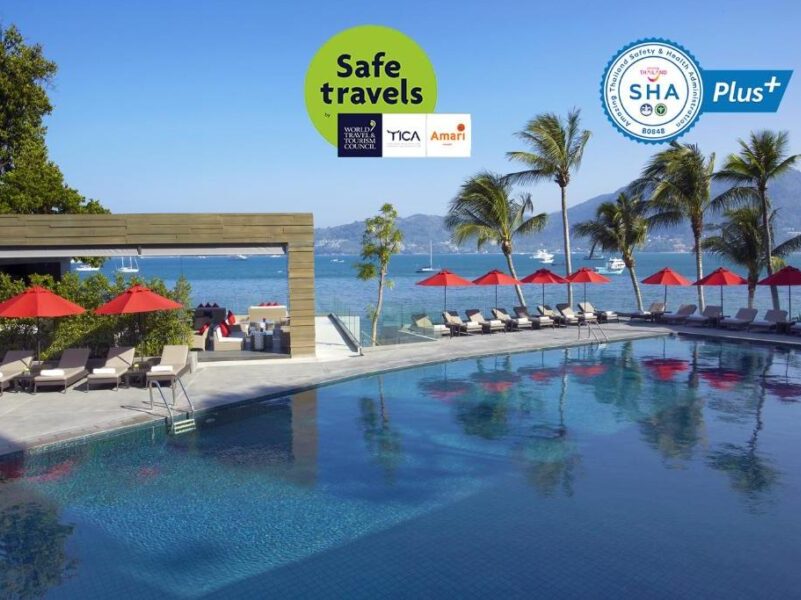 The luxurious Amari Phuket pampers you with gorgeous rooms and luxury amenities. This awesome Phuket accommodation offers a beautiful room display with a spectacular sea view from its private beach. A couple of nights' stay here is guaranteed to give you the best holiday. Free shuttle bus to Kata beach.
Best Hotels in Patong Beach – High Range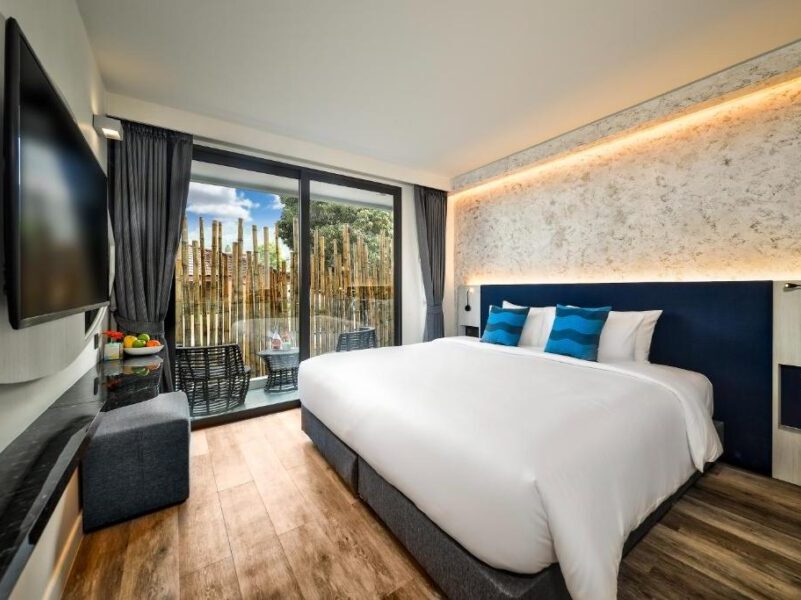 Hotel Clover Patong Phuket is a fantastic hotel with a great location. It is closed to the beach, with a few minutes' walk to the lively Bangla street. A lot of shops, nice cafes, eateries, and convenience stores are nearby with a wide range of food choices. They have an amazing pool with a magnificent view from the rooftop. Staffs are very friendly and helpful.
Tropica Bungalow Beach Hotel has a perfect location if you want to be in the middle of the hustle and bustle. This tropical settling hotel is just located directly next to Bangla street and everything is in action. 1-minutes walk to the beach is truly amazing. Staffs are friendly and very helpful. The room is also clean and comfortable.
Patong Resort Hotel is one of the best hotels to stay in the island with everything you need for a great stay. The location is excellent with just a 2-minute walk to Patong Beach and a 5-minute stroll from Bangla Road. Many cafes and restaurants are just nearby the property. Spacious room with nice interior design for your comfortable stay in Phuket.
Best Hotels in Patong Beach – Budget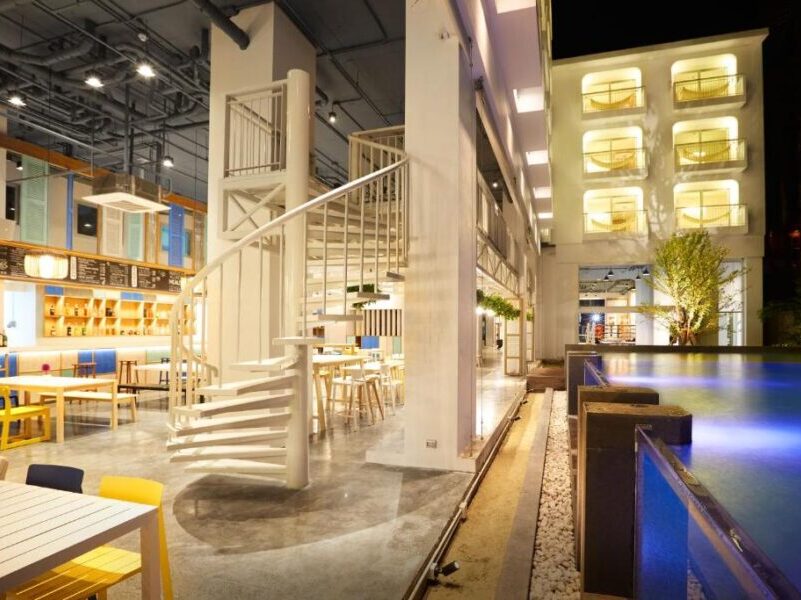 Lub d Phuket Patong is an incredible modern-style hostel situated only a short walk from Patong Beach. The city's entertainment hub Bangla street is also within a few minutes walking distances. The property offers a choice of mixed-sex dorms, female-only dorms, and private rooms with air conditioning. Great facilities on site including a lovely pool, bars, bicycle rental, and a variety of activities. Excellent value for money.
Karon Beach
Not too far from Patong Beach is Karon Beach. The location is excellent and centrally located between the infamous Patong Beach and Kata beach. This is Phuket's second-popular area to stay on the island for all sorts of travelers. You will find all types and ranges of accommodation for all budgets on Karon beach for families, honeymooners, to backpackers.
Beach lovers will fall in love with the quieter atmosphere at the long wide beach here. Many shops, bars, and restaurants are just a short walk away as well from the main beach area. You'll also find the best, high-end resorts and villas in this area providing the perfect getaway from the city.
Where to Stay in Phuket – Karon Beach
Best Hotels in Karon Beach – Luxury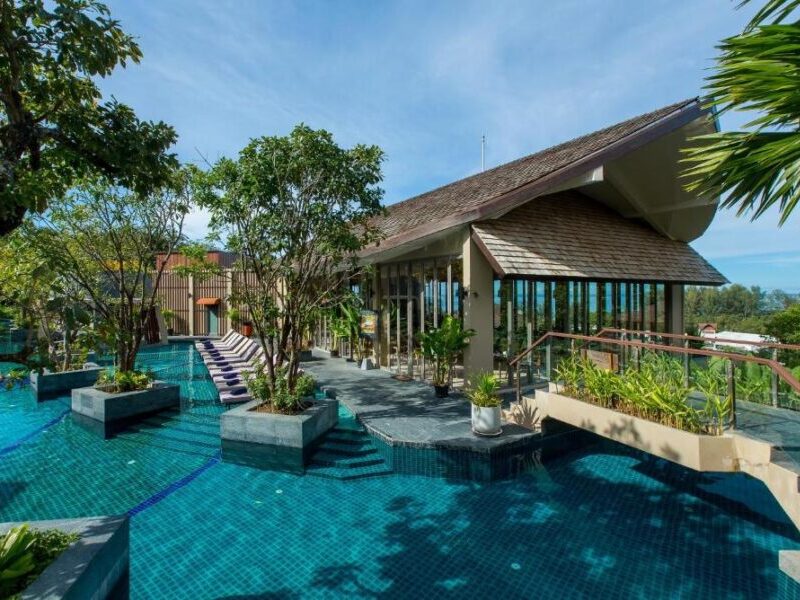 The stunning Mandarava Resort and Spa, Karon Beach is an amazing, luxurious hotel on Karon beach with great sea views. The accommodation was impressive with all the facilities you need for a great stay in Karon Beach. Many beautiful pools to choose from to enjoy your stay in the resort. The room was spacious and had all the necessary amenities. Super friendly and helpful staff that gladly help with arranging trips, and transportation.
Thavorn Palm Beach Resort Phuket is a family-friendly hotel with several different beautiful pools to choose from. The location is excellent, right across the road from Karon beach. Guests can enjoy a beachfront location on Karon Beach with just a short 1-minute walk to the beach. The charming rooms are spacious and feature Thai-style décor and furnishings. Easy access to the surrounding towns. Friendly staff and large breakfast selection.
Hilton Phuket Arcadia Resort & Spa is the perfect base if you want to enjoy a spoiled stay and also explore the great facilities in the resort. The rooms are comfortable and feature a private balcony boasting stunning views of the Andaman Sea. The location was good for beach access, and easy transport to Patong and Kata beach. Exceptional staff guarantees your best stay in Phuket.
Best Hotels in Karon Beach – High Range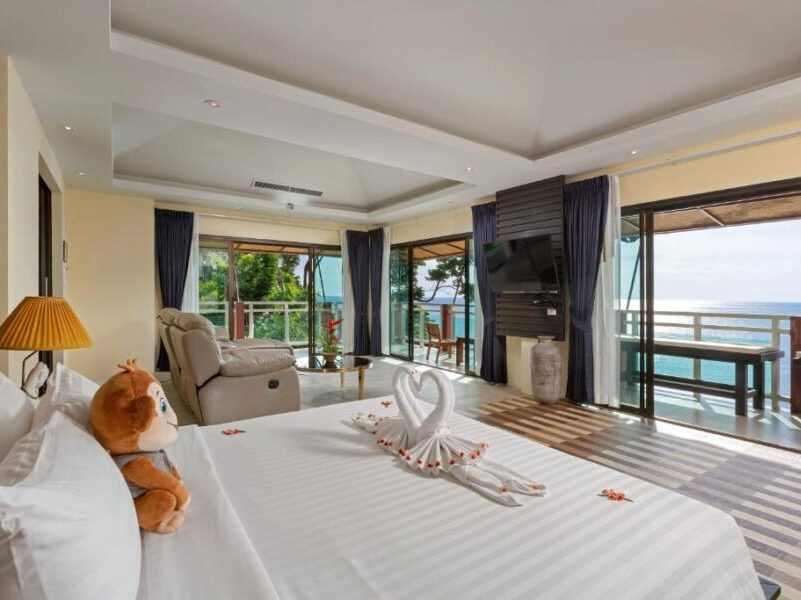 Secret Cliff Resort & Restaurant is another gorgeous option in Karon Beach that comes with a fantastic atmosphere. The accommodation offers spacious villas with a private balcony featuring garden or sea views. It also has an infinity pool overlooking the Andaman Sea. If you're looking for a quiet place to relax, then you should book this resort. Free shuttle service to Karon and Patong Beaches.
Karona Resort & Spa comes with a local atmosphere and some accessible prices. The entire resort is decorated with traditional ceramic art pieces. The tropical-themed rooms are super clean and cozy. The property is so close to the beach with a 2-minute walk and easy access to the food options nearby.
Phuket Golden Sand Inn – This mid-budget hotel in Phuket offers a very good service for affordable prices. It is located just directly at the beach across the road. Rooms overlook the tropical garden. The staff is extremely kind and helpful. It's just great if you are traveling to Phuket on a mid-budget range of accommodation!
Kata Beach
Compared with the popular Patong beach, Kata beach tends to be less noisy. It is best well-known for being family-friendly and a great place to stay for family and kids. The town is very walkable with some beaches or bays located in the south. The important sights such as Big Buddha and Wat Chalong are not far from here.
If you prefer a more private area, the Kata Noi Beach is also located slightly away from the popular area in Kata beach. Many trendy hotels in peaceful surroundings are located here. It is less crowded and great for couples and youngsters. The pristine beach and clear sea with sizeable waves are perfect for spending a day outdoors enjoying the sand and warm water.
Best places to stay in Kata Beach:
Best Hotels in Kata Beach – Luxury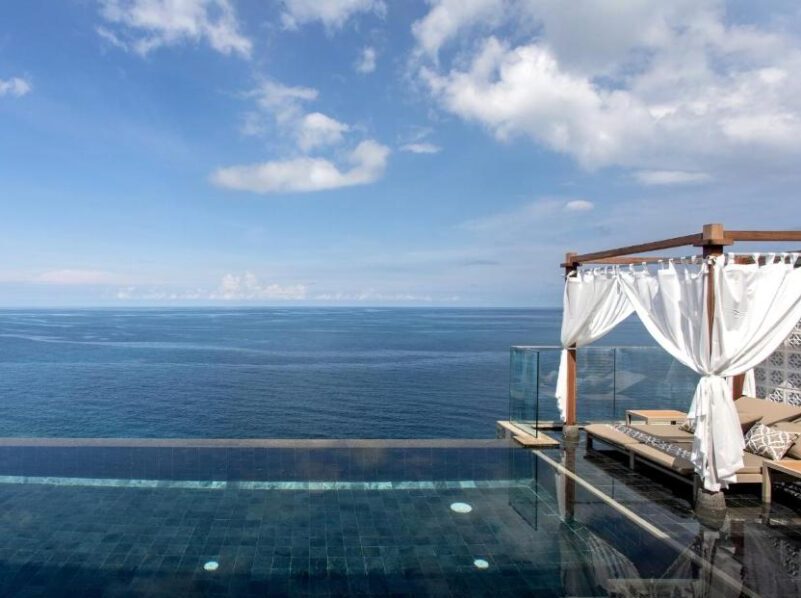 Katathani Phuket Beach Resort is the best place for a great family break with lots to do at the resort. Located across from Kata Beach, this award-winning Katathani Phuket features 6 pools, 6 dining options, and many kid's facilities. Guests can enjoy massage and spa, snorkeling, strolling at the beach, and enjoy your restful beach holiday here. A great choice for where to stay in Phuket for family and kids.
The Shore At Katathani – Adult Only is great for couples and honeymoons to enjoy your private time with a magnificent sea view. This pristine hotel provides a group of villas right at the beachside with sensational views of the peaceful end of Kata beach. The villas are huge, with an amazing view, and super well equipped. Staffs are professional and super friendly. Amazing place for a relaxing holiday in Phuket.
Best Hotels in Kata Beach – Mid-High Range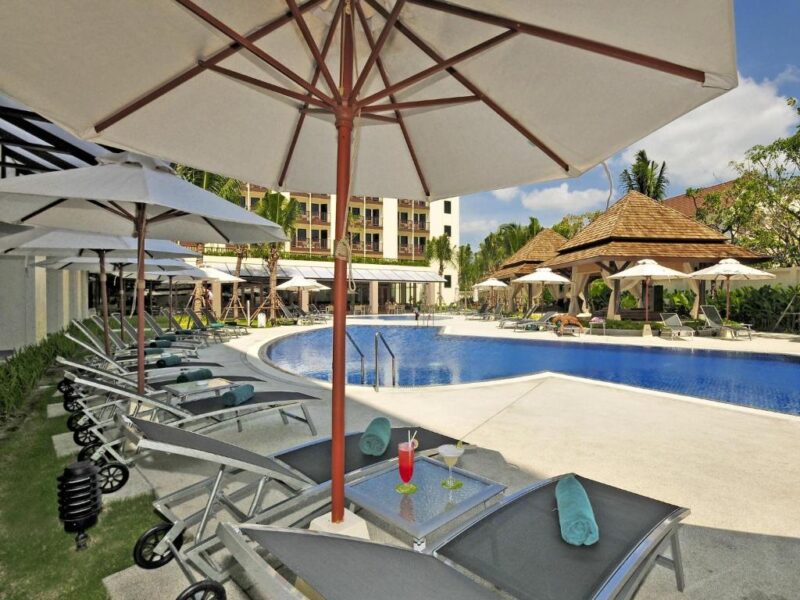 Ibis Phuket Kata offers a very good service for affordable prices. Located about 10 minutes from the Kata beach, it is one of the top-value accommodations with shopping, dining, and nightlife nearby. The staff is friendly and very efficient.
Best Hotels in Kata Beach – Budget Range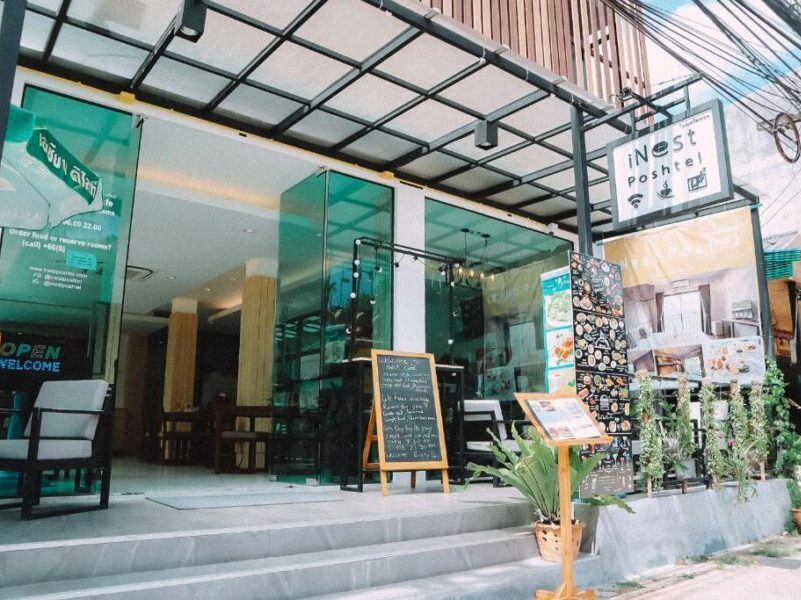 If you're on a budget, check out iNest Poshtel. It is a modern new Hostel and you'll enjoy bright rooms and modern amenities. It is well maintained and everything is sparkling clean and in great condition. 10 to 15 minutes walk to the Kata beach.
The Orchid House is a clean and comfortable boutique inn located in Kata. The rooms are pretty and you feel very comfortable when staying here. The location was good within a 5-minute walk from Kata Beach. and Karon beach. Plenty of restaurants, shops, and a night market nearby.
Kalim Beach
Located the north of Patong Beach, the Kalim beach offers a more calm neighborhood, slightly away from the chaotic tourist scene. It is a small beach located just next to the famous Patong Beach on the way to Kamala Beach. It is still walkable to popular Patong beach with a 10 to 15 minutes walk. You will have a more cozy place here yet still close to the popular Patong area. 100-200 Baht will bring you to the busy Patong area. Some accommodations even offer a free shuttle to Patong.
Kalim Beach offers an amazing sunset view during the evening. Many beachfront restaurants and bars along the beach. You will also find amazing street food along the Kalim beach every night. Even locals come here for their dinner. Plenty of transport available and good access to the local beach. A good family spot.
There are a few notable resorts and villas located at Kalim Beach when looking for where to stay in Phuket. Few high-range hotels with good prices are located here.
Best Hotels in Kalim Beach – Luxury
Diamond Cliff Resort & Spa – I definitely recommend this luxurious 5-star resort to all travelers out there that want to feel spoiled during their stay! The property is set within 20 acres of beautiful gardens above Patong with all facilities nearby. Just a 3-minute walk from the beach and the beautiful comfortable rooms feature stunning sunset views from private balconies.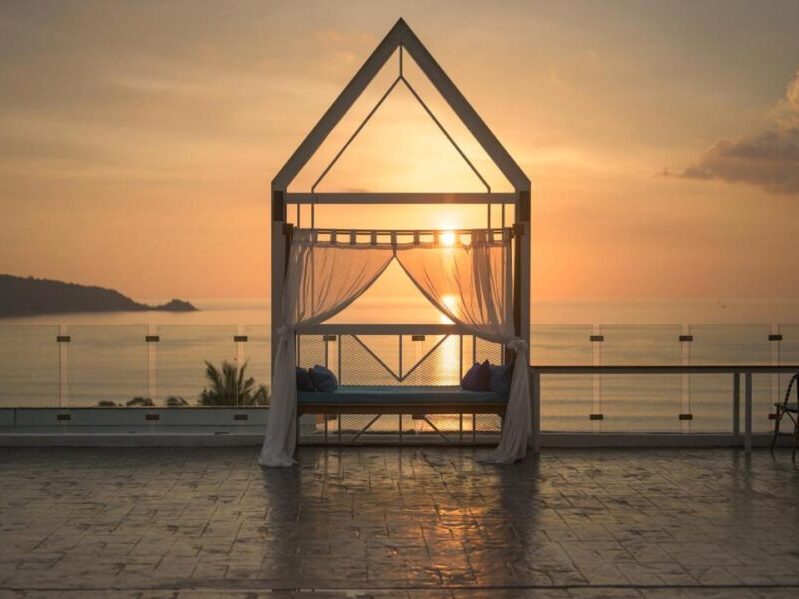 Andamantra Resort and Villa Phuket is another recommendation for families who want to be spoiled with luxury during their stay in Phuket. The spacious rooms offer comfortable stays with amazing sunsets that can be seen from the pool and balcony. This great hotel awaits you with a spa, fitness center, and 3 outdoor pools. The location is also excellent, walking distance to the center of Patong. Everything you might need for a great stay in Phuket.
Best Hotels in Kalim Beach – High Range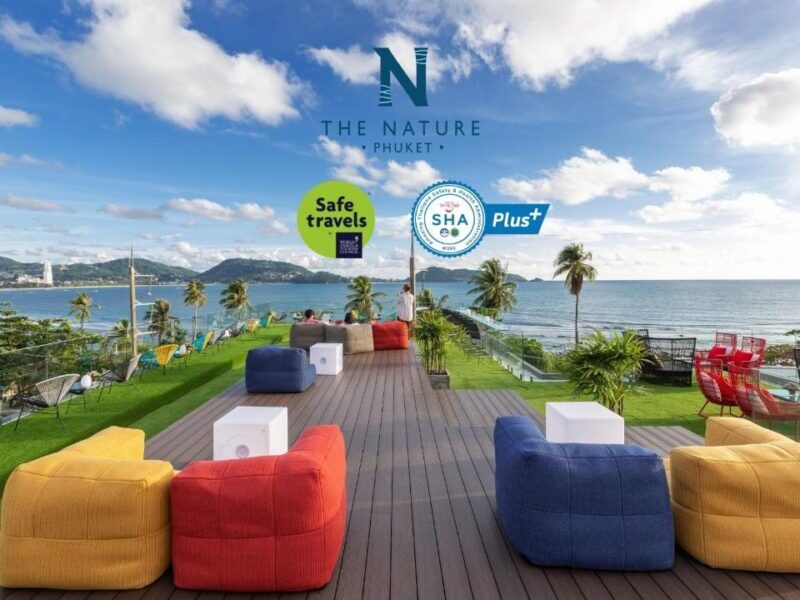 The Nature Phuket is another amazing value for money for a luxury stay in Kalim Beach. It offers super comfy beds and nice rooms. The property has a big pool for adults and a separate kids pool for families with kids to enjoy. The staffs are very polite and helpful. Free shuttle to Patong 3 times per day.
Kalim Resort is located on Phuket's charming Kalim Beach, within a 2-minute walk from the beach. Spacious rooms fitted with wooden flooring and furnishings. It also features a great big pool for adults and kids. A 20-minute walk to Patong beach.
Kamala Beach
If you prefer to stay in more relaxed areas in Phuket, Kamala beach is another top option. It is located north of Patong Beach with about 20 minutes of Tuk-tuk drive. This area has a very family-friendly atmosphere, surrounded by hills which offers a more authentic village feel. Kamala is also home to FantaSea, which is considered a "Cultural Theme Park" and very popular with tourists.
There are a number of incredible hotels in Kamala and here are our best picks:
Best Hotels in Kamala Beach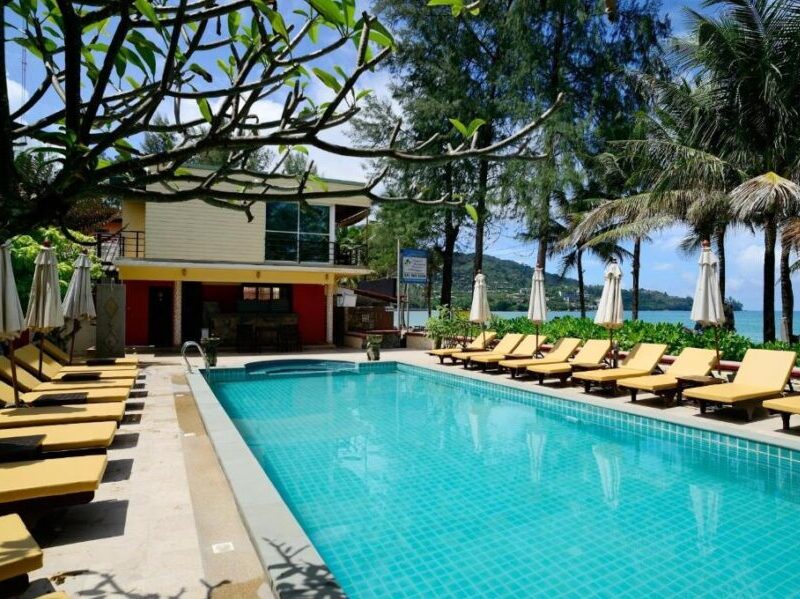 Novotel Phuket Kamala Beach is a popular pick for anyone who wants a holiday gateway in Phuket! It is situated at an absolutely stunning location with a beautiful wild Kamala beach within a few minutes walk. This beautiful hotel offers modern air-conditioned spacious rooms with a private balcony in a comfortable atmosphere. It's one of the best accommodation options out there if you want to be totally spoiled. Excellent value for money.
Amala Grand Bleu Resort is another great 4-star hotel for your perfect weekend gateway. Located down a steep hill, every room features views of the Phuket Andaman Sea. The swimming pool offers a stunning view overlooking the sea. It also help with the tuk-tuk service to the beaches every day which was very convenient.
Kamala Beachfront Apartment is located at an amazing beachfront location with plenty of bars and restaurants to walk to. It offers well-appointed apartments and boasts a saltwater pool with a hot tub and panorama views of the Andaman Sea where you can relax! Everything you need for your Phuket stays.
Rawai Beach
Located in the south of the island, Rawai beach is situated in a calm area 17km from Phuket town. The beach itself is lovely and quiet compared to the hustle and bustle of Patong. However, it is not a swimming beach and is used primarily as a boat harbor.
Rawai beach is known as a great place to sample some fresh seafood thanks to the fantastic seafood market and plenty of good seafood restaurants. An off-the-beaten-path area of Phuket to stay if you are looking for a local vibe in Phuket.
Best Hotels in Rawai Beach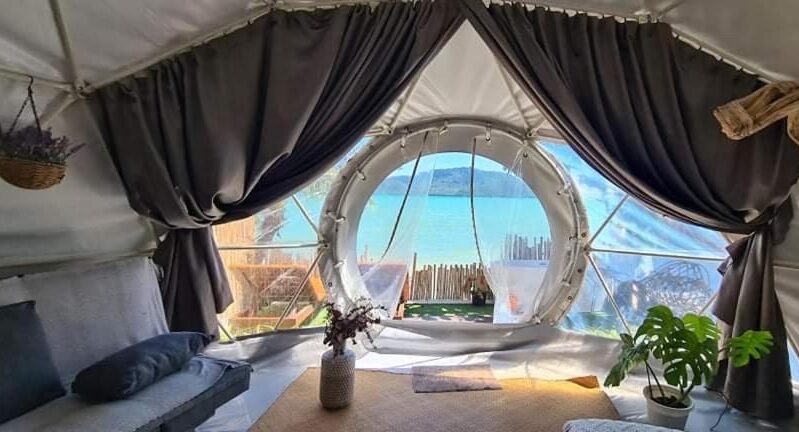 Rawai Palm Beach Resort offers a relaxing getaway, boasted of exquisite contemporary Thai décor. It is easy to access several beaches and numerous restaurants nearby. It also offers a great on-site restaurant, free form pools, and a well-equipped fitness center where you can relax!
Phuket Signature Glamping offers you an unforgettable stay in Phuket. Your unique stay is from the clean and nicely decorated glamping tent. Recommended to choose with the tent with aircon. The bathroom is separate from the tent but each tent has its own bathroom that can be locked with a key. Food stalls at night within a 10 minutes walk on the main road. A fun and relaxing activity in Phuket.
Old Phuket Town
If you want to be away from the beach and learn more history of Phuket, we recommend staying in Old Phuket Town. It's full of history and charming when strolling along the streets. The Thalang Road is lined with colorful 19th-century shophouses and Sino-Portuguese buildings, with a decent cafe scene. Phuket Old town comes to life during the weekend with more people coming to the town for the Weekend Night Market and the Sunday Walking Street Market.
Old Phuket Town with a wide range of mid-budget accommodations. Here is our best pick for where to stay in old Phuket town:
Best Hotels in Old Phuket Town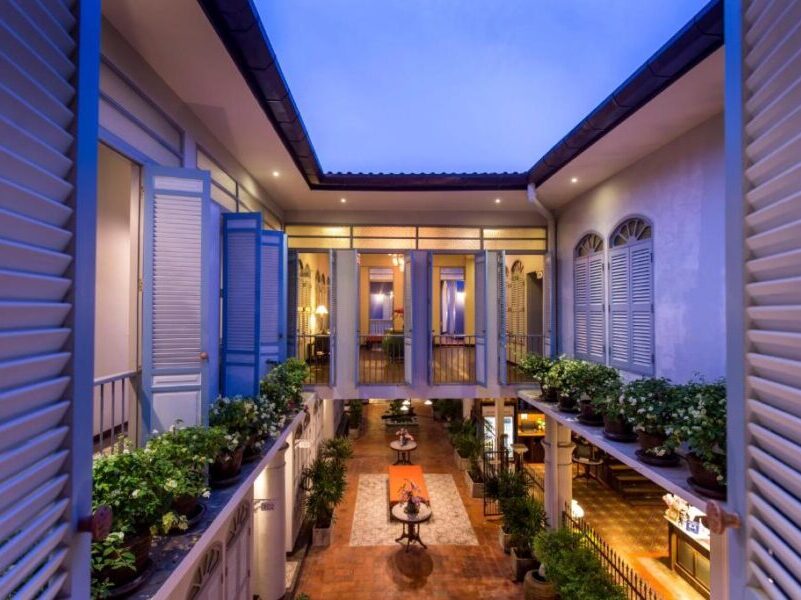 Blu Monkey Boutique Phuket Town offers comfort and convenience at a great price. Central location in the old town, the property is a family-friendly accommodation that is close to​ the bus​ center and​ is a famous tourist place in ​the​ city. Free water, juice, bananas, and crackers are available all day for guests which was a great bonus.
The Memory at On On Hotel is my recommendation for a great value for money in Old Phuket Town. The location of the hotel was perfect right in the middle and the property had that old rustic feel. The classic rooms are beautiful, with comfortable beds. The staff is always friendly and helpful.
Na Siam Guesthouse is a lovely place in Phuket's old town. The guesthouse is in a nice style with a large room. Bed is comfortable with well-equipped amenities. The location is perfect and the price is very reasonable. Good value for money.
Final Tips on Where To Stay in Phuket
Should I stay in Patong or Karon beach?
With the densest concentration of bars, restaurants, and hotels, Patong is the best place to stay in Phuket. If Patong is too crowded for you, then Karon beach will be your choice.
Where should I stay in Phuket for the nightlife?
Patong Beach is the place to stay in Phuket if you like nightlife, partying, and want to be in the middle of everything.
Where should I stay in Phuket for a really relaxing and laidback vacation?
Kamala and Kata beach is the best areas to stay in Phuket for a laidback vacation. It is away from the hustle and bustle of the main action area of Patong, yet still reachable with short Tuk-tuk drives. These areas are also suitable for families with kids.
Where should I stay in Phuket for Songkran or New Year Holiday?
If you're coming for a special event, such as Songkran or New Year, you might want to stay in Patong for the action and festivities.
Overview: Best Hotel To Stay in Phuket
Last my not least, we hope this Phuket hotel guide can give you some idea of where to stay in Phuket. We reveal what we think are the best places to stay in Phuket and hope you find this guide helpful in finding the best hotel for your perfect gateway.
In my opinion, there are many beaches where you can chill out widely spread across Phuket Island. It is not too difficult to find your best hotel stay in Phuket. For families with kids, stay slightly away from Patong at Kata beach and Kamala beach with a more calming vibe. You can still get to Patong beach with a short walk or tuk-tuk services.
If budget is not a concern, we highly recommended staying at Diamond Cliff Resort and Spa at Kalim beach. The resort featured everything you need for a perfect gateway. Plus, it is still walkable to popular Patong beach if you are looking for entertainment and nightlife activities. Alternatively, Lub D Patong will be my next recommendation for a group of friends and budget option.
Here you can find some travel inspiration from our Phuket visit:
Did you enjoy this Phuket accommodation guide? We have more Thailand travel stories to share for your holiday. Free feel to check it out.
Travel to Bangkok: