Last updated on October 2nd, 2023
If you haven't yet decided on Where to stay in Bangkok, have a look at our picks for the best areas and hotels to stay in Bangkok that suits your needs and budgets.
Bangkok, the capital of Thailand is the favorite travel destination of many travelers who are interested in culture, history, food, shopping, and nightlife. This travel hotspot is very affordable with a wide range of accommodation choices when finding where to stay in Bangkok. You can find a very deal as the accommodation prices are cheaper compared to others places. From full-blown luxury hotels to budget backpackers hostel, for sure you can find one that fits your needs.
However, deciding on the perfect places to stay in Bangkok might be an overwhelming task, especially for first-timers. There are many different places to stay in the city and each of them has its own vibe. Accommodation prices do vary greatly with the season and areas. Listed below are some of the most convenient areas to stay in Bangkok, along with a detailed explanation to help you better understand where each of these areas is.
In this ultimate Bangkok accommodation guide, I will explain everything you need to know about how Bangkok is organized and which are the best areas for all types of tourists and budgets.
Where To Stay in Bangkok
Depending on what kind of vibe you're after, here are the eight popular places to stay in Bangkok if you are visiting the city for holiday. In short, The top best places to stay in bangkok are Sukhumvit, Siam, Silom, and Pratunam. Other decent places are Riverside, Chinatown, Khaosan Road, Ladpray and Ratchada.
Plan your Bangkok holiday easy – here's where to stay in Bangkok for your trip to the city.
Sukhumvit – The best area to stay for first-time travelers to Bangkok. It is in the center of the city and perfect area for your stay in Bangkok.
Siam– Where to stay in Bangkok for shoppers (Best area to stay). The area is a within walking distance from some of Bangkok's best shopping centers, bars, and restaurants.
Silom – Business district area with entertainment, shopping, and food (Best area to stay).
Pratunam – Another great area to stay for shopping and food.
Riverside – Staying along the Chao Praya River for the best river view and close to the main attraction.
Chinatown – The best and most famous area in Bangkok for street food.
Khaosan Road – Where to stay in Bangkok on a budget with many mid-budget hotels and hostels. Great place for an epic Bangkok nightlife scene.
Ladpray and Ratchada – Stay nearby Chatuchak and Don Mueang Airport.
Now let's find out which are the best hotels in each of these 8 areas in Bangkok.
Already have a hotel booked? To search for the best accommodations at the best prices, I suggest checking out Booking.com or Agoda.com for the best price always.
Sukhumvit
The Sukhumvit is the best pick when looking for where to stay in Bangkok for first-timers. It is the most cosmopolitan neighborhood in central Bangkok and basically the heart and soul of the city. This area is home to all the luxury hotels, shopping malls, and plenty of international dining options such as rooftop bars, nightclubs, and bars. The famous party street, Soi 11 is also located here.
For accommodation, Sukhumvit is popular among foreigners and luxury travelers. There are many 5-star hotels with BTS and MRT run through Sukhumvit. The hotel price may at the high side. But, if you book them far in advance you could still find some good deals!
Let's check out some of the top-rated hotels in Sukhumvit:
Best Luxury Hotels in Sukhumvit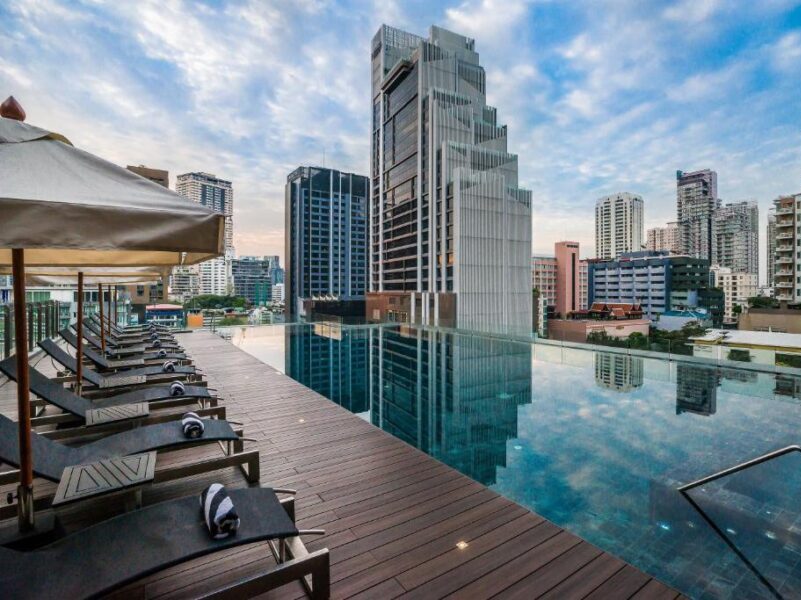 SKYVIEW Hotel Bangkok – SHA Extra Plus – In case you're looking for a gorgeous hotel in Bangkok, look no further! Centrally located on Sukhumvit road, this property is a well-known upscale hotel in the city. Staying in this hotel means 5-star service and impeccable views with Infiniti pools! A short walk to Phrom Phong BTS Station and a few steps from The Emporium Shopping Mall.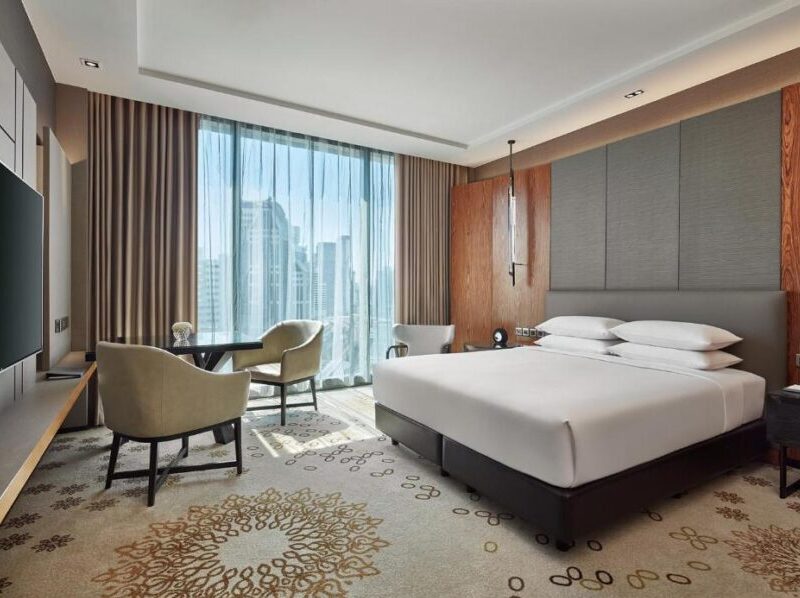 Hyatt Regency Bangkok Sukhumvit – Here's another option if you want five-star hotels in Bangkok. It's located right in the heart of the city with everything you expect from the Hyatt group. Here you can work out in the fitness center, relax in the sauna or enjoy your drink at the rooftop bar. The interior is in a modern style, perfectly clean and with very friendly staff. The location is also very convenient with easy access to Nana Skytrain station.
Best High Range Hotels in Sukhumvit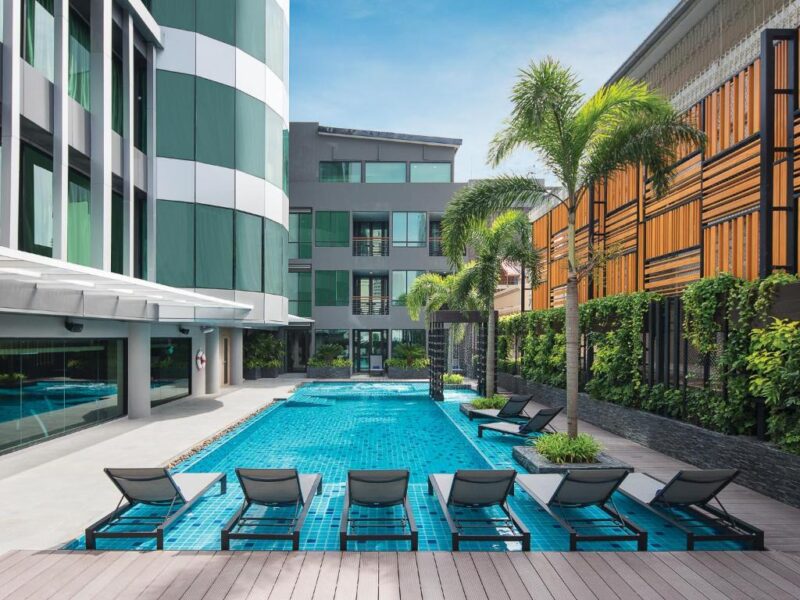 Solitaire Bangkok Sukhumvit 11 – SHA Extra Plus – This hotel is the ideal choice if you want to stay in the heart of Bangkok. About a 10-minute walk from Nana Skytrain Station. The whole premises of the hotel were exceptionally clean and had comfortable beds. Location on soi 11 is also good with a wide range of bars and restaurants close by. Good value for money in a central location.
Asoke Residence Sukhumvit by UHG offers modern service apartments in downtown Bangkok. It is best for travelers who landed at Suvarnabhumi International Airport with the Airport Rail Link station is just within walking distance. direct line from the airport. It is well connected with various transportation options with a 10-minute walk from Asoke BTS Skytrain Station, and a 5-minute walk from Phetchaburi MRT Station. and a 4-minute walk from the riverboat shuttle at Saen Saeb Canal. Spacious room, absolutely comfortable for staying with all the necessary things.
Best Mid-Range Hotels in Sukhumvit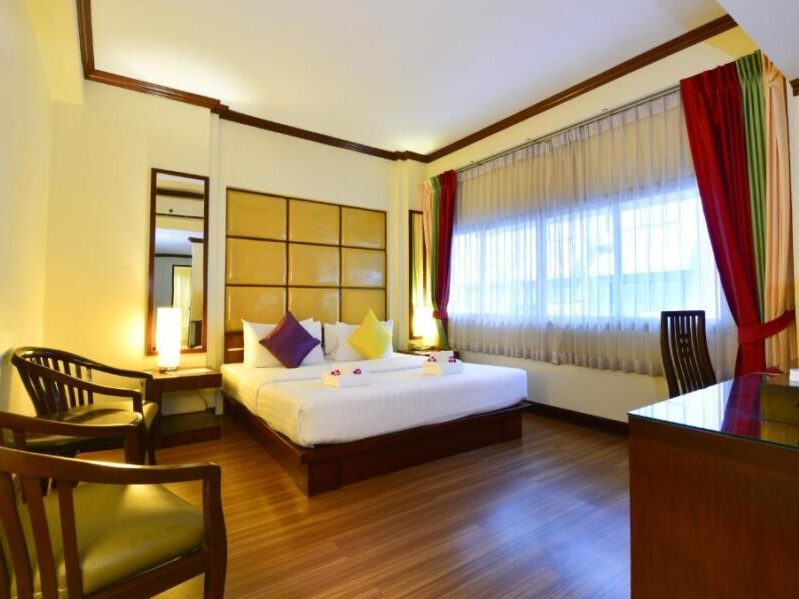 Romance Hotel Sukhumvit 97 – This 3-star hotel awaits all the facilities you might need for a great stay in Bangkok. The rooftop pool and gym were excellent. The staff was friendly and helpful. A short walk which is about 300 meters to the nearest BTS with shuttle service provided.
Grand Business Inn is an ideal choice for anyone who looking for convenience in Bangkok. You'll have an excellent location, right in the middle of nice restaurants, grocery stores, bars, and cafés. The hotel is just steps away from the Nana BTS Skytrain Station.
Siam
The shopaholic heaven, Siam is the best place to stay if you are coming to Bangkok for shopping. This area is surrounded by shopping centers, department stores, boutiques, restaurants, cafes, and bars. The BTS Skytrain is connected in this area, so it is super convenient when getting around in Bangkok.
Where to stay in Bangkok – Siam:
Best Luxury Hotels in Siam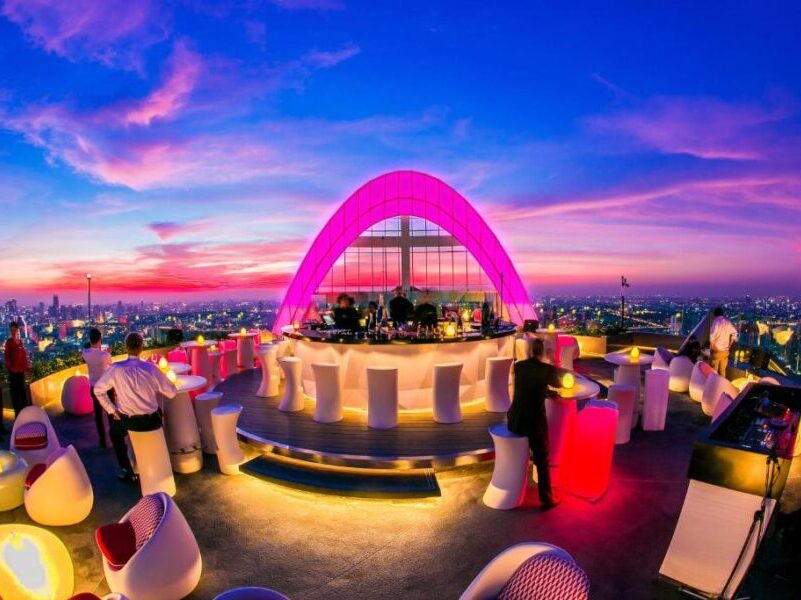 Centara Grand At Centralworld is an awesome 5-star hotel with a stunning design that I absolutely adore! This Thailand chain hotel is located right in the heart of the city and offers a great view of Bangkok. The location is excellent it is located between two BTS stations and Chit Lom Skytrain station is just located next to the property. Easy access to other shopping centers, such as MBK, Siam Paragon, and Siam Square.
Best High Range Hotels in Siam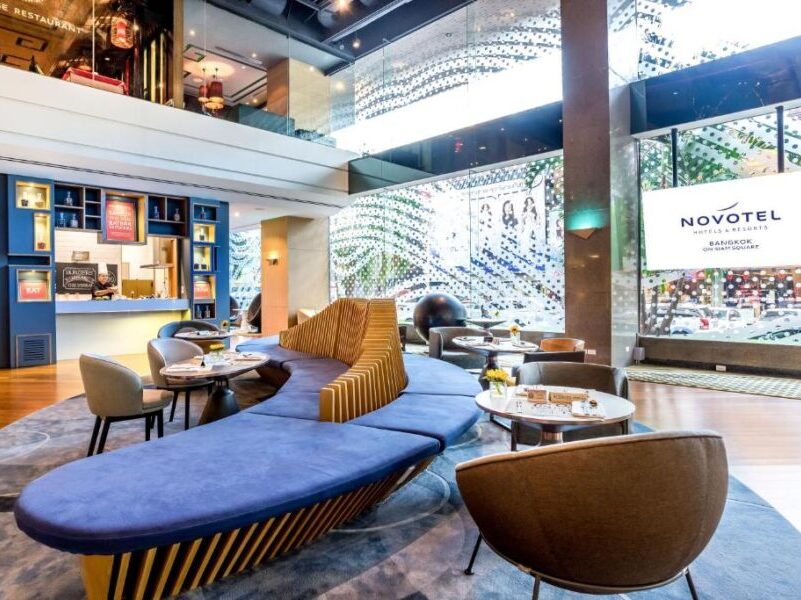 Novotel Bangkok on Siam Square is close to many shopping malls with great facilities including a large outdoor pool with a sauna room and a day spa. Getting around in Bangkok is easy with BTS Siam Paragon is located next to the property.
Best Mid-Budget Hostels in Siam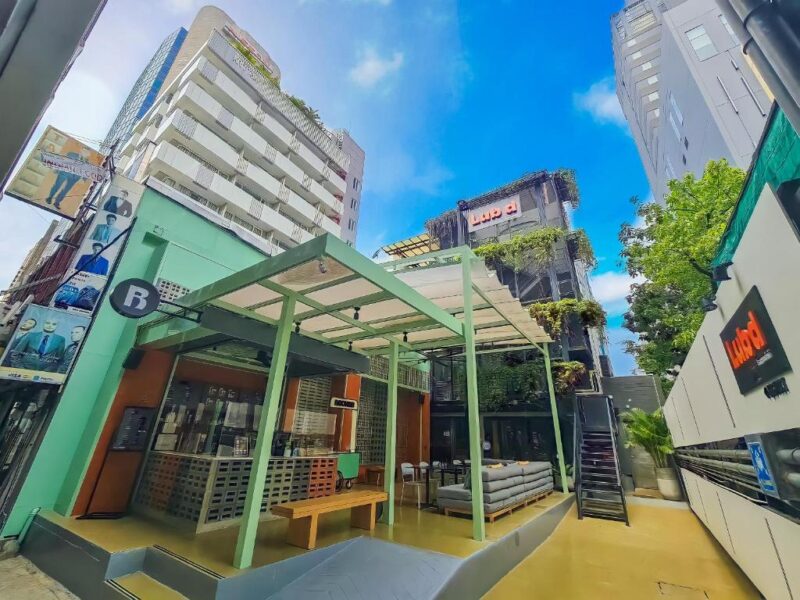 Lub d Bangkok Siam – Located next to Siam BTS station, Lub d Bangkok Siam is a great choice for budget travelers who look for a convenient stay in the central city at a reasonable price. It is an affordable boutique-style accommodation that offers clean and spacious dorms or rooms with AC for travelers. The property is next to the MBK shopping center so everything you could need is close by.
Silom
Another great place to stay in Bangkok is Silom. This Bangkok business district area is gorgeous at night as it is by day. You'll never run out of things to do in this area. Varied Thai restaurants, night markets such as Patpong night market, and bars all night long here. Besides, Silom is also home to Lumphini Park and the infamous Patpong red-light district. BTS and MRT run through Silom so getting around should be easy.
To learn the other best places to stay in Bangkok, here is the best pick for hotels in Silom:
Best Luxury Hotels in Silom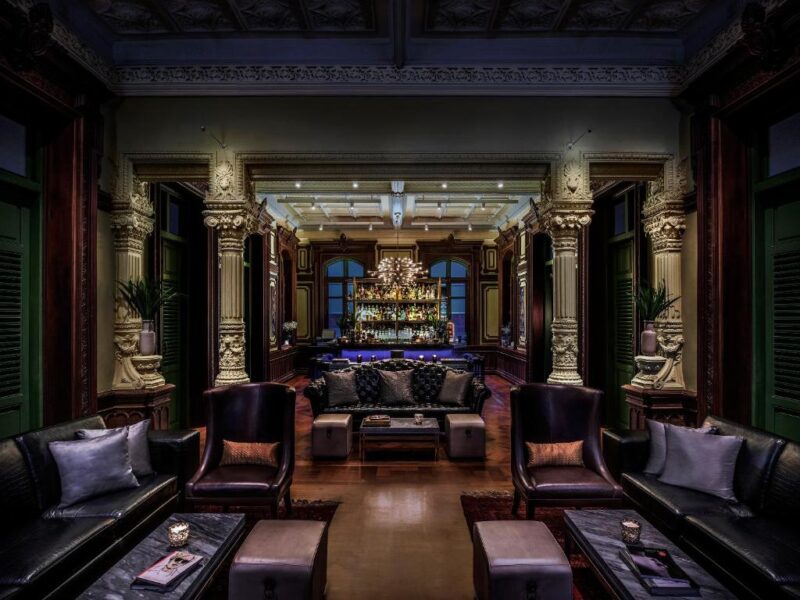 W Bangkok Hotel – Probably one of the best hotels to stay in when exploring Bangkok. The accommodation is superb and the service is sublime. Everything was comfortable and clean, the staff was extremely helpful and competent. A 3-minute walk from Chong Nonsi BTS Skytrain Station.
lebua at State Tower – For the ultimate in luxury and service, book a room at lebua at State Tower. The property has the in-house 2 Michelin stars restaurant and a famous Skybar in the city. It's hard to beat the best view from the room or rooftop bar when you're staying here. The facilities and cleanliness of the hotel are first-class, and the staff is extremely polite and courteous. Lebua is so fantastic!
Best High Range Hotels in Silom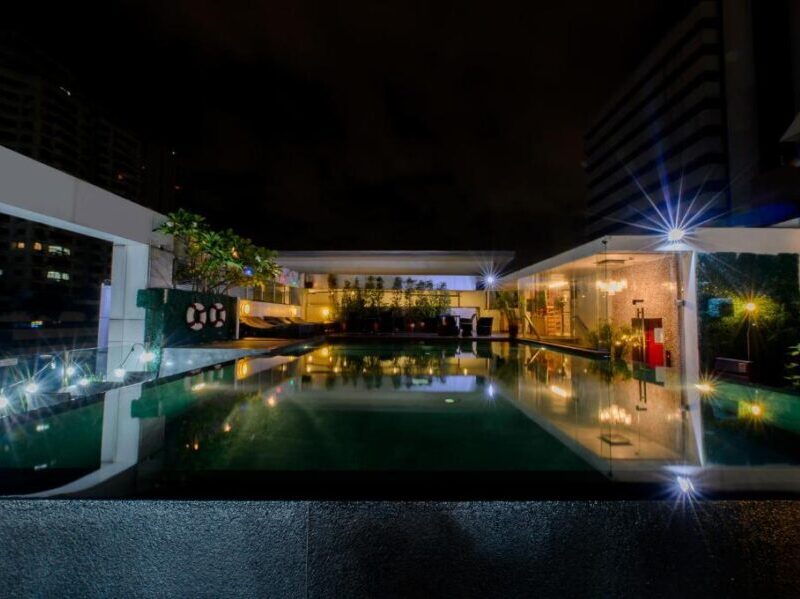 The Quarter Silom by UHG – Located in the Silom Business District, this four-star hotel has spacious rooms equipped with a variety of modern amenities. Enjoy relaxing steam and sauna or drinks on the terrace after a long day of exploring Bangkok. Walking distance from BTS Sky Train and Metro.
iSanook Bangkok – Conveniently located in the business district, this property offers big size room and a clean bed. Located in a quiet alley in the business district with many things nearby like street foods, restaurants, a marketplace, and the massage. Suitable for travelers who look for quiet places in the city.
I Residence Hotel Silom – This stylish design hotel is ideal for families. Its contemporary and cozy rooms are outfitted with big size comfortable beds and boast a stunning infinity pool and rooftop restaurant. Surrounded by restaurants and cafes, this hotel is a short walk to great food and wonderful sights. Located just next to BTS Chong Nonsi station, with car park in this hotel.
Best Mid-Budget Hostel in Silom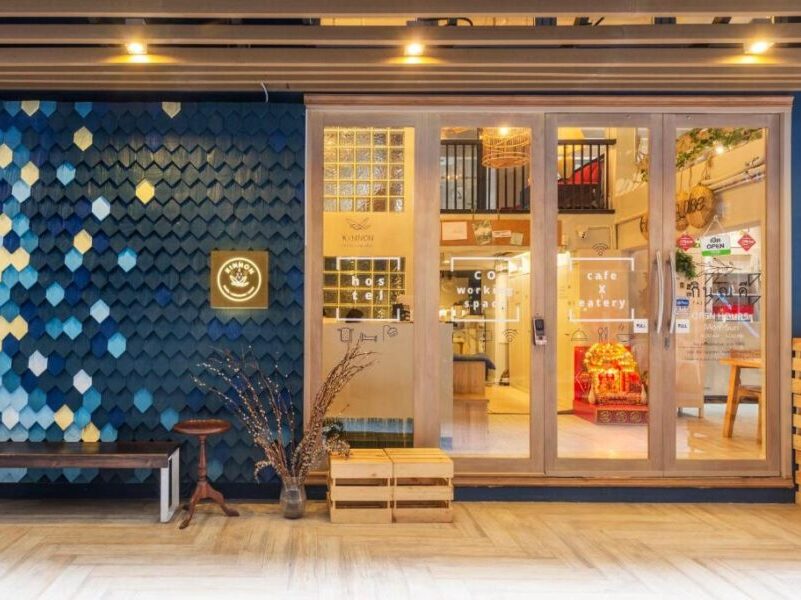 Kinnon Deluxe Hostel Coworking Cafe – One of the great hostels in Silom, offers dormitory and family rooms. The hostel is close to public transport (10 mins walk to Sala Daeng BTS Skytrain Station and Silom MRT station), which allows you to get around easily. The staff was very kind and helpful. Great for budget and solo travelers.
Pratunam
Pratunam is a huge and vibrant shopping, dining, and entertainment district. If you're specifically visiting Bangkok for food and shopping, Pratunam might be your best choice. What I liked about staying in this area is the many shopping areas such as MBK, Pratunam mall, Siam Center, and Siam Paragon are all located in this area. For those who have a short stopover, Pratunam is also connected with Airport Direct Rail which is superbly convenient.
Where to stay in Bangkok – Pratunam:
Best Luxury Hotels in Pratunam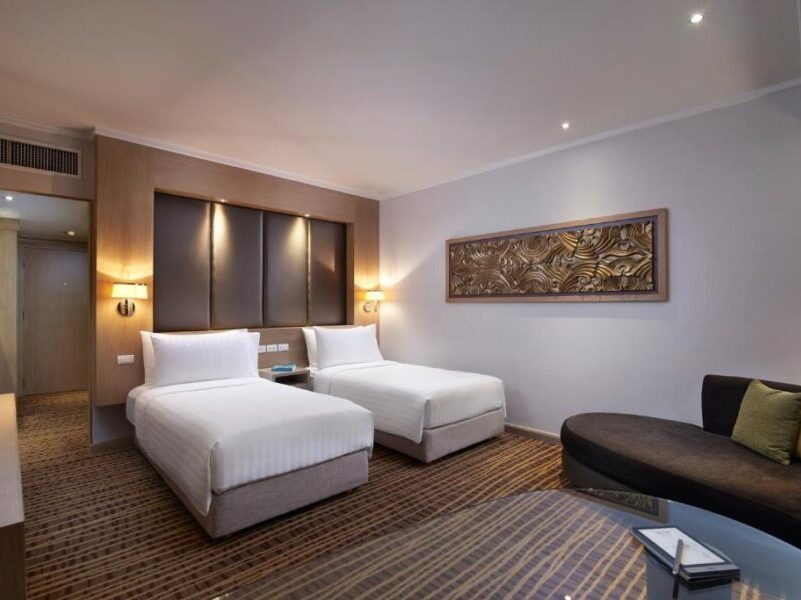 Amari Watergate Bangkok offers spacious and comfortable rooms if you are looking for where to stay in Bangkok comfortable. It has a great location just a few steps away from Pratunam Market and many restaurants nearby. Spend the day for city shopping, then come back to the room with Bangkok's exciting night scene. Both Chidlom and Ratchathewi BTS stations are within a 15-minute walk.
Best High Range Hotels in Pratunam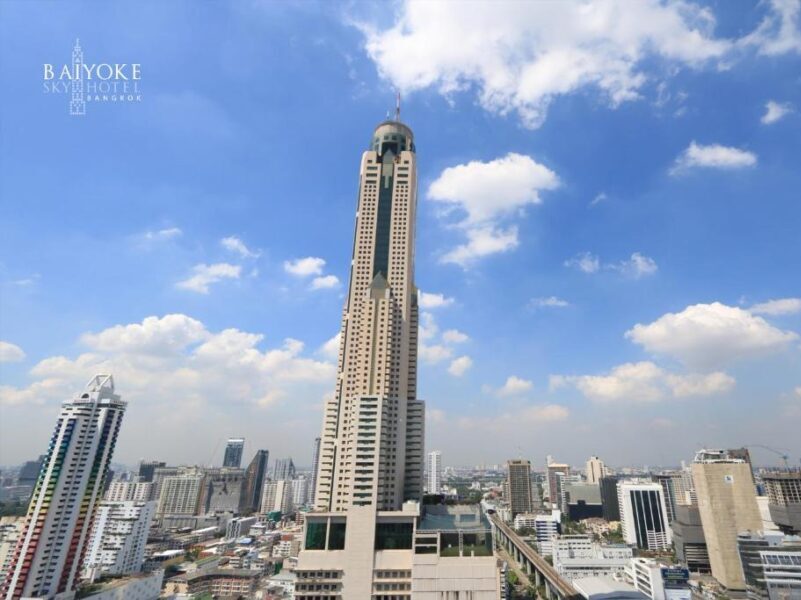 Baiyoke Sky Hotel – Featuring panoramic views of Bangkok, Baiyoke Sky Hotel stands at 88-stories, making it Thailand's tallest hotel. The location is superb, with a 5-minute walk to Ratchaprarop Airport Rail Link Train station, and several metro stations nearby. It a just a short walk from the Racthaprasong shopping district and many eateries nearby. Ask for the rooms with views of the city's skyline!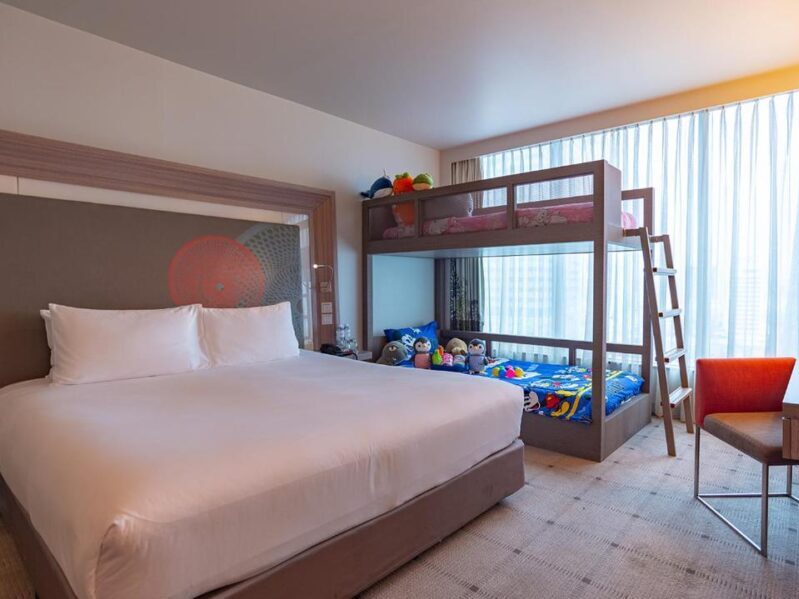 Novotel Bangkok Platinum Pratunam – Directly on top of the popular Platinum Fashion Mall, Novotel Bangkok Platinum offers shoppers the convenience of modern air-conditioned rooms. It has a children's club with video games and a play area, very suitable for families with kids. A 12-minute walk to Chidlom BTS Skytrain Station.
Best Mid-Budget Hostels in Pratunam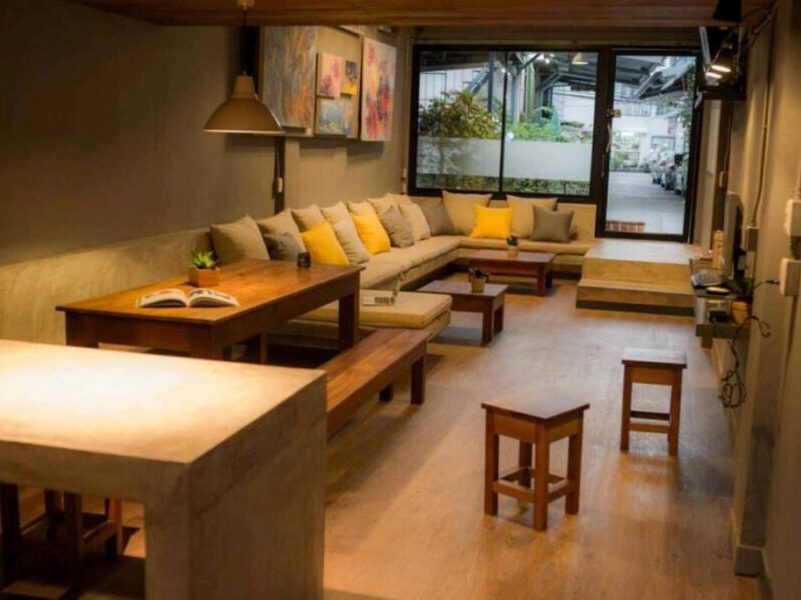 In a Box Hostel – The location is superb and just a step away from the Phaya Thai BTS Station and Phaya Thai airport railway link. This hostel offers dormitory rooms with free Wi-Fi access in all areas. Providing shared and private rooms, this hostel is calm and clean. Perfect for one or two days' stay with a short stopover in the city. A popular pick among budget travelers.
Riverside
On the shores of the Chao Phraya River, there are many delightful luxury hotels offering great views of the river. This area is a more upscale neighborhood with many 5-star hotels situated, so expected accommodation prices will be slightly higher. The area is slightly away from the downtown, but you'll get closer to the major attraction sites in Bangkok such as Grand Palace, Wat Arun, and Wat Pho. A great place to stay if you're looking for a more laid-back holiday in rustic Bangkok.
If you like the Riverside area, there are a few of the top-rated hotels in the area:
Best Luxury Hotels in Riverside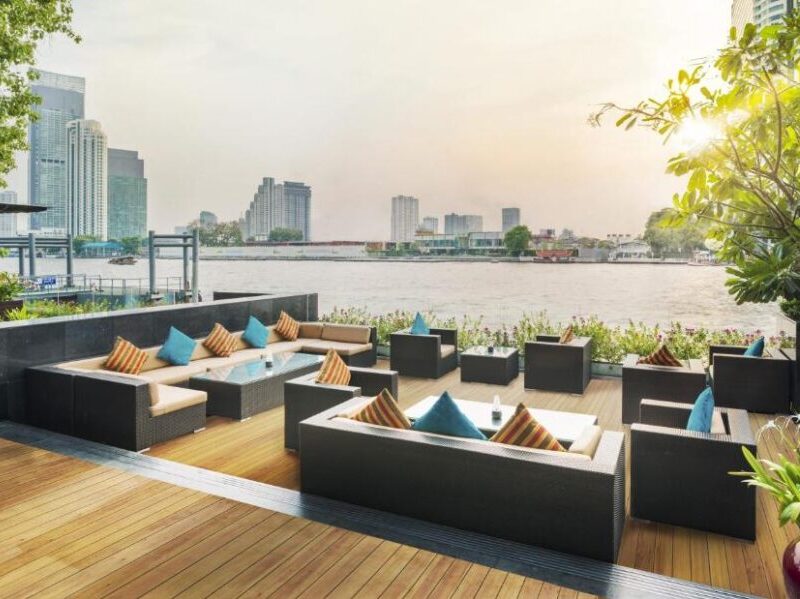 Royal Orchid Sheraton Hotel and Towers is located on the bank of Chao Phraya River, boasting 4 dining options and 2 outdoor pools. The location is superb and close to many attractions, galleries, and great restaurants. Just a couple of steps and you are right at the pier to go to Wat Arun, Wat Pho, and the Grand Palace. Free shuttle boats bring guests to Saphan Taksin BTS Skytrain Station and Icon Siam Shopping Mall which is a great plus!
Millennium Hilton Bangkok is perfect for anyone visiting Bangkok for the first time. Located on the banks of the Chao Phraya River, this contemporary 5-star property has 4 dining options, a gym, and a world-class spa. Everything was good. Cozy and clean room with a good view of Chao Prayer river. Walking distance to IconSiam shopping mall with amazing food court.
Best Mid-High Hotels in Riverside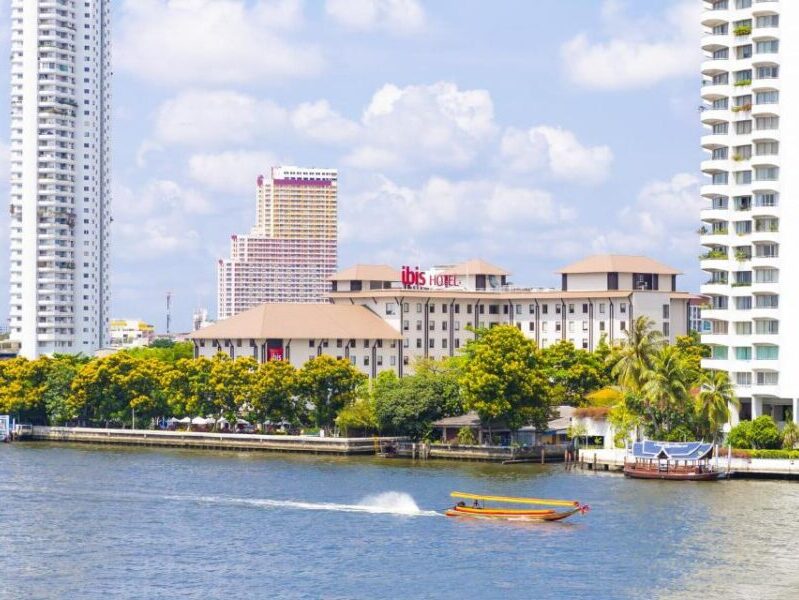 Ibis Bangkok Riverside – Located along the Chao Phraya River, Ibis Bangkok Riverside offers clean and comfortable rooms for your great stay in Bangkok. The location is great, there is everything you need within a few minutes' walk. The staff is incredible – very helpful and incredibly friendly. Best value for a budget yet relaxing stay in Bangkok.
New Siam Riverside is located right on the Chaophraya with many tourist attractions within walking or short TukTuk distance. The location is perfect to take a private boat ride or grabbing a tuk-tuk to explore the city. Your stay featured a great view of the waterway, definitely worth paying the extra.
Chinatown
The lively and colorful Chinatown is another best area to stay in Bangkok if you are into food. Located here is the Yaowarat Road, one of the best and most famous areas in Bangkok for street food. Every time I am getting to Chinatown and wandering around for food and souvenirs. One of the must-do when getting to Bangkok.
Where to Stay in Bangkok Chinatown:
Best High-Mid Hotels in Bangkok Chinatown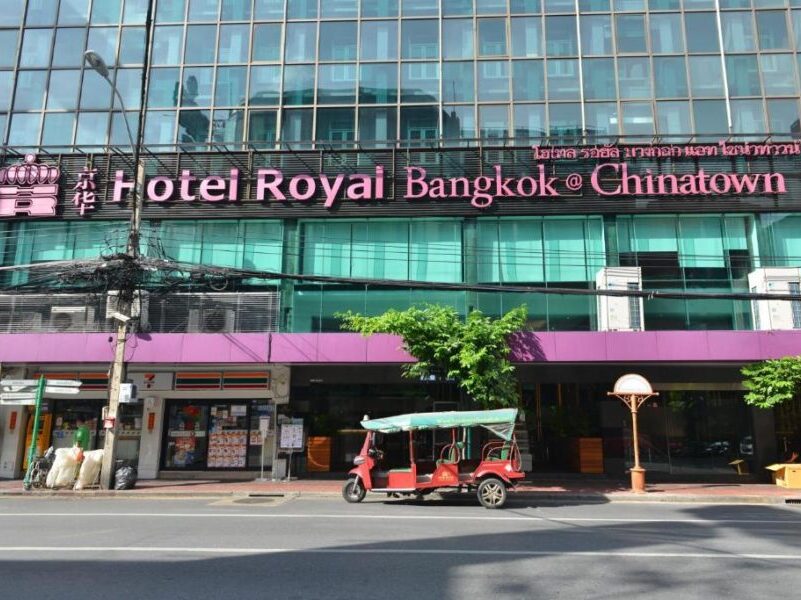 Hotel Royal Bangkok@Chinatown offers clean and comfortable beds for your stay in Bangkok. The location is excellent with Wat Mangkon MRT Subway Station and Hua Lamphong Train Station is located nearby. The staff here are polite, friendly, and helpful. Excellent value for money.
Best Budget Hostels in Bangkok Chinatown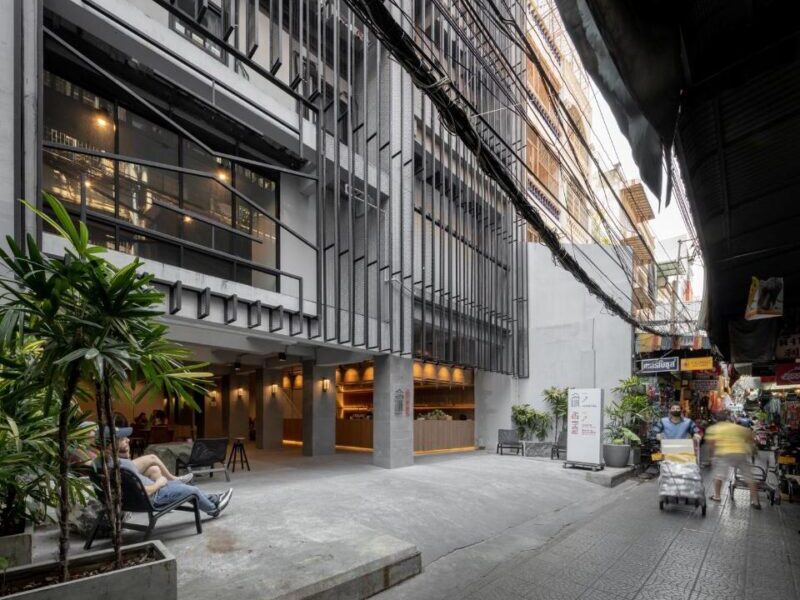 Luk Hostel is excellently located in the center of Chinatown. The hostel had a unique atmosphere with a modern vibe. Facilities are impeccably clean, well designed, spacious, and so peaceful. Close to metro station and train station. Highly recommend it if you are looking for a budget stay in Yaowarat.
Khaosan Road
Khaosan Road is a popular area to stay in Bangkok among backpackers and party-goers. This area is a great place for bar hopping and partying with an epic nightlife scene. Many street foods and plenty of unique hostels also can be found here. Even if Khaosan can be loud at night, it is a practical place to be in as you will be right in the pulsating heart of Bangkok's entertainment and food scene which runs until very late at night. The best place to stay if you want to experience the lively vibe in Bangkok.
Here are some of the best mid and budget hotels in the area:
Best High Range Hotel in Khaosan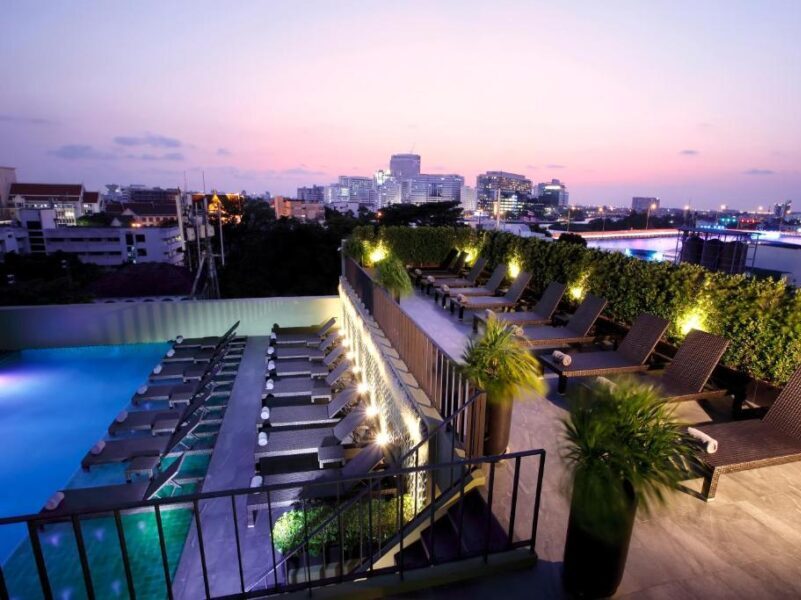 Chillax Heritage Hotel Khaosan features unique accommodations inspired by the story of the ancient epic, Ramayana. The room is exactly what you expect with clean comfortable rooms and all the amenities. The rooftop pool has a spectacular view of Bangkok. Within walking distance of Khao San Road and Rambutri Alley, as well as the Grand Palace. All in all a great place to stay when looking for where to stay in Bangkok.
Best Mid Range Hotel in Khaosan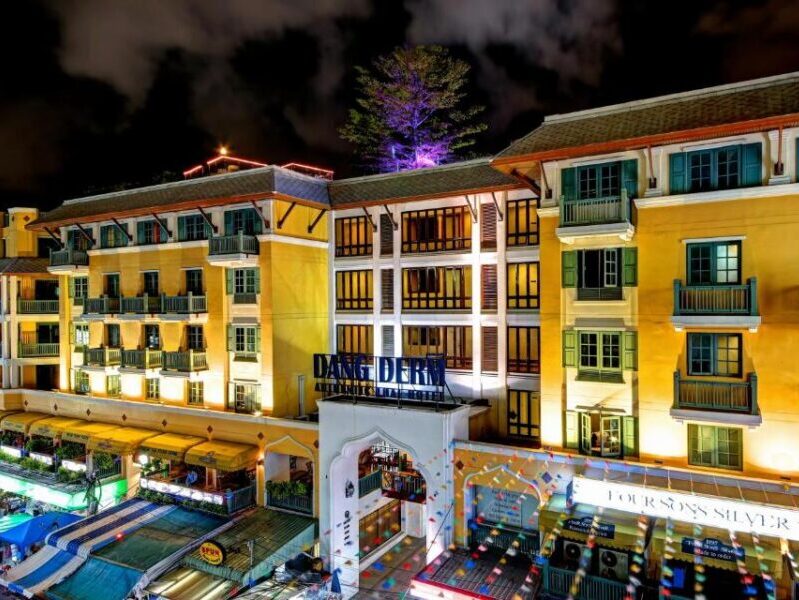 Dang Derm Khaosan – Conveniently located on the lively Khaosan Road, Dang Derm Hotel offers stylish rooms with a nice rooftop pool. The rooms are big, well furnished, and perfectly clean. Location with easy access to food, shopping, and massages. Tuk-tuks are available everywhere and are affordable. Good value for a budget stays in Bangkok.
Villa Cha-Cha Banglumphu – Situated in the Banglampu shopping area, the Villa Cha-Cha is a 2-minute walk from the lively Khaosan Road. The location is fantastic as you are in the bustling shopping area of Khaosan road with lots of food places, massage, music, and shopping. A simple family place that is friendly and comfortable.
Best Budget Hotel in Khaosan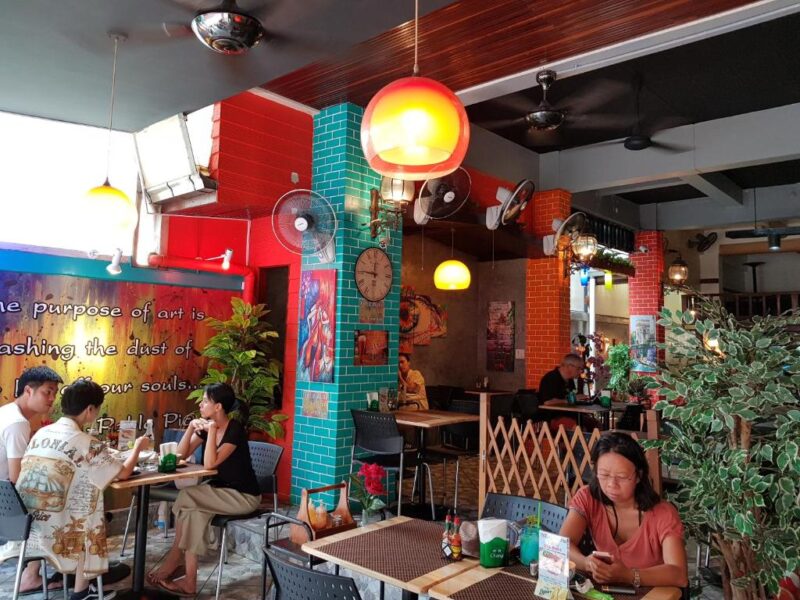 Khaosan Art Hotel offers great value for the money when choosing to stay here. The property has clean and basic rooms with all the basic amenities. The location with an easy walk to Khaosan road and plenty of restaurants nearby. The staff is attentive and helpful. A popular pick for a budget stays in Khaosan.
Nearby Chatuchak
If you are looking for a place to stay nearby Chatuchak market and Don Mueang Airport, we recommend staying at Ladpray and Ratchada. These areas are slightly away from the city center but it will be fewer tourists and best to experience the local life. Choose the accommodation nearby with MRT or BTS Skytrain for easy getting around.
Here are some of the top-rated hotels nearby Chatuchak market and Don Mueang Airport:
Best Luxury Hotel nearby Chatuchak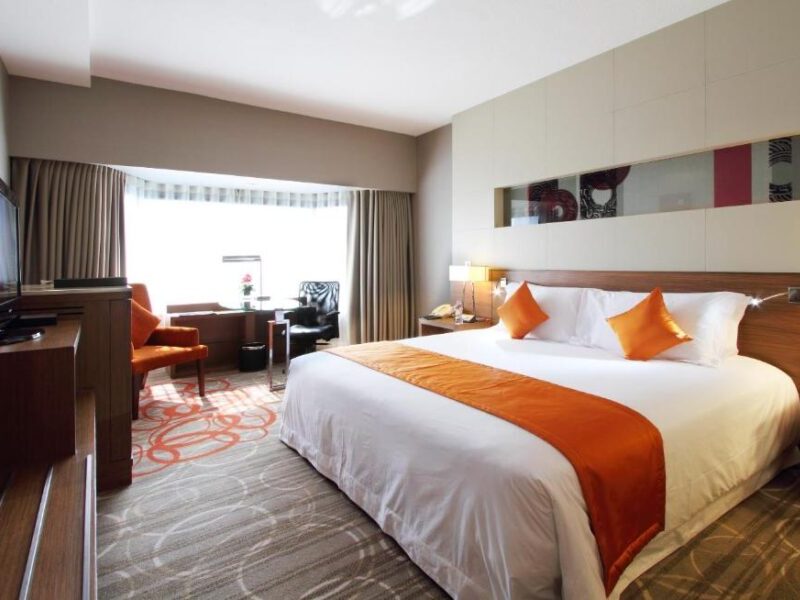 Centara Grand at Central Plaza Ladprao is a Thailand famous chain hotel located not too far from the Chatuchak Weekend Market. This 5-star hotel offers clean and well-furnished rooms with comfy beds. The property is connected with Centra Plaza Ladprao Shopping Complex and within walking distance of the Ha Yaek Lat Phrao BTS Skytrain Station. Close to Don Mueang Airport if you are looking to stay nearby the airport.
The Quarter Ladprao by UHG is a great hotel located nearby Chatuchak market. It is located in a non-touristy part of Bangkok where you get a real sense of life there. Besides, the property is conveniently located beside an MRT, so getting around wasn't difficult. The price was very reasonable for the location, facilities, and design.
Best Budget Hostels nearby Chatuchak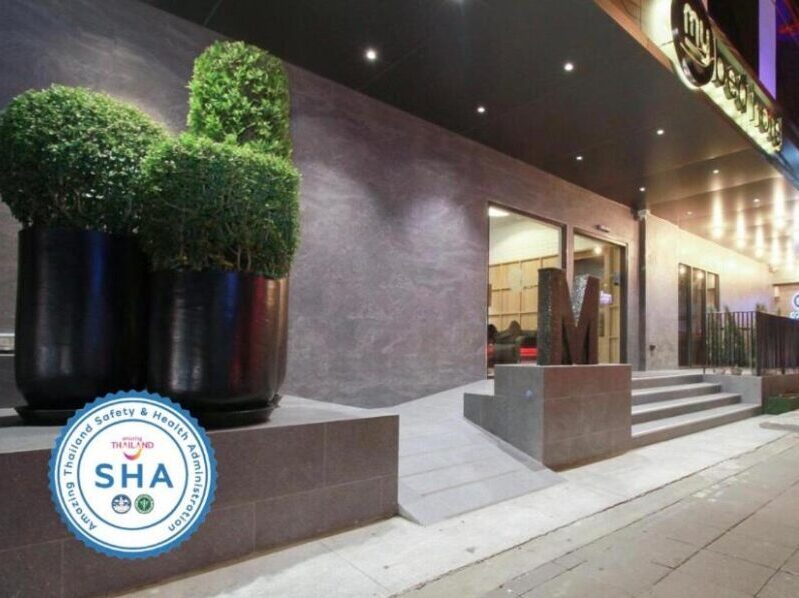 MyBed Ratchada offers en-suite private rooms and capsule rooms for guests. The accommodation price is reasonable and good for budget travelers. The location is close to the Lad Phrao station and Mo Chit bus station, making it extremely easy to travel. The facilities are complete and the receptionist speaks very politely.
Final Tils for Where To Stay in Bangkok
What area should you stay in Bangkok?
The popular eight best places to stay in Bangkok are Sukhumvit, Siam, Silom, Pratunam, Chao Praya River, Chinatown, Khao San Road, and nearby Chatuchak. If you can, then I suggest staying near a BTS or MRT train station to ease transportation arrangements.
Where to stay in Bangkok for a first-time visitor?
For first-time visitors to Bangkok, we recommended staying in the Siam or Sukhumvit areas. These areas offer the best combination of shopping, dining, and well-connected transportation options.
How much does it cost for accommodation in Bangkok?
This depends on the season and various of many factors like hotel preference. Expect to pay more if you're staying in the center areas with public transportation nearby.
Overview: Best Place to stay in Bangkok
Lastly, I hope you have a brief idea of where to stay in Bangkok. I've been to Bangkok several times and stayed at a few different places and hotels. The accommodation price in Bangkok is very reasonable for the excellent service and facilities. There are also lots of unique hostels in the city to choose from if you are looking for budget options.
For me, the most important factor for the hotel search in Bangkok is the transportation options and safety. Still, no matter what the places you choose, staying as near as possible to a BTS or MRT station for ease of transport arrangement is the best practice. Alternatively, you can still depend on a taxi or Grab when getting around.
Related Thailand Travel Stories:
Traveling to Bangkok for food? Here is the best food listed to help you decide where and what to eat in Bangkok.
Planning a beach holiday to Phuket? Get to know more before planning your trip to Phuket.