Last updated on September 23rd, 2023
If you are in Chiang Mai, make sure to stop by Khao Soi Mae Sai for some of the city's famous food. It is rated as one of the must-eat for khao soi in Chiang Mai.
It is impossible to come to Chiang Mai without eating a delicious Khao Soy, a specialty of the Northern Thailand region. During our trip to Chiang Mai, we spent quite a while trying to decide which Khao Soi place to try. Khao Soi Mae Sai is one of the places we taste for the best Khao Soi.
The Khao Soi we had from Khao Soi Maesai was so delicious, that I have no words to describe the flavors and textures found in just one plate. You should go there if you want to try the traditional food of Northern Thailand.
Let's check out our food experience in Khao Soi Mae Sai – probably the best Khao Soi in Chiang Mai!
Khao Soi Mae Sai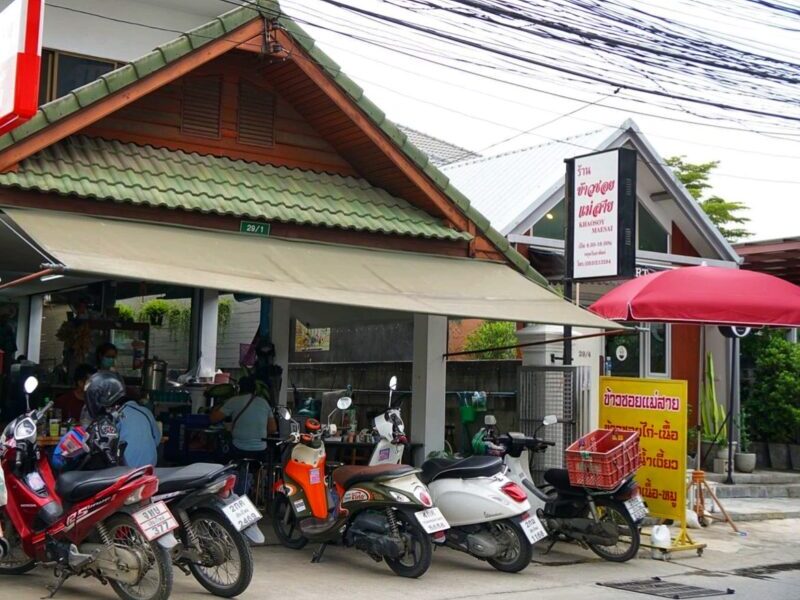 Khao Soi Mae Sai is one of the popular places to eat Khao Soi in Chiang Mai. The place has been very well reviewed on social media networks, websites, and even on local Thai TV programs. It even rewarded with Michelin Bib Gourmand for continuous 3 years (still counting!) for its good quality food.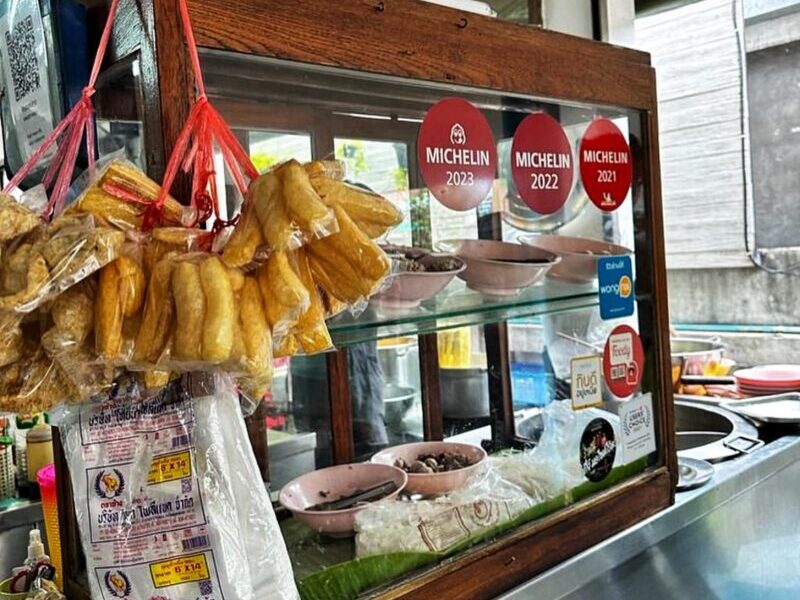 The price is also very reasonable. Depending on the meat chosen, the price is only about 50 to 60 baht. It offers fantastic fare at great value.
Khao Soi Maesai is open from 8:00 to 16:00. But some of the food on the menu is finished at about 14:00 due to the popularity. Arrive early to avoid disappointment.
Khao Soi Mae Sai (ข้าวซอย)
Opening Hours: From 8:00 to 16:00. Closed on Sunday.
Address: 29, 1 Ratchaphuek Alley, Tambon Chang Phueak, Mueang Chiang Mai District.
How To Get to Khao Soi Mae Sai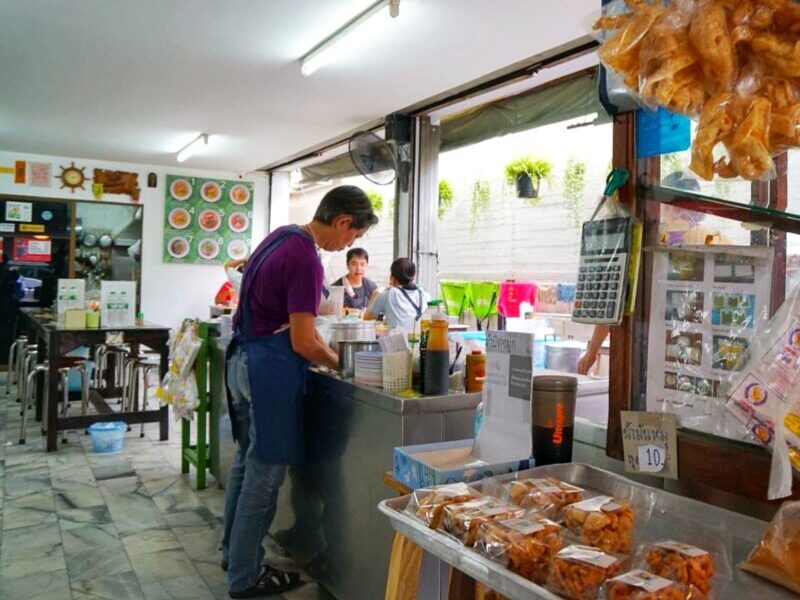 Khao Soi Mae Sai is conveniently located in the heart of the Nimman. It is easily accessible on foot with an easy walk from Maya Shopping Center. From the Old Town area, you can walk from the North Gate of the old city. Alternatively, just get to the restaurant with the Grab app easily!
Please take note that parking is limited.
The place is usually busy and packed with tourists and locals. It usually with queue outside. But no worry as the line moved very fast and the waiting time was not long. There is even a queue system in a busier period. Just grab a number when you get there and wait to be called.
We waited for about 15 minutes before seated.
How To Order in Khao Soi Maesai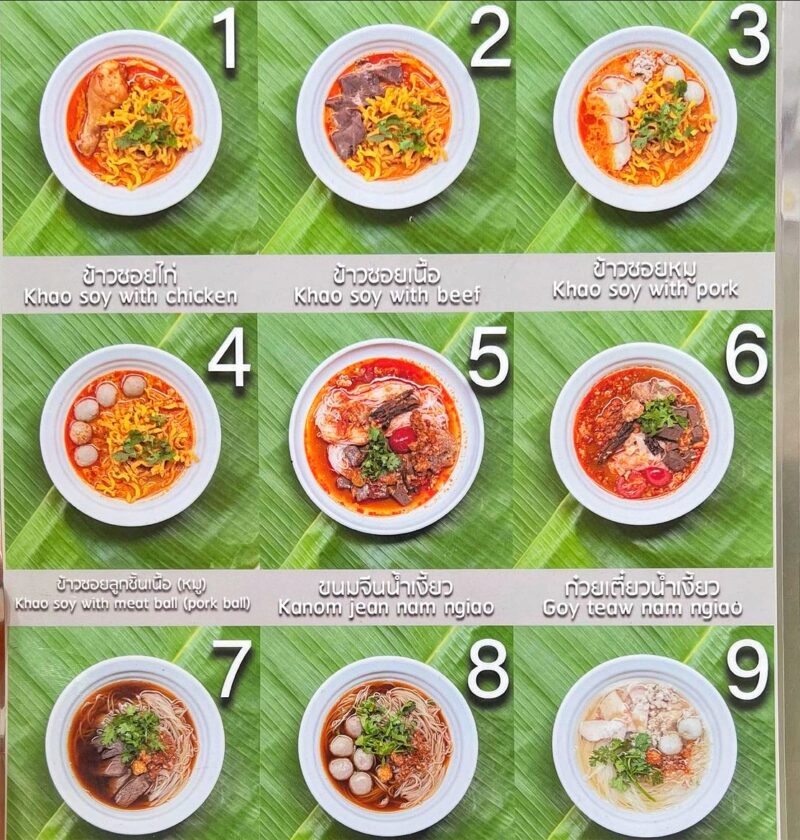 Khao Soi Maesai has a very pleasant and friendly atmosphere. The staff here are very friendly, competent, and can speak English. The place is not too big and only has about 10 to 15 dining tables. It is possible that you had to share a table with other people unless you came as 4 people.
Ordering food is pretty straightforward. There is a plastic menu with pictures with numbers. You order by writing on a little pad of paper when you sit down and then hand it to a server at the counter. Can't get easier than that!
Obviously, Khao soi is the most popular noodle dish here, but the other noodles on the menu are equally good. We each ordered the popular khao soi gai (chicken curry noodles), together with Thai milk tea.
Khao Soi – Curry Broth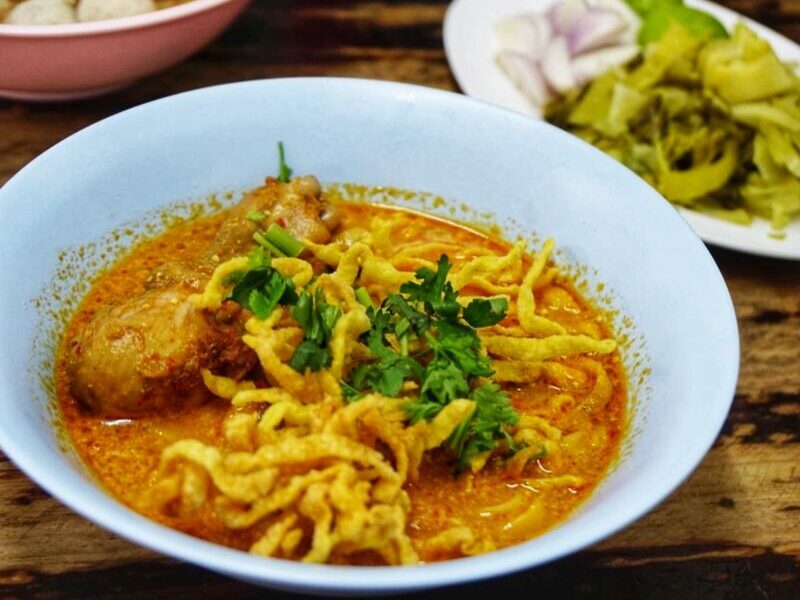 Without a long wait, our Khao Soi was served. The bowl comes with a plate of greens, shallots, and lime wedges. Put some or all in your khaosoi and squeeze the lime.
The khao soi is perfect – just the right amount of heat, sweetness, and accompaniments!
The curry broth is flavorful and smooth. There was just the right amount of coconut and well balanced with seasoning in it. It was not too crazily spicy but incredibly tasty, especially when you add that squeeze of lime. But you may also add on chili if you prefer spicy.
Khao Soi – Crispy Egg Noodles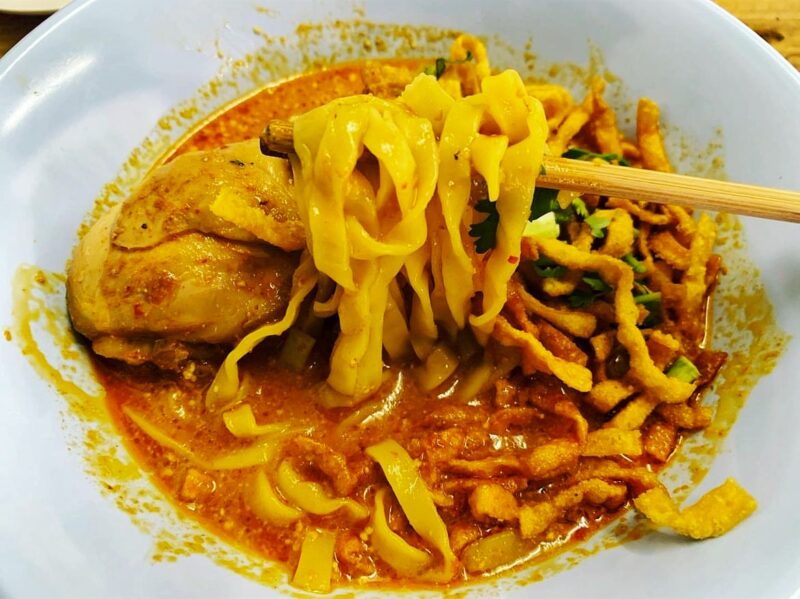 The chicken is cooked to perfection. The meat is tender and just melts in your mouth. While the noodles are chewy with excellent texture. We particularly like its crispy egg noodles, something to die for!
Overall, the proportions here are good though with meat, noodles, curry broth, and some vegetables. A well-balanced bowl of khao soi.
Overall: Is Khao Soi Mae Sai the best in Chiang Mai?
All in all, we highly recommend anyone who visits Chiang Mai to eat in Khao Soi Mae Sai. The khao soi here is phenomenal, absolutely heavenly. We have tried others in Chiang Mai, and this one is far and away the best during our food trip in Chiang Mai. Even if this is not your favorite Khao Soi but definitely in the top three!
If you're in Chiang Mai, drop by Khao Soi Mae Sai to taste the best Khao Soi in Chiang Mai!
Did you enjoy this Chiang Mai Khao Soi Food Review? We have more Thailand travel stories to share for your holiday. Free feel to check it out.
Travel to Chiang Mai and Chiang Rai: