Last updated on September 23rd, 2023
If you are in Osaka you simply must go and experience the legendary Izakaya Toyo! A standing street food stall specializing in seafood and sushi with a local vibe located close to Kyobashi Station.
Osaka is one of Japan's greatest street food cities and as soon as you arrive and start exploring the city, you'll discover that there's an abundance of delicious things to eat everywhere you look. There are so many to food in Osaka, but one can't miss the legendary Izakaya Toya.
Izakaya Toyo (居酒屋とよ) is a popular Osaka street food vendor that specializes in seafood. It was started by owner and chef Toyoji Chikumoto in 1992. Toyo-san has been through so much and he has succeeded in his dream. His life story appeared in the Netflix episode on Osaka's street foods and you will have a deep appreciation for Toyo-San.
After knowing the chef's story, we planned and visited Izakaya Toya during our visit to Osaka. We had to come to try out his food and have a look at his kitchen. Let's read more about our food journey to Osaka's best street food – Izakaya Toya.
Izakaya Toyo by Chef Toya San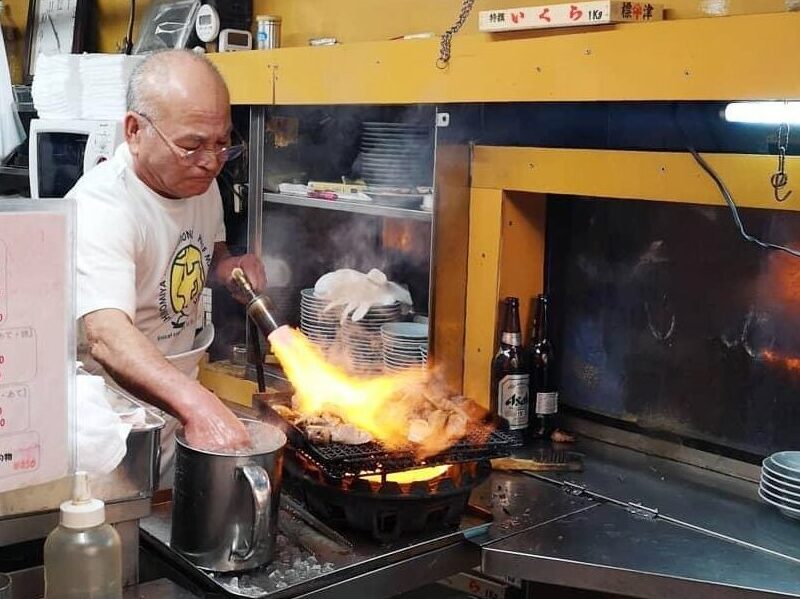 The legendary Izakaya Toyo is conveniently located near Kyobashi Station, within 3 minute walk on foot. It is on a spot that used to be a parking lot and convert into a very simple stand-up restaurant.
Be warned this is no seat and you'll stand while enjoying your food together with others, just like what has been shown on the Netflix show.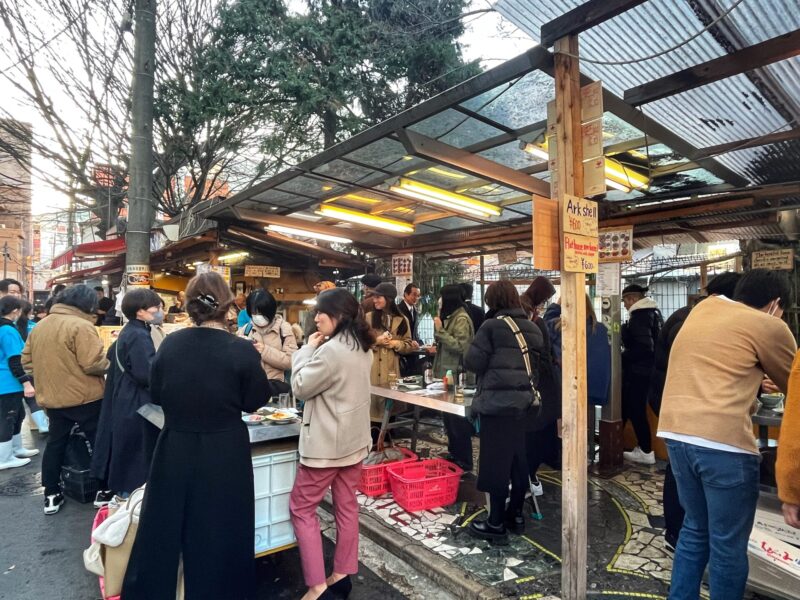 Run by Toyo-san, Izakaya Toyo specializes in seafood, especially sushi. And Toyo-san is what makes the simple eatery so special. He's an entertaining and jovial man.
He is known for using his flame thrower blowtorch to cook food. It went viral as the way he grilled seafood with the blowtorch and his bare hands, which almost looks like attacking the grill.
Izakaya Toyo (居酒屋とよ)
Address: 3 Chome-2-26 Higashinodamachi, Miyakojima Ward, Osaka.
Getting there: 3 minutes walk from Kyobashi Station.
Operating hours: Closed on Thursday, Sunday, and Monday.
Pro Tips: Always check their website for the opening time before your visit!
Osaka Food Tips:
When looking for best food in Osaka, we recommended staying nearby subway station to ease on transport arrangement. Check for the best price and biggest selection of hotels in Osaka check prices for
Osaka Best Hotel from Booking.com
. We found they are the best option and have a great cancelation policy.
Our Visit To Izakaya Toyo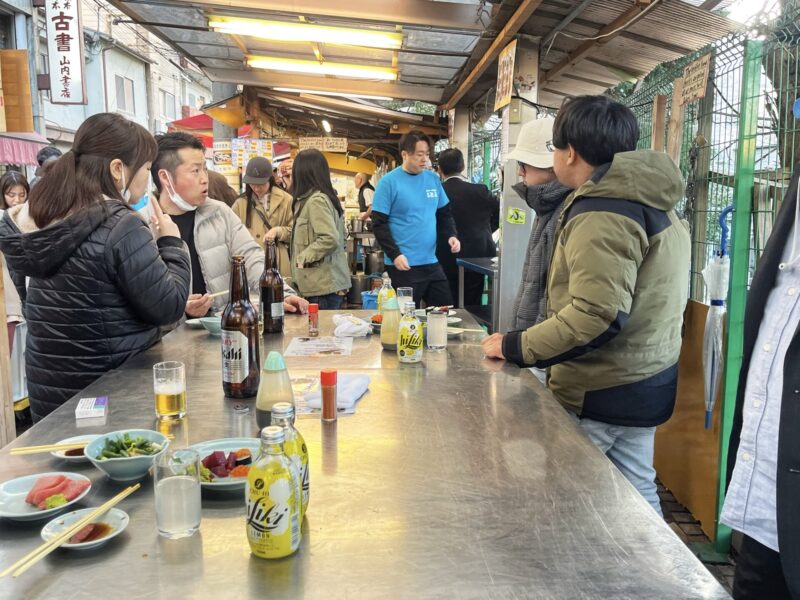 We visited Izakaya Toya in the early evening. It is not the lunch time, but all the tables are still filled with patrons on the weekday. There's usually a line of people waiting to be fed, but the lines move quickly. Glad that we only waited about 10 minutes to get in. The people there customers and staff alike are all friendly and helpful.
We get a table at the end and shared it with lovely locals. It is away from Toyo's cooking station so we can't see him in action but Occasionally, we can hear Toyo's energize voice. He is such a personality, is friendly, and talks with others. The vibe is casual and easy.
What To Eat in Izakaya Toya
Once you are taken to a table, we were given the menu to decide what to eat. The service was astonishingly quick. Also, the staff speaks decent English and is helpful.
The menu is short with pictures displayed, but you can't go wrong with your order.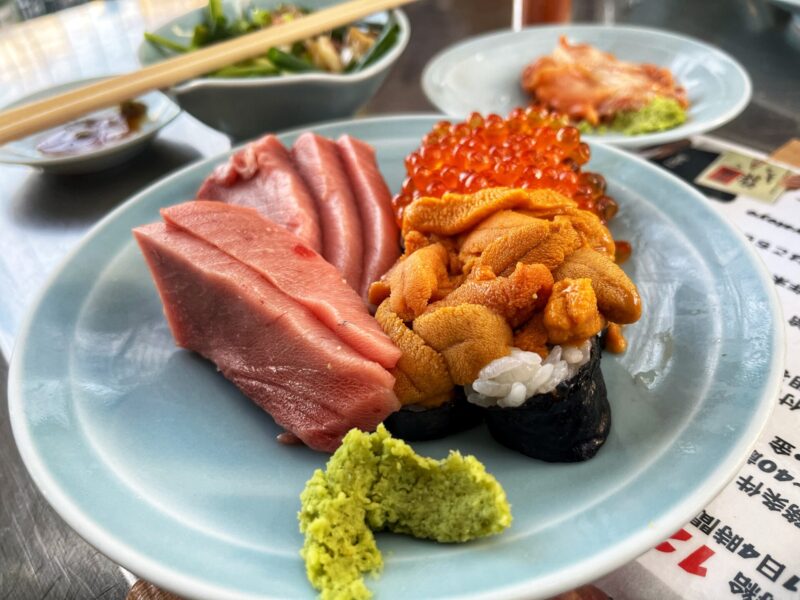 There are three types of amazing tuna (maguro) that differ in the amount of fat in it, cut into thick pieces: lean meat, fatty tuna, and more fatty tuna. Servings are large and are designed to be shared.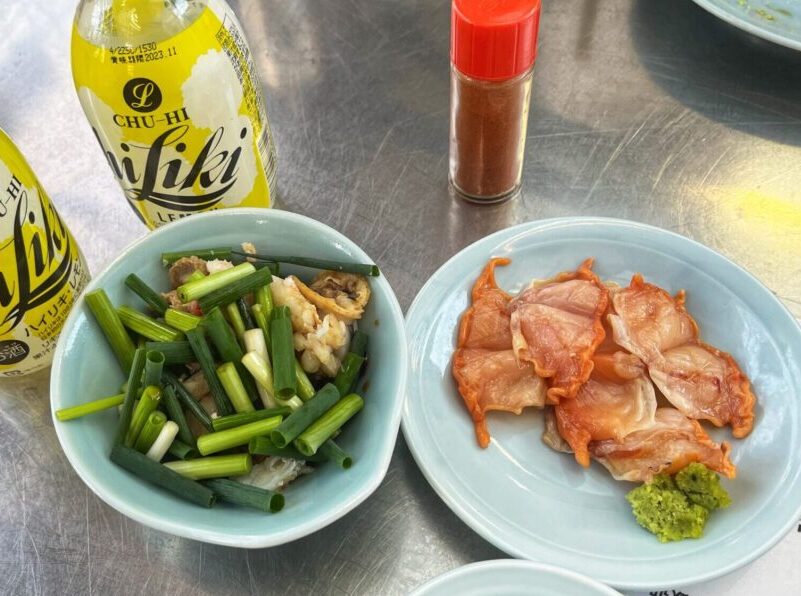 Between us, we shared a large portion of fatty tuna and sea urchin with fresh, lightly pickled, generously portioned tuna sushi, grilled eel, and other side dishes.
The serving is in good portions at a fair price.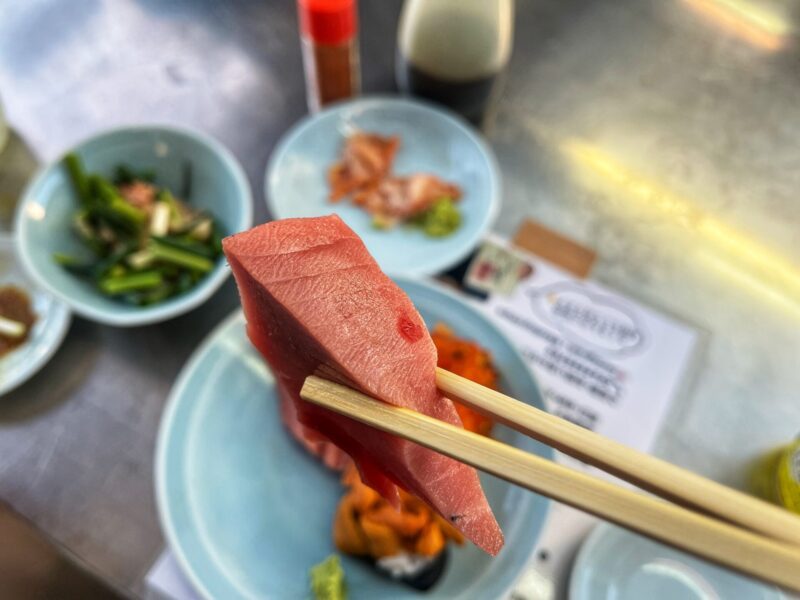 Toro is the chef's signature dish and they are a must-have because it was so delicious. The fatty toro just melts in your mouth and the sea urchins are fresh and sweet.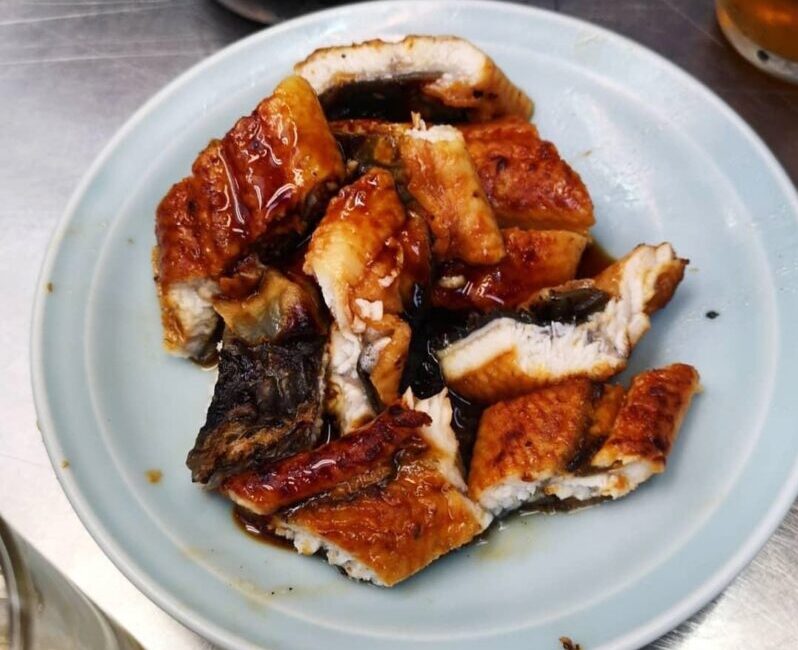 The broiled eel (unagi no kabayaki) is also delicious as you taste it melting in your mouth!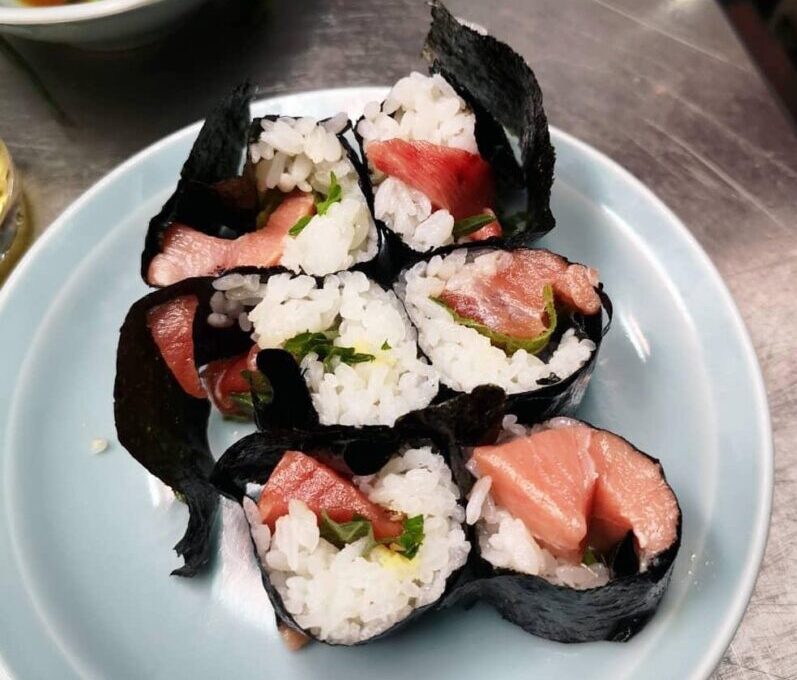 Next, there's super fresh tuna sushi, which come in a large portion compared to other restaurants and, of course, taste amazing.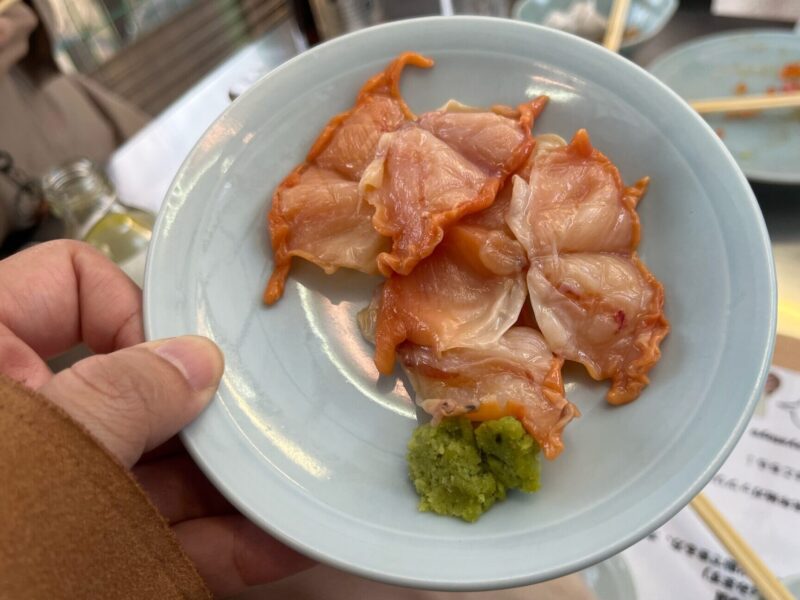 Besides the Izakaya Toya standard menu, every day some dishes are the chef's recommendation, based on the items that are fresh from the day's market.
We have the Ark shell and it was so fresh and sweet.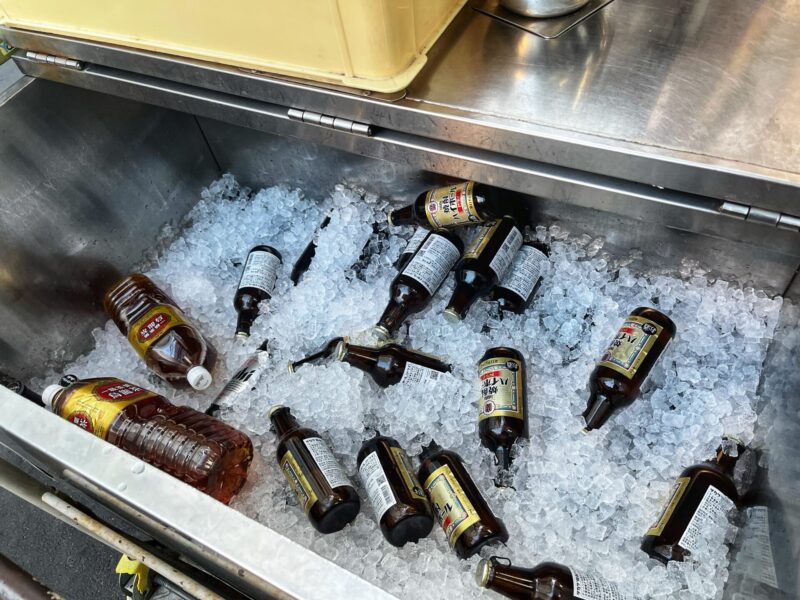 For drinks, you can get your own alcoholic drinks from the cooler next to the tables, or serve yourself some iced tea as well. All this is self-service and the staff will count the bottles left.
The atmosphere is fun and chatty, and everyone there seems to be in a good mood.
Overview: A Food Trip to Izakaya Toyo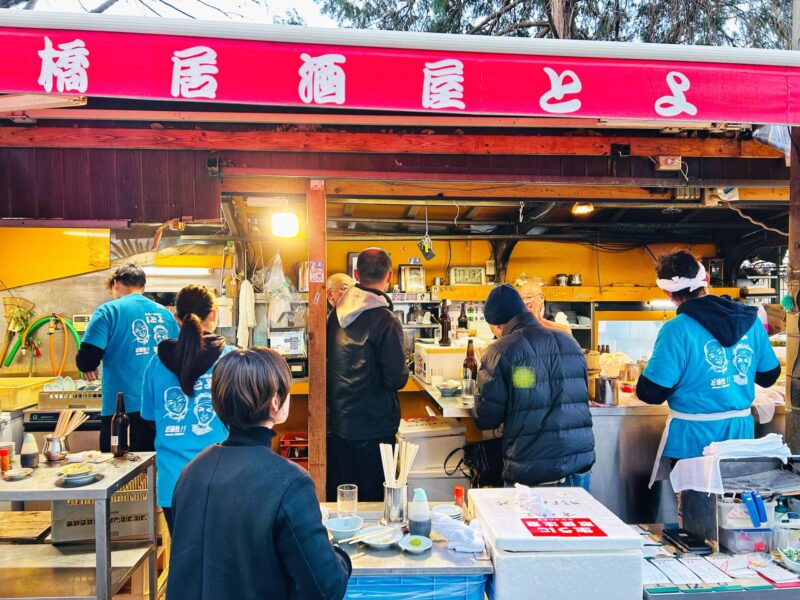 If someone ever asked me where to eat in Osaka to feel the essence of the city, Izakaya Toyo is the right place!
We highly recommended Izakaya Toyo to experience the charm and passion of Toyo san. The casual vibe and the chef's loud energy makes for a great experience. It was nice to see locals of all ages and walks of life coming here for a bite and a drink after a busy day. The quality of the food is excellent and fresh. You won't be disappointed.
In short, Izakaya Toyo is well worth the visit. We truly enjoy the vibe and food. I can't wait to visit Toyo again!
Related travel stories to Kyoto, Osaka, Nara, and Uji in Kansai region:
Osaka Food Guide: Top 8 Unique Food To Eat in Osaka