Last updated on September 23rd, 2023
A walking guide for Meiji Shrine, Harajuku, and Shibuya itinerary that shows you how to plan your visit including things to do and what to eat within one day.
The popular Harajuku and Shibuya are the most popular attractions in Tokyo city. These two places are known for Japanese youth culture, trendy fashion, Anime cosplay, and the world-famous scramble crossing.
If this is your first visit to Japan, then consider spending a day in Meiji Shrine, Harajuku, Shibuya, and its many other sightseeing spots. A good combination itinerary is Meiji Shrine in the morning, have a look at Takeshita street, walked to the Shibuya, admire the busiest Shibuya Crossing, and spend your time in Shibuya in the afternoon and evening.
In this travel blog, we've put together a complete walking guide with Meiji Shrine, Shibuya, and Shibuya itinerary within one day. Together with some must-eat food and travel tips, this little travel guide will help you to visit these popular attractions in Tokyo. Make sure to read this before you plan your visit!
Planning on Meiji Shrine, Harajuku, Shibuya Itinerary
Here is my walking route for One Day itinerary to Meiji Jingu Shrine, Harajuku, and Shibuya:
Start your itinerary at Meiji Jingu Shrine
Walk along Takeshita Street
Try the Harajuku Must Eat: Crepe
Walk from Harajuku to Shibuya: Cat Street, Omotesando Street
Find Hachiko Statue outside Shibuya Station
Photographing at Shibuya Crossing
Lunch at Shibuya
Shopping at Shibuya Center Gai
If you're visiting Tokyo for sightseeing, stay at Hotel Sunroute Plaza Shinjuku (my favorite place to stay). It's the perfect base to explore the city with a superb strategic location (JR Shinjuku station is located just about 3 minute's walk from the hotel).
Meiji Jingu Shrine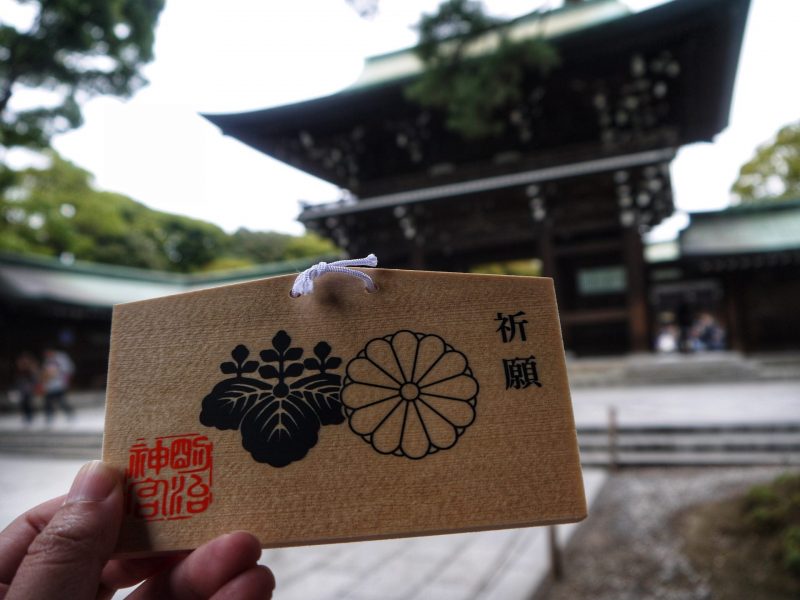 Meiji Shrine (明治神宮, Meiji Jingū) is the most famous and largest shrine in Tokyo. Located in Shibuya, Meiji Shrine was founded in 1920, primarily to honor the Meiji Emperor and the Empress. It is surrounded by lush green forests and gardens even though situated in the heart of the city.
For visitors, Meiji Shrine is the best place to learn about the history of Japan. But, it is also an important religious place that locals will gather to pay their visit at the start of every New Year.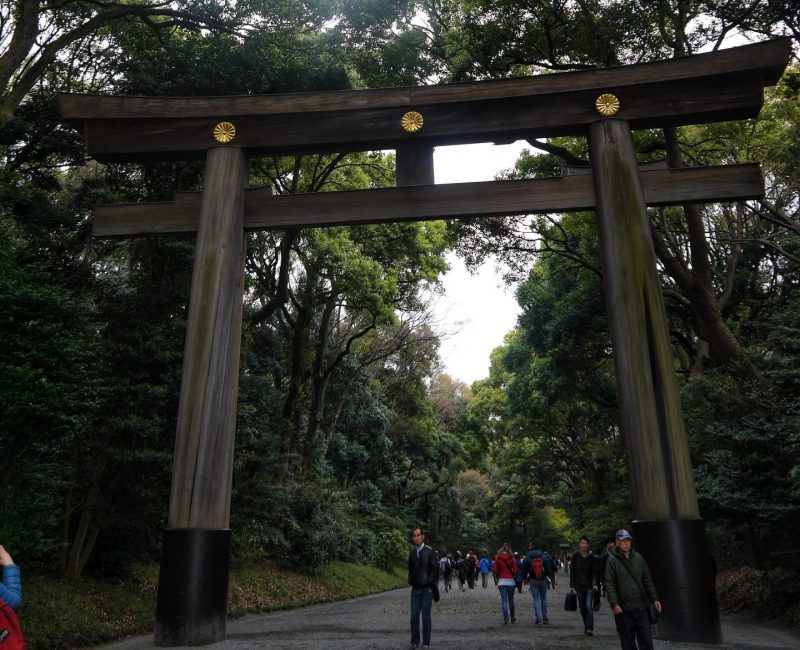 Start your Meiji Shrine itinerary by taking the JR train to Harajuku station. The entrance of the Meiji Shrine is only a minute's walk from the JR Harajuku Station on the Yamanote line. Continue to walk toward the shrine and cross over a bridge, there will be thousands of trees lining its entrance with a massive wooden torii gate that will guide you into the Yoyogi Park.
Serene Yoyogi Park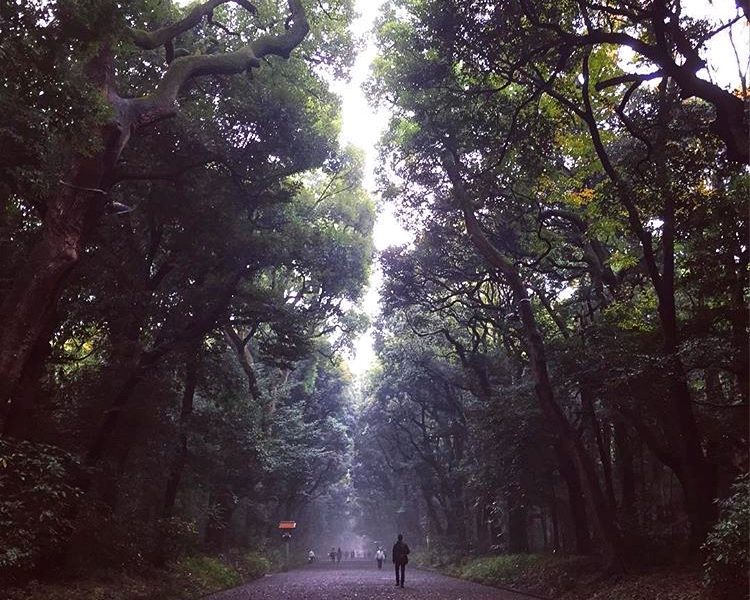 It is a very peaceful walk towards the shrine that immediately helps you relax whilst passing through the torii gates. The serene Yoyogi Park is a huge park with a wide walkway. It covers about 73 hectares and contains about 100,000 trees donated from around the country creating a tranquil setting that makes you forget you are in one of the largest cities in the world. Enjoy a pleasant walk in nature!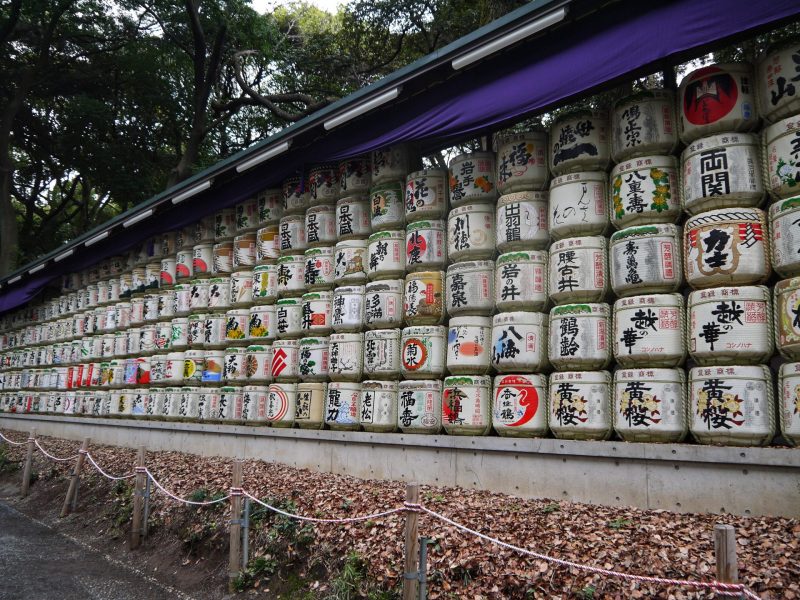 On the way to the main shrine, there is a teahouse, cultural hall, large stacks of sake and wine barrel, and a lot of displays with explanations about the shrine and its history.
Some of them required 500 yen each for the entrance fees. You can enter the Treasure House and view many of their belongings, including their personal carriage. Or visit the Inner Garden to upgrade your spiritual status.
Temizuya Meiji Shrine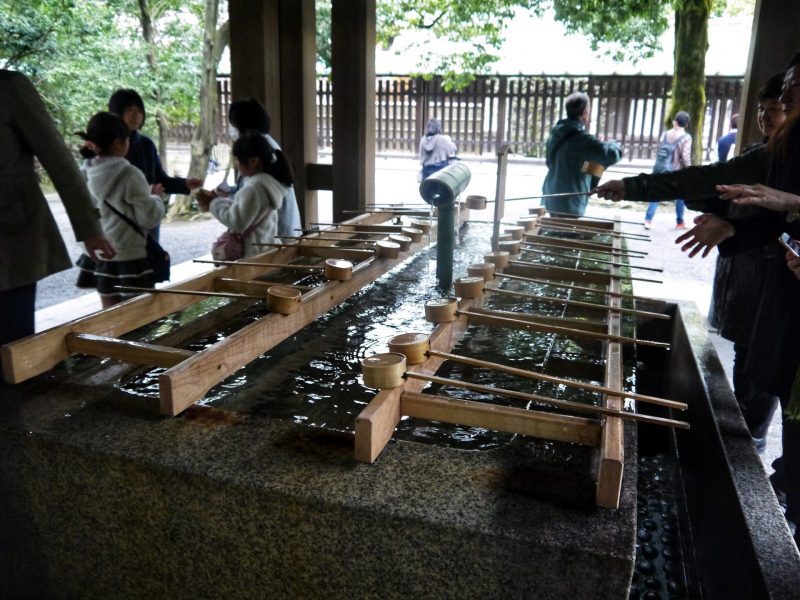 When you get to the main shrine, it is important to respect the Shinto religion. Perform the ritual washing by rinsing your hands and mouth at Temizuya before entering the shrine and offering prayers and wishes.
The Meiji Jingu Shrine is a beautiful architectural structure of the Japanese emperor's history. Walk into the main courtyard and enjoy traditional timber construction and craftsmanship, along with the tactile sensations.
If you are lucky, you can see babies being blessed or even a traditional Shinto wedding. During our visit, we were very lucky to see a traditional Japanese Shinto wedding in procession. What a great experience indeed!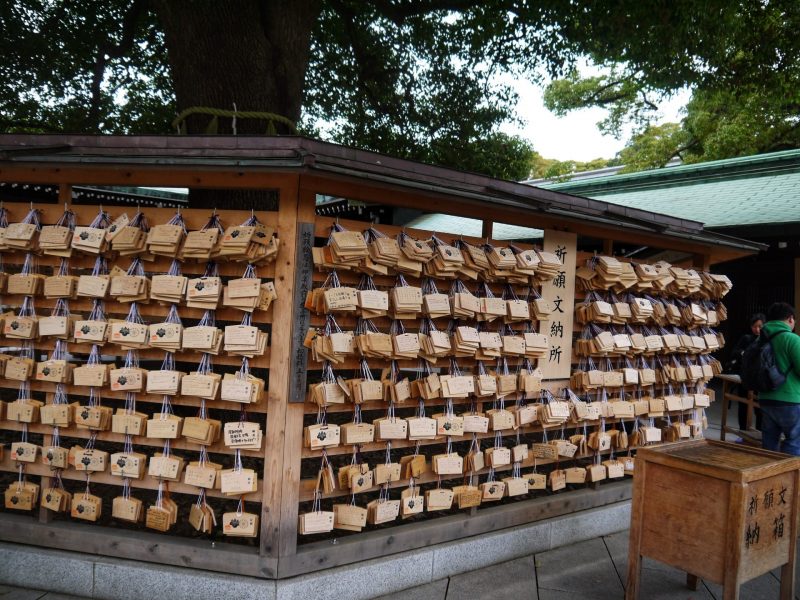 Don't forget to make a wish for Health, Good companionships, success in studies, or good fortune. You can buy one of the prayer boards for ¥500, write a prayer on it and place it on the hanger. The monks will take the requests and pray for you. Or purchase a small charm for best luck.
In short, it is a good start to start your day in Tokyo with the Meiji Shrine itinerary. I felt positively serene walking through the tall trees on the approach to Meiji-Jingu Shrine. It has to be on everyone's must-see list to feel the tradition of Japan.
Meiji Shrine Itinerary Travel Tips: Come early and be sure to get there before sunset. The park will be closed and you'll be asked to return when it re-opens the next day. Expected to spend 60 – 120 minutes including the serene walk.
Getting to Meiji Shrine: Get off at JR Harajuku Station (JR Yamanote line) or Sangubashi Station (Odakyu Odawara Line).
Takeshita Street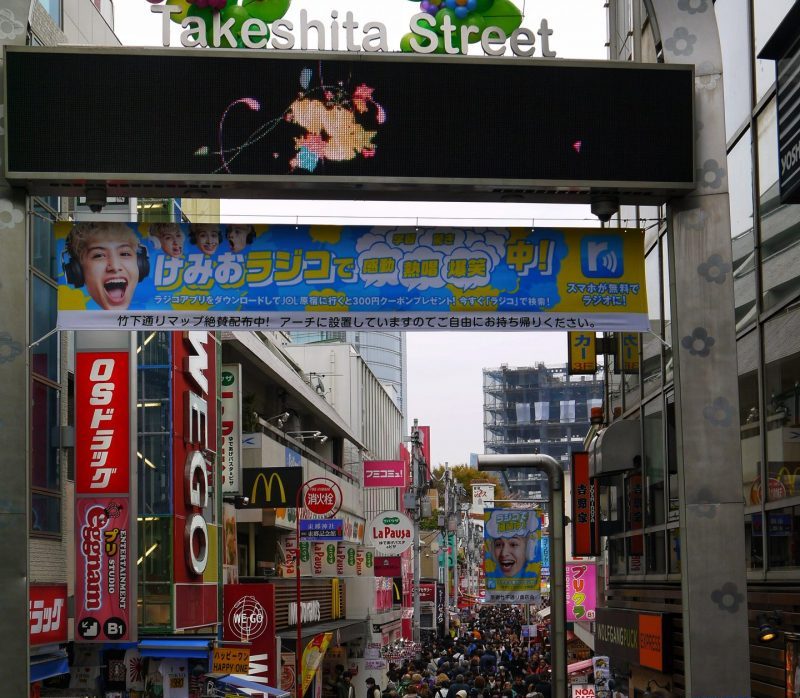 After praying for good fortune in Meiji Shrine, now let's continue our exploration to the Harajuku itinerary. Takeshita-Dori Street (原宿竹下通り) is one of the main reasons that make Shibuya such an exciting and hip place. It is a popular busy street with colorful shops offering unique, quirky, and trendy fashions. The atmosphere is totally different at the tranquil Meiji Jingu Shrine. It will be an eye-opener for the first-timer here.
From Meiji Shrine, a short walk will lead you to the famous Takeshita Street in Harajuku. It is the most visited place by young shoppers and teenagers. You can find many teenagers dressed in costumes like Anime cosplayers, lolita, and punk musicians, hanging around at Takeshita Street, especially on weekends and holidays.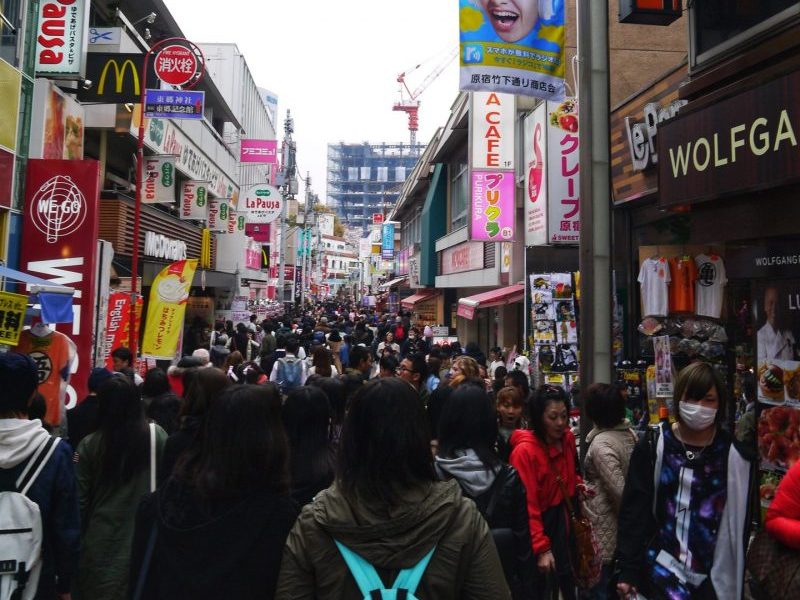 There are many things to see and buy along Takeshita Street. If you're into 100 yen shopping, the three-story Daiso sells everything including home decor, stationery, kitchenware, cosmetics, and all sorts of things you may (or may not) need.
Alternatively, hook into the animal-themed cafes where you can meet adorable animals including owls, dogs, cats, and even a hedgehog. You will need to pay to enter for a session of time duration with a drink. It is one of the unique and interesting spots when visiting Harajuku. Worth popping in if you are an animal lover.
The 300-meter street takes about 10-15 minutes to walk from one end to another. But there are tons of fun at Harajuku Takeshita-dori street that can easily spend one or two hours here.
Getting to Takeshita Street: Get off at JR Harajuku Station (JR Yamanote line).
Harajuku Must Eat: Crepe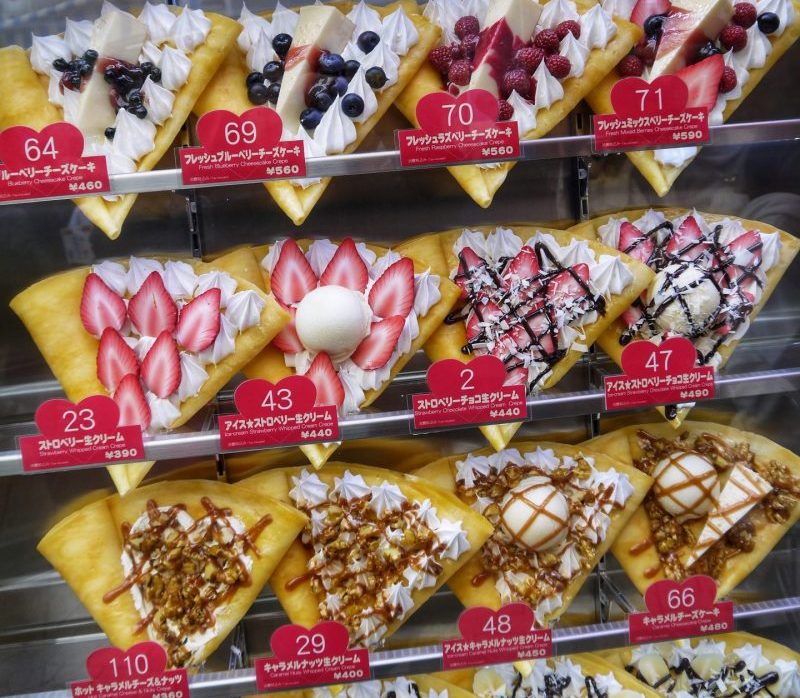 Strolling along Takeshita street, there's a good chance you'll be struck by the must-eat food in Harajuku. The trendy Takeshita Dori street has been known for selling the Calbee, rainbow candy floss, ice cream, and also the most popular crepe.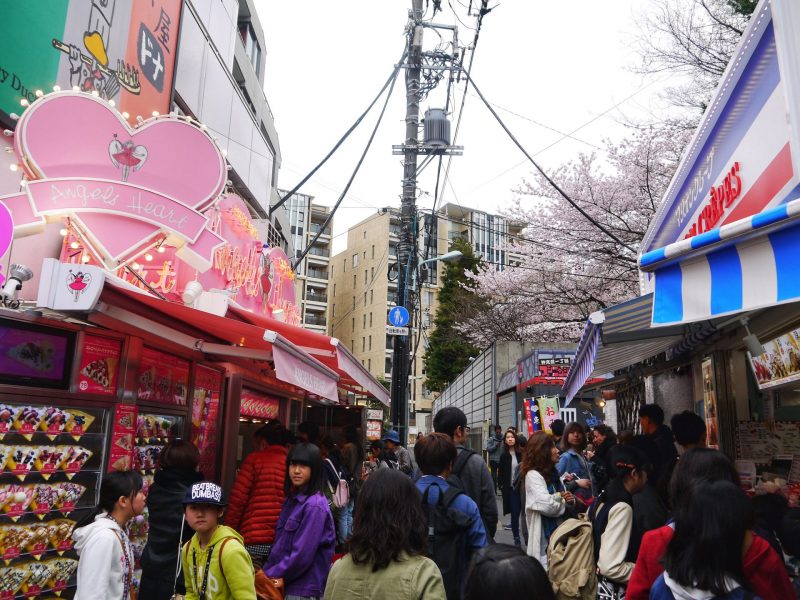 There are numbers of crepe stands gathered along Takeshita street. These are stores where you can get mouthwatering crepe with any topping you could think of. Two popular crepe stores that have garnered much attention are Angel Crepes and Marion Crepes.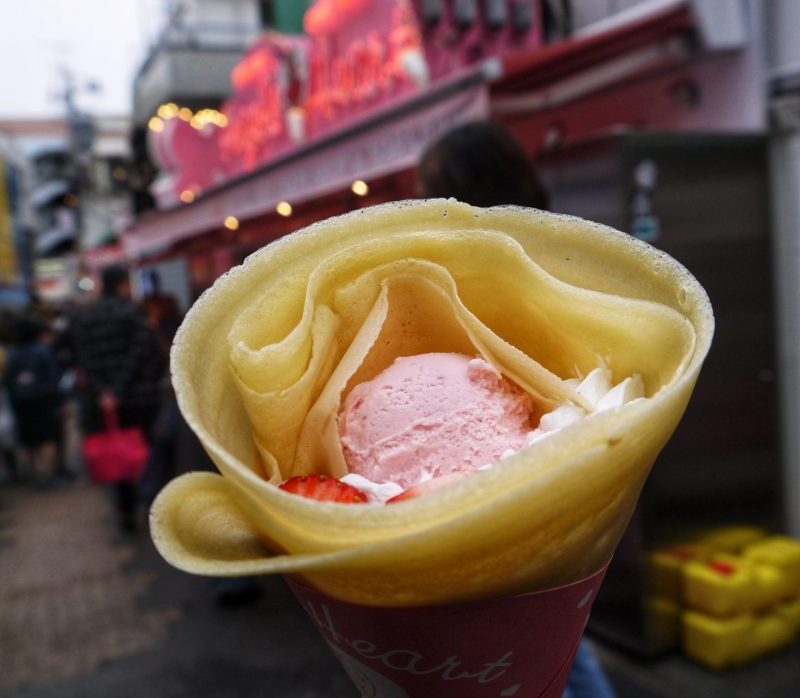 We had the opportunity to try the Harajuku must eat at the oldest crepe store in Marion Crepe. All the crepes are delicately prepared and super delicious. Choose from a million different kinds of crepes or create your own crepe from a wide range of toppings. A must-eat food in Harajuku.
If crepe is not your thing, you can also try another dessert at ZakuZaku for a long stick puff with delicious creamy milky Hokkaido cream. Or get the friend fresh potato chips at the Calbee+ with various flavors.
Walk From Harajuku To Shibuya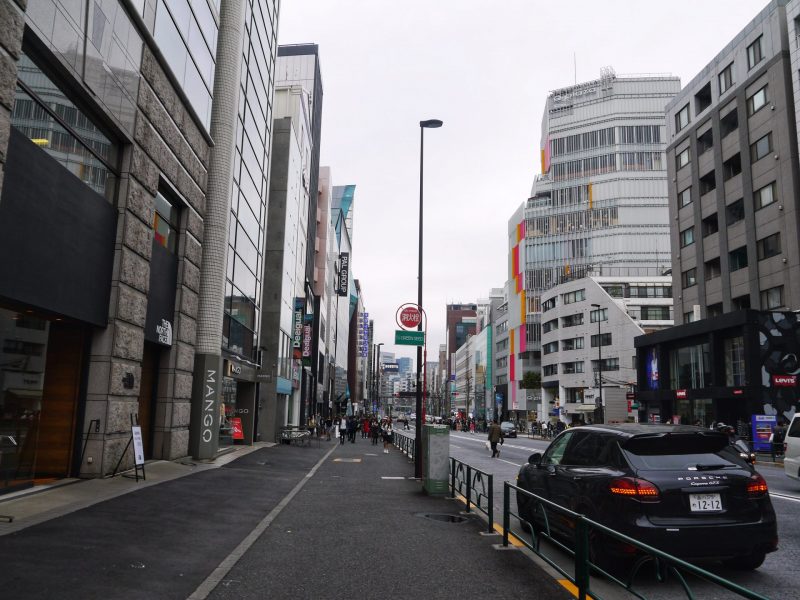 Next on our itinerary is to proceed to Shibuya. You can choose to get to Shibuya from Harajuku via subway or on foot. The walking journey from Harajuku to Shibuya takes approximately 30 minutes on foot.
Harajuku is connected to Shibuya by 'Cat Street'. It used to be many cats here. But it is now the coolest street in Tokyo with stylish stores, boutiques, and galleries. Feel free to pop into any of these shops during your walking journey.
Continue the walk to Omotesando Street, the Champs Elysees of Japan were many trendy and famous international brand-name stores lined along the street. A leisure walk to experience the shopping culture in Tokyo.
Find Hachiko Statue Outside Shibuya Station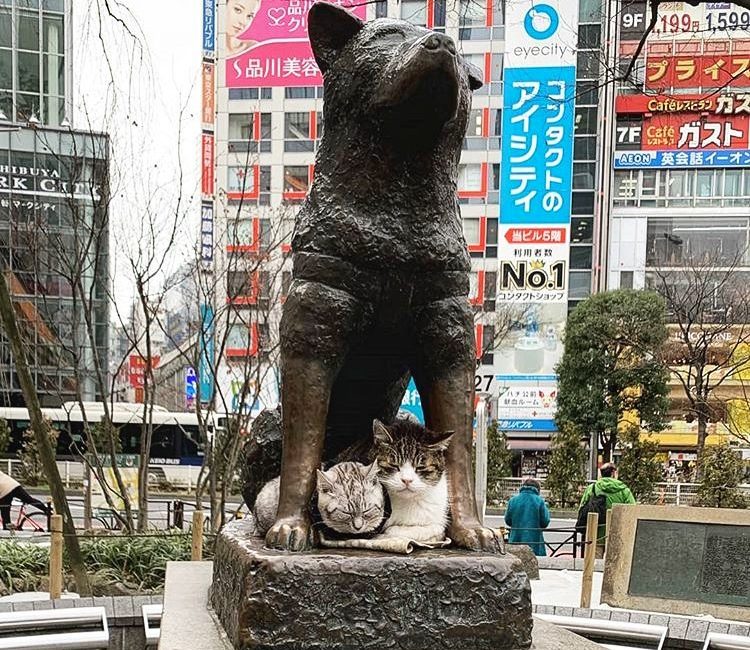 It is always easy to tie in your Shibuya itinerary with a short visit to the Hachiko statue outside Shibuya Station. The Shibuya station is a busy station that served almost all the important train lines in Tokyo. You can meet the Hachiko statue once exit from the Hachiko exit.
The Hachiko statue is an iconic gathering spot for the people of Tokyo. It's also become a popular photography spot recently. Many people come here to see how most of the time some cats rest under the protection of Hachiko.
It is a good royal story behind the Hachiko statue. A faithful dog waiting for his diseased owner, Professor Ueno in front of Shibuya station after its own death. Many people lined up to take pictures with the Hachiko dog statue. Not a must-see in the Shibuya itinerary but worth spending a few minutes to take a selfie with this signature statue.
Photographing at Shibuya Crossing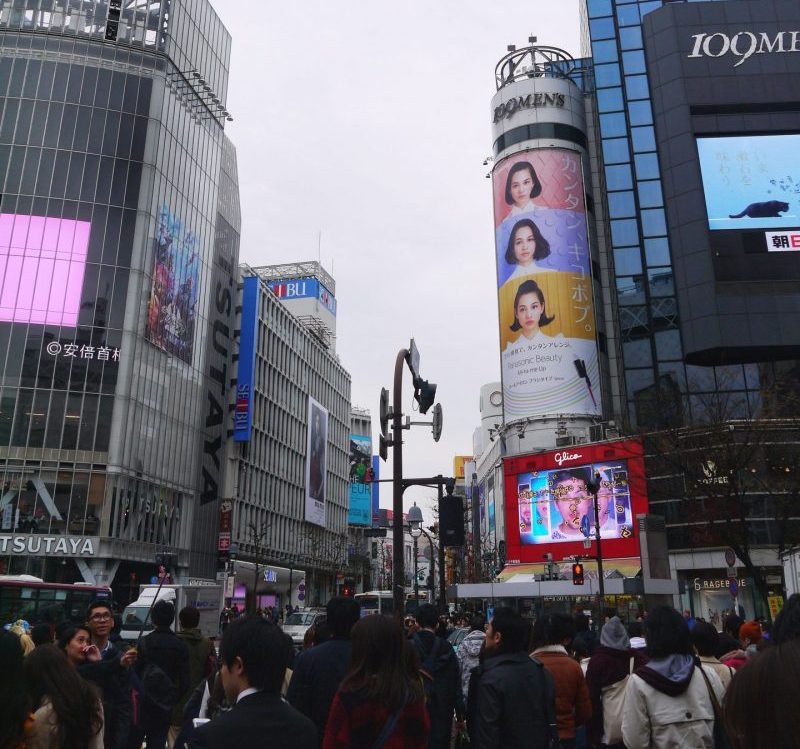 A short walk from Shibuya station is the home of the world's busiest intersection in the world, "Shibuya Scramble Crossing". This iconic Tokyo landmark is where 7 crossroads come together and the lights all turn green at the same time.
It is really a sight to see whether it's day or night. Large crowds of pedestrians can be seen crossing the roads in different directions without colliding with one another at these times. We have never seen a crossing such as this anywhere in the world. It's amazing to watch and join the crowd by crossing the intersection together. Busy day and night.
Getting to Shibuya Crossing: About a 5-minute walk from Shibuya Station.
Lunch at Shibuya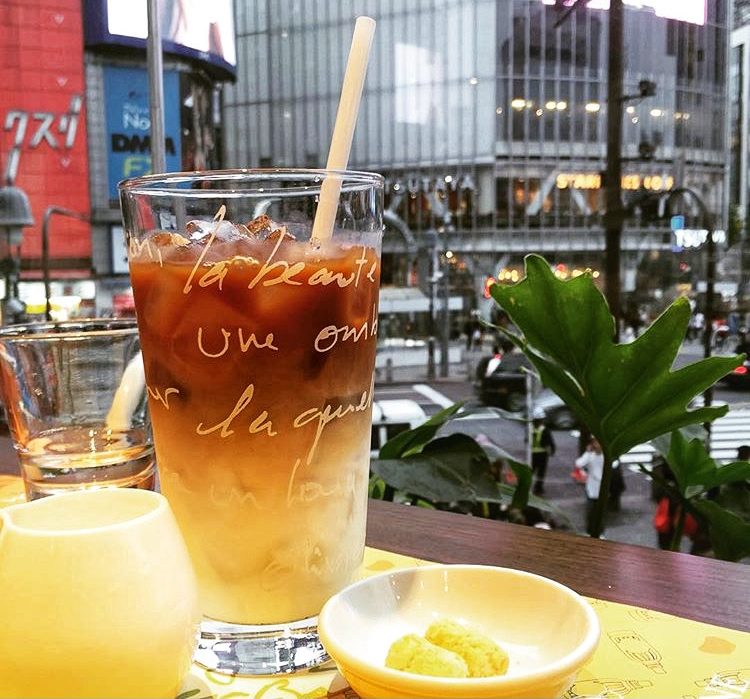 The best spot to view the Shibuya crossing is from some of the shops and cafes nearby the Shibuya junction. There are a couple of places with a wide variety of good food to dine in. Some are very popular due to providing a good vantage point for Shibuya Crossing. It's recommended to go to the second floor of one of the buildings where you can get a bird's-eye view of the intersection.
The Starbucks coffee shop is one of the popular choices for viewing Shibuya Crossing if you'd be very lucky to get the table. It is always crowded with people, especially during the weekend.
Originally we plan to have our lunch at one of the ramen shops on Shibuya Gai Street. However, we were lazy and decided to have our lunch at Loccitane Cafe Shibuya. It is located on the first floor above the L'Occitane shop at the Shibuya junction, with a great view of this famous scramble crossing. There are multiple floors and we were lucky to sit right against the windows.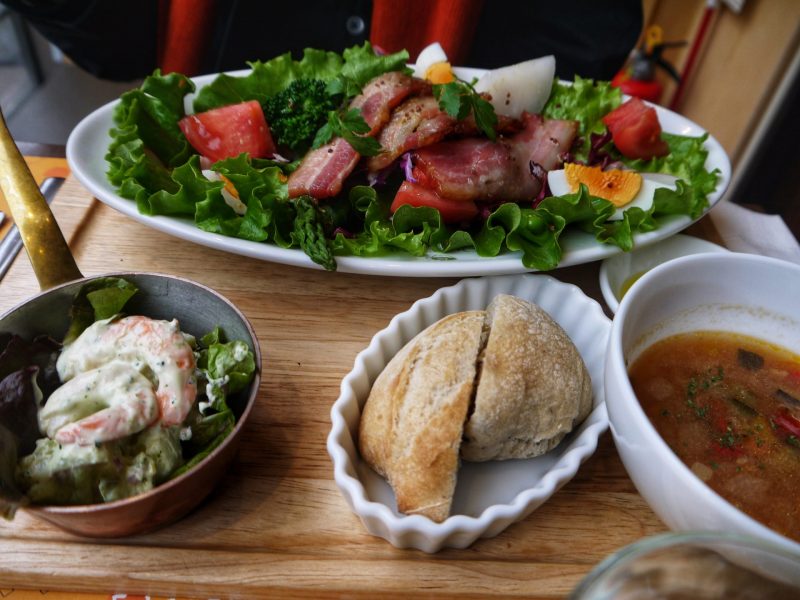 The menu is mostly served in western styles. We had our drink and also a lunch meal with good quality ingredients and attractive planting. It is fun to enjoy your lunch while watching the organized chaos of Shibuya Crossing at each 2-minute interval. Enjoy!
Shopping at Shibuya Center Gai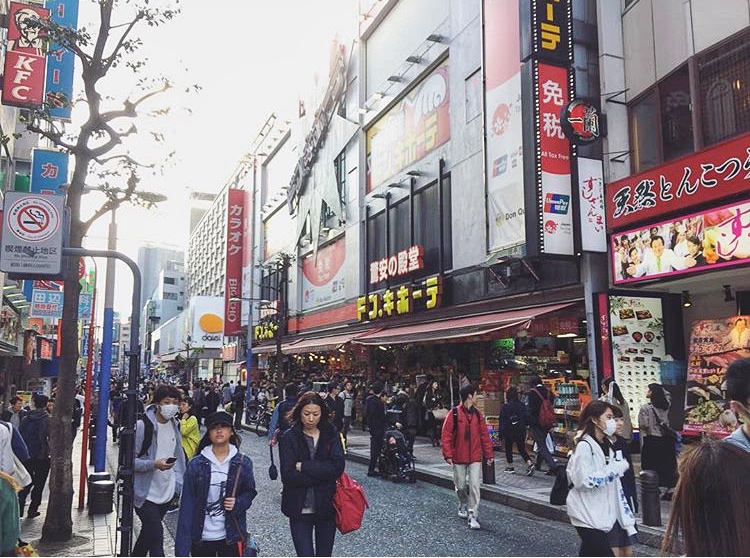 For those who love shopping, Shibuya Center Gai is the place you must drop by when visiting Shibuya. There are countless shops. restaurants, and expansive malls located in this iconic street of Shibuya. From shopping for clothing, trendy cosmetics, or a great place to eating ramen and sushi, there are many things to do in Shibuya Center Gai.
The Shibuya 109 is definitely worth visiting in Shibuya. It is also the most iconic building in Shibuya and popular among locals for the latest trendy fashion items. Alternatively, LOFT and Shibuya Mega Donki is also a great place to look for a variety of goods.
For shoppers who love Japanese clothing at a cheaper price, walk into the most famous Japanese clothing brand, Uniqlo which is located at the edge of the street. There are also many Japanese drug stores in Shibuya, that offer a variety of medicines and high-quality cosmetics products. Some even offer a better deal for shoppers at a bargain price. Shop till you drop!
Truly an amazing shopping experience for all ages in Shibuya.
Overview: Meiji Shrine, Harajuku, Shibuya Itinerary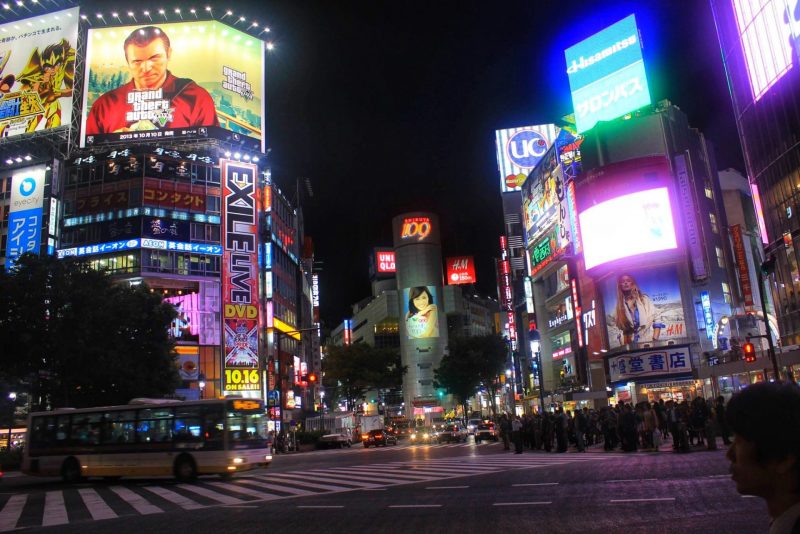 All in all, a visit to Meiji Shrine, Harajuku, and Shibuya itinerary is a must-do list if you are in Tokyo for some cultural satisfaction. The historical shrine, amazing people, Neon lights and media billboards, unique stores, and excitement make it a great place to see. We enjoyed the moments walking along the street from Harajuku to Shibuya. Definitely worth including the above itinerary and making a couple of hours of it when you get to Tokyo.
You may be wondering what to do in Tokyo with your limited travel time. Here are some of the useful travel guides with itinerary planning, things to do, and what to eat in Tokyo. Feel free to continue to read below Tokyo travel guide:
Tokyo Itinerary For 1, 2, 3 or 5 Days: A Complete Travel Guide Blog
More detail on Tokyo Travel Blog:
Tokyo Food Blog:
Tokyo Transport Guide:
Planning on a day trip to Hakone: