Last updated on December 11th, 2023
A visit to nostalgic Tokyo can be enjoyed around by an Asakusa Ueno itinerary with all the great sights and best food included.
There are so many things to do and see when you go to Tokyo. While most people will think of the megalopolis of modern skyscrapers when visiting Tokyo. But we recommended spending some time to experience the true local vibes. Located in Northern Tokyo, Asakusa and Ueno are great places to visit where visitors can feel the nostalgic atmosphere of the Edo period.
It's easy to fill up an one day Asakusa Ueno itinerary by visiting the notable tourist spots and places not many people know about! The Sensoji Temple, Tokyo's oldest Buddhist temple, is located in Asakusa and must-visit for first-time visitors to Tokyo. Besides, Asakusa and Ueno are only three subway stops from each other, which make them efficient distance-wise for a whole day of sightseeing. We visited Asakusa and Ueno for few times and still love to include them in our itinerary every time we visited Tokyo. Some of the attractions are particularly amazing during the sakura season.
In this Asakusa Ueno travel blog, we introduce the best way to plan your Asakusa Ueno itinerary by visiting the highlights, along with some of the travel tips and best food that we recommended.
Asakusa Ueno Itinerary
Take a look at our one-day Asakusa Ueno itinerary including the great attractions and best food of Asakusa and Ueno in one day!
Start your Asakusa Ueno itinerary to Sensoji Temple
Take a popular shot at Kaminarimon
Shop for a traditional souvenir on Nakamise Street
Try the traditional Asakusa specialties
Incense-cleansing with incense smoke for healing effect
Eat The Asakusa Tendon Rice
Relaxing stroll in Sumida Park
Tokyo SkyTree
From Asakusa to Ueno. Explore Ueno Park
Shop at Ameyoko Street
Tokyo Hotel Tips:
When looking for the best price and biggest selection of hotels in Tokyo check prices for
Tokyo Best Hotel from Booking.com
. We found they are the best option and have a great cancelation policy.
Visit Sensoji Temple
Firstly, start your Asakusa Ueno itinerary with a visit to the icons of Asakusa: Kaminarimon, Nakamise Dori, and Sensoji Temple.
From the Asakusa station exit, we walked to the Kaminarimon near the exit. It is the entrance to Sensoji Temple (浅草寺), Tokyo's largest and oldest Buddhist temple dedicated to the bodhisattva Kannon. Founded in 645, Sensoji Temple is one of the most iconic buildings and traditional heritage in Tokyo.
Take A Popular Shot at Kaminarimon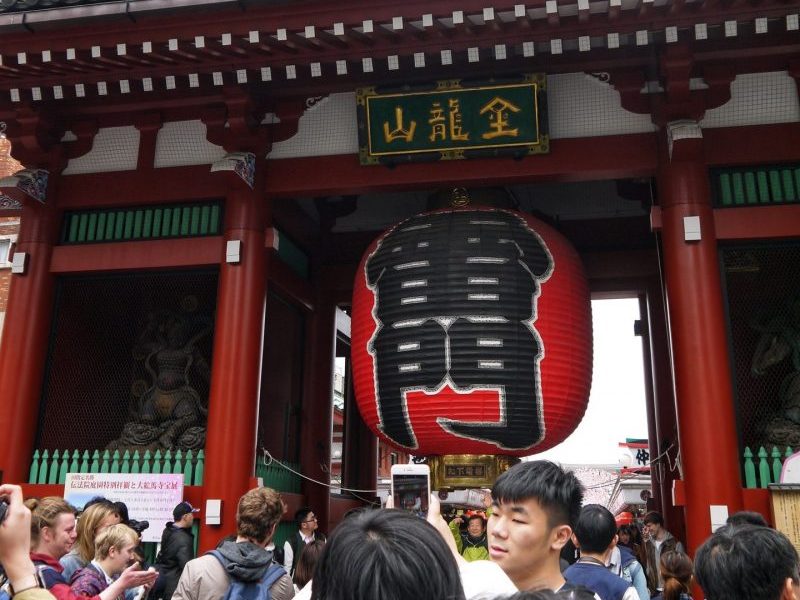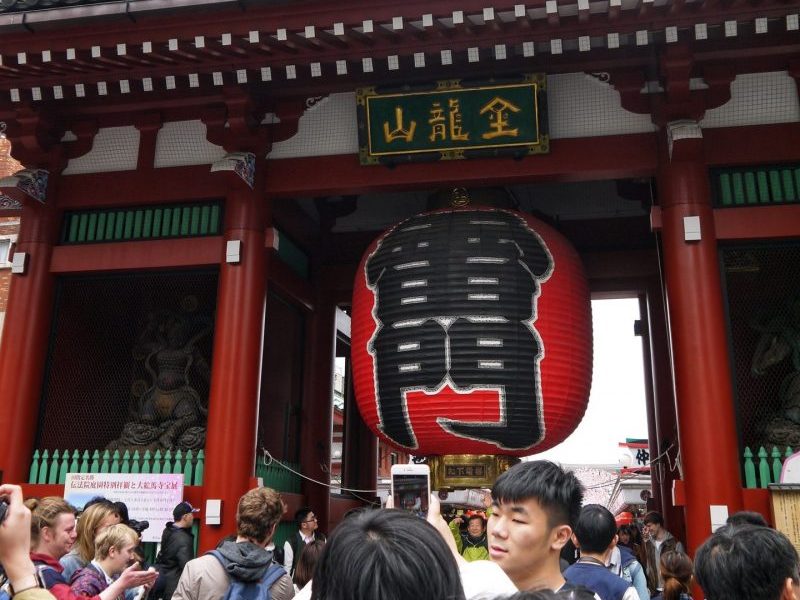 The enormous red lantern hanging from the Kaminarimon Gate (浅草雷門) has been here since the Kamakura period. It is a popular spot for people to take the customary shot in front of this iconic dignified gate. A symbol of Asakusa.
It's almost impossible to get an empty shot of Senso-Ji in the daytime unless you arrive very very early in the morning.
Shop for Traditional Souvenir in Nakamise Street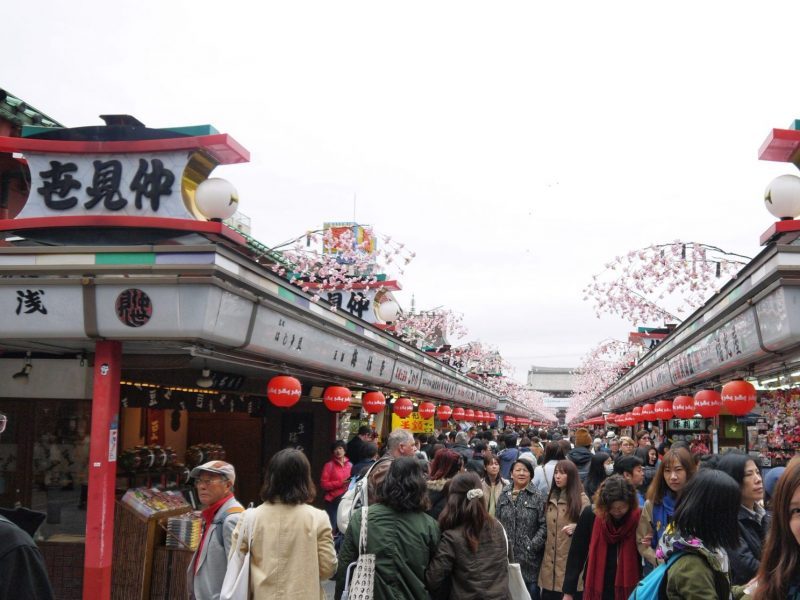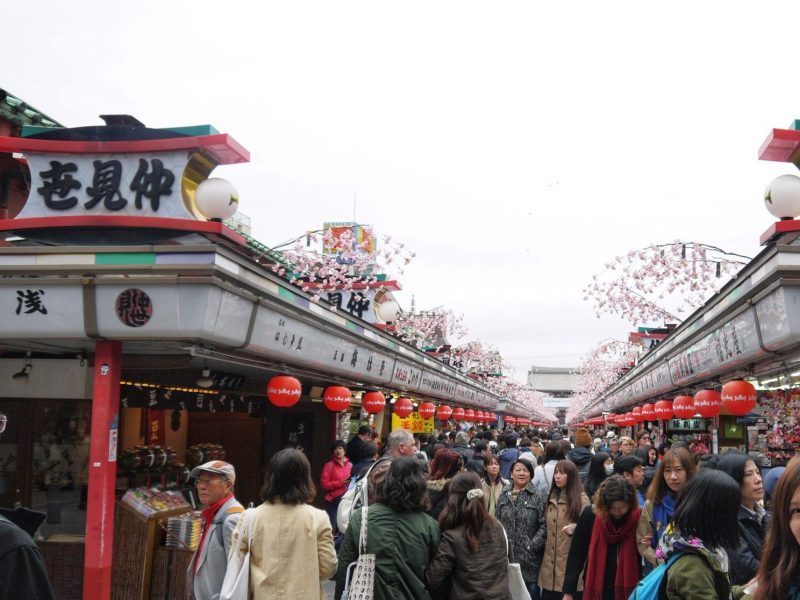 After entering the Kaminarimon Gate, walk down the approach to the Nakamise shopping street (Nakamise-Dori). It is a centuries-old promenade of shops that runs from the iconic Kaminarimon gate right up to the Sensoji Temple.
There are about 90 stores lined along the 250-meter street, offering local souvenirs and street food. It was good to slow down your footstep to experience the historical shopping ambiance that has existed since the Edo period. A great place to look for Japanese gifts and traditional souvenirs in Asakusa.
Try The Traditional Asakusa Specialties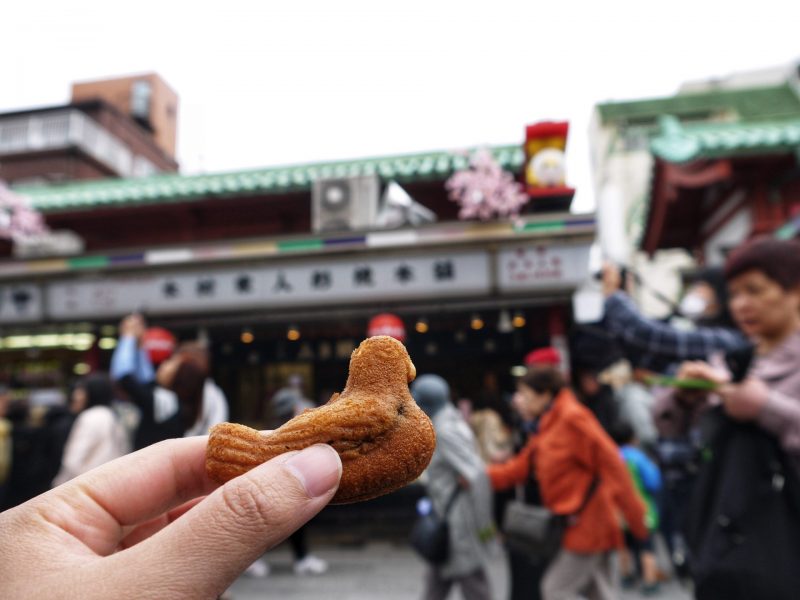 Don't forget to buy some Japanese snacks to satisfy your hunger. There are a variety of traditional Asakusa specialties, such as senbei (rice crackers), imo yokan (sweet potato jelly), and ningyo yaki (doll-shaped cookies), on sale at the various store along the street. Just grab one that you like the most!
We bought the ningyo yaki, a cooked pastry filled with sweet red bean paste. It was made into different shapes, such as dolls and birds. Very adorable.
Five-Story Pagoda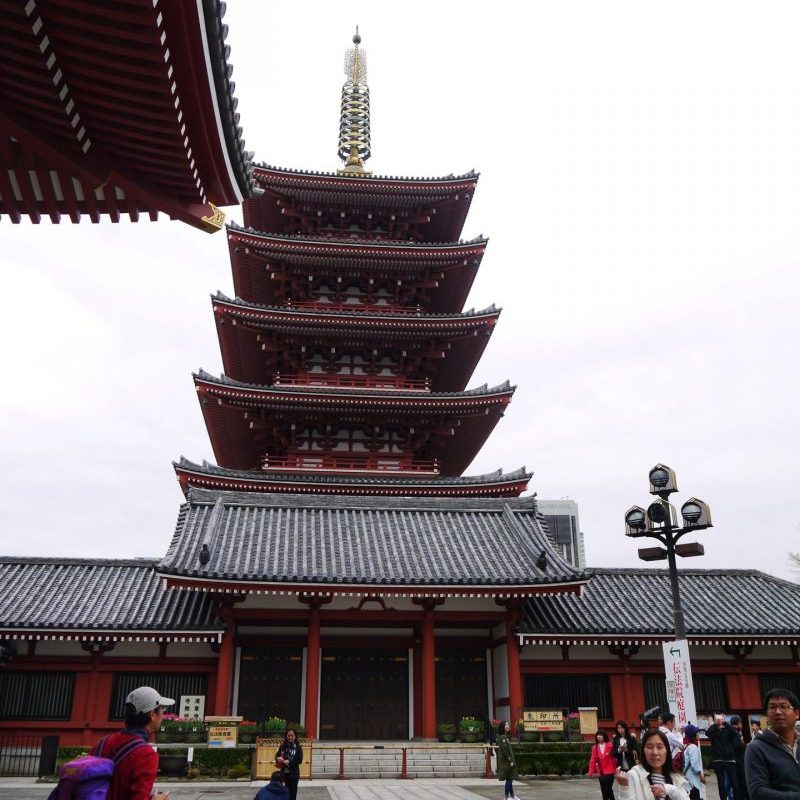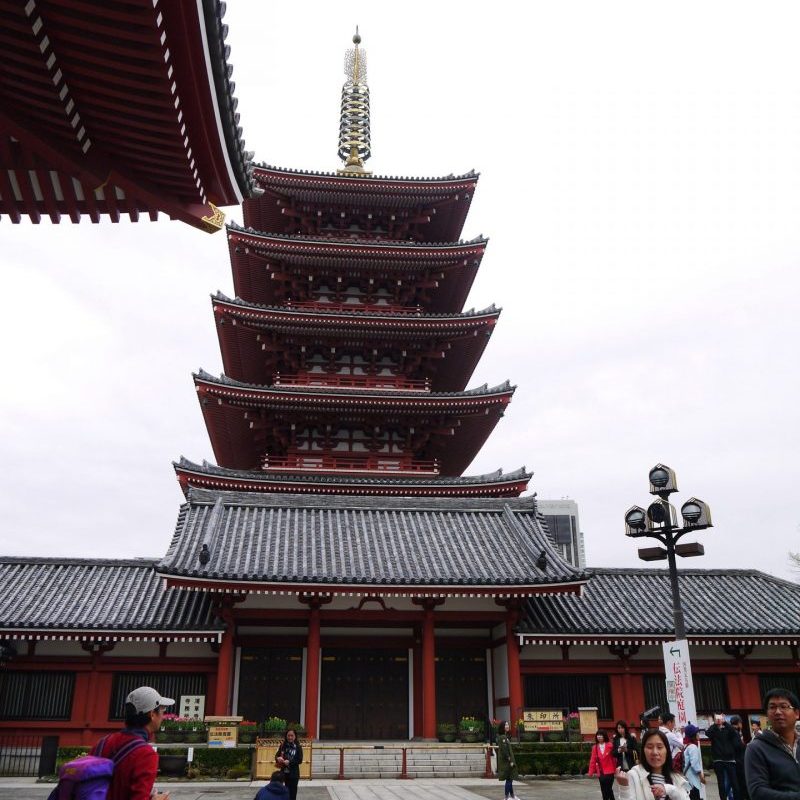 The Sensoji Temple's grounds are a collection of ornately designed buildings including a Five-Story Pagoda. Once entered the Main Hall, you will be impressed by the unique colorful Pagoda standing at 53.3 meters (175 feet) tall as you approach the main hall. It is said to have been built in the 10th century and rebuilt to the original size due to burn-down during WWII.
Incense Cleansing with Incense Smoke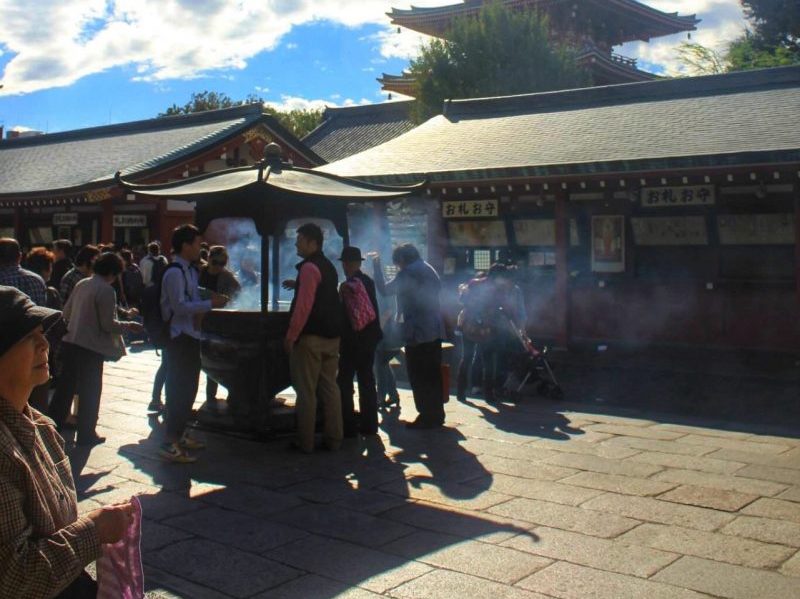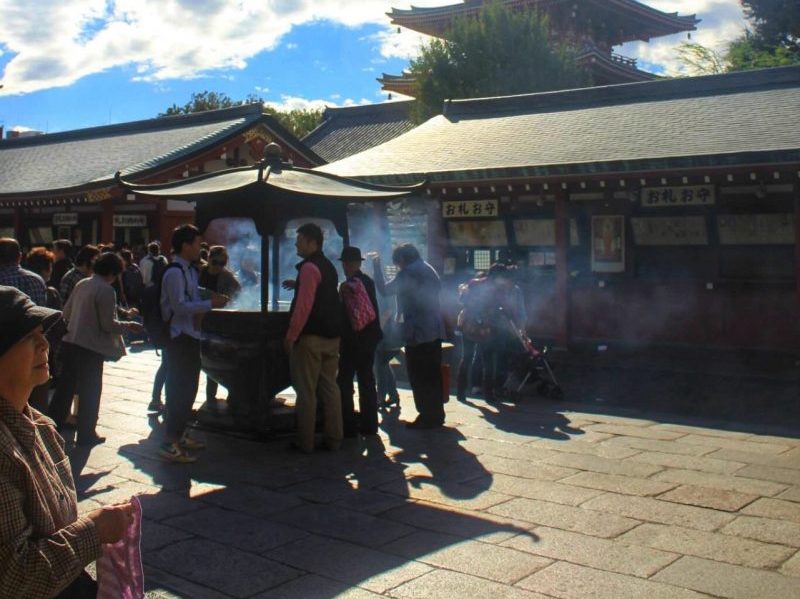 There is a large incense burner is placed in front of the main hall of Sensoji Temple. Don't forget to do the incense cleansing with incense smoke that is said to have a healing effect. You can purchase the incense for 100 yen, light it on fire stones, and put it in the urn to bless your body with the smoke. A really humbling experience.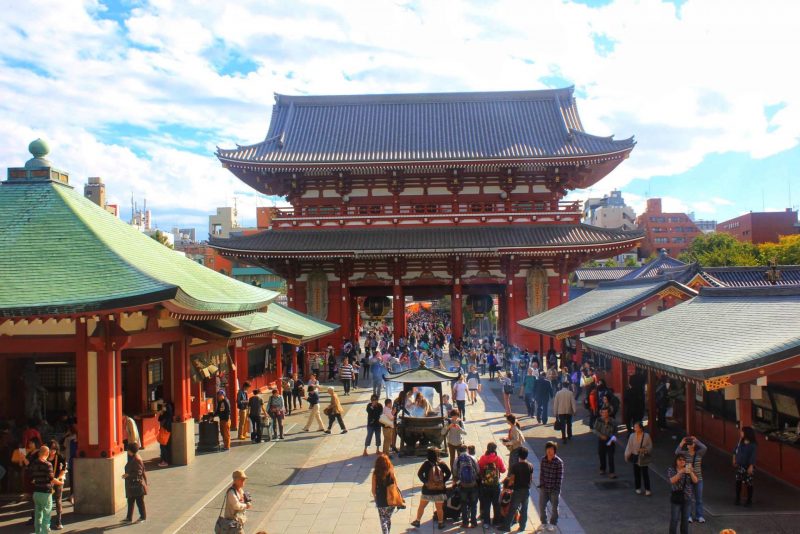 There are also many things to see in Sensoji Temple. The surrounding artwork, including statues that reflect much of the history surrounding this temple. Sensoji Temple is always crowded most of the time. We recommended spending about one to two hours just exploring Tokyo's most popular sightseeing area.
Sensoji Temple (浅草寺)
Address: 2-3-1 Asakusa, Taito Ward, Tokyo 111-0032
Opening Hours: Always open.
Entrance Fee: Free!
How to get to Asakusa Sensoji Temple: There are four stations in Asakusa and the Ginza Line is the closest to the Sensoji Temple. Take Exit 1 and look for signs for Sensoji Temple.
Wandering Around Asakusa Area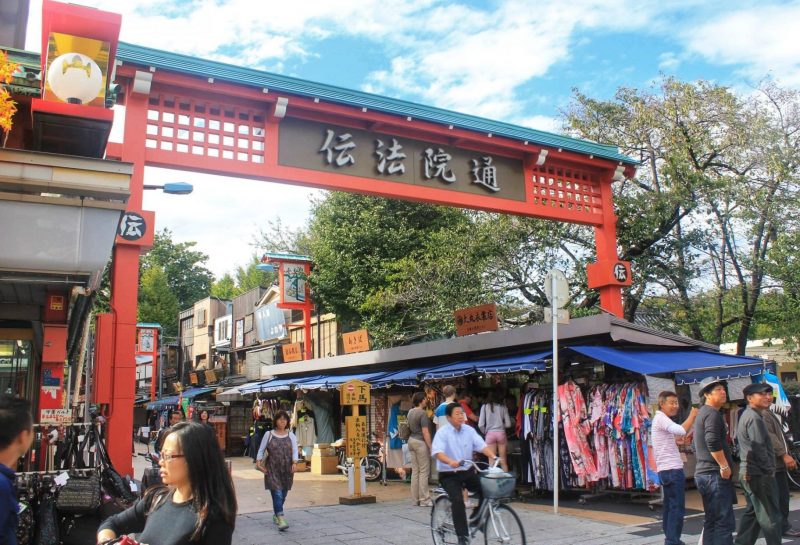 Besides, please allocate more time to wandering around the Asakusa area near the Sensoji Temple. There are a lot of restaurants, shops, and stalls that are worth exploring.
You'll see many offers for a rickshaw tour for riding around the Asakusa area. Or consider renting a kimono to wear during your visit. It is a popular activity for young and beautiful Tokyo residents or foreign visitors walking around wearing kimonos. A good photography opportunity.
Eat The Asakusa Tendon Rice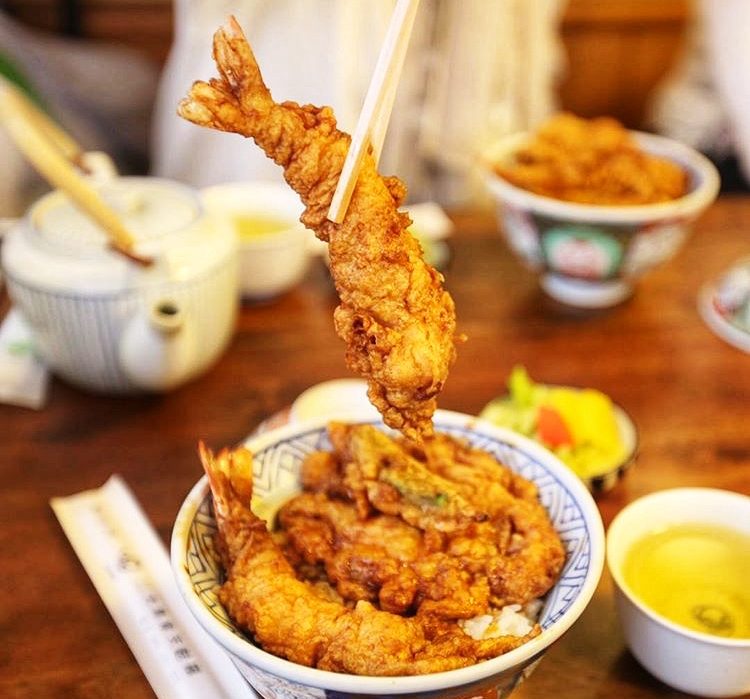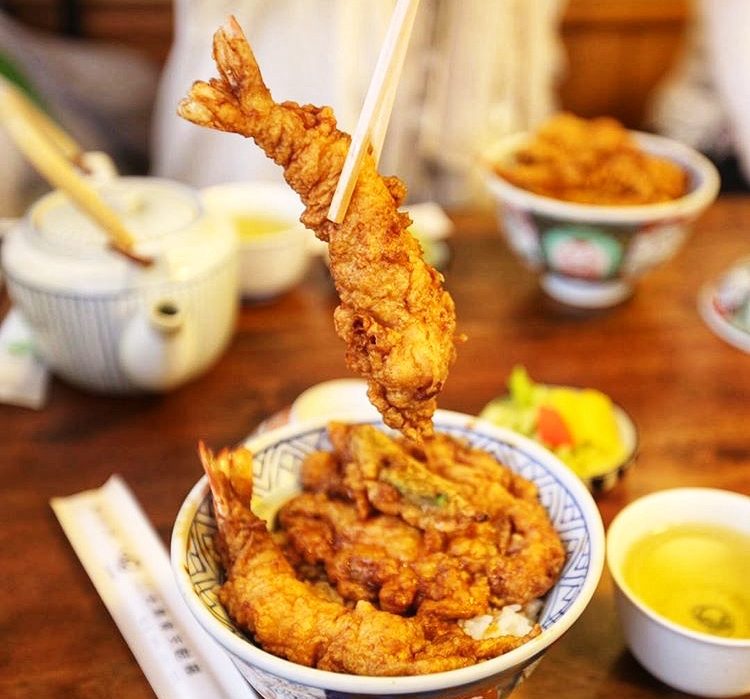 A good place for lunch after a visit to the Asakusa temple is looking for Asakusa must eat food, tendon rice. In fact, there are many popular tempuras restaurants in Asakusa, but Daikokuya Tempura probably is the most famous among all.
Daikokuya Tempura served the mouthwatering Tempura and Tendon dishes for many decades. There are two stores located in Asakusa, while the Daikokuya Honken is located a stone's throw away from the main temple area. Be prepared to queue as long lines always.
We tried the tendon rice in Daikokuya Tempura and highly recommended it. Read on our food review in Daikokuya Tempura to know more in detail.
More Info: Daikokuya Tempura: Asakusa Must Eat Food
Relaxing stroll in Sumida Park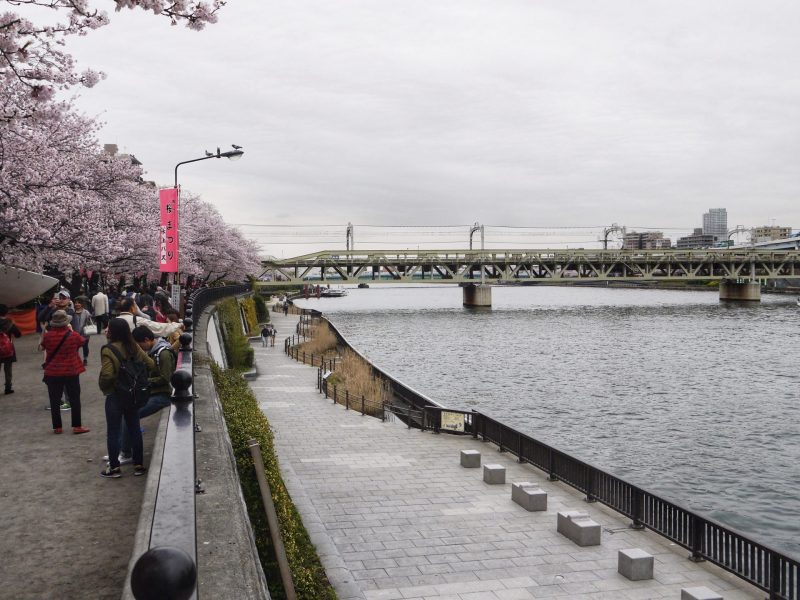 After the filling lunch, it's time to burn off some calories and head to Sumida Park. Tokyo has plenty of beautiful parks where you can take a walk down the riverside and enjoy the beautiful scenery.
The Sumida Park (墨田公園) is a beautiful park lined with thousands of cherry trees along the Sumida River, connected by the Azuma Bridge. It is about 5 minutes of scenic walk by foot from Asakusa station to Sumida Park. Enjoy the relaxing roll along the Sumida River. Many locals walk and relax here.
In Spring, it is particularly beautiful and must visit during the cherry blossom season. We admired the blossoms on hundreds of cherry trees in spring.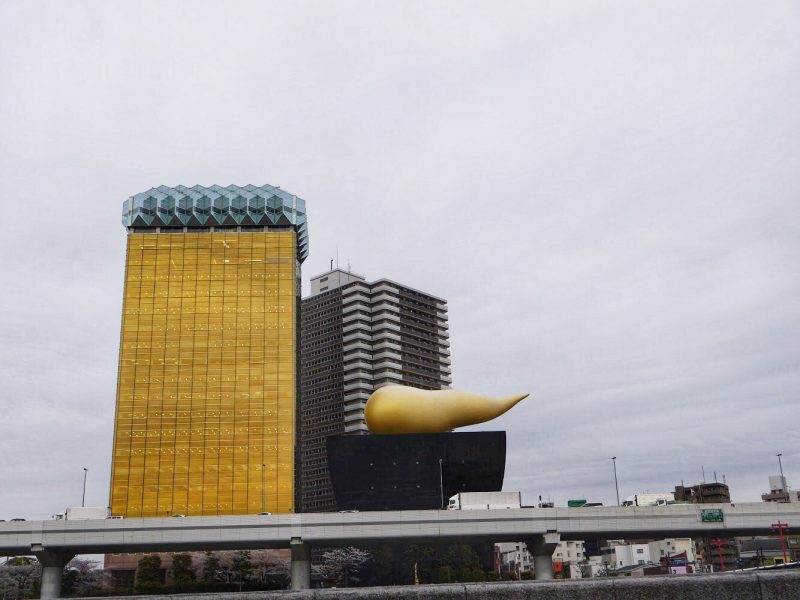 Sumida Park also offers some of the best views of the Tokyo Skytree and Asahi Beer Tower. You wouldn't miss the Asahi Beer Tower because of its golden shaped-like pseudo gourd. Although it's peculiar, it represents Asahi's golden flame of passion.
Walk along the west side of the river and enjoy views of lovely sights with beautiful cherry trees.
Sumida Park (墨田公園)
Address: 1-1 Hanakawado, Taito Ward, Tokyo 111-0033
Price: Free.
Opening Hours: Always open.
How To Get To Sumida Park: 5 minutes walk from Asakusa Station.
Tokyo Skytree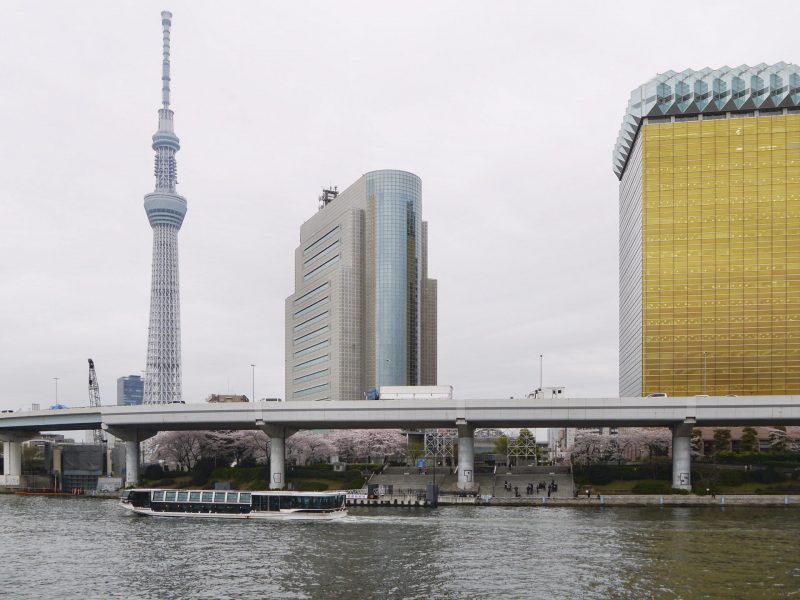 If you are interested, consider visiting the Tokyo Skytree, the new symbol of the city after the Tokyo Tower. It is only about 20 minutes to walk from Sumida Park to Tokyo Skytree. Constructed in 2012, Tokyo Skytree is the highest building in Japan with a height of 634 meters.
There is two observation deck that is open for viewing in the amazing Kanto region, located at 350 and 450 meters respectively. One of the best places to view the landscape of Tokyo city, especially the night view.
We did not include Tokyo SkyTree into our Asakusa itinerary and have another plan for the best night view in Tokyo. But Tokyo SkyTree is highly recommended for those who love to view on city view when getting around in Asakusa.
More info: Fast Tickets to the 2nd Highest Point in the World
Explore Ueno Park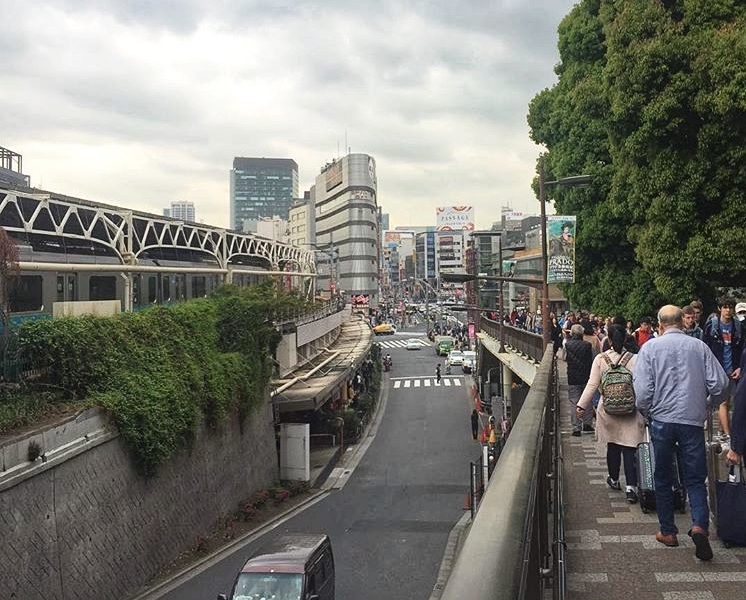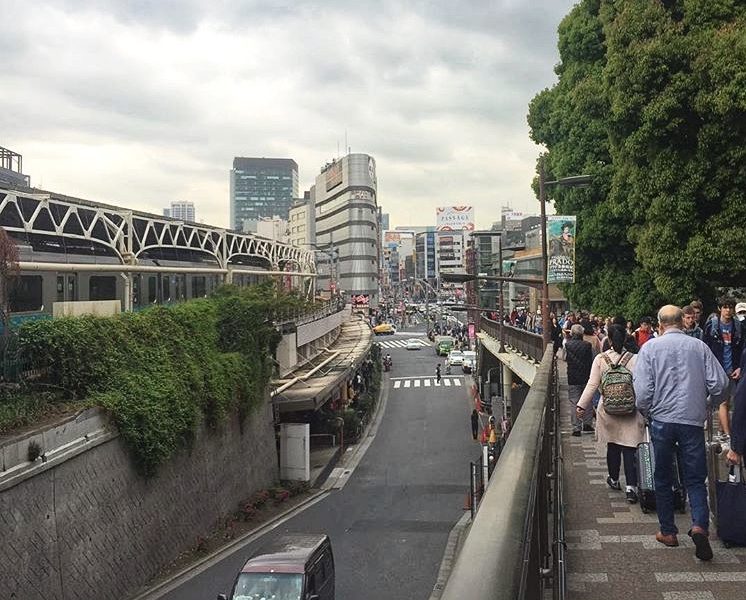 Next, we took the train to Ueno with only 3 metro stops from Asakusa. The Ueno Park (上野公園) is a large public park located near JR Ueno station. It has some of Tokyo's top sites and much to explore.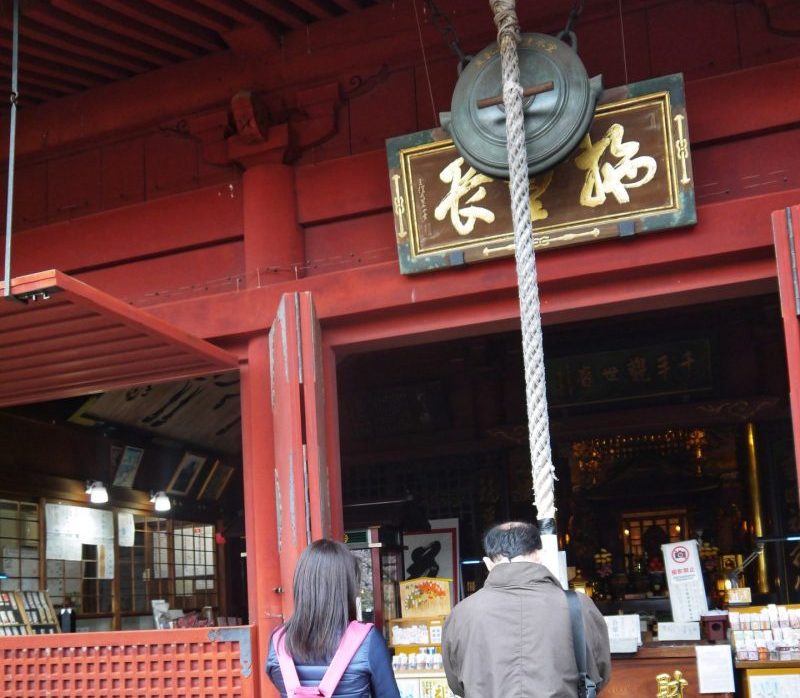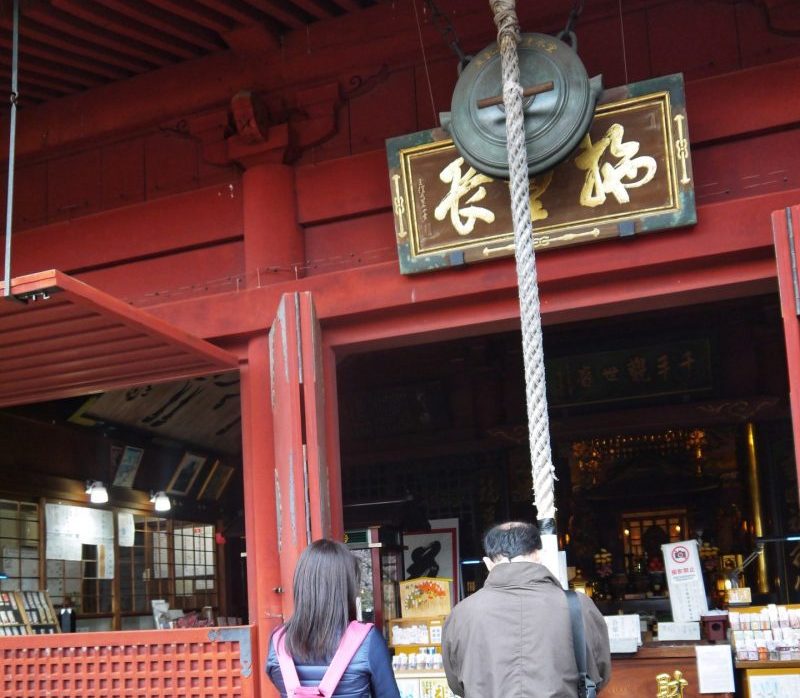 You can take a walk in the park including temples, shrines, museums, ponds, fountains, and the garden. Ueno Park also has Tokyo's best and oldest zoo. It's really a good place for kids as they do have a big space for them to explore and exhaust their energy!
Besides, Ueno Park is also extremely popular during the cherry blossom season. We were here during the cherry blossom season and thoroughly enjoyed walking around. Massive boozy picnics and hundreds of cherry blossom trees are in full bloom.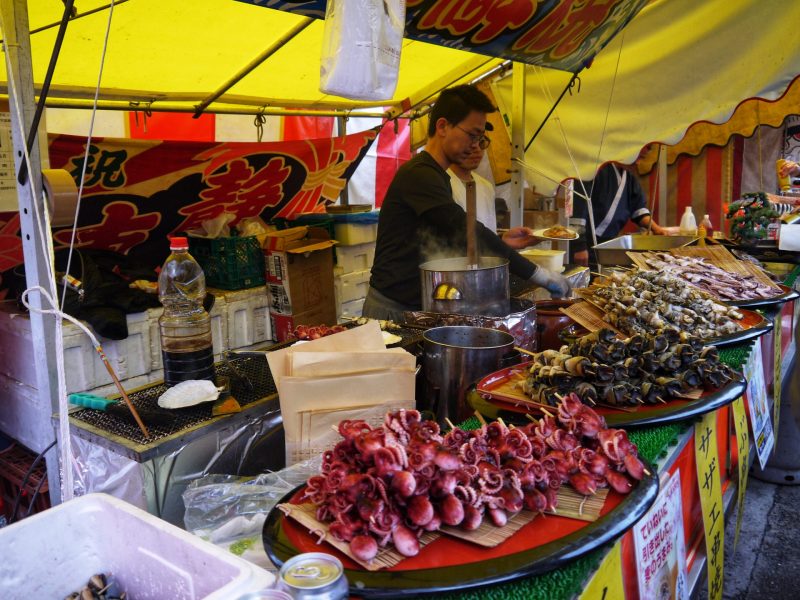 There are some food stalls selling food during the sakura celebration. We also bought some Japanese street food while wandering around. A great place to stroll and relax.
Shop at Ameyoko Street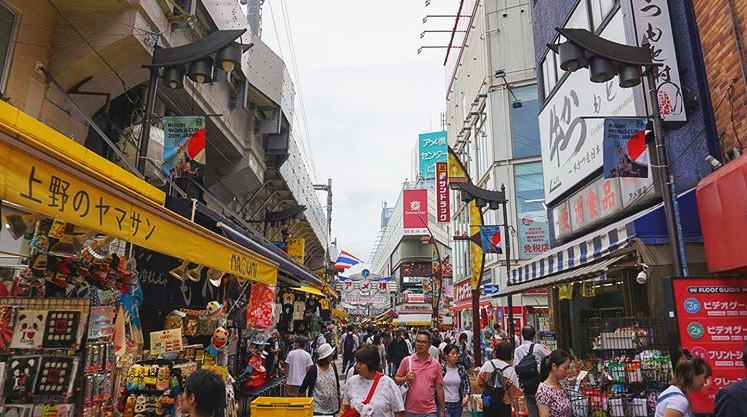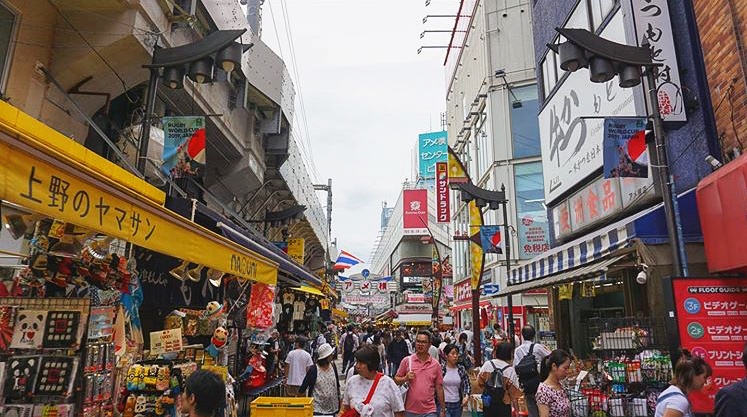 After the relaxing stroll in Ueno Park, we headed down to the Ameyoko shopping street which is well-known for lots of cheaper shopping stuff and food. The Ameyoko Street (アメヤ横丁) is a busy street that extends along the JR Yamanote line near Ueno station. It is a great place for a different experience in Tokyo to feel the chaotic, true Asian spirits when visiting here. It was originally a place of shopping for local people, but now it becomes a tourist attraction and many foreigners come to visit.
There are various products sold here such as clothes, shoes, watches, toys, and even souvenirs. All at a bargain price and reasonable compared with other places in Tokyo. It is also the cheapest place to buy a souvenir in Tokyo. It a colorful, vibrant, and full of fun.
Even if you don't want to buy anything it's fun to check out the food in Ameyoko Street. There is a variety of street food and many great restaurants serving typical Japanese cuisine as well as fast food outlets. Good place for a food tour to try the taste of locals.
Overview: Asakusa Ueno Itinerary
All in all, we hope our travel tips help you better divide your time in Asakusa and Ueno so you can make the most of your visit. Properly planning your Asakusa Ueno itinerary will take away a lot of stress and help you feel like a regular visitor.
Many visitors try to plan a lot of attractions in one day. The nostalgic old town Asakusa and Ueno can easily spend about 5 to 6 hours. You can squeeze in the Akibahara which is located nearby if you still have more energy. Or take a cuisine ride to Odaiba. But be aware that most of the attractions are eateries and are very crowded. Remember to spare more time to taste some of the local specialties and relaxing strolls in Asakusa and Ueno. Enjoy your trip to Asakusa and Ueno!
Tokyo Itinerary For 1, 2, 3 or 5 Days: A Complete Travel Guide Blog
More detail on Tokyo Travel Blog:
Tokyo Food Blog:
Tokyo Transport Guide:
Planning on a day trip to Hakone: