Last updated on September 23rd, 2023
Looking for the best ryokan hotel stay in Hakone? Read on my review during my one night stay in Ichinoyu Honkan for traditional Ryokan experience with onsen facilities.
Hakone is one of Japan's famous hot spring town with natural hot spring water. Many locals and visitors are visiting Hakone for weekend gateway. It is ideal to plan on 1-day or 2-days trip to visit the top attraction in Hakone. Most importantly, staying one night in the best hotel in Hakone for relaxing onsen bath.
In fact, I actually spending a lot of time researching on the best hotel in Hakone. The main reason is the accommodation in Hakone generally is very expensive especially those with traditional Ryokan stay.
The Ichinoyu Honkan is a mid-budget onsen hotel in Hakone. It is well known as value for money onsen ryokan in Hakone. So, it is very popular among locals and foreigners when looking for where to stay in Hakone. I am so glad that I managed to book one night stay in Ichinoyu Honkan. A memorable experience for traditional Japanese culture during my visit to Tokyo.
Ichinoyu Honkan
The Ichinoyu is the chain company with up to seven Ryokan within the Hakone area. It is also the hot spring resort pioneer in the Hakone region.
While the Ichinoyu Honkan (一の湯塔ノ沢一の湯本館) is their first origin ryokan founded in 1630. The building itself is a Cultural Heritage for 350 years of history. There are 4 floors at this hotel with a total of 21 Japanese style rooms. Most of the rooms come with a private open-air bath, private panoramic bath. But there are also standard rooms without private bath facilities in the room.
Depends on your budget when choosing your room type. The private open-air bath is the best room type in the Ichinoyu Honkan. Added, you are free to enjoy the natural hot spring bath with a nice view of Hayakawa ravine from the window. There is also a private family bath with reservation required.
Take note that Ichinoyu Honkan is a traditional old-style Ryokan with NO elevator facility in this hotel.
Address: 90 Tonosawa, Hakone-machi, Ashigara-shimogun, Kanagawa 250-0315, Japan
Tokyo Hotel Tips:
When looking for the best price and biggest selection of hotels in Tokyo check prices for
Tokyo Best Hotel from Booking.com
. We found they are the best option and have a great cancelation policy.
How To Get To Ichinoyu Honkan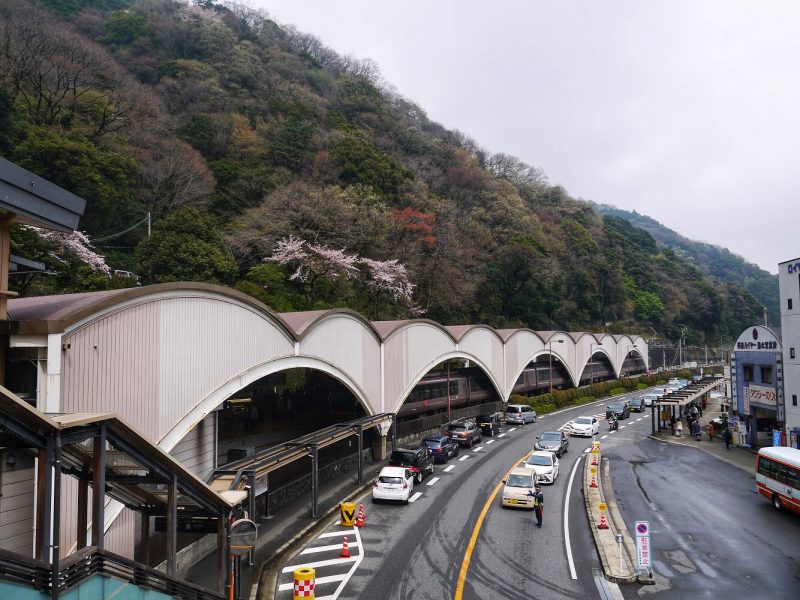 The Ichinoyu Honkan is located nearby Tonosawa station and easy access by train and bus.
Getting to Ichinoyu Honkan from Hakone Yumoto by bus:
The best way to get to Ichinoyu Honkan by public transport is by bus. Please take the Hakone tozan bus (bound for Tougendai/桃源台) and get off at (Kami-tonosawa/上塔ノ沢) station. The Ichinoyu Honkan just located within 2 minutes walk once you get off from the bus.
The Hakone Yumoto bus stop is located opposite the train station. You can will need to cross the road in the opposite direction to the bus stop.
Getting to Ichinoyu Honkan from Hakone Yumoto by train:
Another option is getting to Ichinoyu Honkan by Hakone Tozan Train. You need to get off at (tonosawa/塔ノ沢) and then walk for about 5 minutes to get to the hotel. For those carrying with luggage, this definitely not a great idea.
Besides, you also opt for the shuttle bus service run by Hakone Spa Associate at Hakone Yumoto Station. It runs every 30 mins from 14:15 to 17:45 and cost about 100 yen for one ride.
My Stay at Ichinoyu Honkan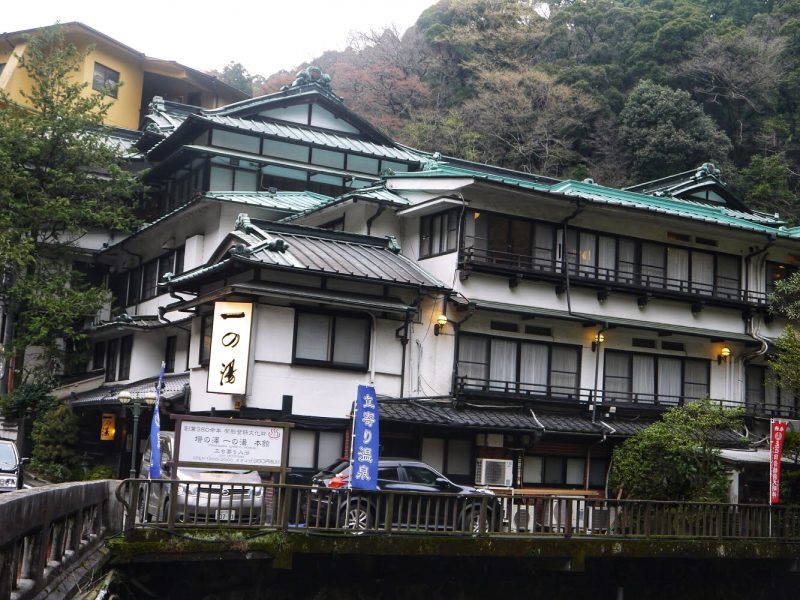 Finally, we arrived at Ichinoyu Honkan after one day Hakone itinerary. It was an exhausted trip after changing on different transportation along the journey. And we were so glad that we planned on one night stay in Hakone.
We took the bus from Hakone Yumoto station and get off at (Kami-tonosawa/上塔ノ沢) bus station. Be careful and make sure to get off at the correct bus station. The hotel is located on the hillside and you need to walk if miss the bus stop.
A welcome card with hotel guests were write outside the building. And our name was on it. I feel so warm with this nice arrangement.
Traditional Japanese Tatami Futon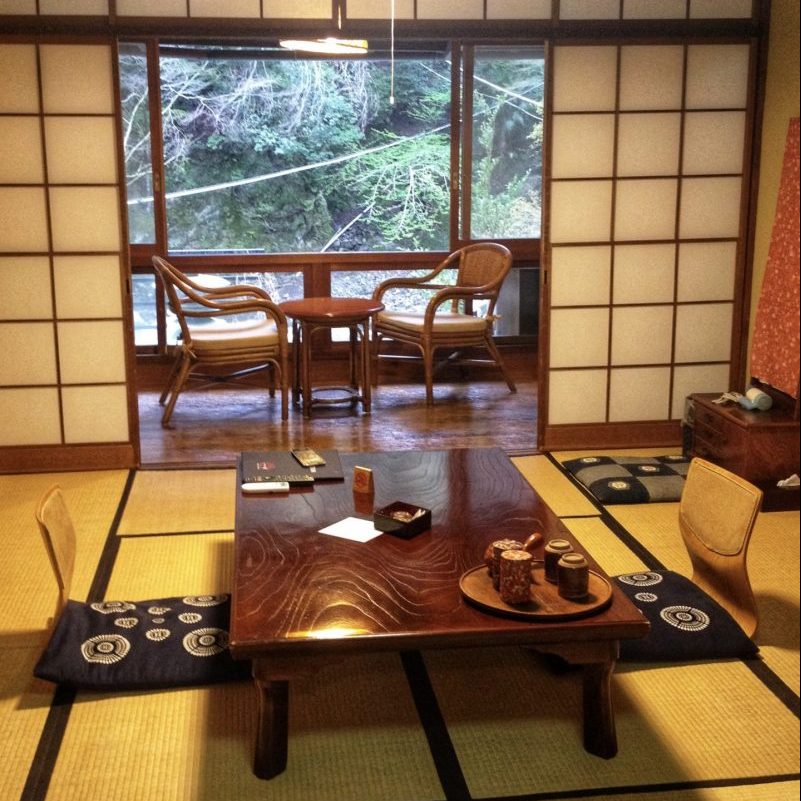 Warm welcome from the friendly staff once we stepped in. We done checked into Ichinoyu Honkan for one night stay. Added, we also reserved our dinner time and private bath.
The room is fairly spacious with a pretty simple design. It is a traditional Japanese room separated by a sliding door into two sections.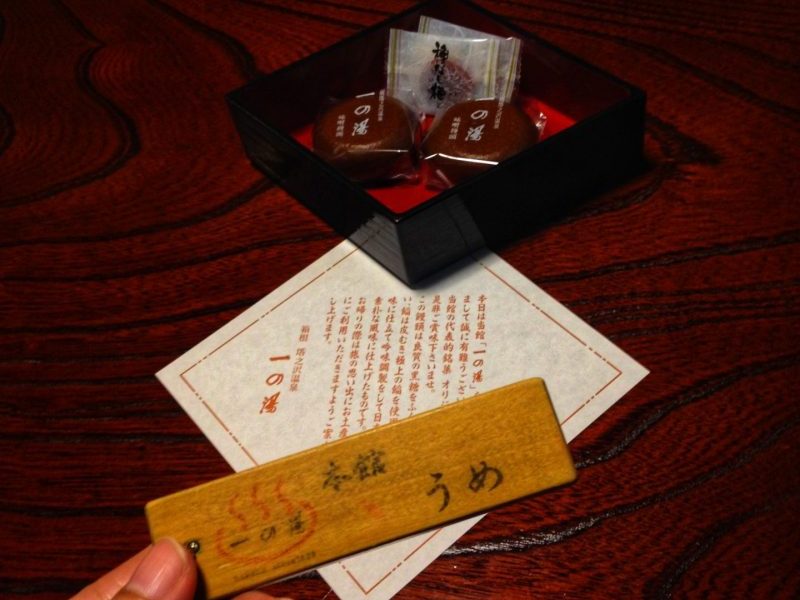 The dining area is covered by tatami mat with Japanese table. Complimentary Japanese mochi with green tea were placed on the table.
The mochi taste was not too bad. You can purchase it at the kiosk on the ground floor if you want to eat more.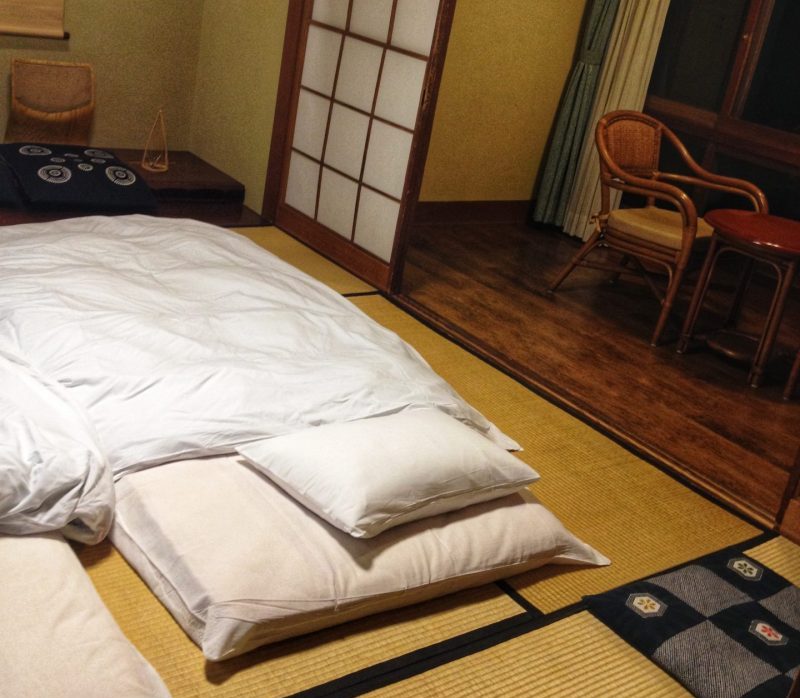 As this is a Japanese room, this means sleeping on the futon on the floor. Our futon beds were set up when we returned back to the room after dinner.
Onsen Bath with Natural Hot Spring Water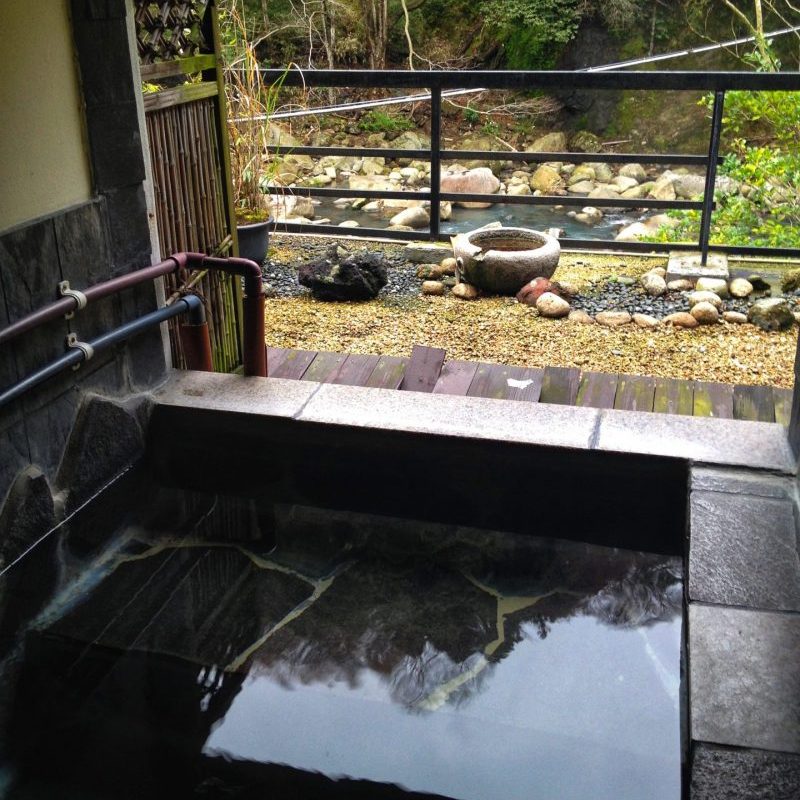 Another section is the resting area equipped with a sofa set for 2 persons. Open the sliding door from the side, the private open-air hot spring bath is facing the Hayakawa river.
The bath is not too big and enough to fit for one person. Enjoy the natural environment with river flowing sound during bath time.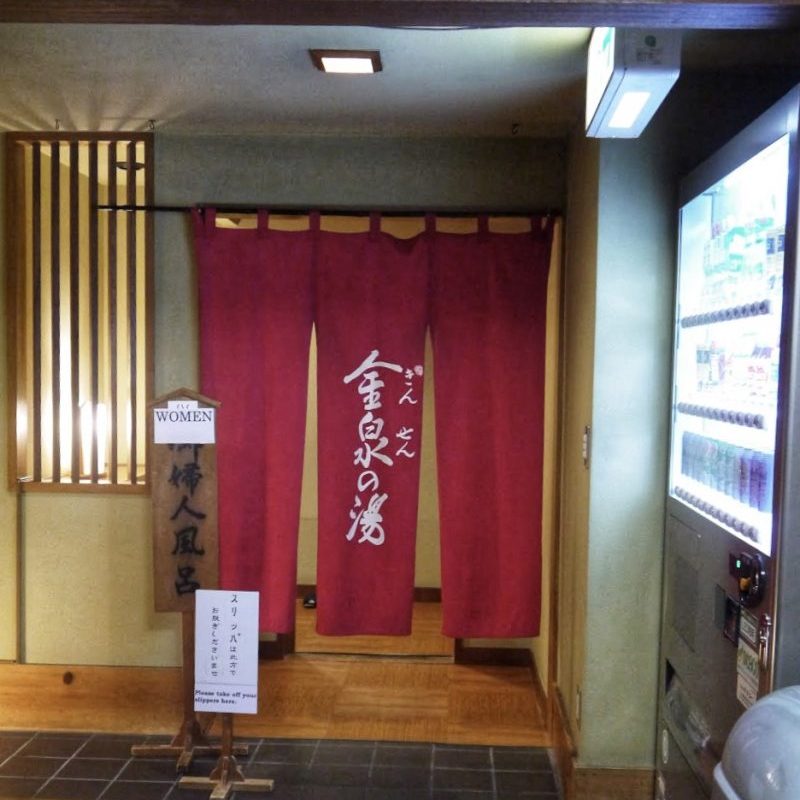 Although our room has a private bath, you can also opt to enjoy the public onsen bathroom on the ground floor. The public bathroom will be exchange between male and female at the next day. So that you can enjoy two different bath during your stay.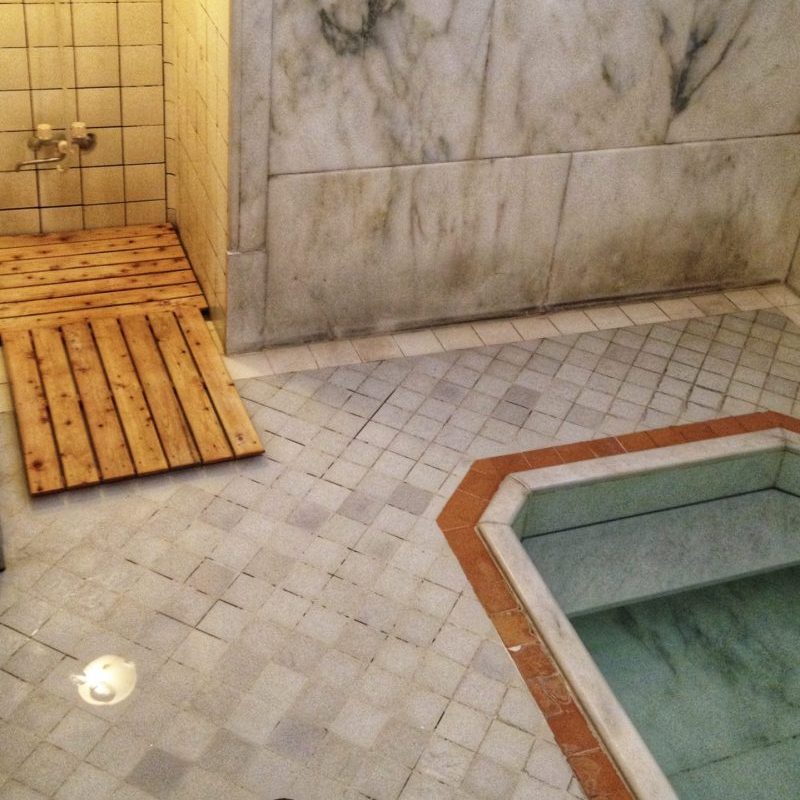 Added, we also reserved the private family hot spring bath during check-in. It is another private hot spring experience with your family during our stay in Ichinoyu Honkan. The bathroom is very spacious with a marble floor. The hot spring water is hot enough but i still prefer enjoy the bath with the natural environment in my room.
But it is still good to try on different bath facilities during our stay.
Dining in Ichinoyu Honkan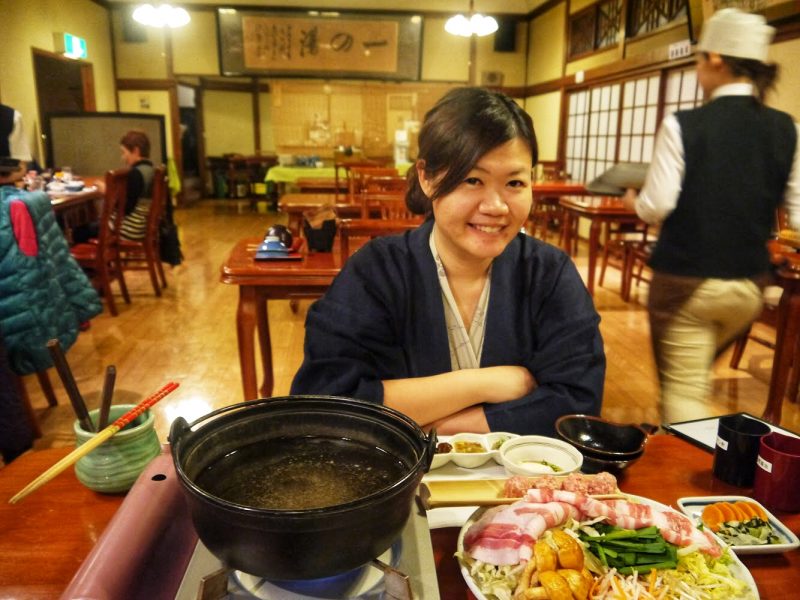 Our stay in Ichinoyu Honkan Hakone is on a half board basis where dinner and breakfast is included in our room rate.
We had some rest inside the room. Next, it's time for our dinner. The dinner course was so nice with various dishes to serve. It came with an appetizer, pickles, rice, shabu-shabu with pork sliced and vegetables. We had a satisfying dinner in Ichinoyu Honkan. You also add on side orders such as sashimi boat, steamboat fish with additional charge. Advance reservation required.
At the next morning, breakfast was served at the same restaurant on the 4th floor. It is a complimentary traditional Japanese breakfast during our stay. There are dried Japanese Horse Mackerel, onsen Tamago, pork miso soup with steamed rice and pickles.
We very satisfied our dinner and breakfast in Ichinoyu Honkan Hakone.
Best Ryokan Stay in Hakone: Ichinoyu Honkan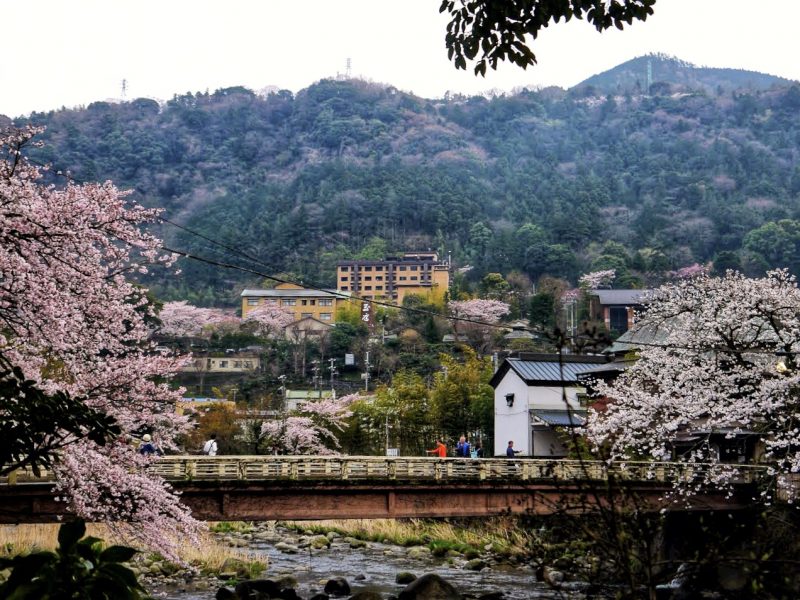 Hopefully, my Ichinoyu Honkan review can give you some idea if you are looking for the best ryokan hotel in Hakone. Ichinoyu Honkan is one of the best stays I had in Japan. The view, the food, and the hospitality service.
Although Ichinoyu Honkan can be considered one of the best budget onsen hotels in Hakone, it comes with quite a hefty price. But don't forget our stay was on half board basic where dinner and breakfast were included. So it is still well worth the money. In short, we enjoyed the Ryokan stay experience in Ichinoyu Honkan a lot.
The Ichinoyu Honkan is listed in Booking.com and popular among travelers. Please keep an eye on them for the best room.
Planning on a day trip to Hakone:
Tokyo Travel itinerary and travel guide blog:
Tokyo Food Blog:
Tokyo Transport Guide: