Last updated on September 23rd, 2023
For the authentic Tendon in Asakusa, we highly recommend trying at Daikokuya Tempura. The best restaurant serving this Asakusa must-eat food for over 100 years.
When visiting Asakusa, don't forget to try their signature food in Asakusa, tempura. There are many authentic restaurants in Asakusa served for this popular traditional dish for many decades.
Among them, the three most popular restaurant is Tempura Daikokuya, Tempura Masaru, Shitamachi Tendon Akimitsu. All the restaurants are a great place to try for tempura and tendon. It depends on what you like; some served crispy or soggy tempura with different in-house sauces.
For our lunch during our visit to Asakusa, we decided to follow the food review to try the most popular tempura restaurant in Tempura Daikokuya. Read on our food review on Tempura Daikokuya, one of the must-eat food in Asakusa.
Tokyo Hotel Tips:
When looking for the best price and biggest selection of hotels in Tokyo check prices for
Tokyo Best Hotel from Booking.com
. We found they are the best option and have a great cancelation policy.
Daikokuya Tempura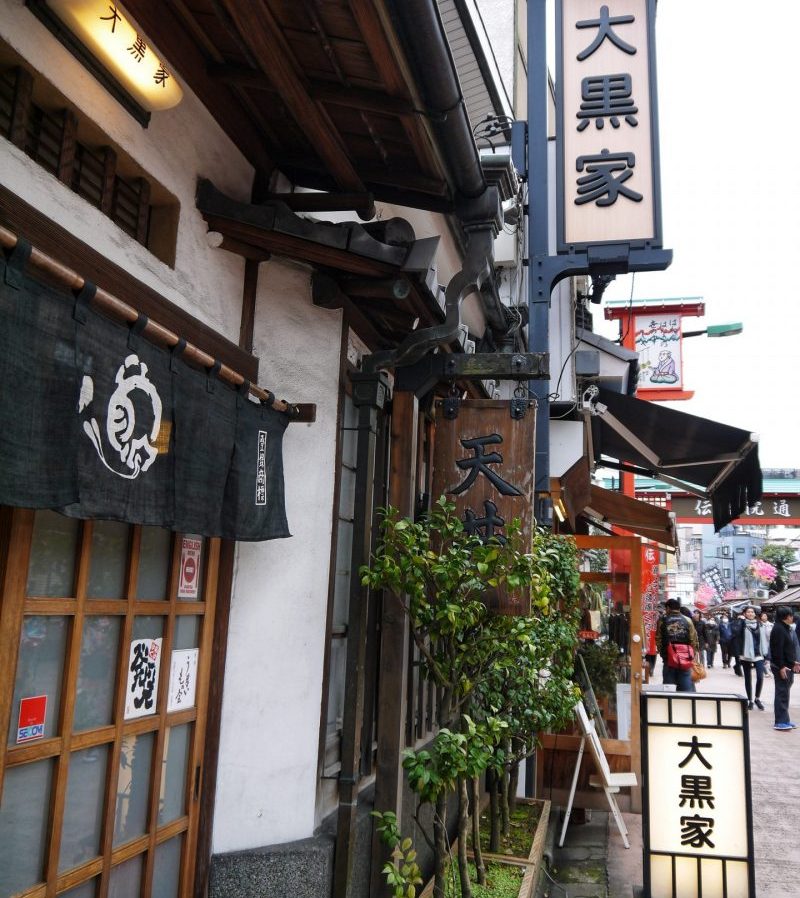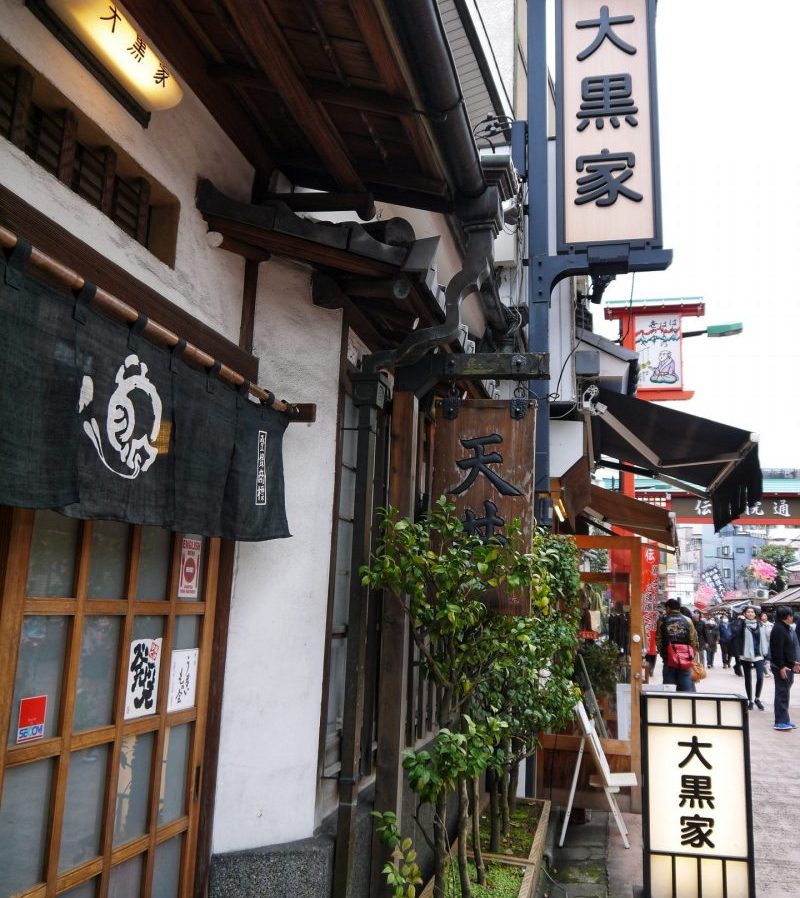 The Daikokuya Tempura is a long-established traditional restaurant, serving authentic Tempura and Tendon dishes for over 100 years. The best thing is Daikokuya still keep their cooking method since opening until now.
Apparently, Daikokuya has two shops in the Asakusa area. The Daikokuya Honten is situated along a main side road from the main entrance into Sensoji Temple. While another branch is hidden in a pretty isolated alley.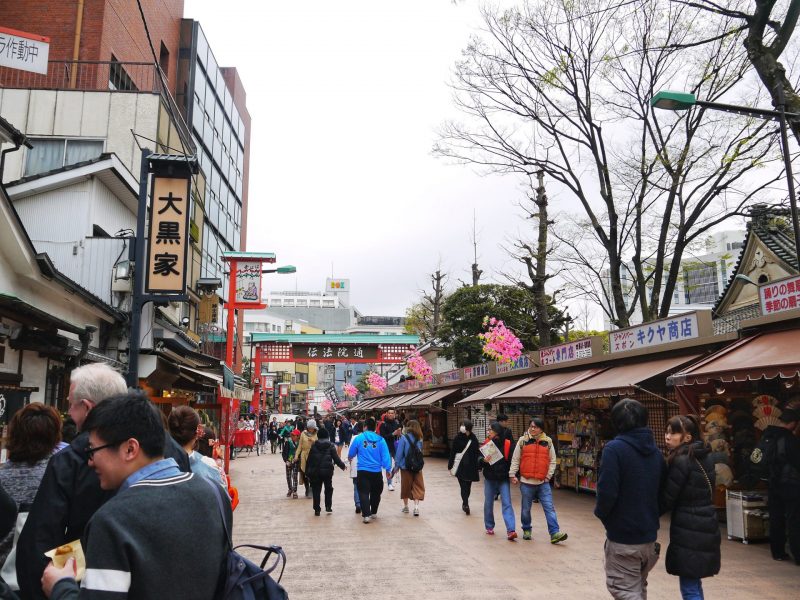 We arrived at Daikokuya Honten before 11 am. But out of our surprise, the queue was so long even before the opening hour. Most of their customers are local residents and tourists. Everyone was waiting patiently for their best tempura in Asakusa.
At 11 am, the shop was open on time. Glad that we were able to serve without waiting for the next round. We were seated at the table sitting at the downstair. The atmosphere was cozy with a traditional Japanese style. The servant was busy serving customers happily.
Tempura Over Rice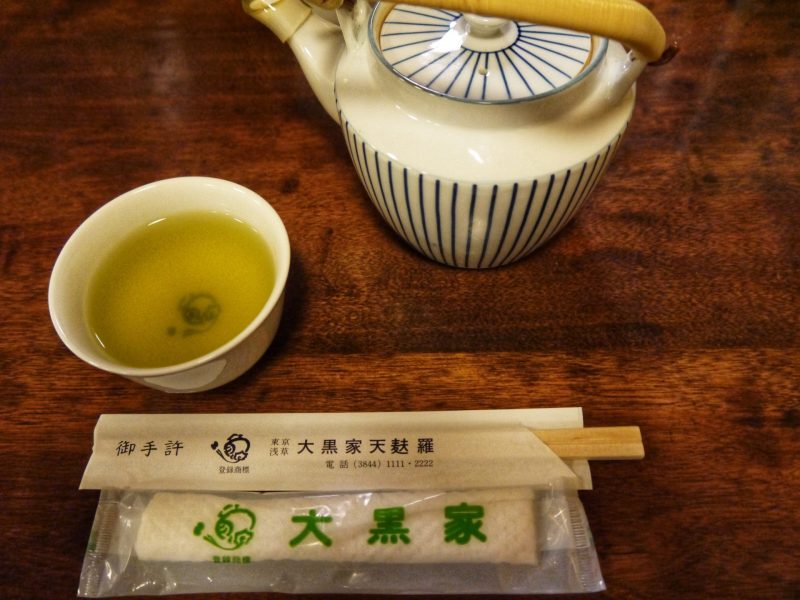 The menu is quite extensive with a variety of tendons and tempura. Most of the food options are prawns, squid, and fish with fewer veggies. The price of tendons are ranging from ¥3,300 to ¥4,700, depend on how many prawns on top.
We ordered the popular Tendon Set 2 meal with two prawns and mixed veggie tempura. Green tea was served while waiting for our food.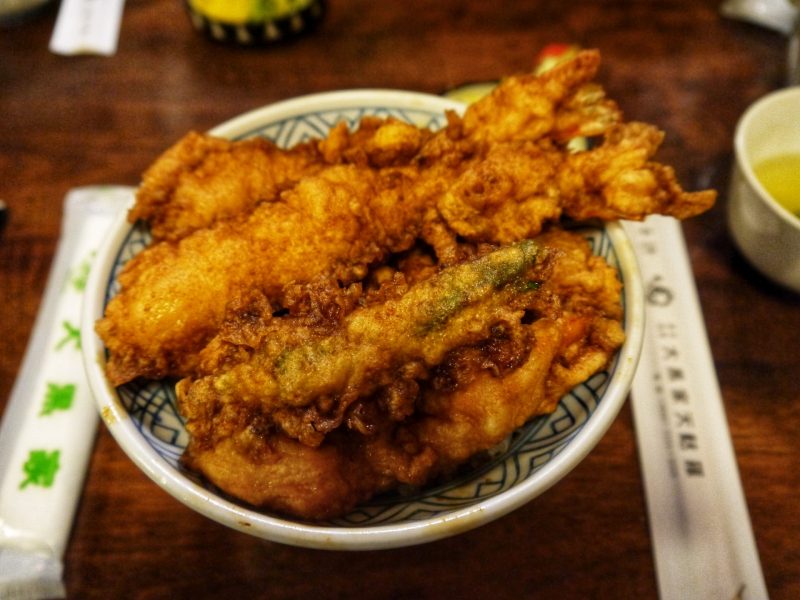 Our tendons were served after the 15 minutes wait. It is a big bowl of Tendon that heavier coated with tempura on Japanese rice. The portion was so huge with tempura flavored with a generous amount of sesame based sauce. It looks so tempting.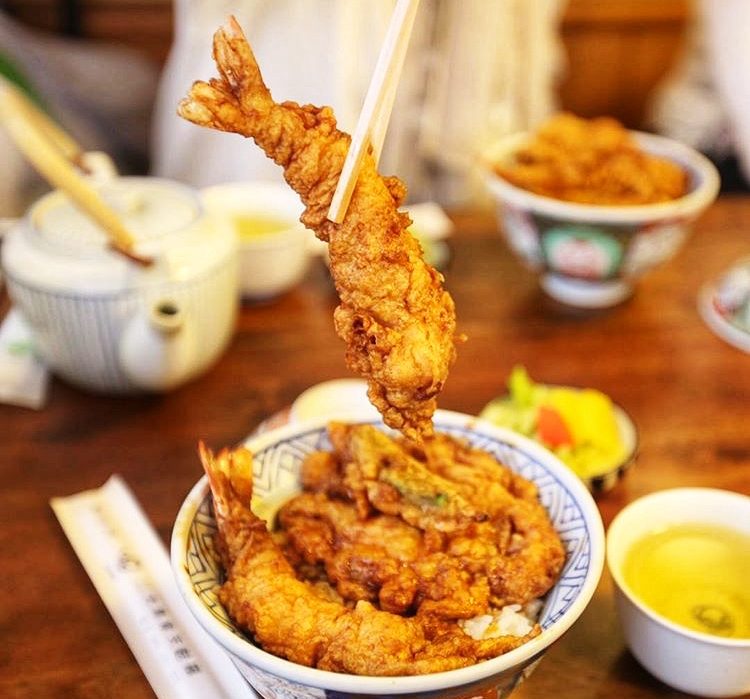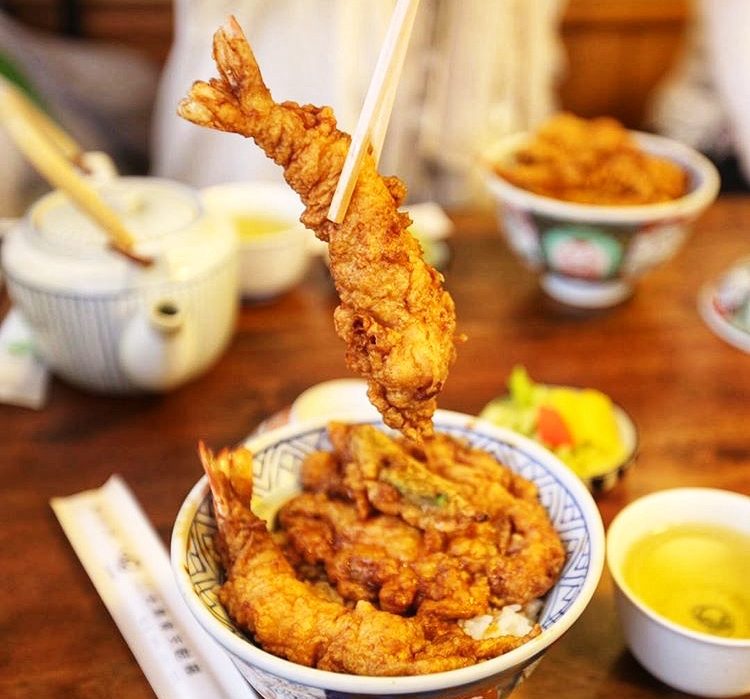 We can't wait to taste on the tempura. It was so tasty and flavorful. The star of the dish was definitely the secret sauce. Sweet and savory without being overly salty.
But we also both agree with most of the reviewers that food is subjective for personal preference. Daikokuya uses soft batter and as such, expects it is not the light and crisp style. It was soft, soggy, and different from what we have had before. My friend does not like the soggy type of tempura but I love my tempura that way. So, judge for yourself after you have tried it.
Overview: Best Food in Asakusa
All in all, the tempura in Daikokuya is excellent and we enjoyed it very much. It is scrumptious and I could have easily had an entire meal of this one dish. However, you might find it disappointing if you are not a huge fan of soggy tempura. Food quality no complaints and reasonable prices.
If you're in Asakusa neighborhood in Tokyo, you must try the best tempura from Daikokuya. Highly recommended if you are looking for what to eat in Asakusa.
Lastly, this food review on Daikokuya Tempura Asakusa is part of or Kanto itinerary to Tokyo. If you are looking for things to d, food to eat, where to stay in Tokyo, feel free to continue to read on below Tokyo travel guide:
Tokyo Itinerary For 1, 2, 3 or 5 Days: A Complete Travel Guide Blog
More detail on Tokyo Travel Blog:
Tokyo Food Blog:
Planning on a day trip to Hakone:
Tokyo Transport Guide: