Last updated on September 23rd, 2023
Looking for real ramen in Japan, Ichiran ramen is a must-try for your Japan food list. We visited the Ichiran Ramen Ueno and here is our dining experience.
Ichiran ramen is a world-renowned ramen chain in Japan. It is popular for its flavorful tonkotsu ramen. The creamy rich broth, grilled pork slices, and thin firm noodles warrant a dedicated food blog post for Ichiran ramen.
Here is my food review on Ichiran Ramen at Ueno, my first ramen addicted start point.
Tokyo Hotel Tips:
When looking for the best price and biggest selection of hotels in Tokyo check prices for
Tokyo Best Hotel from Booking.com
. We found they are the best option and have a great cancelation policy.
Ichiran Ramen Ueno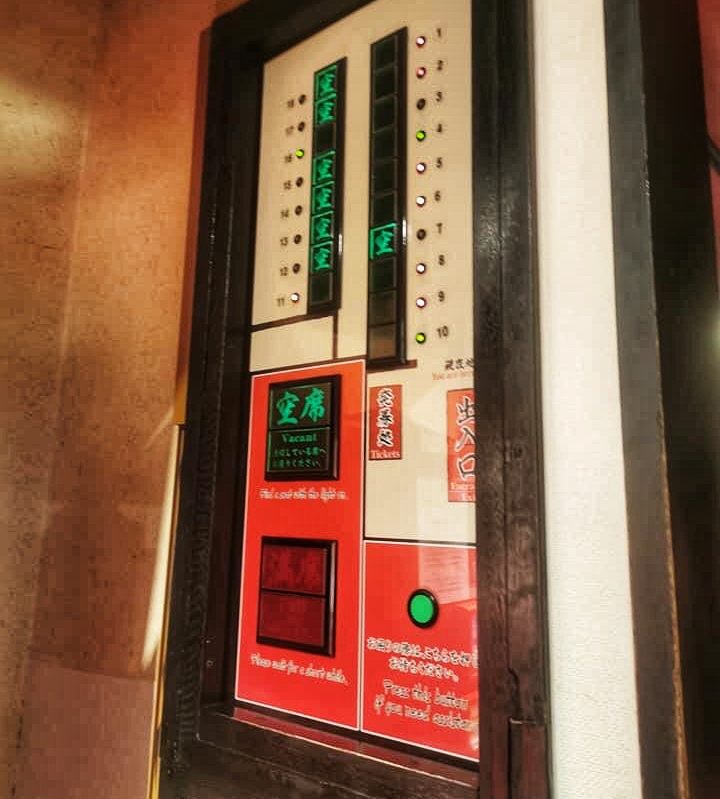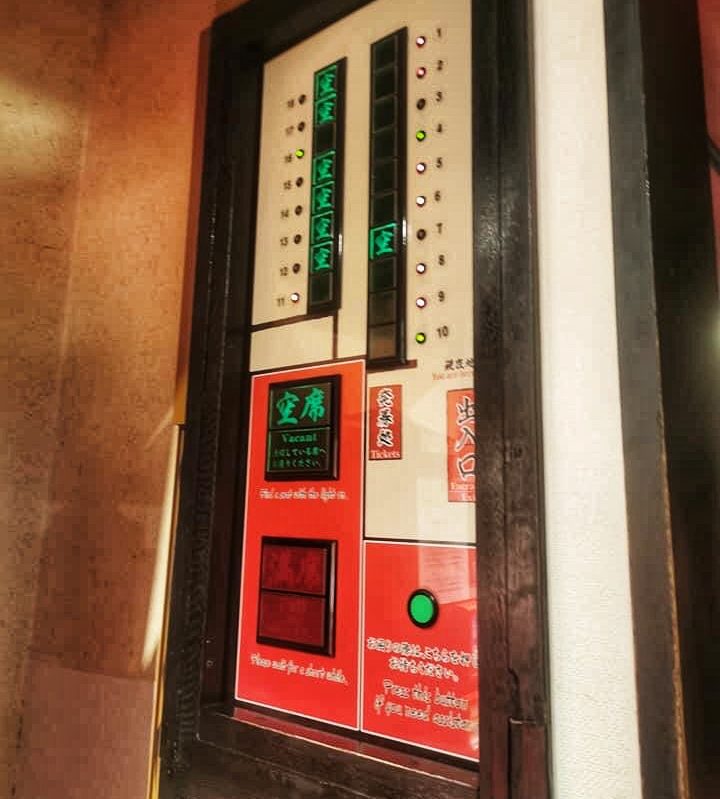 Ueno is such a wonderful part of Tokyo with a zoo, museum, shines, and also Ichiran. It is a perfect place full of cultural and culinary. We arrived at the Ichiran Ramen Ueno after one full day visiting Ueno and Asakusa.
It was about 6 pm and there were people in line queuing outside the restaurant to try the best ramen. We can see the seating condition display in Ichiran Ramen Ueno while waiting in the waiting area. Glad that the line wasn't long and moving pretty fast. We can go to the restaurant after 15 minutes of wait time.
How To Order Ichiran Ramen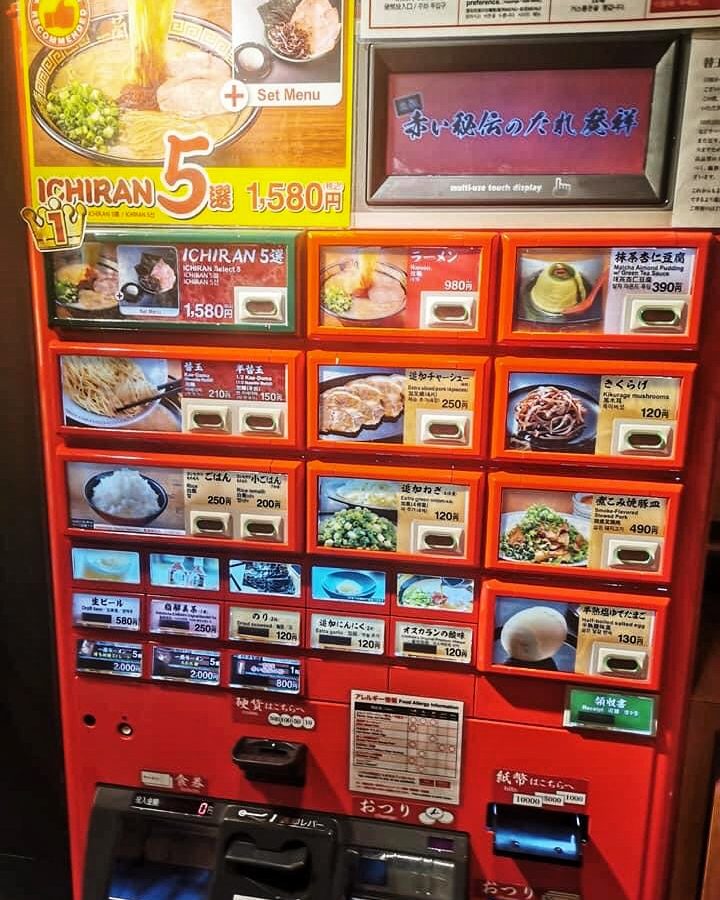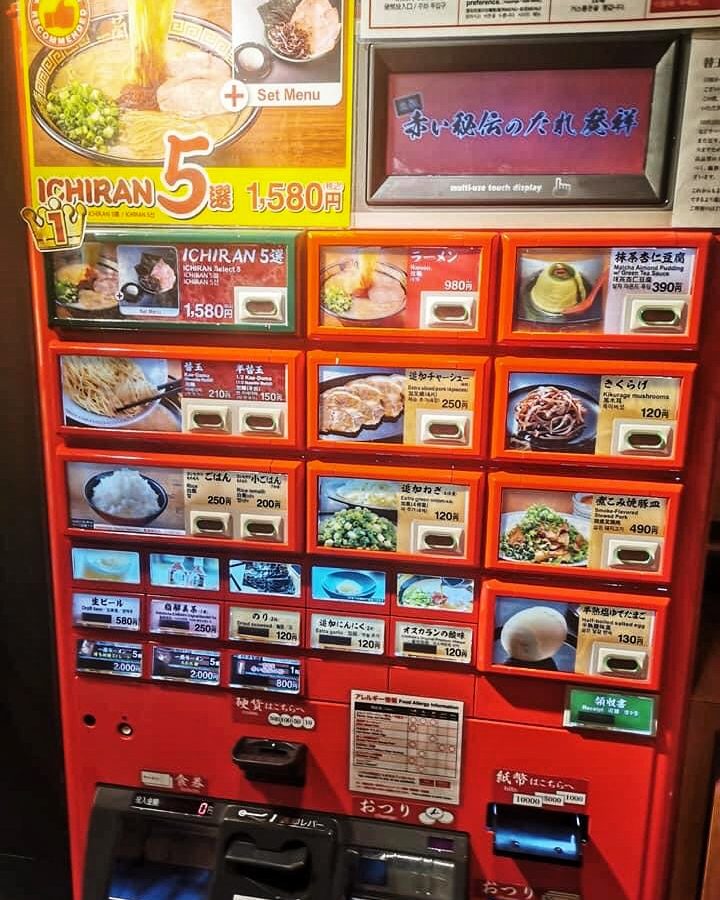 Ichiran Ramen encourages its customers to eat ramen the way they like it. The procedure to order your Ichiran ramen was simple. You can choose the texture and taste level to customize it based on your liking.
Once get it, just pick the food that you want to order on the kiosk machine. That's is very easy to order in Ichiran ramen as there is only one type of ramen that you can order. But you opt for additional options like added with more meat, add a soft-boiled egg, additional noodles "kaedama", and a few other items. Just press the button for the item order. Simple!
The ramen will be started at ¥890 and the machine will automatically increase the price when you added more items. Lastly, pay the money for your Ichiran ramen accordingly by cash or Suica card.
The machine will dispense your item ticket one by one. Take your ramen ticket and wait for the waiter to serve you to your seat.
Private Cubicle Seating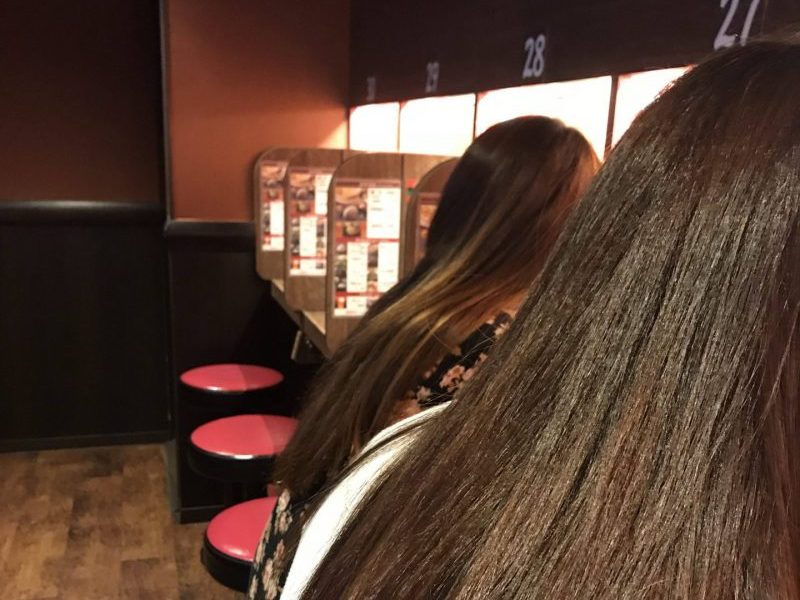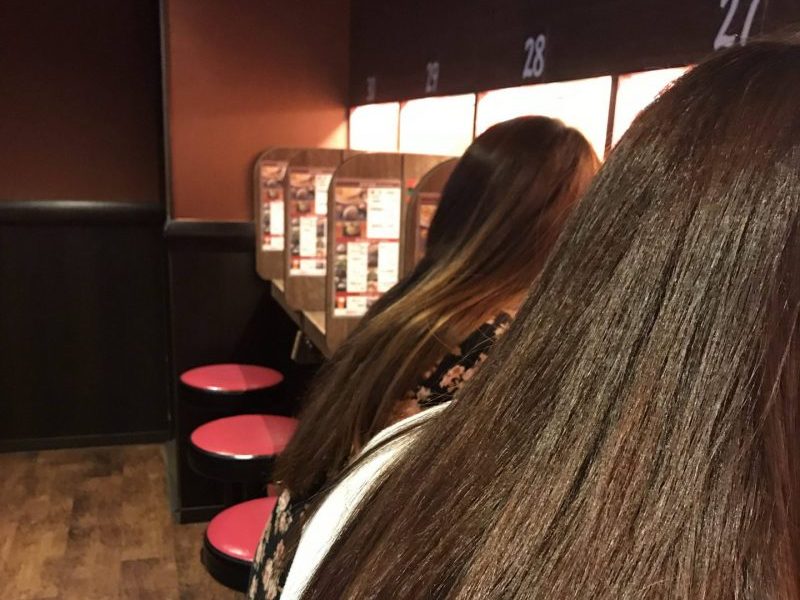 The server will guide you to your seat when there is your turn. There is a row of individual cubicle separated by wooden partitions gives the diner some private dining time.
Please note that Ichiran ramen is not ideal for large groups and hard to arrange to sit together. You might need to wait for a longer time if want to seat together. Solo traveler and small group dinners will be easier to get seats. My recommendation is to split your group up, especially if you're going to be using the individual booths anyways!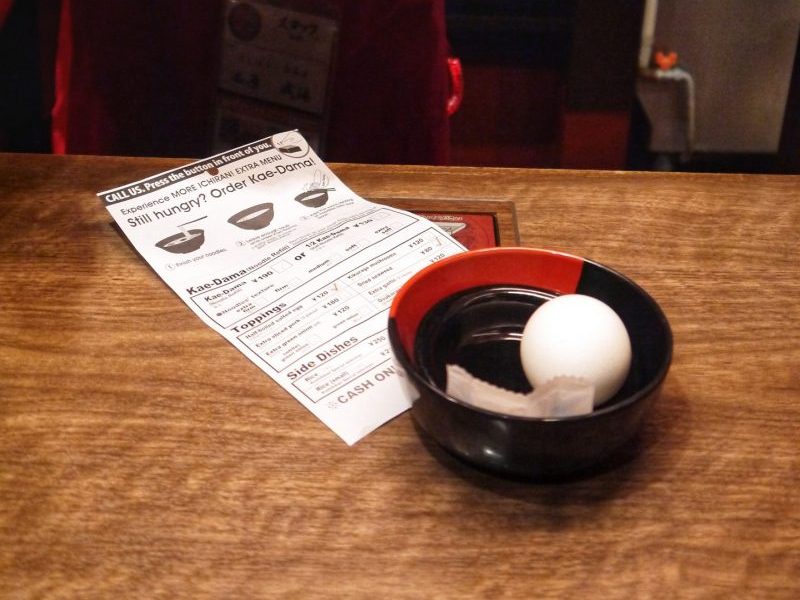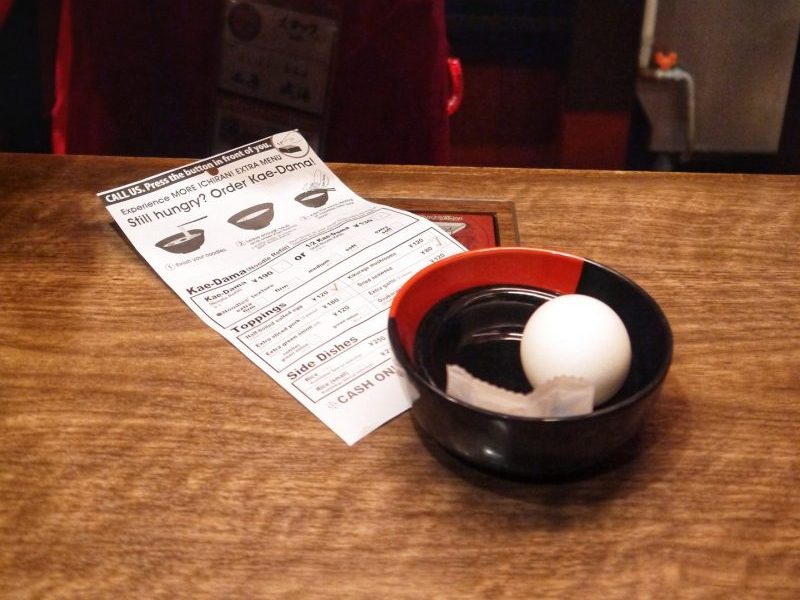 Once seated, it's time to customized your Ichiran ramen. Grab a sheet and pencil and stated your ramen's preference. For the first-timer for Ichiran ramen, you can choose the standard for most of the items. I personally prefer with extra spice. Their red chili sauce is their specialty.
Next, put the sheet and ordering ticket that you get from the vending machine on the edge of the table next to the window with a bamboo curtain. The server will open the window and take your ticket.
While waiting, you can self-service for complimentary tapped water and a plastic glass. But you can also order the green-tea beer at Ichiran ramen.
My Bowl of Ichiran Ramen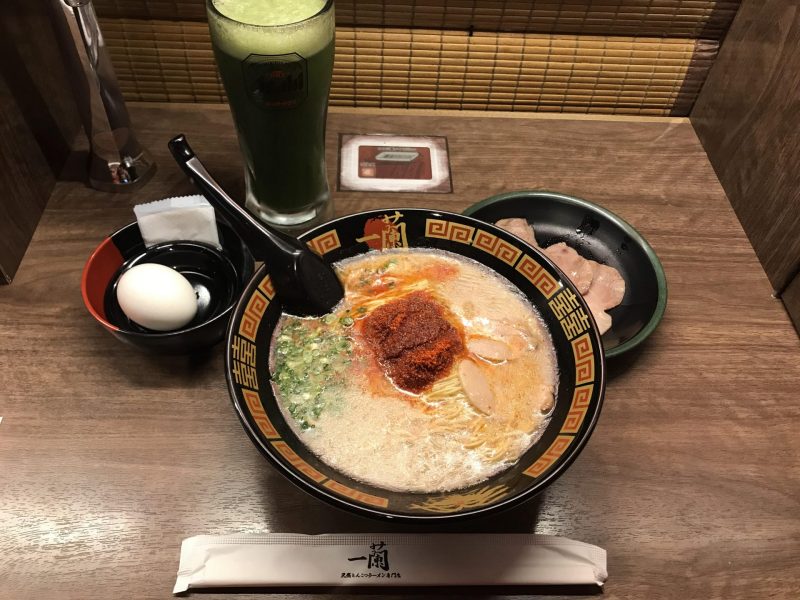 Without a long wait, our customized ramen was served. Ichiran ramen Ueno served the soft-boiled egg with the shell. So you need to peel off by yourself.
It seems like I am too greedy as I order extra pork slices, extra green onion, extra spice level, and a green tea beer. What a feast!
My first sip on the flavourful pork broth. The taste was so extraordinary, beyond delicious. The thin noodles go so well with the broth. The pork belly is so tender and juicy. While the boiled egg perfectly cooked with running egg yolk.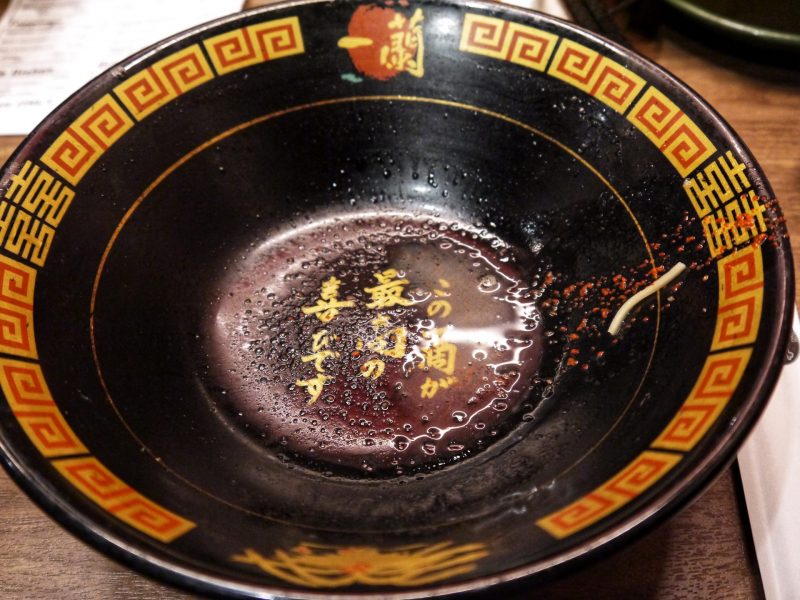 Nobody speaks with the sounds of slurping envelopes you. Within 10 minutes, you can finish the Ichiran ramen with an empty bowl.
Although I have been tried on various types of tonkatsu ramen, I still hardly forgot the first time when I try on the Ichiran Ramen at Ueno. The thick rich broth adds to the chewy noodles, makes the ramen a complete enjoyment.
After finishing the ramen noodles, you can pay for the additional noodles "kaedama" to get a refill. Step-by-step instruction on how to order extra noodles was ready to guide you on this. However, please take note that only the noodle can be refilled but not the soup.
Overview: The Best Ramen in Ueno Tokyo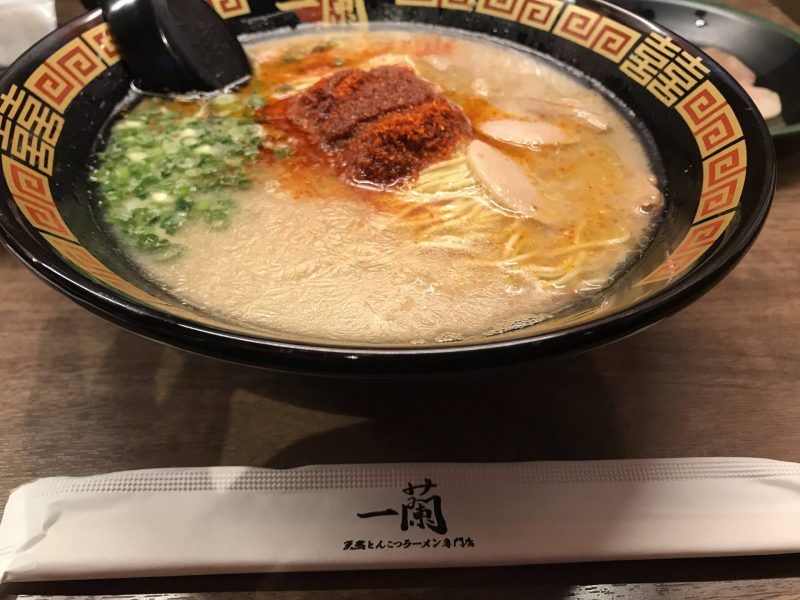 All in all, there is not much to quibble about for Ichiran ramen. It is exactly what Japanese ramen is meant to be: tasty, hot, hearty, and cheap. This may not blow away locals or regular visitors, but for a traveler, Ichiran ramen is a must-try experience.
Definitely, having a bowl of Ichiran ramen is one of the Japanese dining experience you want to have.
Getting There
Ichiran is a famous ramen chain in Tokyo, serving truly excellent ramen. It is running 24 hours per day sp that you have slurp on this goodness even at midnight.
There are many Ichiran ramen branches scattered all across Japan. The Ichiran Ramen Ueno is easy to get in especially if you are planning for an Ueno itinerary.
Ichiran, Atre Ueno Yamashitaguchi
Address: 7-1-1, Ueno, Taito 110-0005 Tokyo Prefecture
Opening Hours: 24 Hours!
Getting there: 3 minutes walk from Ueno JR Station (next to Yamashita exit)
Are you visiting Tokyo and would like to share your best eats in Tokyo? We'd love to hear from you.
How To Plan your trip to Tokyo (Must read for first time visitor):
Tokyo Food Blog:
Planning on a day trip to Hakone: