Last updated on September 23rd, 2023
Check out my Nachi Falls travel guide blog for more travel information and tips. A popular Kumano Kodo Pilgrimage Trail from Daimonzaka to Nachisan with a quick and easy itinerary.
Nestled deep in the valleys of the Kumano region, Nachi Falls (那智の滝, Nachi no Taki) is an excellent taste of the natural beauty of Japan. At 133m high, this sacred waterfall is the longest single drop in Japan and is considered one of the premier waterfalls to visit. It has been a place of worship for centuries and is also part of a World Heritage-protected landscape in the Kii Peninsula.
A trip to Nachi Falls is include visiting the Nachi Grand Shrine and Seigantoji Temple. Surrounded by luscious greenery, Nachi falls is popularly photographed with the three-story red Seigantoji Pagoda in the foreground, making for a strikingly mystic scene. A highlight of the region!
We visited Nachi Falls on our Nachikatsuura trip. As you can see, the view was incredibly beautiful and magical. The picturesque scene is one of my most memorable trips to Japan. Unfortunately, A visit to Nachi Falls is not easy due to the limited information and long traveling journey. It took us some time to look for the travel information and transportation options.
Still, we absolutely loved our time here, and that's why we've decided to write this Nachi Falls itinerary with all the highlights so that you won't miss out on anything. Read our Nachi Falls Travel Guide blog below to find out all about this fascinating destination!
How to Get to Nachi Falls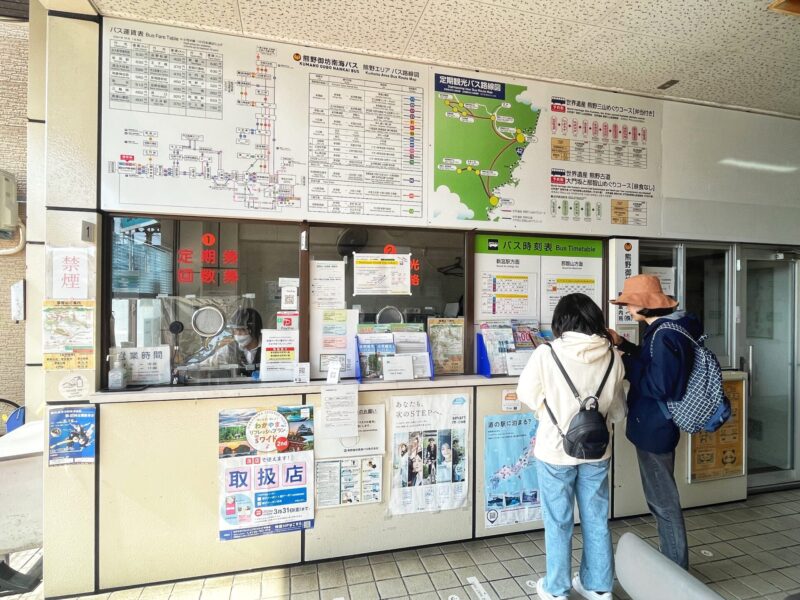 Depending on your starting location, it can take a while to get to Nachi Falls. Most people will depart from Osaka, Kyoto, or Nagoya. But no matter where you start, you shall take the train to Kii-Kutsuura station.
Getting to Kii Katsuura Station:
From Osaka: It takes about 3.5 hours to get to Kii Katsuura by JR limited express train Kuroshio.
From Nagoya: It takes 4 hours by JR limited express Wideview Nanki.
Take note that all seats are reserve seat for JR limited express train Kuroshio. And it is always recommended to reserve a seat for JR limited express Wideview Nanki due to limited seats available.
Pro Tips: Travel smart and save with Japan Rail Pass, JR Kansai Wide Pass, JR Kansai Hiroshima Pass, and JR Ise-Kumano-Wakayama Area Tourist Pass. Check to each pass on more detail on the coverage area.
Bus from Kii-Katsuura to Nachi Falls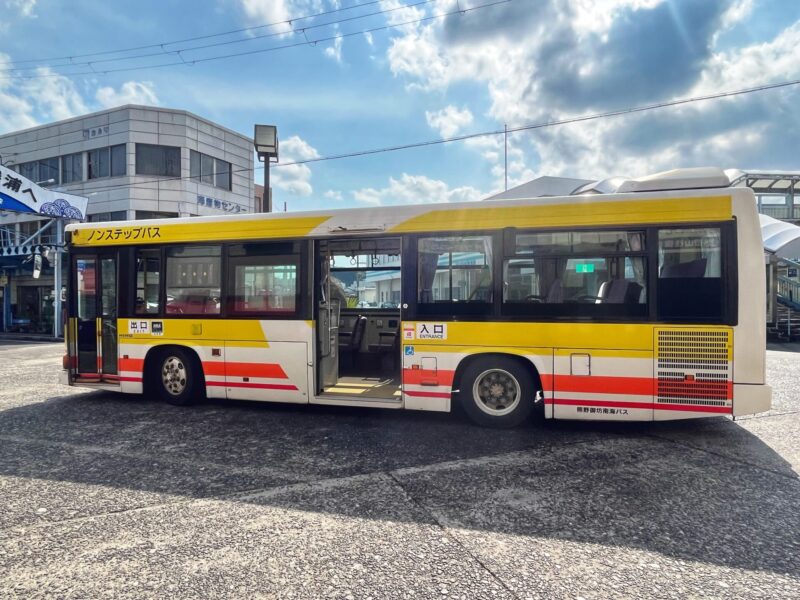 Once you are in Kii-Katsuura station, take the Kumano Kotsu Bus bound for Nachisan. The bus runs every 45 minutes and a single ride is about half an hour long. It is advised to check the timetable in advance and manage your time carefully due to the infrequent bus.
Nachisan line: Kii-Katsuura Station – Nachi Station – Daimonzaka – Nachi-no-Taki-mae (Waterfall) – Nachisan
One way is ¥620 for an adult. You can purchase a roundtrip ticket at ¥1000 which is sold at the bus center in front of the station. Check the bus timetable here.
Pro Tips: The handy JR Ise-Kumano-Wakayama Area Tourist Pass is covered the bus ride!
Another option is getting there via rental car. Self-driving in the Kii Peninsula is also the best way to see the beauty of Japan's countryside vistas and stay flexible with plans. There is a large car park on top when visiting Nachi Falls. Japan is one of the cheapest countries for renting a car. You may check out price detail from RentalCars.com.
Where To Stay when Visit Nachi Falls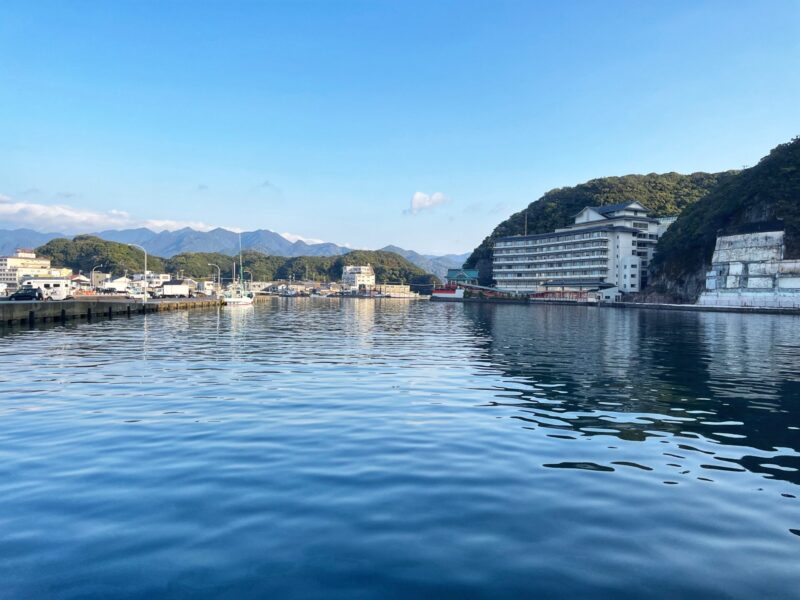 When visiting Nachi Falls, it is best to spend one night in Nachikatsuura, a lovely fishing town with amazing natural hot springs. Most accommodations in town are located on the island or the opposite side of the bay, boasting an amazing sea view.
There are few accommodations options available in Nachikatsuura and each has its unique offers. Here are our best picks:
High-Range: Kumano-bettei Nakanoshima – This is one of the best hotels in the area if you want a luxurious stay! It is a seaside Ryokan located on a private island in Katsuura Bay.
Mid-Range: Hotel Urashima – A popular onsen resort with beautiful hot springs in Nachi Katsuura. The most famous is the Bokido, a natural hot spring bath in a cave overlooking the ocean. Truly amazing!
Budget: Why Kumano, Hostel & Bar is a convenient hostel accommodation with a bar and café in front of the. It is housed in a narrow three-story building with a tasteful design.
More Nachi Falls accommodation: Where To Stay in Nachikatsuura – Best Hotels Pick.
Planning on Nachi Fall Itinerary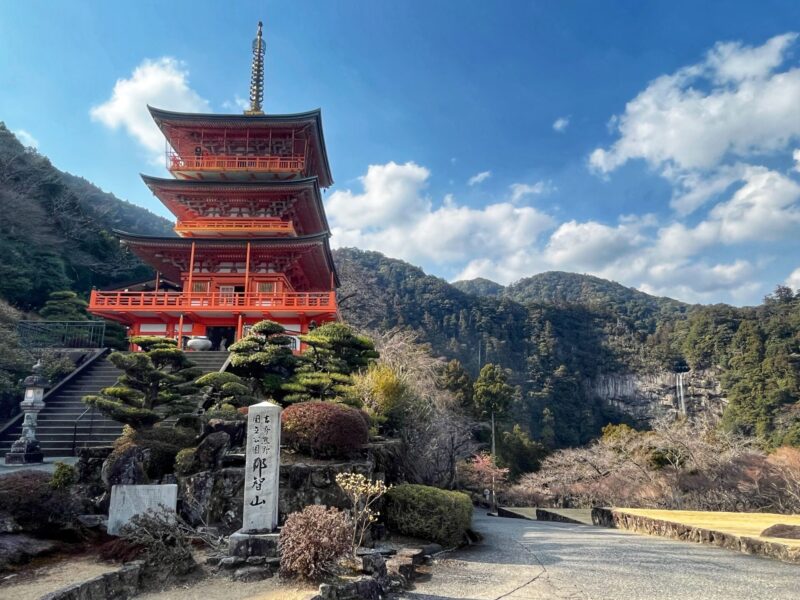 There are 3 options if you planning on the Nachi Falls itinerary. From Nachi Station, you can take the bus and get off at Daimonzaka (base of the slope), Kumano Kodo (one-third up the slope), or Nachisan (top of the slope).
Things to do in Nachi Falls itinerary:
Kumano Kodo Pilgrimage Trail
Daimonzaka Walking Trail
Kumano Nachi Taisha Shrine
Seigantoji Temple
Nachisan Pagoda
Hiro-jinja Shrine
Nachi Falls (Nachi no Taki)
With about 4 to 5 hours allocated, we choose to start at Daimonzaka for an easy hike to Nachi Falls.
Pro Tips: Stop by a tourism information center located beside the JR train and bus station to get a Nachi Falls area map! You can also ask for the Nachi Falls bus schedule, along with other bus schedules around Kumano Kodo.
Kumano Kodo Pilgrimage Trail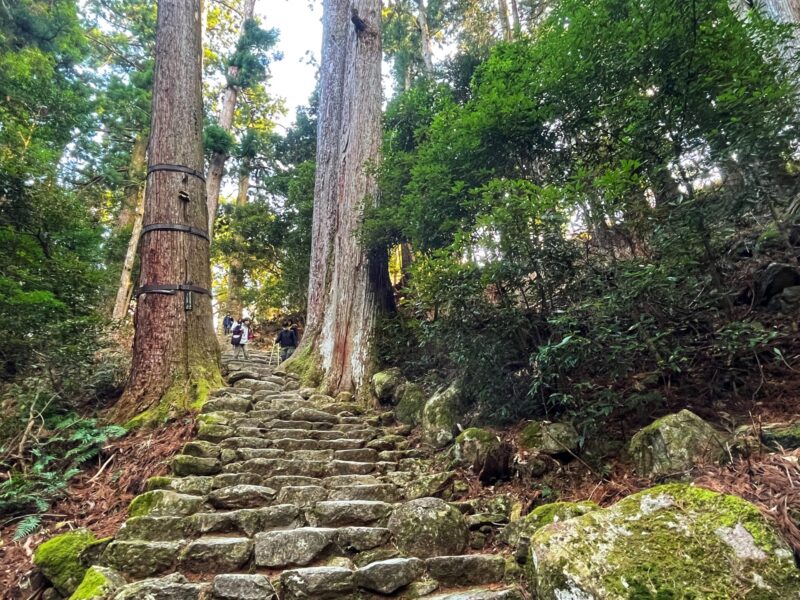 The ancient Kumano Kodo trail is one of Japan's most sacred pilgrimage routes that run through the beautiful Kii Mountain Range. It has been traversed by hundreds of thousands of pilgrims throughout the centuries. The Kumano Kodo consists of several walking courses and it about 4 days to complete the trail.
The Nachi Falls is a part of the Kumano Kodo Pilgrimage Trail's highlight!
If you don't have time to spare and wanted to experience a small part of the sacred trail, you can consider the take the Daimonzaka walk – just like what we did!
The 2.7 km route starting from Daimonzaka to Nanchi Falls is the beginner route for the hiker.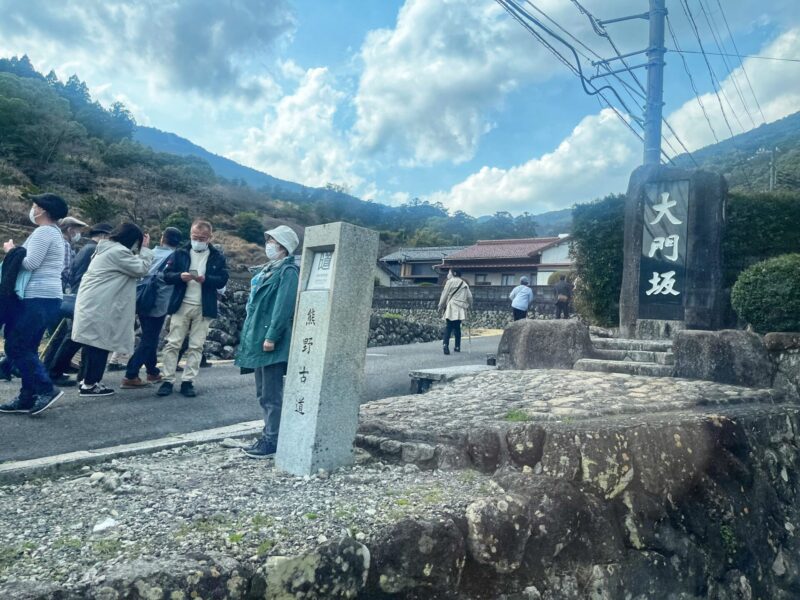 To start the Nachi Falls itinerary, firstly board a bus departing from Kii-Katsuura Station, and get off at the "Daimonzaka" bus stop after a 30-minute ride.
There is a memorial monument of the Japanese national women's soccer team "Nadeshiko Japan" which you can easily be spotted from the bus stop. Walk further to the entrance of the Daimonzaka on your left. The official path of Kumano Kodo begins here, welcoming you with a steep uphill immediately.
Pro Tips: Once you start the Daimonzaka hike, there is no restroom available along the trail Be sure to go to the toilet which allocates near the memorial monument!
Getting there: Get off at Daimonzaka Chusayo bus stop and walk to Daimonzaka slope.
Kumano Daimonzaka Walking Trail
The Daimonzaka is part of the spiritual Kumano Kodo pilgrimage traversed by many monks. It is part of the Nakahechi route that starts from Tanabe city. The complete Nakahechi route will take about 3.5 hours to complete. While this waterfall route from Daimonzaka with beautiful stone steps will lead you to Kumano Nachi Taisha, the Seigantoji Temple, and ultimately, Nachi Falls.
The 2.7-km-trail cobblestone paved trail is lined with majestic centuries-old Japanese cedars that wind up through the dense forest.
Walking through the Kumano Kodo with your own feet while closely engaging with the nature of the mountains. There is torii (gates), piles of stones, and small shrines, all covered in moss. Walking time is 30 minutes uphill at a steady pace. Truly an awesome experience!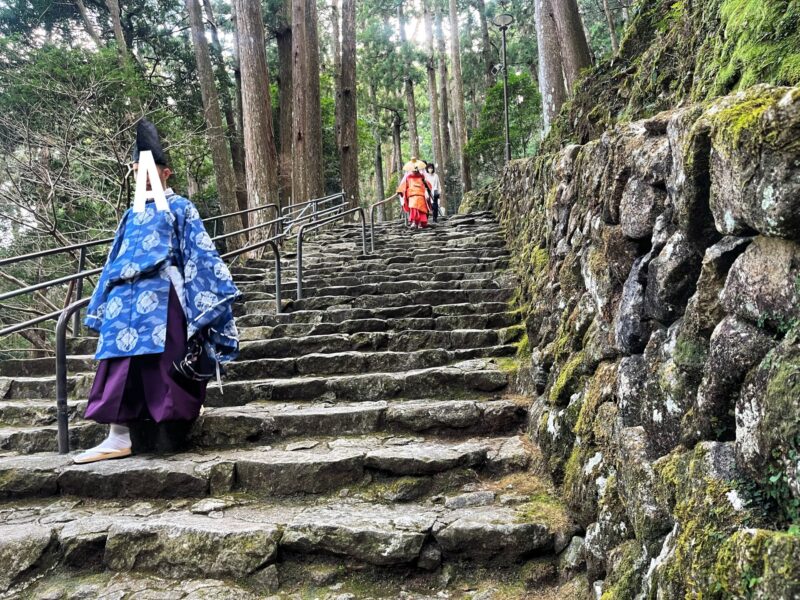 There are lots of signs along the way, so you will basically just be following the signs. Some travelers even wear traditional pilgrims outfits to experience the sacred trail. You may rent it at the start point.
The trail is not difficult and suitable for hikers of any level of fitness. In some parts, the mossy stone steps were a bit slippery. Make sure to have proper hiking clothing, and walking shoes, and keep hydrated. The Daimonzaka walk is free and a worthwhile experience.
Daimonzaka (熊野古道大門坂)
Duration: 30 – 60 minutes (depending on fitness)
Length: 2.7 km
Official Website: https://www.tb-kumano.jp/en/kumano-kodo/nakahechi/daimon-zaka/
Meoto Sugi Trees
When passing by the Daimonzaka Chaya, a giant cedar tree standing on both sides of the road will catch your eye. The 800-year-old Meoto Sugi Husband and Wife Cedar Tress (夫婦杉) are connected at the root, lined up on both sides is a gate inviting you deeper into the Kumano Kodo.
Continues your hike through the dense forest until we reached the top of Daimonzaka.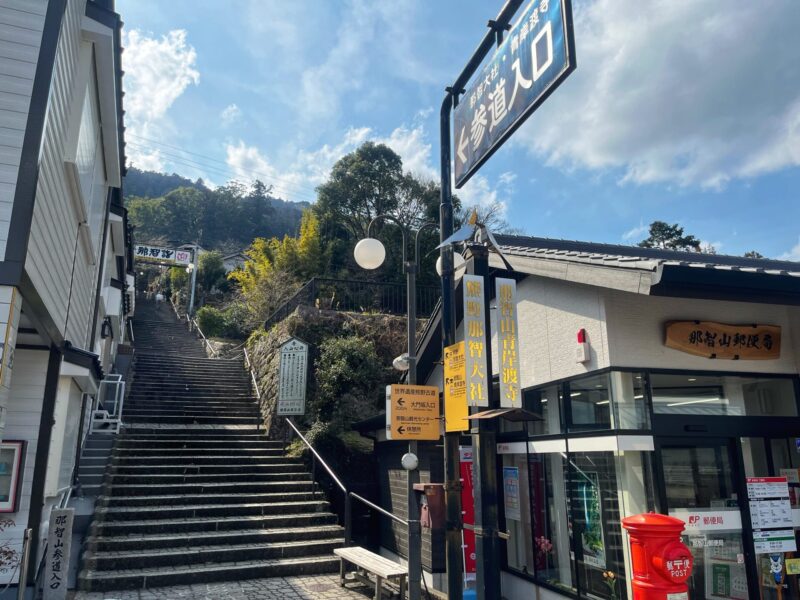 Long Stairway to Kumano Nachi Taisha Shrine
When you saw a steep flight of stairs, you are almost completed the Daimonzaka trail. The stair consists of 470 steps in total and it is a short distance away from the Kumano Nachi Taisha.
Pro Tips: The long stairway is the start point if you choose to get off from Nachisan Station.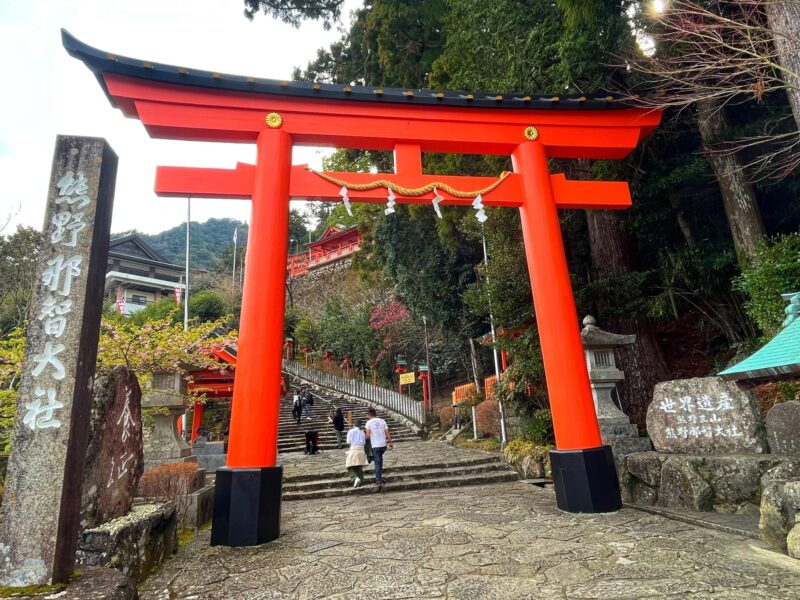 Passing through the red-colored torri gate, we finally arrived at the grounds of the Kumano Nachi Taisha.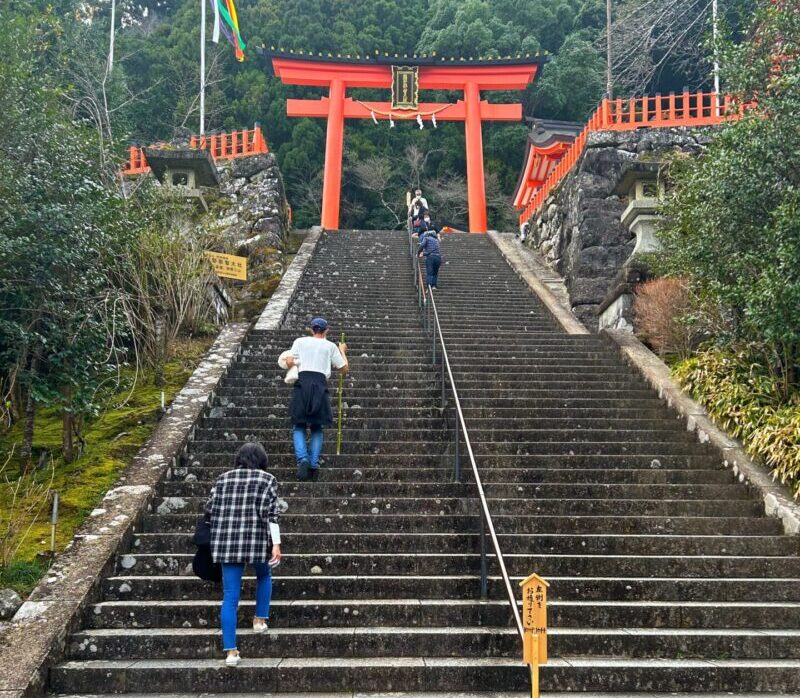 Kumano Nachi Taisha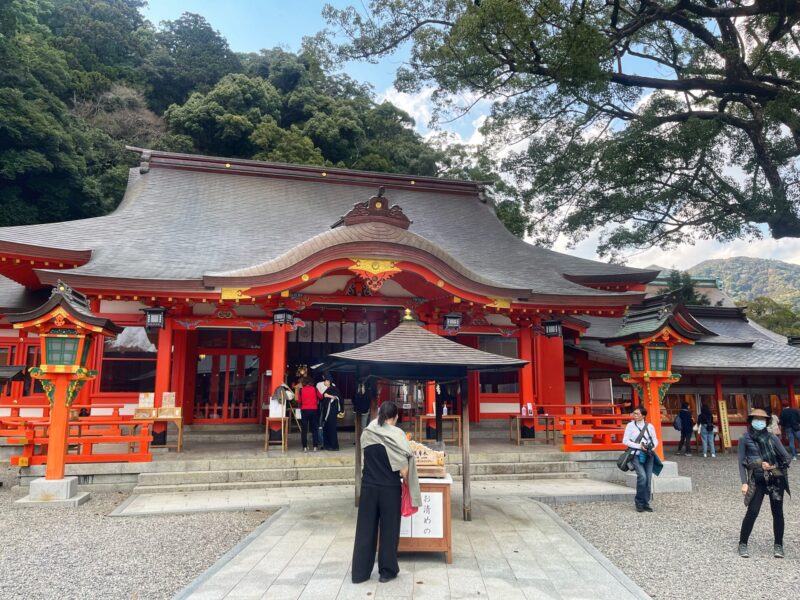 Situated approximately 350 meters above sea level, Kumano Nachi Taisha is a famous Shinto shrine built on the Nachi mountain. It is part of the UNESCO World Heritage-listed holy sites and pilgrimage routes in the Kii Mountains of Japan.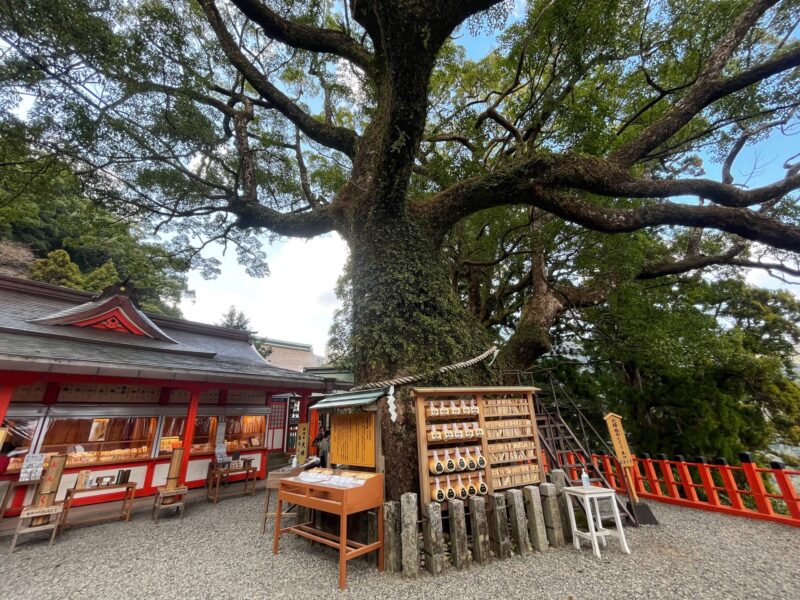 The 3 Grand Kumano Shrine in Kii Mountain Range are Kumano Hongu Taisha, Kumano Hayatama Taisha, and the Kumano Nachi Taisha.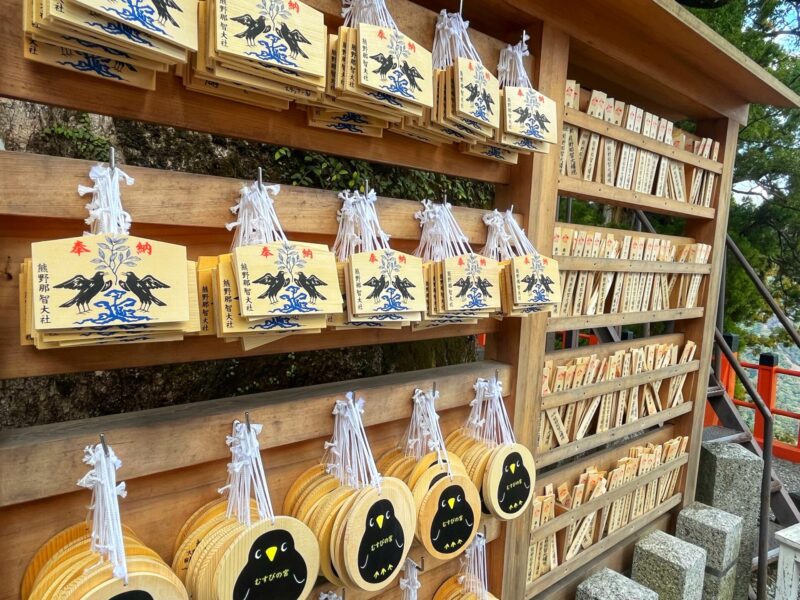 Kumano Nachi Taisha displays a mixture of Buddhist and Shinto influences. It has been worshipped as a holy site of Shinto since Buddhism was introduced to Japan in the mid-6th century. You can observe monks walking about, paying their respects at a close range.
A worthwhile stop on your visit to Nachi Falls.
Kumano Nachi Taisha Grand Shrine (熊野那智大社)
Address: 1 Nachisan, Nachikatsuura, Higashimuro District, Wakayama
Operating hours: Always open.
Admission Fee: Free!
Official website: https://kumanonachitaisha.or.jp/
Nachisan Seigantoji Temple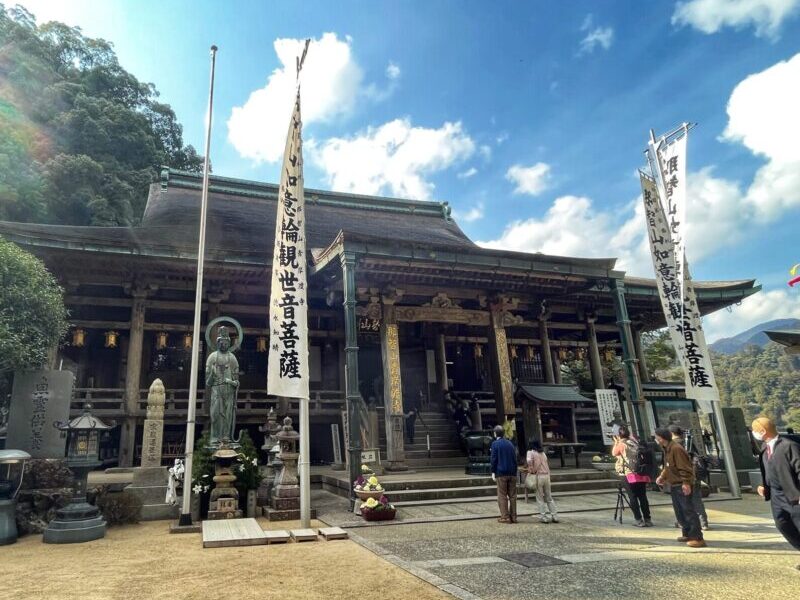 Nachisan Seiganto-ji temple next to the Kumano Nachi Taisha. It is a temple that was allegedly built in the 4th century. It is one of the few temples that are still in existence after the forcible separation of Shinto and Buddhism during the Meiji restoration.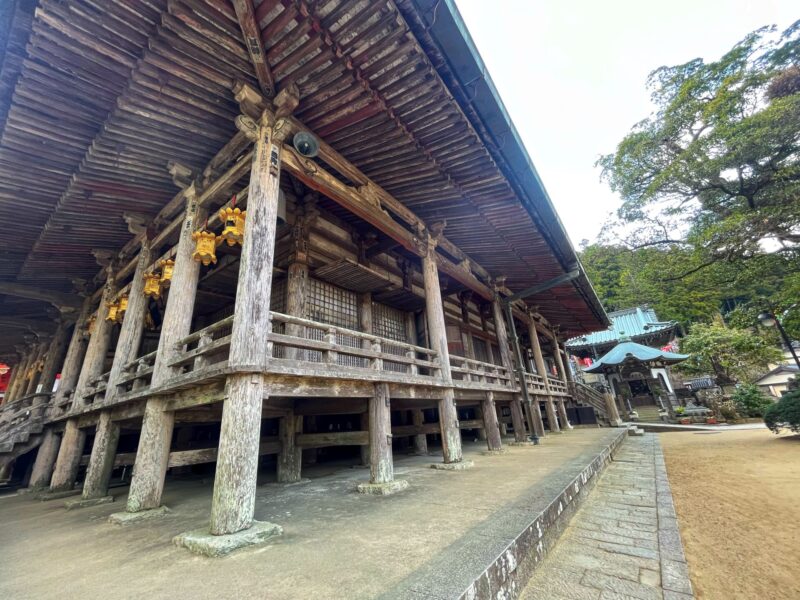 The front of the main building of worship is the Hondō (Nyoirindō) at Seigantoji. Entrance to these attractions is free.
Nachisan Seigantoji Temple (那智山青岸渡寺)
Address: 649-5301 Wakayama, Higashimuro District, Nachikatsuura, Nachisan.
Operating hours: Daily from 9:00 until 16:30
Admission Fee: Free!
Nachisan Pagoda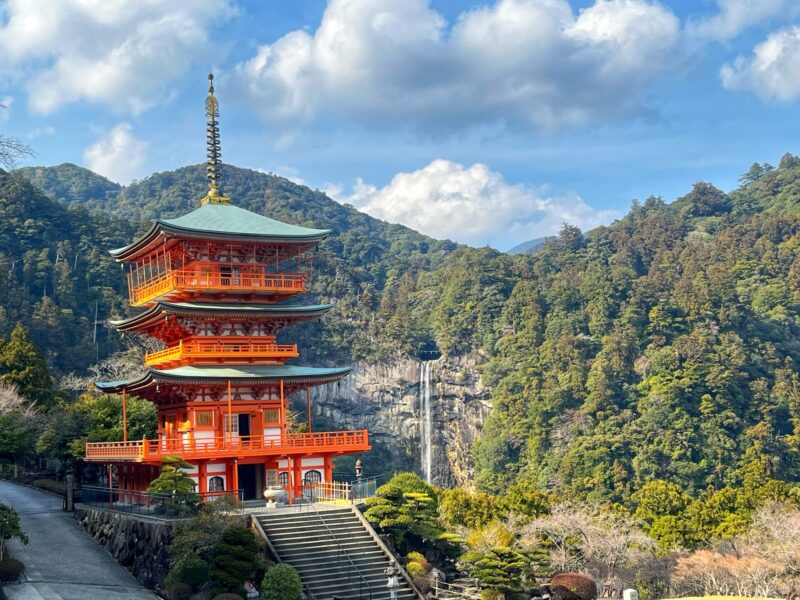 Continue walking towards the waterfall and took photos of it side by side with the iconic three-story pagoda.
From here, you will be able to see Sanjudo Pagoda, a striking three-story pagoda erected in front of Nachi Falls. It is the most picture-perfect three-story pagoda you could find in Japan.
The temple ground is open from 8:30 to 16:00 and can be entered for ¥300.
A great photo opportunity was presented with the Nachisan pagoda overlooking the waterfall, not to be missed!
Nachisan Pagoda (那智山青岸渡寺三重塔)
Address: 68 Nachisan, Nachikatsuura, Higashimuro District, Wakayama.
Operating hours: Daily from 8:30 until 16:00
Admission Fee: Free for temple ground and ¥300 to enter the pagoda.
Hiro-jinja Shrine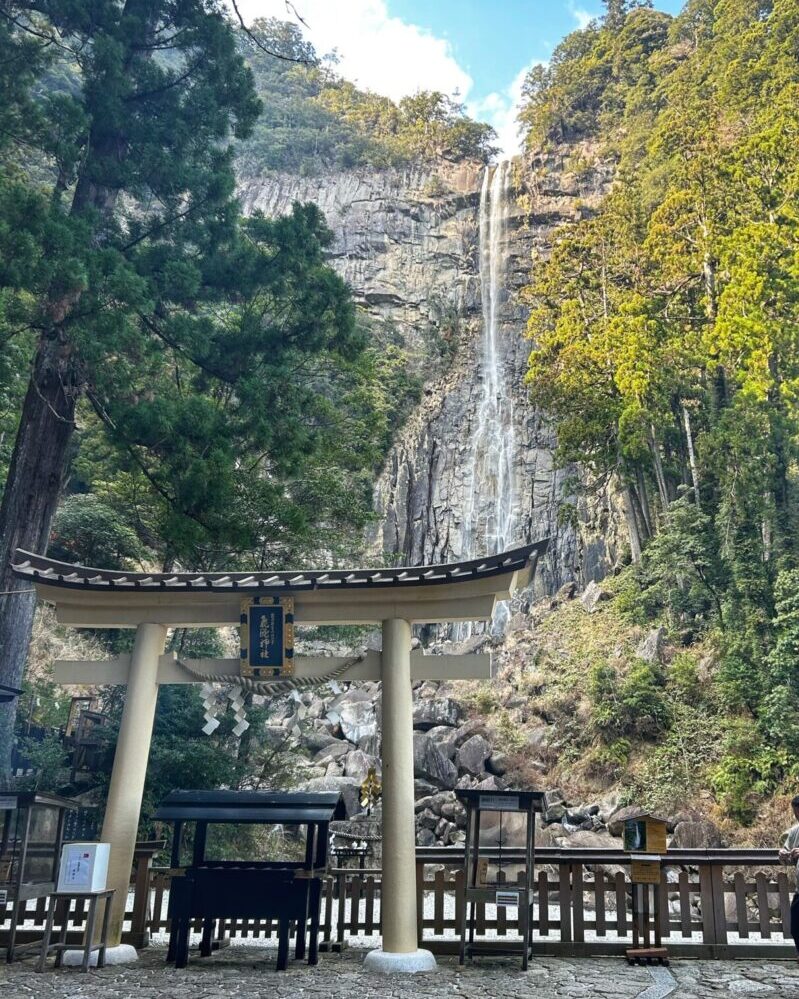 A short walk down to the forest gateway to the base of Nachi Waterfall. It takes about 10 to 15 minutes along the winding path.
There is a Shinto shrine, Hiro-jinja Shrine that honors the deity of the Nachi-no-Taki waterfall.
Hiro-jinja Shrine (飛瀧神社)
Address: Address: 206 Kaminakano, Hirogawa, Arida District, Wakayama.
Operating hours: Always Open.
Admission Fee: Free!
Nachi Falls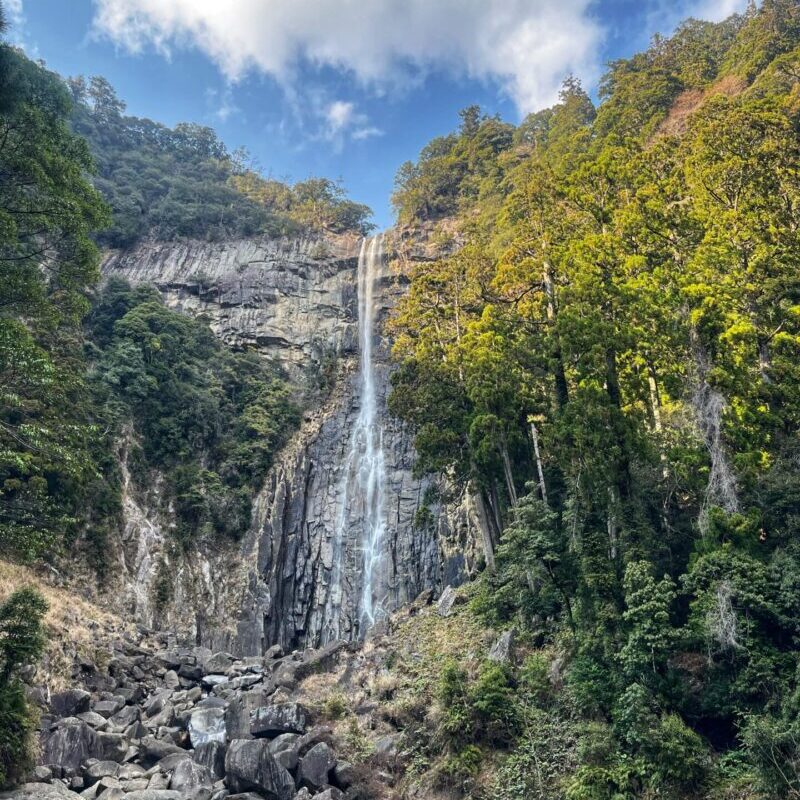 Nachi Falls (also known as Nachi no Taki or Nachi Otaki) is one of, if not the most famous waterfall in all of Japan. We enjoy our time mesmerized by the beautiful sight and the falls are more than beautiful enough to simply be seen!
Entrance to Nachi Falls is free.
But with additional ¥300, you can get closer via a viewing platform leads to witness the waterfall. We opted out of this option, as the falls were close enough without the extra vantage point. Take a stroll around the area and hear the roaring sound. Touching the rippling water spray is much of a blessing.
At ¥100, you can also get a Sakazuki, Shinpai sacred cup, and drink the Enmeisui, Longevity Water. Locals believe the sacred water will give you a long life.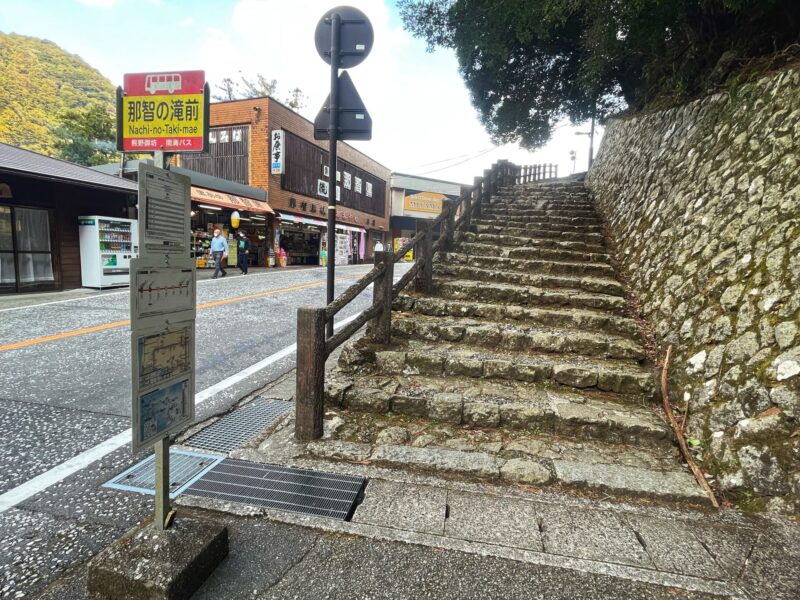 Lastly, we catch a bus just outside the Hirou Shrine to get us back to Kii-Katsuura. A good ending for Nachi Falls itinerary!
Nachi Falls Travel Tips
Is a day trip to Nachi Falls from Osaka doable?
We wouldn't recommend doing a day trip from Osaka, as this would entail approximately 8 hours on the train and additional bus rides to the Nachi Falls. Still, it is doable as you can depart super early and back to Osaka at late night.
How to get to the Nachi Falls from Osaka?
Travelers can take the Kuroshio Limited Express from Osaka to Kii-Katsuura station. The journey takes around 4 hours and costs around ¥7,000 one way.
Is Nachi Falls worth a visit?
Definitely worth it! The Nachi Falls is really spectacular, surrounded by dark forest and a beautiful shrine.
Overview: A trip to Nachi Falls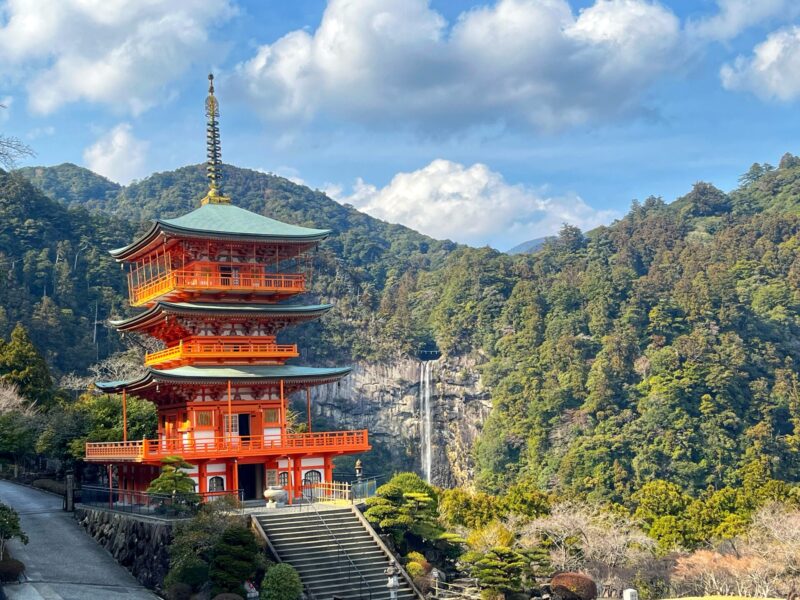 That's it! Above was one Nachisan itinerary from Daimonzaka to Nachi Falls. The Nachi Falls was one of the highlights of my trip to the Kii Peninsula. We enjoyed the breathtaking views of the waterfalls from different perspectives, beautiful temples, and shrines, and also an easy hike.
All in all, we strongly recommend planning a visit to Nachi Falls if you plan on traveling anywhere nearby. A wonderful and mystical experience!
Traveling to the Kii Peninsula? Free feel to continue to check out our travel stories to some other interesting places: