Last updated on June 3rd, 2023
In this Shirahama travel guide blog, we'll share the Shirahama itinerary together with some useful tips based on our own experience to help you plan your trip there!
Shirahama (白浜) is one of the famous beach resort towns in Japan. It is located in the southern part of the Kii Peninsula at Wakayama prefecture and is known for its sandy white beaches. Not only this, Shirahama is filled with an abundance of hot springs, some even with a history of over 1,300 years. Travelers can enjoy the stunning sea view while soaking in the natural hot spring. There are also several natural scenic spots along the coast with breathtaking vistas.
We visited Shirahama during our trip to the Kii Peninsula. There are so many things to do in Shirahama to keep you busy. It is a fantastic destination for a traveler to immerse themselves in a different side of Japan.
To help you plan a trip to Shirahama, we have compiled everything you need to know before you go to this Japan's beach resort city. We'll share how to visit Shirahama, what to eat, and where to stay in this Shirahama travel guide blog. My Shirahama itinerary is included!
How to Get to Shirahama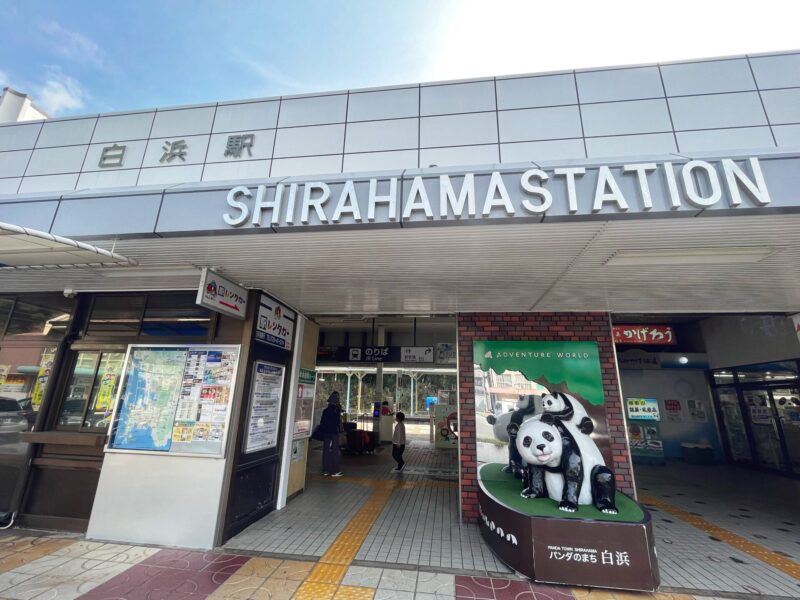 From Shin-Osaka Station, take the Kuroshio Limited Express train to go to Shirahama Station. It'll take about 2.5 hours for a one-way. Trains depart per hour, make sure to plan accordingly.
From Kyoto Station, take the shinkansen / JR local train to Shin-Osaka Station. This will take 14 / 30 minutes. At Shin-Osaka Station, transfer to the Kuroshio Limited Express train to go to Shirahama Station. You'll need about 3 hours for the one-way ride.
Here are the lists of transportation passes that can be used on the JR limited express train to Shirahama:
Pro Tips: If you have an active JR Pass or Kansai Regional Pass you can use it towards your transportation to Shirahama. Also, please take note that all seats are reserve seat for JR Kuroshio Limited Express train.
Getting Around in Shirahama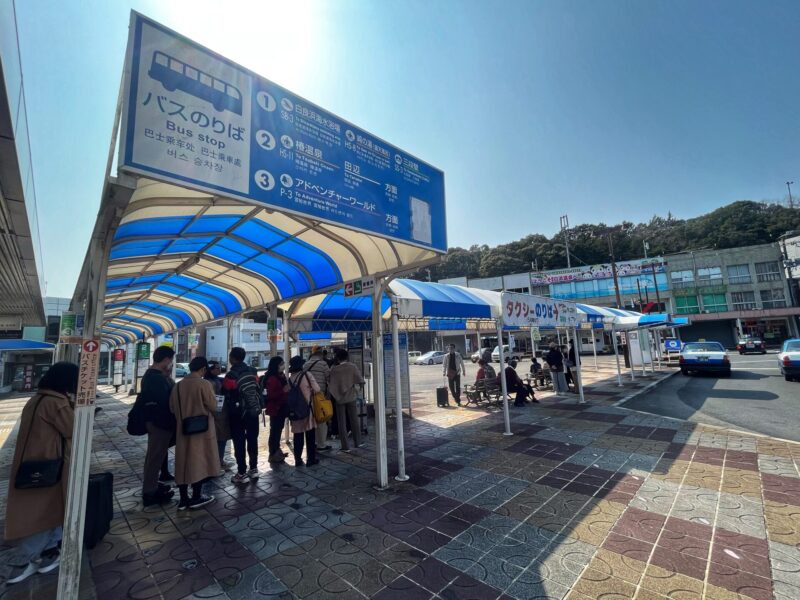 Loop Bus: Meiko Bus is the local bus service that runs and connects the Shirahama Station, sightseeing spots, and hotels in Shirahama. Basically, the bus route will take you to most of the places in Shirahama. However, most of the attractions are spread out so it's best to account for extra time when getting from place to place.
Meiko Bus Shirahama Onsen Bus Pass:
1-day at ¥1,100 for an adult. Half price for children.
2-day at ¥1,600 for an adult. Half price for children.
3-day at ¥1,900 for an adult. Half price for children.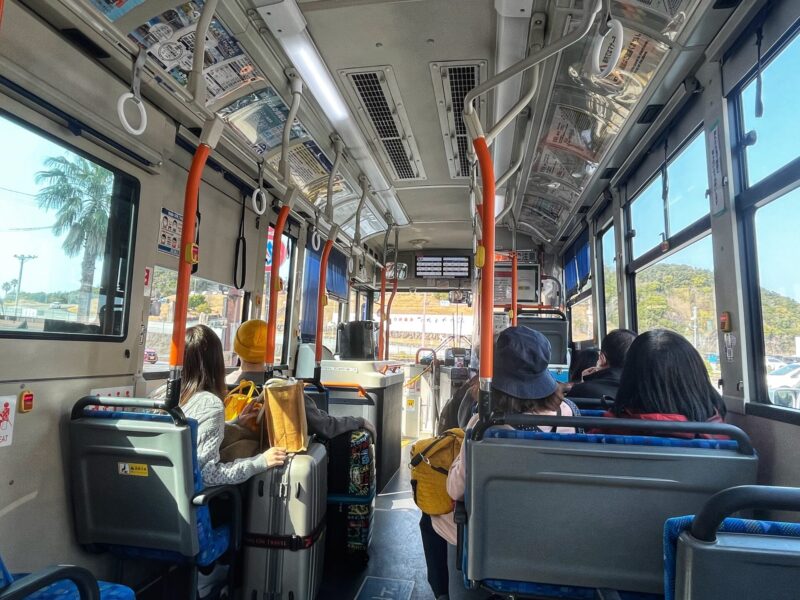 We recommended getting the Meiko Bus Shirahama Onsen Bus Pass for unlimited bus rides where you can get on and off the bus easily when visiting Shirahama. A single ride by bus will cost you from ¥200 to ¥650 per ride depending on the distance. You can purchase the bus pass from Japan Travel App.
The Shirahama station (s-0) bus stop is located right in front of the JR Shirahama station. You can board the bus when you get off the train.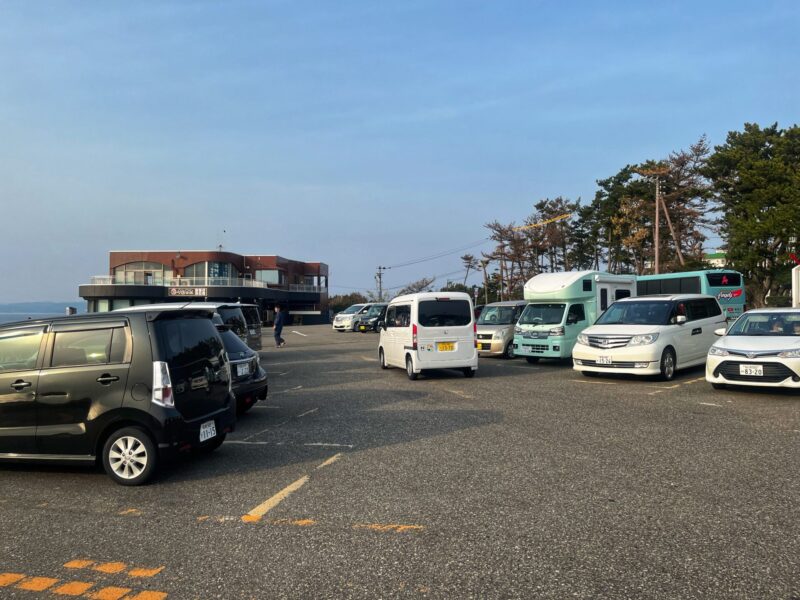 Rental Car: Shirahama is a great place for self-driving. There are many parking spaces allocated at the attractions. Parking seems to be easy and mostly is free in Shirahama at the side of the attraction.
Pro Tips: We recommend using RentalCars.com to find the best prices on a car rental. Different options and a wide selection of cars with price comparisons.
Rental Bike: Shirahama is a great city to bike in while enjoying the sea view! Many hotels offer complimentary or inexpensive bike rentals, but you can also rent a bike at Shirahama Station. It is winding when cycling through the seaside, but there are also physically demanding as many incline road.
How Many Days in Shirahama
Shirahama is a popular seaside travel destination among locals. If you're based in Osaka or Kyoto, you can easily visit Shirahama on a day trip. But we highly recommend spending at least one night in Shirahama as there are so many things to do in this area!
Where To Stay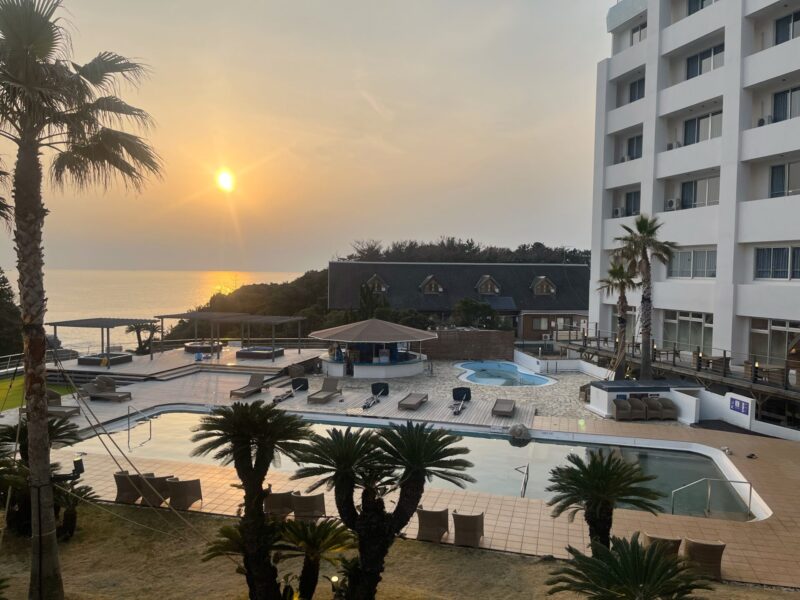 Shirahama boasts plenty of accommodation options ranging from traditional Japanese Ryokan to modern hotels. You'll be able to find somewhere to stay for all your budgets. Spending your time in Shirahama in a ryokan is a great way to experience the seaside hot spring.
Here are our top picks on Shirahama accommodations:
Infinito Hotel and Spa – One of the popular luxury accommodations in Shirahama. It is located on the hilltop of Shirahama with magnificent views of the Pacific Ocean.
Musashi – Japanese-style accommodation in Shirahama with public onsen (public baths). The rooms are clean and spacious, featured with tatami (woven-straw) flooring and Japanese futon bedding.
Seamore Residence – Popular pick for mid-budget accommodation in Shirahama. The property is designed with a modern industrial vibe.
More Shirahama accommodation: Where to Stay in Shirahama – Best Onsen Resort and Budget Homestay.
Best Time to Visit Shirahama
Shirahama is a great place to visit all year round. But summer is the best time to visit Shirahama. But it is also the busiest season and a popular beach place to visit among locals.
During the summer months, Shirahama celebrates various festivities including a Sandcastle Competition, Fireworks Display, and Lantern Festival. The fireworks display brightens up the night sky on the white sandy beach. Many locals will bring their families and kids to spend their summer holiday at the beach side. Expect more crowds, busier beaches, and higher prices on accommodation.
Things to do in Shirahama Itinerary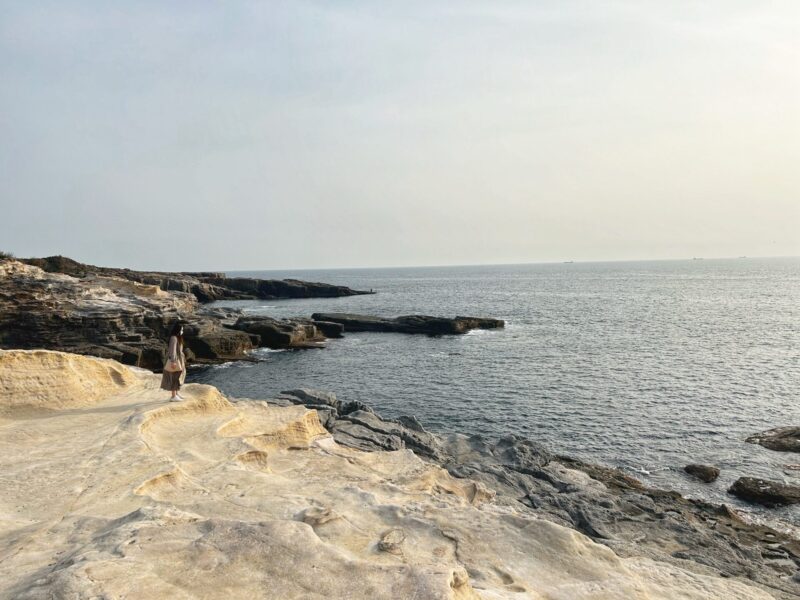 This Shirahama itinerary is designed to be flexible so that you can adjust it according to your interest and schedule.
Things to do in 1-Day Shirahama itinerary:
Start your Shirahama itinerary from JR station
Lunch at Toretore Ichiba Market
Engetsu
Shirahama Beach
Senjojiki Rock Plateau
Sandanbeki
Visit Sandanbeki Cave
Enjoy tradition hot spring (onsen) with seaside view
More day for Shirahama itinerary? Adventure World
Shirahama Travel Guide Tips: Above Shirahama itinerary is arranged based on our schedule and accommodation situated. Feel free to adjust the attractions based on your interest. But, please make sure to note on the last bus back to Shirahama station if you are planning a day trip to Shirahama.
Start from Shirahama Station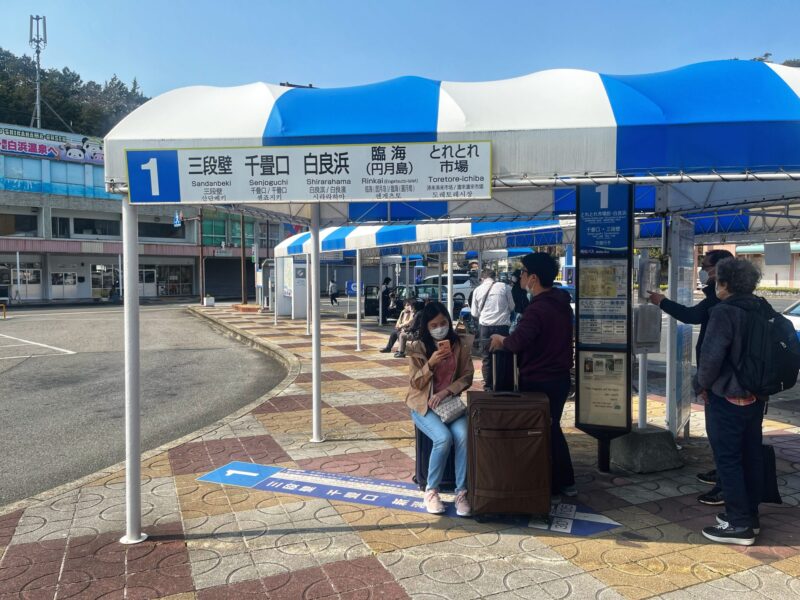 With this 1 day's Shirahama itinerary, we're starting the day from Shirahama station. You can purchase the bus pass from Japan Travel App before your arrival. Alternatively, get the station number and pay the bus driver when getting off the bus. Either way is good and convenient.
No worry about how to take the bus in Shirahama as it is pretty easy. There is also some other route bus that runs in Shirahama. We recommend just focusing on the Meiko Loop Bus that we run through the major attractions in Shirahama in a different direction.
From Shirahama Station (via Toretore Ichiba and Shirarahama Bus Station) to Sandanbeki.
From Sandanbeki (via Shirarahama Bus Station, Toretore-ichiba) to Shirahama Station.
Always, we recommended check the latest bus schedule from here.
Toretore Ichiba Market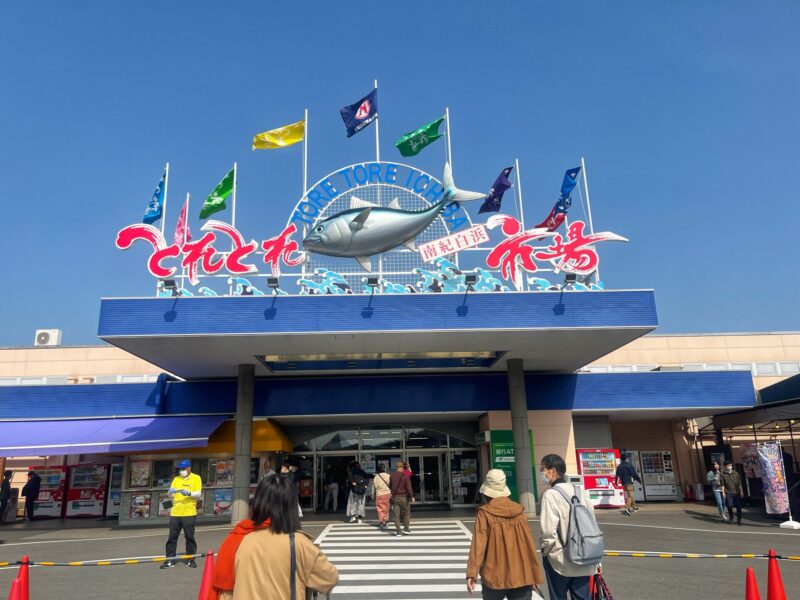 Our first stop was Toretore Ichiba Market to grab some lunch. This local market is popular among locals and foreign visitors. There is an amazing spread of fresh seafood, meat, fruits, confectionery, sauces, and marinades – all at very reasonable prices.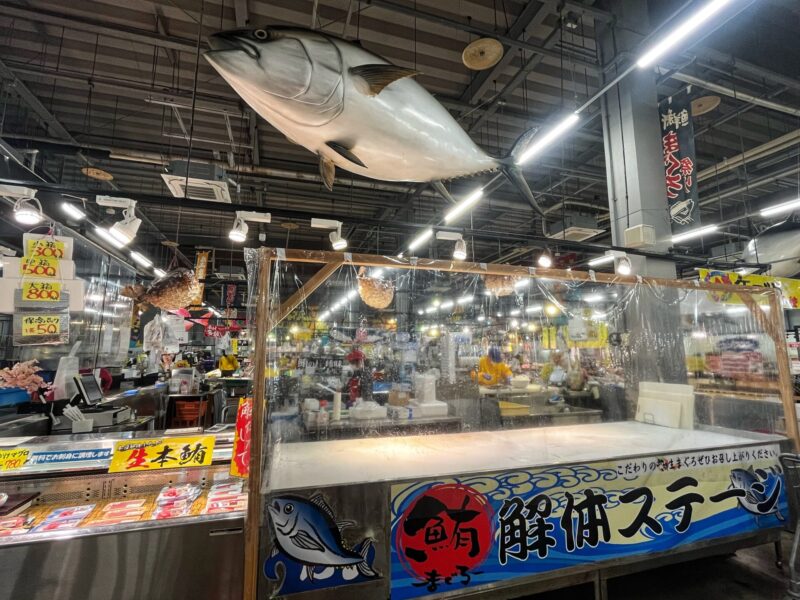 There is also a live demonstration of tuna cutting throughout the day on the market. But we are too busy for sampling the food and miss out the live cutting show. It was fun to watch as we could hear the lively show during that time.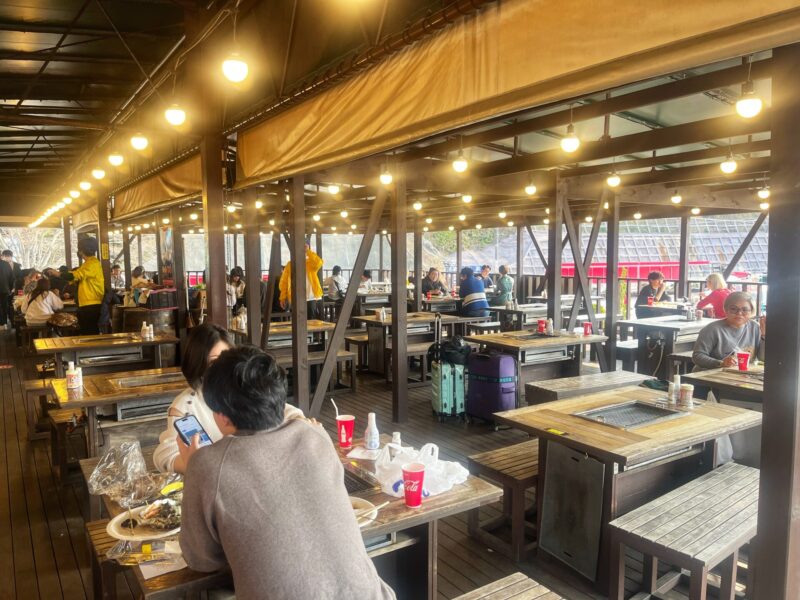 After walking through the market, we decided to get the don rice from the yokocho restaurant and also add on with fresh sashimi as well as a few other side items from the food stand. There is a section beside the market with self-serve BBQ facilities with a small fee per pax if you are using it. You can buy your seafood – lobsters, crabs, fish, oysters, clams, from the market and bring them over for grilling.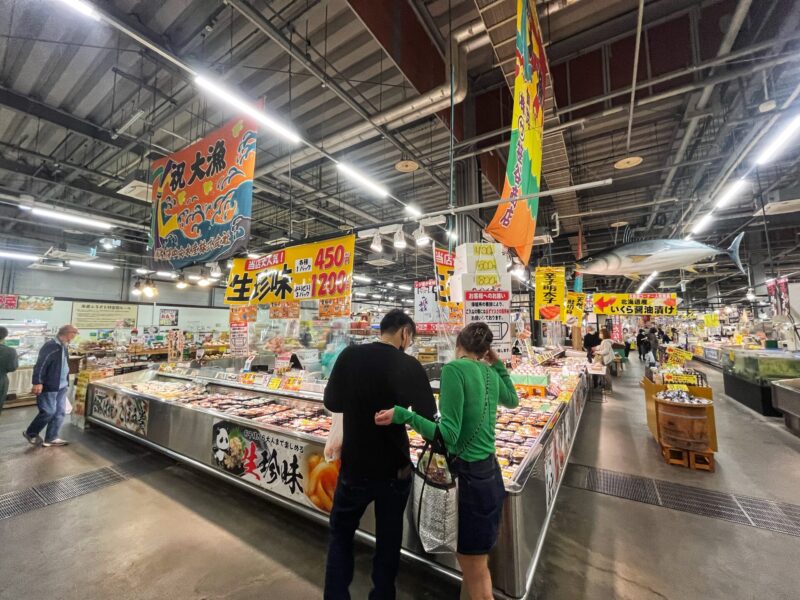 After eating, we decided to do a little shopping, which we highly recommend because there are a number of food-related souvenirs or gifts available for purchase. Don't forget to get some plum products as Wakayama Prefecture is known for its ume (plums). There was a large assortment of plum treats for purchase at Toretore Ichiba Market.
Do note that most of the stalls are closed at around 18:00 so this place won't make a good dinner venue unless you're willing to have dinner extra early. A good place for spending a few hours here for lunch.
Pro Tips: Toretore Ichiba is also the best place to end your day in Shirahama. Most of the items will be on sale when the market closing time approaches. Still, plan based on your itinerary!
Toretore Ichiba Market
Address: 649-2201 Wakayama, Nishimuro District.
Admission Fee: Free!
Getting there: Get off at Toretore Ichiba (s-5). The market is within a 2-minute walk.
Engetsuto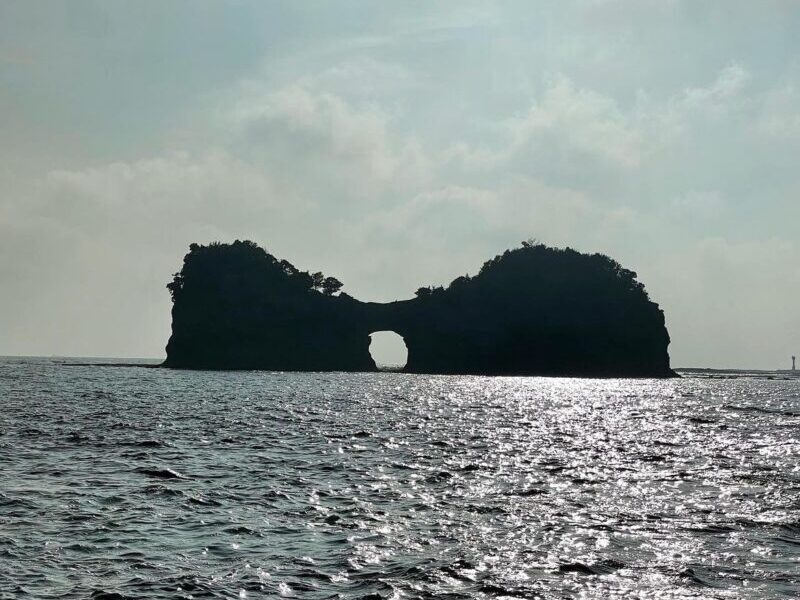 Located along the coastal drive in Wakayama, Engetsuto is a unique rock formation. It is officially known as Takashima and is famous for its iconic hole with a shape of a full moon in the center of the small island.
The interesting rock formation makes a good photo opportunity especially during the sunset when the sun can be seen through the hole. It is possible to see the sun slowly shining through the hole in the center of the rock if the weather permits. The best season is spring and autumn.
You can also take the glass-bottom boat for a close-up and marvel at the undersea world. But the best place for photos is from shore! There's a flight of steps that can lead you to the rocky coast. Still, it is even more romantic and beautiful when visiting it during sunset.
Due to the tight schedule and itinerary arrangement, we arrived around late noon to enjoy the stunning view. Although we can't see the fantastic moment of Engetsuto, still, viewing it was a wonderful sight! We enjoyed the time strolling along the shore and soaking our feet in the nearby free public foot onsen.
Getting to Engetsuto: Get off at Rinkai (Engetsuto) bus stop (s-54) and walk 15 minutes.
Pro Tips: When taking the bus to visit Engetsuto, please make sure don't board the rapid bus. Some certain bus routes will skip this attraction. Check with the bus driver if you are not sure.
Shirahama Beach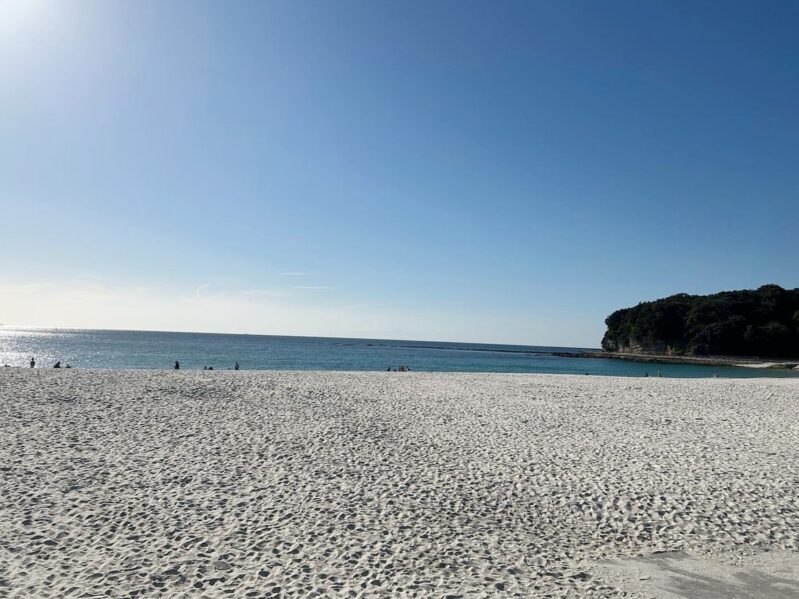 From the Engetsu, we walked to the Shirahama beach area.
Shirahama is a great place for a beach holiday in Japan during summer. It is known for its pristine white beach which is exceptionally clean and peaceful. This incredible 600-meter stretch of sand is imported from Australia. An ideal place for relaxation stroll and enjoying the sea breeze.
During our visit, it was a non-peak season with less crowded. We took the time to wander around and enjoy the serenity of the beach. It's a nice little walk one can enjoy along the heavenly calm cove with fine white sand.
There are many accommodations nearby within walking distance at different budget ranges where you can enjoy the sea view while soaking into the hot spring. Some of the popular accommodation nearby is Shirahama Key Terrace Hotel Seamore and Hotel Musashi.
A quick stopover in Shirahama itinerary.
Senjojiki Rock Plateau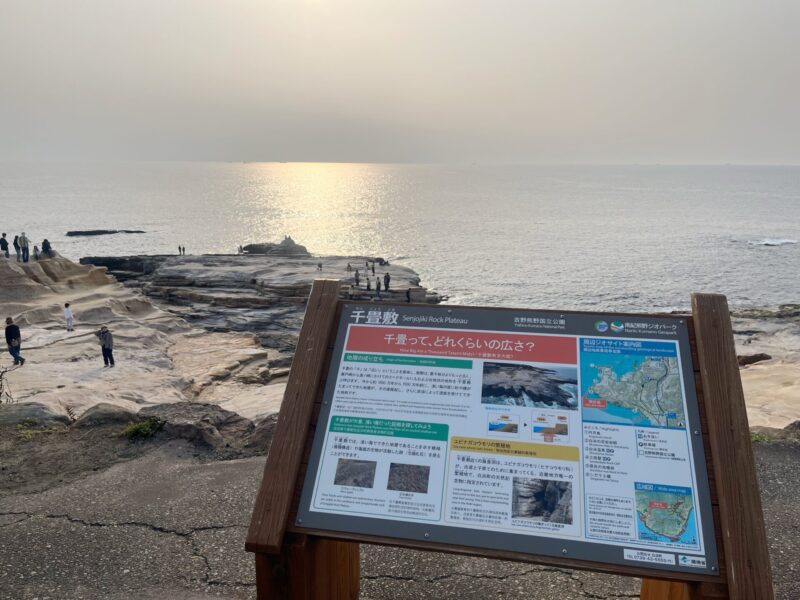 Senjojiki is one of the must-see natural wonders located along the rugged coastline of the western Nanki Shirahama area. The giant platform consists of countless rock layers that were naturally formed by erosion by waves for centuries. It was given the name, Senjojiki which means "1,000 tatami mats" as the rock formation looks like one thousand Tatami mats gently sloping toward the beautiful ocean.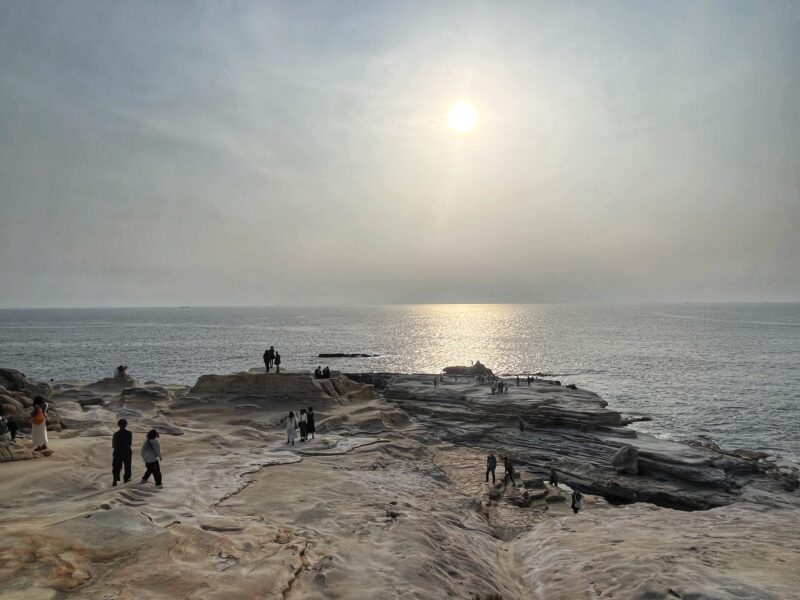 The rock formations are absolutely stunning, and you can walk out all over them toward the sea. Be careful as the rocks are uneven and slippery. The whole place is so charming especially when sunlight casts over with a large spread of colorful layer-looking rocks in the late afternoon. Truly mesmerizing.
Senjojiki Rock Plateau (千畳敷カール)
Address: 2927-72, Shirahama, Nishimuro District.
Business Hours: Always Open.
Admission Fee: Free!
Getting there: Get off at Senjyo-guchi bus stop (s-21) and walk 5-minute.
Estimate time: 30 minutes.
Sandanbeki Cliff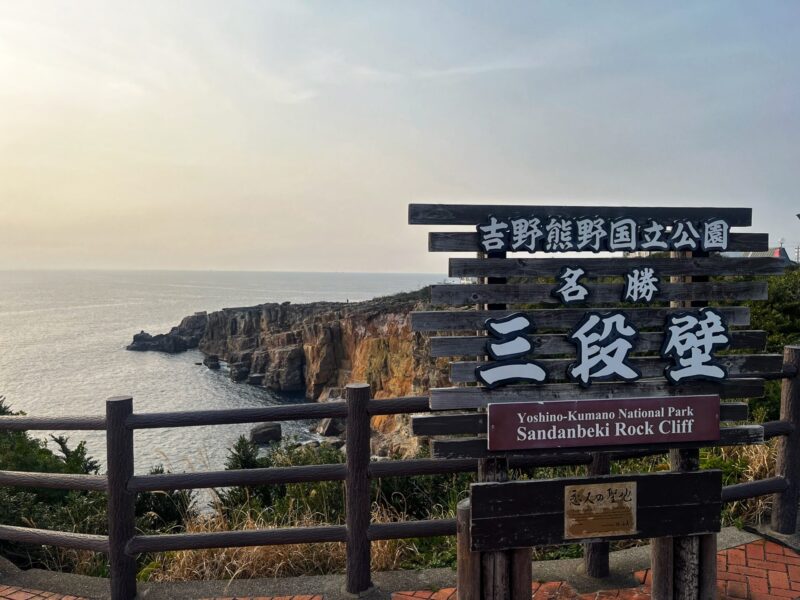 Sandanbeki Rock Cliff is another breathtaking sight in Shirahama. This 50-meter rock oceanside cliff was carved into steps by the constant sea waves over millions of years. Sculpted by the forces of nature, these sheer cliffs are a breathtaking sight for visitors from around Japan and around the world.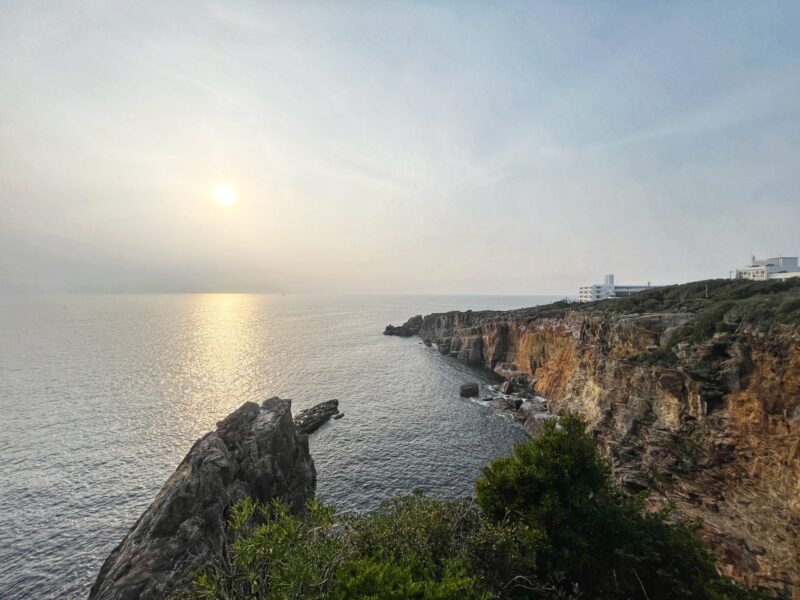 The rock formation offers a dynamic landscape with a stunning view.
Sandanbeki Cliffs (三段壁)
Address: 2927-52, Shirahama, Nishimuro District.
Business Hours: Always Open.
Admission Fee: Free for the cliff view.
Getting there: Get off at Sandanbeki bus stop (s-24). The destination is a 3-minute walk from the bus station.
Sandanbeki Cave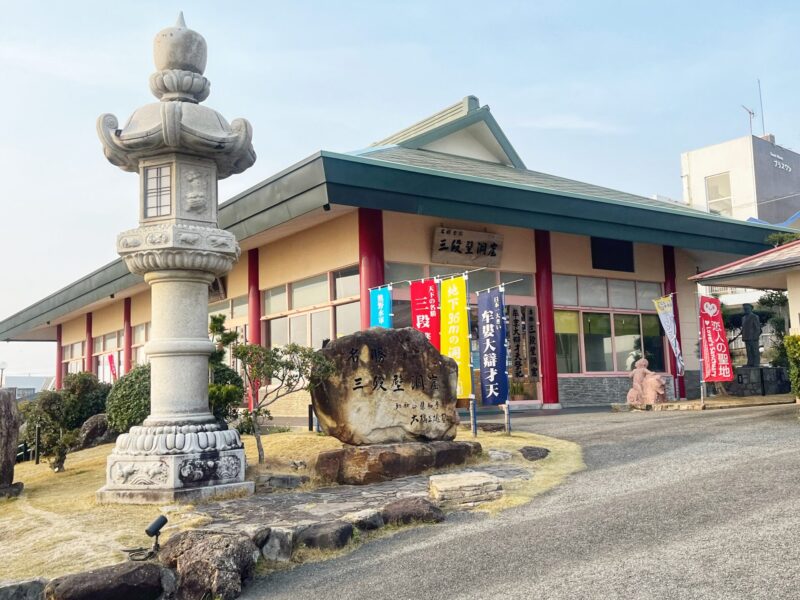 Upon viewing the Sandanbeki Rock Cliff, do check out the cave as well. Visitors take a closer look at the feature of the elevator that travels 39 meters down to the bottom of Sandanbeki Cave. Unfortunately, the entrance fee is not cheap and it cost ¥1,300 which is quite expensive.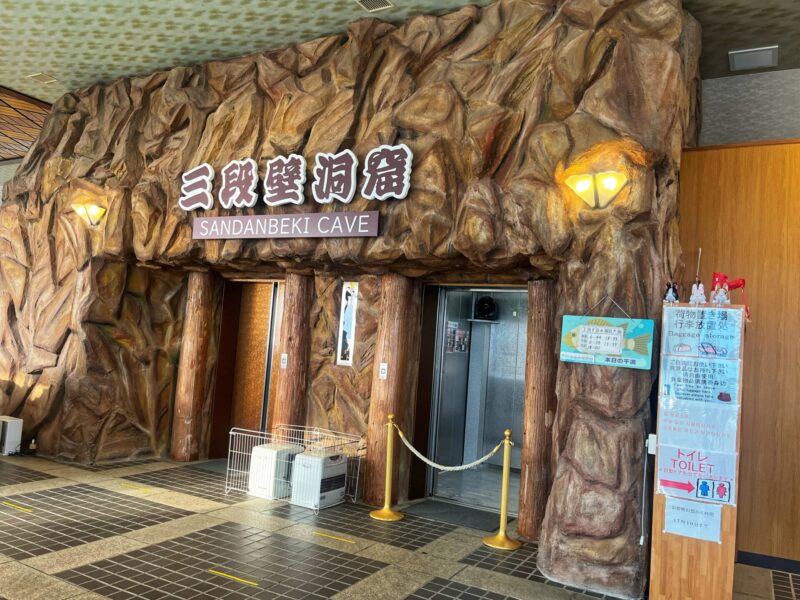 To access the underground caves, you would have to take an elevator down and follow the path to see the different parts of the underground caves. There are areas where you can see the rocks that have been washed and cut out by the waves, and the splashing of the waves can be quite surreal.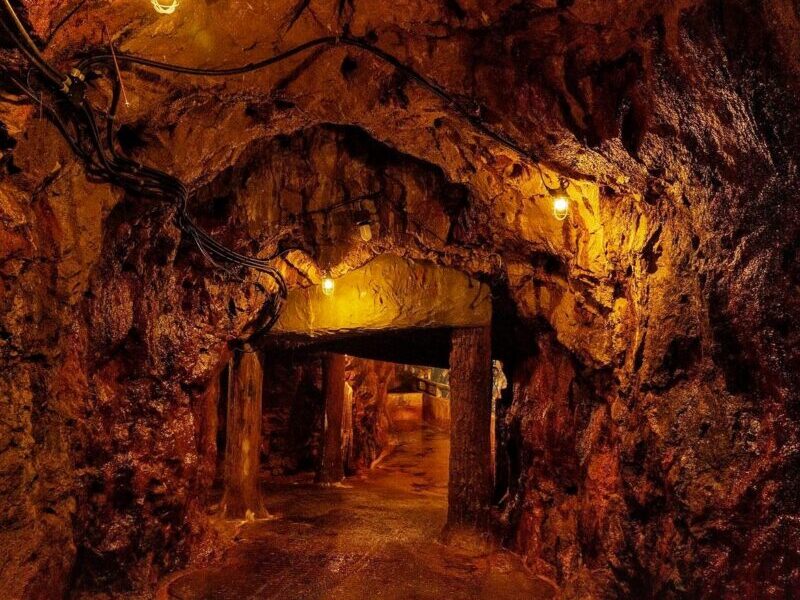 The cave is impressive, and the water rushing in is pretty cool. But what is interesting most is the history and the cave is the hiding place of a Kumano Navy ship during the Genpei War.
You can see the exhibition, lantern, and statue display tucked into the rock formations. The Benzaiten Shrine is home to one of the largest bronze statues in Japan.
Sandanbeki Cave (三段壁洞窟)
Business Hours: Daily from 9:00 until 17:00 (Last entry at 16:50)
Admission Fee: ¥1,300 for an adult. Half price for children.
Official Website: http://sandanbeki.com/
Estimate time: 30 to 60 minutes.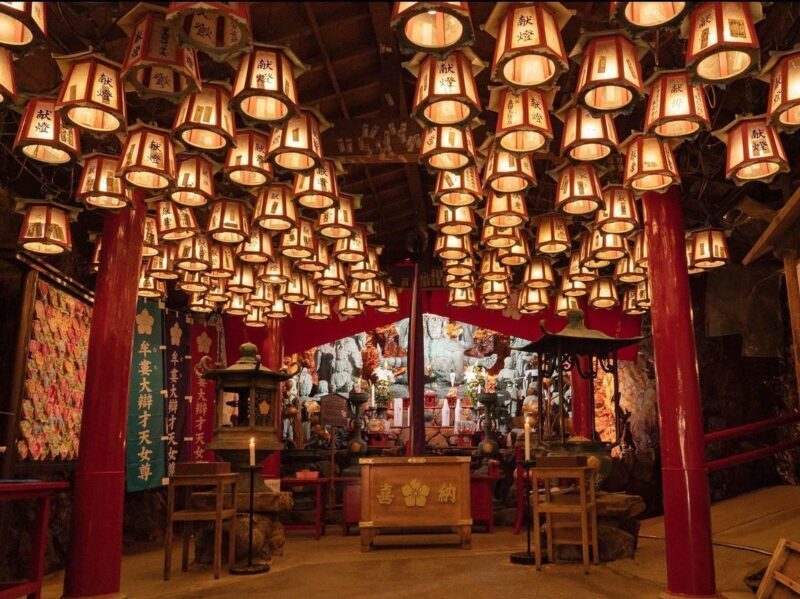 Enjoy Hot Spring (onsen) with Seaside View
Shirahama Onsen is widely known as one of the three oldest hot springs in Japan with a history of over 1,300 years. One of the famous hot spring facilities in this Shirahama is Saki-no-yu Onsen, with a long history of more than a thousand years. From the outdoor bath, you can have great scenic views overlooking the Pacific Ocean. A once-in-a-lifetime bathing experience.
If you are in rush, there are also many places that offer foot baths to discharge when visiting the area.
Infinity Foot Bath
This foot bath in the Shirahama Key Terrace Hotel Seamore is open free of charge to non-hotel patrons as well. Relax in the 30-meter-long foot bath while enjoying the sweeping Pacific Ocean view.
Nearest Bus stop: Get off at Shin-Yuzaki bus stop (s-19).
Tsukumoto Foot Bath
From the south side of Shirarahama beach, just cross over the seawall to get to this foot bath. As you approach, you'll smell the aroma of sulfur in the air.
Nearest bus stop: Get off at Hashiriyu bus stop (s-16)
More day? Adventure World
Aside from its pristine beach, Shirahama's prime attraction for families is Adventure World. This Theme Park combines the safari park zoo, aquarium, amusement park, and the famous Panda Land all in one into the theme park. It is extremely famous for its giant pandas and has one of the best breeding programs for pandas outside of China.
Family traveler love visiting Adventure World and the activities is enough to keep you entertained for the entire day. Don't miss the opportunity to meet the adorable pandas, watch the exciting dolphin and sea lion shows, and encounter the wildlife!
Adventure World
Address: 2399 Katata, Shirahama, Nishimuro District.
Operating hours: Daily from 10:00 to 17:00
Admission Fee: 4,800 yen for an adult, 4,300 yen for senior citizen (65+), 3800 yen for children aged 12 – 17, and 2,800 yen (aged 4 -11)
Shirahama Travel Guide Tips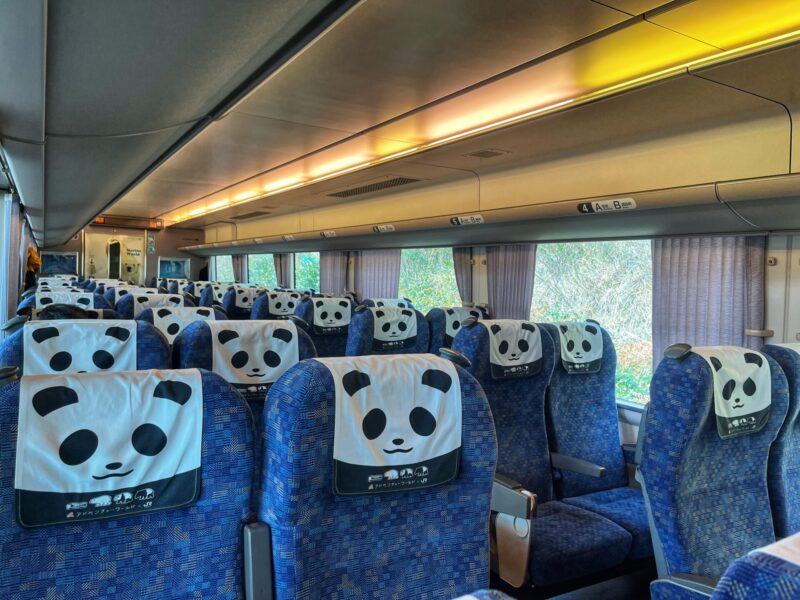 Last but not least, make sure to read through our final tips on Shirahama travel guide for your Shirahama itinerary:
Can I visit Shirahama on day trip?
One day in Shirahama is doable but it is slightly too rushed to see everything the city has to offer. However, with a good planning and itinerary, you can try to make the best out of it and not leave without seeing the attractions in the area.
Is it possible to do a day trip to Shirahama from Osaka?
If you are on a tight schedule, a day trip to Shirahama from Osaka is possible. JR Limited train Kuroshio will take you to Shirahama in about 3 hours for the one-way ride.
Any train pass is available for the train journey to Shirahama for foreign travalers?
JR Pass, JR Kansai Wide Area Pass, Kansai Hiroshima Pass, and JR Ise-Kumamo-Wakayama Area Pass can be used on the JR limited express train to Shirahama
Is it easy to travel around Shirahama?
It's fairly easy to navigate when visiting Shirahama. The most widely used transportation is buses that with take you to all the attractions around the city. Alternatively, a rental car is a very good option if you plan to visit Shirahama freely!
Luggage Storage in Shirahama Station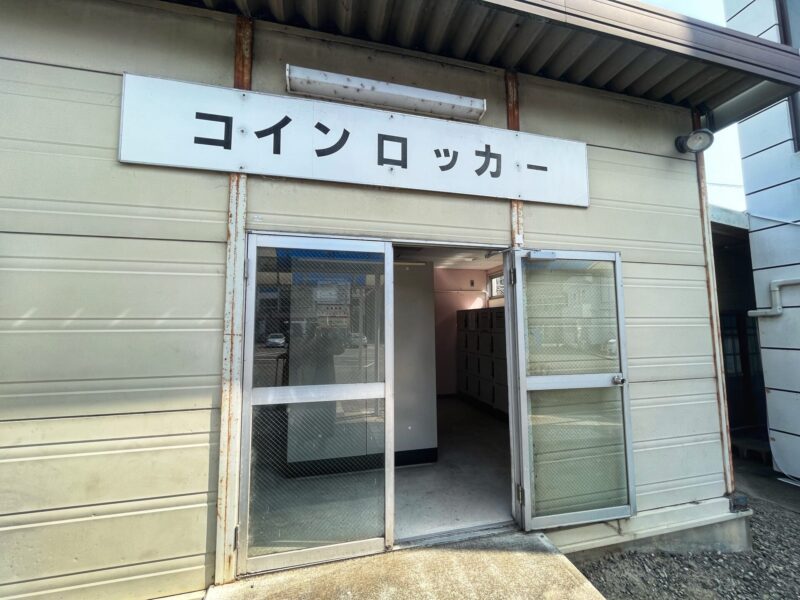 As a popular travel attraction for the beach lover, there is plenty of luggage lockers at Shirahama JR Station. You can easily find out the coin luggage located beside the station. The luggage storages with small, medium, and big size for selection. As we planning to stay for 1-day before proceed our Kii-Katsuura trip, we deposited our luggage and travel light when visiting the area.
There is also a luggage delivery service to your accommodation beside the station if you want to visit the attractions before check-in but unfortunately, it is closed during our visit. Probably it is not the peak travel time in Shirahama during that time.
Overall: A Visit to Shirahama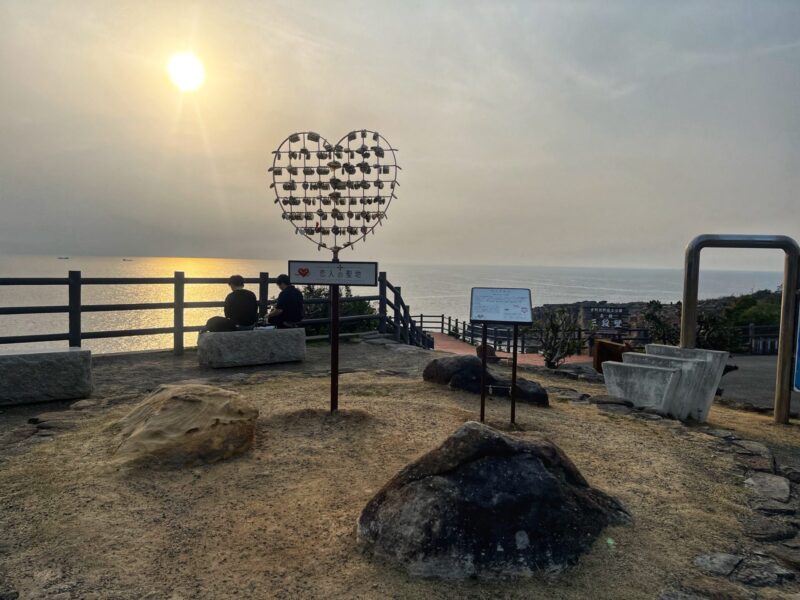 All in all, we hope the above Shirahama travel guide blog is able to help you plan your trip there. Our visit to Shirahama is simply a unique experience. It is a bit different compare to the historical Kyoto or bustling Osaka. We truly enjoyed the beautiful beach, historical onsen, stunning rock formations, and mouthwatering seafood dishes.
In short, Shirahama – A great place to visit if you're planning to explore the Kii Peninsula area. Enjoy your trip to Shirahama!
Related Read: Where to Stay in Shirahama – Best Onsen Resort and Budget Homestay
Traveling to the Kii Peninsula? Free feel to continue to check out our travel stories to some other interesting places: