Last updated on September 23rd, 2023
Visiting the Kumano Sanzen is the top thing to do when you're in Shingu and Hongu. Read on to find out what to visit, how to get there, where to stay in this quick and easy travel guide blog.
Located on the Kii Peninsula in the prefecture of Wakayama, Shingu can make for a perfect side trip on your trip to Kii Peninsula. The city is famous for Hatayama Taisha and other Shinto shrines of key importance in the Kumano faith.
During our exploration of the Kumano Kodo area, we make a trip to Shingu (新宮) and Hongu (本宮町) for its sacred Kumano Grand Shrine. Together with Kumano Nachi Taisha Shrine, the Kumano Hongu Taisha at Hongu and Kumano Hayatama Taisha at Shingu are referred to as Kumano Sanzan. They are the head shrines of the Kumano Shrines of which there are about 4,700 throughout the country.
Read our Shingu Travel Guide below to find out all about this sacred destination!
How To Get To Shingu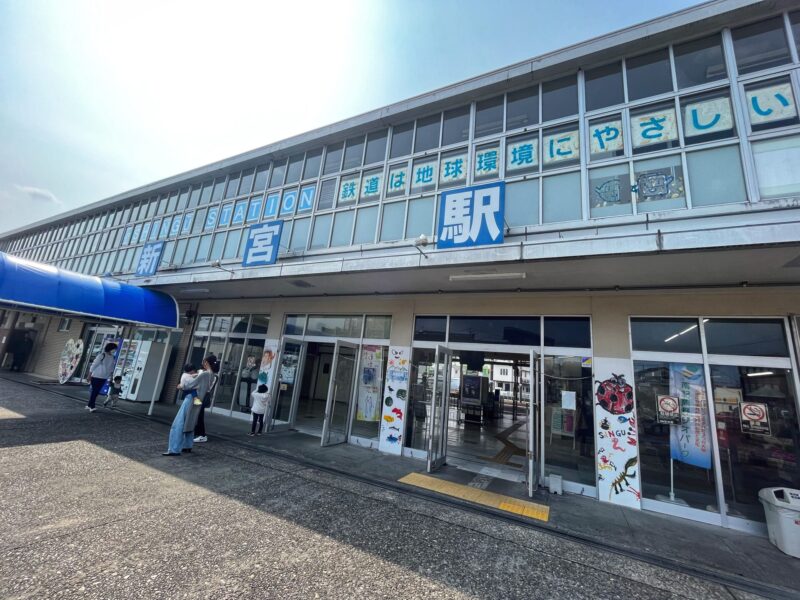 To get to Shingu, traveling can take the JR train from Shin-Osaka or Nagaya direction to the Kii Peninsula. From either direction, it's about a three-and-a-half to four-hour journey each way.
From Shin-Osaka, take the Kuroshio Limited Express bound for Shingu to JR Kii-katsuura or Shingu. The journey takes about 3.5 hours. The Japan Rail Pass, JR Kansai Wide Pass, JR Kansai Hiroshima Pass, and JR Ise-Kumano-Wakayama Area Tourist Pass are valid for this route. Take note that all seats are reserve seat for JR limited express train Kuroshio. 
From Nagoya Station, take the Limited Express Nanki to Shingu or Kii-Katsuuura. The journey takes about 4 hours. The Japan Rail Pass and JR Ise-Kumano-Wakayama Area Tourist Pass are valid for this route. But JR Pass is required to pay with an additional charge of ¥800 for using the Ise Private Railway route. It is always recommended to reserve a seat for JR limited express Wideview Nanki due to limited seats available.
If you are in Nachikatsuura, you can either takes the local train or bus to Shingu. The journey take about 20 minutes train ride from JR Kii-Katsuura station.
Getting Around in Shingu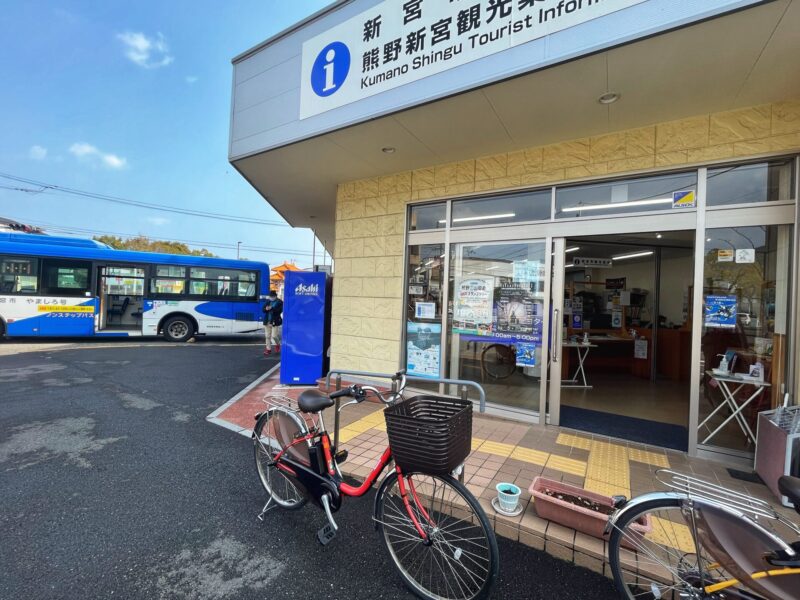 Shingu is a pretty compact city. It is a great city to walk or bike in to visit the city!
Many hotels offer complimentary or inexpensive bike rentals, but you can also rent a bike at Tourist Information Center located opposite the JR Train Station. We rented the electric bike at Tourist Information Center when visiting the attractions in Shingu.
Where To Stay
There are a few business hotels and guesthouses in Shingu if you are looking for where to stay in Shingu. But we choose to stay in Nachikatsuura as there are a number of good onsen hotels. From there, we take the bus to Shingu to visit the Kumano Grand Shrine.
Here is our recommendation:
High-Range: Kumano-bettei Nakanoshima – This is one of the best hotels in the area if you want a luxurious stay! It is a seaside Ryokan located on a private island in Katsuura Bay.
Mid-Range: Hotel Urashima – A popular onsen resort with beautiful hot springs in Nachi Katsuura. The most famous is the Bokido, a natural hot spring bath in a cave overlooking the ocean. Truly amazing!
Budget: Why Kumano, Hostel & Bar is a convenient hostel accommodation with a bar and café in front of the. It is housed in a narrow three-story building with a tasteful design.
More accommodation options: Where To Stay in Nachikatsuura – Best Hotels Pick.
Kumano Hayatama Taisha Shrine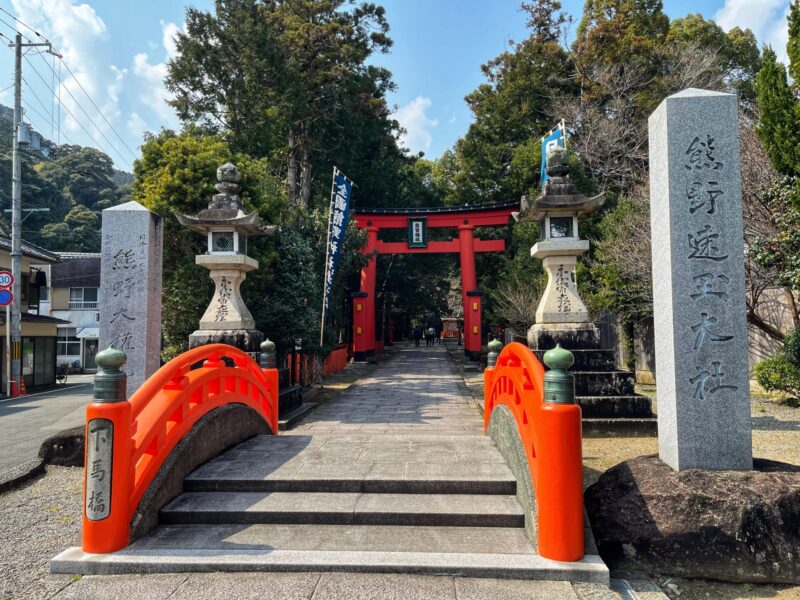 Firstly, head to the Kumano Hayatama Taisha Shrine (熊野速玉大社). This shrine is part of the "Kumano Sanzan" and oldest among the three. It is also the smallest, but also the least crowded.
Kumano Hayatama Taisha Shrine is a beautiful vermilion shrine with magnificent architecture. Offering prayer at the sacred ground of Kumano Hayatama Taisha Grand Shrine is said to bring fortune in this life.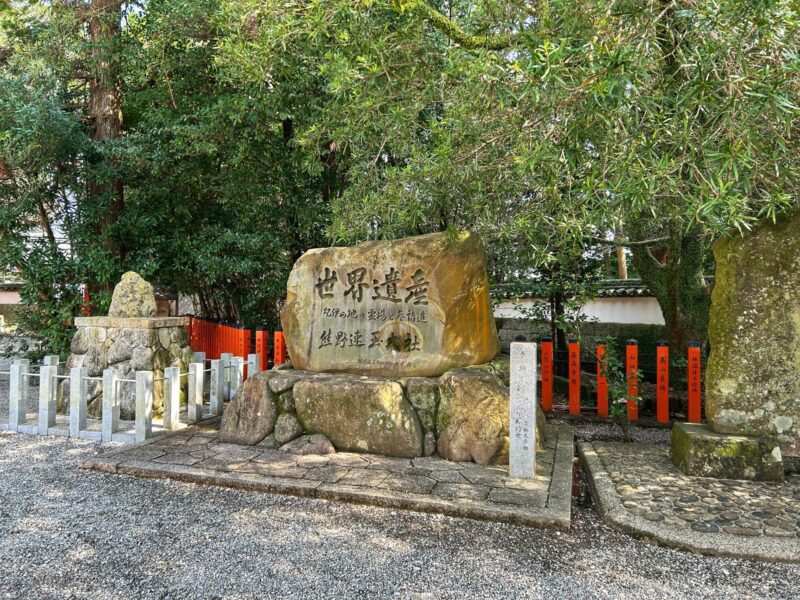 The ground is spacious and with many lovely features. There is a huge nagi tree that stands on the shrine grounds. It is believed to be 800 years old and locals believe the leaves can help to sustain relationships.
Getting there: About a 15 to 20-minute walk from the Shingu train station.
Kamikura Jinja Shrine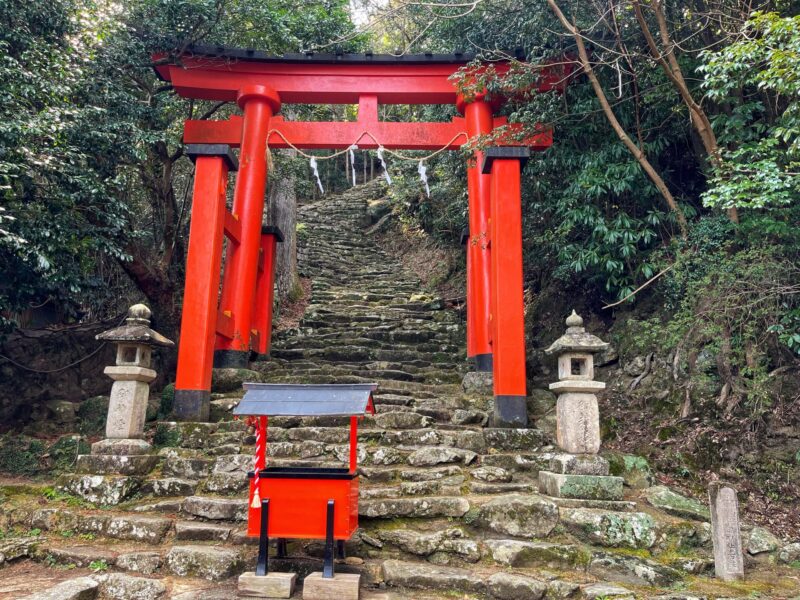 A relatively short walk from Kumano Hayatama Taisha Grand Shrine is the Kamikura-jinja (神倉神社), a shrine that marks the grand shrine's former site. It is situated at the top of a cliff and some effort is required to reach it.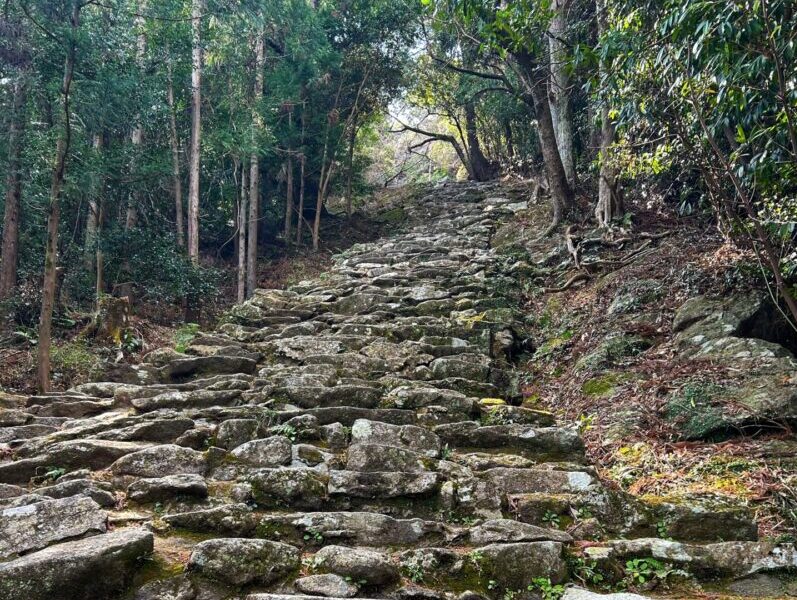 To get to the shrine, you have to climb up the 538 stone steps leading up to Kamikura-jinja Shrine. The stairs can be a little treacherous and physically demanding. Make sure you're wearing good shoes when you hike up and be extra careful.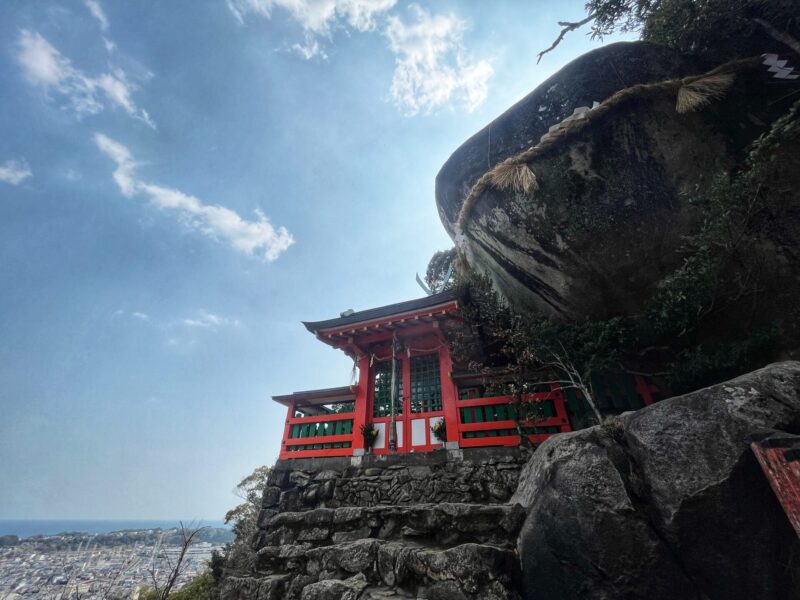 At the top of these steps is a large, sacred rock called Gotobiki-iwa. Legends have it that this rock is the dwelling place of one of the shrine's deities. Many people make the journey to worship there. The area is very calm and serene. You will also be rewarded with the best view of Shingu City. Worth the hike!
Shingu Castle Ruins (Tankaku Castle)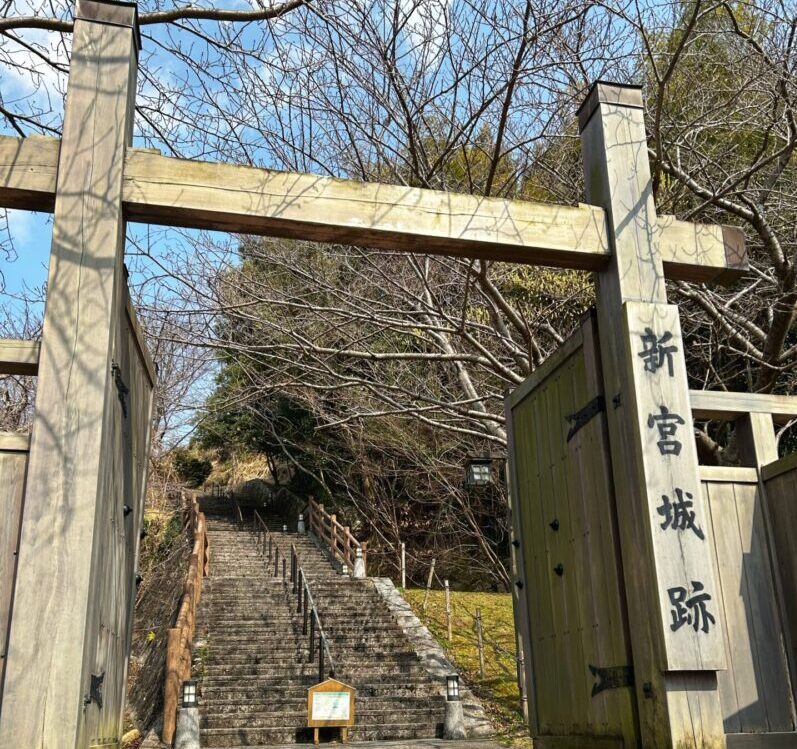 While visiting Shingu city, we also have a quick stop at the Shingu Castle ruins. There are nothing exceptional and no structures remaining from the original castle.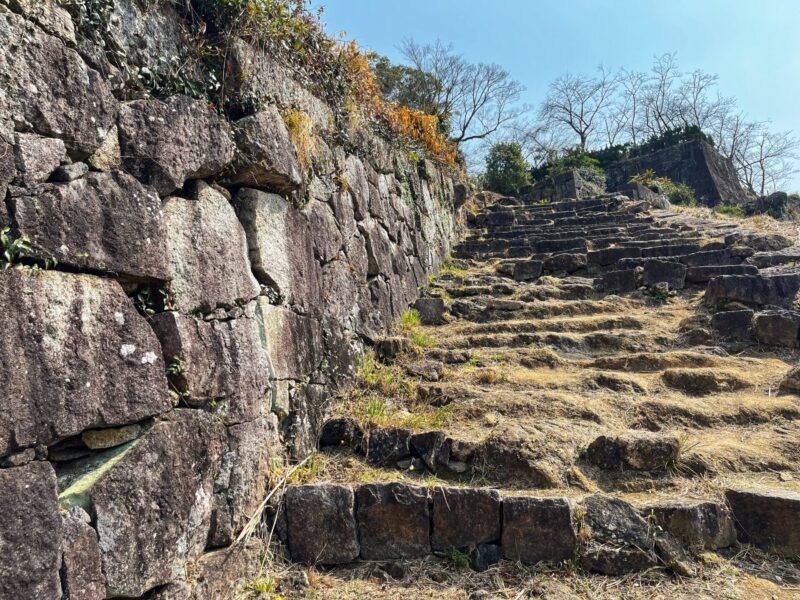 The ground is nice to walk around and have a get great views of Shingu City from the top. A great place for a quick stopover.
Kumano Hongu Taisha Shrine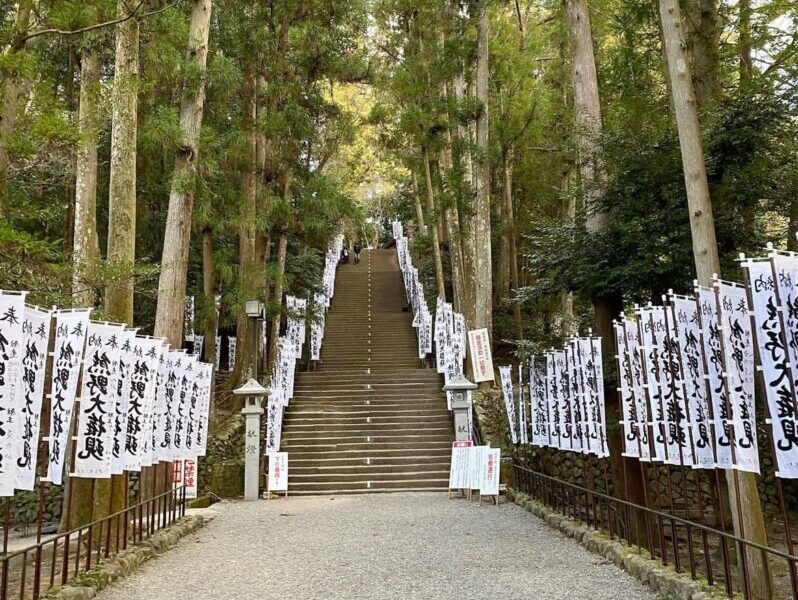 Lastly is the Kumano Hongu Taisha Grand Shrine (熊野本宮大社). This is the most important shrine for Kumano Kodo pilgrims and is located at the center of the Kumano Kodo network of pilgrimage trails. A must-visit if you are in Hongu.
A moderate amount of stairs to climb from the entrance will get you to the main shrine area.
Kumano Hongu Taisha Grand Shrine is classic Shinto design. The shrine itself was elegant and rustic, with a thick thatched roof (with cypress shingles). Symbols of Yatagarasu, (eight-span crow) with three legs are everywhere. The three-legged crow represents the sun in Japanese myth.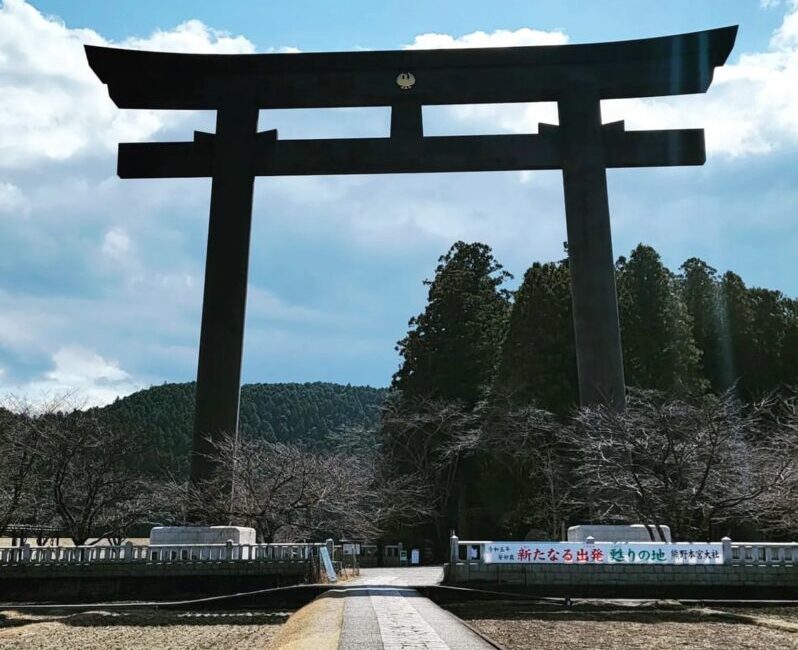 The original shrine was built closer to the river (at Oyunahara). It was moved to its current location after the original structure was destroyed in the flood in 1889. If you have the time, walk 15 minutes or so to Oyunohara, the original site of Kumano Hongu Taisha where the Japan's biggest Torii gate is.
Getting there: Take the local bus from Shingu Station to Hongu. The main bus stop in Hongu is the Hongu Taisha-mae bus stop, in front of the Kumano Hongu Taisha Grand Shrine. This is also near the Hongu tourist information center.
Overall: A Trip to Shingu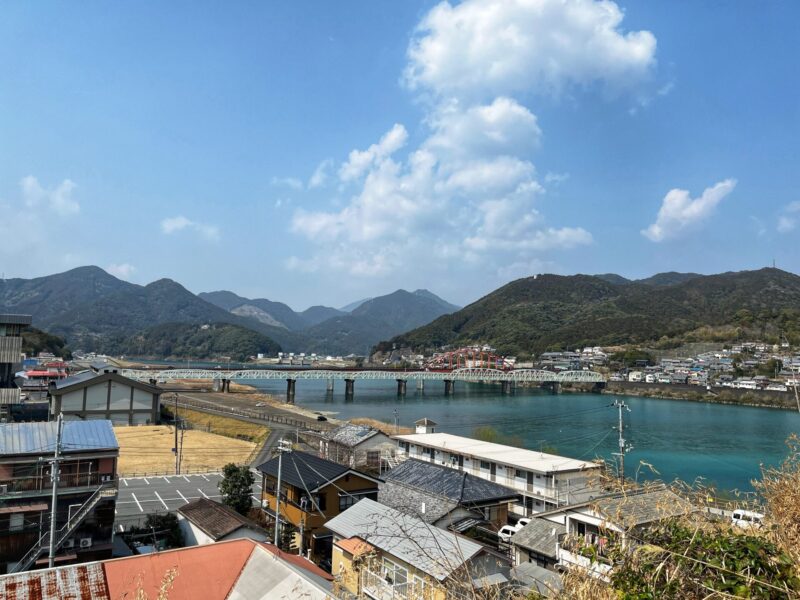 All in all, we hope this Shingu City guide helps you on your visit to the sacred Kumano Sanzen! We visited some of the important shrines in Japan and were truly amazed by them. Although Shingu and Hongu is not popular travel destination, this trip was one of the most memorable during our time in Japan. We could really enjoy the experience and feel the authentic vibe of a Japanese sacred place. If you are planning to visit off-the-beaten-path parts of Japan, you should definitely add Shingu to your list!
RELATED READ:
Planning a trip to the Kii Peninsula? Check out our other posts for inspiration: