Last updated on December 11th, 2023
Read more on what to expect with this Nachikatsuura travel guide blog. We will share our itinerary about how you can spend a wonderful day in this charming fishing town.
Located in the Kii Peninsula in the Wakayama Prefecture, Nachikatsuura (那智勝浦) is a small fishing town renowned for its seaside beauty and fresh seafood. The town is surrounded by blissful nature and filled with cultural and historical scenes. It is an important gateway to seeing the famous Nachi Falls – one of Japan's most famous waterfalls. A perfect place to visit from Osaka, Kyoto, or Nagoya with 3 to 4 hours of railway ride.
During our visit to Kansai wide region, we had the pleasure to visit the Nachikatsuura and loved our time there. That's why decided to write this travel guide blog about this charming fishing town so that hopefully you can get some inspiration for this hidden gem.
We will share useful tips and travel information including where to visit, how to get there, and where to stay in this detailed Nachi Katsuura itinerary. Let's read on.
How to Get to Nachikatsuura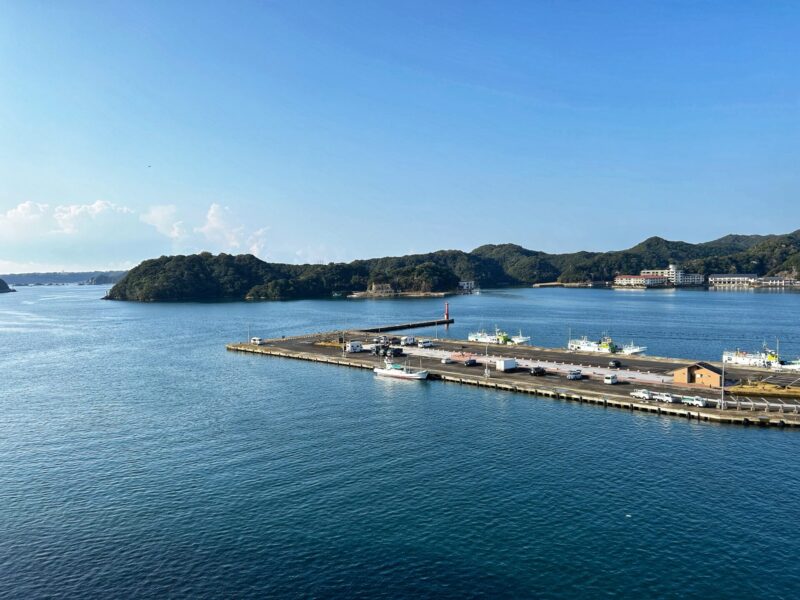 To get to Nachikatsuura, you'll have to reach the JR Kii-Katsuura train station. The traveling journey is taking at least 3 hours with a costly transportation fee. If you're planning to also visit other cities, we would recommend purchasing a JR pass or JR regional pass to get to Nachikatsuura.
From Osaka or Kyoto, take the JR limited express train Kuroshio bound for Shingu to Kii-Katsuura station. The journey takes 4 hours and costs more than ¥7,000. Travel smart and we recommended using below transport pass to save money if this suit for your Nachikatsuura itinerary.
Transport Pass that is valid between Shin-Osaka and Kii-Katsuura:
From Nagoya, take the JR Limited express Wideview Nanki bound for Shingu to Kii-Katsuura station. The journey takes 3.5 hours. The Japan Rail Pass and Ise-Kumano-Wakayama Area Tourist Pass are covered for this route. But certain of the rail is under the private railway, so JR Pass holders have to pay a surcharge of ¥800 if they want to ride this train.
Transport Pass that is valid between Nagoya and Kii-Katsuura:
From Tokyo to Nachi Katsuura – Due to the long traveling journey, it's advisable to arrive in Nagoya, Kyoto, or Osaka first and then make your way to Kii-Katsuura.
Alternatively, you can also rent a car from Osaka or Kyoto and drive there. The Kii Peninsula is a popular area for self-driving. Find and compare your rental car at RentalCars.com.
How Many Days for Nachikatsuura
It is doable and you can visit Nachikatsuura in one day on a day trip. However, it will be very rush and have to skip some of the interesting attractions. We recommended staying one night in Nachikatsuura to see the major sites of the Kii Peninsula at a relaxed pace.
Where to Stay
When planning for the Nachikatsuura itinerary, it is highly recommended to spend one night in this lovely town. There are few accommodations options available in Nachikatsuura and below is our recommendation.
Luxury: Kumano-bettei Nakanoshima – It is a seaside Ryokan located on a private island in Katsuura Bay. The highlight of this hotel is its outdoor onsens, which provide a breathtaking view of the island's surroundings. Traditional Kaiseki dinners and rooms with views of Nachi Bay are featured.
Mid-Range: Hotel Urashima is another popular onsen resort with beautiful hot springs in Nachi Katsuura. Your stay is featured in the marvelous hot spring bath, including the famous Bokido, a natural hot spring bath in a cave overlooking the ocean. Truly amazing!
Budget Hostel: Why Kumano is a convenient hostel accommodation with a bar and cafe in front of the. It is housed in a narrow three-story building with a tasteful design. Solo travelers will also be happy to know that the hotel offers dorm rooms at a lower price.
More accommodation options: Where to stay in Nachikatsuura – Best Hotels Pick.
Things to do in Nachikatsuura itinerary
Make sure that you don't miss the best things to do in Nachikatsuura with this tried and tested itinerary.
Things to do in Nachikatsuura itinerary:
Arrive Kii-Katsuura station
Climb Up the Kumano Kodo Cobblestones
Visit Nachi Shrine and Seiganto-ji Temple, and Nachi Falls.
Stay one night in an onsen resort and soak into a natural hot spring.
Tuna auction at the Katsuura fish market.
Wandering around Nachikatsuura Fishing Town
Eat Fresh Tuna
Side trip to Shingu
Arrive Kii-Katsuura Station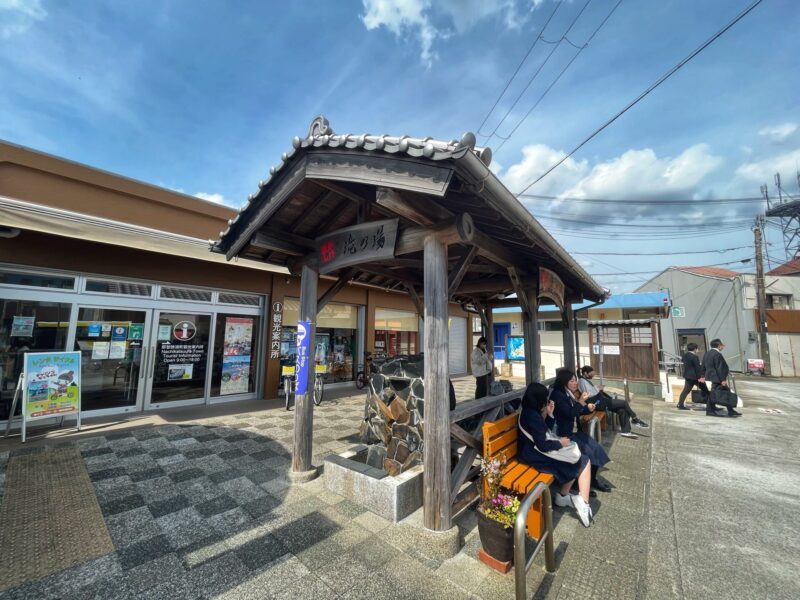 To start your Nachikatsuura itinerary, you get your way to the area by JR train or self-driving. Depending on your starting point, it is advised to arrive Kii-Katsuura so that you can visit most of the attractions in the permitted time.
We took the earlier train from Shirahama and manage to reach Kii Katsuura station at around noon.
Similar to most major train stations in Japan, the Kii-Katsuura Station has plenty of coin lockers for luggage storage so we can immediately go from the train to the local bus without our luggage. Next, take the local bus to the Nachi Shrine.
You may also need to check the bus schedule at the tourism information center, located in front of the bus station.
Climb Up the Kumano Kodo Cobblestones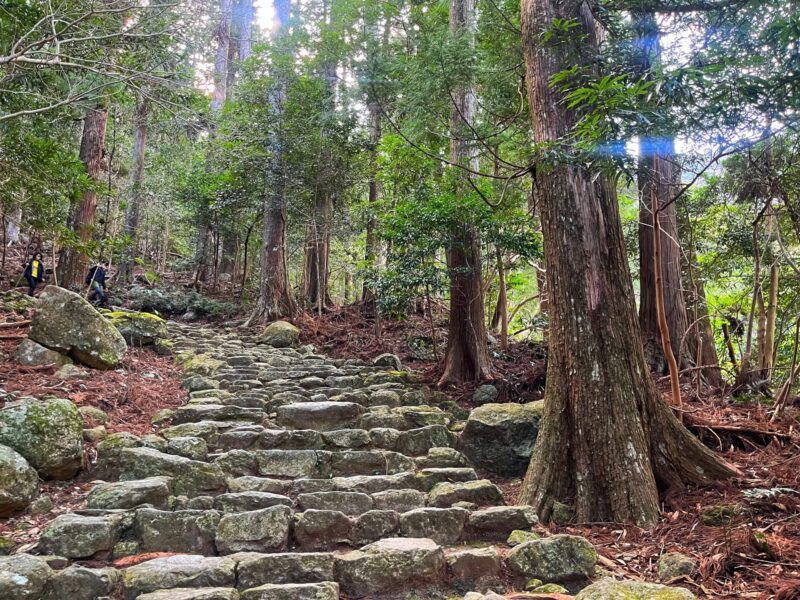 The 2.2 km Daimonzaka trail is part of the Nakahechi trail on Kumano Kodo that leads you to the Nachi Shrine. This an ideal hike for those who are looking for nothing too challenging but yet can experience the sacred pilgrimage route that runs through the beautiful Kii Mountain Range.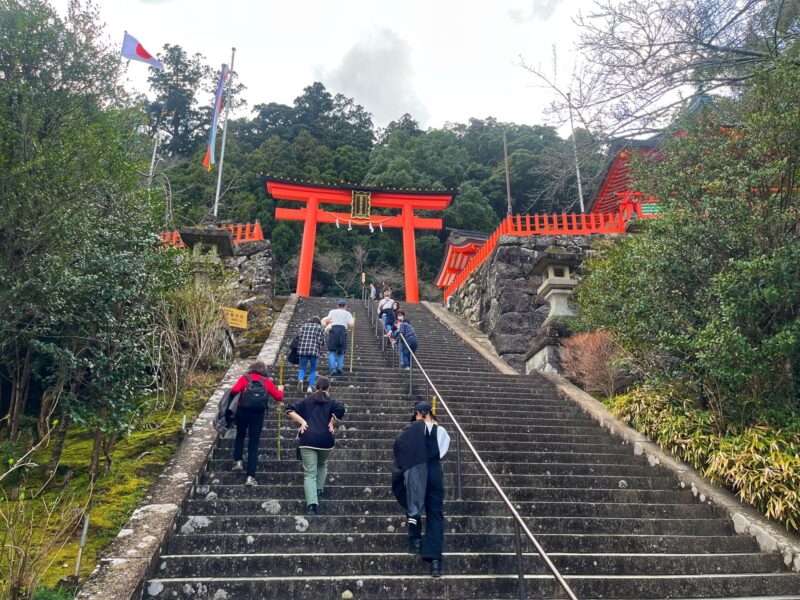 Follow the staircase consisting of countless numbers of cobblestone steps lined with centuries-old Japanese cedars. The beautiful stone steps take you to Kumano Nachi Taisha, one of the three grand shrines designated as a UNESCO World Heritage Site.
Nachi Shrine, Seiganto-ji Temple, and Nachi Falls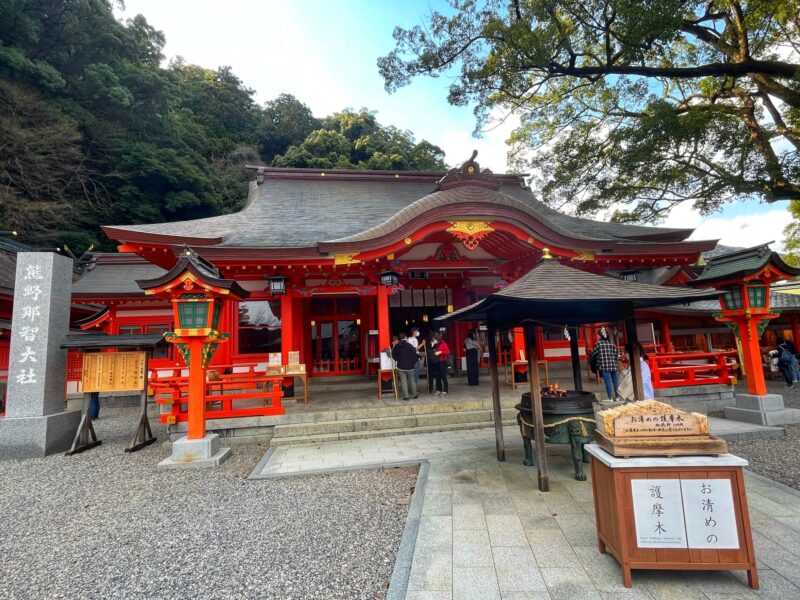 Nachi Shrine, Seiganto-ji Temple, and Nachi Falls are must-see sights on this Kii Katsuura itinerary.
Situated next to each other, Nachi Shrine and Seiganto-ji Temple are famous sacred places located in the Kii mountain range. These majestic attractions have turned into a picturesque sightseeing spot when the three-story pagoda towers over a lush forest with Nachi no Taki falling in the background.
The beautiful view is widely recognized as a symbolic, scenic spot in the Kumano area.
READ MORE: Nachi Falls Itinerary: A Travel Guide Blog
It takes a lot of energy and effort to reach Nachi Shrine but it is worth every step taken.
Getting there: An easy 30 to 50 minutes hike from Daimonzaka to the Nachi Falls. Alternatively, get off at the Nachisan stop by bus.
Stay in Onsen Resort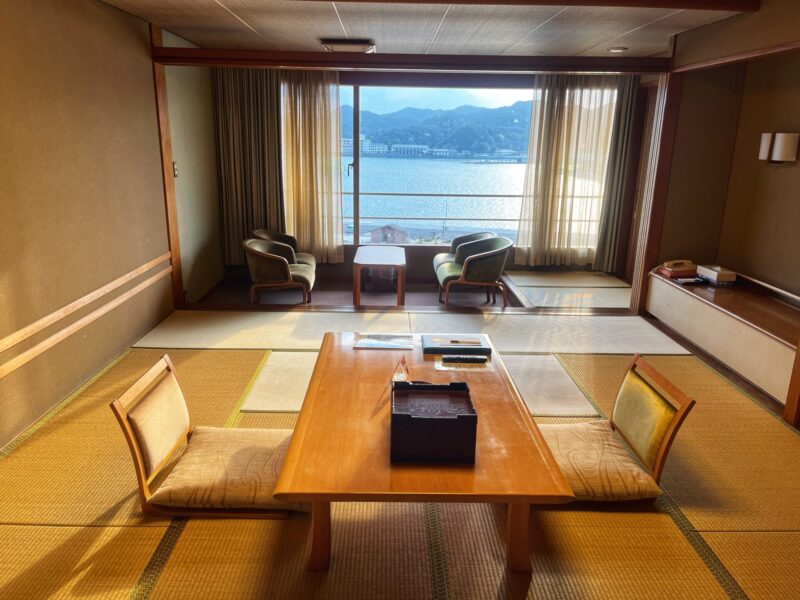 Back in town, we didn't plan too many things to do and see during our visit. In fact, one of the highlights of this Nachikatsuura itinerary is staying one night in the onsen hotels.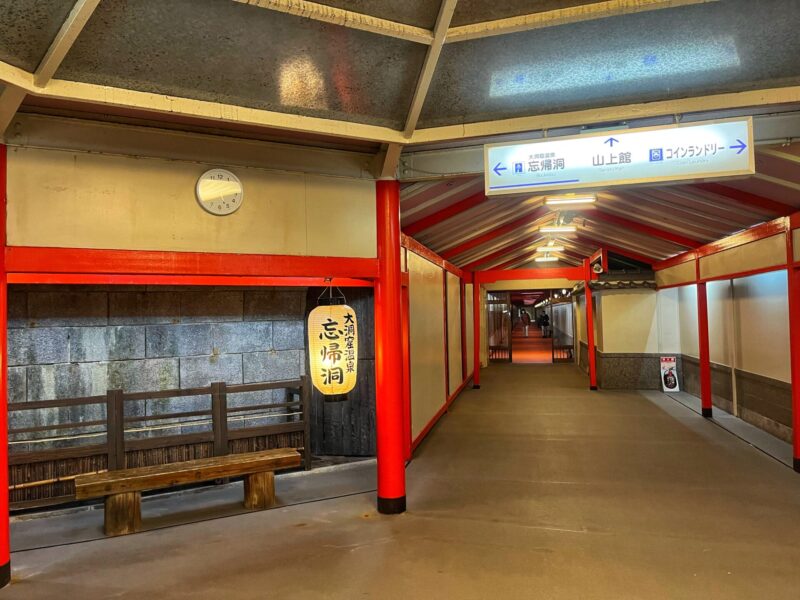 Nachikatsuura is known as a hot spring (onsen) resort town in Wakayama Prefecture. There are severals onsen ryokans and hotels in town with marvelous onsen on the premise. Some even have the open-air hot springs featuring sea views where you can enjoy the fantastic views while bathing!
We choose to stay in the Hotel Urashima, the largest resort hotel in Nachikatsuura. The premise is having the onsen in a cave where you can try this ultimate unique experience!
Tuna Auction at the Katsuura Fish Market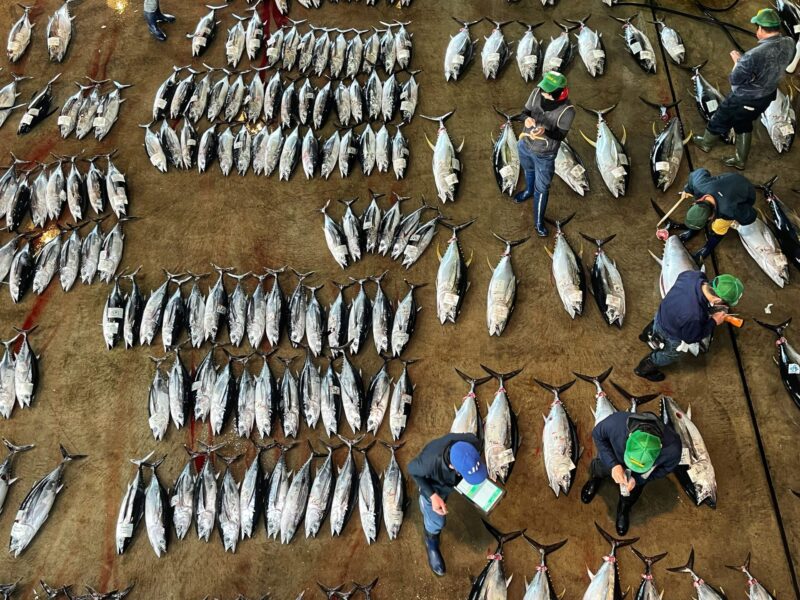 Start your Kii Katsuura itinerary in the early morning to witness the tuna auction at Katsuura Fish Market.
Nachi Kii-Katsuura is a natural port and has served as a fishing hub for centuries. The city prides itself on the highest catch of tuna in the whole of Japan. Don't miss the chance to attend the tuna auction in the early morning. You can experience a traditional fish market in a rural setting and join the auction at the fish market.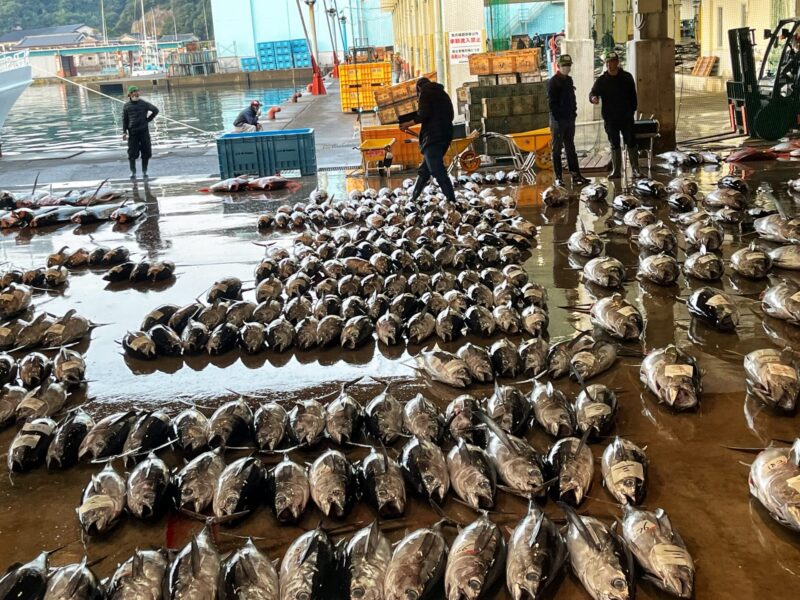 The auction can be observed from upstairs of the market without reservation. You can see the whole auction floor from there, and it is interesting to see the floor covered with so many tunas. The auctioneers will indicate the price using hand signs and very quiet.
Great for photo shoots and just immerse in the local fish market culture.
Nachikatsuuea Travel Guide Tips: The tuna auction at the Katsuura Fish Market is happen on weekdays and is closed on Saturday and Tuesday. The entrance is free and you can see the tuna auction on the second floor. Make sure to arrive before 6:50 and this is the best time to see all the tuna before the auction start at 7:00. Free tour in Japanese is available and it required reservation.
Wandering around Nachikatsuura Fishing Town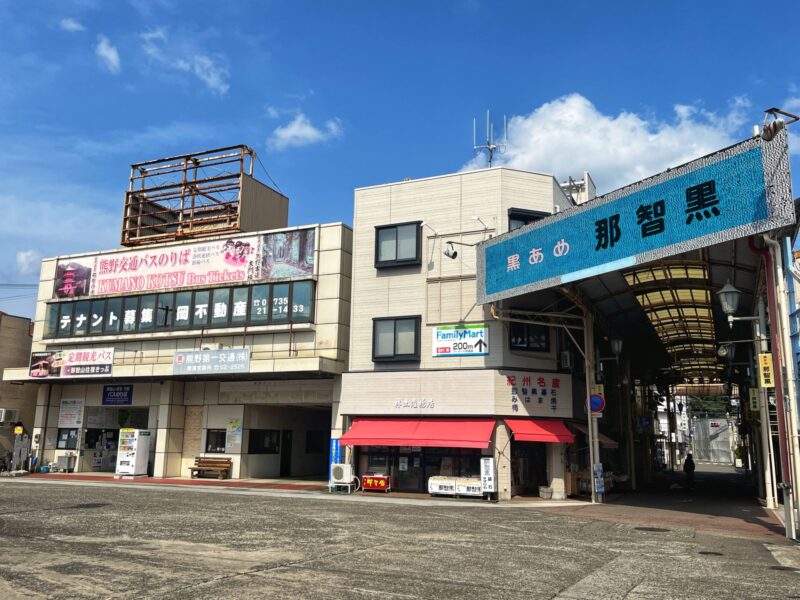 Lastly, wander around and visit the souvenir shop the tiny fishing port. It's fun to walk through the quaint town browsing the souvenir shops. Some perfect souvenirs include local sake, seaweed, dried sea products, and pickled vegetables.
There are also boat trips you can take offshore to view the coastline and islets.
You also find many seafood restaurants in the town. All offer tuna specialties and local fish dishes if you are looking for where to eat in Nachikatsuura.
Katsuura Port Nigiwai Market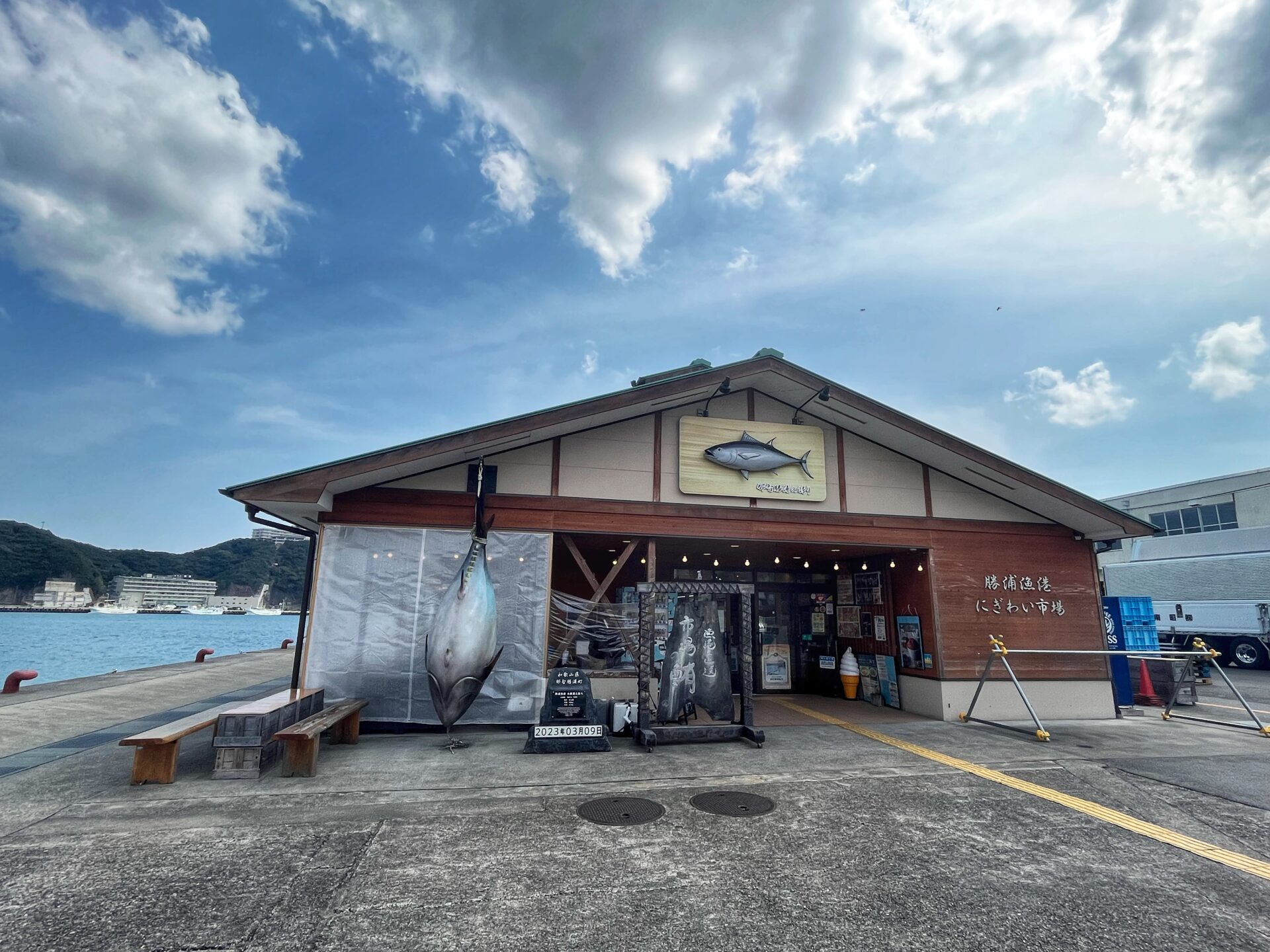 The quaint Nachikatsuura has many restaurants and small eateries if you are looking for what to eat in Nachikatsuura. The fresh tuna is a must-eat food when visiting here.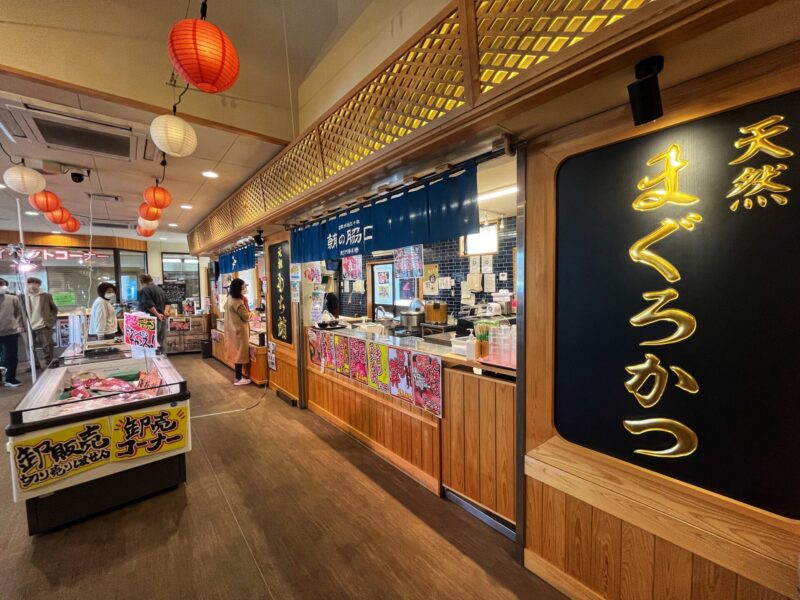 Katsuura Port Nigiwai Market has a variety of small restaurants where you can enjoy fresh tuna sushi and other fresh tuna dishes. You might also have the chance to see the tuna cutting show at the market. It is conveniently located about 10 minutes walk from the station and situated beside the Katsuura Fish Market.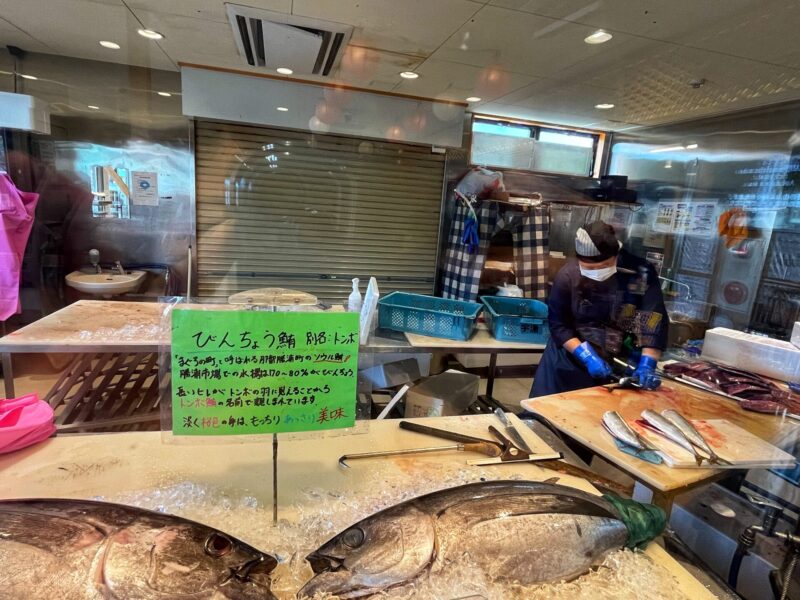 Eat Fresh Tuna
When visiting Nachikatsuura, don't forget to treat yourself to fresh tuna. With the abundance of fresh tuna, there are many options for great seafood in the town. It's difficult to imagine visiting Nachikatsuura without at least one meal of fresh seafood.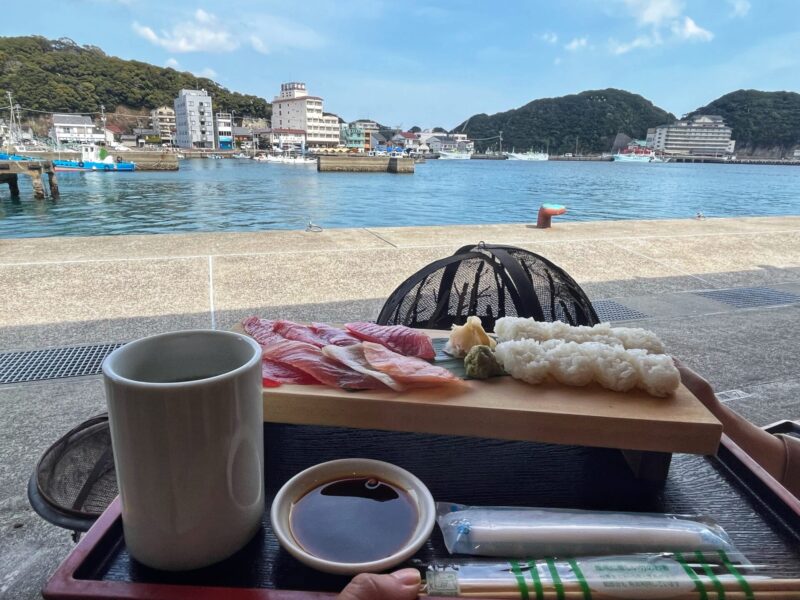 We ended up choosing one of the fish shops at the market for our lunch. The price is affordable price and good quality. Most of them are fresh catch of the day. We bought our food and enjoy it with the calming seaview at the eating area.
Final Tips for Nachikatsuura Travel Guide
What is Nachikatsuura known for?
Nachikatsuura is known for Nachi Falls, the tallest single-tiered waterfall in Japan. Together with the three tiers of pagoda and lush greenery, Nachi falls is one of the famous scenes in Japan.
Can you see Nachikatsuura in one day?
Although a Nachikatsuura day trip is doable, we highly recommend spending at least one night in Nachi Katsuura for a more relaxed pace.
What to do on the Nachikatsuura day trip?
Although I recommend spending at least a night in Nachikatsuura, you can cover a lot of ground in a day trip. Arrive around noon and visit the Nachi Shrine, Seiganto-ji Temple, and Nachi Falls. If time is allowable, consider taking an easy hike at Daimonzaka to experience the sacred pilgrimage route.
Overview: A Trip to Nachikatsuura
All in all, we hope this Nachikatsuura itinerary has changed your perception of this underestimated city. From the unique local culture to the breathtaking sceneries, Nachikatsuura is a place for encounters with wonderful aspects exclusive to the area. We highly recommended making a trip to Nachikatsuura to visit this beautiful sacred site.
Related Read:
Planning a trip to the Kii Peninsula? Check out our other posts for inspiration: