Last updated on September 23rd, 2023
Here are some recommendations for the best hotel in this scenic fishing town if you are looking for where to stay in Nachikatsuura.
Nachikatsuura is of fishing town on the southeastern coast of the Kii Peninsula. It is best known for its scenic Nachi Falls, tuna fishing, and also natural hot springs. Most accommodations in town are located on the island or the opposite side of the bay, boasting an amazing sea view.
Spending one night in Nachikatsuura is one of the joys of traveling in the area. You can enjoy a nice view of the ocean while soaking in the natural hot spring. Some hotels even have open-air hot springs close to the ocean. It's a unique experience to spend one night in Nachikatsuura.
There are few accommodations options available in Nachikatsuura and each has its unique offers. Let's begin by looking at where to stay in Nachikatsuura with the best ryokan and hotels.
Quick Quie: Where To Stay in Nachikatsuura
Nachikatsuura has no shortage of excellent hotels and ryokan to experience the scenic view. You might opt to stay nearby the JR station if you are traveling by public transport.
Where To Stay in Nachikatsuura:
Let's begin by looking into more detail for the best option to suit your interest and budget.
Kumano-bettei Nakanoshima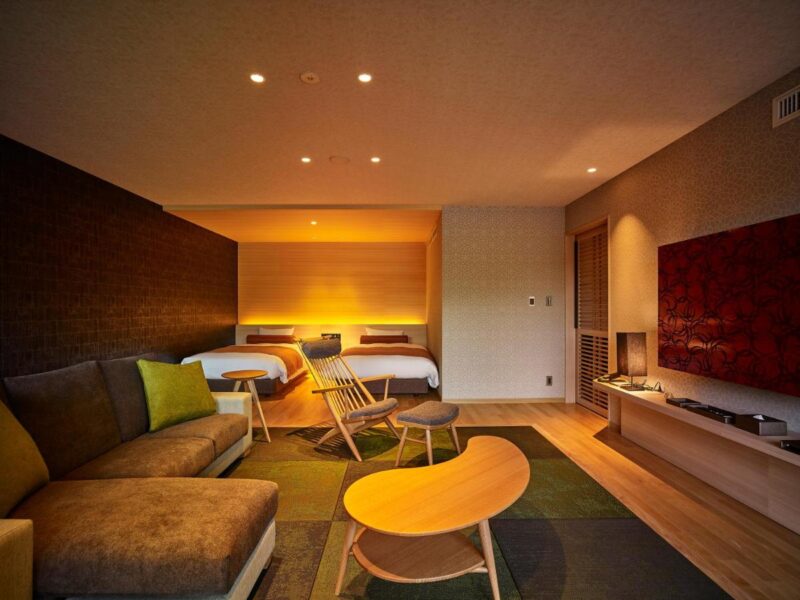 Best Luxury Nachikatsuura stay: Kumano-bettei Nakanoshima – This is one of the best hotels in Nachikatsuura if you want a luxurious stay! It is a seaside Ryokan located on a private island in Katsuura Bay. This huge onsen resort with four separate buildings is located on an isolated island in the middle of the sea. It is accessible by a relatively frequent and short 5-minute ferry ride from Kanko Sanbashi pier.
Hotel Nakanoshima offers both Western-style and Japanese-style rooms with traditional décor. All rooms are air-conditioned and include an LCD TV, and an en-suite bathroom, with Yukata robes.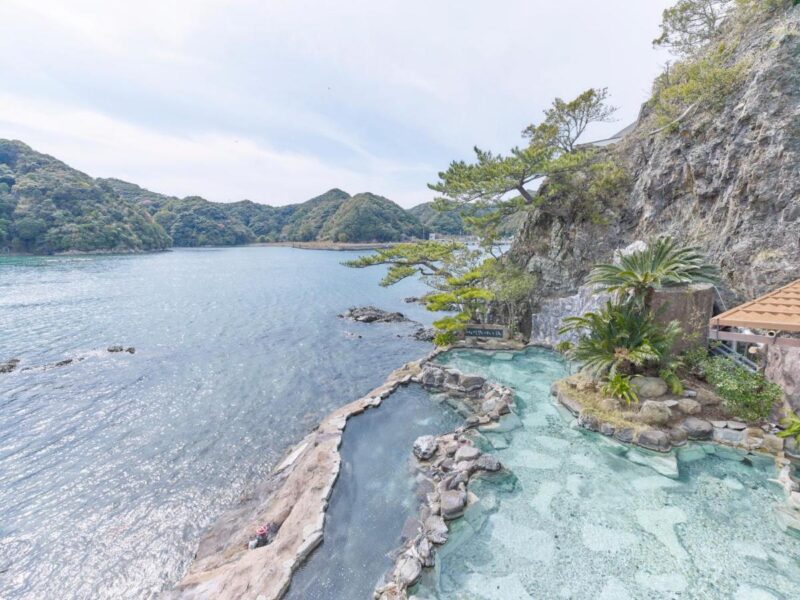 The highlight of Hotel Nakanoshima is its outdoor onsens, which provide a breathtaking view of the island's surroundings. The sounds of waves on the rocks nearby, while watching the sunset over the mountains, is a wonderful experience.
Traditional Kaiseki dinners and rooms with views of Nachi Bay are featured. 2 board meals start from ¥34,700.
Hotel Urashima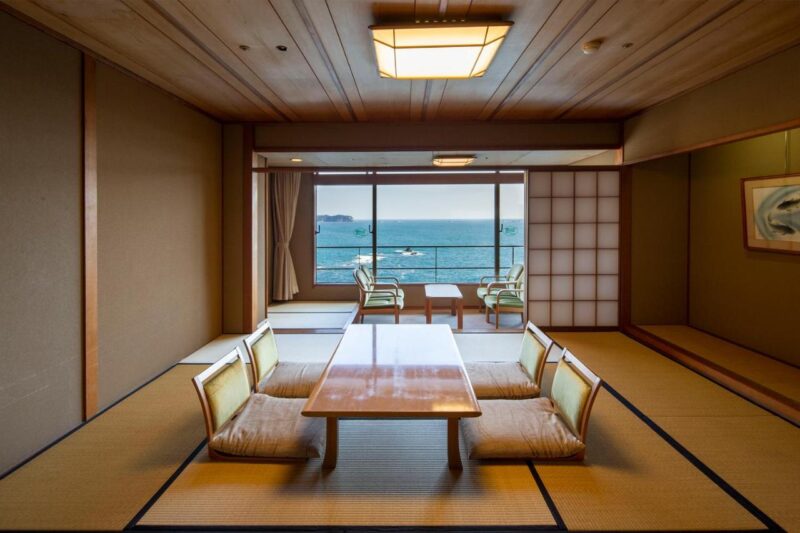 Mid-Range: Hotel Urashima is another popular onsen resort with beautiful hot springs in Nachi Katsuura. The property offers both Japanese traditional-style rooms with tatami mats and also standard Western-styled rooms. It also has karaoke rooms, a karaoke dive bar, massage parlors, convenience store lawsons, a shopping mall, a comic book store, and the longest escalator in Japan! It also contains various shrines, an observation deck, and a walking trail.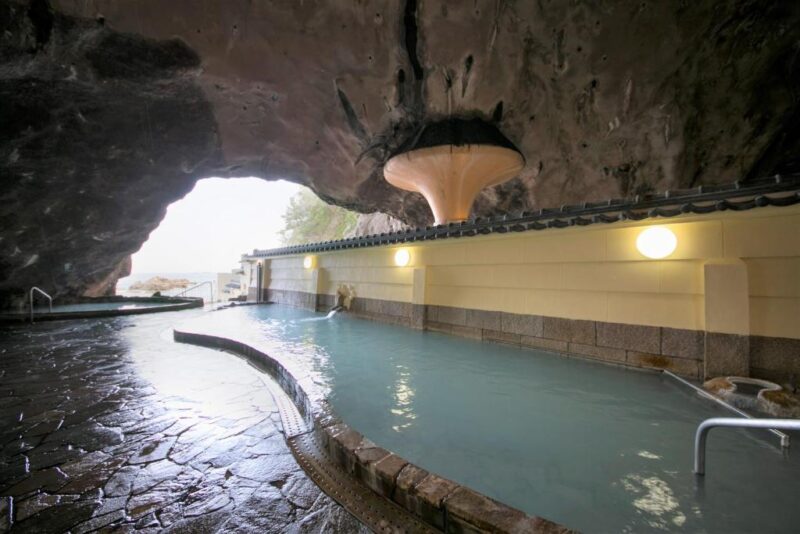 Hotel Urashima is located in the hot spring area with hot spring baths scattered throughout the facility. The most famous is the Bokido, a natural hot spring bath in a cave overlooking the ocean. Truly amazing!
2 board meals start from ¥15,700. You can take a closer look at Hotel Urashima.
Hotel Nagisaya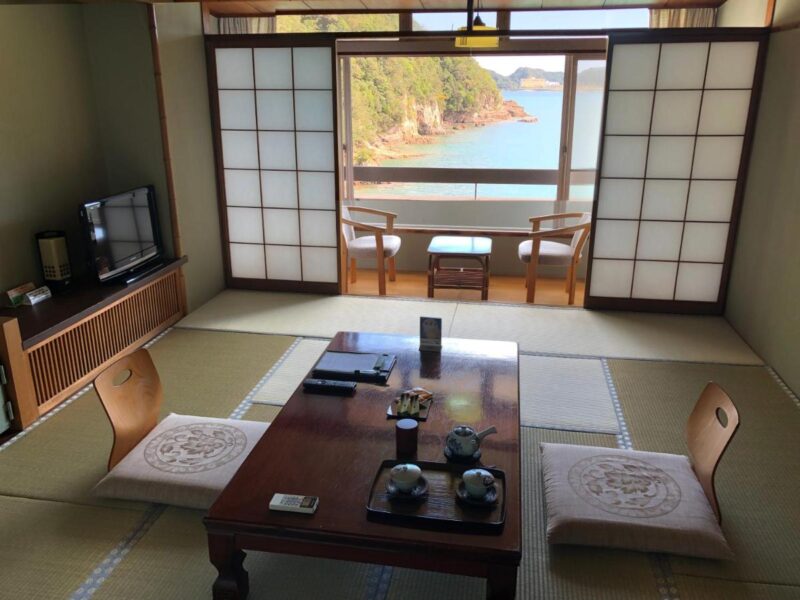 Mid-Range: Hotel Nagisaya – Another traditional Japanese ryokan boasted hot spring baths with an ocean view. All rooms are Japanese-style rooms with tatami (woven-straw) flooring, futon bedding, and an ocean view.
Guests can relax in the indoor/outdoor hot spring baths, and karaoke at a surcharge, or purchase souvenirs at the gift shop. Fishing and massages are also available at a fee.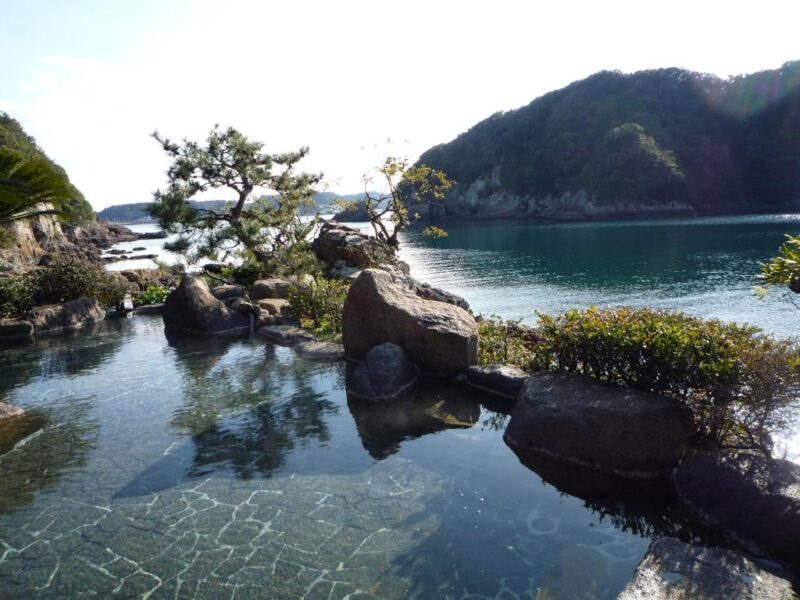 Hotel Nagisaya is located within a 5-minute drive from JR Kii-katsuura Train Station with a free shuttle service. Check for room availability for Hotel Nagisaya.
Sunrise Katsuura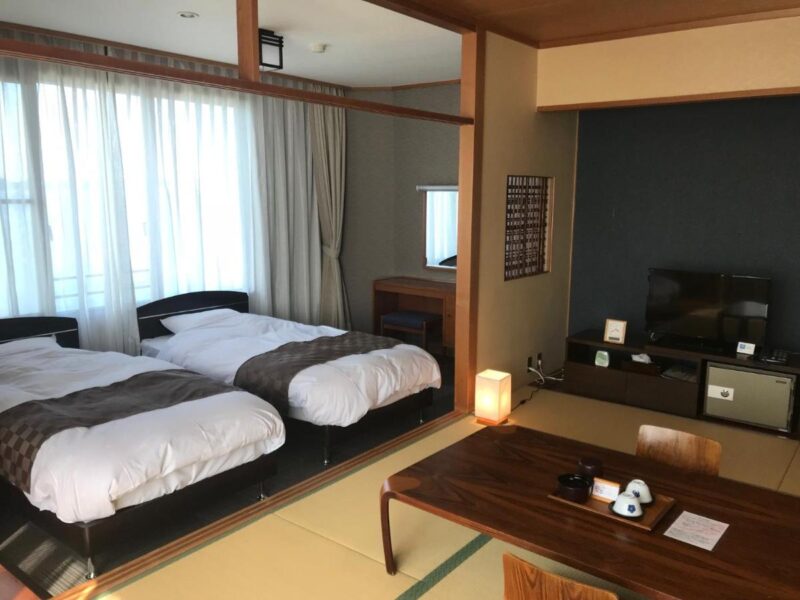 Mid-Range: Sunrise Katsuura is a ryokan hotel in the coastal fishing village of Katsuura. It offers spacious rooms overlooking the sea. Waking up to a view of sunrise and ocean waves when staying on the property. Choose either Japanese style (futons) or Western style (twin bed) accommodation.
An easy 10 -15 or so minute walk to the station, fish market, and restaurants. Check for room availability for Sunrise Katsuura.
Why Kumano, Hostel & Cafe Bar
Why Kumano is a convenient hostel accommodation with a bar and café in front of the. It is housed in a narrow three-story building with a tasteful design. The property offers a limited private room and mixed-gender dorm to spend the night in Nachikatsuura.
Solo travelers will also be happy to know that the hotel offers dorm rooms at a lower price. While the first floor is the Bodai restaurant where you can enjoy coffee and snack.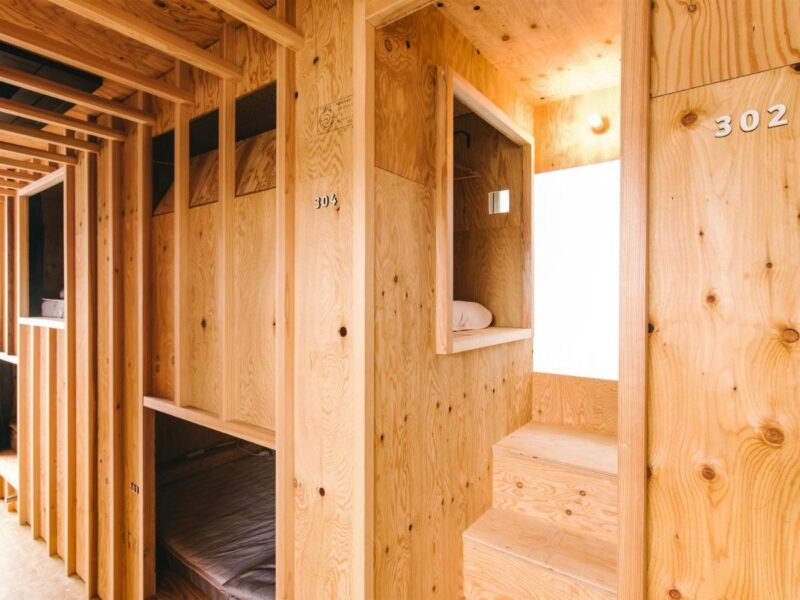 The location is excellently located right in front of Kii-Katsuura train station. Easy walking distance to the fish market and hoop on the bus to Nachi Falls. The staff is super helpful and friendly. Highly recommended if you are looking for where to stay in Nachikatsuura on a budget.
Mixed-gender Dorm started from ¥3,600. Check for room availability at Why Kumano.
MAGURO BLDG by WhyKumano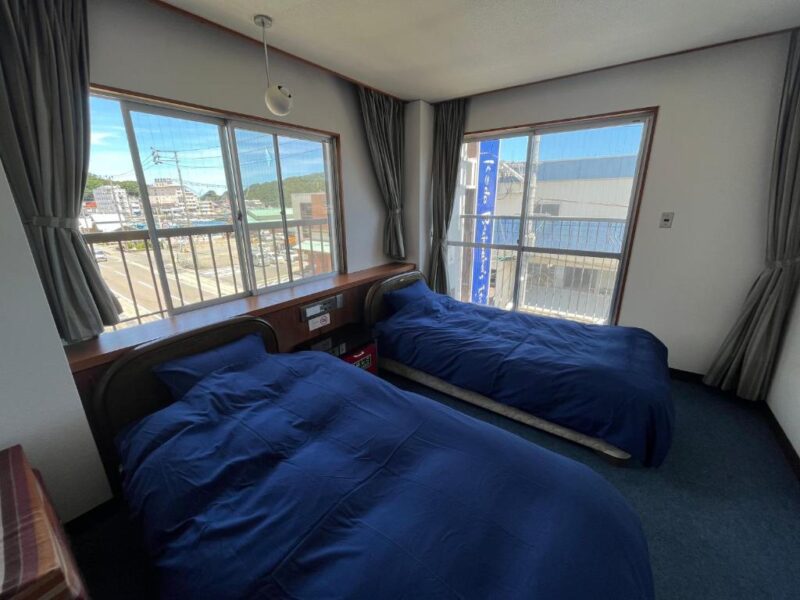 Budget: MAGURO BLDG by WhyKumano – A basic hotel in the town within a walking distance from the Kii-katsuura train station. Rooms are western-styled and have all the basic amenities. Each unit is fitted with air conditioning, a private bathroom, and a kitchen including a fridge and a microwave. Some units feature a terrace and/or a balcony with sea views. Everything you need to have a comfortable stay – perfect for the budget traveler.
Check for room availability for this budget hotel – MAGURO BLDG by WhyKumano.
Oyado Hana Guesthouse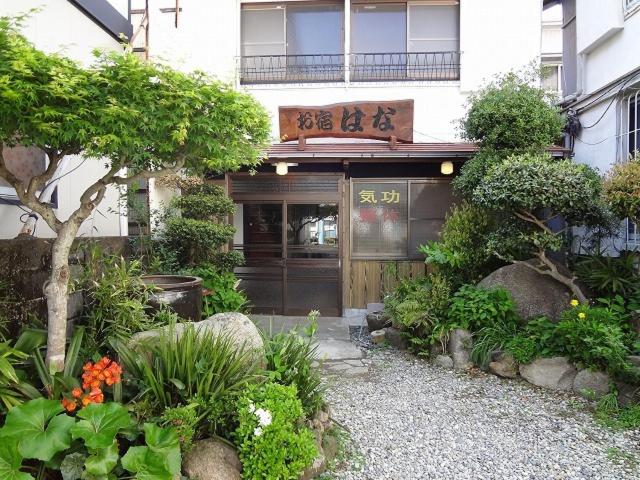 Budget: Oyado Hana Guesthouse is lovely accommodation transformed from an old building into a comfortable guesthouse. It is run by a friendly family and they are accommodating. The rooms are comfy and the styling and decor throughout the house were so lovely and homey.
The private natural Onsen bath is one of the best parts of this guesthouse where you can enjoy the natural water containing sulfur directly coming from the source. Truly relaxing after a long day.
The location is excellent and located conveniently near the Kii-Katsuura station, and nearby with a variety of restaurant choices. Great value for money. Your stay at Oyado Hana Guesthouse start from ¥34,400.
Onsenminshuku Kosakaya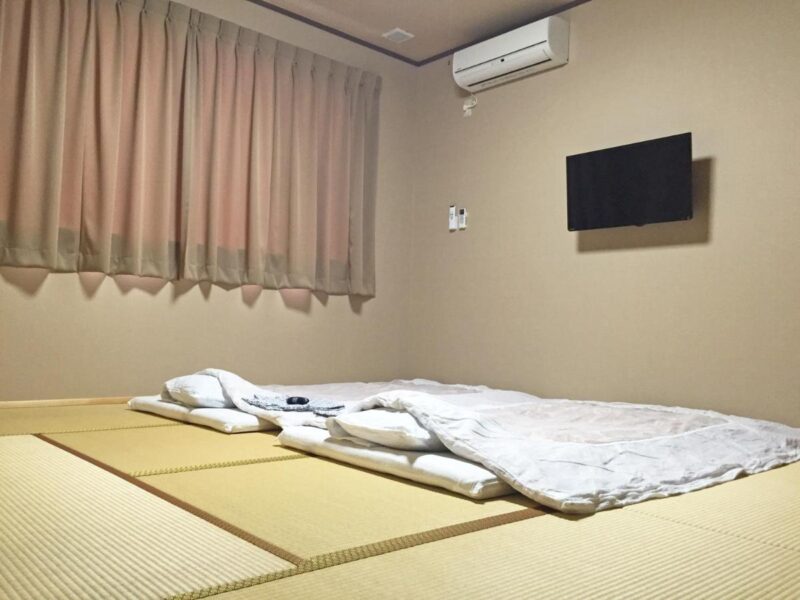 Budget: Onsenminshuku Kosakaya is a family-run located close to the JR Kii-Katsuura Station with a 4-minute walk. The property offers Japanese-style rooms and a hot spring bath for guests. It is well maintained and served as a convenient base for visiting the area and for those planning for a multi-day walk on the Kumano Kodo pilgrimage route. Free private parking is available on-site.
Overview: Where to Stay in Nachikatsuura
All in all, we hope you can find the best place to stay in Nachikatsuura. A night at Nachikatsuura is the perfect way to escape the busy metropolitan life and enjoy the onsen. We highly recommended staying in Hotel Urashima if budget is not a concern. It was truly an amazing stay for us when spend our night there.
Alternatively, stay in Why Kumano, Hostel & Cafe Bar – one of the best budget Nachikatsuura hotels that value the money.
Traveling to the Kii Peninsula? Free feel to continue to check out our travel stories to some other interesting places: