Last updated on September 23rd, 2023
There are many things to keep you entertained for several days. Check below my list of what to do and see for your Nimman itinerary in this simple and easy Nimman Travel Guide Blog.
Nimmanhaemin is the trendiest part of Chiang Mai. It is commonly known as Nimman and is based along the Nimmanhaemin Road. Nimman is filled with chic coffee shops and cafés, restaurants, stylish boutiques, and shops. There are plenty of things to do and see to keep you busy in this stylish neighborhood.
In order to enjoy all the best things Nimman has to offer to the fullest, We've compiled a list of things that you must try in the Nimman area. Find out our recommendations for what to do and see in this Nimman Travel Guide blog. Let's check it out!
Nimman Travel Guide: What To Do at Nimman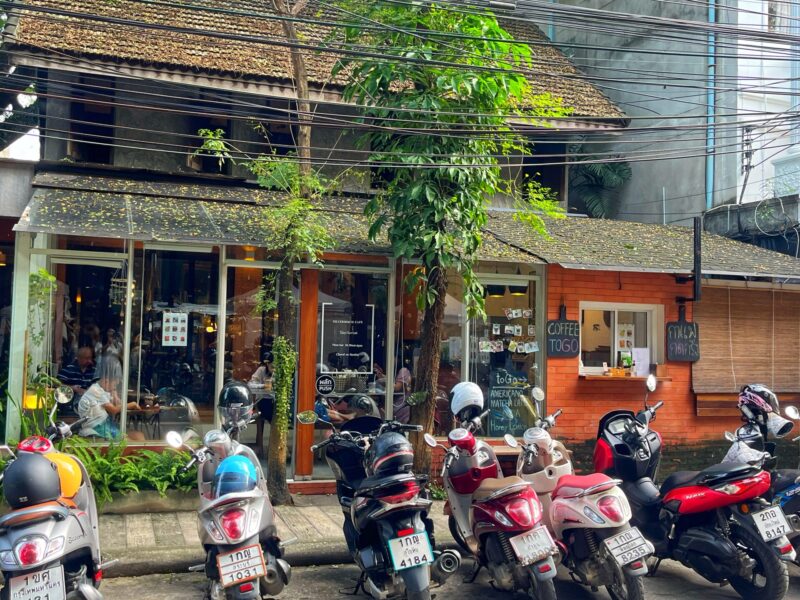 It is important to be savvy about your trip and know all the essentials before planning your trip. You're not required to plan for time control Nimman itinerary. Instead, just have an ideal of what to do and see in the area, and you can flexibly adjust based on your liking and interest.
Nimman Travel Guide: What To Do at Nimman:
Shopping at Maya Lifestyle Shopping Centre
One Nimman
White Market at One Nimman
Explore Nimman Side Streets and Alleyways
Great Food Hunting
Enjoy A Cup of Coffee
Relax at an Chill Cafe
Eat Khao Soy
Here are some of the useful travel tips when planning your visit to Nimman:
How To Get to Nimman from Chiang Mai Old Town?
Nimman is located just outside of Chiang Mai's old town. It is walkable between Old Town and Nimman. But we used the tuk-tuk, Songthaew, or e-hailing service (GRAB) to travel between two areas.
Is it best to stay in Nimman or Chiang Mai Old Town?
Chiang Mai's Old Town is the best area to stay for first-time visitors to Chiang Mai. The historical attractions are nearby and easy to get around. We recommend it for travelers who prefer for relaxing vibe. It is also best to stay for family travelers, especially with kids.
Is Nimman is good for tourists?
Nimman is filled with chic coffee shops and cafés, restaurants, stylish boutiques, and shops. This makes Nimman worth visiting for a relaxing trip to Chiang Mai.
Where To Stay in Nimman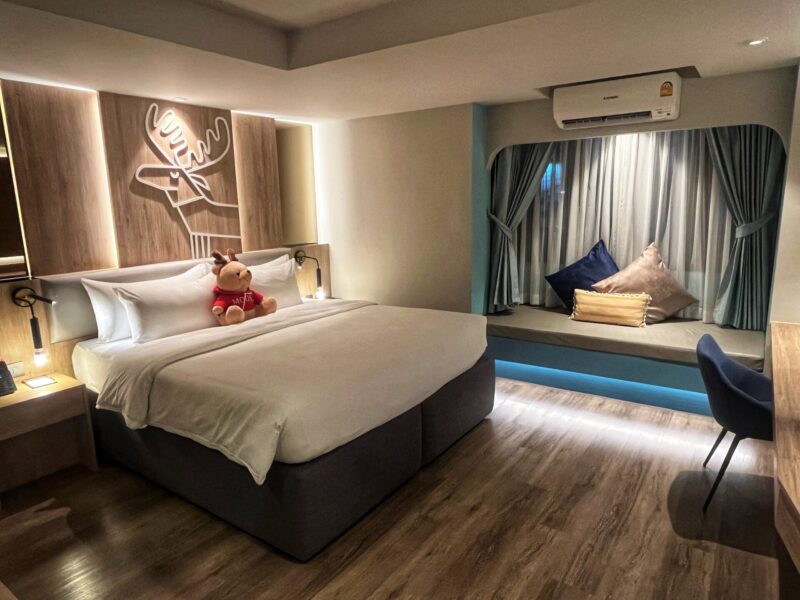 Nimman is a vibrant area for a relaxing stay in Chiang Mai. The area is less bustling, and family-friendly. We chose to stay in Nimman during one of the visits to Chiang Mai and truly loved it. If you are looking for where to stay in Nimman, here is our recommendation:
Luxury: U Nimman Chiang Mai is a stylish 5-star hotel with an outdoor pool and views of the mountain, located at U Nimman. Rooms have a terrace and hotel facilities include a pool bar, restaurant, and sauna. Extremely popular and best to reserve your room early!
High-Range: Moose Hotel Nimman is a great option for family travelers with kids. It is located in the best location in Nimman, and opposite with U Nimman. Everything you want is within walking distance. The hotel is spacious, new, and clean. Friendly services with nice complimentary snacks every day.
Mid-Range: POR Santitham is a great area to stay if you're looking for very good mid-range places in Nimman. The property provides accommodation with an outdoor swimming pool, free private parking, and a garden. It has all the facilities and amenities you might need for a pleasant stay.
Budget: Sakulchai Place is a great budget-friendly hotel located near Nimmanhaemin road and within walking distance of the night markets and Maya shopping mall. The rooms are simple but comfortable with great facilities.
Shopping at Maya Lifestyle Shopping Centre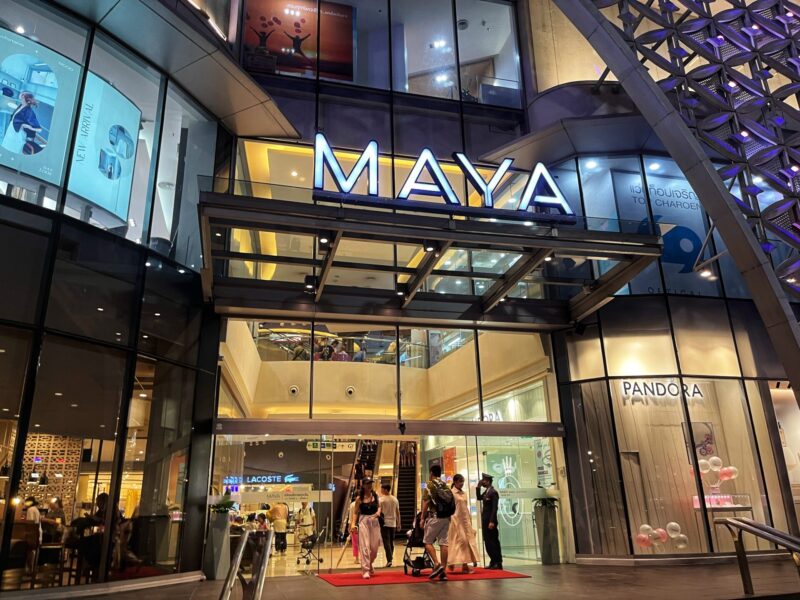 If you are looking for a shopping sphere, especially on a hot sunny day in Chiang Mai, Maya Lifestyle Shopping Centre in Nimman area is one of the great choices.
The Maya Mall is a multi-level shopping complex that has many local and international brands, movie theatres, grocery shops, and restaurants. There is also a food court on the 4th floor with many food and dessert sections if you looking for local dishes. You can find almost everything here. A wonderful and nice place to venture.
One Nimman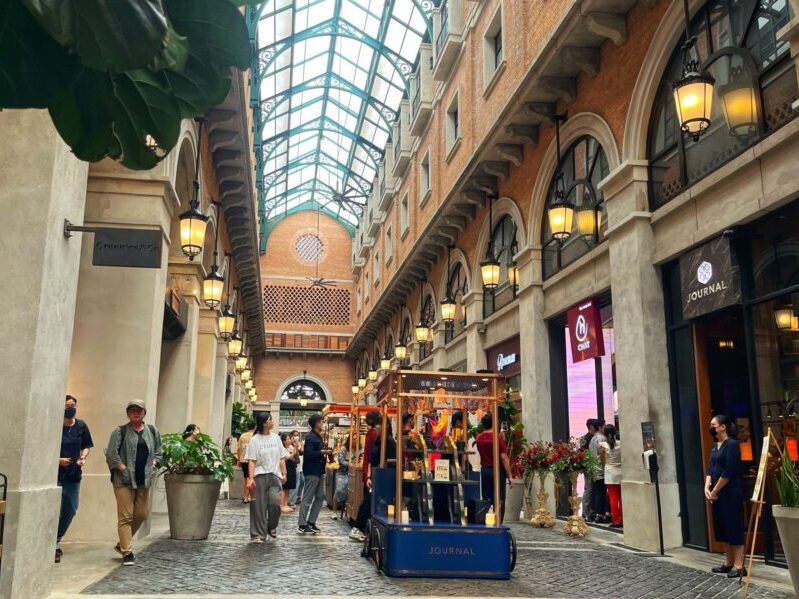 While Maya Mall has world brands, One Nimman is a beautifully European Theme designed mall with lots of upmarket shops and boutiques. You can visit One Nimman for food, shopping, massaging, or just wandering around.
You can also choose to stay close to the One Nimman. The highly rated U Nimman Hotel is also situated here (Check for room rate).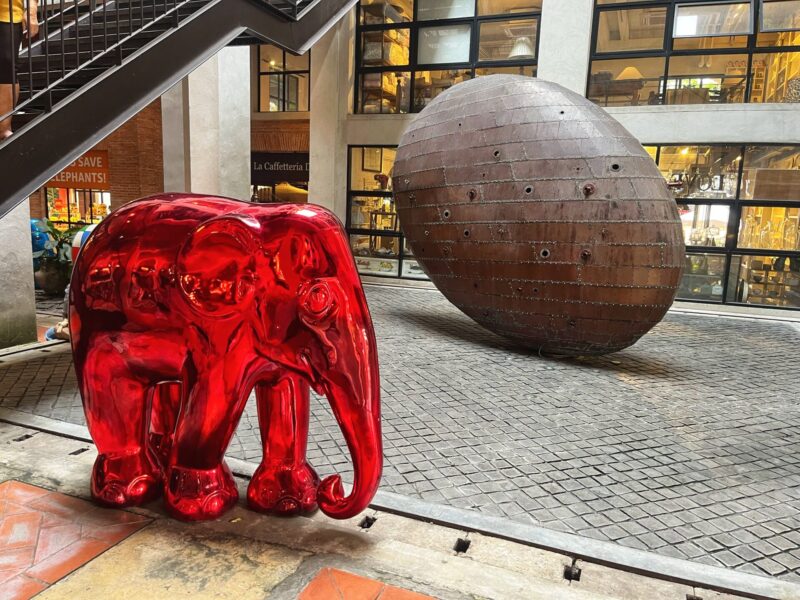 There are some chic shops, Michelin-starred restaurants, bars, and cafes, as well as a collection of local entrepreneurs' stalls selling products. The range of products here is of comparable quality! There is even a shopping viewpoint for a panoramic view of the neighborhood.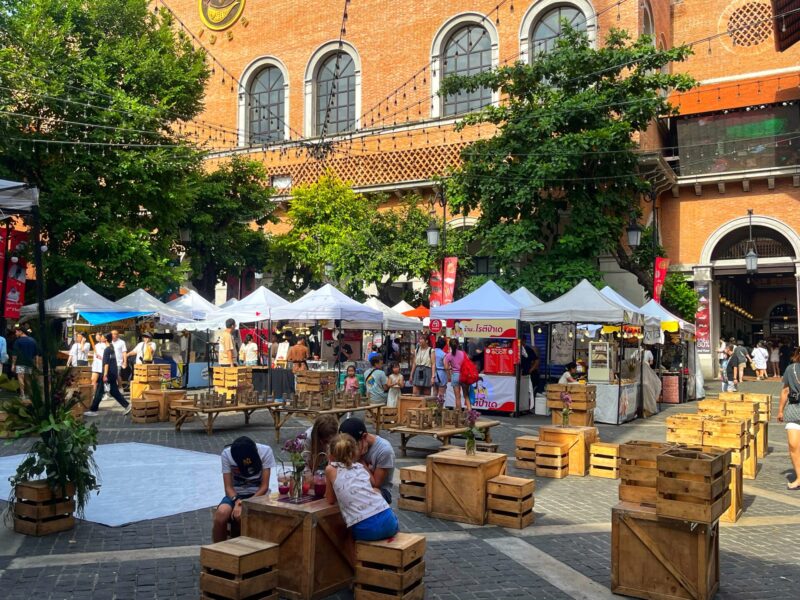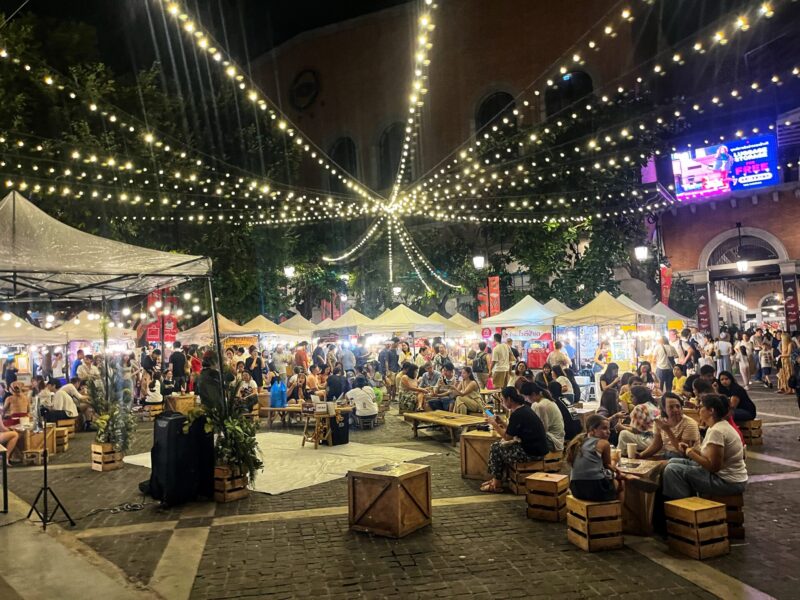 Every weekend, the street food night market at One Nimman takes place in the One Square area at night. There are around 20 food and drink stalls selling snacks like Thai-style dishes, snacks, grilled pork, and drinks. Grab some food and enjoy the live music at One Nimman. The vibe of One Nimman is superb!
Definitely come to One Nimman and check out the surrounding area as well. An ideal place to spend a couple of hours or even a whole day to relax and unwind.
White Market at One Nimman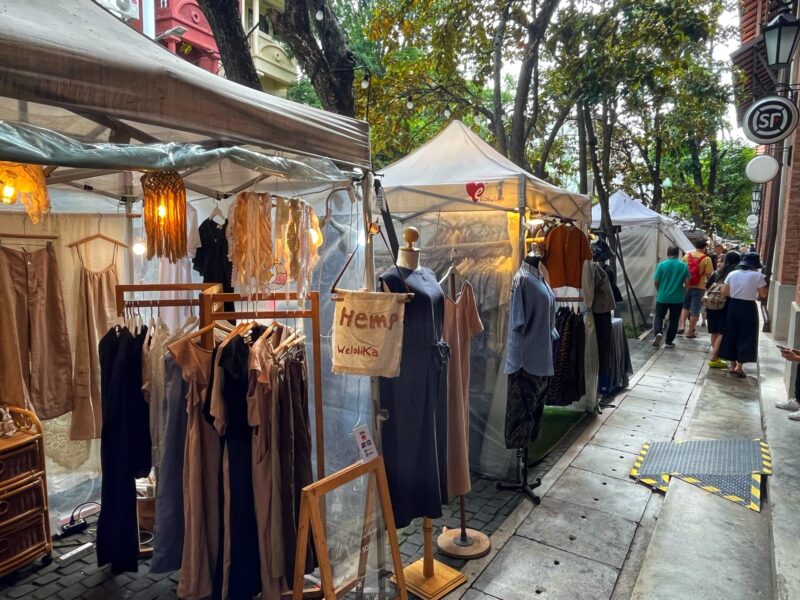 Besides the street food market, One Nimman also has a chic night market that is worth visiting if you are in the area.
The Japanese White Market takes place every Friday to Sunday, from 15:00 to 22:00. Stalls are set up right outside of the edge of One Nimman that sells beautifully handcrafted and artisan products. If you haven't already bought some treats for friends and family back home, this is the place to stock up on quality, affordable pieces.
Explore Nimman Side Streets and Alleyways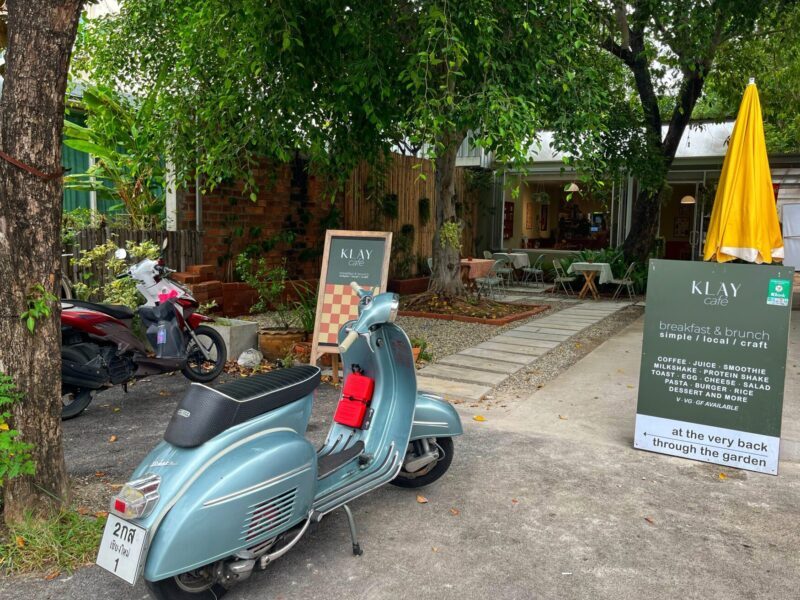 One of the best things to do in Nimman is explore the Nimman Side Streets and Alleyways.
Compared to Chiang Mai's Old Town which is usually bustling and busy with cars and visitors, the Nimman side has a more hipster and relaxing vibe. Go through the alleyway and you'll find some little coffee shops, cafes, or pastry shops for yourself. It is a joy to wander around the side streets and alleyways!
Great Food Hunting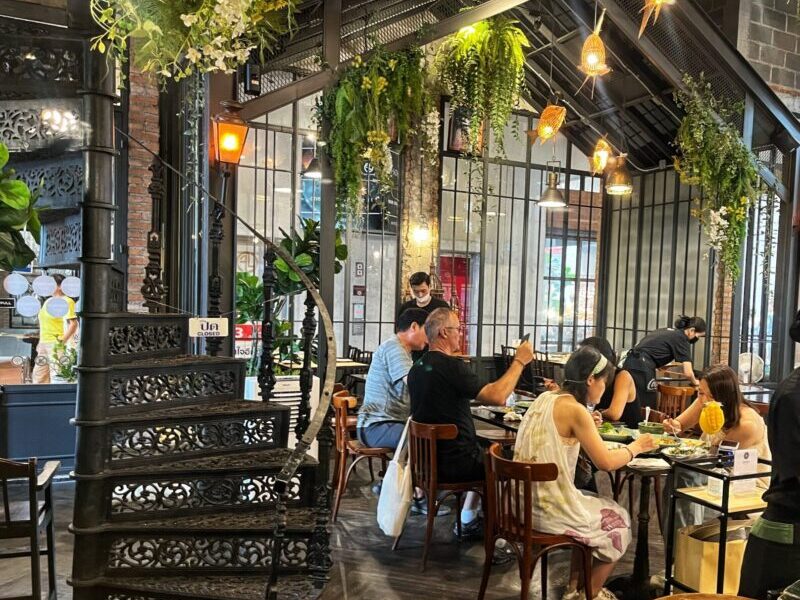 This part of the Nimman travel guide was the hardest bit for me to write because this area is filled with so many best restaurants and great food. We enjoy trying the local Northern food and Thai dishes in the area. Some of the recommendations including:
Ginger Farm Kitchen is located in the One Nimman. It is highly recommend and the food is divine. The restaurant is rustically furnished and dotted with plants. It embraces a farm-to-table concept using organic and seasonal vegetables.
Huen Muan Jai is one of the trendier restaurants in Chiang Mai known for serving delicious Northern Thai dishes. The restaurant has an extensive menu including northern-style soups, grilled meats, stir-fries, chili dips, and more. 
Kiew Kai Ka has been awarded Michelin 5 years in a row since 2018. Their Chiang Mai Branch is a very beautiful, petite restaurant located in a busy One Nimman Shopping Centre. It is an excellent restaurant serving an amazing array of northern Thai dishes.
READ MORE: Check out more food option in our Chiang Mai Food Guide.
Enjoy A Cup of Coffee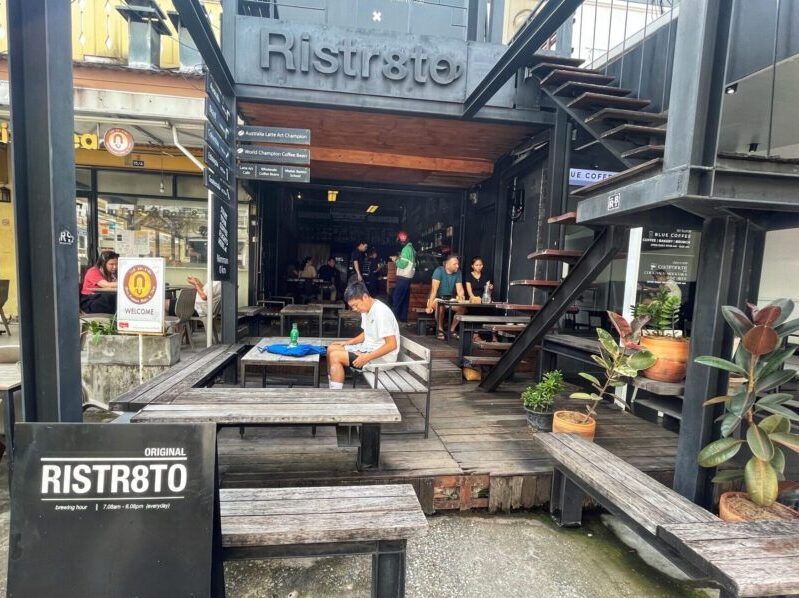 For coffee lovers, be sure to stop by and try some coffee when visiting Chiang Mai. There are many coffee shops to explore, but for me, the Nimman is the most interesting. This area has a great coffee scene and they really make some great coffee. Spend some time exploring the area and grab a coffee, or more!
Here are some of the recommendation cafes:
Ristr8to Coffee: Often rated as one of the best coffee in Chiang Mai. Their signature coffees including Satan Latte, Godmother Mocha, and Shakerato from Hell are popular among the locals. The smell of coffee is good and the taste is thick. I loved it. The area inside is relaxed and can chat with my friends very freely.
Graph Cafe Chiang Mai is a great coffee shop to sit, enjoy, and be treated to fantastic coffee menu choices. They served special coffee with original flavors history. Most of the coffee beans are from the Northern Thai coffee region.
Relax at an Chill Cafe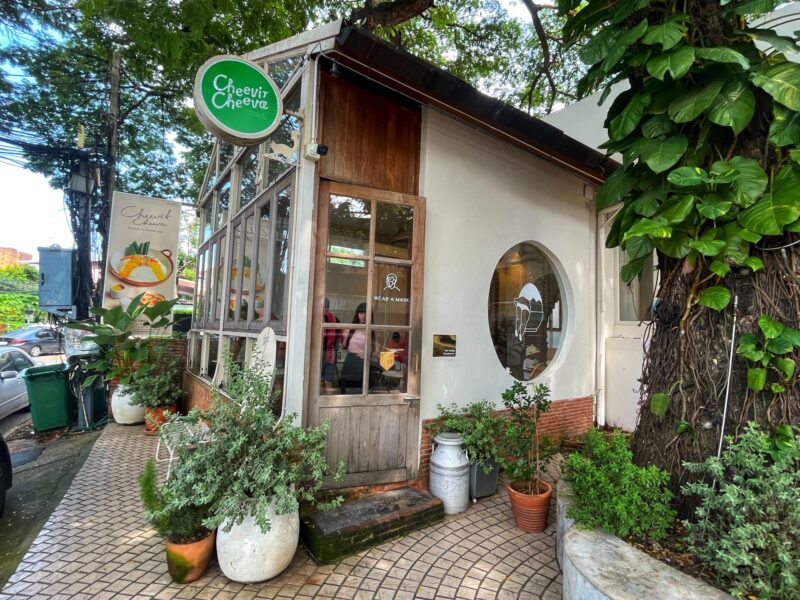 The Nimmanhamein area is a great place to take a break from the historical attractions and the bustling Old Town. It is also a great place for relaxing and chilling when the outside is crazy humid.
There are hundreds of other trendy cafès in the Old Town and Chiang Mai in general. These were some of the cafes we visited in the Nimman.
Cheevit Cheeva was one of my favorite cafes in Nimman, largely because of its cozy interior and relaxed vibe. This little cafe serves the great Korean Bingsu aka shaved ice with Thai flavor in town. Some recommendations including the popular salty Egg Yolk, Glass gelly, Mango sticky rice, and more. The shaved ice is flaky and milky, and not too sweet. Just melts in your mouth!
Eat Khao Soy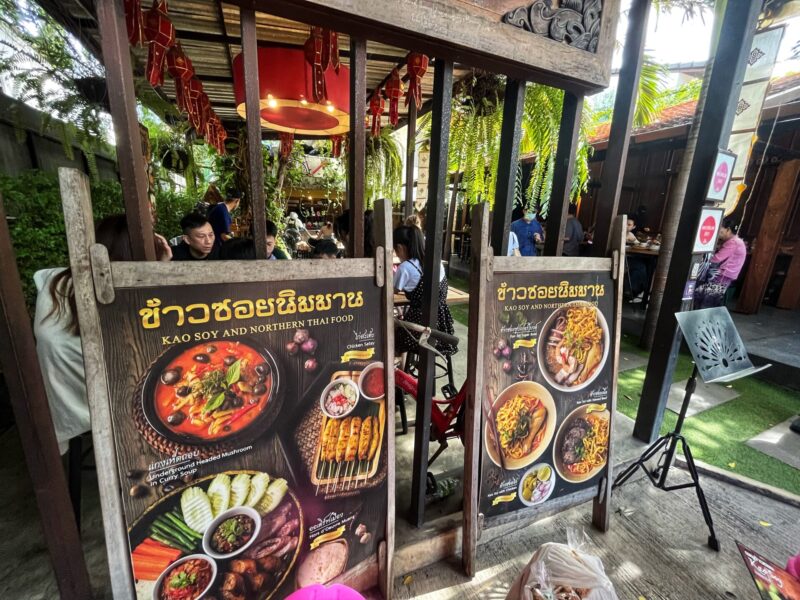 Khao Soy is one of the popular Northern Thai noodle dishes in Chiang Mai. If you are looking for where to eat the Khao Soy in Nimman, I'm going to suggest you choose Khao Soy Nimman for some of the best noodles in the area.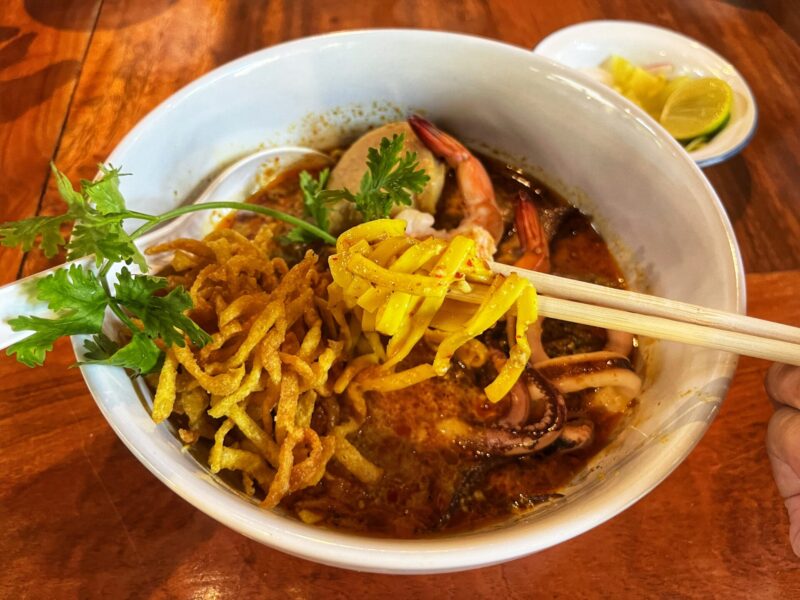 Khao Soy Nimman specialises in different variations of Khao Soi. You can order chicken, seafood, pork, beef, vegetarian Khao Soy, and some other Northern Thai dishes option. An unpretentious but highly recommendable place!
Overall: Leisure Visit To Nimman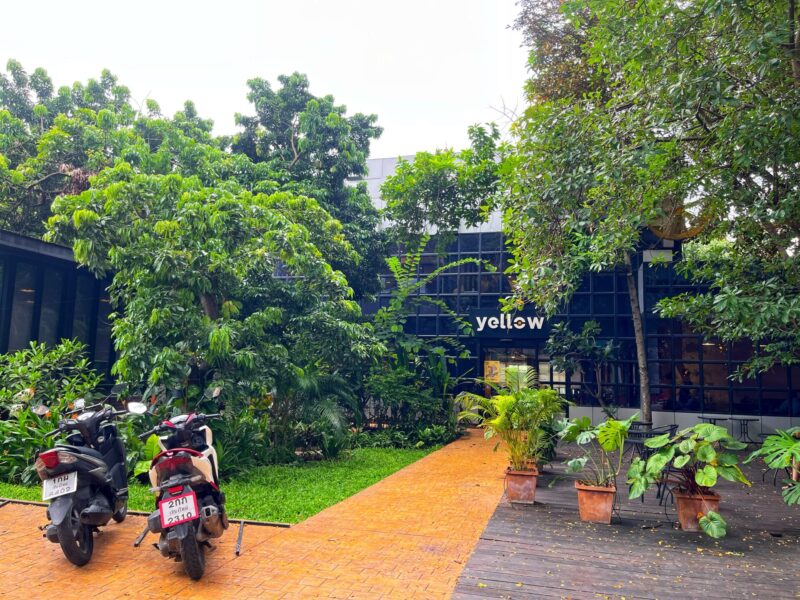 All in all, we do hope that you find this Nimman Travel guide helpful. A visit to Nimman neighbourhood is highlt recommended. There is no way am I an expert on Nimman and we are only sharing some of the great things to do that we learned from our visit to Nimman. There are still many hidden gems awaiting you to discover. We love the relaxing vibe and enjoy wandering around. Just visit Nimman area with an open mind and try it based on your liking. You are on holiday!
Travel to Chiang Mai and looking for more travel inspiration? Check out my other travel blog here: