Last updated on October 2nd, 2023
The ultimate Koh Lipe Travel Guide includes the perfect itinerary for your holiday gateway. We will show you how to get to Koh Lipe from various transportation options, things to do, what to eat, and where to stay in this Koh Lipe travel blog. Stay tuned!
Located 60 km from the mainland, Koh Lipe is the most southern island in Thailand. It is popular among beach lovers and is known as the Maldives of Thailand. Every year, thousands of international travelers and locals are flocks to the island to enjoy the sunshine, crystal clear turquoise waters, and pristine beaches.
Compared with other famous islands in Thailand, Koh Lipe's atmosphere is not as happening as Phuket, Koh Phi Phi, or Krabi. But Koh Lipe has some great things that make the island unique in its own right. The tropical island is calm and surrounded by laid-back vibes. With clear-crystal waters and white sand beaches, beautiful sunrises at the beginning of the day, and a great sunset to end your day, Ko Lipe is the best place for an island gateway.
While in Koh Lipe, there are many relaxing things to do and areas you can consider visiting depending on what you're interested in. Below I've picked out some of the highlights and best beaches that are frequently visited by visitors when traveling to Ko Lipe. Here is our in-depth Koh Lipe Travel Guide.
Best Time to Visit Ko Lipe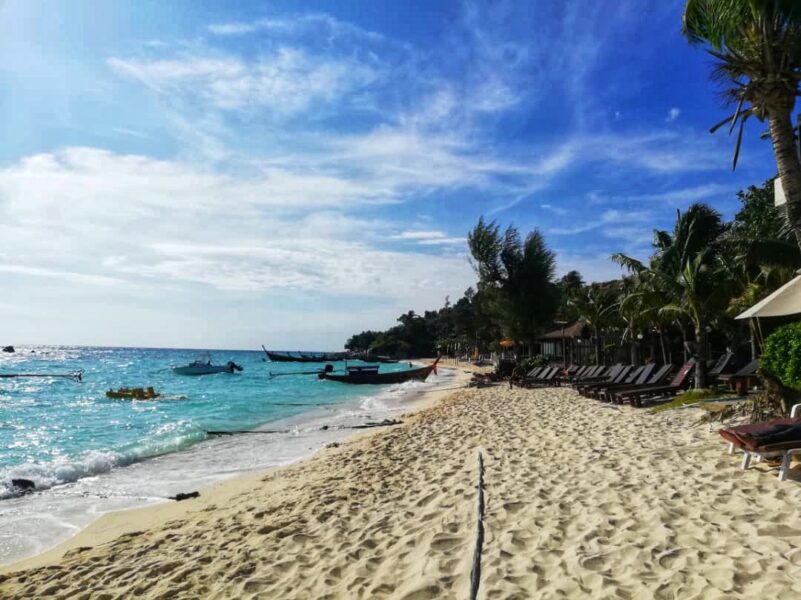 Ko Lipe is great to visit all year round. However, the best time to visit Koh Lipe is between November and April. During this time, the weather is pleasant with good sunshine and calm warm water. It is very ideal for beach activities, such as swimming, boating, and sunbathing.
From December to February, these few months are the peak season for Koh Lipe. We recommended booking your ferry ticket and accommodation in advance, especially on weekends and the public holidays in Thailand and South East Asia. Many locals and tourists will flock to Ko Lipe for the beach holidays and weekend gateway.
From June to October, these few months are the low season for Koh Lipe. It is also the monsoon season with more rainy days during these few months. It is less crowded with cheaper accommodation prices. But be aware that some shops and ferry arrangements will be temporarily closed due to fewer visitors and rough sea.
How To Get To Koh Lipe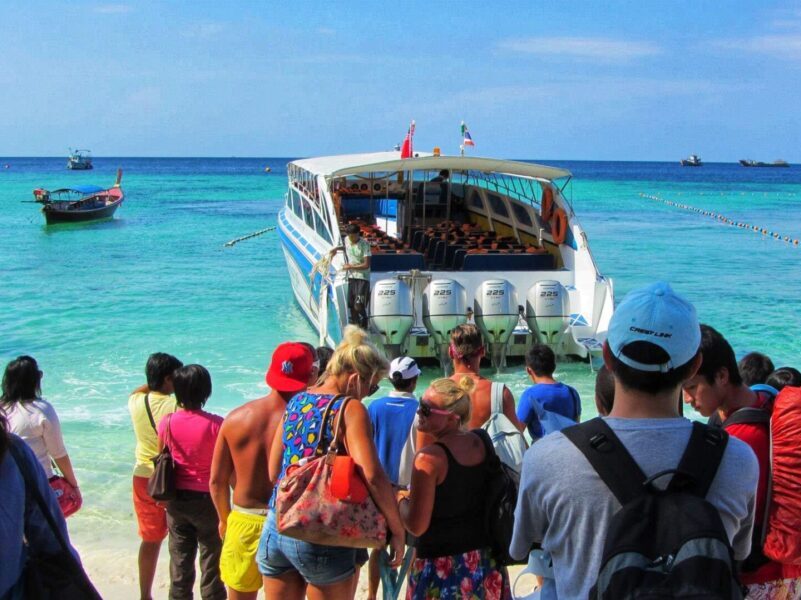 Honestly, it is not that easy to get to Koh Lipe due to the weather and season. Depending on where is your departure location, there are various transportation options available to get to Koh Lipe. Once you arrive for your Koh Lipe itinerary, you can get to your hotel by just walking, paying 50 baht for a speedboat, a scooter ride, or arranging for pick-up from the hotel.
We had listed down the best way to get to Koh Lipe from Bangkok, Hatyai, Phuket, Krabi, and Langkawi at different seasons in the below section of the Koh Lipe Travel Guide.
All Seasons
From Bangkok, Hatyai to Koh Lipe:
The nearest airport to get to Koh Lipe is Hatyai Airport. Travelers can take the domestic flight from Bangkok and to the Hatyai airport, and next take a shuttle bus to Pak Bara Pier which takes you around 120 minutes at 250 baht. Finally, take the ferry to Ko Lipe at 650 bath. You can use the Skyscanner to find the best flight times and prices when looking for a flight ticket to Hatyai, or anywhere around the world.
Use Skyscanner to find the Best Flight Deal
While the ferry to Koh Lipe from Pak Bara is at 11:30 all year-round and arrives at Ko Lipe at 13:00. The ferry fare usually costs you around 650 baht for an adult and for children (ages 3-10) is 350 baht. Usually, you can buy the combination ticket which combined the flight + shuttle (van) + ferry ticket all together in one joint ticket.
Ko Lipe Travel Guide Tips: Pak Bara is the only place where you can get to Ko Lipe at any time of the year. Certain other places are closed during the monsoon season. Please make sure to arrive at Pak Bara Pier before 11:30, else you will miss the daily ferry to Ko Lipe.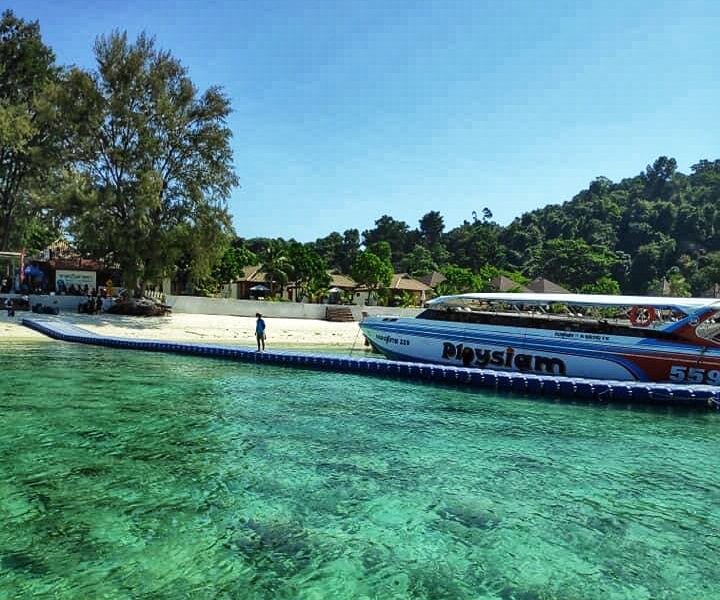 Only During High Season
From Langkawi to Ko Lipe:
Due to the strategic location of Ko Lipe which lies at the border between Malaysia and Thailand, travelers also can get to Ko Lipe from Langkawi, Malaysia by ferry during the high season. You can first fly to Langkawi International Airport, and then take the boat to Koh Lipe.
From Langkawi, you can choose to depart from Telaga or Jeti Kuah. Both offer two daily ferries with departing times where you can depart at 9:30 or 14:30 and arrive at Koh Lipe at 10:00 or 15:00 respectively per local time. The ferry takes you 150 minutes with a 1-hour time zone difference between Malaysia and Thailand.
From Phuket, Koh Phi Phi, Koh Lanta, Krabi to Ko Lipe:
If you are doing island hopping, you can also get to Ko Lipe easily by those islands in the Andaman Sea tied with Koh Lipe. You can book the shuttle and ferry combination ticket from a local agent when you get there, or reserve with an island hopping tour.
The journey takes approximately 5-7 hours at costs from ฿2000 to ฿4000 to Koh Lipe, varied by transportation.
Where To Stay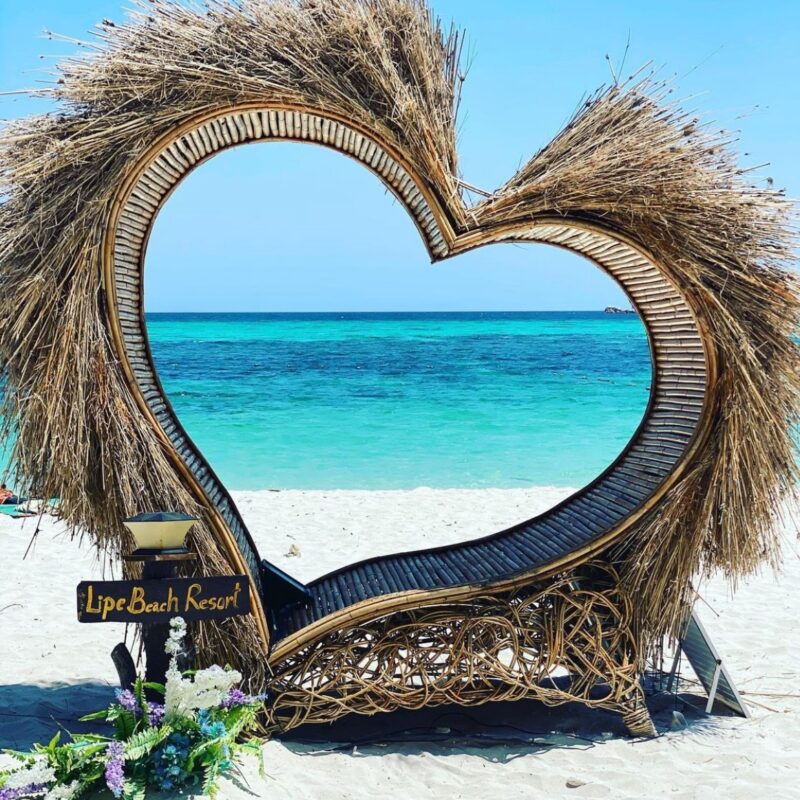 Next, let's talk about that where is the best places to stay when visiting Koh Lipe. Koh Lipe. Being one of the island paradises, Koh Lipe has all kinds of accommodations for all budgets. The prices fluctuate greatly based on the season and they can double or triple during the peak season, especially when the rooms running out. So it is best to reserve your stay in advance.
I've been to Koh Lipe and my favorite place to stay in Koh Lipe is Sunrise beach. It is considered the most beautiful beach on the island and has the most stunning sea view I've seen! Alternatively, you can use an accommodation guide to find your best stay – Where To Stay in Koh Lipe: Top 4 Best Places On Island.
Our suggested accommodations in Sunrise Beach, Koh Lipe:
Staying in Ten Moons Lipe Resort means features the arguably best views on the island each morning and the softest sand on the island.
Cabana Lipe Beach Resort is a perfect, small sea view front resort. Laid-back atmosphere, comfy accommodations, friendly staff, and everything you need for a relaxing gateway.
Lipe Beach Resort is for those who want to be close to a quiet, beautiful beach with a gorgeous coral reef out front. Great value for money and definitely recommended for a stay in Koh Lipe!
Best Beaches on Koh Lipe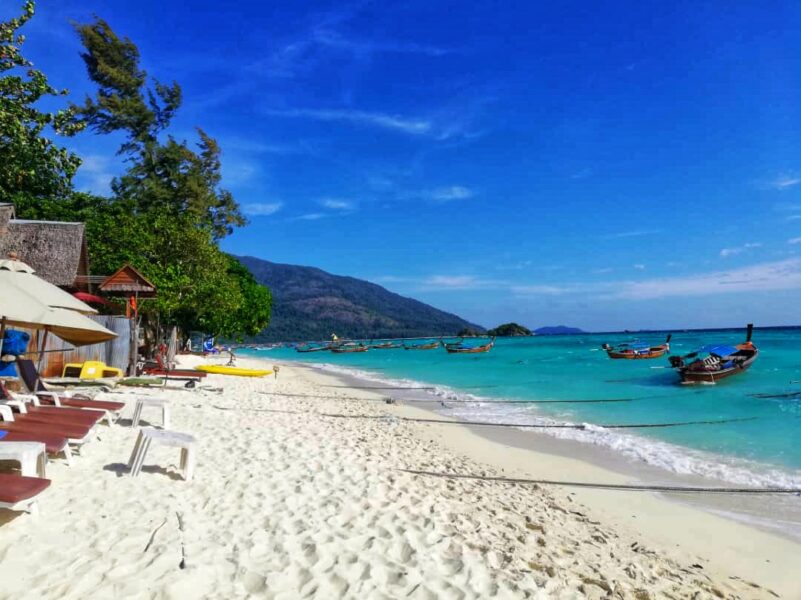 Koh Lipe is one of Thailand's best-kept secrets. Located in the southernmost of the Andaman Sea, Koh Lipe is the place you can dream about island holidays in Thailand. The tiny island is surrounded by white sandy beaches and turquoise-blue waters well-preserved with underwater life.
Koh Lipe has a remote, island charm vibe for your perfect island escape. It has three main beaches, named Sunrise Beach, Sunset Beach, and Pattaya Beach, and also many small beaches and private beaches. At the same time, Koh Lipe is developed and well-built with all of the amenities that you need to have a comfortable vacation. Various budget hostels, hotels, and resorts are available for you to stay on the Koh Lipe island.
Sunrise Beach
As the name said, Sunrise Beach is the best place for watching the sun rising on Koh Lipe. It is the longest beach on Koh Lipe and this is also where most of the beachfront resorts are located.
We really like Sunrise Beach very much. The beach is particularly stunning during the sunrise. You can enjoy the beach by swimming, snorkeling, sunbathing, kayaking, or doing nothing but just relaxing on the beach.
Sunset Beach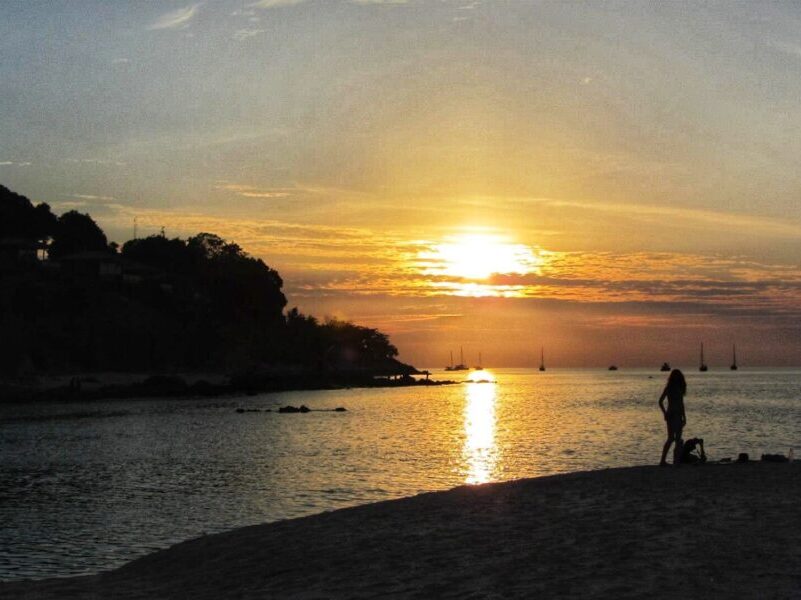 Sunset Beach is where you can enjoy the amazing views and the best sunsets at one of the quiet secluded hotels. White sandy beach with turquoise blue waters. Sunset beach is truly a relaxing beach that will give you a calm island vibe. The location is slightly away from the main action where you will need around 15 minutes to the walking street. Alternatively, get a quick scooter ride at 50 baht.
Pattaya Beach
The lively Pattaya Beach is the busiest beach on the island. It has several resorts and affordable accommodation if you want to stay in the lively area of Koh Lipe. The main pier, immigration office, and many beachfront bars and restaurants can be found in the area. It is also where Walking Street started from, making it easy to look for food and activities on the island.
Pattaya Beach is slightly noisy for people, boat boarding during the daytime. But this area is nice for a drink or dinner on the beach
Koh Lipe Walking Street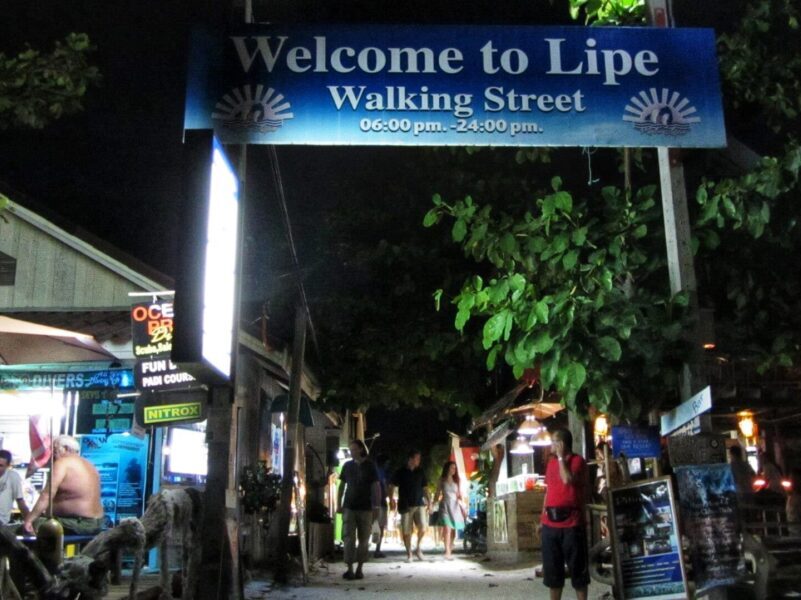 The "Koh Lipe Walking Street" is basically the only business street in Koh Lipe, lined with guesthouses, shops, eateries, bars, 7-elevens, pharmacies, and massage parlors. It connected Pattaya beach and Sunrise beach, which takes you around 10 to 20 minutes from one-end walk to another end.
At night, the walking street is alive and many visitors will come here for food, drink, and massage.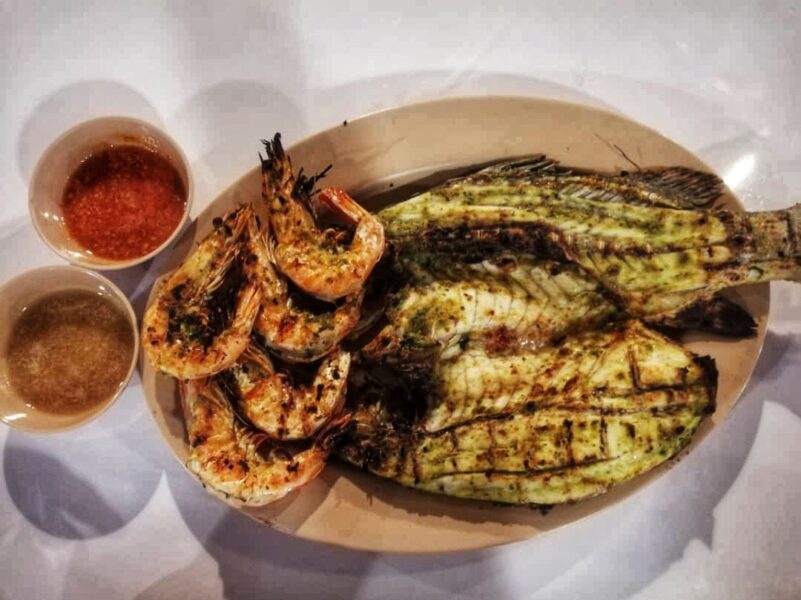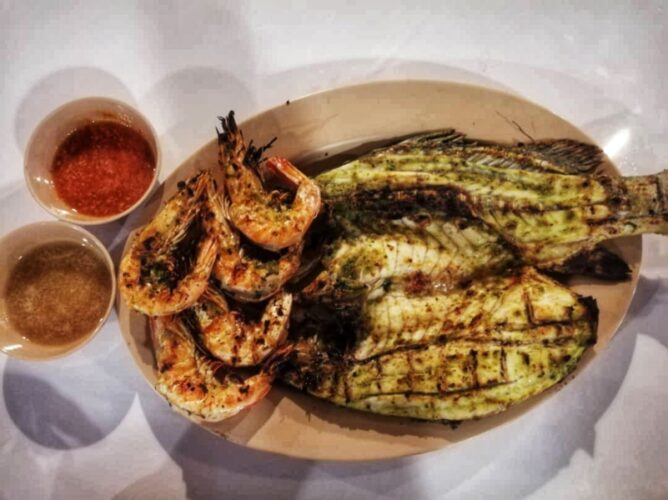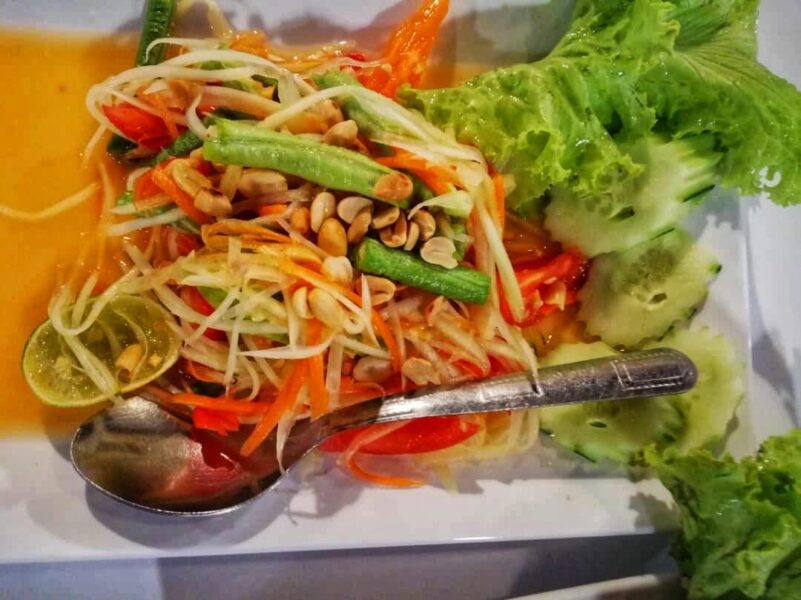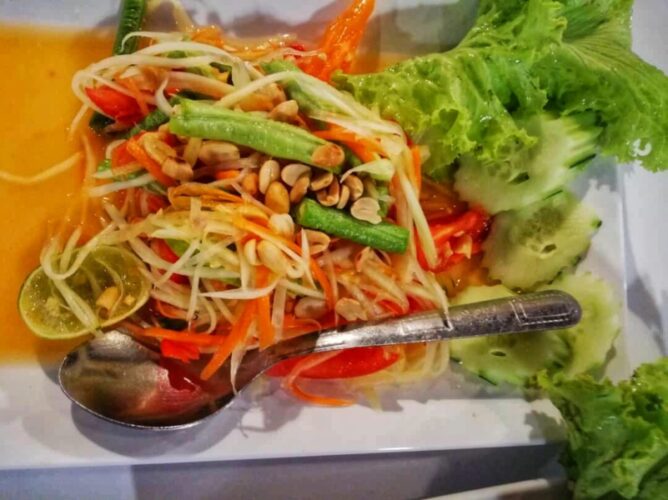 If you are looking for what and where to eat in Koh Lipe, we highly recommended The Rak-Lay Restaurant. Located in the middle of Lipe Walking Street, Rak-Lay is the most popular restaurant in Koh Lipe, serving the best seafood in Thai style at a reasonable price. We enjoyed the barbeque and grilled fish, and Thai salad here.
Take note that Pak-Lay is a Halal eatery with no alcohol served. Long queue always and be ready to wait.
Things To Do in Koh Lipe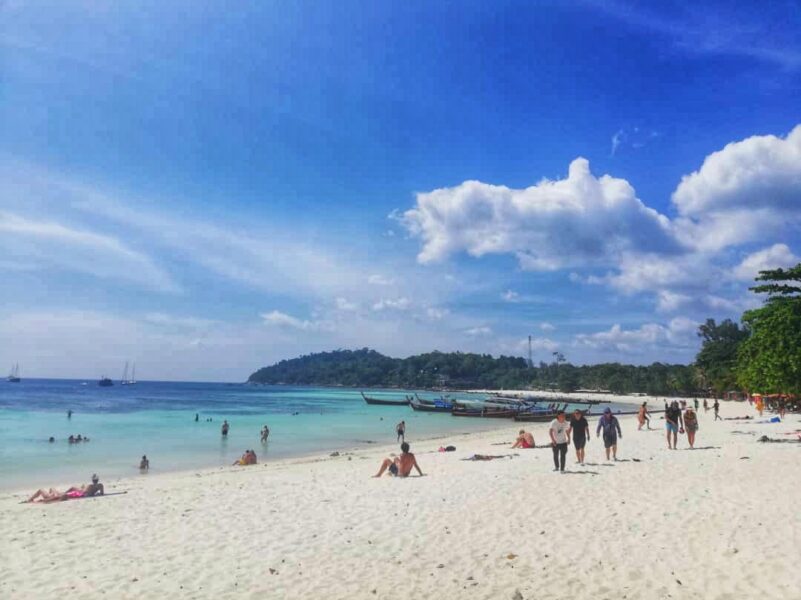 Without a doubt, all the best things to do in Koh Lipe are fully enjoying the tropical island paradise. Here you can swim, sunbathe, kayak, snorkel, dive, or do nothing but lie comfortably on the white sandy beach. It gives you the unwinding time to enjoy the amazing sand, water, and beach.
Snorkeling or diving – If you love the ocean and underwater life, you can choose snorkeling or diving. There are many dive sites and dive centers if you enjoy diving or plan to take a driving license. Alternatively, you can rent snorkeling gear to snorkel at the nearby beach or join a snorkeling tour to see the beautiful coral reefs closer.
Kayaking or paddle-boating – Many beach bars and resorts do offer kayaks or paddleboats for rent for very reasonable prices per hour or per day. It is very adventurous. But please make sure you are experienced and check the weather and currents before doing this.
Watching sunrise and sunset on the island – It is so nice to kick start your day in Koh Lipe. Simply walk to Sunrise Beach or stay right at the beachfront resort to welcome the sunshine. In the evening, watch the sun going below the horizon at Sunset Beach. Sunset beach is slightly isolated and harder to get there. But it is worth checking out at the beach.
While in Koh Lipe, day trips to the surrounding islands are popular and recommended. Crystal clear waters are perfect for snorkeling or just swimming about. One of the must-do for every
More Koh Lipe Travel Guide Tips
Looking for more quick travel tips for Koh Lipe? Read our easy tips at this Koh Lipe Travel Guide here!
How many days for Koh Lipe?
At least 3 days! It is not easy to get to Koh Lipe you might as well stay for at least three days.
Where are the best places to stay in Koh Lipe?
We recommended staying either in Pattaya Beach or Sunrise Beach. These two places have more accommodation options and a perfect mix of excitement and an island vibe.
Is Koh Lipe safe?
Locals are very friendly in Koh Lipe. We feel safe when walking around in island even at night, or waiting for sunrise at the beach before the dawn. But still, always be a precaution when traveling to other countries.
How to get to Koh Lipe from Thailand?
We recommended first flying to the Hatyai airport and then taking a shuttle bus to Pak Bara Pier which takes you around 120 minutes of road journey. From there, take the speedboat to Koh Lipe.
How to get to Koh Lipe from Langkawi?
From Langkawi, you can choose to depart from Telaga or Jeti Kuah. The journey takes you around 150 minutes. However, it only operates during the high season, which is October to June.
Is Koh Lipe Worth the Visit?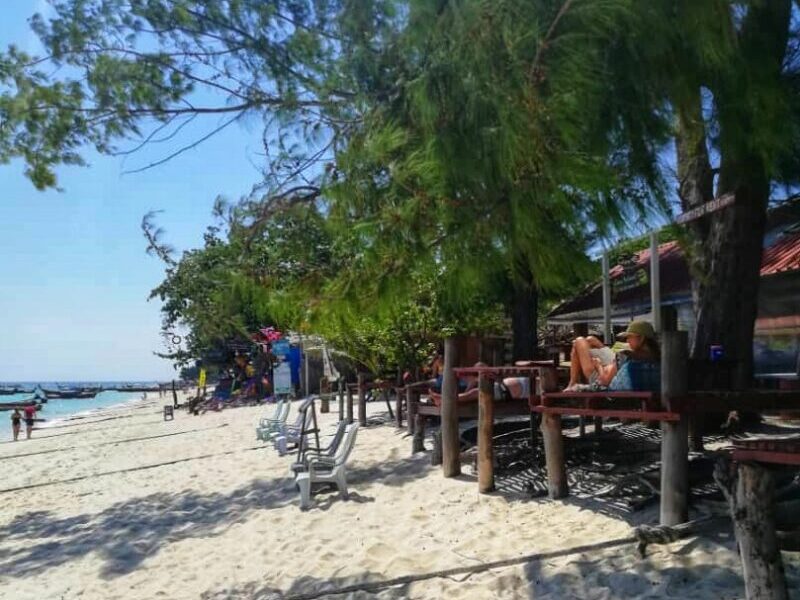 Koh Lipe is the best place for a relaxing gateway and the whole island has a very relaxed feel to it. However, Koh Lipe getting more commercialized which has rather spoilt the Island. Litter was an issue where you can see the rubbish and plastic that washes up on beaches. Longtail boats make getting to Koh Lipe easier and more convenient. But it also makes swimming and snorkeling become dangerous.
Aside from these, Koh Lipe is still worth a visit. Be prepared for stunning sea views, and laidback vibes island gateway in Koh Lipe!
Overview: A Trip to Koh Lipe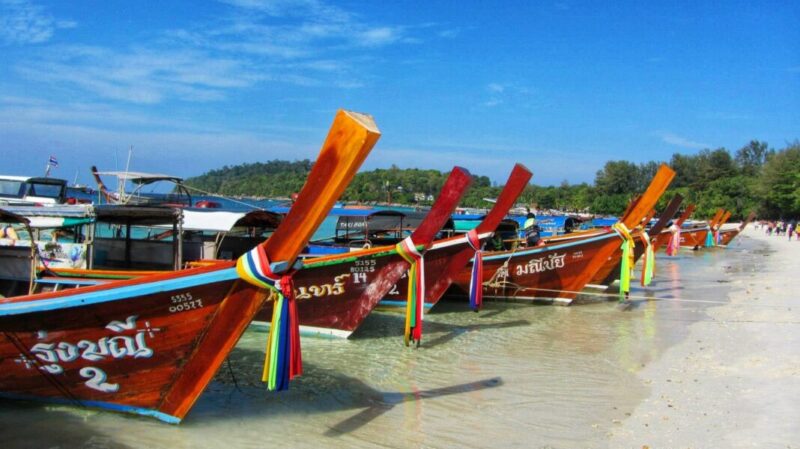 All in all, a trip to Koh Lipe is the best way to experience the tropical island paradise. From the beautiful pristine bays and emerald blue water, Koh Lipe is just as beautiful as you see in the pictures. It is not a party island, but a place for relaxing. We enjoyed our stay at Cabana Lipe Beach Resort with a great sea view. A great place to kick back and relax. Hopefully, I'll get a chance to come back again soon!
Are you planning your trip to Koh Lipe? We hope our Koh Lipe travel guide blog is able to help you get prepared for your trip to this tropical island. Thanks for reading.
Looking for accommodation in Koh Lipe? Here is our quick and easy guide.
Island Holiday in Phuket:
Travel to Bangkok: