Last updated on September 23rd, 2023
If you're visiting Osaka and looking for some of the best Osaka ramen shops to try on, then our Osaka Best Ramen food guide will be very useful to you.
Osaka is a food paradise in Japan and is well-known both for its wide range of food options. It is popular with locals as well as domestic and international tourists in Japan. You can spend a day or even weeks just eating different things here. When it comes to all the delicious types of food, ramen is one of the must-eat food in Osaka. It is the ramen battleground area and you can find various types of ramen in the city.
Ramen is a noodle soup that consists of wheat noodles served in a variety of tasty broths. It is typically flavored with soy sauce, miso, or the popular pork bones. The piping hot bowl comes with different toppings but some of the most common ingredients include pork slides, soft-boiled egg, scallions, dried seaweed, and other ingredients.
During our past visits to Osaka, we tried various ramen in the city. All were outstanding and incredibly flavorful. There are many good ramen restaurants across the city. If you want to know where to eat the best ramen in Osaka, you can check out my recommendations on Osaka best ramen below.
Osaka Best Ramen: Where To Eat Ramen in Osaka
Please note that the the Osaka best ramen lists are based on our past few visits to Osaka. Some may not be located in the popular tourist area or queueing time may longer due to the popularity. Please check the location and allocated time if you plan to have it.
Here is where to eat ramen in Osaka:
Kinryu Ramen Dotombori
Hanamaruken Namba Houzenji
Moeyo Mensuke
Human Beings Everybody Noodles
Menya Jikon
Ichiran-Ramen Dotombori
Kamukura
Osaka Food Tips:
When looking for best food in Osaka, we recommended staying nearby subway station to ease on transport arrangement. Check for the best price and biggest selection of hotels in Osaka check prices for
Osaka Best Hotel from Booking.com
. We found they are the best option and have a great cancelation policy.
Kinryu Ramen Dotombori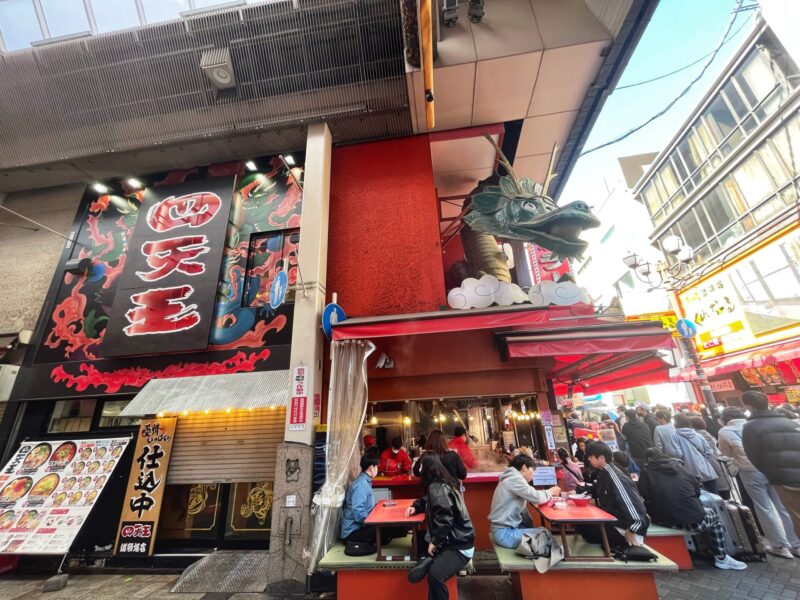 Kinryu Ramen Dotombori Osaka: One of the famous and popular ramen restaurant chains in the city. There are few restaurants located in the city but the iconic dragon sign of Kinryu Ramen in Dotombori is hard to miss. It is easy to find it as long queue always.
Kinryu Ramen serves only two types of ramen: Tonkotsu and Chashu. Both are quite good but not very impressive. Diner can experience eating at Japanese-style tatami mats with low tables. There are free-flow sides of kimchi, chives, and garlic to add on. You can eat it separately or add it to the ramen to elevate the taste.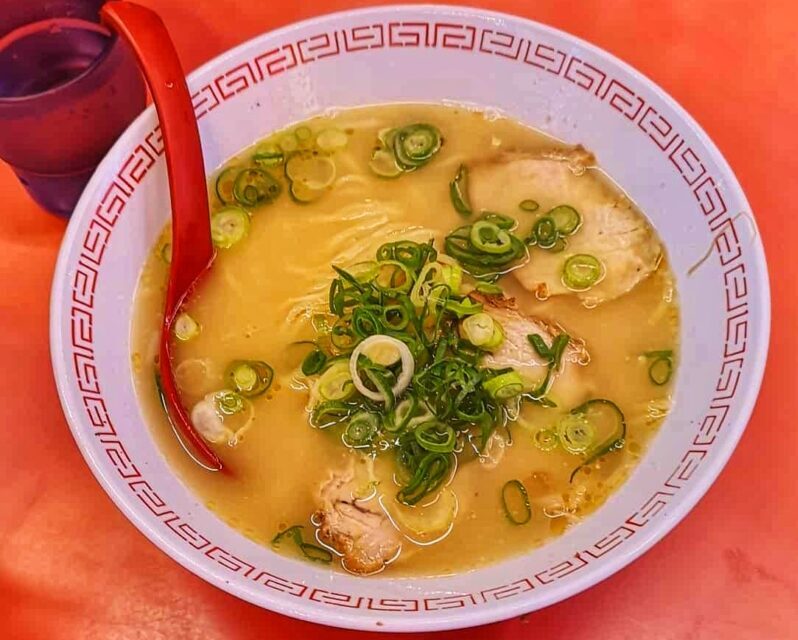 The best thing about Kinryu Ramen is the shop is open 24 hours and you have a hot bowl of ramen anytime whenever visit the area. Plus, the price is also very reasonable and considered cheap for a bowl of ramen in the bustling Dotonbori area.
Kinryu Ramen Dotombori (金龍ラーメン 道頓堀店)
Address: 1-7-26, Dotombori, Chuo, Osaka 542-0071 Osaka Prefecture
Opening Hours: Daily 24 hours!
Hanamaruken Namba Houzenji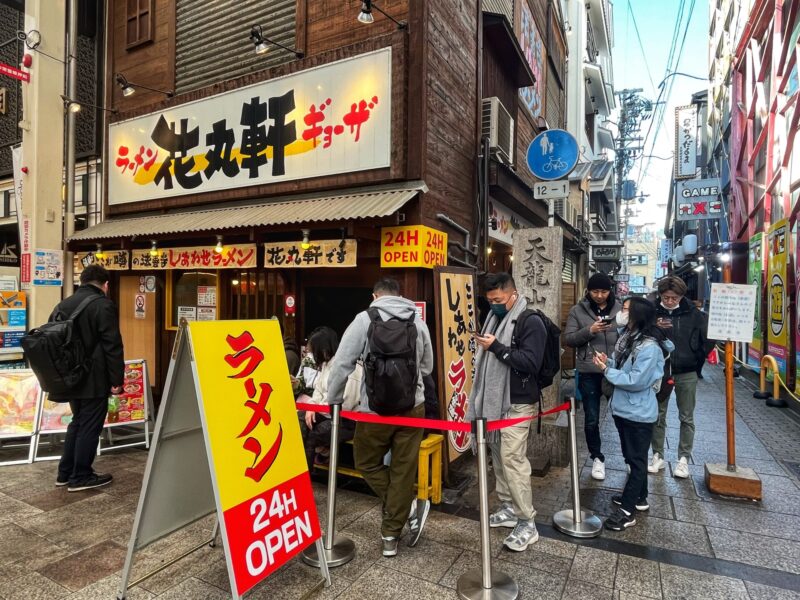 Hanamaruken Namba Houzenji is another popular ramen restaurant in Dotombori. This tiny shop only can sit about 20 people and is always packed with diners. It is operated 24 hours per day but there's usually a line, but it'll move fast. Expect to queue for the bowl of ramen as this place is very popular.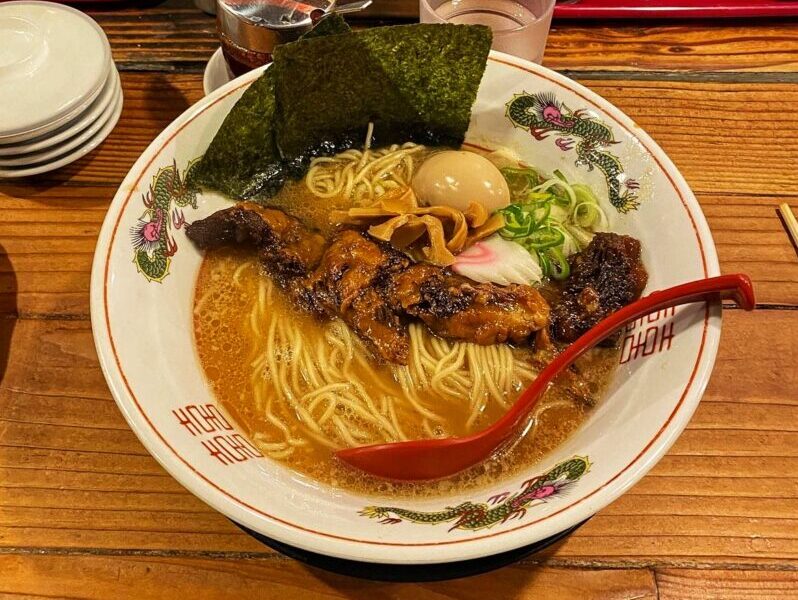 Order the slow-cooked pork rib ramen and this is what they're famous for. The broth is thick and topped with a huge torokotsu (pork rib). The pork rib was so tender and something I've never had before in ramen. It almost melts when it gets into your mouth. Would highly recommend it.
Hanamaruken Namba Houzenji (花丸軒 法善寺店)
Address: 1 Chome-2–1 Nanba, Chuo Ward, Osaka, 542–0076, Japan
Business Hours: Open 24 hours
Official Website: https://arakawa-fs.jp/shop/hanamaruken-namba-houzenji
Moeyo Mensuke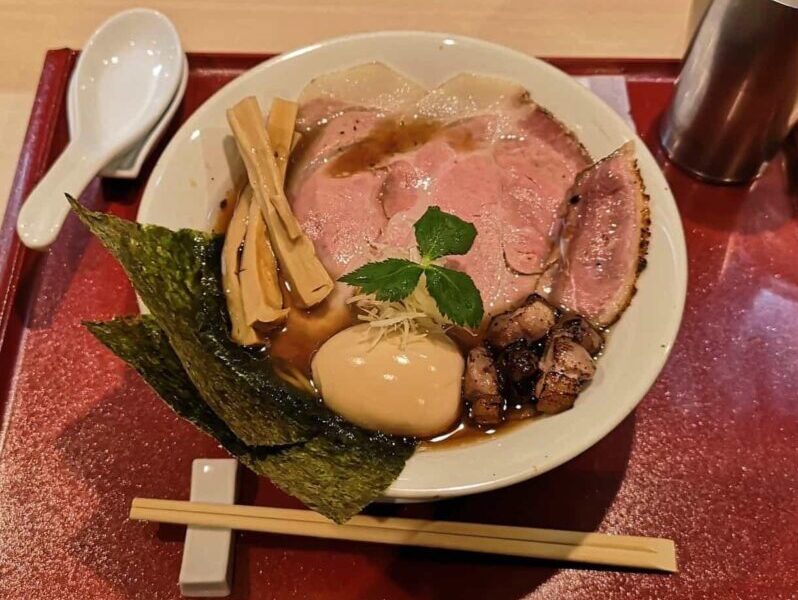 The signature Kishu duck ramen from Moeyo Mensuke is a must-try when visiting this local favorite ramen shop. This tiny ramen stop is located in the alley with merely 10 seats only. So expected to wait in line for this bowl of Kinshu duck ramen. The broth is very flavorful, yet delicate and balanced. The special slide ducks from Kishu taste slightly smoked. The soft-boiled egg is heaven. Highly recommended it.
If you want to taste duck ramen in Osaka, try this one. Although queueing took lots of time, the Kishu duck ramen at Moeyo Mensuke was worth it!
Moeyo Mensuke (燃えよ麺助)
Address: 5 Chome-12-21 Fukushima, Fukushima Ward, Osaka
Business hours: Tuesday to Saturday from 11:00 to 15:00 and 18:00-21:00. Sundays from 11:30 to 16:00. Closed on Mondays.
Human Beings Everybody Noodles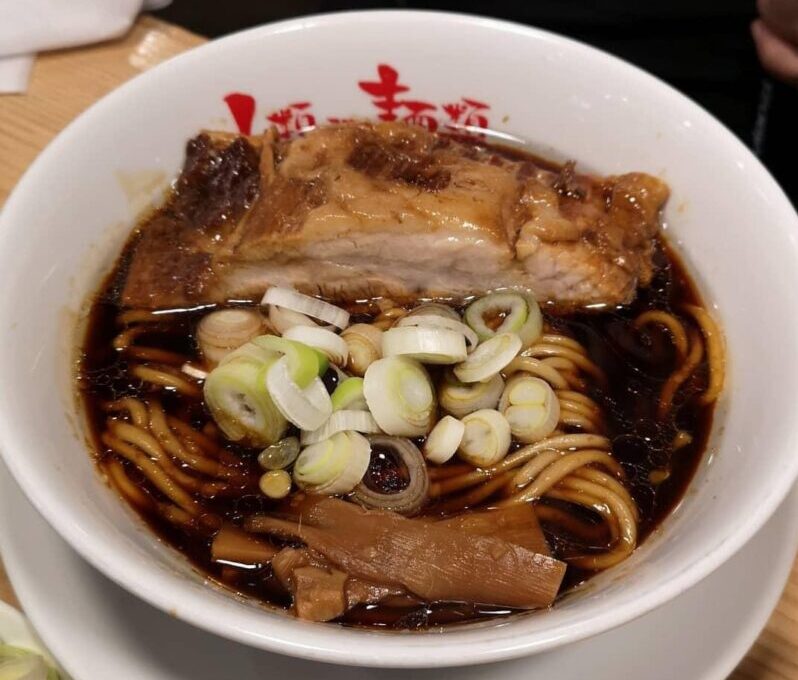 When people looking for the best ramen in Osaka, for sure Human Beings Everybody Noodles or Jinrui Mina Menrui (人類みな麺類) will be one of them. Many ramen ranking websites even rate Jinrui Mina Menrui is at the top of the best Osaka ramen shop.
Human Beings Everybody Noodles is specializes in soy sauce (shoyu) ramen. They only served three types of ramen: Genten Ramen, Micro Ramen, and Marco Ramen on their menu. Besides, this ramen shop is well-known for its ridiculously massive slabs of chashu pork. You can choose whether you want 1 or 2 slabs. But we highly recommended going for 2 slabs.
I personally try their Micro Ramen and the broth is thick and sticky. See the picture above of my bowl of Micro Ramen with 2 slabs of chashu pork. Absolutely delicious.
Human Beings Everybody Noodles (人類みな麺類)
Address: 3-6-16 Nishi Nakajima, Yodogawa-Ku, Osaka
Business Hours: Daily from 10:00 to the next day 3:00. Opened 1 hour early and closed 1 hour late during the weekend.
Menya Jikon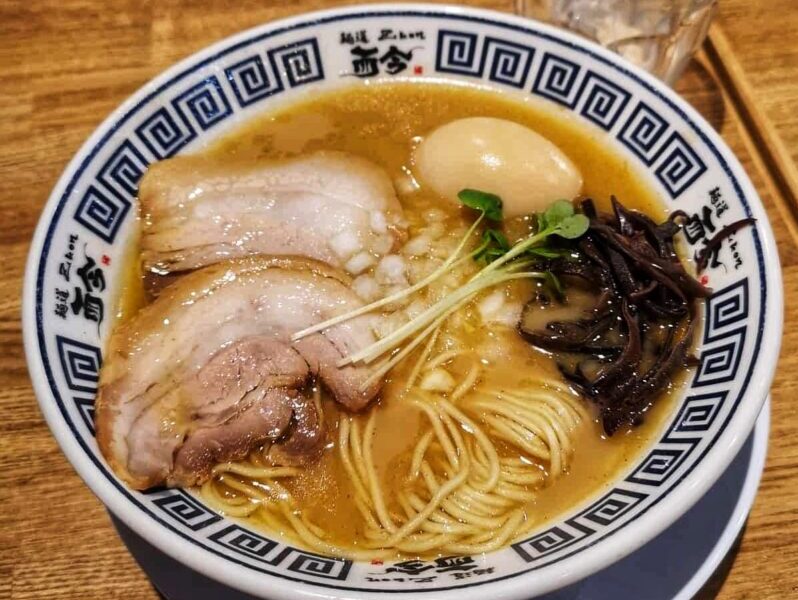 Menya Jikon (麺や而今) might not so well-known among travelers but it is popular among the locals. The main store located at Daito and it is slightly far from the downtown area. But you can try the the ramen from Menya Jikon at their Shinsaibaishi branch.
The noodles is chewy and delicious. The broth is also very creamy and flavorful. It is rich in favor and slightly thickened. One of my friend prefer ramen from Menya Jikon and rated it as his most favorite ramen restauran in Osaka.
Menya Jikon (麺や而今)
Address: 1-5-7 Shinmachi, Nishi-ku, Osaka 550-0013 Osaka Prefecture.
Business Hours: Daily from 11:00 to 15:00; and from 18:00 to 21:00. Closed on Sunday.
Ichiran Ramen Dotombori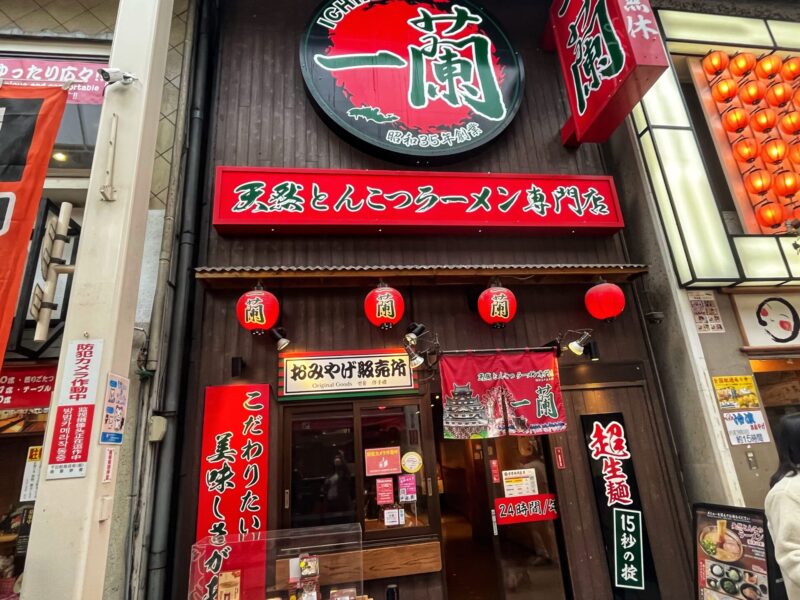 Ichiran (一蘭) Ramen needs no further introduction. Origin from Hakata, this popular chain ramen restaurant is well-known for its flavorful tonkotsu ramen. There are many branches in Japan and even all around the world. You can easily find three Ichiran Ramen just in Dotombori and Shinsaibashi areas. Some are even operated 24 hours!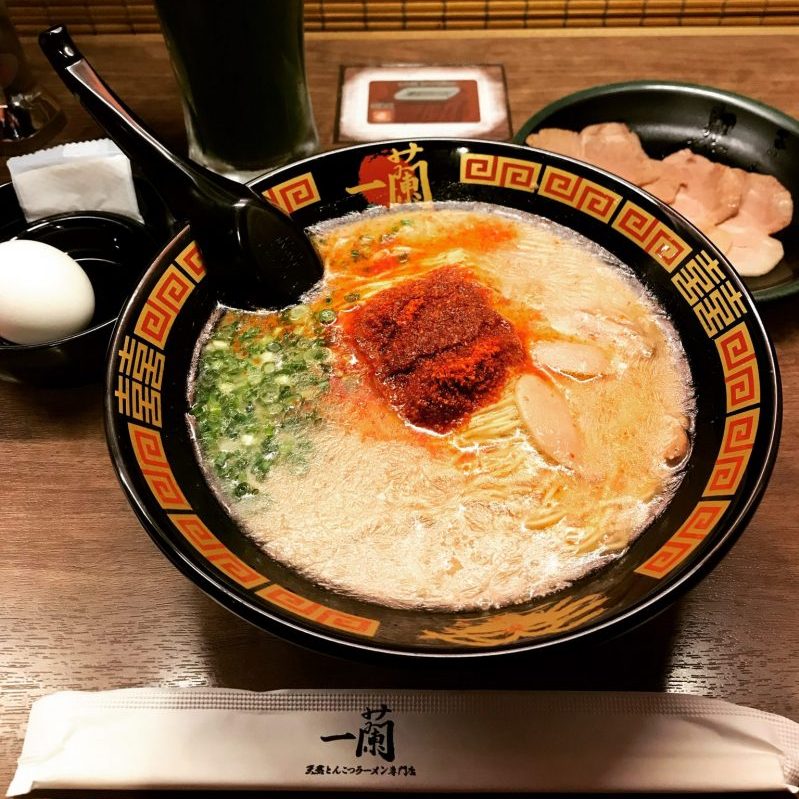 During ordering, you have the option for the spicy level, firmness, or softness of the noodles and extra meat. The ramen has a chewy texture and the broth was rich and flavourful. While the meat was tender, and the egg was boiled to perfection.
In short, I wouldn't rated Ichiran Ramen is the best ramen in Osaka, but we enjoy this tasty bowl of ramen and always come back for it whenever visit Japan.
Kamukura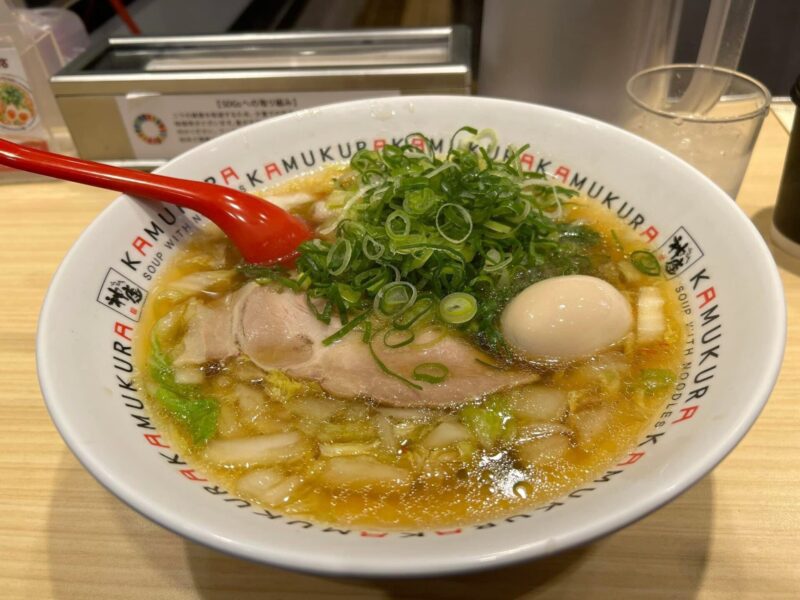 Another popular ramen chain shops where you can also find it even at oversea.
Kamukara Osaka (神座) served great ramen at an affordable price. Compared with others, the bowl of ramen from Kamukara is relatively less oily and with an abundance of vegetables. The bowl of ramen comes with a tasty soft-boiled egg, crunchy cabbage, slices of bacon, and spongy texture noodles. While the taste of the broth is mild, with a lot of meat and cabbage flavors. It is even best to couple your meal with the gyoza or garlic fried rice.
Kamukura has a few shops scattered around the Osaka such as Dotombori and Shinsaibashi area. Get the one near you!
Overall: Osaka Best Ramen
All in all, we hope this Osaka best ramen guide can help you to find the best ramen to eat in Osaka. We've had many bowls of ramen in different cities throughout Japan. We honestly didn't think we can judge which is the best ramen in Osaka. Each ramen has its own unique flavor. And there are still many ramen awaiting our taste on it. We are providing our best Osaka ramen guide to help you find the best bowl when visiting the city. Hope this help!
Traveling to Kansai? Free feel to read on our travel stories to Kyoto, Osaka, Nara, and Uji:
Osaka Food Guide: Top 8 Unique Food To Eat in Osaka