Last updated on September 23rd, 2023
For unique extraordinary ramen experience, Menbakaichidai Fire Ramen is one of the must eat and must try in Kyoto. Their most popular menu is the Negi ramen which is fully topped with plenty of green onions. And guess what? This is the FIRE ramen which burning up just in front of you.
Kyoto Fire Ramen Menbakaichidai is a small ramen restaurant in Kyoto. However, this best ramen in Kyoto is extremely popular among the visitors. It stand out from the traditional ramen restaurants by it flaming ramen. For an unforgettable dining experience in Kyoto, then you've come to the right place.
When we planned on our Kyoto itinerary in April, one of my Japan friend recommended me to try on this fire ramen. We saw some video for Kyoto flaming ramen on a food blog and decided to try on this unique experience when we get to Kyoto. And we did it during our visit to Kyoto. So glad that we do not miss this best ramen in Kyoto. We had a great time and excited to eat at Menbakaichidai.
Read on our must eat food in Kyoto, Menbakaichidai Fire Ramen.
How To Get To Kyoto Fire Ramen Menbakaichidai
Menbakaichidai is located in the residential area on the Northern side of Nijo Castle. It required about 10 to 15 minutes of walking journey to get to the restaurant. So, it a great idea to couple up by having lunch at Menbakaichibai before heading to the Nijo castle visit.
The easier way is to get to Menbaka Fire Ramen is by bus. From Kyoto station, take the Kyoto city bus (#9), (#50), or (#101) and get off at "Horikawa Marutamachi". It is about 5 minutes' walk to the restaurant.
Besides, make sure to allocate some time for this bowl of flaming ramen. It is popular with a line of customers start from early morning until night. So expected to queue especially during peak dining hour.
Kyoto Fire Ramen Menbakaichibai
How To Order at Menbakaichidai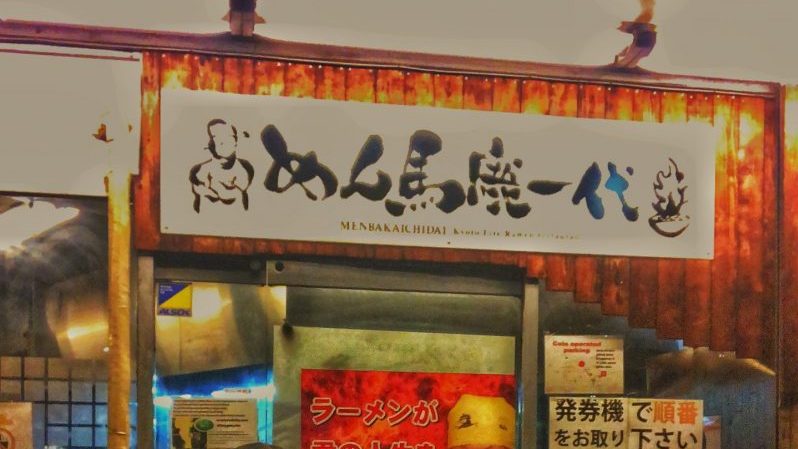 We reached Menbakaichidai at evening. There were lined of people were waiting patiently outside of the restaurant. Make sure to take your running number from the ticket machine at the front door. Luckily the queue move plenty fast and it took us about 30 minutes to get inside.
Menbakaichidai is a typical Japanese ramen restaurant which only can fit for about 12 guests. The staff was pretty efficient by serving customers. Once we get in, we were greeted and seated at the counter bar with the menu at the table.
No need to worry about how to order your fire ramen in Menbakaichidai. There are English, Korean, Mandarin and different languages of menu available. So this is not a language barrier for non-Japanese speaking tourists to order your best ramen.
Added, the food menu is pretty simple with four different options. While the most simple and cheapest is the fire ramen alone. Alternatively, you can order set with fried rice, dumpling, and fried chicken option. However, please take note that minimum a bowl of ramen per person with no sharing.
The Preparation of Ramen On Fire
After order, the staff was explained the Fire Ramen Rules for safety reasons. We were given a white disposable apron to protect our clothes and body from the splashing oil.
Make sure no screaming, no jumped out from the seat and always keep hands behind our back.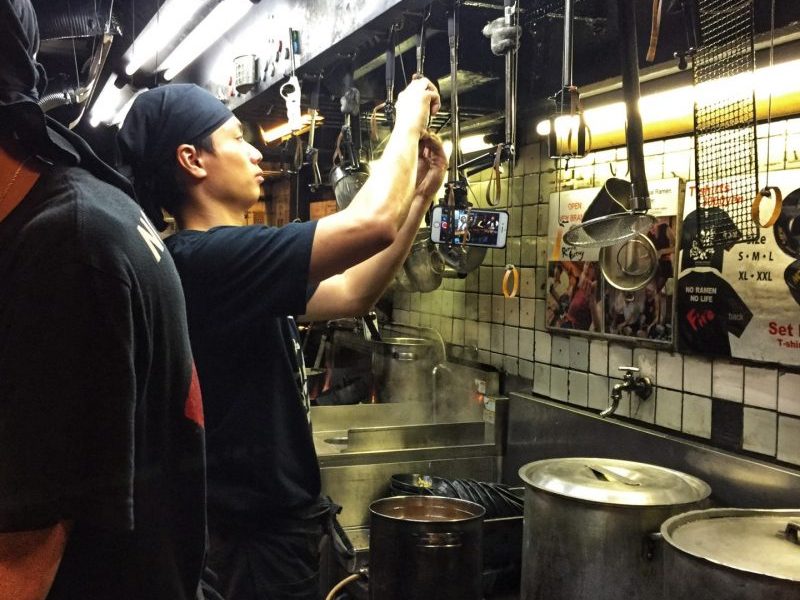 The master chef was extremely entertaining and communicated well with us. While waiting, the staff takes our phones to capture our ramen on fire experience perfectly. All of our reactions to the flames are on video at our phone free of charge. It was great that they did not intend to sell the video at a separate price.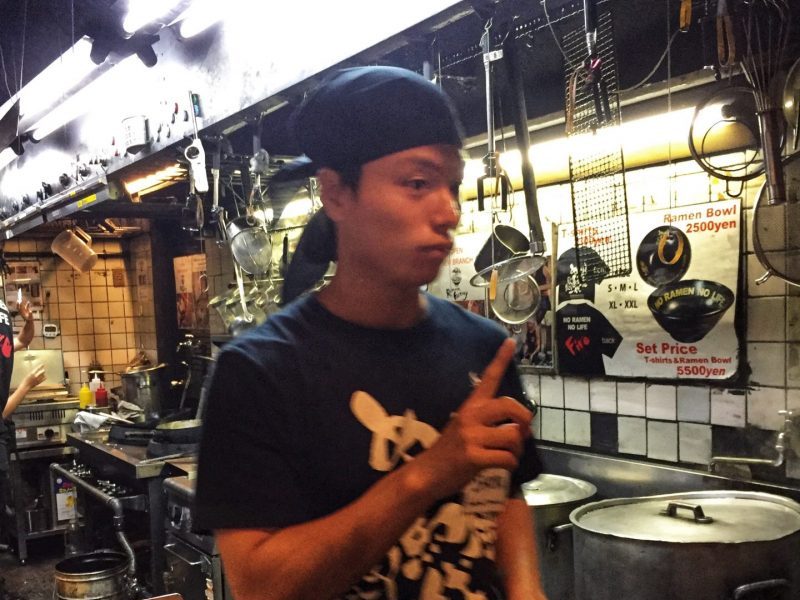 Once the bowl of ramen places yet unfired in front of us, we started feel nervous. It was a traditional ramen but there was a mountain of green onion being piled on top. Again, the helpful staff explained the ramen rules and performed a safety check.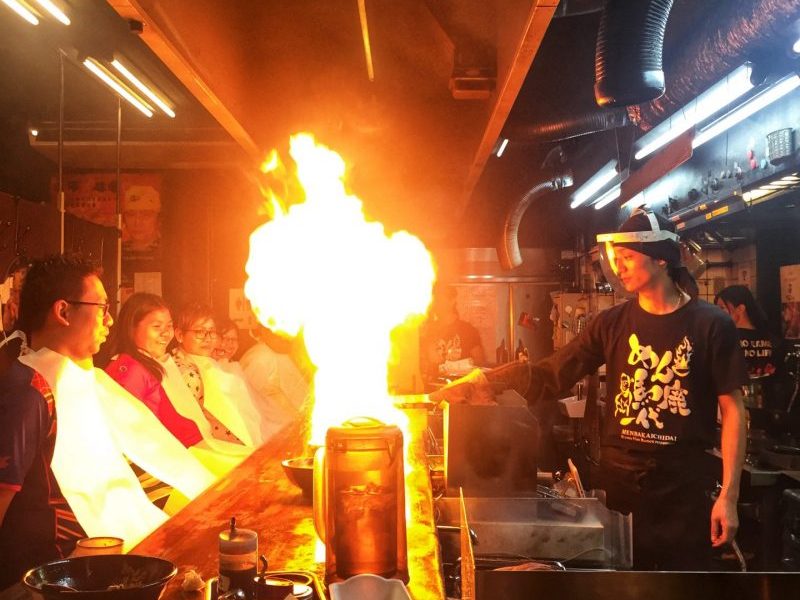 Next, our excited moment approaching. The staff heated the oil in the pan and then poured the burning oil to the ramen. Instantly, the ramen erupts into a fearsome tower of fire. WOW! It was so amazing. But, the flame won't last too long. At the end of the fire show, your bowl of hot flavorful ramen was ready.
The Taste of Fire Ramen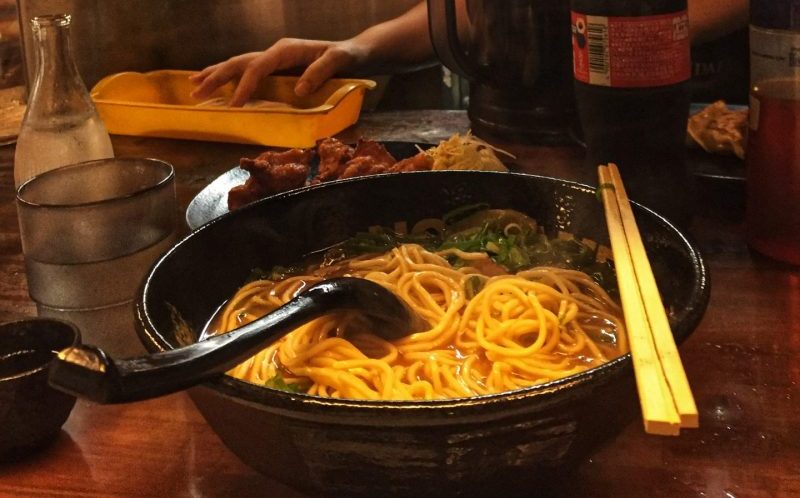 Next, the helpful staff cleaned up the table and the bowl slid before we ate. Generally, the ramen is pretty basic with simple soy sauce-based soup of chicken, pork, and fish.
However, I just admitted it has the firey taste and full of flavor. It is more oily compare with the normal ramen but nothing was burnt after the flaming fire. The fire did add on unique smoky taste to the ramen. It brings out the flavor and aroma of green onion.
In short, the fire ramen itself tastes not too bad. It might not as thick and flavorful as another famous ramen in Japan. But one of the must-try dining experience in Kyoto.
Must-Try in Kyoto: Fire Ramen Menbakaichidai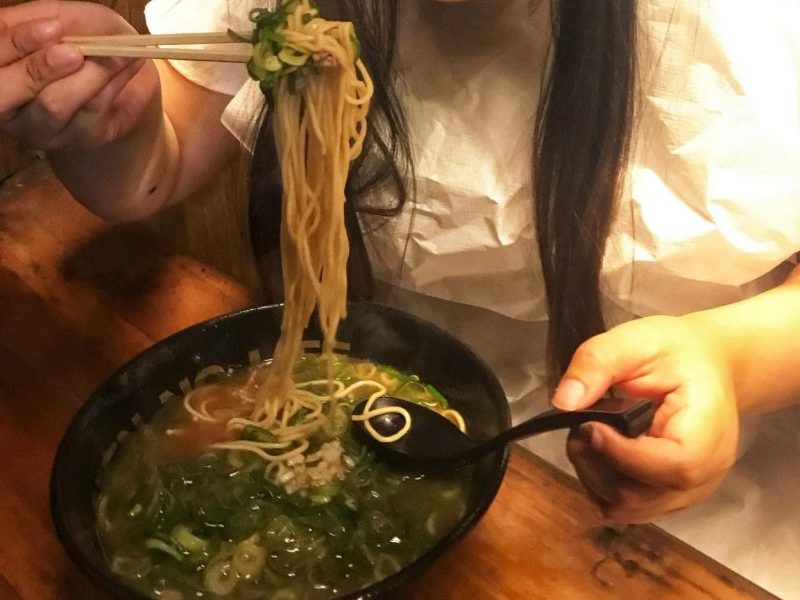 All in all, we enjoy our ramen in Menbakaichidai. No doubt, it is a true culinary experience to see your food set on fire before eating. We took a lot of pictures and videos for ramen on fire.
There are lots of entertainment, great atmosphere when eating in Menbakaichidai. We highly recommended if you are looking for where and what to eat in Kyoto. If you are visiting Kyoto, make sure to include Kyoto fire ramen into your itinerary. One of the must-eat in Kyoto.
Kyoto fire ramen Menbakaichidai is part of our Kyoto itinerary when visiting Kansai in April. Read also our other travel blog post for 7 days Osaka, Kyoto, Nara and Uji trip below.
Related Kansai Japan itinerary for 7 days including:
If you need help to look for best accommodation, we listed down for where to Stay in Kyoto. 
For transportation guide on How to travel to Osaka, Kyoto & Nara: