Last updated on September 23rd, 2023
Kuromon Ichiba Market is the best place in Osaka where you can have a variety of food in one place. Read on our food hunting journey for the best food in the market if you are looking for what to eat in the Kuromon market.
Kuromon Ichiba Market (黒門市場) is a traditional covered public marketplace with thousand of stalls lined in the Sakaisujidori Street, Osaka. It offers a variety of food on the busy street and has been established 190 years ago. Known as "the kitchen of Osaka", Kuromon Market has an extensive selection of food to experience the Japanese market culture.
No doubt, Kuromon Market is a great place to start your food hunting journey in Osaka. Here, you can sample as much as possible of Japanese street food in the market. For example, takoyaki, grilled scallop, seafood, sushi, sashimi, and more. Enjoy your stroll and stopped for good food when walking through.
There is so much to eat and try in the Kuromon Ichiba Market. You might be confused about what to eat in Kurumon Market, especially for first-time visitors. No worry. We will share with you what is the Top 10 Must Eat Food in Kuromon Ichiba Market.
How To Get To Kuromon Market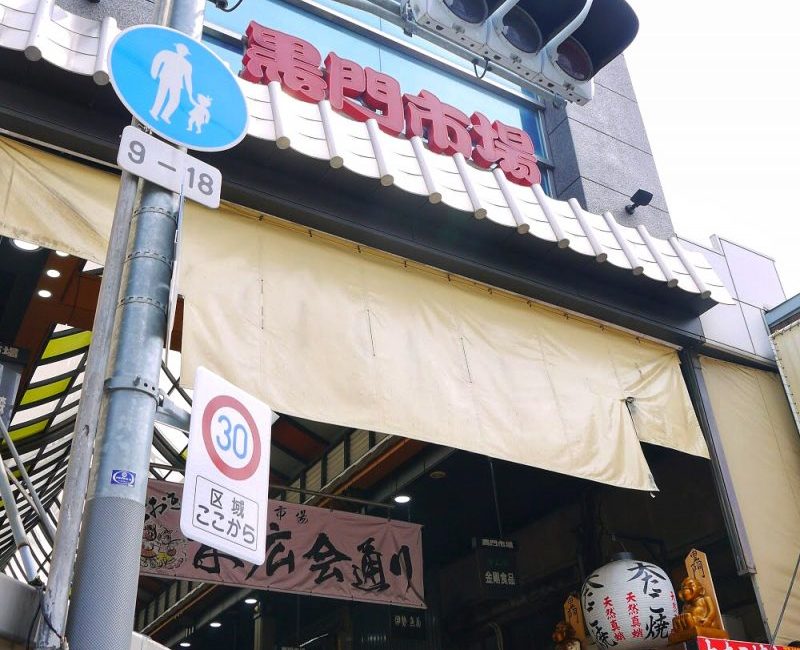 To get to Kuromon Market, the nearest station is Nipponbashi station on the Sennichi subway line. Just walked out from exit (#10), Kuromon Market is located just beside the station.
Kuromon Ichiba Market
Address:

2 Chome-4-1 Nipponbashi, Chuo Ward, Osaka, 542-0073, Japan

Operating hour: Daily from 9:00 to 18:00
What To Eat in Kuromon Ichiba Market Osaka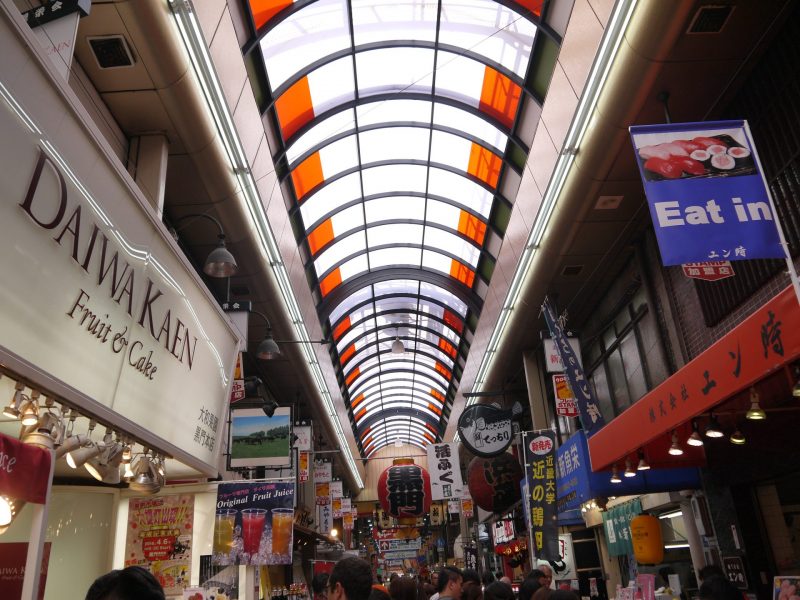 The food trip to Osaka would not be complete if you have not visited Kuromo Ichiba Market. I visited Osaka three times in the past few years. And Kuromon Market is always one of the must-visit places on my itinerary list when planning to eat in Osaka.
The fun part of the Kuromon market was exploring the various foods along the street. Most of the stores offer tables and counters for guests to immediately enjoy their food. However, take note you are not allowed to bring other food to their table.
There are many delicious foods to eat at Kuromon Ichiba Market, and below are our top 10 favorite and must-eat food when visiting here.
Fresh oyster straight out from the shell.
Creamy sea urchin (Uni)
Grill scallop or scallop on a stick
Fatty tuni (Toro)
Octopus with Quail Egg
Fugu or blowfish
Unagi
Huge Crab Leg
Soy products like tofu, ice cream, soy milk, soy doughnuts, and a lot more
Sushi platter
What should I eat in Kuromon Ichiban Market?
The best thing to do in Kuromon Market is to try a wide variety of foods! There are many choices, ranging from seafood bowls and sushi. Try as much as you can.
How do I get from Osaka to Kuromon market?
Kuromon Ichiba is a 3-minute walk from Nippombashi Subway Station. Just walked out from exit (#10), Kuromon Market is located just beside the station.
What is the best time to visit the Kuromon market?
It is best to visit the Kuromon market in the morning. It can be very crowded at noon. Try to come here earlier before lunchtime to avoid the crowd.
1. Fresh Oyster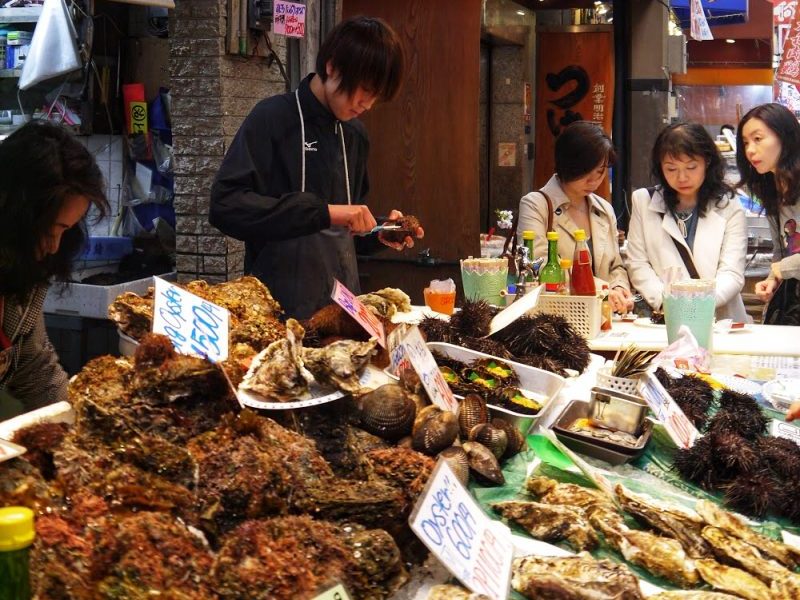 For sure you want to try the fresh seafood in the market. There are many stalls selling sea urchins (uni) along the street. I especially love one of the seafood stalls located in the middle. Wide variety of seafood such as oysters, scallops, and sea urchins. Different grades of the oysters for you to try on.
The seller will clean your oyster with a lemon slide ready for you. Enjoy it once straight out from the shell.
2. Sea urchin (Uni)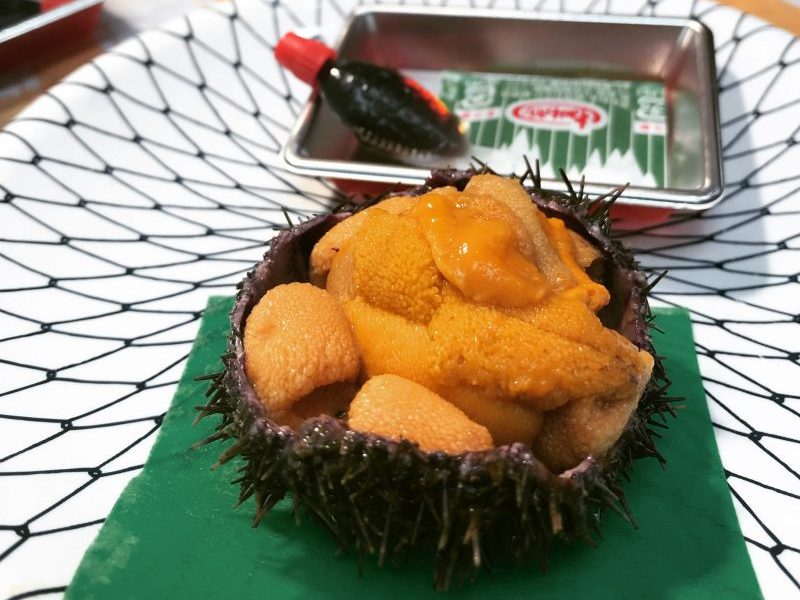 At the same stall, don't forget to try the raw sea urchin or uni. It has live sea urchins and different grades of uni to try on. You can handpick your uni and the seller will open it in front of you.
Look at my uni. It was so creamy and delicious. Well, the price might not be cheap but good value for the quality of the seafood.
3. Grilled Scallop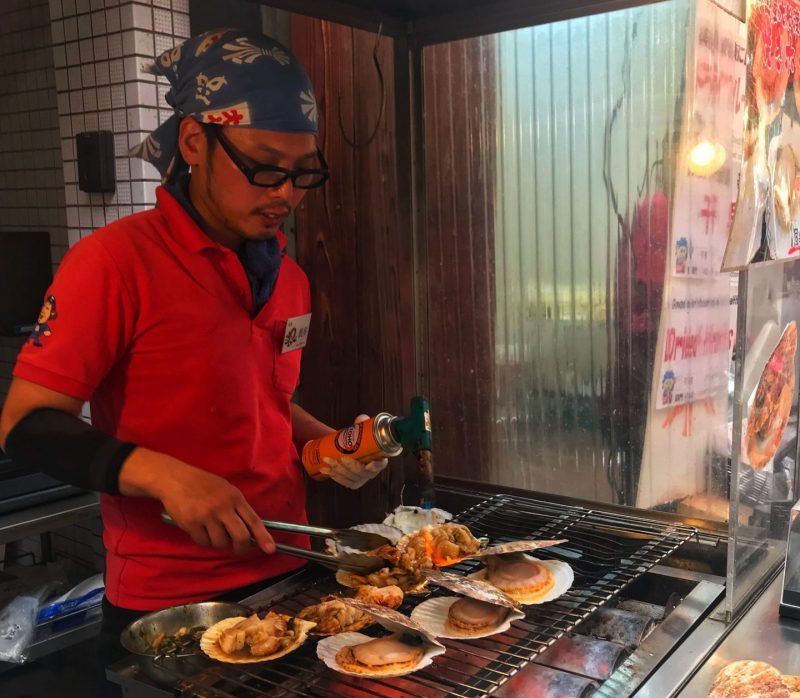 If you prefer cooked seafood, you can try on the grilled scallop. The size of the scallop is two or three times bigger than the normal scallop. The owner grilled the scallops with butter which give an even better aroma. It was fun to watch the owner grill the scallop once you order.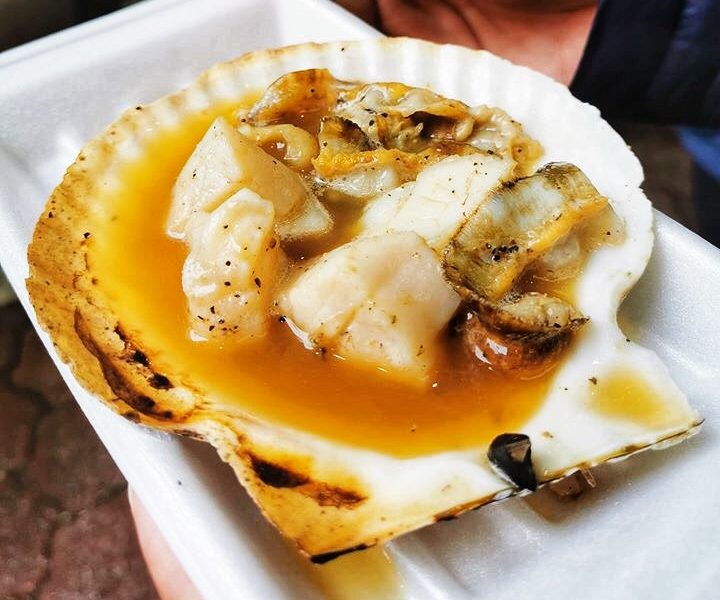 See our grilled big scallop from the store. It was cut into small pieces when grilled but you can imagine how big it was. The meat was firm and well seasoned with butter and soy sauce. It tastes so delicious and flavorful. This grill scallop cost about 800 yen. Consider quite expensive for this seafood treat.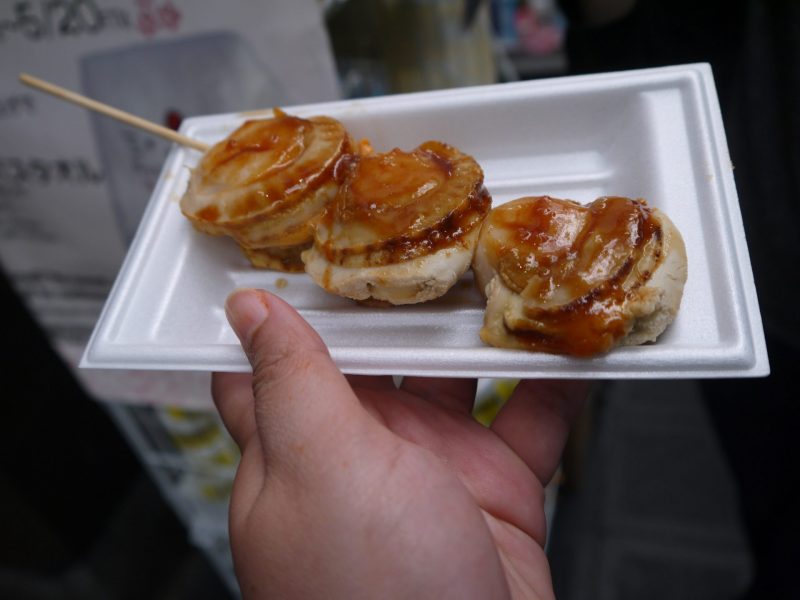 Alternatively, try the scallop on a stick. We can't resist and get this snack after trying on the fabulous grill scallop. I don't remember the price. It should be around 1000 yen for three scallops in one stick.
4. Fatty Tuna, Toro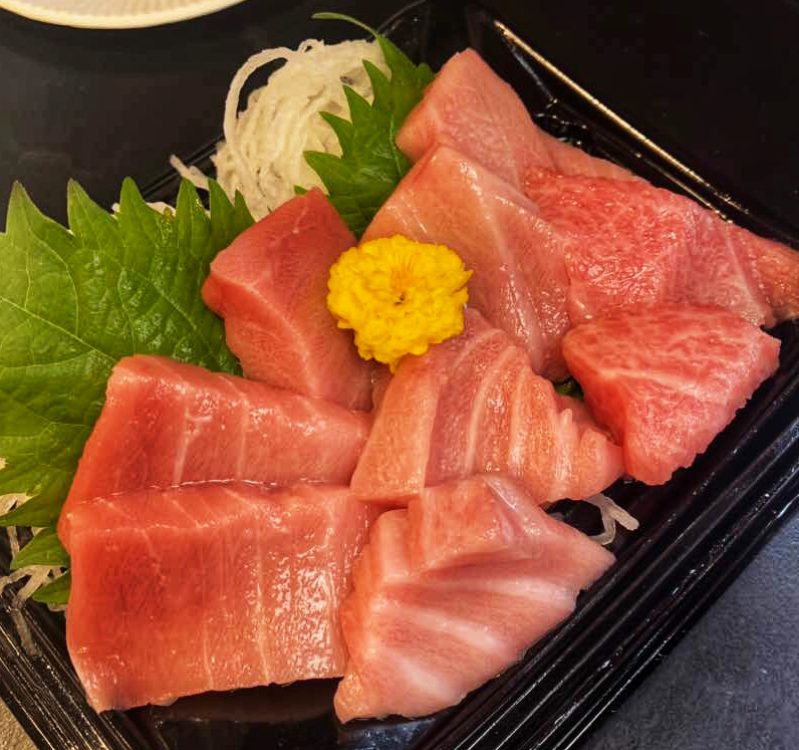 One of the popular and must eat in Kuromon Market is fatty tuna, toro. There is one particular store on the corner of the market street that you hardly can miss. This store only sells one thing, which is high-quality tuna. You can choose to takeaway for their taro sushi or sashimi. But there was also bar counter seating for about 4 people at the corner.
We bought the toro sashimi and taste it at the store. The tuna just melted in your mouth. And it tastes so good. The price was not cheap but it is worth it.
5. Octopus with Quail Egg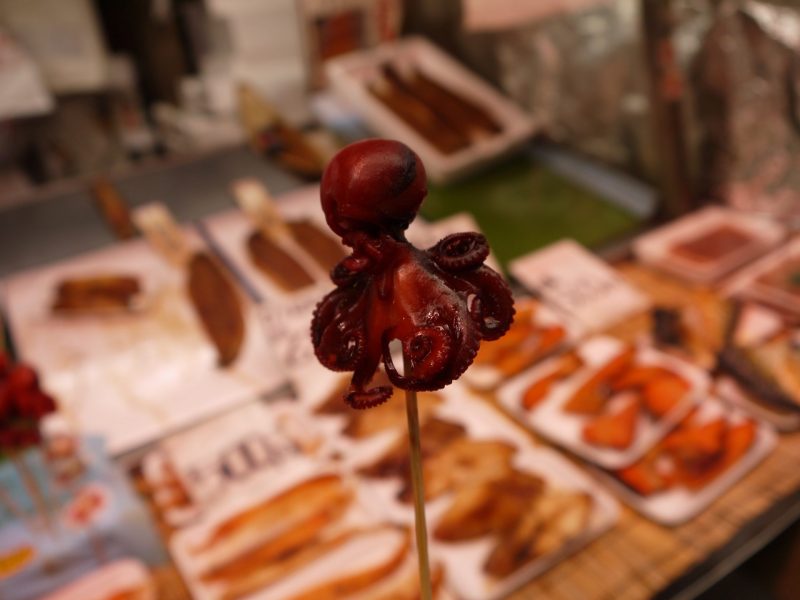 Next, try the octopus on a stick. It is not the ordinary octopus that you had. The whole quail egg is stuffed in the baby octopus's head. It was a unique Japanese street food that can be found in Kuromon Ichiba Market.
We bought one to try on. While the taste was not too overpowering and the octopus itself is chewy. An interesting snack.
6. Fugu Fish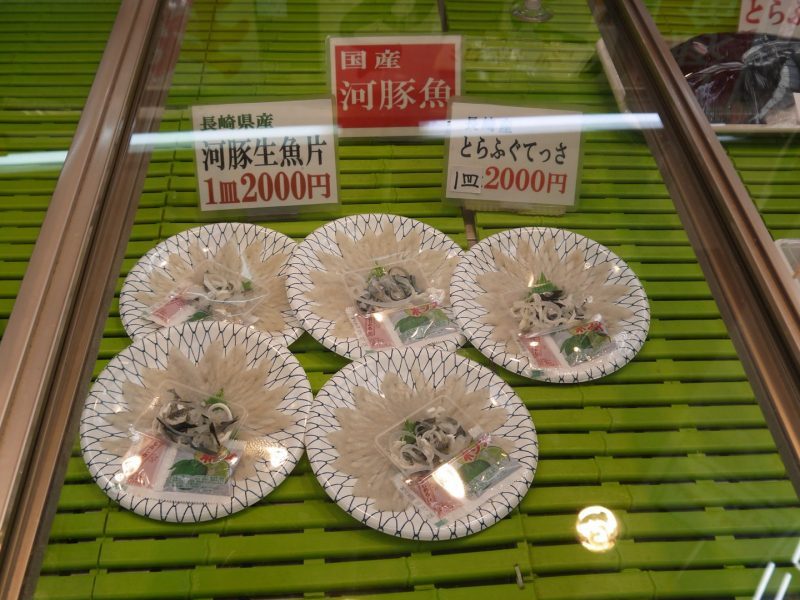 Fugu or blowfish is one popular and must-eat in Osaka. It can be poison if not handled properly. The chef needs to be well trained to get the license to process the fugu fish.
Several stalls are certified to prepare and sell Fugu fish in the Kuromon market. Fugu is an expensive food to try on even in the Kuromon Market. The price is not cheap to try on this unique food in Japan. But for sure, it was much cheaper than a restaurant in Dotonbori.
7. Unagi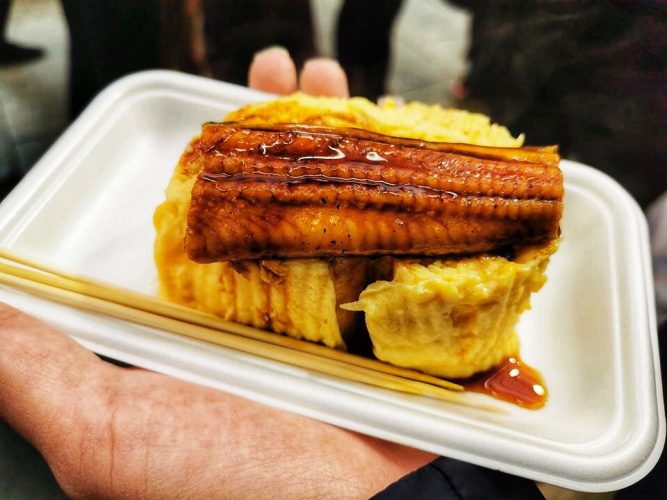 One of my favorite foods in Kuromon Market is Unagi. The barbecued freshwater eel that's been basted with a savory-sweet kabayaki sauce. It is often served in unadon, or as bite-sized pieces of nigiri sushi, skewered on sticks, or served directly without rice.
I got the Kuromon version of unagi. The charred texture of the eel is incredible!
8. Huge Crab Leg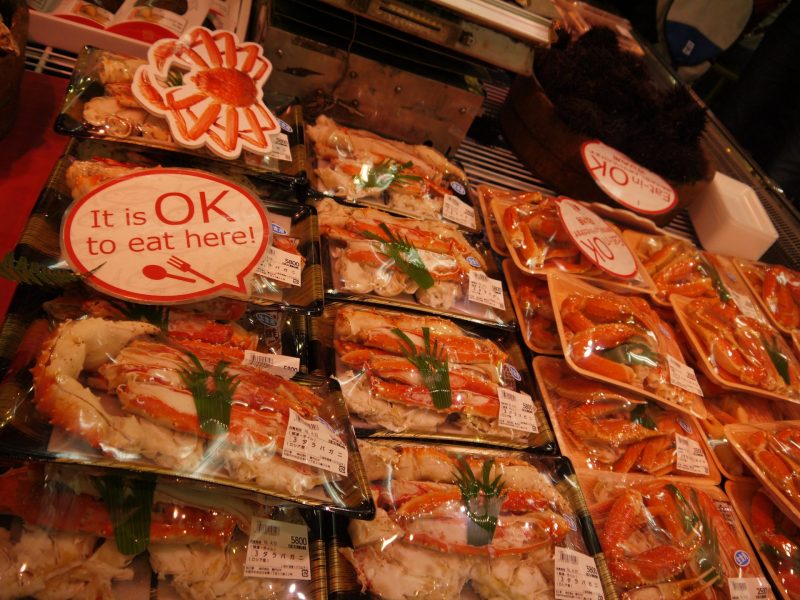 We also choose one of the shops to taste the Hokkaido crab leg. This shop has a seating area with tables and chairs to eat inside the shop. You can just choose the seafood pack and ask them to heat the food you buy from them.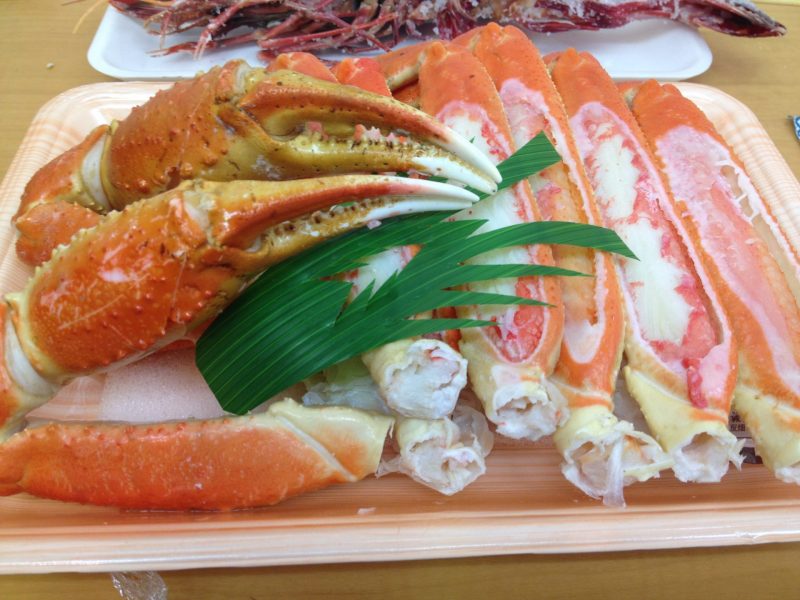 Although I am not planning to try on the frozen crab leg from Hokkaido. It was not so fresh compared with other live seafood. But it was hard to resist when you saw the huge crab leg. We bought one pack of crab legs as part of our seafood feast in the Kuromon market.
9. Soy Product
There was also a stall selling soy products like tofu, ice cream, soy milk, soy doughnuts, and a lot more. The price was relatively cheap at about 100 yen for one piece. The lady boss will toss it into the fryer and immediately cook it for you. Alternatively, you can get soy milk at 200 yen.
10. Sushi Platter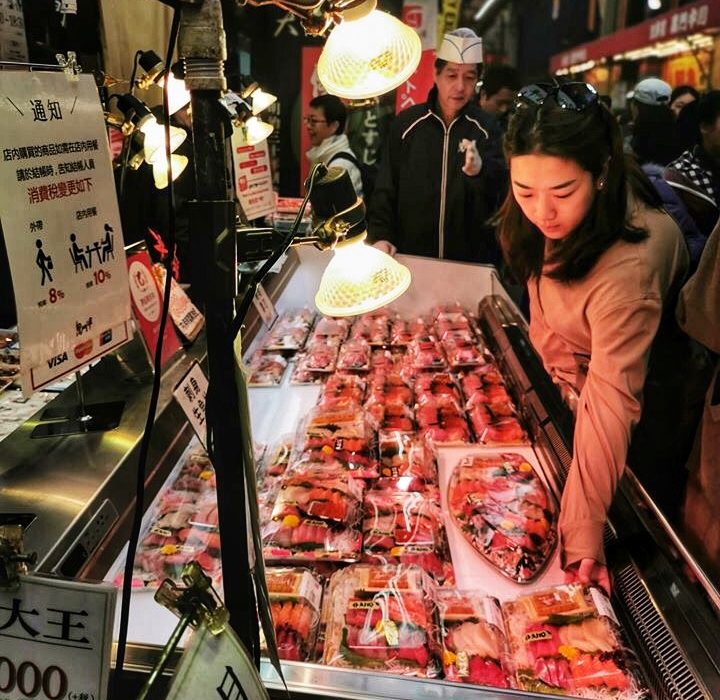 There are many sushi stalls in Kuromon Ichiban Market with a wide variety of sashimi, and seafood platters for you to try on. Most of them will offer a seating area indoor for you to try on their food. While the most popular store is Kuromon Sanpei, the biggest fish market in Kuromon. You can pick your seafood platter and eat inside.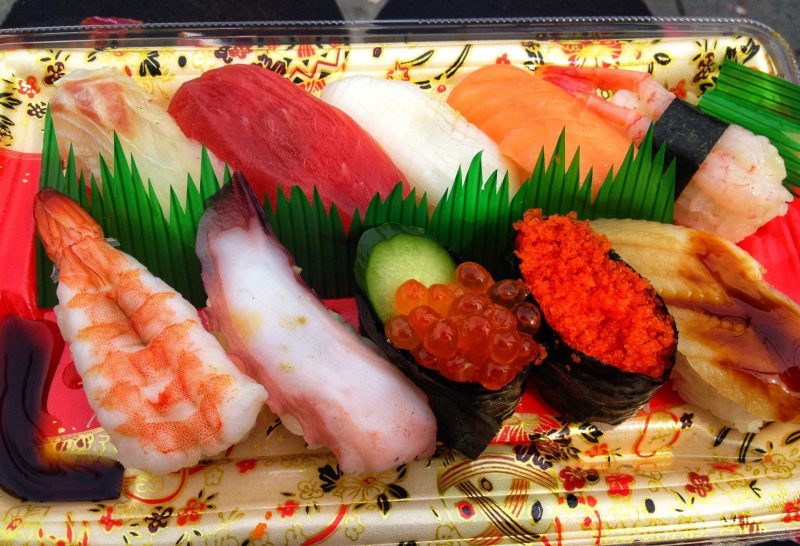 While most of the food we ate so far is mostly snack food. We then stopped by one of the stalls selling sushi platters. We bought one platter with a variety of sushi in one box. It was so fresh and delicious.
Best Place To Eat in Osaka: Kuromon Ichiba Market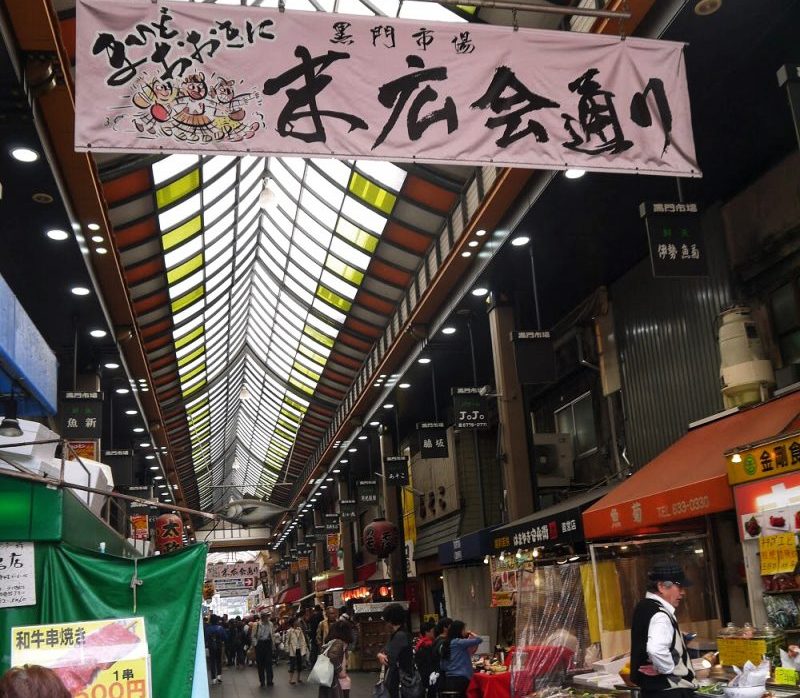 There are so much many things to eat in Osaka and Kuromon Market is a must-visit for the best Japanese street food. We enjoyed our visit to Kuromon Market and sampling the different local delights like sushi, uni, snow crabs, grilled scallops, and more. There were so many different food stalls awaiting you to try on. However, eating in the Kuromon market is not cheap, especially for seafood lovers. The price of the food can be ranging from as cheap as a few hundred to a few thousand yen depending on what you choose. So be prepared.
While Osaka is full of tourists, that is not surprising that the Kuromon Market is also full of tourists enjoying their Japan market food tour. Try to come here earlier before lunchtime to avoid the crowd.
Last but not least, this Osaka food blog is part of my Kansai travel itinerary to Osaka, Kyoto, Uji, and Nara. If you are interested, continue to read our travel post below
How to Plan Your 7 Days Kansai Japan itinerary
Osaka itinerary
Osaka food blog:
Kyoto itinerary: 15 Things To Do and Eat for 3 Days in Kyoto
Kyoto Food Blog:
Best Day trip from Kyoto or Osaka